KiraVan
Winter Is Coming
If you want to hit the road in style this winter — and you're not heading someplace warm — a sturdy RV built for cold weather and rough conditions is the only way to go. Whether you want to hunker down in the middle of a mountain wilderness or just fend off the wintry chill that would turn most motorhomes into ice boxes, these RVs, travel trailers, and custom cruisers are guaranteed to get you there and impress everyone you meet.
Global Expedition Vehicles Safari Extreme 4X4 RV
GXV takes full-sized and medium-duty trucks and turns them into RVs that are designed to be expedition-worthy. This demo version, mated to an International 7300 extended-cab chassis, can hold 280 gallons of fuel — enough to go 2,500 miles on a tank, almost the entire length of the country. Not bad for a vehicle that, fully tricked out, weighs about 24,000 pounds. The cost? About $500,000.
The View Inside
The Safari Extreme's 16-foot cabin isn't super-long, but it's plenty roomy for such luxuries as a leather dining area, granite countertops, stainless-steel Vitrifrigo refrigerator-freezer, and a full bathroom with shower. Another nice feature is the 52-inch window in the rear sleeping area, which allows commanding views of the world outside. There's also a 3,200-watt diesel generator and a 600-watt solar array so you can always stay plugged in, no matter how far off the grid you roam.
Earthroamer XV-HD
With its 6.7-liter turbodiesel V-8 engine and four-wheel drive, this Ford F-750-based RV is designed to conquer the mountains or muddy wetlands. These custom conversions by Colorado-based Earthroamer really do put the "glam" in glamping: Each one costs $1.7 million, and just a handful have been manufactured so far. Solar cells on the roof provide 2,100 watts of power, so much so that you don't need a generator to power appliances and electronics like some RVs do.
In the market for an RV, an off-roader or another model? RVT.com and Camping World have a huge selection of new and used vehicles. Want to try before you buy? Check out RVshare and Outdoorsy for rental options.
The View Inside
The luxurious living space is big enough for six people and could be mistaken for a small condo. Highlights include a Bose surround-sound entertainment center, leather furniture, stainless-steel Bosch appliances, solid-surface counters, and wood cabinets. Radiant floor heating is a standard amenity on the XV-HD, so you can walk barefoot in the middle of snowbound Utah and keep your toes warm.
For more great RV articles, please sign up for our free newsletters.
KiraVan Mountain
What happens when a former Disney "Imagineer" decides to create an RV for his 4-year-old daughter? You end up with the KiraVan, a concept vehicle built in 2014 by Bran Ferran to be the most kid-friendly, high-tech RV possible. This modified tractor-trailer is powered by a Mercedes Unimog U500NA with a six-cylinder turbo-diesel engine and, amazingly, it's designed to go off-road. The company hasn't disclosed the cost.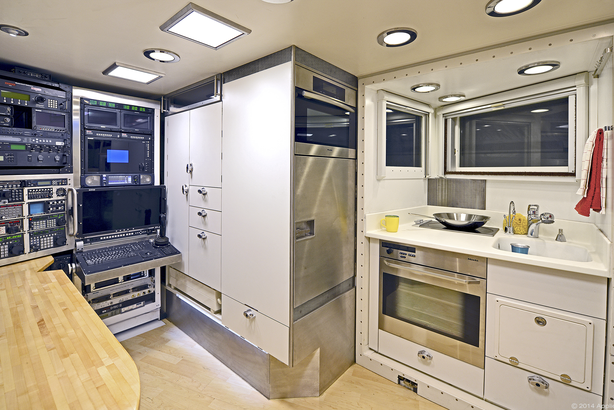 Earthcruiser Australia Explorer
Aussie custom camper manufacturer Earthcruiser starts with a diesel-powered Mercedes-Benz Unimog commercial truck. It can go 2,100 miles on a single 211-gallon tank of fuel. With all-wheel drive it can go just about anywhere, while its solar array keeps you in touch while off-grid. There's also a weatherproofing option for extreme-weather travel. The company won't say how much this custom build cost.
American Expedition Vehicles Jeep Wrangler JKU Outpost II
The Jeep Wrangler Rubicon already looks like a military-grade vehicle. Remove the rear doors and hatch, attach a custom-built camper shell, and it looks like it can survive the apocalypse. To complete the package, American Expedition Vehicles, a Michigan company, replaced the stock engine with a 5.7-liter Hemi V-8 engine, modified the A580 transmission, and installed a heavy-duty lift, reinforced bumpers, and custom exhaust. It's not a mass-market vehicle, though.
The media could not be loaded, either because the server or network failed or because the format is not supported.
FWC Hawk and Ram Power Wagon Truck Camper RV
The Hawk Pop-Up camper shell is designed to fit in the cargo bed of full-sized pickups. It's a modest affair by RV standards, but when it's mated to a serious four-wheel-drive truck such as a Ram Power Wagon with a V-8 engine, you can take your home away from home off road. The whole package costs about $70,000.
Forest River Windjammer Arctic Wolf Package
At 35 feet long and 11 feet tall, the Windjammer is pretty big as RV trailers go, so once you reach your destination you'll want to stay put for awhile. The Arctic Wolf winter package has got enough to keep you cozy if you decide to stick it out in a cold climate, including a floor-ducted furnace and thick, floor-to-ceiling insulation to keep you warm. Heated holding tanks prevent freezing and heavy-duty ventilation to fend off condensation. Models sell for about $52,000.
Keystone Montana
Keystone says its Montana RVs are designed and tested to withstand zero-degree weather, making them a great choice for cold-weather camping. Don't worry about your holding tanks, dump valves, and water lines freezing — Keystones have insulated and enclosed underbellies, floor insulation, double-layer fiberglass sidewalls, 12-volt electric tank heaters, and heated storage areas. Prices start at about $80,000.
Still worried about breakdowns or getting caught in a cold-weather pinch? Good Sam Roadside Assistance is a popular service with RV owners looking for peace of mind.
The View Inside
You could be forgiven for mistaking the interior of the Montana for a small luxury home. Buyers have multiple floor plans to choose from, with space-making slide-out seating and sleeping areas. Features include stainless-steel kitchen appliances, including a double-door fridge, as well as leather furniture, a washer-dryer hookup, a queen-sized bed, a full entertainment center, and a 35,000-BTU furnace to keep you cozy all winter long.