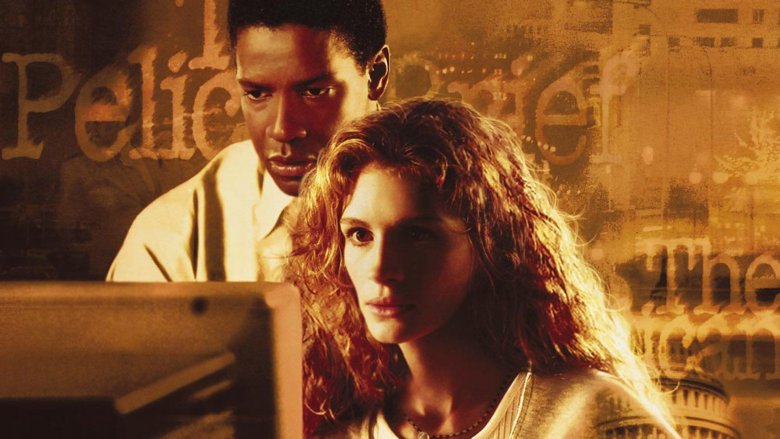 Finding two actors who have chemistry with one another on the silver screen, especially when touching, can be one of the biggest challenges in making a film or TV show. However, finding two actors who absolutely despise each other and refuse to get along is actually pretty easy. In fact, it happens all the time.
While most stars are able to remain professional and get the job done, there are some who found their co-stars so vile, frightening, or untalented that they were unable to put their real-life emotions aside and, well, act.
Whether it was being asked to kiss someone they found repugnant or simply being unable to share a set, let alone a scene, without clawing the other person's eyes out, Hollywood is riddled with actors who nearly ruined famous movies and TV shows thanks to interpersonal spats. It may seem crazy, but things can go awry pretty quickly when one star downright refuses to touch another. Fortunately, the stories behind some of these great feuds can be even more interesting than the projects themselves.
Alyson Hannigan refused to kiss Jason Segel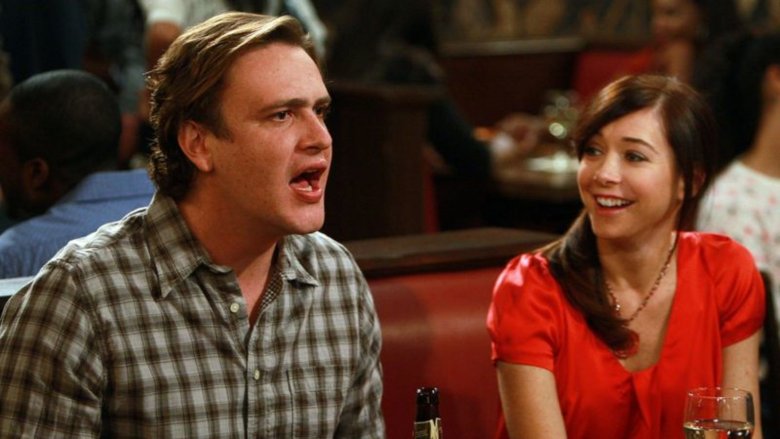 Alyson Hannigan and Jason Segel played a couple on How I Met Your Mother for nine seasons. In that time, their characters, Lily and Marshall, were an example of a partnership everyone could aspire to. However, Hannigan had to put her foot down when it came to kissing Segel.
While there was no apparent animosity between them, the former Buffy the Vampire Slayer actress revealed she simply couldn't stand the fact that her on-screen husband was a smoker in real life. "I cannot stand cigarette smoke. It's like kissing an ashtray, and he's trying to be polite by having gum or mints, but it doesn't help," she told Digital Spy in 2008.
However, Hannigan was totally eager to help Segel kick his nasty habit. As she explained, "When we started the pilot [for the show] he was like, 'Get me to stop smoking, I'll be your best friend.' So we did this bet where he would owe me $10 every time he had a cigarette. After the first day, he owed me $200." Being in debt to his co-star got Segel to quit cold turkey … for a little while. According to Hannigan, once Segel started getting "stressed out," he began lighting up again.
It's unclear how the duo got over Hannigan's repulsion for the remainder of the series, but it's possible they kissed a lot less than the writers were originally intending. Fortunately, the actors remained on friendly terms despite their nicotine dust-up.
The crazy rumor about Tupac Shakur and Janet Jackson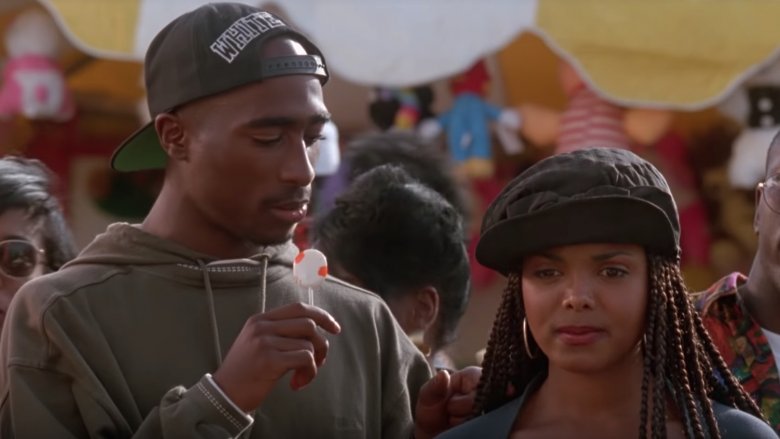 Hollywood is full of rumors, and one of the wildest dates back to the early '90s, when Tupac Shakur and Janet Jackson were filming the romantic drama Poetic Justice. As the rumor goes, Jackson refused to kiss her co-star unless he agreed to get an AIDS test. The Keep Ya Head Up rapper reportedly refused, telling The Source that he took the request as an "insult."
Throughout the years, both stars have touched on the subject, with Shakur saying at times that it was absolutely true. However, in a 2019 interview with The Daily Beast, late director John Singleton explained the whole thing was supposed to be funny, although Tupac might've missed the joke. "We're on the set joking, with Janet there and the whole cast," Singleton said, "and I was like, 'I don't know if I want you kissing my actresses — I don't know where your lips have been'. … And it became a joke. And then a joke turned into some publicity, and [Tupac] was the only one that was left out of the circle."
While Singleton later claimed Tupac was in on the joke, the rumor still lingers, with the truth maybe somewhere in the middle.
Denzel Washington said no to Julia Roberts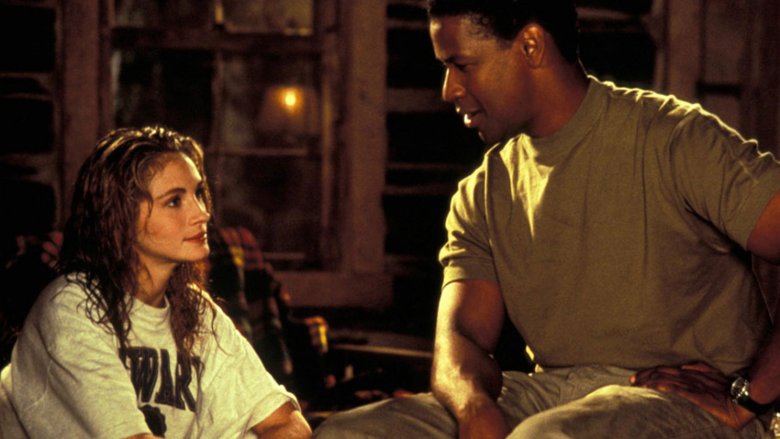 To this day, Denzel Washington and Julia Roberts call each other dear friends after starring in the 1993 drama The Pelican Brief. However, it's said that Washington turned down a steamy love scene between the two of them, as he's reportedly very conscious about how his fans react to him in interracial scenes.
According to Newsweek writer Allison Samuels, Washington turned down the scene out of loyalty to his female African-American fans. The star reportedly soured to the idea of interracial love scenes after an on-screen kiss between him and Mimi Rogers drew loud boos from black women in a test screening audience for the 1989 film The Mighty Quinn. "Black women are not often seen as objects of desire on film," Washington said. "They have always been my core audience."
Roberts confirmed that it was Washington's idea to cut the scene, although she's sorry she missed out on the opportunity. "Don't I have a pulse?" the actress asked. "Of course I wanted to kiss Denzel. It was his idea to take the damn scenes out."
If rumors are to be believed, Washington also lobbied to get scenes between him and Australian actress Radha Mitchell cut from the film Man on Fire for similar reasons, but the star's representative denied it to Today. Of course, by the time Flight hit theaters, it seems like Washington had changed his mind when it came to locking lips with white actresses.
Lindsay Lohan wasn't going to touch Charlie Sheen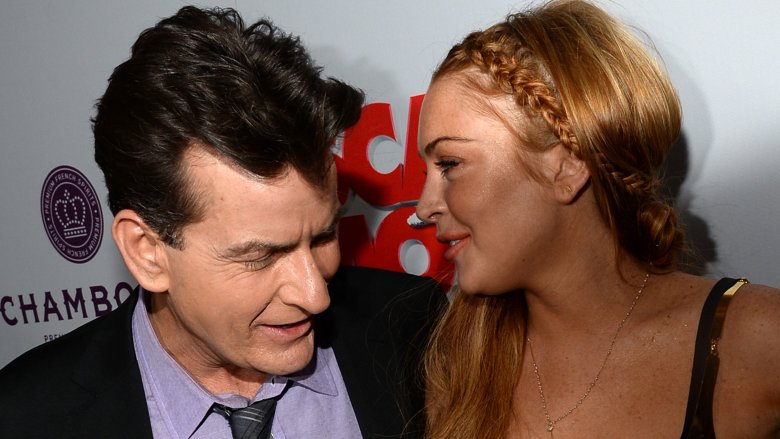 Charlie Sheen is well-known as one of Hollywood's most notorious party boys, and that's why Lindsay Lohan was reportedly skeptical about kissing him multiple times while filming the 2013 comedy Scary Movie 5. According to a report from TMZ, Lohan was asked to kiss the actor (who's over two decades older than her) three times in one scene, and she simply couldn't do it. Although she's a notoriously avid party person herself, Lohan was allegedly afraid of Sheen's spotty history. In other words, she thought she might catch something from Sheen if she kissed him.
The gossip site explains that Lohan asked for the script to be changed, but it wasn't until the day of shooting that a body double was brought in for some of the work. According to the report, Sheen was surprisingly professional and cool with the whole ordeal, and despite the tense situation, the two seem to get along okay. In fact, Lohan agreed to a guest appearance on Sheen's short-lived sitcom Anger Management in a plot line that ended with the two of them in bed together. Of course, they probably didn't have the best time filming the scene. In a 2017 interview, Sheen revealed that Lohan clearly had a rough night prior to filming her spot on his show.
Talking with KISS1065, Sheen said, "She must have had a big night one time, and we had this garbage bin on the set, and the crew and cast named it the 'Lindsay' bin because she was puking into it." TMI, Charlie, TMI.
Julia Roberts and Nick Nolte hated each other's guts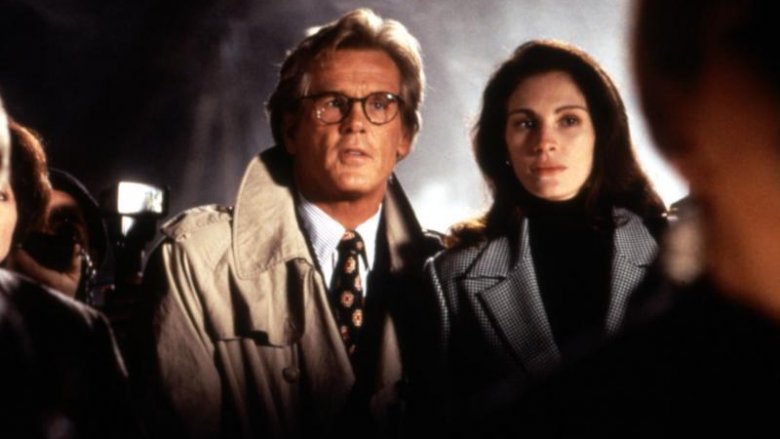 In 1994, audiences got to see Julia Roberts star with Nick Nolte in I Love Trouble, but the rumors about the love lost between these two actors are notorious. It's a classic example of on-set friction, and allegedly, the duo refused to even be on the same set together, let alone touch one another.
According to a report from the Los Angeles Times, Roberts was irritated by Nolte's machismo on set. And he was reportedly so annoyed at her attitude that he would heighten his machismo around her just to wind her up a bit. By the end of the film, it's said the duo couldn't even be on set together without tempers flaring, forcing producers to use body doubles for most scenes.
If that sounds like the kind of thing that would lead to a bad movie, that's because it is. A lot of the critiques at the time had to do with the lack of chemistry between the two stars, as well as slew of other behind-the-scenes gripes. Roberts admitted that Nolte can be "completely charming and very nice." However, she also claimed that he was "completely disgusting." As the actress put it, "He's going to hate me for saying this, but he seems to go out of his way to repel people."
As for Nolte, the actor responded to Robert's statement, saying, "It's not nice to call someone 'disgusting.' But she's not a nice person. Everyone knows that." It's no wonder these two actors had no desire to touch each other. Chances are good they might've killed one another.
Lena Headey and Jerome Flynn never shared the screen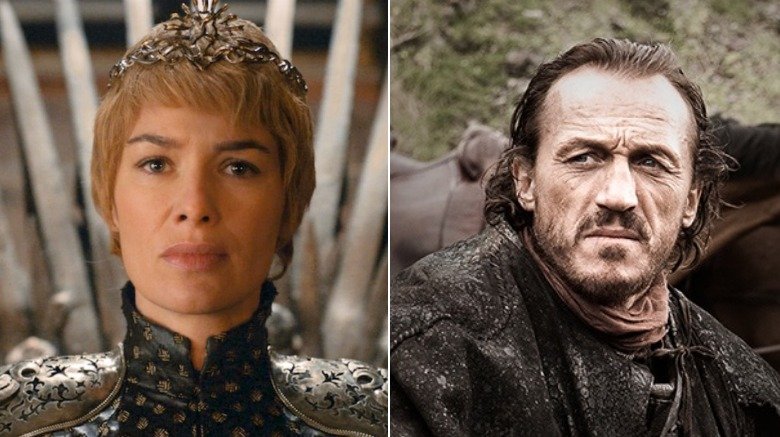 Game of Thrones fans may be surprised to learn that the characters Cersei Lannister and Ser Bronn of the Blackwater never actually appeared together, despite their characters almost exclusively showing up alongside Jaime Lannister (Nikolaj Coster-Waldau) and Tyrion Lannister (Peter Dinklege). And the reason behind that has to do with broken hearts.
Long before heading to Westeros, Lena Headey and Jerome Flynn appeared in the 1993 series Soldier, Soldier, and they were linked romantically in 2002. But according to 2014 report in The Telegraph, a source claims that Lena Headey and Jerome Flynn had a very real breakup that left them no longer on speaking terms. Headey reportedly asked the producers to carefully orchestrate it so they never had to share a set at the same time. The conflict was artfully handled for the most part, with a few glimpses of drama here and there, such as the season seven meeting in King's Landing when Bronn offhandedly says he'd rather go have a drink than be present for the biggest political discussion (not to mention biggest convention of main characters) the realm had ever seen.
Sadly, it's unclear what exactly happened to make the breakup so tumultuous as The Sun reports both stars kept it under wraps, and no one from the show nor HBO has ever commented on it. Now that the series is all wrapped up and their characters are in no danger of sharing the screen together, curious fans may never know what caused the couple to fall apart.
Dwayne Johnson won't be fighting Vin Diesel again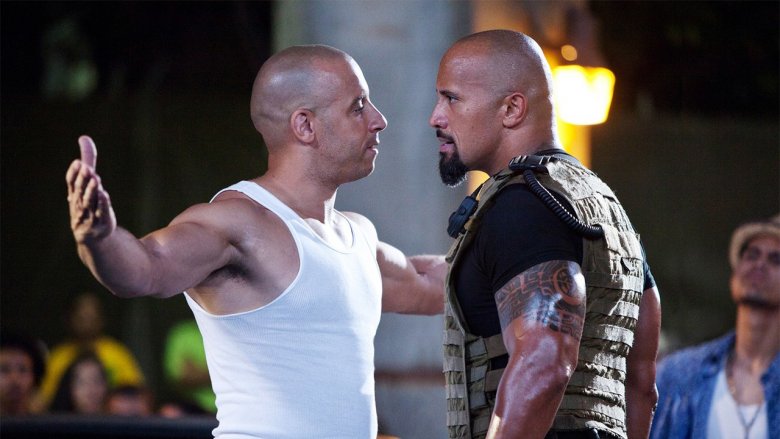 While Dwayne Jonson and Vin Diesel weren't asked to touch each other often during the Fast and the Furious franchise, fans likely won't be seeing a rematch of their epic throwdown from Fast Five, which saw the two hulking figures fight each other through literal concrete walls.
After the Rock made his debut in the fifth installment of the Vin Diesel-led series, things reportedly turned sour off-screen. While filming The Fate of the Furious, Johnson posted a cryptic message on Instagram that he later deleted, in which fans assumed he was calling out Diesel. However, things got official when he confirmed to Rolling Stone that he and Diesel had friction on set.
"Vin and I had a few discussions, including an important face-to-face in my trailer," he says. "And what I came to realize is that we have a fundamental difference in philosophies on how we approach moviemaking and collaborating. It took me some time, but I'm grateful for that clarity. Whether we work together again or not."
The Rock later confirmed that he and Vin Diesel didn't shoot any scenes together in the eighth installment of the franchise. In fact, when the movie came out, it was clear that the former wrestler was kept far away from Diesel's character. Now, Johnson is starring in his own spinoff to the franchise, Hobbs & Shaw, borrowing two characters from Diesel's Fast and Furious franchise that are specifically not Dominic Toretto.
Tisha Campbell wouldn't share the set with Martin Lawrence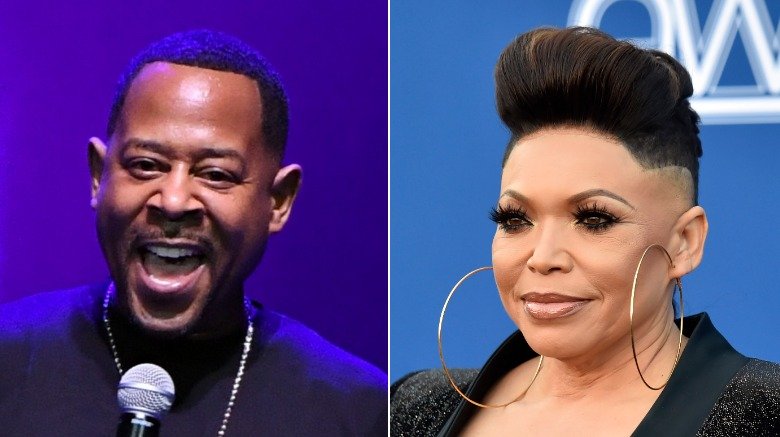 Martin Lawrence and Tisha Campbell might've played a married couple on the sitcom Martin, but things turned bad in a big hurry thanks to some behind-the-scenes drama. Campbell reportedly walked off the set and quit the Fox sitcom after reportedly hearing stories that Lawrence allegedly threatened and abused his wife, Patricia Southall, and their child. People reported that when producers tried to sue for her to get back to work, she countersued them, charging Lawrence with "repeated and escalating sexual harassment, sexual battery, verbal abuse, and related threats."
Both sides in the lawsuit reportedly settled out of court. However, their days of playing husband and wife together were over. Campbell agreed to come back to work and finish out the last season of the series, but would reportedly only do so if it was arranged that Lawrence would never be on the set with her at the same time. Marriages are tough, but it seems that TV marriages might be even tougher.
Neal McDonough wouldn't touch Virginia Madsen because of his beliefs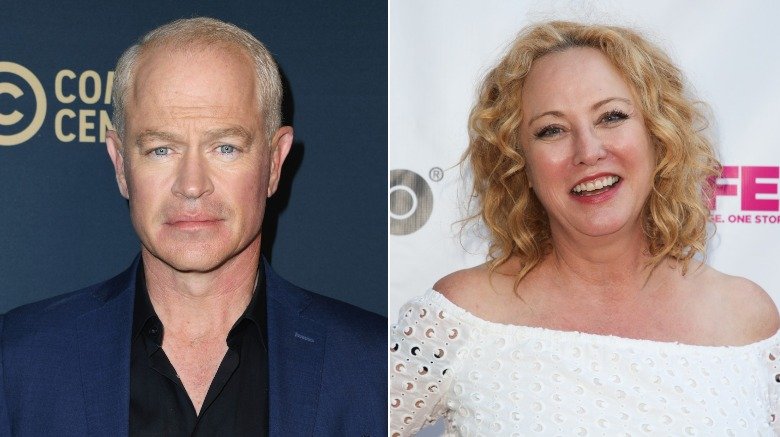 Sometimes actors feud, and other times, they're made uncomfortable by their co-stars. However, when it comes to Neal McDonough refusing to film a sex scene with actress Virginia Madsen on the ABC series Scoundrels, religion is to blame.
McDonough was reportedly fired after just days of filming, and Deadline notes that what was once called a "casting change" was the result of McDonough — who is a Catholic and married to model Ruve McDonough — refusing to film sex scenes or even kissing scenes in any film or TV role. In fact, ABC should've known better as McDonough's beliefs were the cause of friction during his stint on Desperate Housewives.
"Killing people on-screen — that's fake," McDonough told the Christian Examiner in 2016. "When you're in bed with another woman on-screen — guess what? That's real. I don't like that kind of stuff. Especially now with kids, I don't want to have my kids say, 'Hey, Dad, what are you doing with that lady on screen?'"
The star often discusses how his beliefs have cost him roles and work in Hollywood. In fact, sticking to his principles on the set of Scoundrels reportedly cost him a $1 million payday. As for whether or not it's worth it, it seems the star still keeps to his rules today.
Penn Badgley and Blake Lively wouldn't touch after breaking up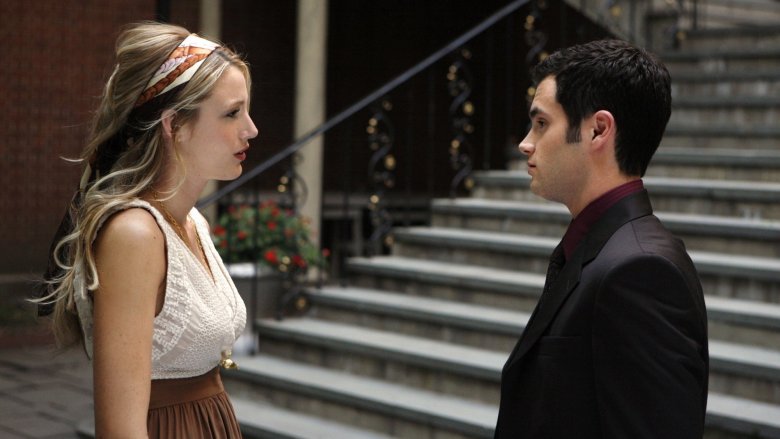 It's always great for a TV show when art imitates life, and the actors behind a pair of characters get romantically involved in real life. This was the case for Gossip Girl stars Penn Badgley and Blake Lively. The couple dated on the show, and they eventually got together in the real world before Lively married her Green Lantern co-star, Ryan Reynolds, in 2012. Around the time Badgley and Lively broke up, their characters parted ways with each other as well, prompting many fans to believe that their off-screen chemistry, which informed so much of the heat between their characters, was gone now that they were no longer smooching in real life.
Badgley kind of confirmed the news during an appearance on Watch What Happens Live. "I'll say Blake [was the best on-screen kiss] because we actually had a relationship at the time," he said. But when asked to the name his worst on-screen kiss, his answer was, "Maybe Blake after we broke up."
It turns out the stars were still keeping their private lives private for a while before they informed the cast and crew they were no longer together. It's unclear how the minds behind the show reacted, but with the chemistry gone and things awkward for everyone, it's rumored the duo decided it was time for their character to cease touching altogether.