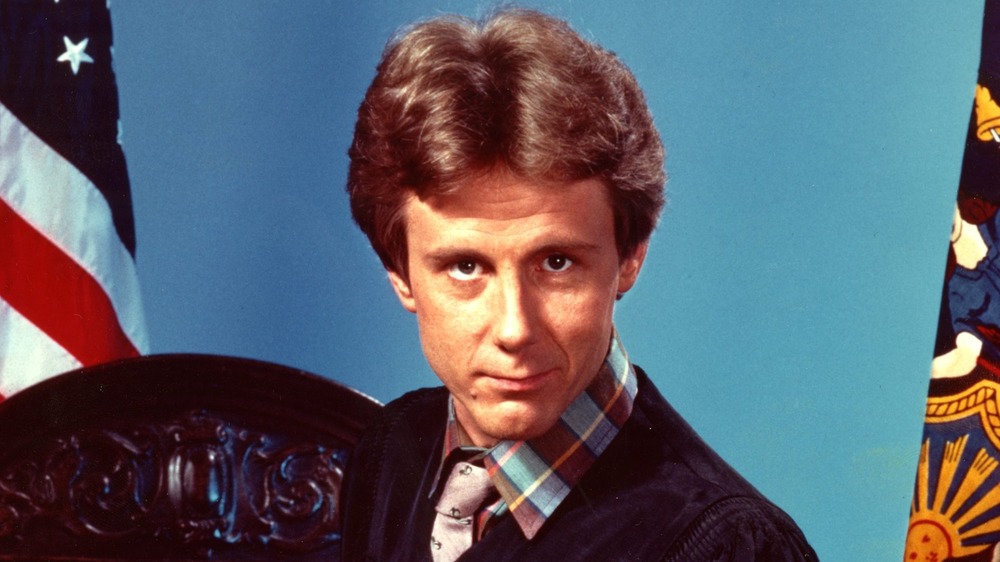 For nine seasons, disorder reigns on the docket of Night Court, NBC's comedy about the eccentric hijinks of a late-night Manhattan municipal court. Created by Barney Miller writer Reinhold Weege, Night Court aired from 1984 to 1992, and acted as a broad and "bawdy" contrast to the wholesomeness of The Cosby Show and Family Ties. "[S]ome have been critical of our vaudevillian, burlesque kind of approach," co-star John Larroquette once told The Los Angeles Times. "But if you just want to forget it all for a minute and laugh at pies in the face and pants around the ankles, that's what we do very well."
Along with a revolving door of miscreants and misdemeanors, Night Court captures the "it's a living" philosophy of the courthouse work family that anyone with a workaday job might recognize. The cases are ludicrous, but the stakes are rarely life-or-death, as The AV Club notes: "That jobber approach to the law helped Night Court keep at least one toe on the ground."
Nominated for more than 20 Emmys, Night Court won seven, including four for Larroquette's portrayal of narcissistic womanizing prosecutor Dan Fielding. NBC dumped the dependable farce in 1992, cementing what co-star Richard Moll called "a bit of a Rodney Dangerfield complex." But a sequel is in development, according to Variety, with Larroquette set to return as Fielding in the wee hours, opposite an "unapologetic optimist" judge who is Stone's daughter. Let's look back at the original before the gavel dropped.
Judge Harry Stone, honorable goofball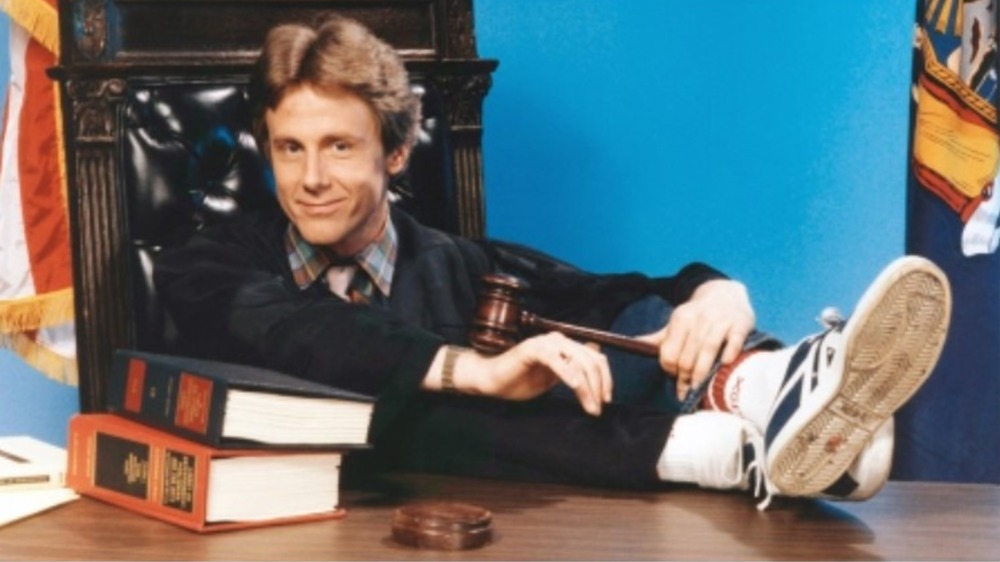 A magician and comedian, the late Harry Anderson appeared on Saturday Night Live and guest-starred on Cheers as con man "Harry the Hat" before landing on the bench at Night Court. As Judge Harold "Harry" T. Stone, Anderson is the moral center of the show, with a screwball sense of humor and a love of magic tricks, classic films, and the music of Mel Tormé.
A relatively young jurist in his 30s, Harry lands the gig out of hundreds of candidates because he happened to be home on a Sunday to answer the mayor's call, as he explains in the pilot, "All You Need Is Love." In the show's finale, he receives an offer to tour with Tormé, who by then had made several guest appearances on Night Court: The crooner typically played himself, although in season eight, he arrives as an angel a la It's a Wonderful Life to show Harry what life in the courtroom would be like without him. In addition to Judge Stone, Anderson, who died in 2018, played humorous columnist Dave Barry in the 1990s sitcom Dave's World and the adult Richie Tozier in the 1990 TV adaptation of Stephen King's It.
Dan Fielding, womanizing prosecutor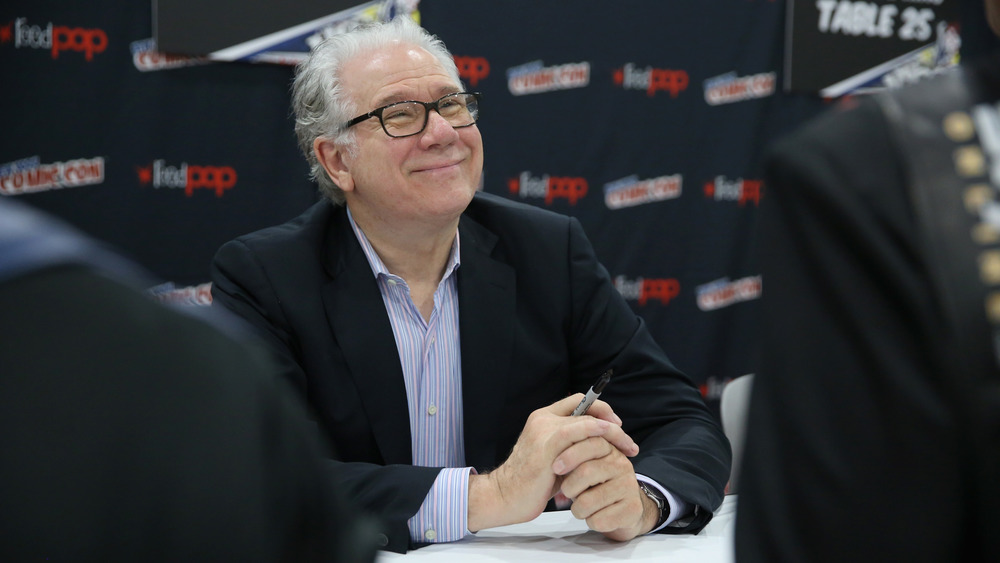 Prosecutor Dan Fielding (full name Reinhold Daniel Fielding Elmore) rarely shows compassion, although he occasionally surprises those around him when he does. Actor John Larroquette's wry demeanor and dry delivery kept Dan from being a one-note lech, partly because the scripts know when Dan is more pathetic than smooth. "You ever see the signs over the Golden Arches that say, 'Over four billion served?' Let's just say I'm competitive," he quips.
When not hitting on one of the public defenders or even the defendants themselves, Dan sends homeless man Phil Sanders (William Utay) on errands for various schemes. After Phil dies when a piano falls on him, Dan learns that the man was secretly wealthy. Phil named Dan his beneficiary, but before Dan can dream of how to spend his newfound millions, he learns that the will also places him in charge of a charitable foundation tasked with giving away the entire fortune to worthy causes.
Larroquette, who made his film debut providing the opening narration of 1974's The Texas Chain Saw Massacre, has popped up on other series since Night Court ended, most notably the comedy-drama Boston Legal and the fantasy adventure series The Librarians.
Markie Post for the defense as Christine Sullivan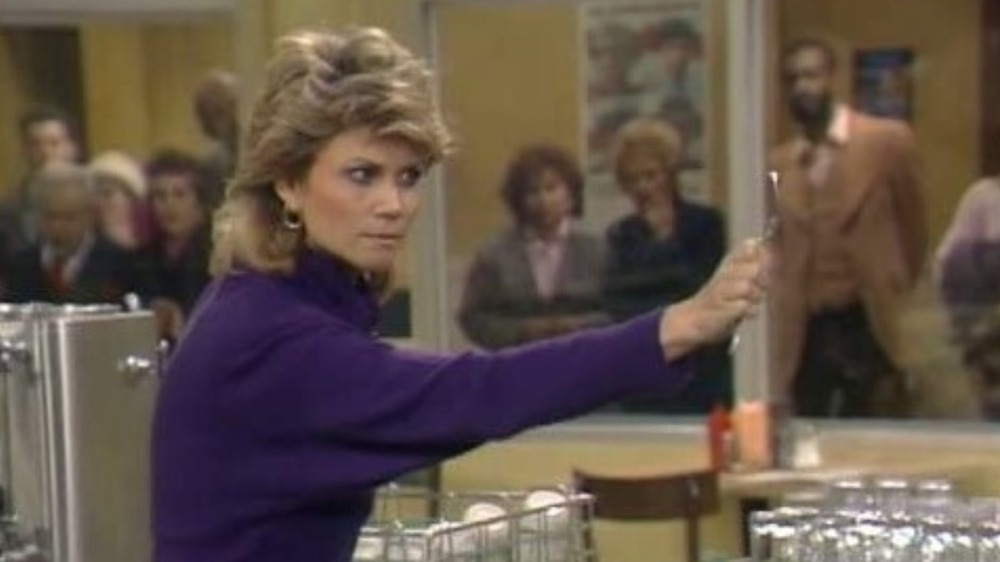 Markie Post (Chicago P.D.) isn't the first public defender on Night Court: She fills those shoes the longest, playing Christine Sullivan from seasons three to nine. (Gail Strickland played the public defender Sheila Gardner in the pilot, followed by Paula Kelly's Liz Williams for the rest of season one and Ellen Foley's Billie Young for season two.) A perpetual foil for Dan's advances and a romantic interest for Harry, Christine is smart, witty, and amusingly flustered, thanks to Post's comic timing. Much like Harry idolizes Mel Tormé, Christine too has a quirk: She adores the royal family and Princess Diana, collecting memorabilia such as porcelain thimbles.
Christine is honest to a fault, although she does flash a guy to help Harry win an arm-wrestling contest. She becomes disillusioned and considers quitting her job soon after arriving in season three after a man mugs her. But when the same mugger winds up taking hostages at the courthouse, Christine rediscovers her compassion and helps save the day. One memorable case in season four finds her arguing that a couple didn't mean to detonate a bunch of chickens. They "were merely trying their hand at egg-farming" and "ran into a bit of difficulty with a propane-powered incubator," she says. The series' end sees the impassioned and creative defense attorney off to Congress.
Richard Moll as the less-than-raging bailiff Bull Shannon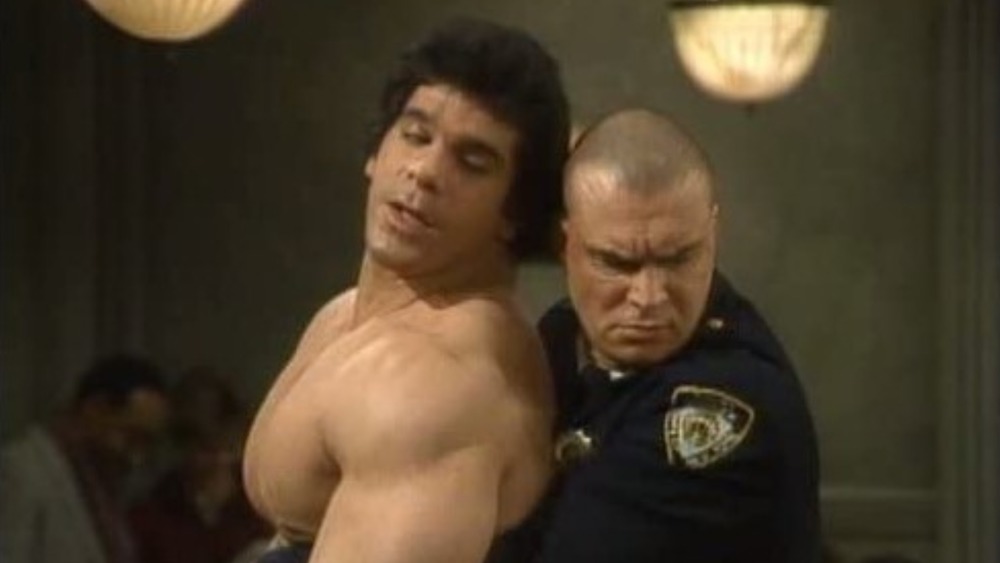 B-movie veteran Richard Moll (Metalstorm: The Destruction of Jared-Syn) had shaved his head for a role when he auditioned for Night Court. The producers liked the bald look so much on the 6-foot-7-inch Moll that they asked him to keep that style for bailiff Nostradamus "Bull" Shannon. Bull is fiercely protective of Harry and can seem dim-witted at times, although Moll played this as a gentle and childlike nature. "You're a judge. You stand for justice," he explains. "I'm a bailiff. I stand. Kind of like cattle."
Bull's towering size means that he often wrangles rowdy defendants, something that makes him consider a wrestling promoter's job offer in season two after he corrals guest star Lou Ferrigno (TV's Incredible Hulk of the 1970s). Fortunately, Harry and the others convince him to return to the courthouse instead of pursuing a career in the ring. The end of Night Court sees aliens whisk Bull off to Jupiter.
Since then, Moll has appeared in But I'm a Cheerleader and Scary Movie 2. He has also voiced various animated villains, including Two-Face in The New Batman Adventures, Scorpion in Spider-Man: The Animated Series, and the Abomination in The Incredible Hulk.
Selma, Flo, and Roz: Three memorably acerbic women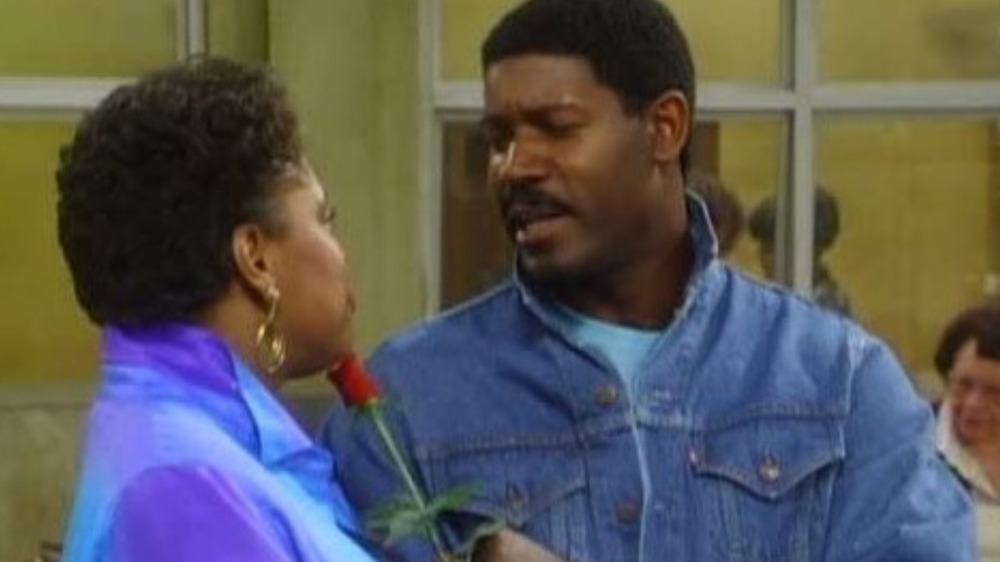 Accompanying Bull as the older and wiser bailiff on Night Court are three women, scattered throughout the show's tenure. The deadpan Selma Diamond (All of Me) played bailiff Selma Hacker in seasons one and two, earning Golden Globe and Emmy nominations. Sadly, Diamond died of cancer in 1985. Her replacement, Florence Halop (St. Elsewhere), played Florence "Flo" Kleiner during season three, until she too died of cancer in 1986.
Enter Marsha Warfield (D.C. Cab, Living Single), who had made her comedic debut as part of Richard Pryor's TV sketch show in 1977. Her Rosalind "Roz" Russell — named after the His Girl Friday actress, because her mother adored show business — has a no-nonsense demeanor at first. Hearing that one defendant was in a coma for 20 years, she asks, "In that case, you want to bet on the Packers this Sunday?" But Roz also has a caring side. After she becomes involved with Christine's handsome pen pal in season six (future 24 president Dennis Haysbert), she's floored to learn that the man is an escaped prisoner. Roz sees him sent back behind bars, although Bull gives her a chance to say goodbye privately. She scolds her fellow bailiff, before giving him a kiss on the head.
Charles Robinson, a clerk who also went behind the camera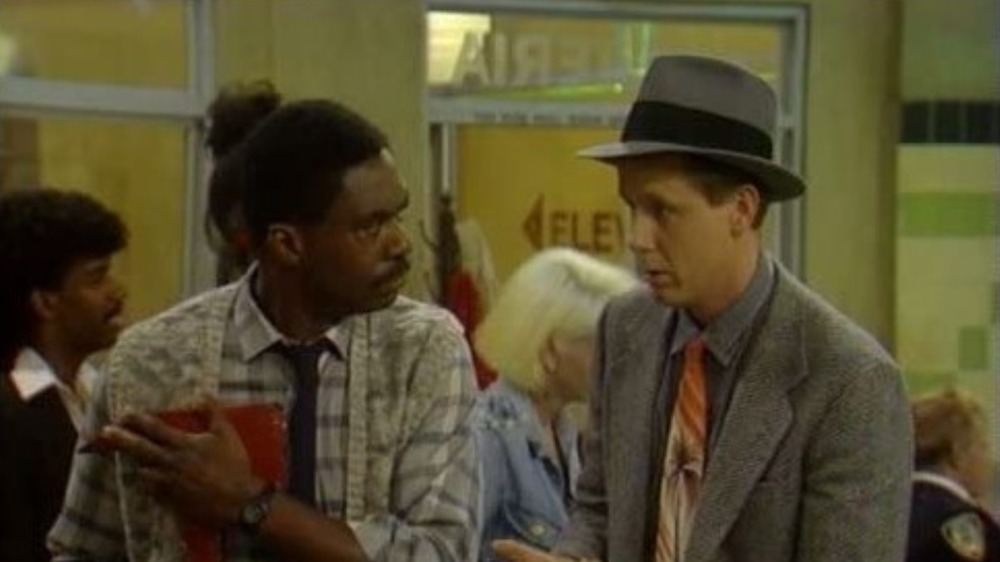 Rounding out the courtroom regulars are clerks Karen Austin in season one and Charles Robinson, who played Macintosh "Mac" Robinson in seasons two through nine. A Vietnam veteran, Mac is married to Quon Le Duc Robinson (Denice Kumagai), a refugee from Vietnam who becomes an American citizen and opens a restaurant during the show's run. Their daughter, Renee Flicka Robinson, is named after Quon Le's favorite childhood show, My Friend Flicka.
Typically wearing a plaid shirt, cardigan, and knit tie, Mac is a loyal friend and more of a straight arrow than Harry, although he can also get the better of Dan with a punchline. At the end of the series, Mac decides to attend film school and become a director, in what might be a nod to the real Robinson's directing chops. Robinson directed three episodes of Night Court ("My Three Dads," "Bringing Down Baby," and "The 1992 Boat Show"), but he's also continued acting, appearing in The House Bunny and the TV series Key and Peele, Mom, and This Is Us.
The jazzy theme of the night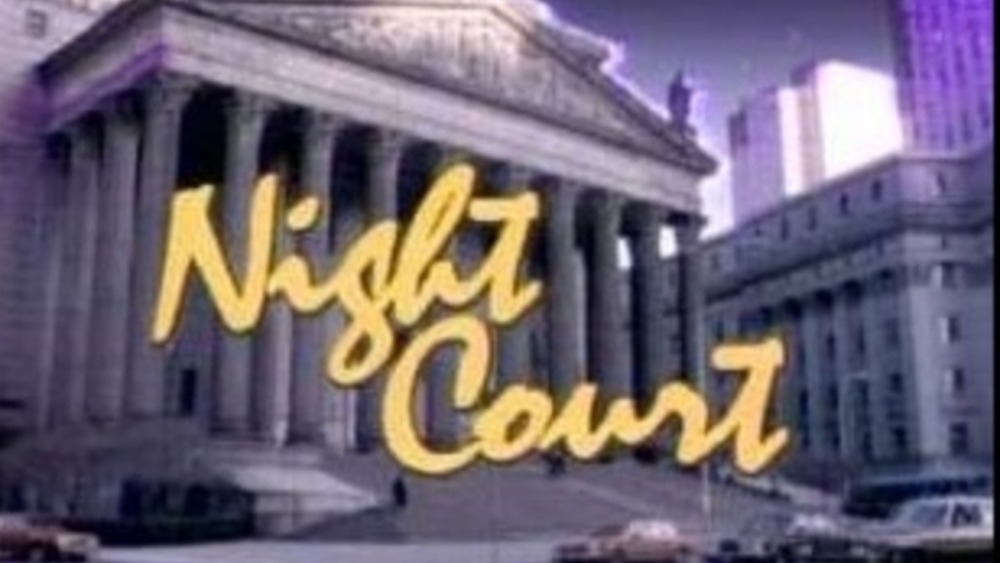 We can't mention Night Court without discussing its distinctive instrumental theme song, a bass-heavy jazz tune that runs over the opening titles and shots of the Brooklyn Bridge, municipal courthouse, and people mingling around the city at night. This iconic theme is the work of composer Jack Elliott, who served as music director for The Andy Williams Show and also co-wrote the themes to Barney Miller and the 2011 Charlie's Angels series. Beyond his work in television, he's served as the music director for the Grammy Awards, the Academy Awards, the Primetime Emmy Awards, the Kennedy Center Honors, and the 1984 Summer Olympics ceremony in Los Angeles.
Night Court's theme includes a saxophone melody played by Ernie Watts, a longtime studio musician who Toronto's JAZZ.FM91 says is "among the most familiar voices in music." Watts notably played sax on Marvin Gaye's "Let's Get It On," and appears on the soundtrack for The Color Purple. Beyond Night Court, astute fans might have noticed parts of the theme appear elsewhere in pop culture, including a Family Guy episode in which former U.S. President Bill Clinton plays saxophone.
The Star Trek connection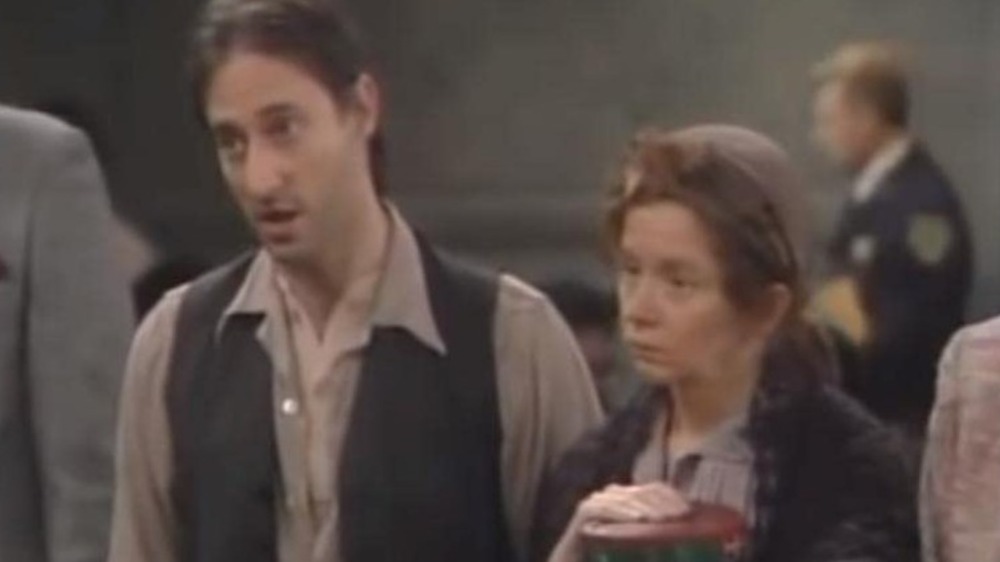 Befitting a long-running show with various court cases, Night Court has a lot of guest stars — some with recurring roles. One of them was Brent Spiner, who later shot to fame as Lieutenant Commander Data, a self-aware android curious about human life on Star Trek: The Next Generation and Star Trek: Picard. On Night Court, Spiner played Bob Wheeler, husband to June (Annie O'Donnell). They appear to be down-on-their-luck Appalachians, but are really from Yugoslavia. Asked why they claimed they were from West Virginia, Bob says, "It was the first exotic place that popped into my head." The pair appear in front of Harry for various mishaps, including trying egg-farming with a propane-powered incubator, as Christine explains in their defense. At one point, the Wheelers even run a concession stand in the courthouse.
But the Star Trek ties don't end there. Larroquette appeared as the Klingon Maltz in 1984's Star Trek III: The Search for Spock. What's more, during one marathon caseload in season six, Harry hears a case involving two Star Trek fans who cause a disturbance at a seminar discussing Starfleet Command. One, dressed as Geordi La Forge from The Next Generation, and the other, dressed as Mr. Spock from the original series, nearly come to blows, with the latter threatening the former with a Vulcan death grip before Bull intervenes. "How do you like the Bailiff Bull grip?" he says.
Be the court's guest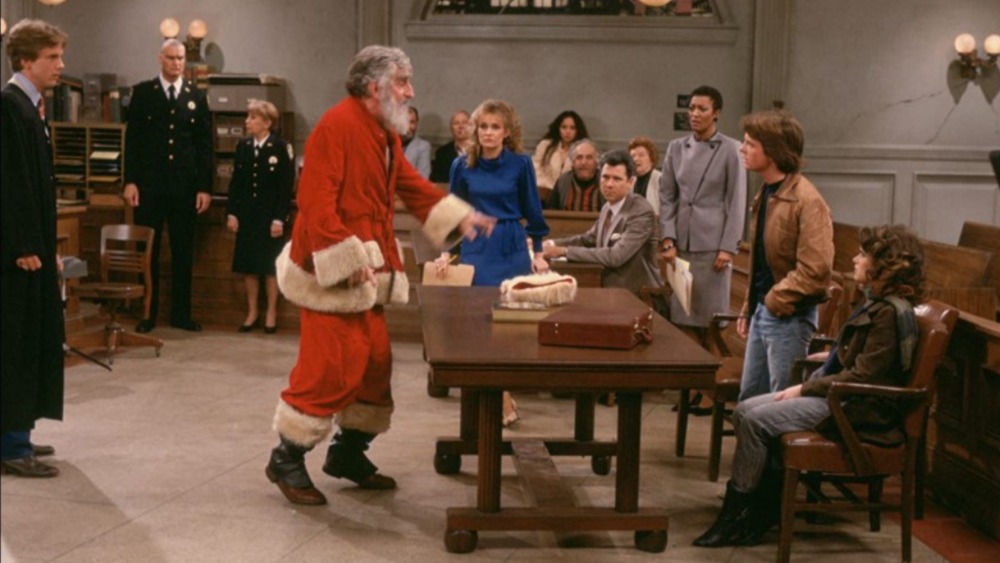 Night Court's guest stars range from the well-known, like Tormé, to actors who had not yet earned wider recognition, like Haysbert. Some appear in just one episode. Between Family Ties and Back to the Future, for instance, Michael J. Fox dropped by Night Court as a shoplifting runaway, whose encounter with another defendant who thinks he's Santa Claus sets him on the right path. ("Santa" also offers Harry the chance to succeed him in the job.) Other one-episode guest stars include Teri Hatcher (Desperate Housewives), who played Dan's boss' sexy niece; Robert Englund (A Nightmare on Elm Street) as a defendant charged with arson who thinks aliens are among us; Fran Drescher (The Nanny) as a schizophrenic woman whose personality changes leave Dan literally bound and gagged; and comedian Elayne Boosler as Joy, Harry's ironically named abrasive assistant.
Others, like Spiner, had recurring roles. Comedian and actor Gilbert Gottfried (Aladdin) played a temporary prosecuting attorney over three episodes in season nine. Another comedian, Yakov Smirnoff, appeared in five episodes from 1984 through 1990. Playing Russian defector Yakov Korolenko, he first appears before Harry in season one, charged for stolen property and threatening to burn down the courtroom. In spite of this, Harry takes a liking to him, later helping him search for his brother as well obtain a visa extension for his father.
"A Day in the Life" — and what a day it is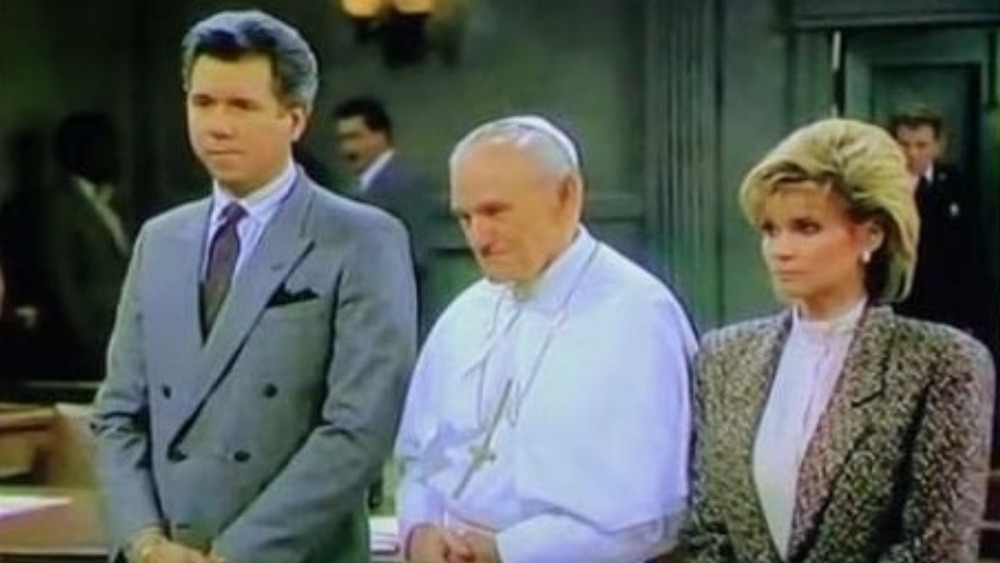 Although every episode is set during the night shift, Night Court might be best known for several "Day in the Life" episodes, in which the regulars work through a hefty docket on a deadline. Reasons for these time crunches include a burst pipe flooding the holding cells and the staff racing to beat a federal judge's ruling granting amnesty to anyone not arraigned by midnight. One of these episodes — season five's "Another Day in the Life" — is one of the series' most highly-rated episodes on IMDb.com. Its setup involves a Texas millionaire arrested for jumping in a park fountain, who offers to pay the mortgage of an impoverished orphanage if the staff hears his case by midnight. Meanwhile, Dan has a bet with the other prosecutors on who can convict the most defendants by weight.
The rapid-fire banter and colorful case snippets of these unique episodes squeeze in lots of laughs. In one, two defendants dispute which one is God. "How would you like a thunderbolt where the sun don't shine?" one asks the other. Another time, Harry scolds the Pope (Eugene Greytak of Hot Shots!) for standing and waving while driving (something the Pontiff doesn't actually do). The judge even finds an animated Wile E. Coyote guilty of harassing the Road Runner. "If you're hungry, go to a restaurant for criminy's sake, or a grocery store," Harry says. "But leave that poor bird alone!"