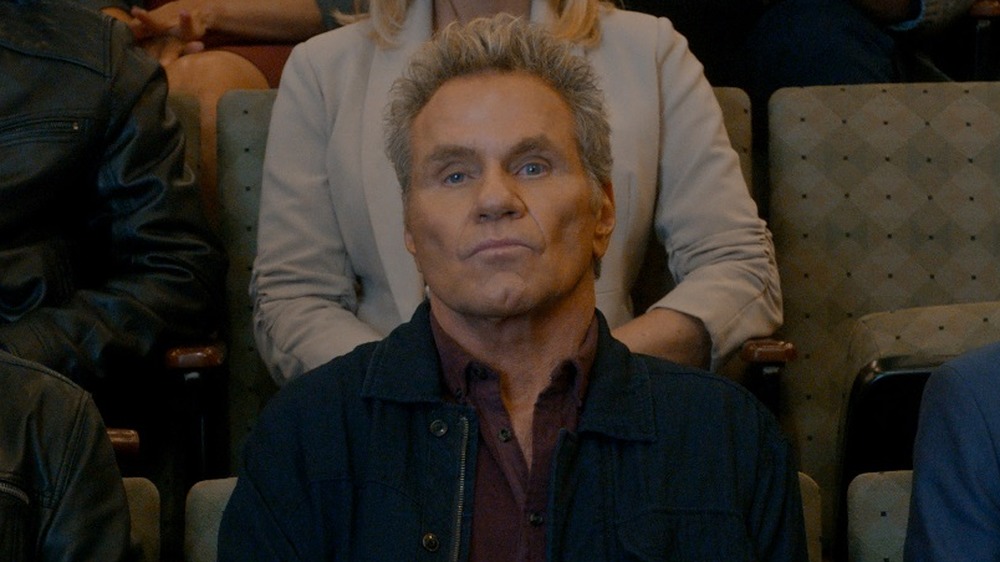 In the third season of Cobra Kai — the series' first run as a Netflix Original — several long-standing rivalries come to a head as the dueling dojos deal with the fallout of the high school brawl that sent shockwaves through the Valley. As John Kreese (Martin Kove) takes over Cobra Kai and instills his "no mercy" mentality into his students, Daniel LaRusso (Ralph Macchio) and Johnny Lawrence (William Zabka) have to stop their bickering and abide by one of Kreese's other favorite sayings: "The enemy of your enemy is your friend."
Daniel also works to save both his business and Robby Keene (Tanner Buchanan), while Johnny steps up to help Miguel Diaz (Xolo Maridueña) get back on his feet. All three rival sensei are forced to confront parts of their pasts as they prepare to settle their present-day differences in the upcoming All Valley Karate Tournament, making some surprising alliances along the way. Here's a look at everything that happens at the end of Cobra Kai season three, and what it may mean for season four.
Contains spoilers for Cobra Kai season three!
Back on top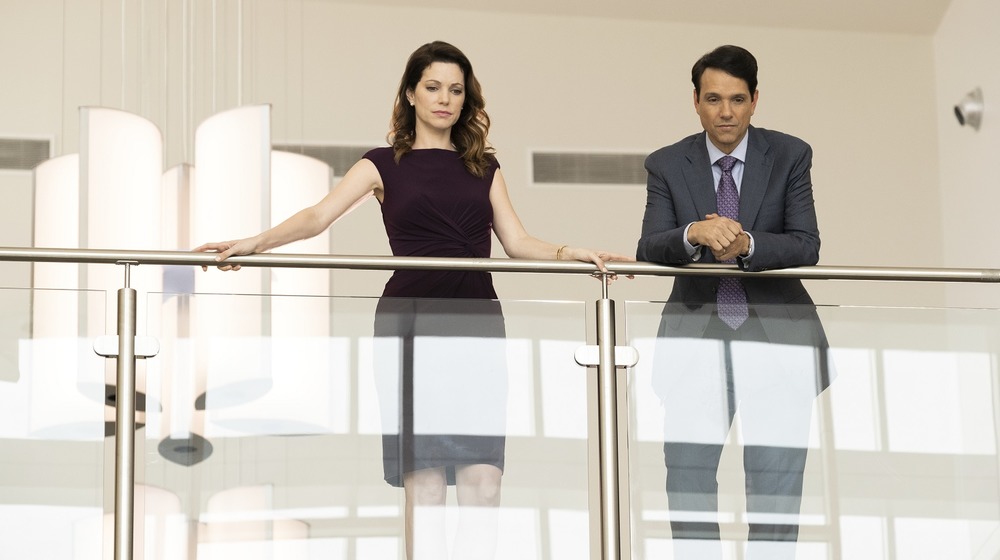 After Robby makes Miyagi-Do infamous for what happened during the school melee, Daniel finds that his karate-themed advertisements aren't so cute anymore as his car sales begin to drag. His top competitor, Tom Cole (David Shatraw) secures an exclusive distribution deal with Doyona and offers to buy Daniel's dealership at a bargain price, but Daniel decides to take a trip to Japan instead. After an inauspicious meeting with Doyona, Daniel visits Mr. Miyagi's (Pat Morita) home in Okinawa and reunites with Kumiko (Tamlyn Tomita), whom Daniel defended and had a romantic relationship with in The Karate Kid Part II.
Kumiko has several surprises in store for Daniel at Tome village, including Mr. Miyagi's old love letters to her late aunt Yukie (Nobu McCarthy) and a visit from the now-grown woman he rescued from a typhoon as a child. She's now VP of international sales at Doyona, and as a long overdue reward for saving her life so many years before, she steps in to save his business relationship with the company. Not only does the LaRusso Auto Group come out of their PR nightmare relatively unscathed in the end, but they also convince Anoush (Dan Ahdoot) to return to their team, and find that cousin Louie (Bret Ernst) is actually a pretty solid salesman. With the dealership on solid ground once again, Daniel will be able to focus on his more personal matters going forward.
Honk!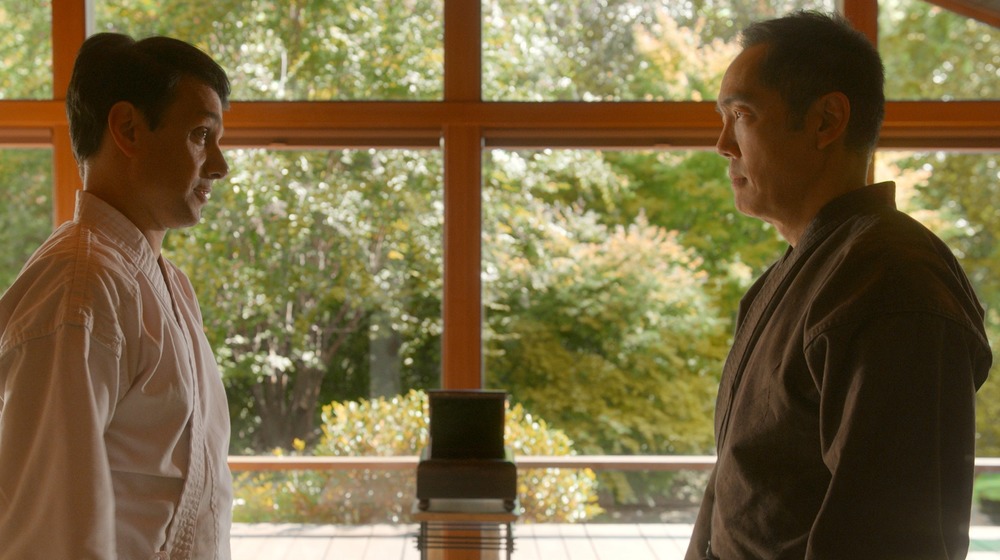 Another familiar face Kumiko brings back into the picture is that of Chozen (Yuji Okumoto), who Daniel defeated in a brutal fight in The Karate Kid Part II. Rather than holding a grudge, however, Chozen wants to make amends. Chozen reveals that his sensei Sato (Danny Kamekona) was also trained by Miyagi's teacher, so he has inherited several artifacts from Miyagi's dojo and wants to test whether Miyagi really taught Daniel everything he knew.
During a match, Chozen stuns Daniel by striking several pressure points and disabling his limbs, a maneuver he attributes to Miyagi's teachings. After pinning Daniel, Chozen ends the fight by honking his nose, which is a playful nod to how Daniel ended their vicious bout so many years before. Chozen admits he has felt shame for his behavior back then and is relieved to learn that Daniel has forgiven him. In return, Chozen agrees to train Daniel in Miyagi's powerful move and also gives him a cherished scroll from Miyagi's collection to take home. Not only does Daniel walk away with a newfound peace agreement with Chozen, he's also armed with a very effective new defense technique. "If only every rivalry could end like this," Daniel jokes about their surprisingly splendid reunion.
Eternal flames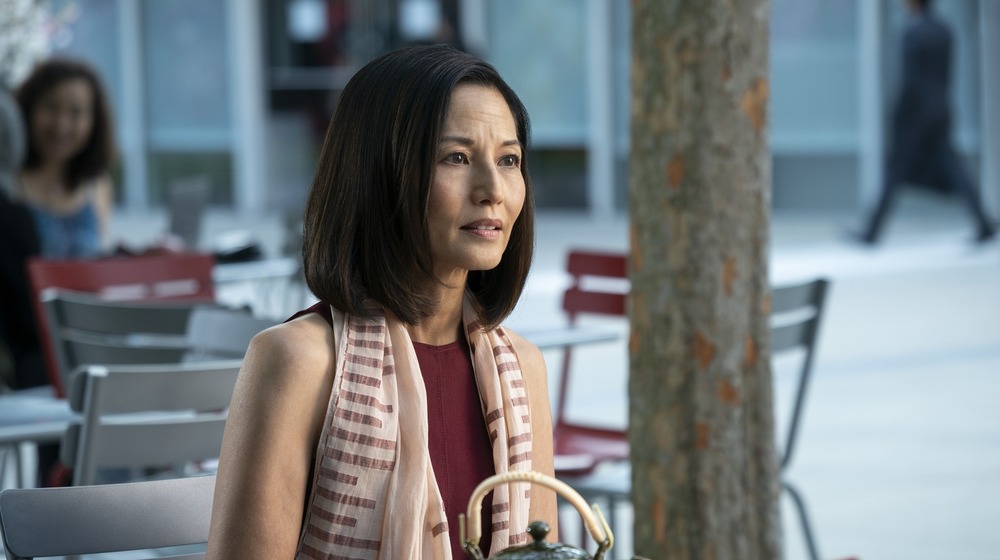 In addition to saving his business and learning a new trick in Japan, Daniel also gets some closure with Kumiko. Though the two had an intense connection in Okinawa all those decades ago, they lost touch with one another and moved on with their lives. The two lament the fact that they might have kept in contact more easily in the modern era of social media, but they part on great terms. Kumiko isn't the only ex that Daniel gets to finally say goodbye to, either.
Ali (Elisabeth Shue) also returns to the picture after she and Johnny reconnect on Facebook. Though Johnny has finally begun a romantic relationship with Miguel's mom Carmen (Vanessa Rubio), he can't resist the chance to catch up with Ali. The two spend a whole day together having fun at lunch and an arcade, and she takes him to a country club party that Daniel also attends. Ali is bemused to find her former flames fighting just like old times but correctly calls them out for being more alike than they'd like to admit. She also accepts Daniel's apology for ending things so abruptly and thanks Johnny for making her feel young again before wishing him well with Carmen. The memory of fighting over Ali has always been a point of contention for Daniel and Johnny, but now that the two have gotten a chance to talk things out with her, they can finally let go of that piece of their animosity.
Cute couple alert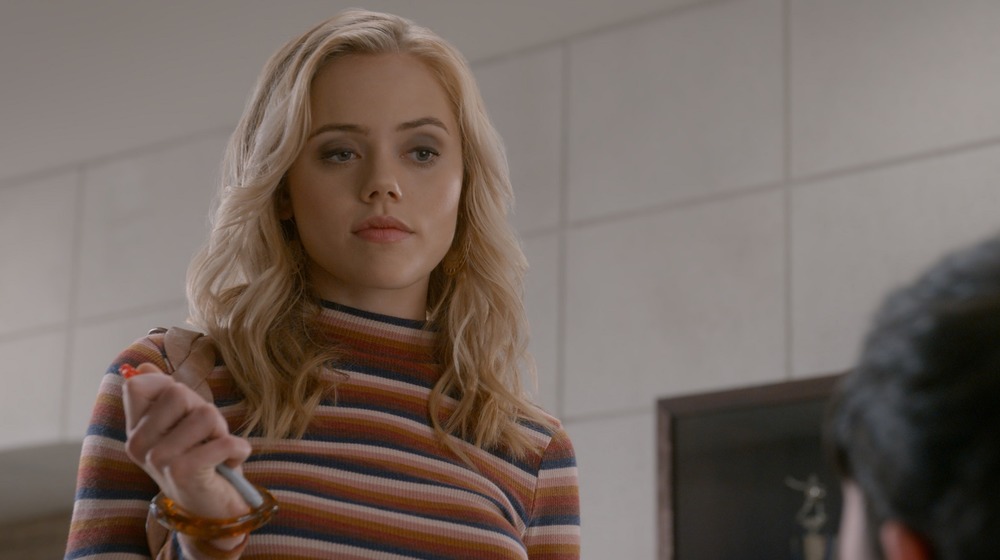 Johnny and Carmen aren't the only new lovebirds taking flight this season. It looks like Miguel and Sam (Mary Mouser) are also ready to octopi some space together again, too. After training with Johnny, Miguel is back in fighting shape and returns to school. Sam apologizes to Miguel, helps raise money for his treatments, and even shows him around Miyagi-Do. The sight of them together might make Robby incensed, and it even raises eyebrows with Daniel, but Sam and Miguel share more than just some smooches. Together, they hatch a plan to unite their dojos for the greater good.
Meanwhile, Demetri (Gianni Decenzo) and Yasmine (Annalisa Cochrane) have become unlikely kissing buddies — not that she'd ever admit that in public, of course — and something is definitely brewing between Robby and Tory (Peyton List). After Robby is released from juvenile detention, he and Tory bond over their equally crummy upbringings and their mutual dissatisfaction with the idea of Miguel and Sam getting back together. Whether these two will combine their anger to form a butt-kicking power couple remains to be seen, but based on the looks they give each other in the final episodes, it's hard to believe their heat won't soon exist off the mat as well.
New alliances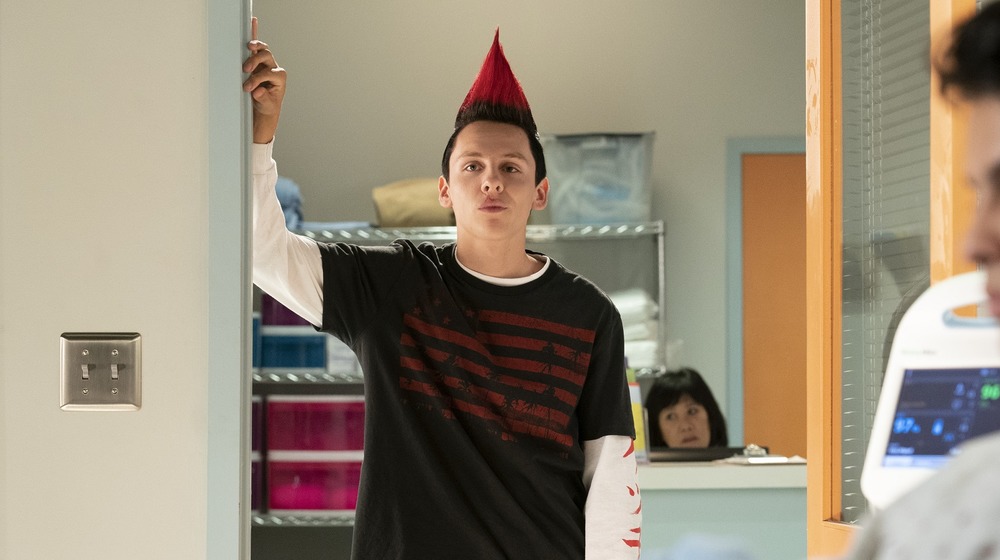 At first, Miguel has trouble convincing the members of Johnny's new Eagle Fang dojo to join forces with Sam's Miyagi-Do members. But once the Cobra Kais attack them all at their Christmas party, the lines are officially drawn. This means former besties-turned-rivals Bert (Owen Morgan) and Nathaniel (Nathaniel Oh), along with Mitch (Aedin Mincks) and Chris (Khalil Everage), can finally fight together again, instead of forcing themselves to hate each other.
Perhaps the most surprising member to join this new team is Hawk (Jacob Bertrand). He is initially poised to be Cobra Kai's new champion and takes Kreese's tough teachings to heart, even breaking Demetri's arm during an off-the-mat confrontation. All season long, though, Hawk watches with disdain as Kreese recruits most of his least favorite people to join the dojo, including his former bully Kyler (Joe Seo) and Robby, who Hawk still blames for what happened to Miguel. Hawk participates in the siege on Miyagi-Do, but upon seeing his teammates attacking his former friends, he decides to switch sides and defends Demetri against having his arm broken again. He takes Demetri's side at Miyagi-Do for the first day of dual training with Eagle Fang, making it clear that these two are finally ready to fight side by side after so much turmoil.
Finish it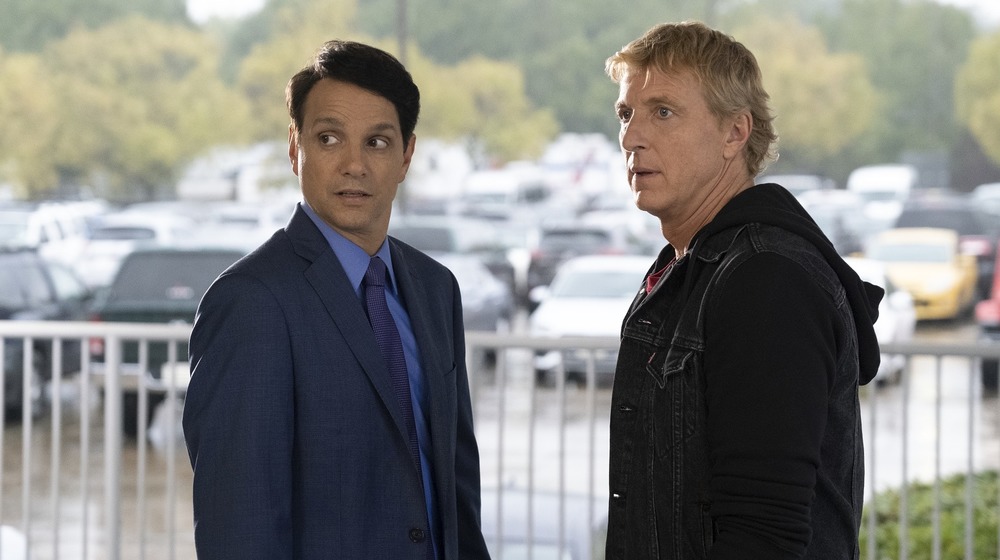 After the Cobra Kais attack the unsuspecting kids at Miyagi-Do, Johnny decides to confront his former sensei once and for all. He's surprised to find his son Robby at the dojo rising to Kreese's defense, but Johnny still engages Kreese in a fight that very nearly turns deadly. Robby discourages Johnny from using a sai on Kreese after he gains the upper hand, and Kreese makes him pay for that moment of mercy. After Robby himself tries to pick a fight with Johnny, Johnny accidentally knocks him out against a locker, and Kreese nearly chokes Johnny to death.
However, Daniel arrives in the nick of time and kicks Kreese off of Johnny. After a brief fight, Daniel uses Miyagi's disabling move to stop Kreese in his tracks. Kreese suggests that instead of this turning into a deathmatch, they finish the fight by entering their students in the All Valley Tournament they all stood up to save. If Cobra Kai loses, Kreese promises to disappear from town for good. While Johnny and Daniel unite to take Kreese down, however, Kreese maintains one last trick up his sleeve.
Time to pay up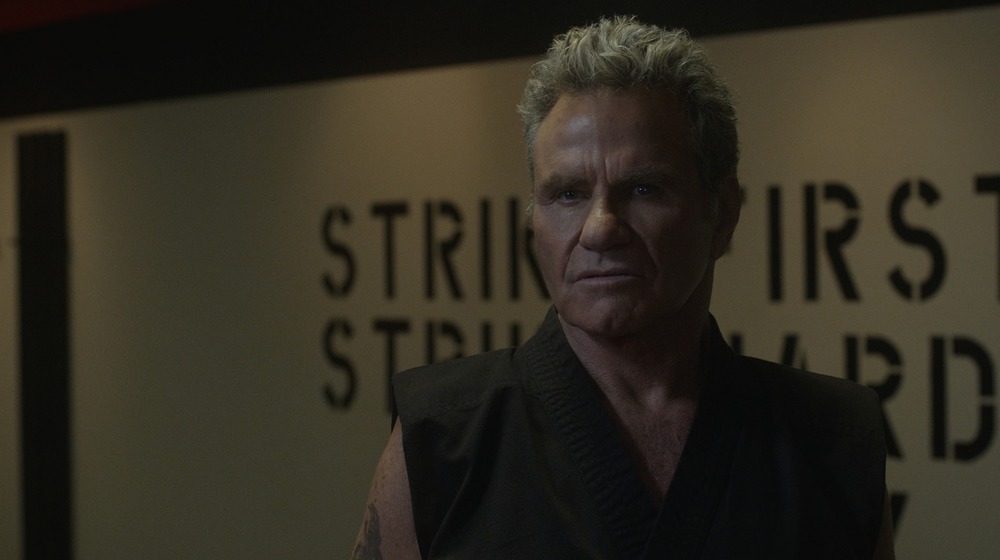 Throughout Cobra Kai season three, we finally learn why Kreese is so hellbent on his "strike first" and "no mercy" philosophies. After enduring the death of his mother and bullying in his workplace, young Kreese finally fought back when one of his tormentors hit his girlfriend, Beth, who then became Kreese's girlfriend. He signed up for a tour in Vietnam shortly after, and was recruited for a covert mission alongside his friends Ponytail and Silver, AKA Twig.
Tragically, the entire unit was captured on that mission. Ponytail was immediately executed, while the others were made to fight one another to the death above a pit of snakes. Kreese's captain, who regularly accused him of cowardice, was chosen to fight Twig, and Kreese volunteered to take Twig's place. The captain nearly defeated Kreese after he revealed Beth had died in a car accident, but Kreese gained the upper hand. Even as they were saved by air support, Kreese kicked the captain into the pit and declared he'd finally learned his lesson: Show no mercy. Twig, who may not have seen Kreese kick the captain, told Kreese that he owed him a life debt and would always be there for whatever Kreese needed.
Now, it appears Kreese is finally ready to collect. After Kreese makes his deal with Johnny and Daniel to settle their disputes at the tournament, he makes a call to an old friend while holding a photo of himself with Ponytail and Twig. Fans of The Karate Kid III will certainly remember Silver as Kreese's ally who tried to drive a wedge between Daniel and Mr. Miyagi, so we'll have to wait and see how he comes back into the game in season 4.