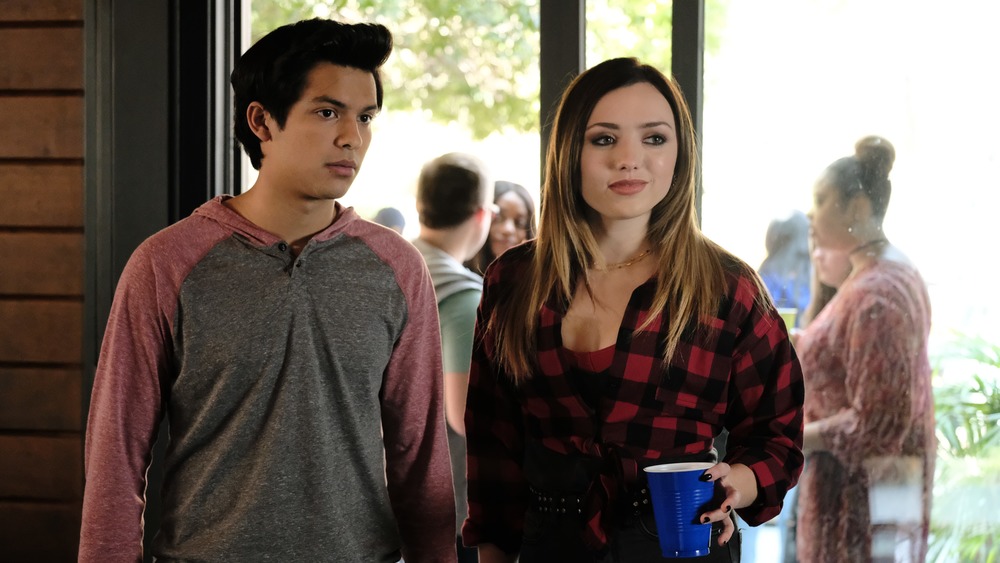 Cobra Kai wouldn't be a continuation of the Karate Kid films if each character didn't have their own complicated rivalry. So of course Daniel LaRusso's (Ralph Macchio) teenage daughter and excellent karate student Sam (Mary Mouser) has her very own nemesis, Tory Nichols (Peyton List). Tory's only been slinging kicks in the dojo since season 2, but she's already made quite an impact on the story, even instigating the best fight scene of the series.
But when she's not in her karate uniform, Tory may seem strikingly familiar. She's played by Peyton List, who's been modeling and acting for most of her life. At only 22 years old, she already has 56 acting credits on IMDb (though she's not to be confused with the other, somewhat older Peyton List from Mad Men). On casting List in Cobra Kai, series co-creator Jon Hurwitz told IndieWire, "We wanted somebody who was a rival that can be intimidating to [Sam] in a physical way, and when we saw Peyton's audition, she just was totally badass and very intimidating in a way that she would be a legitimate threat to Samantha LaRusso."
However, the ferocious Tory who loves the Cobra Kai dojo's "no mercy" creed, is a far cry from List's adorable early roles and her bubbly, laugh-track roots on Disney Channel.
One of Peyton List's earliest roles was in 27 Dresses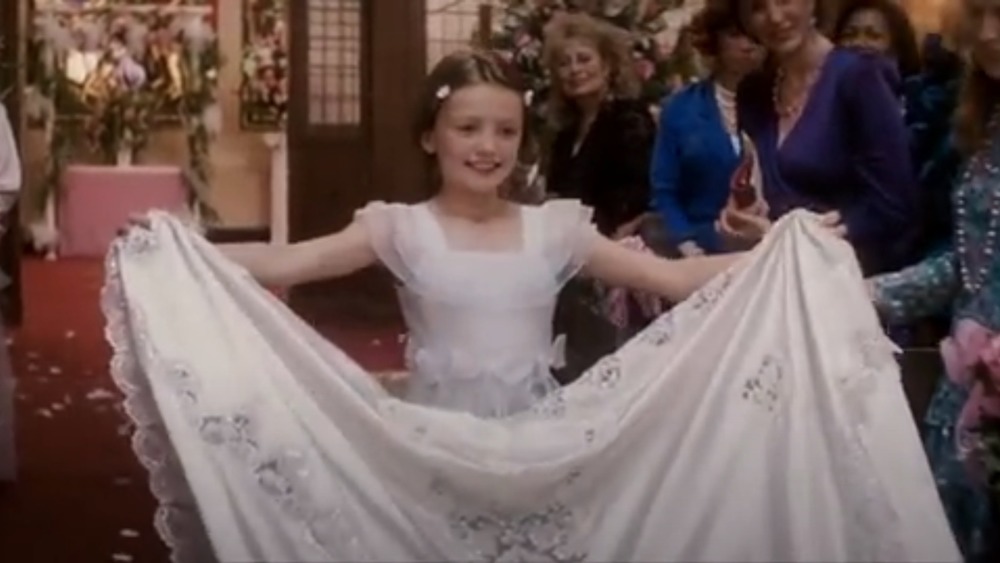 After a couple of early uncredited roles, including a brief moment in Spider-Man 2, Peyton List made her true acting debut in the 2008 romantic comedy 27 Dresses as the younger version of the protagonist Jane Nichols (who, ironically, has the same last name as her Cobra Kai character). Katherine Heigl of Grey's Anatomy stars as the present-day Jane, who is an eternal bridesmaid, having been in 27 wedding parties. List plays the eight-year-old version of her in the beginning of the movie, who discovers her knack (and love) for solving wedding problems.
She played Emma Ross on Disney Channel's Jessie and Bunk'd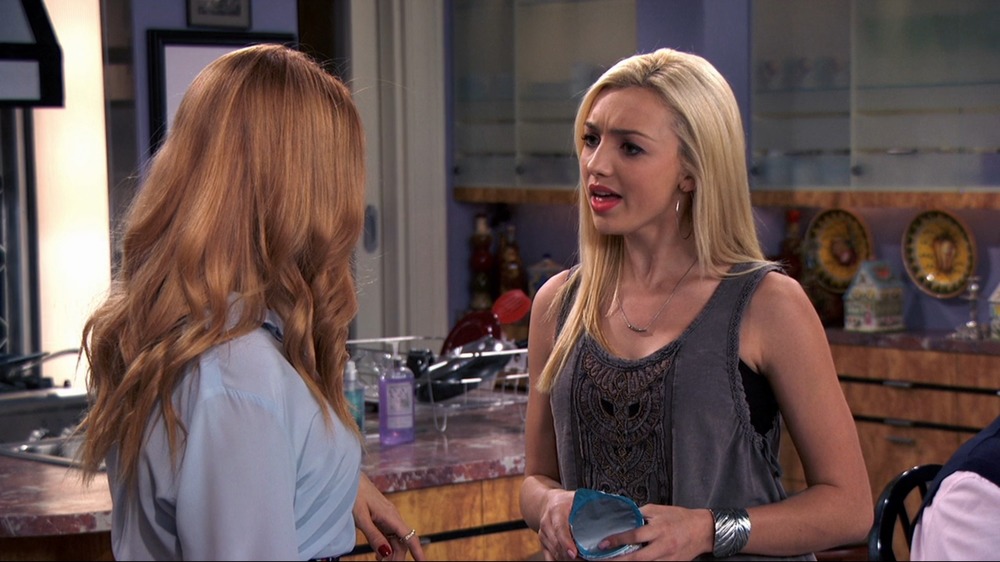 From 2011 to 2018, List starred as Emma Ross for all four seasons of the Disney Channel series Jessie and three seasons of its spin-off show Bunk'd. Emma is the eldest of the kids that the titular Jessie (played by Debby Ryan) comes to New York City to nanny, and the resident teenager before her siblings grow up. While this wasn't List's first acting part, it is her longest-running role.
Coincidentally, one episode of Jessie references The Karate Kid in season 4 with the title "Karate Kid-tastrophe." However, despite her Cobra Kai role now, List's Jessie and Bunk'd character Emma isn't the one practicing karate: It's her younger siblings Zuri (Skai Jackson) and Luke (Cameron Boyce). In the episode, they practice the famous "wax on, wax off" line from the original movie. Meanwhile, in an interview with ClevverTV, a then 13-year-old List was excited about how both she and her character Emma were "fashionistas," and said she'd collaborated with the stylist on Emma's wardrobe.
Peyton List played the crush in two Diary of a Wimpy Kid movies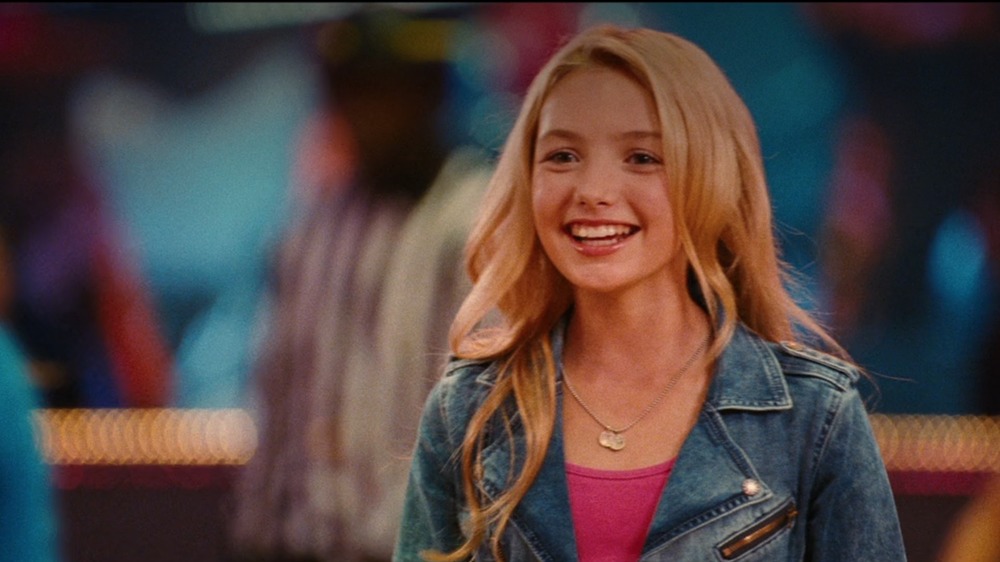 List has had parts in a variety of TV movies, shorts, and one-off episodes, but she's also been in a few more well-known films. While she was still a regular on Jessie, she took a role in the Diary of a Wimpy Kid films. She plays the main character Greg's (Zachary Gordon) crush, Holly Hills, in both Rodrick Rules and Dog Days, the second and third films of the series. The movies, which are based off Jeff Kinney's children's fiction books of the same name, follow the troubles of middle schooler Greg. Kinney actually makes a cameo as Holly's dad in both films.
At 13 years old, List was already playing the popular blonde in school. Holly, as the pretty new girl in town, catches Greg's attention when she gracefully skates past him at a roller rink. She's sweet and friendly, though reasonably unnerved in the face of creepy comments from Greg's friends. The pair later bond over their shared torment from having older siblings.
In Light as a Feather, Peyton List is threatened with supernatural horrors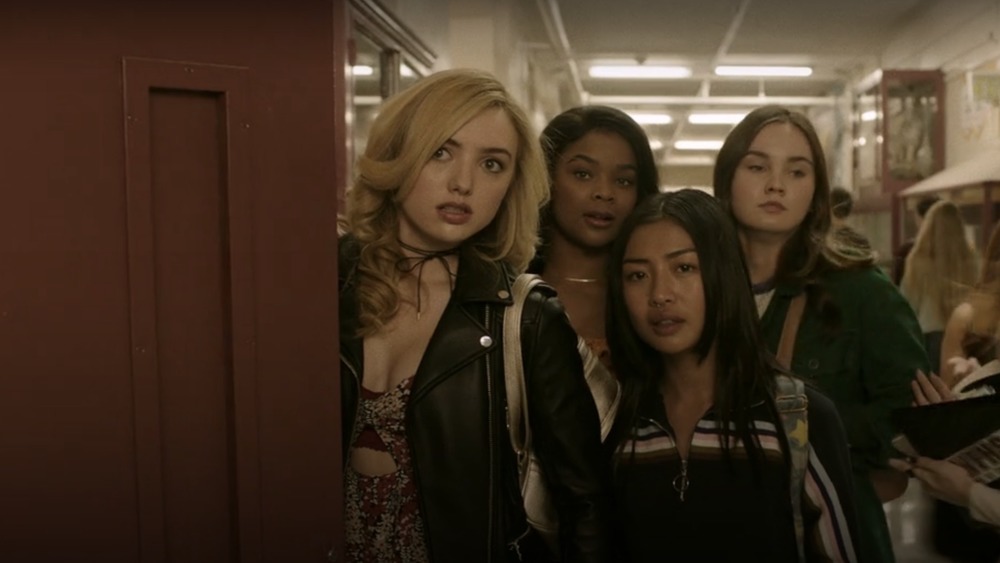 After her character on Bunk'd left summer camp to become a model, List took a role on a totally different kind of teen show: Hulu's supernatural thriller Light as a Feather. IndieWire's Hanh Nguyen compared the series to Pretty Little Liars, as it also features a group of teenage girls faced with the death of one of their own who are then forced to unravel the mystery. That said, it's a touch more disturbing than you might expect, with its depiction of body horror and unnerving "creepy-crawly bugs." List plays the teenage clique's leader Olivia in the first season, and then returns briefly in the second.
The premise of the series centers on the slumber party game "light as a feather, stiff as a board," in which the players attempt to levitate a participant — or at least trick them into feeling levitated. Like "Bloody Mary," it's a perfect game for a horror adaptation, as it often involves telling the person in the center how they died. Light as a Feather kicks off with the teen girls playing the game in a cemetery before they're faced with the horror of one of them dying just as described in the game.
The series received mixed reviews, with some critics wishing for a little more humor, but Valerie Anne of Autostraddle wrote that "the characters felt fleshed-out instead of the caricatures of stereotypes horror films can sometimes deliver." This role served as a leaping-off point for List, as she then went on to play the complicated Tory in Cobra Kai.