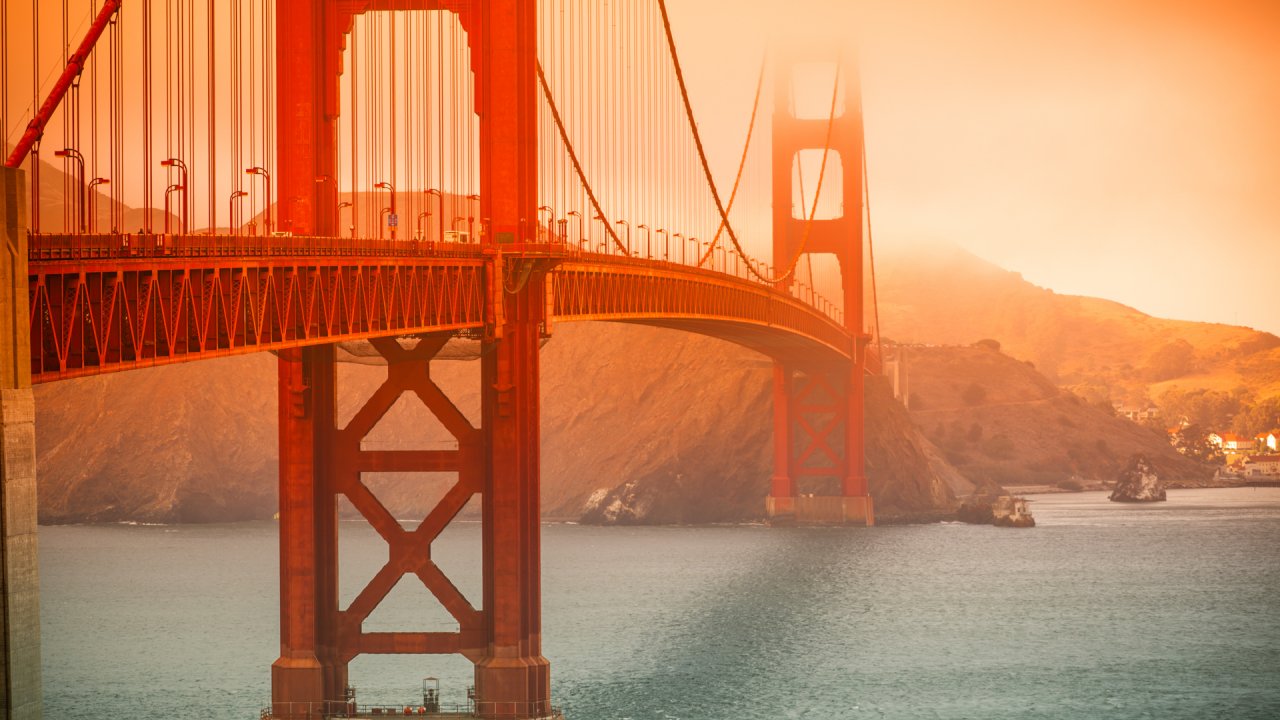 Many Americans spend the better part of their lives preparing for retirement. Even if it's just routing a portion of every paycheck into a 401(k) or individual retirement account, you're likely to spend almost all of your adulthood slowly building your nest egg so you can enjoy a comfortable retirement. However, with all of the focus on how fast you can put money into your savings, it's possible that you're overlooking the other side of the equation: how fast you'll be taking that money back out.
That storied $1 million in retirement savings might finally be yours, but what if you live in an area where property taxes and Social Security income taxes force you to rely more heavily on your nest egg? Likewise, even if you started saving later in life, you can effectively boost the purchasing power of your limited funds by opting to live in a state with a cheap cost of living and lower taxes.
Where you live in your golden years can be an essential part of your retirement planning. Once you're on a fixed income, you'll need to maximize your dollars. GOBankingRates found the worst states for retirees to hang on to their savings by analyzing the expenses most relevant to those ages 65 and older: property taxes, cost of living, sales taxes, Social Security income taxes and more. Note that the metric used for cost of living is an index where 100 is the U.S. average, sourced from the Missouri Economic Research and Information Center.
The following is a list of the 30 states to avoid when you're considering where to spend your retirement, with the No. 1 state being the most expensive for retirees. Even if your decision is influenced by your family's location or personal preferences, it's worth understanding how these different costs can add up so that you're able to budget accordingly. If you're flexible in terms of where you're willing to live, you might even be able to save enough money to retire early and quit the daily grind.
Last updated: Sept. 14, 2020
30. Oregon
Average Social Security benefits: $1,540.08
State tax on Social Security benefits: No
Median home list price: $367,262
Median property tax rate: 0.87%
Estimated property tax: $3,195
Cost-of-living index: 137
Average annual healthcare spending: $7,809
State sales tax: 0%
29. Louisiana
Average Social Security benefits: $1,373.64
State tax on Social Security benefits: No
Median home list price: $167,121
Median property tax rate: 0.18%
Estimated property tax: $301
Cost-of-living index: 92.9
Average annual healthcare spending: $6,652
State sales tax: 9.52%
28. West Virginia
Average Social Security benefits: $1,462.86
State tax on Social Security benefits: West Virginia will begin phasing out taxes on Social Security income for most residents in 2021.
Median home list price: $107,601
Median property tax rate: 0.49%
Estimated property tax: $527
Cost-of-living index: 91.4
Average annual healthcare spending: $5,959
State sales tax: 6.41%
Average Social Security benefits: $1,588.45
State tax on Social Security benefits: No
Median home list price: $204,452
Median property tax rate: 1.76%
Estimated property tax: $3,598
Cost-of-living index: 95.9
Average annual healthcare spending: $7,659
State sales tax: 5.46%
26. Ohio
Average Social Security benefits: $1,469.82
State tax on Social Security benefits: No
Median home list price: $151,694
Median property tax rate: 1.36%
Estimated property tax: $2,063
Cost-of-living index: 92.8
Average annual healthcare spending: $6,625
State sales tax: 7.17%
25. South Dakota
Average Social Security benefits: $1,489.03
State tax on Social Security benefits: No
Median home list price: $206,930
Median property tax rate: 1.28%
Estimated property tax: $2,649
Cost-of-living index: 96.5
Average annual healthcare spending: $6,952
State sales tax: 6.40%
24. Florida
Average Social Security benefits: $1,470.06
State tax on Social Security benefits: No
Median home list price: $258,277
Median property tax rate: 0.97%
Estimated property tax: $2,505
Cost-of-living index: 98.4
Average annual healthcare spending: $6,727
State sales tax: 7.05%
23. Washington
Average Social Security benefits: $1,643.06
State tax on Social Security benefits: No
Median home list price: $418,279
Median property tax rate: 0.92%
Estimated property tax: $3,848
Cost-of-living index: 111
Average annual healthcare spending: $8,060
State sales tax: 9.21%
22. Utah
Average Social Security benefits: $1,586.67
State tax on Social Security benefits: Yes
Median home list price: $356,486
Median property tax rate: 0.60%
Estimated property tax: $2,139
Cost-of-living index: 96.2
Average annual healthcare spending: $6,305
State sales tax: 7.18%
Average Social Security benefits: $1,707.85
State tax on Social Security benefits: No
Median home list price: $345,051
Median property tax rate: 1.89%
Estimated property tax: $6,521
Cost-of-living index: 124.4
Average annual healthcare spending: $6,924
State sales tax: 6.60%
Average Social Security benefits: $1,573.88
State tax on Social Security benefits: No
Median home list price: $273,294
Median property tax rate: 1.23%
Estimated property tax: $3,362
Cost-of-living index: 135.0
Average annual healthcare spending: $6,918
State sales tax: 8.52%
19. Illinois
Average Social Security benefits: $1,549.00
State tax on Social Security benefits: No
Median home list price: $203,598
Median property tax rate: 1.73%
Estimated property tax: $3,522
Cost-of-living index: 95.3
Average annual healthcare spending: $6,795
State sales tax: 9.08%
18. Kansas
Average Social Security benefits: $1,594.70
State tax on Social Security benefits: Residents with a federal adjusted gross income of $75,000 or less receive Social Security benefits that are exempt from Kansas income tax.
Median home list price: $151,474
Median property tax rate: 1.29%
Estimated property tax: $1,954
Cost-of-living index: 87.4
Average annual healthcare spending: $6,707
State sales tax: 8.68%
17. Montana
Average Social Security benefits: $1,452.61
State tax on Social Security benefits: Yes, but the taxable amount in Montana may be different from the federally taxable amount.
Median home list price: $281,217
Median property tax rate: 0.83%
Estimated property tax: $2,334
Cost-of-living index: 107.8
Average annual healthcare spending: $6,469
State sales tax: 0%
16. Minnesota
Average Social Security benefits: $1,650.37
State tax on Social Security benefits: Social Security income is taxable in Minnesota, but married couples can subtract $4,500 of their federally taxable Social Security benefits from their state income, singles and heads of household can subtract $3,500, and married couples filing separately can subtract $2,250. If married filers make more than $78,530, the break gets phased out, and it's gone for those with more than $101,030 of taxable income.
Median home list price: $260,965
Median property tax rate: 1.05%
Estimated property tax: $2,740
Cost-of-living index: 100.6
Average annual healthcare spending: $7,496
State sales tax: 7.46%
15. Massachusetts
Average Social Security benefits: $1,623.28
State tax on Social Security benefits: No
Median home list price: $430,904
Median property tax rate: 1.04%
Estimated property tax: $4,481
Cost-of-living index: 130.3
Average annual healthcare spending: $8,394
State sales tax: 6.25%
14. Nevada
Average Social Security benefits: $1,433.24
State tax on Social Security benefits: No
Median home list price: $314,512
Median property tax rate: 0.84%
Estimated property tax: $2,642
Cost-of-living index: 102.8
Average annual healthcare spending: $6,775
State sales tax: 8.32%
13. Maine
Average Social Security benefits: $1,446.08
State tax on Social Security benefits: No
Median home list price: $242,755
Median property tax rate: 1.09%
Estimated property tax: $2,646
Cost-of-living index: 117.3
Average annual healthcare spending: $7,761
State sales tax: 5.50%
12. Texas
Average Social Security benefits: $1,481.04
State tax on Social Security benefits: No
Median home list price: $208,656
Median property tax rate: 1.81%
Estimated property tax: $3,776
Cost-of-living index: 92.0
Average annual healthcare spending: $6,516
State sales tax: 8.19%
11. Alaska
Average Social Security benefits: $1,501.01
State tax on Social Security benefits: No
Median home list price: $316,282
Median property tax rate: 1.04%
Estimated property tax: $3,289
Cost-of-living index: 127.5
Average annual healthcare spending: $10,108
State sales tax: 1.76%
10. Colorado
Average Social Security benefits: $1,573.59
State tax on Social Security benefits: If you're younger than age 65, up to $20,000 in benefits can be excluded. If you're age 65 or older, up to $24,000 can be excluded.
Median home list price: $408,469
Median property tax rate: 0.60%
Estimated property tax: $2,451
Cost-of-living index: 103.5
Average annual healthcare spending: $6,911
State sales tax: 7.65%
Average Social Security benefits: $1,439.01
State tax on Social Security benefits: Yes
Median home list price: $205,831
Median property tax rate: 0.55%
Estimated property tax: $1,132
Cost-of-living index: 88.7
Average annual healthcare spending: $6,680
State sales tax: 7.82%
8. Missouri
Average Social Security benefits: $1,479.52
State tax on Social Security benefits: Social Security benefits are not taxed for single taxpayers with an AGI of less than $85,000 and for married couples with an AGI of less than $100,000. Taxpayers who exceed those income limits may qualify for a partial exemption on their benefits.
Median home list price: $163,731
Median property tax rate: 0.91%
Estimated property tax: $1,490
Cost-of-living index: 89.1
Average annual healthcare spending: $6,720
State sales tax: 8.18%
7. Connecticut
Average Social Security benefits: $1,723.82
State tax on Social Security benefits: They're exempt for individual taxpayers with a federal AGI of less than $75,000 and for married taxpayers filing jointly with a federal AGI of less than $100,000. For people exceeding these thresholds, you can still deduct 75% of taxable Social Security benefits.
Median home list price: $270,986
Median property tax rate: 1.63%
Estimated property tax: $4,417
Cost-of-living index: 125.2
Average annual healthcare spending: $7,611
State sales tax: 6.35%
6. Hawaii
Average Social Security benefits: $1,548.42
State tax on Social Security benefits: No
Median home list price: $720,144
Median property tax rate: 0.26%
Estimated property tax: $1,872
Cost-of-living index: 201.3
Average annual healthcare spending: $8,183
State sales tax: 4.44%
5. Nebraska
Average Social Security benefits: $1,564.11
State tax on Social Security benefits: Benefits are not taxed for joint filers with an AGI of $58,000 or less and for single filers with an AGI of $43,000 or less.
Median home list price: $176,365
Median property tax rate: 1.76%
Estimated property tax: $3,104
Cost-of-living index: 91.7
Average annual healthcare spending: $6,741
State sales tax: 6.93%
4. Vermont
Average Social Security benefits: $1,590.36
State tax on Social Security benefits: Benefits are not taxed for single filers making less than $45,000 and for joint filers making less than $60,000. Taxes increase incrementally as income rises, until it reaches $55,000 for single filers and $70,000 for joint filers — then benefits are taxed regularly.
Median home list price: $265,046
Median property tax rate: 1.59%
Estimated property tax: $4,214
Cost-of-living index: 115.5
Average annual healthcare spending: $6,829
State sales tax: 6.22%
3. Rhode Island
Average Social Security benefits: $1,604.47
State tax on Social Security benefits: There's no tax on Social Security benefits for single filers with up to $83,550 in AGI and for joint filers with up to $104,450 in AGI.
Median home list price: $307,341
Median property tax rate: 1.35%
Estimated property tax: $4,149
Cost-of-living index: 118.5
Average annual healthcare spending: $7,251
State sales tax: 7.00%
2. California
Average Social Security benefits: $1,497.19
State tax on Social Security benefits: No
Median home list price: $565,250
Median property tax rate: 0.74%
Estimated property tax: $4,183
Cost-of-living index: 139.8
Average annual healthcare spending: $7,707
State sales tax: 8.66%