For many actors, the opportunity to headline a big superhero movie is a dream come true. Some see it as a chance to step into the shoes of a fictional character they grew up idolizing. Others see it as an enormous career opportunity that will afford them the leverage and flexibility — not to mention the payday — to work on their passion projects. Playing a superhero is a much bigger role today than it used to be: With interconnected cinematic universes, multiple crossovers, and long-term contracts, it's an intense commitment for any actor.
Still, there's one moment that makes all the workouts, press tours, and sudden scrutiny worth it: The first moment they try on the costume. Costume tests are an integral part of the casting process and pre-production, with actors stepping into early versions of their costumes to see how they look on-screen. More importantly, these tests reveal how the actors themselves look in the costume. Even when the costume isn't yet form-fitting, locked into the final design, or is even just an older, recycled costume, the first moment an actor sees themselves in it is always special. These are some of the most special iterations of that moment, from Tobey Maguire to Chadwick Boseman.
Chadwick Boseman – Black Panther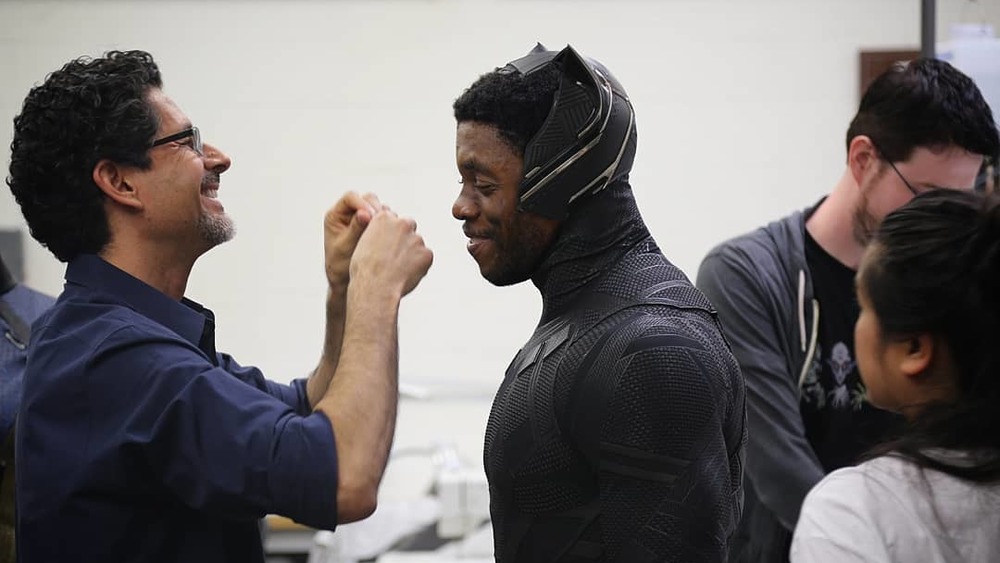 Chadwick Boseman made an immediate impact when he stepped into the role of T'Challa, King of Wakanda and Black Panther. The first time he auditioned for Marvel, however, it was for an entirely different role. In a 2019 interview on The Tonight Show, Boseman revealed he initially auditioned to play Drax the Destroyer — yes, you read that right — in Guardians of the Galaxy. Boseman auditioned knowing he wouldn't get the role, wanting instead to see what Marvel was like, knowing studios will often bring back actors later to audition for other roles.
That's exactly what happened. In 2014, he'd just stepped off the red carpet for his film Get On Up when his agent told him he had an urgent phone call. Marvel Studios head Kevin Feige and other execs were on the line, wanting to know if he was interested in playing Black Panther in Captain America: Civil War. Thing is, he'd never even auditioned. "We were sitting around a table. We were coming up with the story for Civil War [when] Nate Moore, our executive producer, suggested bringing in Black Panther because we were looking for a third party that wouldn't necessarily side with Cap or Iron Man," Feige explained at the Black Panther press conference. "And almost instantly we all said 'Chadwick,' And in my memory, though maybe it was the next day, we got him on speaker phone right then." Amazing.
Robert Pattinson – Batman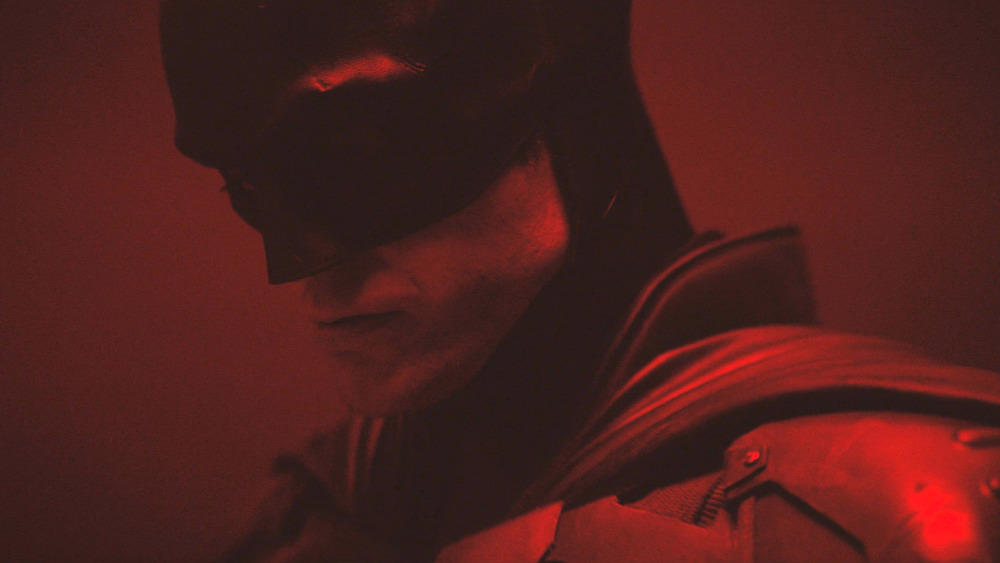 Many actors have played Batman over the years. When it was announced that the Dark Knight was being rebooted yet again, this time with a movie entirely separate from the DCEU and its pre-existing Batman, fans had their concerns. They quickly faded, however, when War for the Planet of the Apes and Cloverfield director Matt Reeves was tapped to direct. When Robert Pattinson was announced as being the next guy up in the cowl, however, the internet was divided. Some fans dismissed him as "that Twilight guy," while others, especially those who have watched his incredible work as an actor in the decade since he played a sparkly vampire, were excited by the unusual casting. His first costume test alleviated any fears some might have had about him playing the Caped Crusader. He looks good as Bruce Wayne, but the camera test Matt Reeves released of Pattinson in the costume convinced us all that he looks just as good as Batman, too.
Hilariously, at the time of his audition, Pattinson was filming former Batman director Christopher Nolan's Tenet, and had to sneak away to the audition. "I had to be really secretive about Batman stuff," he explained to Irish Times. "So I had to lie to Chris about having to go for a screen test — I said I had a family emergency. And as soon as I said 'It's a family emergency,' he said: 'You're doing the Batman audition, aren't you?'"
Tobey Maguire – Spider-Man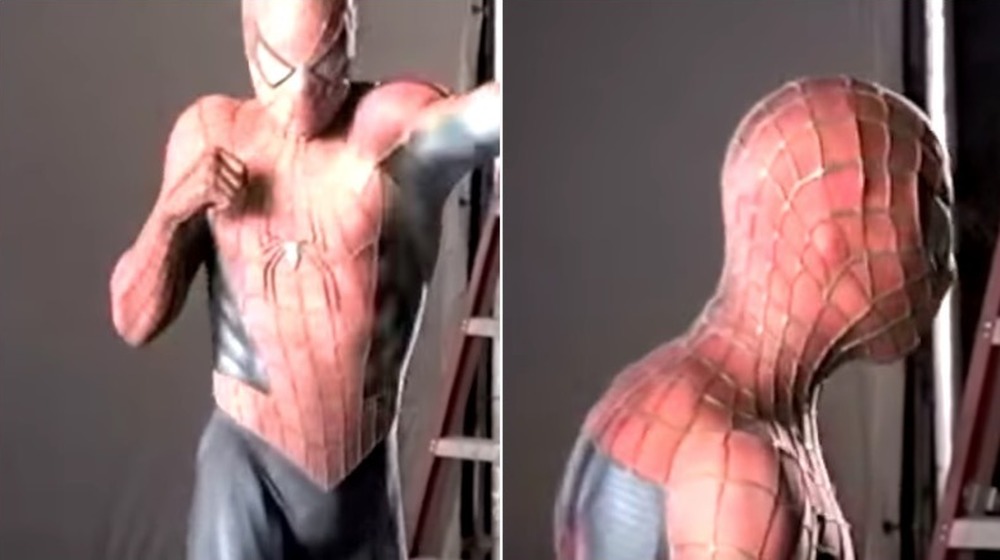 Sam Raimi's Spider-Man trilogy, led by Tobey Maguire in the titular role, helped to kick off the modern wave of big, blockbuster superhero movies. It revolutionized the genre, and our ideas of what is possible with comic book movies. At the time of his casting, Maguire was a recognizable actor, having acted since he was a kid, with his biggest film up to that point being Pleasantville. But he was hardly a household name, nor did he have the classic looks of a typical leading man. All in all, he was a surprising choice for an iconic superhero.
As it turns out, this worked to his advantage. Maguire beat out heavy competition for the role, including James Franco, who, conveniently enough, ended up being cast as Spider-Man bestie-turned-villain, Harry Osborn. But, as Variety wrote back in 2000, Maguire had always been Raimi's frontrunner for the role, even if he wasn't the studio's. The director felt Maguire's gentle demeanor in movies like The Cider House Rules suited the awkward, nerdy Peter Parker. As it turns out, his first costume test showed that he also nailed the look of Spider-Man in the suit, too. Sometimes, things just work out as they should.
Henry Cavill – Superman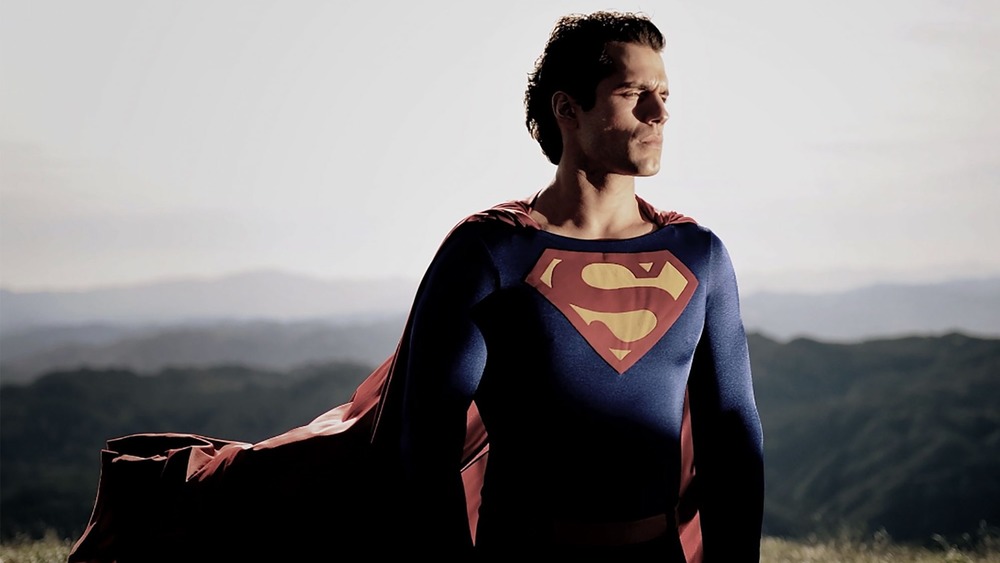 It takes someone with a distinct and rare sort of look to play Superman: He needs a chiseled jaw, blue eyes, and a certain something that just makes an actor pop when they put on the suit. Henry Cavill has both the looks and the intangibles needed to land him the role of the Big Blue Boy Scout in 2013's Man of Steel. The British actor was a relative unknown at the time to American audiences, best known for his role on TV's The Tudors and for playing Theseus in Immortals. According to Zack Snyder in a 2016 interview with Entertainment Weekly, at the time of Cavill's audition, they hadn't yet settled on a design for the Superman costume. Thus, Cavill had to screen test wearing a replica of Christopher Reeve's iconic suit instead. Though Cavill wore a now-dated hand-me-down for his audition, Snyder knew right away Cavill was his guy – even if Cavill didn't.
As Snyder detailed, it was impossible not to see Henry's charisma once he walked into the room. "He walked out and no one laughed," he said. "Other actors put that suit on and it's a joke, even if they're great actors. Henry put it on, and he exuded this kind of crazy-calm confidence that just made me go, 'Wow. Okay, this is Superman.'" The rest, as they say, is history.
Brie Larson – Captain Marvel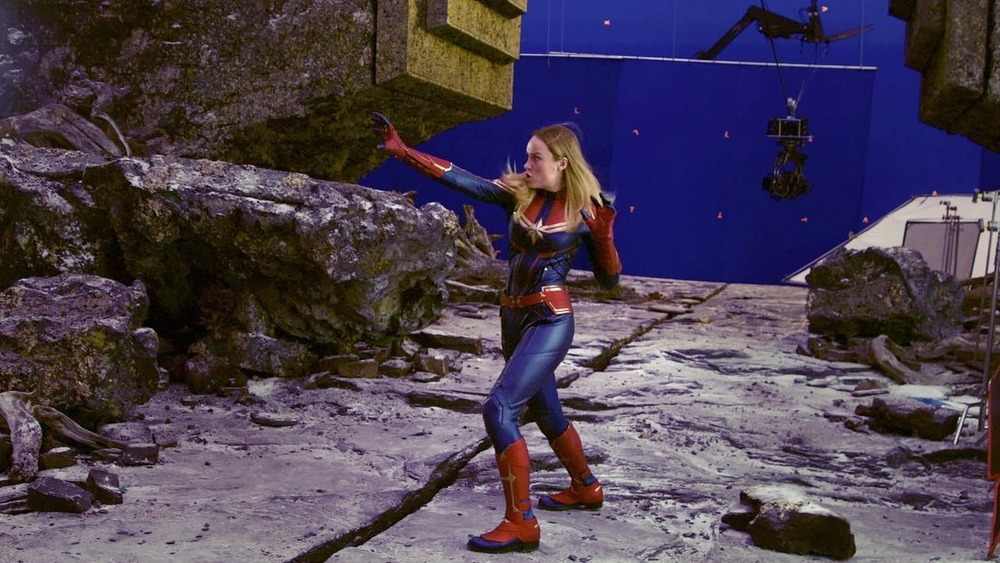 When Brie Larson was cast as Carol Danvers, AKA Captain Marvel, in the Marvel Cinematic Universe, it was the result of a whirlwind process. With the MCU being so interconnected, a twist of weird timing emerged: Larson had to shoot her Avengers: Endgame scenes as Carol Danvers before shooting anything for her standalone origin film, even though Captain Marvel came out before Endgame. Thus, while shooting her scenes for Endgame, she was still scrambling to figure out who her character was and how she fit into this world — not to mention learning how to navigate in her new costume. "We were still figuring out what her signature moves would be, and I was still learning how to move in a leather wetsuit," she wrote on Instagram.
Good thing she learns on the fly. In an interview with Jimmy Fallon, she explained she shot her first-ever scene in the MCU knowing nothing but a single line. "I flew to Atlanta to start shooting [Endgame], had no idea what I was doing," she recalled. "And I arrived and they gave me a piece of paper that was a full page of dialogue and action, but all of it was redacted except for my one line … It wasn't until I walked on set that I was like, 'Oh, crap, I'm like, in a Marvel movie right now.'" Talk about performing under pressure.
Gal Gadot – Wonder Woman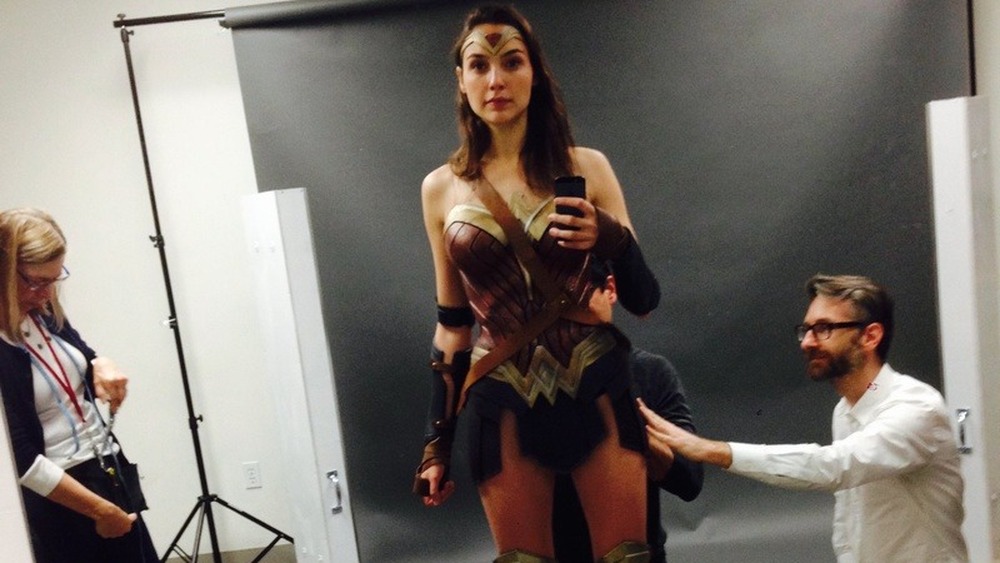 Wonder Woman requires a special kind of actor. She must be beautiful, but also strong enough to be believable as an Amazon warrior. She must have the fierceness befitting the Princess of Themyscira, but also the compassion and kindness befitting Diana Prince. We got all of that in Israeli actress Gal Gadot. Her casting, like many superhero actors, aroused skepticism: At the time, she was mostly known for her role in the Fast & Furious movies, and some fans didn't think she had the physical strength to pull off the warrior princess. But the first look at her in the costume was enough to convince doubters she was the right choice.
Ironically, she didn't even know she was auditioning for Wonder Woman when she did it. Gadot had even been considering quitting acting completely at the time, having grown tired of the constant rejection. But Zack Snyder called and asked if she wanted to audition for a secret role. So secret, in fact, that she had no idea what she was auditioning for — she was even given pages from the Pulp Fiction script to read for her audition. Some time later, as she told Jimmy Fallon, she was back in Israel, still thinking about giving up on acting, when she was asked to fly to LA for a screen test. Finally, Snyder explained the situation: It was all for Wonder Woman, and she had the role.
Andrew Garfield – Spider-Man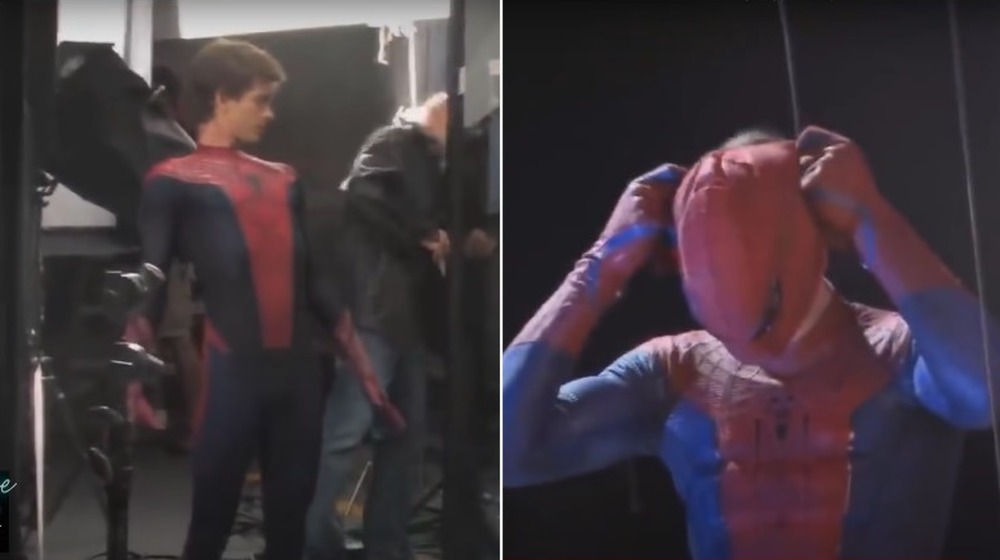 For some actors, being cast in certain superhero roles is a job. For others, it's a lifelong dream come true. One such role is Spider-Man, and one such actor is Andrew Garfield. While his experience playing Spider-Man was one he's said "broke his heart," Garfield was initially thrilled to be cast as the wallcrawler. A far different take from the classic Spidey Tobey Maguire embodied, director Marc Webb's iteration of the character is cooler, and even slightly edgy. Enter Andrew Garfield, whose lanky build and messy bedhead perfectly captured what Webb was going for.
Garfield couldn't have been more excited to land the role. He won fans over when he surprised the audience during a panel at San Diego Comic-Con 2011 by showing up in a store-bought Spider-Man costume. He went on to deliver a heartfelt speech about growing up as a Spider-Man fan, and how much getting to play Peter Parker meant to him. His first costume tests revealed he would bring something entirely different to the role: A lithe, athletic version of Spider-Man we'd not yet seen. While Garfield's Spidey movies didn't turn out as he'd hoped, fans will always remember the charm, passion, and genuine feeling he brought to the role.
Ben Affleck – Batman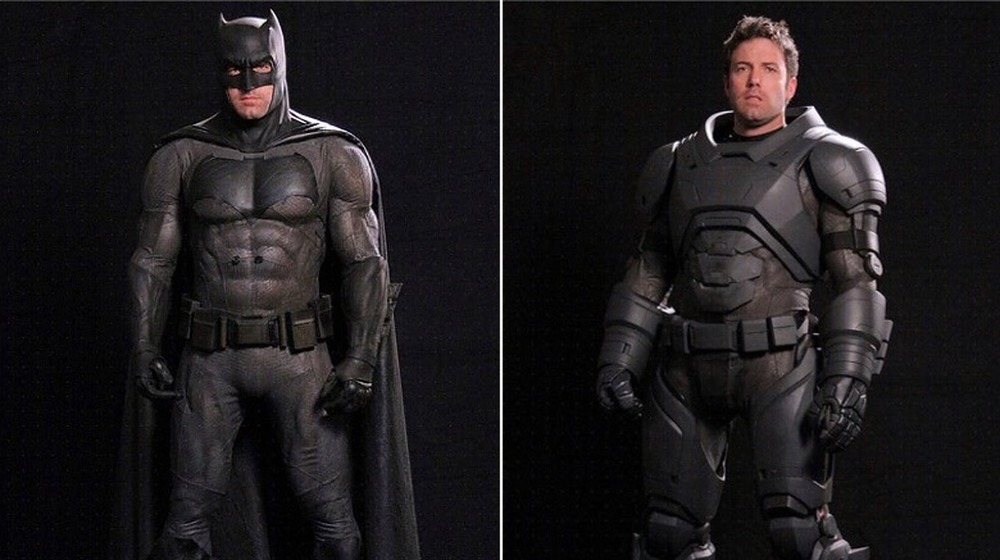 The Batman in 2016's Batman v Superman: Dawn of Justice offers a very different visual take on the billionaire vigilante. His dark gray and black costume is a throwback to Batman's earliest color scheme, though the movie suit is rougher and more utilitarian in design. Affleck also rocked an armored Batman costume known as the Mech Batsuit, which also required a screen test.
In a funny twist of fate, one of Affleck's earliest auditions was trying out for the role of Robin in Tim Burton's Batman, as he explained to Jimmy Kimmel. He didn't get the part, which ended up not making it into the movie anyway. Almost 30 years later, he leveled up and landed the role of Batman. Affleck, who was in his mid-40s at the time, wasn't sure he could pull off the role. "They called me up and said, 'Do you want to do this?' And I said, 'I'm not 25, man, are you sure about this?'" he told The Tonight Show. "And they said, 'Come down, we wanna show you what we're doing.'" For the DCEU's older, more grizzled take on Batman, Affleck turned out to be absolutely perfect.
Tom Holland – Spider-Man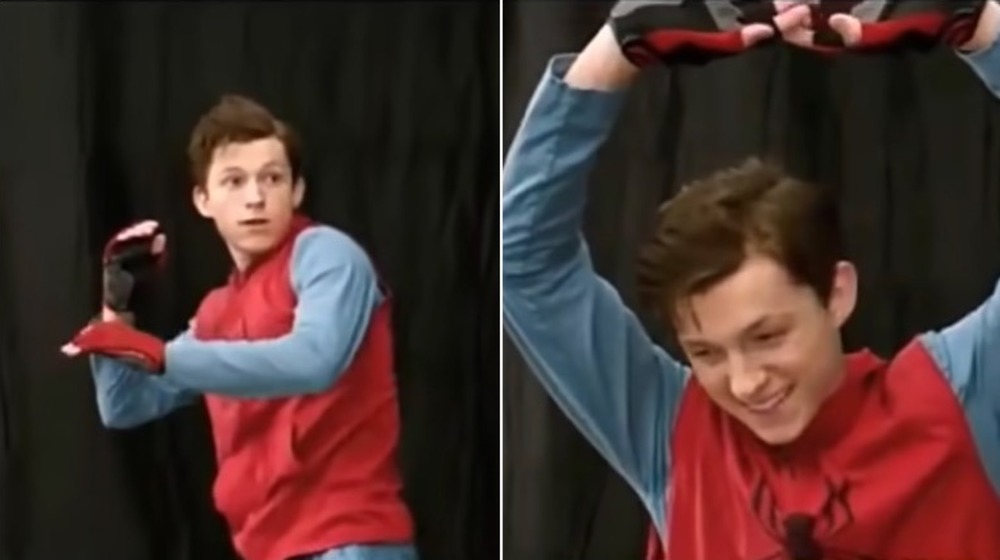 When Marvel brought Spider-Man into the MCU, they clean-slated it with a new actor. This time, they decided to go for a more youthful version of Peter Parker. As has been well-documented, Tom Holland was up against some stiff competition to land the role, including Asa Butterfield (Hugo) and Charlie Plummer (Boardwalk Empire).
It was Tom Holland's screen tests opposite Chris Evans and Robert Downey Jr. that catapulted Holland to the front of the line, as this behind-the-scenes video shows. Thanks to his background as a trained dancer and gymnast, Holland's incredible athleticism and natural ability to flip and move like Spider-Man put him over the top as well. These skills meant he could be intimately involved in fight coordination and stunts for Captain America: Civil War, his first MCU appearance, rather than having to rely completely on stunt doubles and VFX. It also meant he could do the majority of the motion capture work himself, which was a huge help. Turns out, Holland is about as close to a real-life Peter Parker as we can get.
Chris Hemsworth – Thor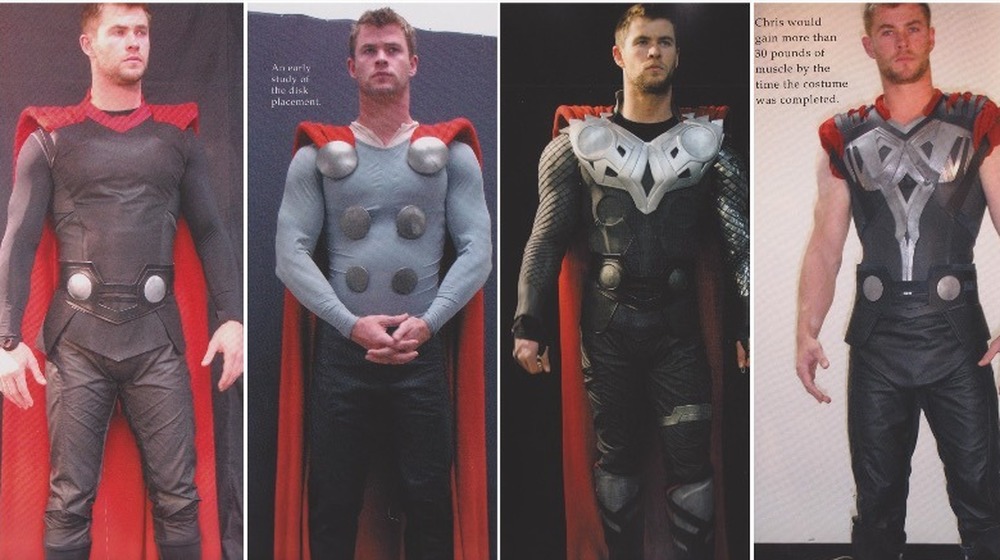 Some costume tests give a fairly accurate sense of what the finished costume will look like. Others, however, feature a costume nowhere near being camera-ready. Such was the case with Chris Hemsworth and Thor. The Australian actor was first cast to play the musclebound god of thunder when he was largely unknown, having only briefly appeared as Captain Kirk's father, George Kirk, in a flashback scene in J.J. Abrams' 2009 reboot of Star Trek. When he tried out for the role of Thor, he was practically skinny compared to the giant we know today, as these behind-the-scenes Thor costume test photos reveal.
And the costume? Well, just take a look. Marvel may have settled on Hemsworth by this point, but they clearly hadn't settled on a Thor costume, outside of the style of his cape. It's crazy to see Hemsworth in these old test photos, modeling costumes that were, at this point, essentially nothing more than pinned-together spandex, modified football chest protectors, and some utility pants. It just goes to show how much work goes into every detail that finally makes it on screen in a superhero movie — and just how much work actors have to put into their superhero roles.