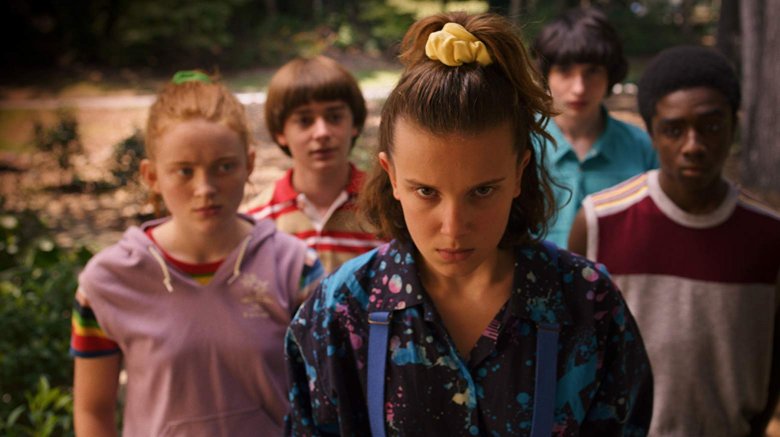 Welcome back to Hawkins, Stranger Things fans! The third season of Netflix's nostalgic supernatural suspense series brought Eleven and her merry band of misfit friends together again to enjoy the summer sun, some time at the Starcourt Mall, and, of course, another brush with the Upside-Down as the Mind Flayer continued to loom large over the small town. The kiddos might be growing up very quickly, but their problems have always been bigger than them, and Season 3 was no exception.
In addition to welcoming back most of the familiar faces of the series — R.I.P. Barb and Bob — the new season introduced a few newcomers, from an intriguing new lifeguard to an ambitious politician. Even though they're fresh on the scene, though, the actors portraying these characters might seem pretty familiar to fans. Here's a look at where you might've seen the stars of Stranger Things 3 before.
Cary Elwes as Mayor Larry Kline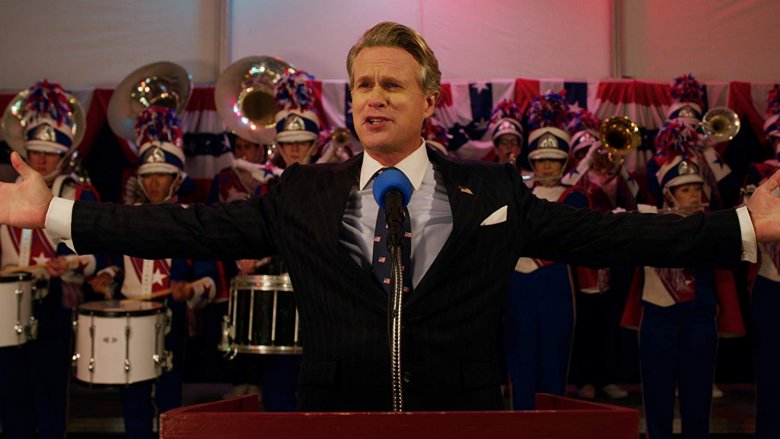 There's no doubt that Cary Elwes' credentials precede his arrival as Mayor Larry Kline in Stranger Things 3, but what is hard to determine is which exact role he's most famous for. For fans of the fantasy-adventure film genre, he is probably best known for his turn as the romantic swordsman Westley in the classic 1987 pic The Princess Bride or perhaps his eponymous role in Robin Hood: Men in Tights. For horror and suspense fans, though, it's more likely that his appearances as Lord Arthur Holmwood in Bram Stoker's Dracula, Casanova in Kiss the Girls, and Dr. Lawrence Gordon in the Saw franchise left the biggest marks.
Meanwhile, others might better remember him for playing the antagonist Russ Wheeler in Days of Thunder or his turn as the cocky tornado scientist-slash-rival Dr. Jonas Miller in Twister. Elwes may even be familiar to television fans for his appearances in series like From the Earth to the Moon, The X-Files, and Psych, to name a few. No matter what he's best known for, though, Elwes definitely came into this season of Stranger Things as the most veteran newcomer of the bunch.
Maya Hawke as Robin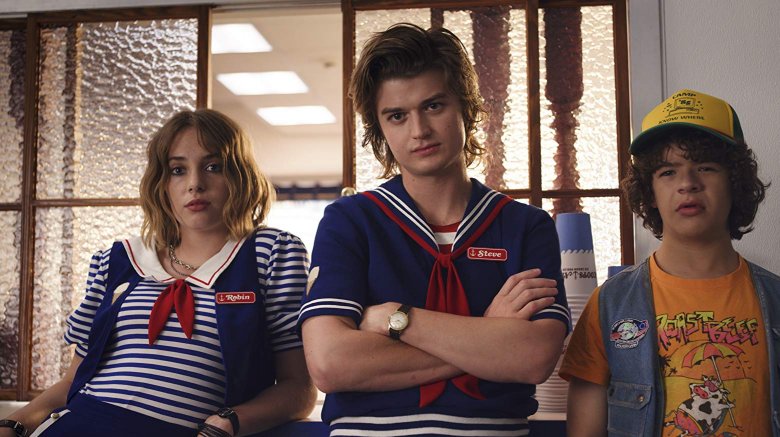 Things are just heating up for Maya Hawke's career as she joined the fold for Stranger Things in the role of the ice cream-slinging Robin, but the actress has been a part of show business her entire life. She is the first child of Hollywood exes Ethan Hawke and Uma Thurman, and was born shortly after the two met on the set of 1997's Gattaca. Hawke was raised away from the limelight until she reached adulthood, but even at a young age she still dove right into local theatrical productions and is now following in her parents' footsteps by pursuing a career as an actress.
Hawke made her screen debut in the PBS TV mini-series adaptation of Little Women as Jo March, the spitfire daughter who refuses to conform to certain gender expectations of her era. Soon after, she appeared in the indie thriller Ladyworld. Her post-Stranger Things resume is already set to make her even more recognizable. The actress appears in Quentin Tarantino's new film Once Upon a Time in Hollywood and will also star alongside some heavy-hitters in Marc Meyers' latest drama Human Capital and Gia Coppola's Mainstream.
Jake Busey as Bruce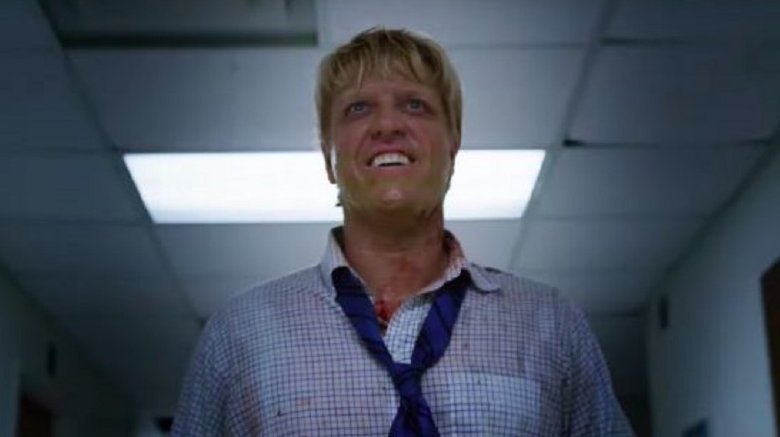 Like Maya Hawke, Jake Busey is an heir to a Hollywood legacy who bears a striking resemblance to his famous parent. He's the son of longtime action star Gary Busey and has the same white-blonde hair and toothy grin as his father. In addition to their similar appearances, a look at his filmography reveals that Busey also seems to share his dad's penchant for action-oriented films and television series.
Busey's work began in 1978, when he appeared alongside his father in a film called Straight Time, but he quickly carved out a career of his own with roles like Joseph the nutty zealot in Contact and Ace Levy in Starship Troopers. More recently, he appeared as Keyes in the 2018 film The Predator and has also added guest roles in series like Ray Donovan, Agents of S.H.I.E.L.D., and L.A.'s Finest to his considerable list of TV credits. Ultimately, it was his part as the psychotic serial killer Johnny Bartlett in The Frighteners that got the attention of the Duffer Brothers and inspired them to write the role of Bruce, a newspaper journalist with loose morals and a sick sense of humor, in Stranger Things 3.
Francesca Reale as Heather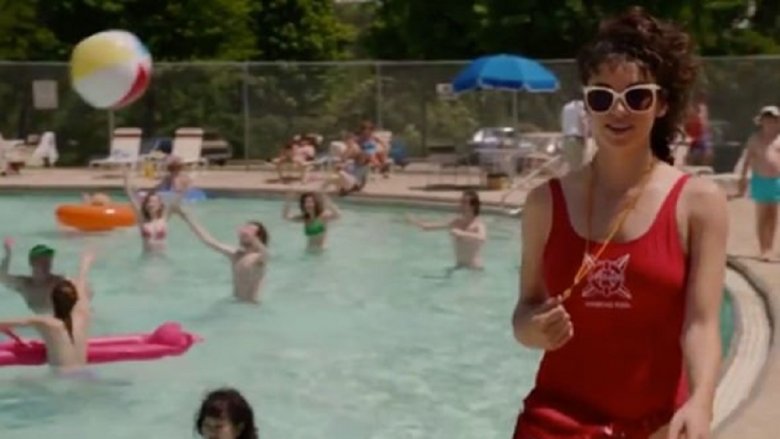 Before becoming the new lifeguard Heather in Stranger Things 3, Francesca Reale had already made a name for herself on another Netflix original series called Haters Back Off! She starred in that quirky comedy series as Emily, the very normal sister of the very abnormal Miranda Sings. Apart from that series and a lone guest role in a 2016 episode of Blue Bloods, though, Reale is still very much an actress on the rise.
Like many up-and-comers, she has been steadily establishing a reel with appearances in short films, including "The Furies of War," "Goodbye Charm City," and "Cabin." Reale could also be seen sharing the screen with Stranger Things co-star Natalia Dyer in the 2019 teen drama Yes, God, Yes. Season 3 of Stranger Things featured Heather heavily, particularly her "complicated" relationship with Dacre Montgomery's Billy.
Caroline Arapoglou as Winnie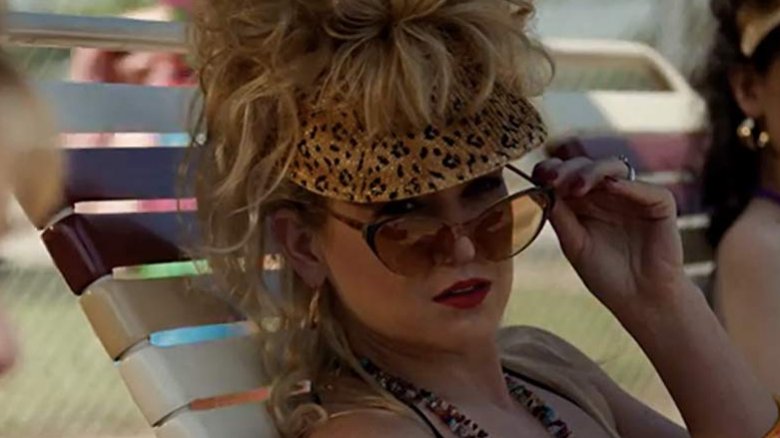 She might be new to the business, but Caroline Arapoglou quickly came up through the ranks of TV stars ahead of her appearance as Winnie in Stranger Things 3. The actress got her start in 2016 with bit roles in small screen series like Atlanta, Good Behavior, and Sleepy Hollow, as well as films like Hot Summer Nights. She later earned a recurring role as the corruptible lab tech Noni Turner in Fox's medical drama The Resident.
Arapoglou also appeared in a one-episode role during The Walking Dead's ninth season. in the episode, she arrived as Rose, one of the zombie apocalypse survivors who helps elucidate the backstory of the show's newest supervillain, Alpha. After Stranger Things, Arapoglou will continue to work on another young adult-oriented Netflix drama series called Outer Banks, and she will share the screen with a ton of A-listers in the films Limited Partners and Dr. Bird's Advice for Sad Poets. Arapoglou is also busy developing her career as a stage star.
Priah Ferguson as Erica Sinclair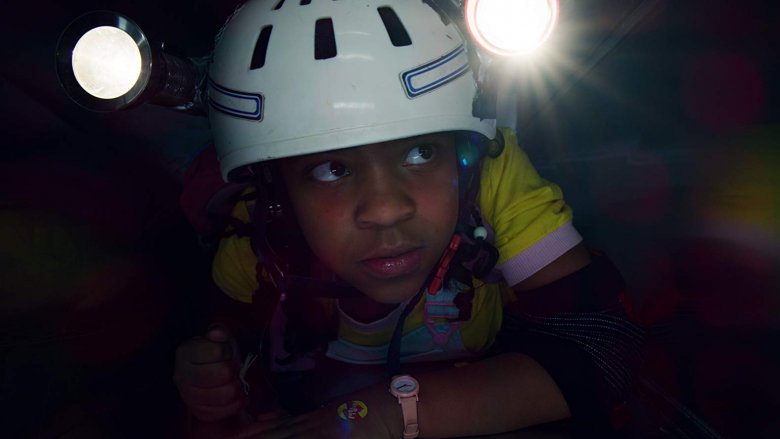 Though she had precious little screen time in Stranger Things 2, Priah Ferguson still made quite an impression as young Erica Sinclair, the sassy sister of Caleb McLaughlin's character Lucas — so much so that the Duffer Brothers went back and added in some more scenes for her to steal throughout her initial season. She was eventually promoted to recurring guest star in Stranger Things 3 so the character could be expanded beyond the syrup-loving, insult-slinging detractor of her big brother.
Outside of the series, Ferguson's face has also graced the screen in several other television series, including Atlanta, Mercy Street, and Daytime Divas. She also appeared in Ike Barinholtz's directorial debut, The Oath, in 2018. Like many of the original child stars of Stranger Things, though, the series still looms large as the most impressive credit on her resume. If she has the same kind of luck as her co-stars, the role will be a great place to launch her nascent career in the limelight, and with the comedic timing she's shown in both of her seasons on Stranger Things, there's no doubt she is already well on her way to bigger things.
Sadie Sink as Max Mayfield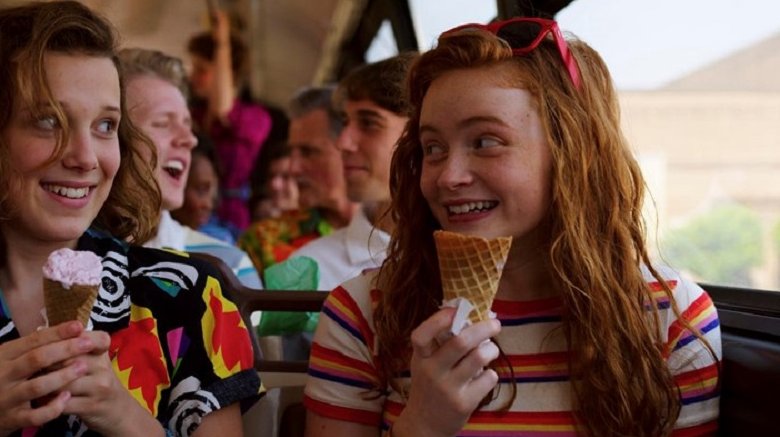 Another Stranger Things 2 cast addition who certainly flourished in the series' third installment is Sadie Sink, who stars as the expert arcade gamer Max and fits right in with Eleven and the boys. Sink had previously enjoyed several other TV roles, including a part in The Americans, a role in Blue Bloods, and a recurring place in the cast of American Odyssey, but things are only getting busier for the young redheaded actress who's broken out with Stranger Things.
She recently starred as young Lori in the 2017 film adaptation of Jeannette Walls' The Glass Castle, and she earned a major role in the thriller film Eli, which was also picked up for distribution by Netflix. She also nabbed a role in the second installment of the Fear Street film trilogy, adaptations of R.L. Stine's popular teen horror novels of the same name. In other words, thanks to her time in Hawkins and those subsequent projects, Sadie Sink is quickly emerging as a young scream queen to watch.
Cara Buono as Karen Wheeler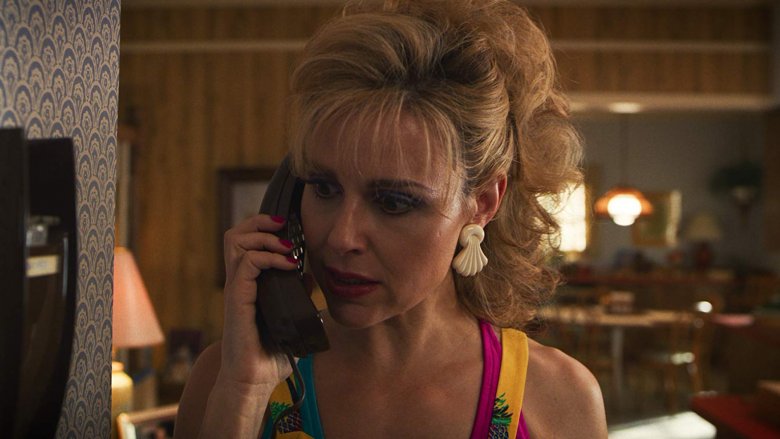 Poor Mrs. Wheeler finally got out of the house a bit more in Stranger Things 3 to enjoy the summer sunshine — and, well, other parts of the view — at the local pool. Actress Cara Buono certainly welcomed the opportunity to expand the character's horizons beyond mothering her kids and trying to sneak in a few bathtime escapes here and there, even if her character didn't end up enjoying it all that much.
Before joining the cast of Stranger Things, Buono had already established an extremely impressive small screen resume, enjoying recurring roles as Kelli Moltisanti in HBO's The Sopranos, Sheriff Anna Turner in the small screen adaptation of Stephen King's The Dead Zone, the conflicted data consultant Faye Miller in Mad Men, and as Martine Rousseau in Person of Interest, to name a few. Meanwhile, her film career is nothing to shake a stick at, either; she can be seen in movies like Gladiator, Hulk, Matt Reeves' Let the Right One In remake, and more recently, the film adaptation of John Green's Paper Towns.
Dakota James Alden Lane as the other lifeguard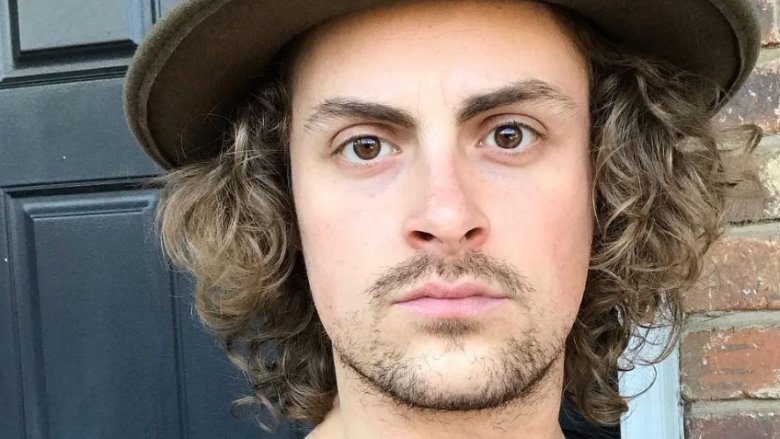 Billy and Heather aren't the only eye candy hanging out at the Hawkins pool this summer. Actor Dakota James Alden Lane also appeared as a lifeguard in the third season of Stranger Things, and it's just the latest project to join the actor's still-growing resume.
Lane has previously enjoyed small roles in shows like The Originals, Mercy Street, TURN: Washington's Spies, and The Resident. He also appeared in minor roles in several movies, like Insurgent and Baywatch. The actor has also made appearances in new and upcoming shows like Watchmen, Dolly Parton's Heartstrings, and Raising Dion, as well as the film Emperor. Lane boasts talents as a voiceover actor and hails from the Atlanta area, which has steadily become the movie hot spot of the southeast. There's still a lot to learn about Lane, but it's clear from his social media presence that he is very much enjoying being a part of the show's overall ode to the 1980s.
Randy Havens as Mr. Clarke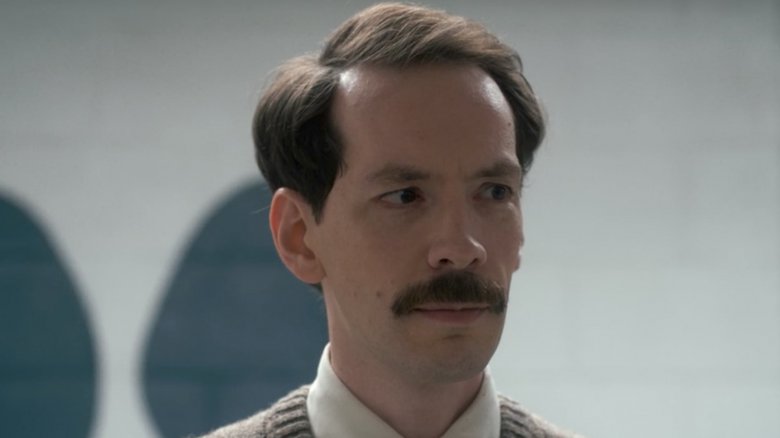 Try as they might with their hip haircuts (Steve) and Ghostbusters Halloween costumes (the core four tweens), the Stranger Things character who looks the most "1980s" is Mr. Scott Clarke, Hawkins Middle School's long-serving science teacher and audio-visual club advisor. He rocks that sweater vest-and-bushy mustache combo so well it seems like Stranger Things producers used a time machine to grab a real early '80s schoolteacher. He's also a good dude, the teacher everyone wants, trusting Dustin, Mike, Lucas, and Will and helping them get the gear they need for their outlandish projects — and in the third season, helping Joyce Byers explore the truth behind her demagnetized magnets.
Veteran character actor Randy Havens has played Mr. Clarke since the beginning of Stranger Things. While he's popped up for bit roles in numerous TV shows, he's probably most recognizable to Stranger Things viewers from his recurring role as pawn shop worker Patrick McKenna on Sleepy Hollow, or his appearance as Dr. Tim Mancini in 2019's Godzilla: King of the Monsters. His most prominent role outside of Stranger Things came on another '80s-set show. He portrayed Cardiff Electric engineer Stan on nine episodes of AMC's computer industry drama Halt and Catch Fire.
Brett Gelman as Murray Bauman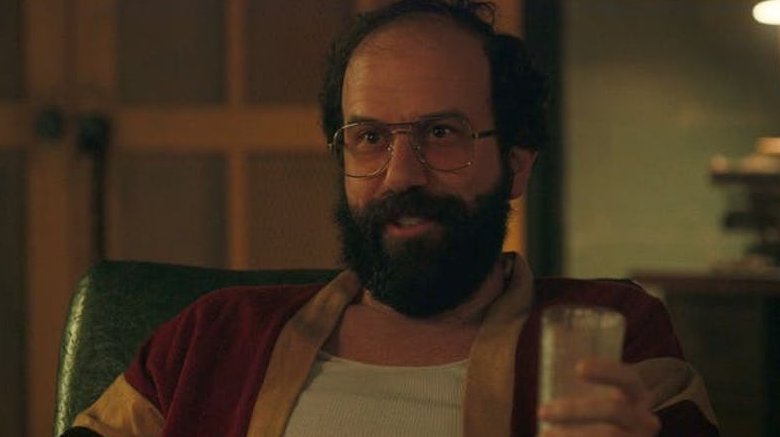 Murray Bauman first showed up in season two of Stranger Things, a Russian-distrusting, investigative reporter-turned-private-detective hired to figure out just what happened to Barb, and one of the first to uncover all of the signature weirdness going down in Hawkins, Indiana. Producers perfectly cast alternative comedian and prolific actor Brett Gelman in the role, as he's built up a career playing jerks, creeps, weirdos, and guys that live on the fringe of society.
That's Gelman as crude groundskeeper Hamish on Another Period, obnoxious radio host Dr. Greg on Love, grief support group member Mr. K on Matthew Perry's dramedy Go On, cheating husband Martin on Fleabag, troubled divorced guy A.J. on Married, and Daniel, a guy Don Draper meets at a spiritual retreat on the series finale of Mad Men. Gelman is also one of TV's hardest-working guests stars, appearing on shows like Curb Your Enthusiasm, Drunk History, Kroll Show, The League, and Bored to Death. He was once a fixture on Adult Swim, notably as dimwitted sidekick Brett Mobley on the Walker, Texas Ranger parody Eagleheart and as the host of a series of specials where he hosted dinner parties, up until he swore off the network in 2016 due to what he called a misogynistic corporate culture.
Alec Utgoff as Dr. Alexei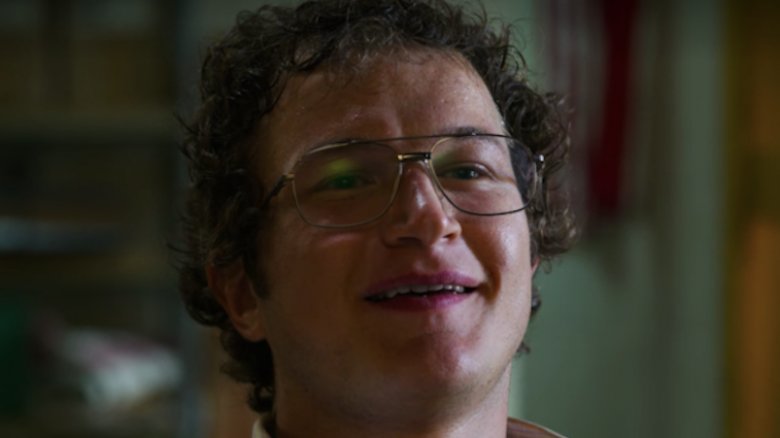 Dr. Alexei is actually a sweet and innocent guy, a Russian transplant who enjoys the spoils of Indiana, like the Woody Woodpecker doll he wins at a Fun Fair, and cherry-flavored Slurpees. Of course, he's only in the U.S. because the Soviets tasked him with getting the Key, a world-connecting portal in Hawkins, up and operational. He speaks only Russian, and he relies on Murray Bauman to translate for him during his on-the-lam adventures with Sheriff Hopper and Joyce Byers.
Dr. Alexei (who probably won't return for the fourth season of Stranger Things) was portrayed by Alec Utgoff. He's not Russian in real life — he's Ukrainian. But as Russians are frequently the villains in movies and on television, Utgoff has portrayed a lot of Russians, and usually bad guys to boot. His first role was as a Russian hacker on the British spy series Spooks, followed up by an appearance in the Johnny Depp movie The Tourist as a Russian gangster. Utgoff later portrayed a Russian spy in Jack Ryan: Shadow Recruit, and a Russian criminal henchman in Mortdecai. Utgoff's most visible role: as a student named Alexi trying to survive a massive earthquake in San Andreas.
Dacre Montgomery as Billy Hargrove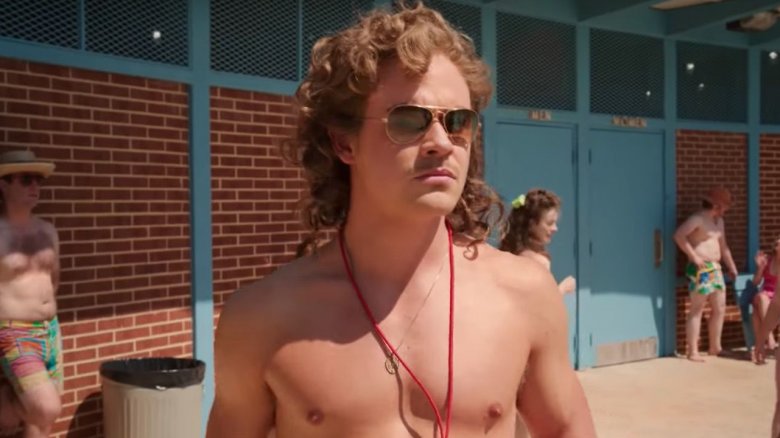 In Stranger Things 2, Billy Hargrove was already easy to dislike, thanks to his cruel mistreatment of his stepsister Max, his intense rivalry with Joe Keery's fan-favorite character Steve Harrington, and his thinly-veiled bigotry. However, Stranger Things 3 gave audiences even more reasons to loathe him (and then eventually pity him) as the Mind Flayer returned to Hawkins to stir up more trouble for the kids, leading to a worsening of Billy's already terrible traits.
Luckily for those Stranger Things fans who still can't help but like looking at his handsome mug, the actor portraying Billy, Dacre Montgomery, does not seem to share his screen counterpart's flaws, and has plenty of other screen credits to show for it. The one that audiences are most likely to recognize him in is his turn as the Red Ranger in the 2017 reboot of Power Rangers, but the Australia native could also be seen in the Christmas-themed horror film Better Watch Out and 2017's A Few Less Men, the sequel to the 2011 Aussie comedy film A Few Best Men.