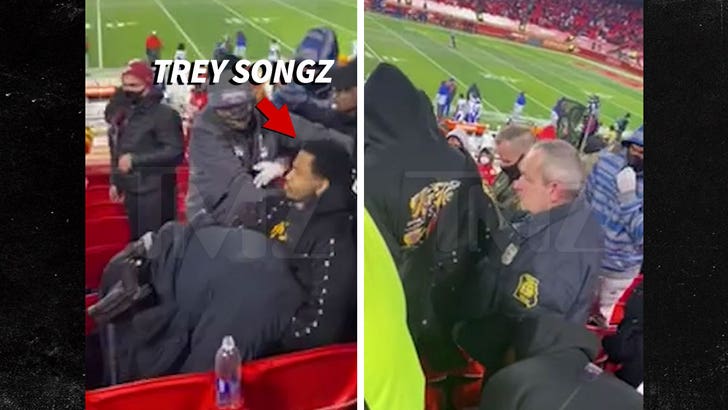 10:04 AM PT — Kansas City Police just gave TMZ the rundown on what happened with Trey Songz (in their eyes, anyway) and according to them … the dust-up did indeed start because TS refused to follow the stadium's coronavirus protocol — namely, that he allegedly refused to wear a mask.
KCPD says fans were complaining that Trey wasn't following Arrowhead's safety rules re the virus and that once security was called and unable to get him to comply or successfully boot him outright, they called in the big guns and had police deal with him.
Cops say Trey again refused to obey orders and was eventually told he was under arrest. They allege he punched an officer and put him in a headlock, which you can clearly see on video. More cops were called in and they were finally able to get it under control.
KCPD says the case is being referred to the Jackson County Prosecutor for further review. Trey's attorney, John P. O'Connor had no comment.
9:55 AM PT — Trey was just released from custody. Sources connected to Trey with direct knowledge tell TMZ, he believes the cop in question had it in for him long before the altercation, and when the officer came over to him he was immediately aggressive. Another source says the cop's beef before the incident was that Trey and his crew were not wearing masks and refused to put them on.
6:58 AM PT — 1/25 We've just obtained Trey's booking photo.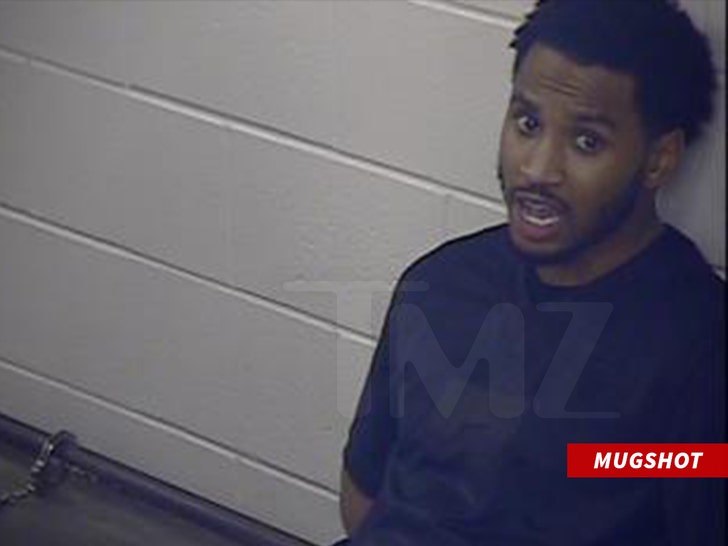 9:56 PM PT — A law enforcement source tells us … Songz was arrested for trespassing, resisting arrest — both misdemeanors — and for assaulting a police officer … a low-grade felony. We're told he's on a 24-hour hold, and will likely be released Monday night.
Trey Songz found himself in the middle of a physical altercation with a police officer during the KC Chiefs' game, and fans who witnessed it say the cop was way out of line.
We've obtained this video from Arrowhead Stadium Sunday, which — at first — shows Trey and the officer in a struggle. Trey connects a punch with the officer's head, and gets him in a headlock, but then the officer pins Trey to a seat.
A witness tells us the whole thing started when Trey was being heckled by some fans a few rows behind him and he asked them to chill out. We're told the officer approached Trey, and without warning, went after him. The witness says Trey was totally caught off guard when the officer got physical, and started to defend himself.
You can hear fans throughout the video shout at the officer, telling him to get off Songz until additional officers arrived. Fans were yelling for the officer to be arrested.
Once backup got there, they were able to separate Trey and the cop … and they put Trey in handcuffs.
We're told Trey is currently in custody, but it's unclear if he's being booked for anything … or simply detained.
We've reached out to his reps … so far, no word back.
Originally Published — 1/24 8:34 PM PT