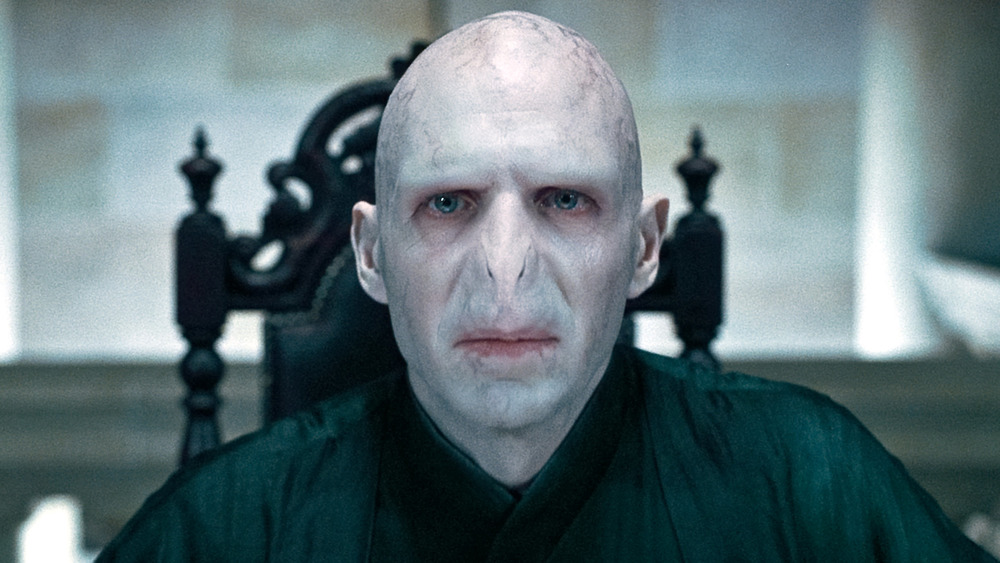 Imagine playing one of the most iconic roles of your career … and hardly even being recognized for it! This is the double-edged sword quite literally "faced" by the actors who portray some of film's most notable villains. Oftentimes, in order to recreate a classic comic-book criminal or a hallmark of horror, there needs to be a lot of makeup involved. Actors portray the undead, the supernatural, the alien, and everything in between, rarely looking much like themselves while doing so. Hours in the makeup chair can work miracles, it turns out — creepy, stomach-turning, sinister miracles.
As a result, even die-hard fans are sometimes taken by surprise when they discover the real face behind a well-known villain. Hollywood magic can transform our favorite stars beyond recognition, which, for an industry based largely around recognition, may seem counterintuitive. But, one could argue that it only makes the reveal that much more memorable. So hang onto your own face as we explore the jaw-dropping real-life appearances of some of Hollywood's most made-up menaces.
Danny DeVito as the Penguin in Batman Returns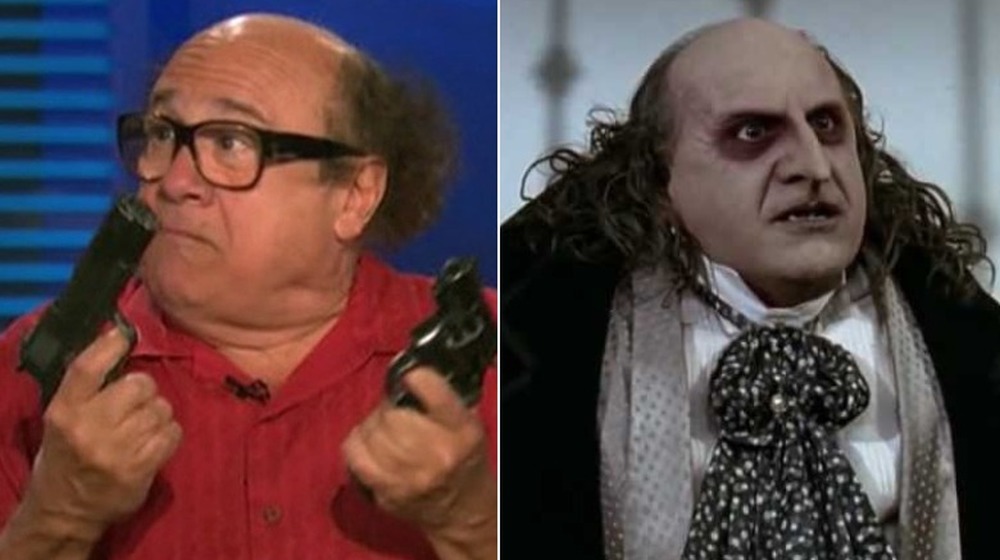 Though in our hearts he is absolutely anything but, Danny DeVito makes a great villain. He proved this forever in 1992's Batman Returns, where he played a classic Batman antagonist: The criminal gang leader known as the Penguin. The character's real name is Oswald Cobblepot, which sounds like the kind of "Doctor Mantis Toboggan"-esque name Frank Reynolds might come up with on It's Always Sunny in Philadelphia.
DeVito is a pretty distinctive individual, which means many fans may have recognized him in Batman Returns. But the character raised by a family of sewer penguins doesn't actually look anything like the actor we know and love. Designing the character involved experimenting with multiple nose shapes and many different hues of makeup. In the end, DeVito's face was painted pasty white, his teeth were made to look rotten, and eyes were heavily shadowed. Most disgustingly, the Penguin drools black saliva.
When he's not spending four and a half hours transforming into the Penguin, Devito can be found living life as one of Hollywood's most lovable and recognizable actors.
Doug Jones as the Pale Man in Pan's Labyrinth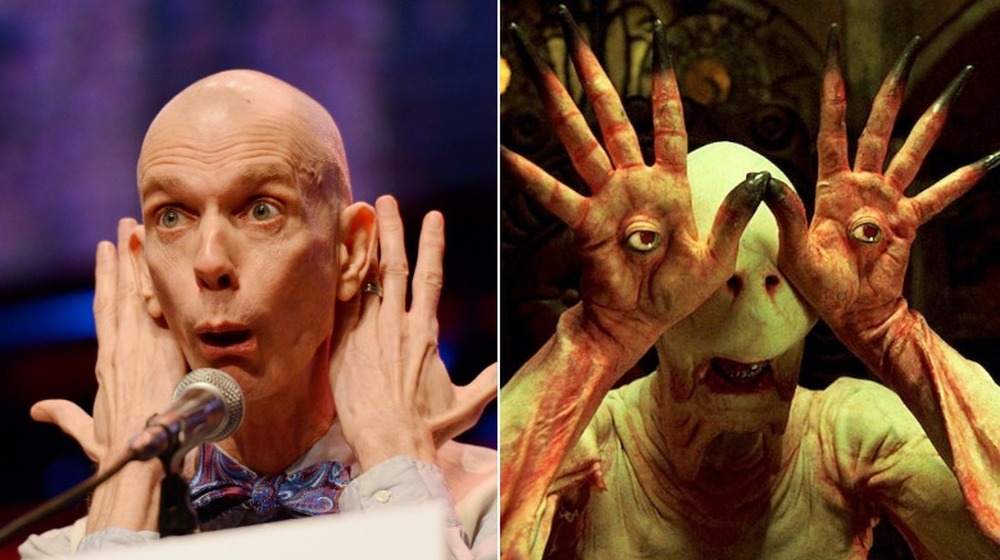 You may find this hard to believe, but actor Doug Jones' eyes aren't really located in the palms of his hands, as they appear to be in 2006's Pan's Labyrinth. In real life, Jones' features are where you'd expect (except when he's utilizing his contortionist skills). But in his cinematic life, Jones often finds himself playing otherworldly creatures. You've probably seen him in multiple movies, but you wouldn't recognize him on the street — his roles nearly always require heavy make-up and prosthetics.
Jones is a very lean 6'3", which makes him perfect for a wide variety of non-human roles: He's Billy in Hocus Pocus, the Amphibian Man in The Shape of Water, and Saru on Star Trek: Discovery. It is fitting that such a performer collaborates so often with Guillermo del Toro, a filmmaker the Academy lauds for the "exuberant visuals" of his distinctive technique. In fact, Jones also played the Faun in Pan's Labyrinth, the very same movie in which he infamously portrayed the Pale Man!
In real life, Jones is a genial man who describes himself as a "dyed-in-the-wool Christian from the Midwest." Adorably, he recently recreated his engagement photo with his college sweetheart-turned-wife on their 35th anniversary.
Hugo Weaving as Red Skull in Captain America: The First Avenger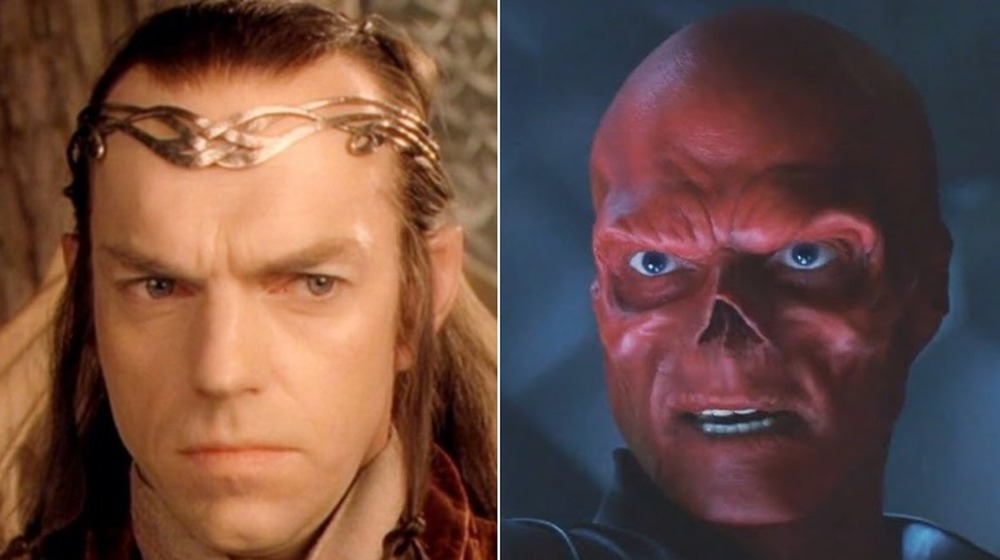 Hugo Weaving is so unrecognizable as Red Skull in Captain America: The First Avenger that some fans might not have even noticed that he was replaced by another actor in Avengers: Infinity War and Avengers: Endgame. That Red Skull was instead played by Ross Marquand, in an appearance largely created with CGI. Things were a lot more physical for The First Avenger: Weaving sat in the makeup chair for hours on set while David White and Shaune Harrison worked their magic with seven pieces of overlapping silicone.
The difference between these two Red Skulls is actually what led to Weaving turning down the opportunity to return in Infinity War and Endgame. As Weaving told Time Out, Marvel backed down from the contracts they had originally agreed upon, attempting to pay Weaving less for appearing in Infinity War and Endgame than they paid him for The First Avenger. Red Skull's reprisal would be "just a voice job," Marvel argued, versus the full-fledged appearance Weaving made originally. Weaving wasn't having it.
While you likely won't see the actor in future Avengers films, you certainly know him from a number of other high-profile roles. Though he was notoriously masked in V for Vendetta, he played the titular revolutionary, and his real face became easily recognizable after he played Agent Smith in the Matrix movies and Elrond in The Lord of the Rings trilogy.
Jim Carrey as Count Olaf in A Series of Unfortunate Events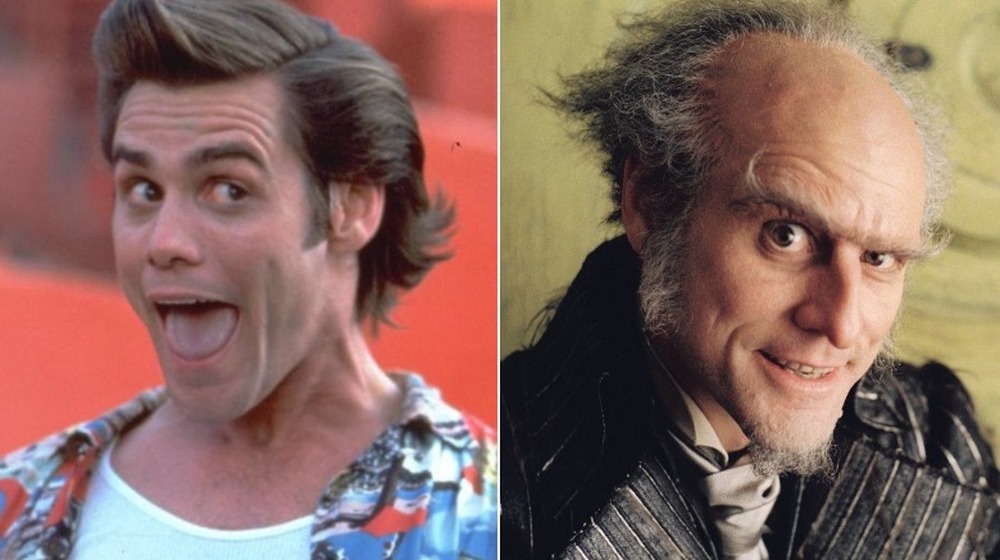 Jim Carrey's notoriously expressive face can render him unrecognizable from one moment to the next. The versatile actor has played many roles that used that chameleonic skill: Carrey sported bright red hair and a green mask as the Riddler in 1995's Batman Forever, was cartoonishly transformed for the titular role in 1994's The Mask, and wore head-to-toe green fur to play the Grinch in 2000's How the Grinch Stole Christmas.
You might call these roles a series of fortunate events, as they made Carrey famous. They also have a lot in common. Not only are all three of those characters notoriously green, but the same makeup artist, Sheryl Leigh Ptak, worked on both Batman Forever and The Mask. The coincidences that plague the Baudelaire siblings in 2004's Lemony Snicket's A Series of Unfortunate Events, in which Carrey played Count Olaf, aren't nearly as whimsical. Portraying Olaf was no easy business for Carrey either: He reportedly had to spend three hours in the makeup chair each day to play the villain who stalks and tortures the Baudelaire children.
Still, Carrey described having a "childlike fascination" with the transformational powers of makeup, as experienced on that film. It's safe to say his fans share the fascination, and love him no matter what form his features take.
Bill Skarsgård as Pennywise in It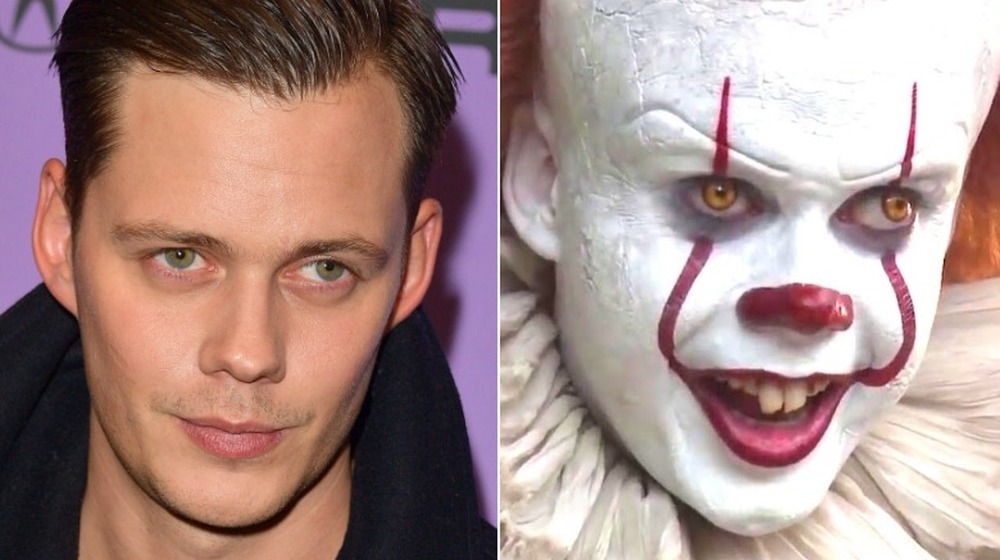 Villainy and makeup come together in clowns, one of horror's hallmark figures. Pennywise, the terrifying jester from 2017's It, and its sequel, 2019's It Chapter Two, was played by actor Bill Skarsgård. The Swedish actor got into his clown makeup early, asking his girlfriend to prepare his face for an audition that only requested simple whiteface.
As millions of fans know, he ultimately landed the role and fully transformed into the Pennywise we know and fear. But Skarsgård's real transformation occurred on the inside. He called Pennywise the most exhausting role he'd ever done, on both a physical and psychological level — and he wasn't even talking about the two and a half hours it took to complete the look. Pennywise required an enormous amount of energy from the actor, and the ability to handle the fact that his performance made at least one child actor cry real tears.
Skarsgård comes from a family of actors. His father, Stellan Skarsgård, has also been physically transformed for roles like Bootstrap Bill Turner in the Pirates of the Caribbean films. It's a testimony to the power of makeup that you'd never look at barnacle-faced Bill and Pennywise and realize they're actually father and son!
Ray Park as Darth Maul in Star Wars
Darth Maul, the vermilion villain from the Star Wars franchise, was portrayed by Ray Park, a martial artist and actor who got his start as a stunt double in 1997's Mortal Kombat: Annihilation. Since then, the actor has appeared in many action roles, including Snake Eyes in 2009's G.I. Joe: Rise of Cobra and, most famously, Darth Maul. Park's athleticism even led him to play a set of acrobatic twin vampires in the 2006 TV movie Slayer.
Park loved playing Darth Maul especially, because becoming the character through the magic of makeup gave him a real rush. Maul's appearance instantly communicates that he is a formidable presence and a major menace. His unique look, combined with Park's skills, results in a villain who truly "[scares] every child in America and around the world."
Producer Rick McCallum issued this as a directive when he informed Park that he would be playing Maul, instead of just acting as a stunt performer. This turned out to be a great casting choice, as Park was able to use his martial arts background to battle Obi-Wan in a lightsaber fight grounded in very little script direction. His face might not be recognizable in this role, but his moves definitely are.
Daveigh Chase as Samara in The Ring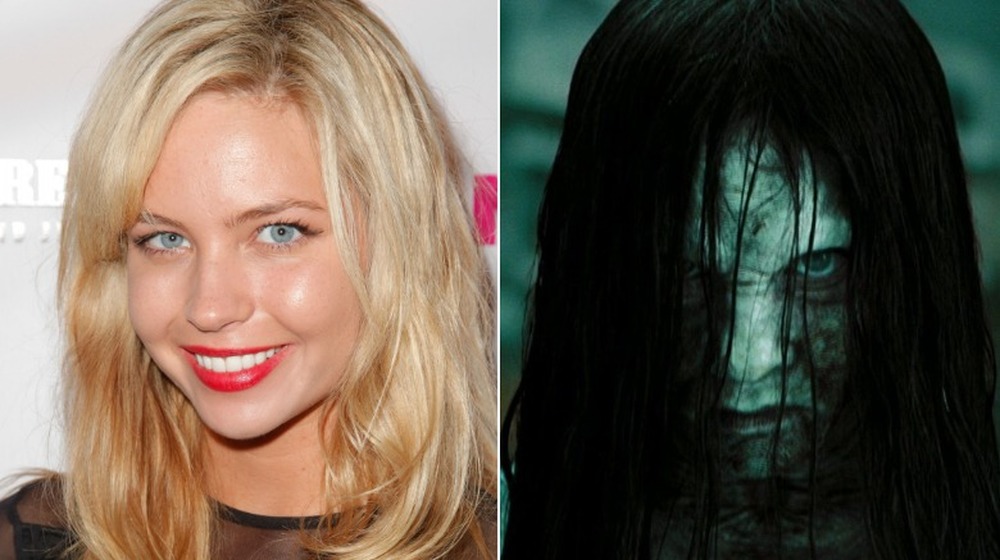 When she's not climbing out of television screens as she does in 2002's The Ring, Daveigh Chase is a considerably less terrifying figure. In fact, she has also worked as a model. Her roles in TV and film have definitely been on the darker side, though: The first major live-action part Chase landed was as Samantha in the 2001 psychological thriller Donnie Darko. Then, starting in 2006, she played the sociopathic Rhonda Volmer on the HBO series Big Love.
Chase played the infamous Samara in The Ring. Samara's fiendish powers have created a cursed videotape, which kills the viewer after seven days. While Samara is typically depicted with long black hair, a haggard face, and a white gown, we do briefly get to see Chase portray her without ghoulish makeup in The Ring. A recording of a psychiatric session is seen, in which Samara, not yet dead, discusses her inability to control her psychic powers. Chase was only 12 years old when the film came out, though, so you might not immediately recognize her from this scene.
Helena Bonham Carter as the Red Queen in Alice in Wonderland
Helena Bonham Carter is very good at being bad. Her large eyes and sharp features make her particularly perfect for her role in Tim Burton's 2010 film, Alice in Wonderland, in which she played the Red Queen. This is one of many collaborations the actress has enjoyed with the famously dark and whimsical director.
As the Red Queen, Bonham Carter's makeup is bold and graphic, bringing to mind the Queen of Hearts from a standard deck of playing cards. Her head, and the mountain of bright red hair atop it, was digitally enhanced to appear disproportionately massive, to add to the sense of caricature. As for the personality of the character, Bonham Carter says she based it on her own bossy, big-headed two-year-old daughter. As she put it, "Toddlers are tyrants."
In real life, Bonham Carter is known and loved for her unconventional style. It makes sense, then, that she loves dressing up and portraying "weird women" on screen, rather than only ever playing roles that merely require her to appear as attractive as possible.
Heath Ledger as Joker in The Dark Knight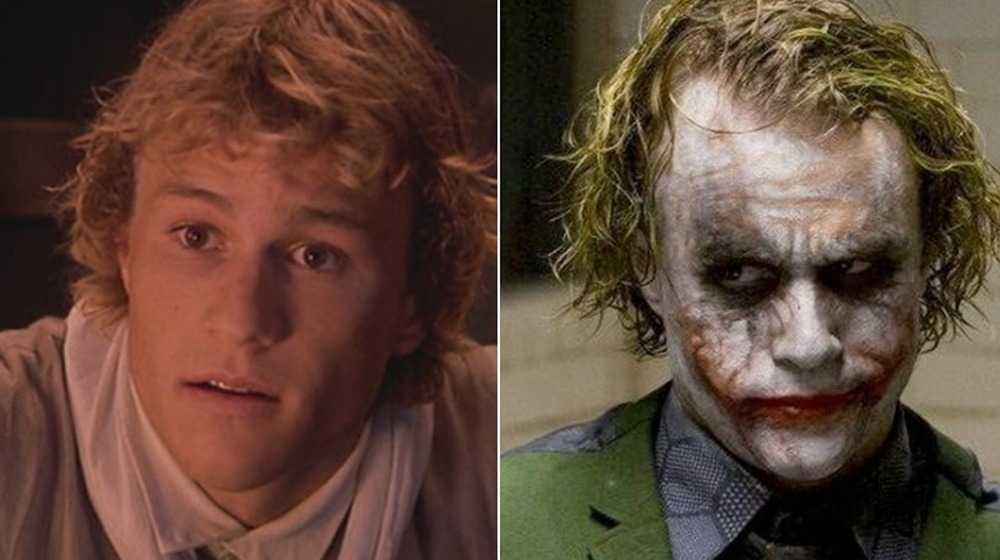 In playing the Joker in 2008's The Dark Knight, Heath Ledger gave the world an iconic portrayal of the Clown Prince of Crime. Though he was rendered unrecognizable by his makeup, stringy green hair, and devilish sneer, Ledger's name became synonymous with the role. That's in large part because Ledger didn't just become the Joker when he put on the makeup — his commitment ran much deeper. Throughout production on The Dark Knight, Ledger kept a diary full of playing cards, quotes from the movie, and excerpts from the comics that reflect the neuroses of the character. He locked himself away in apartments and hotel rooms to work on the diary, perfecting his portrayal of the terrifying criminal.
Without the Joker's flaking makeup, Ledger was a handsome man with dirty blonde hair. He was also a man of many talents and sensibilities, being both a former chess champion and an avid photographer. His range as an actor varied from bad-boy-heartthrob-with-a-heart-of-gold in 1999's 10 Things I Hate About You to serious roles like Ennis Del Mar in 2005's Brokeback Mountain. The Joker was just one of his many triumphs on screen, but it's one fans will likely always remember with a unique sense of awe.
Rebecca Romijn as Mystique in X-Men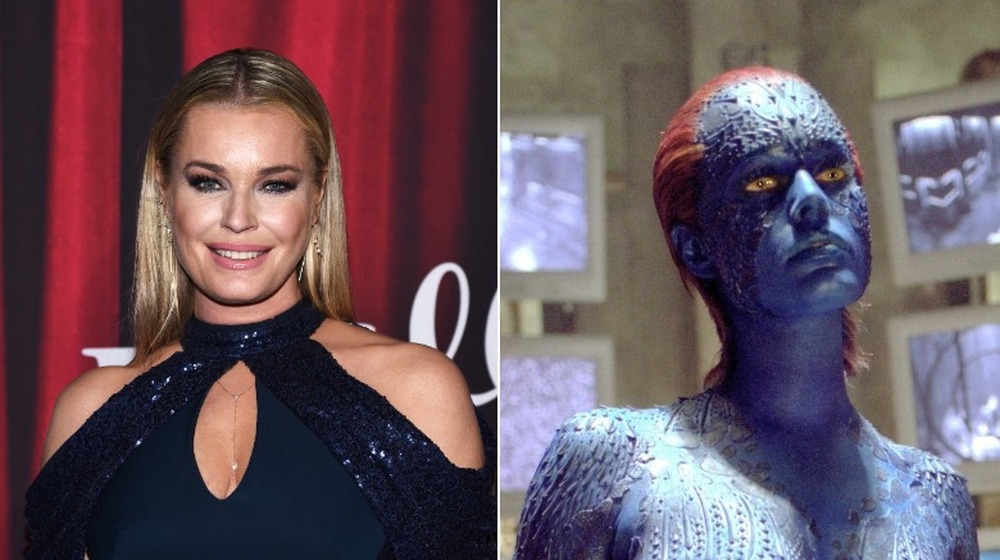 The greatest mystery of Rebecca Romijn's Mystique, who makes her first appearance in 2000's X-Men, is how they got her blue makeup to stick so well scene after scene. It wasn't easy: The first screen test required a jaw-dropping 12 hours in the makeup chair, which was cut down to a (still-staggering) nine for the second movie, 2003's X2: X-Men United, and finally to seven for X-Men: The Last Stand in 2006.
This seems grueling, even by Hollywood standards. In fact, it seems to practically demand mutant powers — especially when you think about the fact that Romijn had to be made-up and on set at 9:00 AM. In contrast, Jennifer Lawrence's Mystique makeup first took eight hours to apply, which was eventually winnowed down to three.
Romijn has had plenty of roles that don't require that level of makeup, thankfully. You may know her as Number One from Star Trek: Discovery, or as Alexis Mead from Ugly Betty. She has also worked as a model, and hosted Skin Wars, a competition show that centers around insane body painting challenges. She certainly knows something about that!
Ralph Fiennes as Voldemort in Harry Potter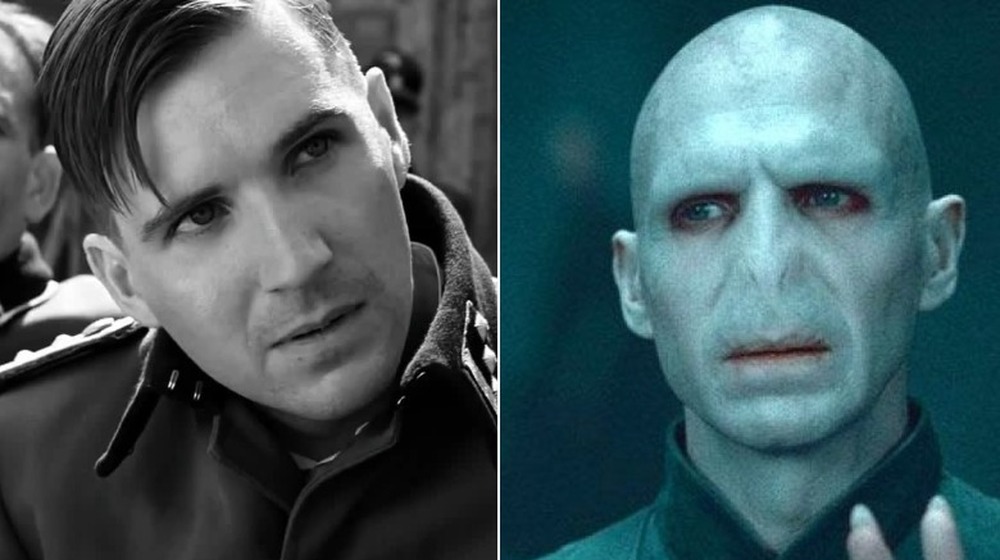 It's not just the bald head and missing nose that make Ralph Fiennes hard to recognize as the Harry Potter series' Lord Voldemort. It's also the fact that, against all odds, the actor is fairly striking in real life. This is a well-known fact: Fiennes boasts a long list of appearances in popular and acclaimed films, in which his handsome face is fully visible.
Though Voldemort's face is decidedly different from Fiennes' own, the transformational process wasn't as complicated as you might expect. Temporary tattoos, false teeth, and fake fingernails transformed this talented actor into the most despised and unnameable villain in the wizarding world.
But here in the muggle world? Well, we know him from many places. He infamously played Amon Göth, a war criminal, in the 1993 film Schindler's List, a role for which he received several award nominations and wins. The English Patient gave him another set of accolades in 1996. More recently, he's starred in such well-known films as 2014's The Grand Budapest Hotel, 2010's Clash of the Titans, and the James Bond franchise, starting with 2012's Skyfall.
Reggie Nalder as Kurt Barlow in Salem's Lot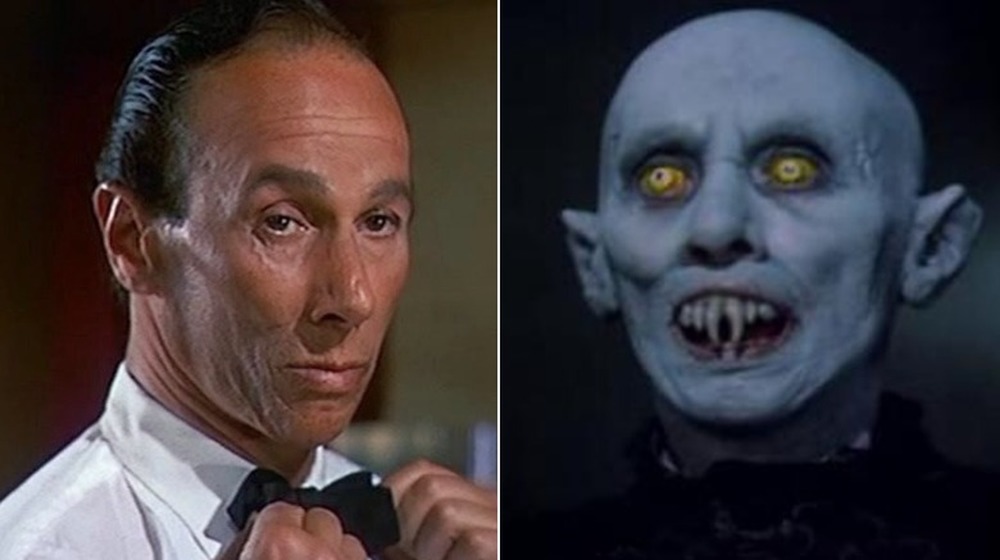 Kurt Barlow, villain of the 1979 Salem's Lot miniseries, claims to be an ancient supernatural being. He certainly looks the part, due to the heroic efforts of the makeup department. His spectral features, complete with bright yellow eyes and terrifyingly fanged front teeth, have left quite a legacy: Directors as varied as Joss Whedon and Bryan Fuller have cited the terror Salem's Lot inspired within them as major influences on their work.
The most notable appearance Nalder's actual face ever made is probably in 1956's The Man Who Knew Too Much. Nalder's chilling countenance made him a perfect collaborator for Alfred Hitchcock — and the perfect candidate for his eventual role in a Stephen King adaptation. Salem's Lot required him, as an onscreen vampire, to learn to deal with makeup and obscenely large contact lenses the actor described as painful. But he enjoyed playing the part all the same, and although his fans may not have recognized him right away, no one can argue that the role didn't fit Nalder perfectly.