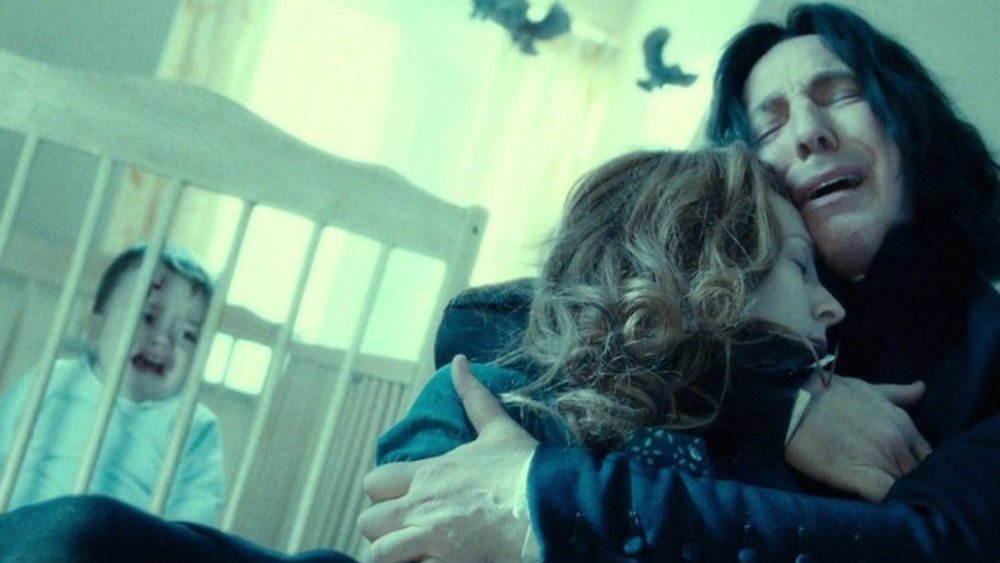 After the original series of Harry Potter novels started topping bestsellers' lists in the late 1990s, a film franchise was pretty much an inevitability. The first movie, Harry Potter and the Sorcerer's Stone (known as Philosopher's Stone in markets outside of North America), was released in 2001, leading to a decade-long Potter marathon at theaters and box offices across the globe.
With child stars Daniel Radcliffe, Emma Watson, and Rupert Grint leading the films as Harry himself and his two best friends Ron and Hermione, the younger actors in the Potter franchise were supported by some of England's finest actors, including Dame Maggie Smith, Michael Gambon, Jim Broadbent, Emma Thompson, and more. However, during and since the ten-year run of the Harry Potter film franchise, some members of the cast unfortunately passed away; and no matter whether these actors left fans behind during the franchise or after it had concluded, these losses still left Potter fans devastated. From Potions masters to Ministry officials to magical creatures, here's a list of Harry Potter cast members you may not know passed away. Spoilers for the Harry Potter series to follow!
Alan Rickman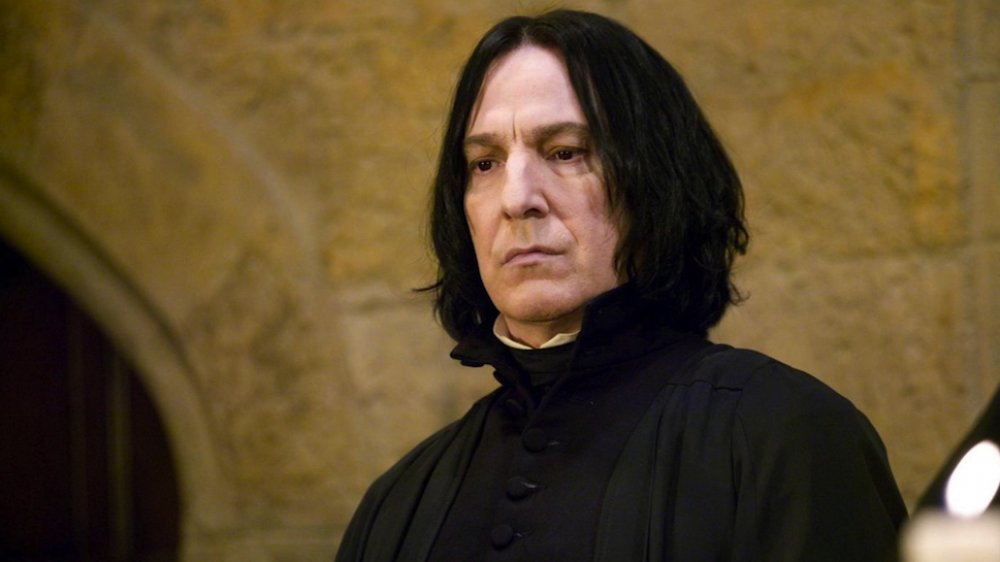 As soon as Harry Potter arrives at his new home at Hogwarts School of Witchcraft and Wizardry, he meets his professors, immediately clashing with the school's Potions master, Severus Snape. Throughout the series, Snape unfairly antagonizes Harry and his friends, deducting points over small mistakes and squabbles and favoring students from Slytherin House (for which he serves as the head), and the pair's animosity only gets worse when Snape is forced to try to teach Harry the art of Occlumency, which could help Harry block his mind against Voldemort. However, as it turns out, Snape was helping Harry all along; as a childhood friend of Harry's mother Lily, Snape was always in love with her, and became a triple agent between Voldemort and Harry while constantly risking his life.
Alan Rickman was the perfect choice to play the mysterious and enigmatic Snape, who turns out to be one of the series' most complex characters. Rickman brought this character to life, becoming a beloved figure to millions of Potter fans, which makes his untimely passing that much harder. In 2016, Rickman lost his life to pancreatic cancer, and fans, fellow actors, and co-stars alike paid their tributes to Rickman, from heartfelt messages to shrines at important Potter-related sites.
Richard Harris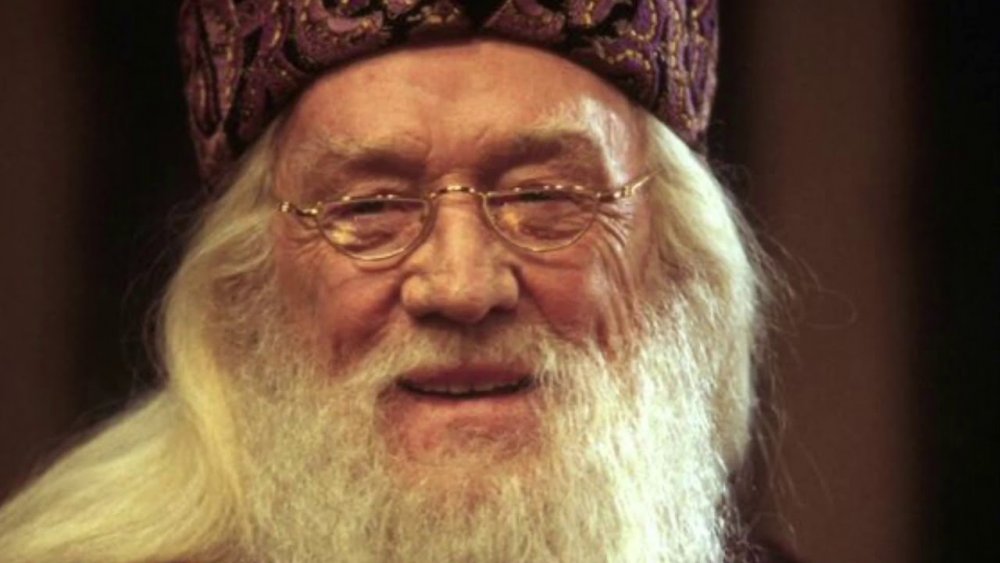 The role of Albus Dumbledore, Harry's wizened, caring mentor throughout the series, required an actor with enough gravitas and heart to bring this part to life, and for the first two Harry Potter films, Richard Harris played the character to absolute perfection. A gentle giant whose kindness is never diminished by his incredible power, Dumbledore serves as Harry's makeshift father figure and personal teacher, sharing his boundless wisdom with Harry as he gets older. However, when Dumbledore is apparently murdered at the end of the sixth installment, Harry Potter and the Half-Blood Prince, Harry must go it alone, armed only with the lessons Dumbledore taught him along the way as he sets out to defeat Voldemort.
Dumbledore doesn't lose his life until the sixth film, but unfortunately, audiences lost the first Dumbledore after only the second installment. After making two Potter films, Harris was diagnosed with Hodgkins' disease in 2002, and after he was hospitalized with pneumonia, he passed away in a London hospital. Michael Gambon moved forward with the role of Dumbledore, but Harris' legacy lives on through his sons — one of whom is the acclaimed actor Jared Harris, who has appeared in shows like Mad Men and Chernobyl.
Richard Griffiths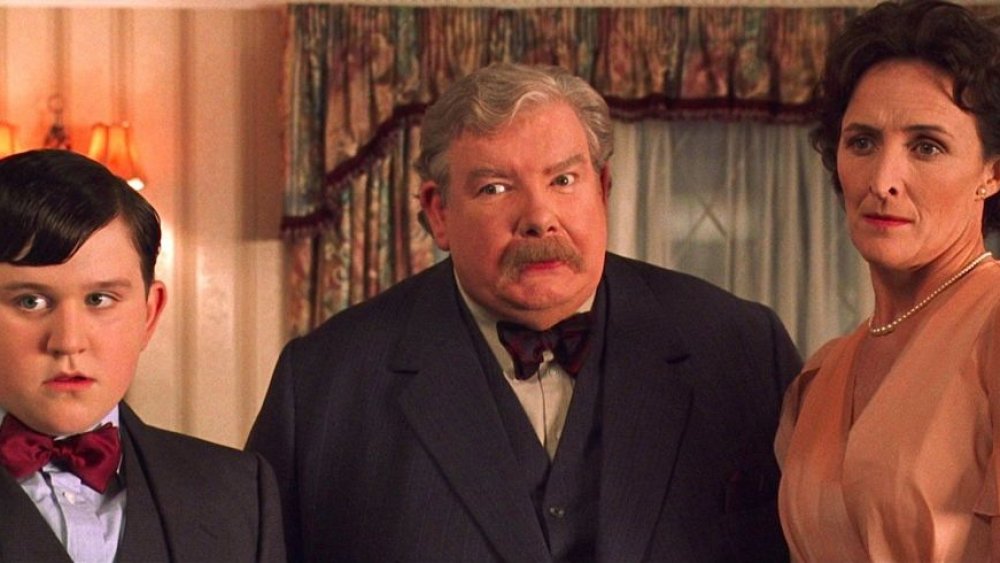 Harry Potter faces plenty of hardship throughout his life, and in his pre-Hogwarts years, most of that turmoil is caused by the Dursleys, a trio of extended family members with whom Harry spends an incredibly unhappy childhood. After his parents are killed by Voldemort, Harry must live with his mother's sister, Petunia, her awful husband Vernon, and their dreadful son Dudley, all of whom hate Harry for his magical ability and make his life as miserable as possible. Despite the fact that Harry and the Dursleys hate each other equally, Harry must return to their house every summer when Hogwarts is on break, making them important characters in the story.
As such, when it came time to cast the Dursleys, producers saw fit to cast Fiona Shaw and Richard Griffiths, two titans of the British stage and screen, as Petunia and Vernon, respectively. Griffiths, in addition to working on the Potter films, even teamed up with Daniel Radcliffe to appear onstage in Equus from 2007-2009 on both London's West End and Broadway, but unfortunately, their working relationship was cut too short far too soon. Griffiths lost his life to complications from heart surgery in 2013. After losing his friend and co-star, Radcliffe led a touching tribute to the legendary actor, saying he was "proud" to say he knew him.
John Hurt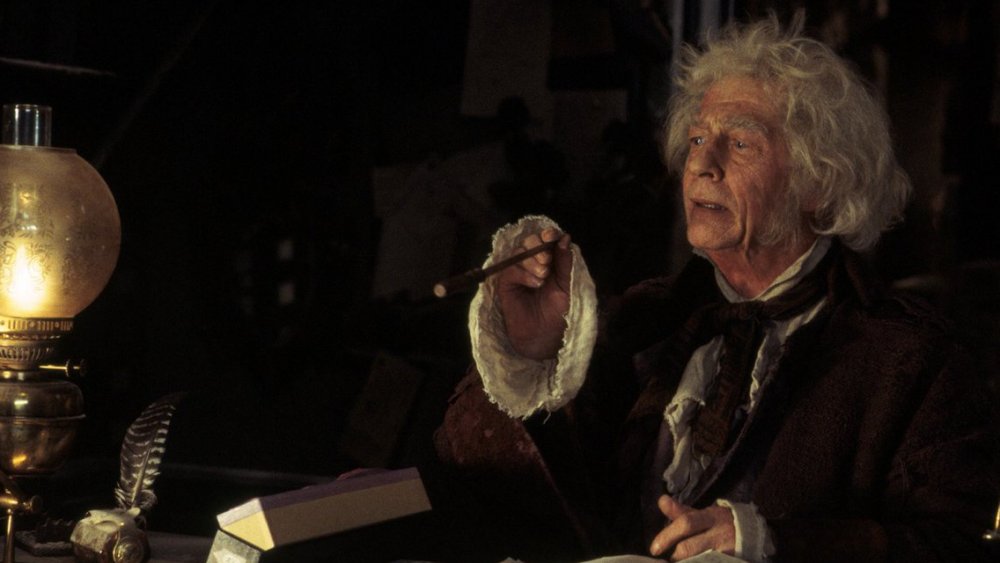 Plenty of legendary actors appeared in the Harry Potter film series, and few were more well-renowned than John Hurt. As Harry goes shopping in Diagon Alley, he meets the mysterious, enigmatic Ollivander, the man who provides wands to the entire magical community and tells him an important secret about his own wand. Thanks to a magical bond between Harry and Voldemort, the wand that has chosen the young wizard shares a core with Voldemort's, creating a lifelong connection. Later, Ollivander must help Harry uncover the secrets of the Elder Wand in order to stop Voldemort once and for all.
Hurt played Ollivander in a handful of Potter films, including the first and last, but you might also recognize this stalwart actor from Alien, Midnight Express, Hellboy, V for Vendetta, Indiana Jones and the Crystal Skull, a short stint as the War Doctor on Doctor Who, and more. Hurt became a Knight of the Order of the British Empire in 2015 for services to drama, but sadly, he passed away only a few years later in 2017 from complications from pancreatic cancer.
Rik Mayall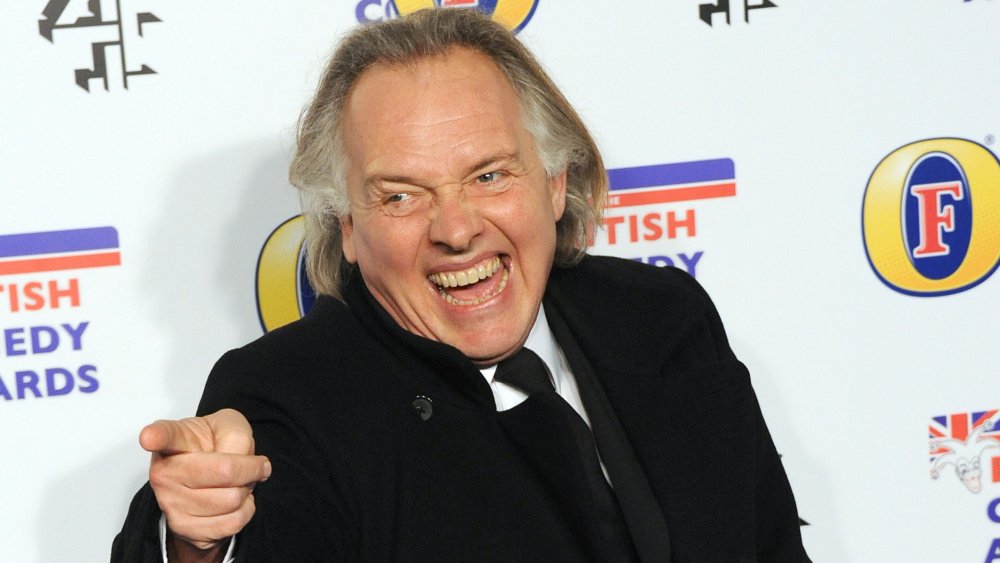 Harry's time at Hogwarts might have been dangerous most of the time, but it was also rife with whimsy and mischief, mostly thanks to the school's resident poltergeist, Peeves. Though Hogwarts is home to plenty of friendly and well-meaning ghosts, like Nearly-Headless Nick (the ghost of Gryffindor), Peeves spends the entirety of his existence antagonizing students and faculty alike, as well as playing inconvenient pranks. Unfortunately, despite how entertaining Peeves' exploits would have been onscreen, his scenes were ultimately cut from the film franchise.
Though Peeves never made it to the big screen, the producers did hire an extraordinarily funny actor to play him; Rik Mayall, who filmed several scenes as the poltergeist. Mayall, a British comedic actor known for roles in Blackadder, The New Statesman, and Believe Nothing, among other shows, died at the age of 56 in 2014 after a sudden heart attack while jogging. Potter fans can only hope that Warner Bros. might honor Mayall's memory by finally releasing his deleted scenes.
Derek Deadman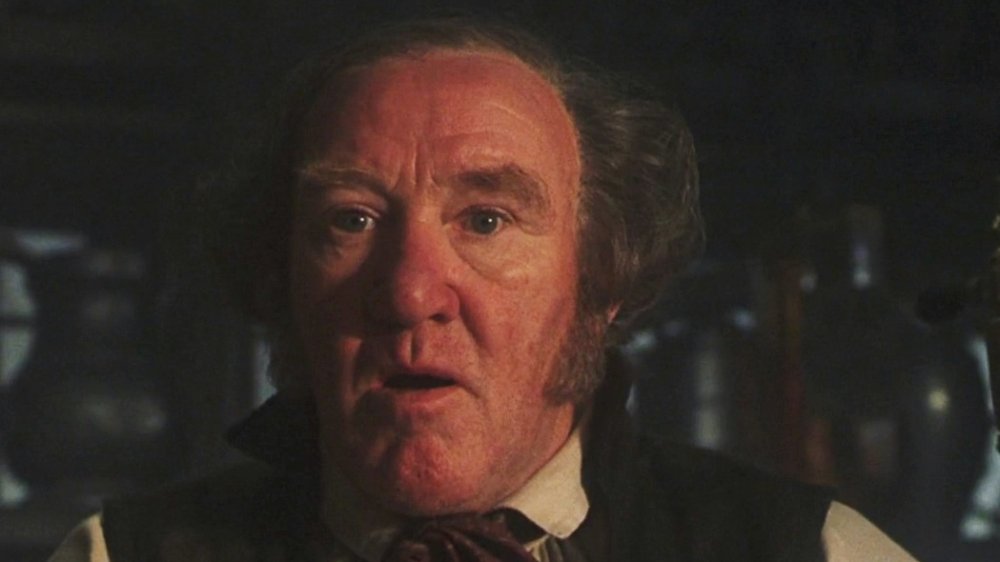 After Harry is officially introduced to the magical world by Rubeus Hagrid (Robbie Coltrane), his first official entry into wizardry is when Hagrid takes him to Diagon Alley, the magical street where witches and wizards can buy all of the supplies they need for spells, potion-making, and more. In an otherwise non-descript Muggle street in London, Harry discovers the Leaky Cauldron — a pub that seems to go totally unnoticed by any non-magical folk — and in the backyard, wizards can gain entry into Diagon Alley by tapping one specific brick in a wall. As the bartender of the Leaky Cauldron, Tom is one of the series' most important background characters.
Tom only appeared briefly in the film series, but in the first film, he was played by British actor Derek Deadman. Throughout his career, Deadman appeared in high-profile projects like Brazil, Robin Hood: Prince of Thieves, National Lampoon's European Vacation, the Doctor Who serial The Invasion of Time, and the Bond film Never Say Never Again, among others. Deadman passed away in 2014 at the age of 74 from complications from diabetes, leaving the Leaky Cauldron permanently unmanned.
Dave Legeno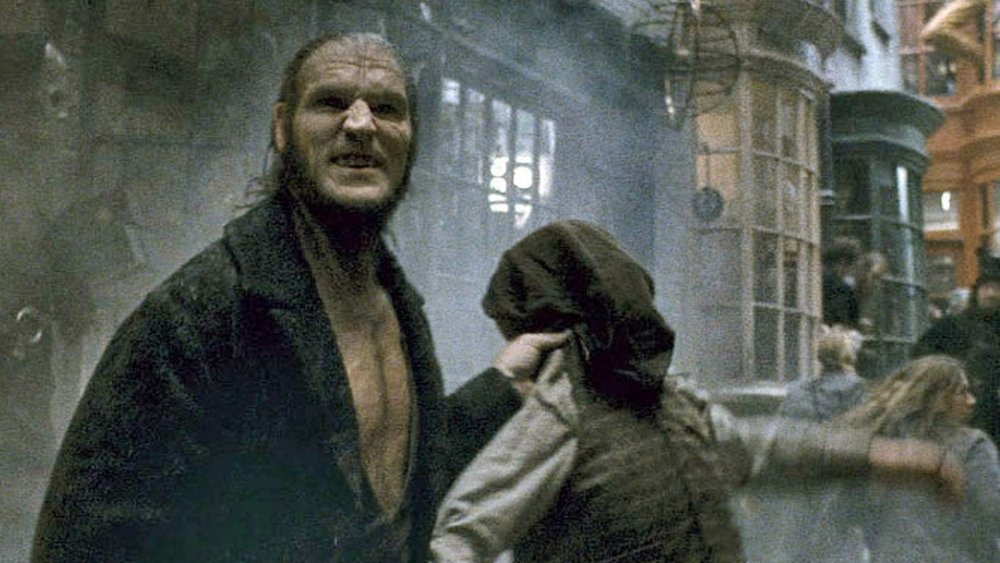 Of course, the world of Harry Potter isn't all heroes: Voldemort has plenty of bad guys under his thumb, one of whom is the dangerous werewolf Fenrir Greyback. A ruthless and hungry monster, Greyback bites for fun to create a new army of werewolves, and as a sort of half-man, he finds refuge in Voldemort's army of cruel misfits. During Half-Blood Prince, Greyback attacks the eldest Weasley son, Bill (played by future Star Wars star Domhnall Gleeson), dealing a fatal blow to Harry and his loved ones. Greyback lasts until the final battle in Deathly Hallows: Part 2, but ultimately, he's taken down by the good guys.
Greyback required a particularly imposing actor, and Dave Legeno was up to the task. A trained mixed martial artist proficient in everything from muay thai to judo to boxing to Brazilian ju-jitsu. Legeno passed away in 2014 during a hike in Death Valley; when his body was discovered, it was determined that he passed away from heat-related issues.
Roger Lloyd Pack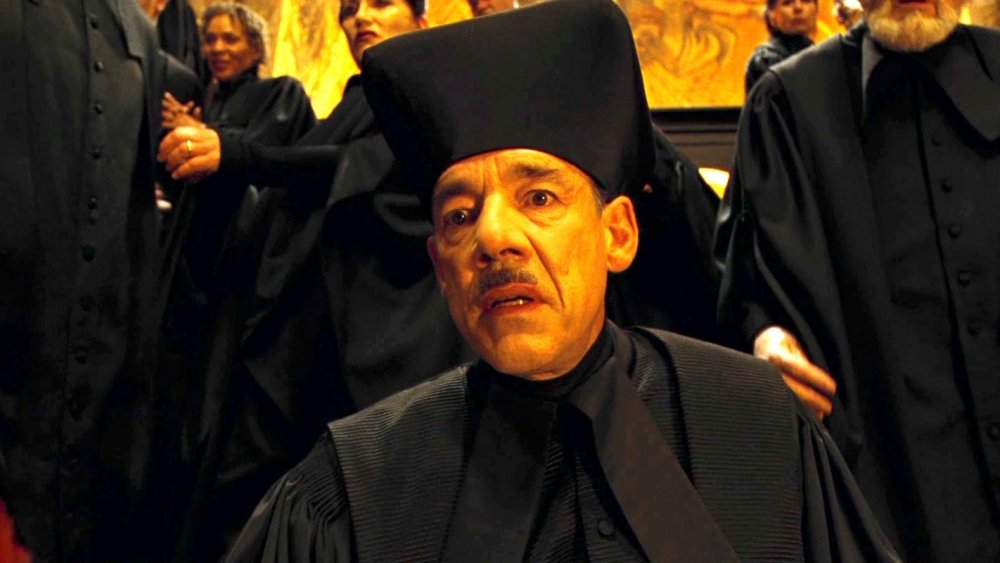 In the franchise's fourth installment, Harry Potter and the Goblet of Fire, Harry finds himself faced with an entirely new challenge; after his name is somehow placed in the champion-choosing Goblet of Fire for a multi-school Triwizard Tournament, Harry must compete, much to everyone's chagrin. Throughout the tournament, he encounters plenty of Ministry officials, including Barty Crouch Sr., a strict, high-ranking Ministry director overseeing the day to day operations of the tournament. However, what Harry learns later about Crouch is that he has a tragic past — his son, Barty Crouch Jr. (played in the film by David Tennant), was previously arrested with a group of Death Eaters, and has returned with Voldemort's help to exact revenge upon his father.
Since Barty Crouch Sr. is such an established member of the Ministry, it stands to reason that a venerated actor like Roger Lloyd Pack would be the one to play him. Pack also appeared alongside Tennant in Doctor Who episodes as villain John Lumic in multiple episodes, and worked extensively on British television before he passed away due to pancreatic cancer in 2014.
Timothy Bateson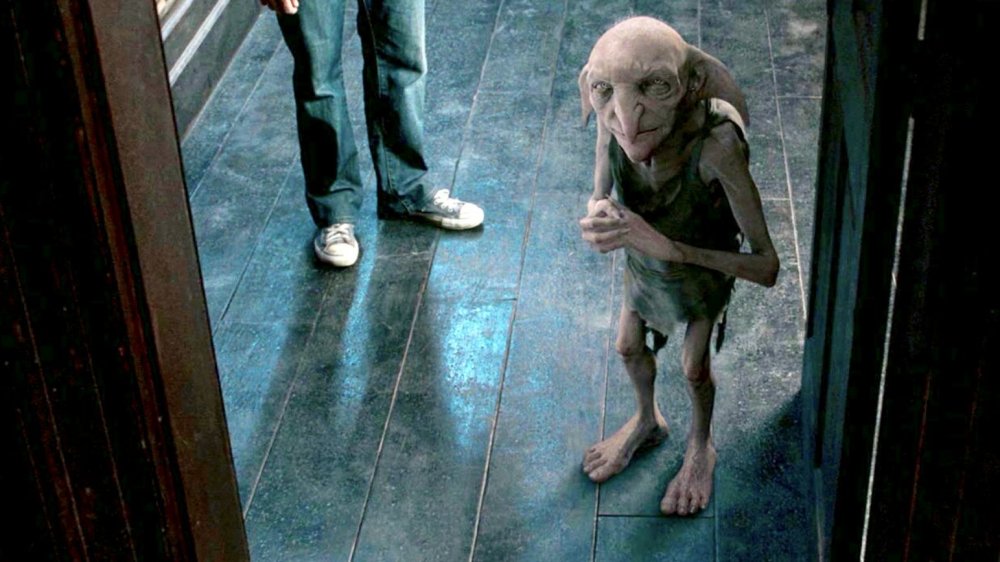 When it comes to magical creatures in the Harry Potter universe, few are more mysterious than house elves, which are genetically engineered to do a wizard's bidding once a bond exists between the two. However, Harry ends up with much more than he bargained for when he ends up owning Kreacher, a surly house elf who once belonged to his late godfather, Sirius Black (Gary Oldman). After Sirius' death, Harry inherited ownership of Kreacher, and though the two want nothing to do with each other at first, Harry eventually wins Kreacher over and inspires him to fight against Voldemort's forces.
Kreacher was an entirely computer-generated character from a visual perspective, but he was voiced by Timothy Bateson, an established British voice actor. Voicing Kreacher in the fifth movie, Order of the Phoenix, was Bateson's last role before he passed away in 2009; for the rest of the series, Kreacher was voiced by Simon McBurney.
Verne Troyer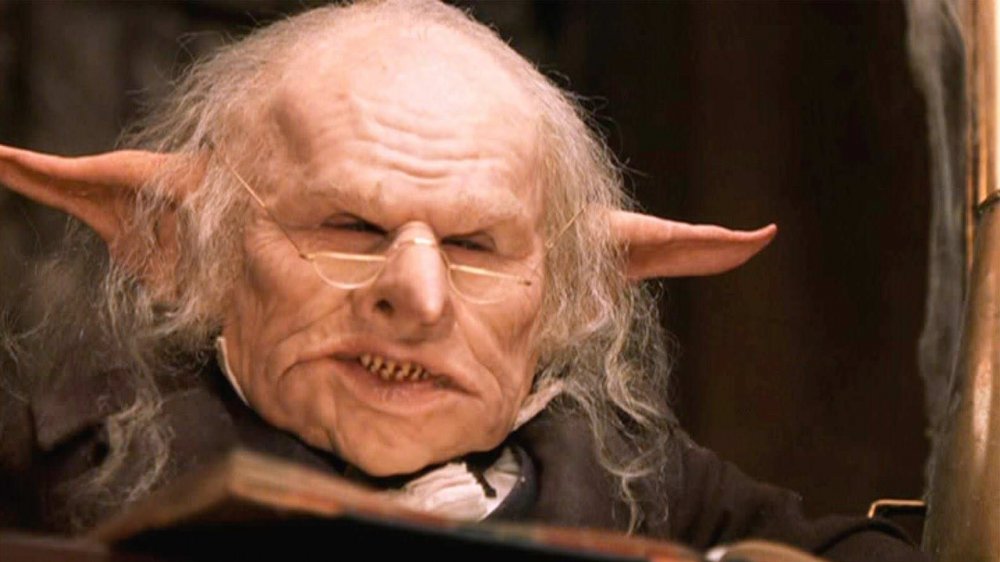 As Harry enters Diagon Alley for the first time, one of his first stops is Gringotts, the vast wizarding bank that holds some of the magical world's most closely held treasures and secrets. Just to add to its mystique, Gringotts is guarded by goblins, which are easily the most secretive and cryptic magical creatures in Harry's world, and one of the first goblins Harry meets is Griphook, who leads him down into Gringotts' dark and well-guarded vaults.
Though Griphook returns in later films, he's played by a different actor as the series continues; in the first movie, Verne Troyer portrays the prominent goblin. Troyer has a fairly extensive film and television resumé, but most people likely know him best as Mini-Me to Mike Myers' Dr. Evil in the Austin Powers franchise. Tragically, Troyer passed away in 2018 from alcohol poisoning, which was ruled a suicide; however, his performances in everything from Harry Potter to Austin Powers will live on forever.
Elizabeth Spriggs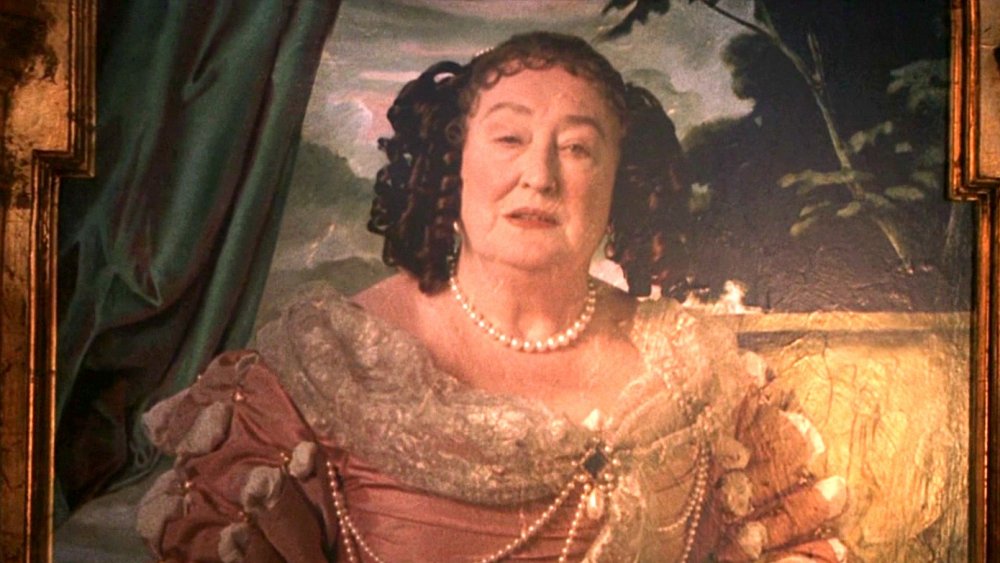 When Harry arrives at Hogwarts, the magic within the school is unbelievable to him on every level. Food appears on tables as if by magic, he can wave a wand and make anything happen, the staircases change frequently, and in an unnerving twist, the paintings on the walls move and talk. In the magical world, when a portrait is painted of a deceased witch or wizard, a part of their consciousness lives on in their painting, which allows everyone from past headmasters of Hogwarts to loved ones to continue communicating with the living long after they've passed away.
One of those paintings, the Fat Lady, is in charge of guarding the entrance to Gryffindor Tower, and in the films, she was played by British actress Elizabeth Spriggs. A Shakespearean actress who appeared in plays like Romeo and Juliet, Hamlet, and Much Ado about Nothing with the Royal Shakespeare Company, Spriggs also earned a BAFTA nomination for the 1995 adaptation of Sense and Sensibility (which starred her future Potter co-stars Alan Rickman and Emma Thompson) before appearing in the Potter films. However, she only made an appearance in the first film before her untimely death in 2008. Dawn French replaced Spriggs as the Fat Lady, popping up in 2004's Harry Potter and the Prisoner of Azkaban.