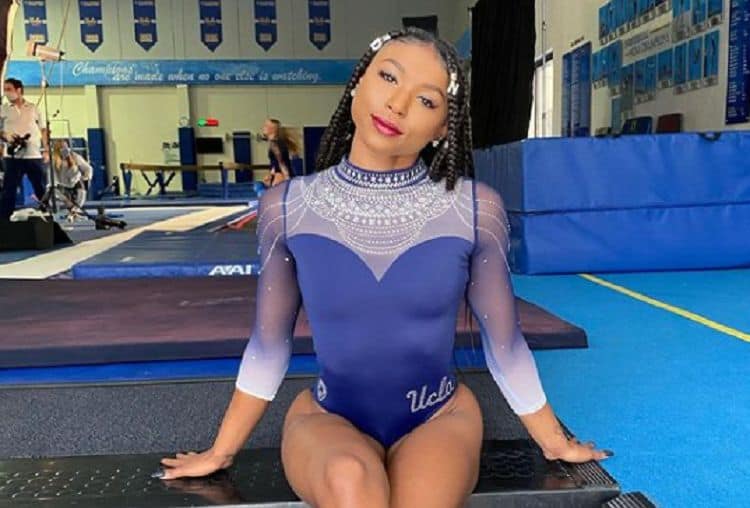 Nia Dennis has been famous for a long time. She's an international gymnast who attends UCLA, and she's been a star her entire life. You can't be a part of the U.S. Junior National Team without being a star, after all. She's one of the most talented young women in the world, and she's been making headlines all week for her stunning performance that she calls an "Ode to black culture," which earned her a near-perfect score at a January 2021 competition. She used music from all black artists, and she made reference to the culture. Now people are looking to learn as much as possible about this exceptional talent.
1. She's Just Barely a 90s Baby
She got to spend the first year of her life living in the 90s before the new millennium came along, but we can assure you she doesn't remember any of it. She was born on February 23, 1999. She got all of eight months in one of the greatest decades of all time, but we imagine her family has amazing memories of her at that age. It is the best age.
2. She Was Part of the U.S. Team
For nearly four years, at that. She was part of the Junior U.S. National Team from 2012 to 2016. She spent her time competing, winning medals, and showing the world what she was made of. She went international in 2014, and all that did for her was show even more people just how skilled she really is.
3. She's From Ohio
She was born and raised there, but she no longer lives in Ohio. She was born and raised in Waterville, Ohio, and she currently lives in Los Angeles. She's here for college, but it's also easier for her to be part of the teams she's part of living on the West Coast.
4. She's A Kobe Fan
When asked who she admires the most, one of the people she looks up to is the late Kobe Bryant. He is a man who inspired her by being his best. He practiced, he worked hard, he improved his skills, and learned as much as he could each and every day while loving his family and always doing what he could for those in need. She looks up to him, as so many around the world do.
5. She Has Career Goals
She's not just in college to compete on the UCLA women's gymnastic team. She's actually there to get an education, and she has a dream when she's finished with her degree. She's going to become a physical therapist, and she's going to help those who need to regain their lives and their confidence when they suffer from an injury.
6. She Has a Sister
She's not an only child. Her parents also have another daughter, and her name is Mya. They are close. The entire family is close. It's hard not to be when you have a daughter who does what she does and takes up so much of the family time for practices and competitions around the world. It's a family affair.
7. She Likes to Cook
There is something about cooking that really does ease the mind and make the soul feel good. Being in the kitchen – the heart of the home – is a beautiful thing. It's lovely, and so many people appreciate the art of cooking.
8. She's Got Her Own Fans
Imagine being a 21-year-old young woman who earned a near perfect score on a routine, and then finding out the world is literally in your corner cheering you on? Some of the biggest names in the world watched her perform, and they weren't shy about sharing it on social media. The likes of Janet Jackson, Missy Elliot, and even Simone Biles – Olympian – cheered her on via social media. That has to feel darn good.
9. She's Been Viral Before
This is a young woman who knows how to bring it. Approximately one year ago on her own 21st birthday, she competed and also received a near perfect score. Her routine went viral, and people like Ellen DeGeneres and Steve Harvey recognized her for her immense talent and focus.
10. She's Injured
Well, we should clarify that she's no longer injured. She spent nearly five years of her career performing with an injury that she finally had surgically corrected in 2020. It's called a shredded labrum, and she made the decision to handle her injury during the 'rona virus lockdown of 2020. It was probably a good time do so.