This content was paid for by Netflix and created by Looper.
In the past decade, Hollywood has made small strides to represent the LGBTQ+ community on TV and film less like a joke and more respectfully. As society's lens toward the LGBTQ+ community continues to shift in positive ways, so does the representation we see on screen.
From Netflix's documentary, The Death and Life of Marsha P. Johnson, to groundbreaking films like The Boys in the Band, more LGBTQ+ community members are getting to tell their own stories. With trans actresses like Laverne Cox and gay directors and producers like Ryan Murphy taking center stage in Hollywood, actual voices within the community are spearheading more LGBTQ+ stories. As a result, having control over their own narrative has led to much better and more inclusive films. Here are some of the best LGBTQ+ hidden gems on Netflix that defy many of the stereotypes we've come to expect from these movies.
Alex Strangelove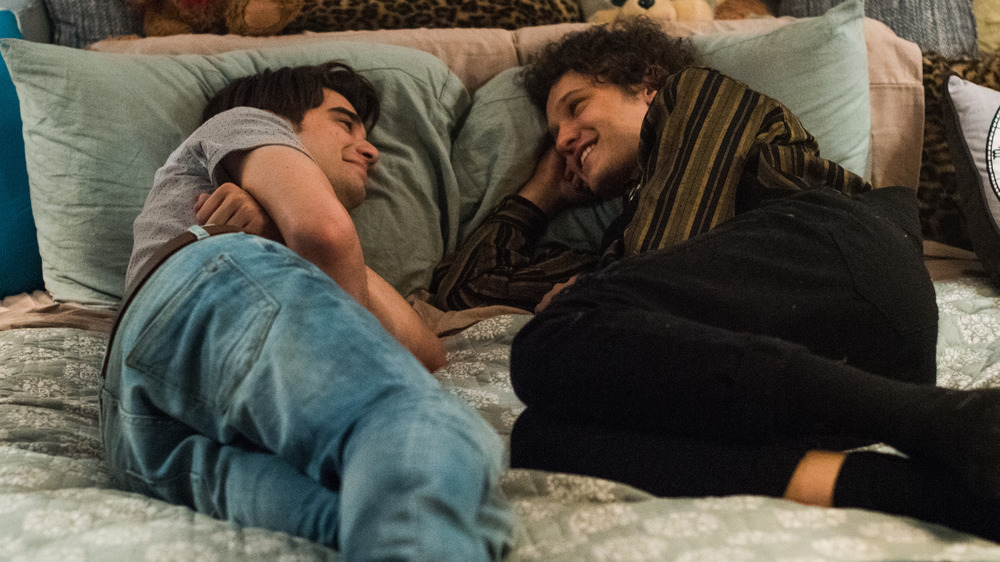 We've all seen the teenage coming-of-age story where a character takes the whole movie to realize that they're in love with their best friend. Alex Strangelove offers a twist on that premise when the relatable, adorkable main character, Alex Truelove (Daniel Doheny), takes almost the entire film to realize that he's not in love with his best friend. Brought together by their eccentric passion for all things aquatic, Alex and new girl Claire have a high school biology meet-cute moment, becoming fast best friends until they decide to "risk the friendship." But as it turns out, Alex is more interested in kissing his endlessly patient gay friend Elliot than his girlfriend.
This charming movie stands apart from most of its LGBTQ+ counterparts by not honing in on a doom and gloom storyline but instead offering the same kind of sweet story fans would see if the leads were straight. Of course, there's drama — it is a high school love story, after all. But it's refreshing to see a teenager struggle with his sexuality and actually receive support from his friends and family. Most films tend to hyperfocus on the potentially negative aspects of coming out, which are important subjects in their own right — but not every queer story needs to be drenched in despair. Coming out is often a joyous occasion for many people, so it's nice to see a fun, campy film that does its own thing without falling into negative stereotypes.
What Keeps You Alive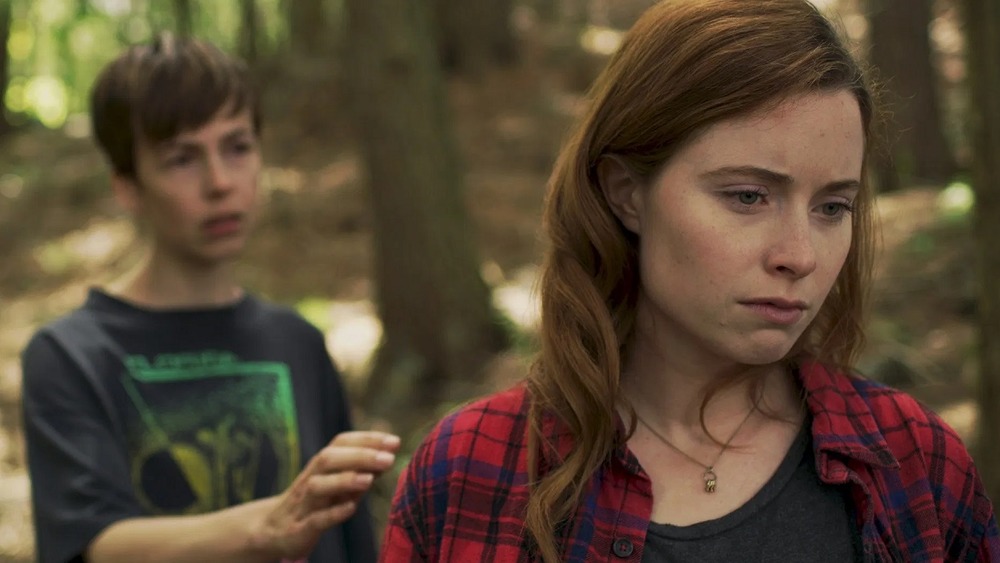 Who hasn't had that one ex who takes them to an abandoned cabin in the woods for a homicidal staycation? What Keeps You Alive features two prominent lesbian characters: Jules (Brittany Allen from The Boys) and Jackie (Hannah Emily Anderson from X-Men: Dark Phoenix). One woman is kind and moral, while the other lacks all empathy (with a homicidal twist).
Anderson's chilling performance as Jackie keeps the film fast-paced and unpredictable even with a cast of only four characters and few changes of scenery. Meanwhile, Allen's raw emotion shines bright, causing the leads to face off in a psychological chess match you can't tear your eyes away from. The focus on the characters themselves rather than flashy blood and gore will have the film rattling around viewers' brains for weeks — as any good psychological horror flick should do.
Even better, the film sidesteps horror's longstanding toxic habit of portraying a singular LGBTQ+ character as evil — with their queerness at the epicenter of their homicidal rage (see Buffalo Bill in Silence of the Lambs, among many others) — by offering a morally badass lesbian character to balance the violent one. The villain's queerness doesn't play a part in her villainy. It just is. And we need more of that energy in modern films (especially horror).
The Half of It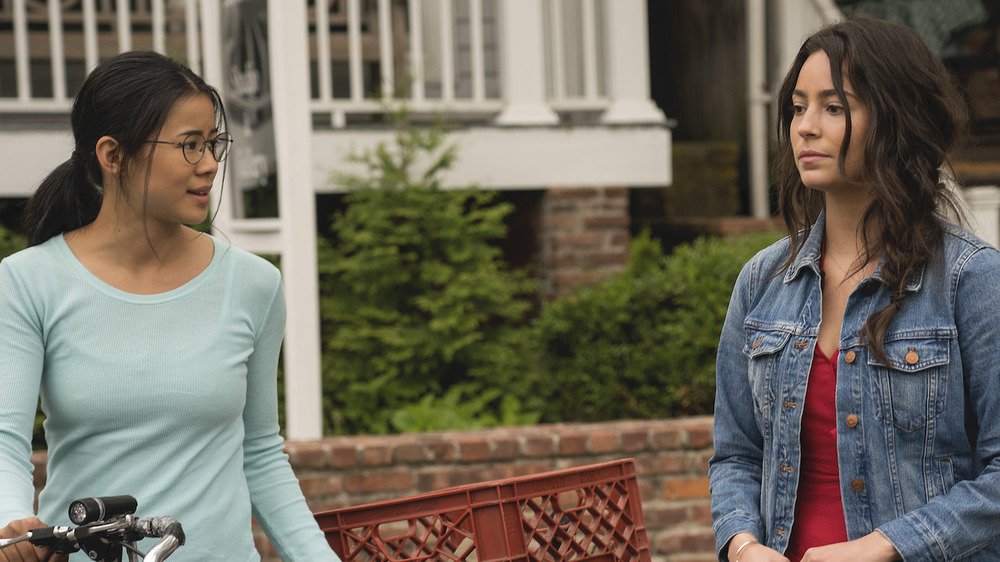 Imagine a typical teenage rom-com, and then turn every single trope you've come to expect on its head. The Half of It is the lesbian coming-of-age rom-com we've needed for decades. The movie makes you think you're watching one thing until it completely flips the narrative in one fell swoop. We've all seen movies that go something like this: Girl helps boy woo (or win back) another girl, but they fall in love instead. (Hello, P.S. I Love You.) But what happens when said girl falls in love with the girl she's supposed to be helping the guy woo? Lots of drama, that's what. But don't worry, it's the good kind.
Starring Leah Lewis (Nancy Drew) as band geek Ellie Chu, Alexxis Lemire as the preacher's daughter Aster Flores, and Daniel Diemer as the soft-spoken jock Paul Munsky, viewers can't help but root for each character. Featuring a slew of impactful and powerful messages, one of the most striking scenes in the film comes when Ellie's dad confesses his parenting insecurities to Paul in Chinese. The football star doesn't speak the language, but he lets him talk uninterrupted, understanding the intent. That's just one example of the kind of intriguing and memorable ways this movie gives viewers what they didn't even know they wanted.
The Half of It is basically Footloose for the modern age — fit with small town judgments and little old ladies gasping at the audacity of "the youths" during church declarations. Add in a dash of gay and a ton of literary references, and you've got a must-watch addition to your queue.
Disclosure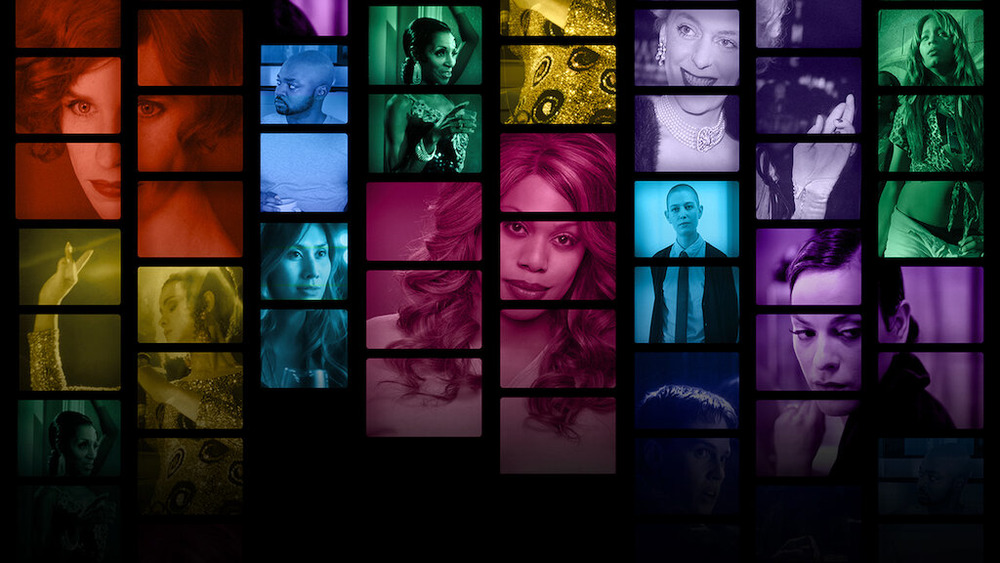 Narrated by Hollywood's most influential members of the trans community, the original Netflix documentary Disclosure takes viewers through Hollywood's sketchy history of trans representation. The movie explores how toxic film and TV portrayals affect how the world sees the trans community — and how they viewed themselves for a long time. Allowing trans icons to tell their own stories, the documentary features Hollywood favorites like Laverne Cox, Chaz Bono, Candis Cayne, Rain Valdez, and Brian Michael Smith.
Laverne Cox (Orange Is the New Black) notes in the film, "I think for a very long time, the ways in which trans people have been represented on-screen have suggested that we're not real, have suggested that we're mentally ill, that we don't exist." Meanwhile, another mistake Hollywood continues to make is casting cisgender men as trans women, reaffirming the insidious idea that trans women aren't real women. In response, actress Jen Richards (Nashville) explains in the documentary, "The public thinks of trans women as men with really good hair and makeup in costume."
Richards tells the story of a "worldly" colleague, who responded with, "You mean like Buffalo Bill?" when she came out as trans. The actress notes, "Her only point of reference was this disgusting, psychotic serial killer." As the film points out, Hollywood's relentless portrayal of drag queens and the trans community as killers, sex workers, or the butt of the joke provides some of the only trans representation many people see. This documentary is a vital, heartbreaking, and heartwarming addition to the narrative. Whether you know someone who is trans, are LGBTQ+ themselves, or have never met a trans person, the film is an enlightening watch that will probably teach you something you didn't know about the community and their history in Hollywood.
The Boys in the Band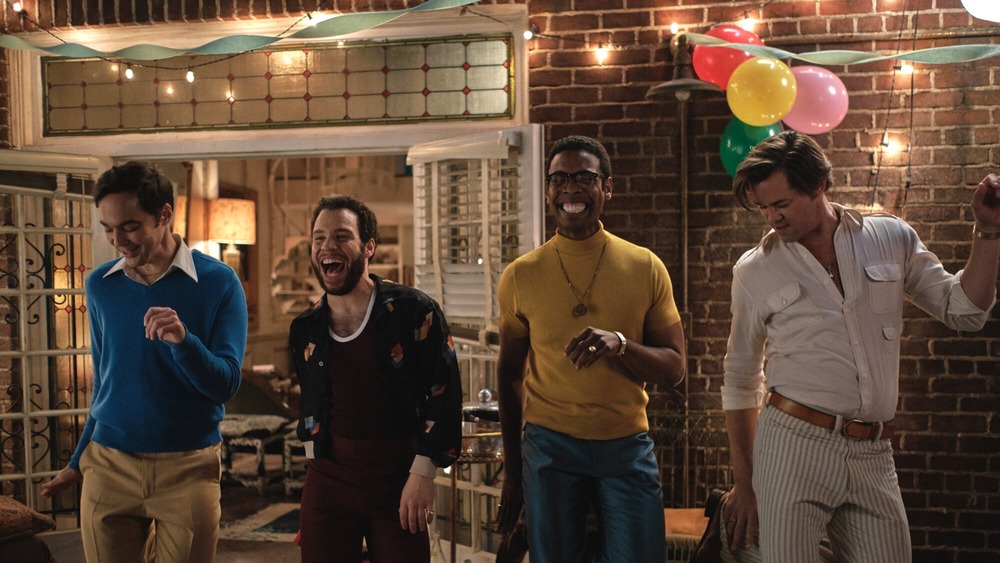 Before Ryan Murphy produced the 2020 film of The Boys in the Band, the project started its life as an Off-Broadway play in 1968. Written by gay playwright Mart Crowley and debuting one year before the Stonewall riots, The Boys in the Band tells the story of a group of gay men celebrating a birthday party in New York City, offering one of the earliest positive (and realistic) examples of gay representation. When the play was revived on Broadway for its 50th anniversary, every role went to a prominent gay actor — all of whom reprised their roles in the Netflix adaptation. The dynamite cast includes Magic Mike's Matt Bomer (Donald), The Big Bang Theory's Jim Parsons (Michael), Star Trek's Zachary Quinto (Harold), and Teen Wolf's Charlie Carver (Cowboy).
When Michael's homophobic and likely closeted ex-college roommate shows up to Howard's exclusively gay party, Michael tries (and fails) to hide the group's sexuality, leading to a heavy dose of hostility and violence. The blast from his past sends Michael on a bender, forgoing his sobriety while he struggles with his identity as a gay man. Of course, drama ensues when Michael makes everyone at the party play a twisted game of calling their greatest loves and confessing their feelings — forcing them to confront messy truths about themselves.
Infused with a delightful dose of dark wit, comedy, and superb acting, the period piece tackles everything from internalized homophobia, racism, a warped society, and the timelessness of gay culture — as the script still holds up today. As Carver noted in the mini Netflix documentary, The Boys In the Band: Something Personal, "This is the kind of production that I think and hope moves the ball forward, and kind of expands the whole conversation."
The Death and Life of Marsha P. Johnson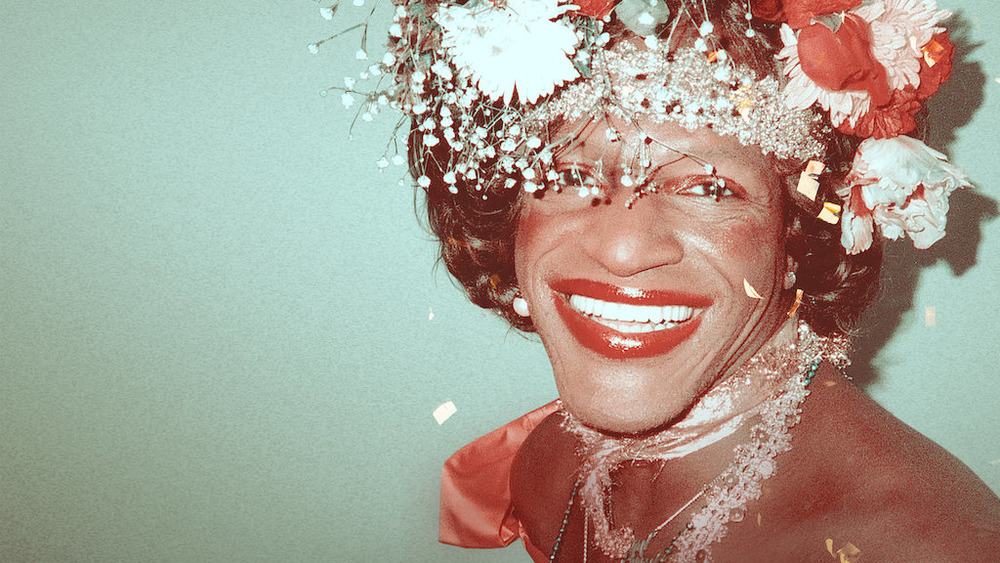 Marsha P. Johnson is considered the mother of the LGBTQ+ rights movement, yet she's often entirely left out of the Pride movement narrative in media. For instance, the film Stonewall hones in on a fictional gay white male named Danny instead of the real trans women of color who kicked off the Stonewall riots in 1969. Netflix's groundbreaking Original documentary, The Death and Life of Marsha P. Johnson, shines a light on two Pride movement matriarchs and trans women of color: Marsha P. Johnson and Sylvia Rivera.
The film follows trans activist Victoria Cruz and her work with the Anti-Violence Project to discover the truth about Johnson's mysterious 1992 death that left the LGBTQ+ community with more questions than answers. Rather than having outsiders lead the documentary, the focus shines on Cruz — a trans woman who actually knew both Johnson and Rivera, having lived through the movement herself. In addition to covering Johnson and Rivera's lives, Cruz sheds light on current trans hate crimes: like the 2013 murder of trans woman of color, Islan Nettles. Three years after her murder, community advocate Ted McGuire notes the lack of support outside of her killer's court hearing. He tells Cruz that despite the trans community launching the gay rights movement, the LGBTQ+ community forgot about the "T" once the U.S. resolved gay marriage.
Sprinkled with powerful decades-old footage, The Death and Life of Marsha P. Johnson is the perfect meld of past and present — highlighting Johnson's life while carrying on her life's mission to fight for trans rights. The documentary expertly toggles between its status as an integral piece of LGBTQ+ history and a battle cry for viewers to help create change for the trans community.
Other People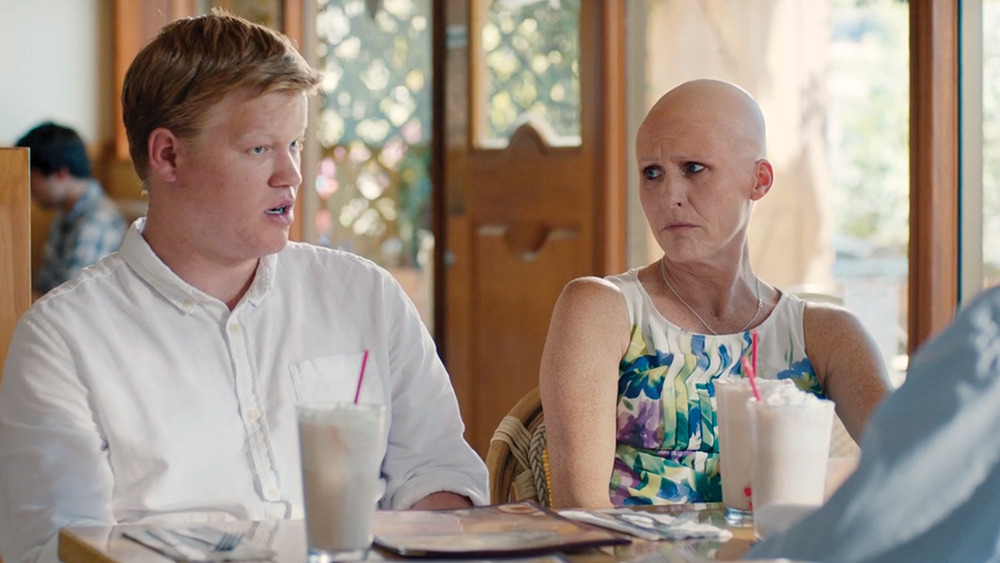 In a nice change of pace, Other People depicts a gay lead in a movie that's not about a character's struggle to come out. Hollywood has developed the habit of primarily creating LGBTQ+ stories that revolve directly around a character's queerness — usually honing in on a tragic coming-out narrative. Instead, Other People is a family drama that centers around David (Jesse Plemons from The Irishman), as he deals with his mother's (Molly Shannon) cancer diagnosis and impending death.
Shannon brings brightness to her character despite the gloomy plot, making viewers fall in love with her character's laughter and positivity that shines through even the tense moments. Yet she frequently punches through the comedy with some gut-wrenching moments of despair. Viewers will go through every emotion listed on their doctor's feelings chart, but they'll never be mad about it. However, cameos from comedic actors like Nicole Byers, Zach Woods, and Josie Totah parallel the darker themes with some of the absurdity that comes with people's bizarre reactions to someone else's bad news.
Queer characters deserve a space in all genres, not just ones that center around their sexuality, and the Adam and Naomi Scott produced film makes a lot of headway to normalize LGBTQ+ characters in all kinds of movies. A side plot does delve into David's father's (Bradley Whitford) longstanding lack of acceptance since his son came out a decade ago. Still, David's relationship with his mom and her struggles takes center stage rather than centering the story around his sexuality.
Freak Show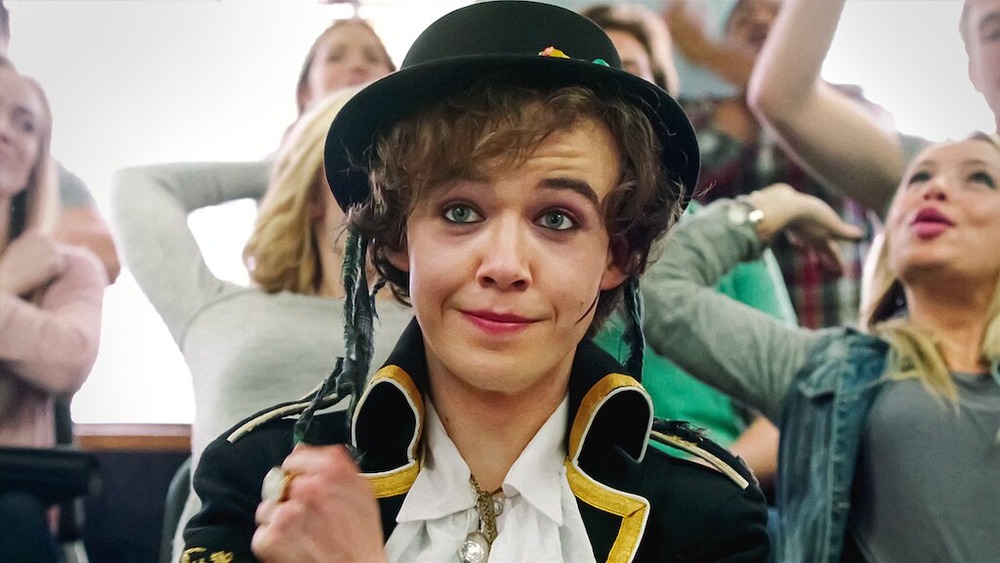 There have been a slew of coming-of-age LGBTQ+ films in the past few years, but none have zeroed in on the drag scene quite like Freak Show. Gay high schooler Billy Bloom's world feels like it's ending when he's sent to his estranged father's house after his mother's alcoholism gets out of hand. He has to find a way to fit into a small-town ruled by small-minded bullies and their phobic mindsets — including his father. The film chronicles the outcast's struggles as he wears dresses and wigs while shining a light on drag culture and embracing individuality and gender nonconformity.
To round out the unconventional with the conventional, Teen Wolf alum Ian Nelson expertly takes on the role of Mark "Flip" Kelly — the artistic jock with a softer side who needs a push to defy the expectations thrust on him. Of course, Billy helps Flip ditch the idea that he needs the world's approval to be himself, but their friendship is not without its speedbumps.
Alex Lawther's dynamite performance as Billy stands up even among an incredible cast, including Laverne Cox, Bett Midler (Hocus Pocus), and Larry Pine (House of Cards). But unlike many feel-good stories in the same category, Freak Show doesn't shy away from depicting its leads as flawed and human. The main characters feature traits like selfishness, privilege, and occasionally resort to hurling hurtful insults out of anger. While Billy's high school wardrobe may not be very realistic, the film doesn't throw glitter on the characters to make them perfect. They throw glitter on them because everything should sparkle.