KEY STEAKHOLDERS
There's nothing more primal and alluring than the scent of meat cooking on the grill, and we've found 50 outstanding steakhouses that will have you salivating for the best cuts of beef, starters, and sides. We excluded the well-known chains, so our list features many cool, hard-to-find places, some hole-in-the-wall operations, and also some quite fancy and romantic places with dazzling views.
These are generally not the steak world's usual suspects — but instead, chef- or family-owned steak joints to seek out based on their overall customer ratings, awards, local word of mouth, and expert recommendations. Take a tasty road trip with us to a carnivore's idea of heaven in each American state. They're ready to be explored and savored with their classic menus and twists on old-time favorites.
ALABAMA: NICK'S ORIGINAL FILET HOUSE (A.K.A. NICK'S IN THE STICKS)
Tuscaloosa
Claim to fame: Since 1934, this humble-but-packed-to-the-rafters steakhouse with dollar bills tacked up on the ceiling rocks it with Crimson Tide fans. Nick's is famous for their ruby red Nicodemus cocktail and their mouthwatering onion rings that accompany the staple bacon-wrapped filet. No fancy sauces, just straight-up meat and sides presented on a wooden charger in old-school steakhouse style.
ALASKA: CLUB PARIS
Anchorage
Claim to fame: Home to 4-inch thick filets, this top-rated establishment has been slinging fine meat since the 1950s and offers a fancy blue cheese stuffing for all their steaks. Club Paris has fresh local seafood and French onion soup starters, chef's special sautéed mushrooms, and a killer bar and dessert menu. You need the extra calories to stay warm in Alaska.
ARIZONA: J&G STEAKHOUSE AT THE PHOENICIAN
Scottsdale
Claim to fame: Their signature steak is the 8- or 12-ounce filet mignon. J&G Steakhouse at The Phoenician boasts Chef de Cuisine Jacques Qualin, a native of the Franche-Comté region of France. In 2009, he opened J&G Steakhouse, and the menu reflects his European heritage with foie gras terrine, Comté-cheese-laced potato gratin, and pavlova with passion fruit sorbet and mascarpone-maple trifle desserts. It also has stellar dining room views, too.
ARKANSAS: DOE'S EAT PLACE
Little Rock
Claim to fame: This unpretentious hole-in-the-wall operation is a favorite of former President Bill Clinton and a hot spot for corporate movers and shakers. Doe's is famous for their starters, hot tamales with chili and broiled or fried shrimp. But their main attraction is the porterhouse steak. You can buy steak by the pound, all served up family style. The steak is sliced up and loaded with French fries, and Doe's pecan pie is legendary. This establishment has been making "best of" lists since the mid-1980s.
CALIFORNIA: THE OLD PLACE
Cornell
Claim to fame: Their staple oak-grilled "Old Place Cut" 12-ounce sirloin is a best-seller, along with exotic meats like venison, wild boar, elk, and whatever else they get sourced locally and fresh. Their Cast Iron Apple Crisp with hand-whipped cream is a popular dessert. Established in 1970 and still run by the same family who settled in the area decades earlier, The Old Place sits between the Santa Monica Mountains and the Malibu coast, and last year it managed to survive a wildfire. Wild peacocks roam the property, which is also home to a winery. The glowing interior is a kitschy gallery of California Old West cool featuring an upcycled longboard bench hugging an antique bar. The Old Place's location near the Paramount Ranch movie and television set made this restaurant a celebrity hangout, from Steve McQueen and Sam Peckinpah to modern day A-listers for film and TV. The Old Place is still a hotbed of celebrity spotting.
COLORADO: THE FORT
Morrison
Claim to fame: Established in 1963, executive Chef Ian Stewart-Shelafo and proprietress and culinary director Holly Arnold Kinney have created an eclectic exotic steak menu featuring The Fort's Game Plate: Elk medallion, buffalo sirloin medallion, and grilled teriyaki quail. Their Incorrect Steak is a 14-ounce Colorado natural beef New York strip, topped with a blend of melted Mexican cheeses, New Mexico Dixon red chile sauce and a fried egg. Their Gonzales Steak is a 14-ounce Colorado natural beef New York strip stuffed with New Mexico Hatch green chiles, topped with a freshly grilled chile pod and served with seasonal vegetables and potatoes. Fun fact: Kinney had a pet black bear that lived at The Fort.
CONNECTICUT: WASHINGTON PRIME
Norwalk
Claim to fame: A relative newcomer with an enviable location, Washington Prime has racked up loads of praise in a fairly short time, including shoutouts from the Food Network and Connecticut Magazine. Being on the coast, seafood appetizers abound with several oyster and clam options, and the steak menu boasts some (literally) heavy hitters. The first is a 50-ounce tomahawk ribeye that's been wet aged for 21 days. There's also a 40-ounce porterhouse for two that is dry aged for 28 days. At the other end of the scale is an 8-ounce filet mignon. Their seven sauce options include the house WP Steak Sauce and umami bomb.
DELAWARE: 1776
Rehoboth Beach
Claim to fame: Since 2007, 1776 has dazzled with their "Steak 1776," a filet mignon plated on mashed potatoes and finished with lump crab sautéed in a cream reduction. Starters include a slew of fantastic local seafood dishes. From petite filets to their unique "The Barrel" 10-ounce steaks, make sure to finish with their exquisite crème brulee. This classic steakhouse located in vacation destination Rehoboth Beach is a find.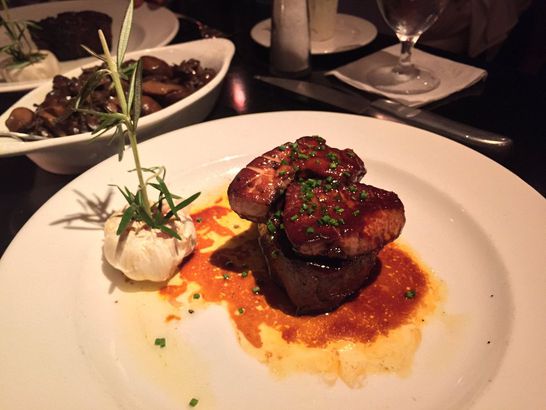 FLORIDA: PRIME 112
Miami Beach
Claim to fame: Myles Chefetz's Prime 112 steakhouse sits in the South of Fifth neighborhood. Chefetz has twice been named a semifinalist for the James Beard Outstanding Restaurateur. Prime One Twelve serves only prime dry-aged beef, and it features a 14-ounce New York strip, and bone-in rib-eyes and porterhouses for two. The menu also includes seafood, from caviar to lobster and fresh locally sourced fish dishes, too. Fancy.
GEORGIA: McKENDRICK'S STEAK HOUSE
Atlanta
Claim to fame: Chef Thomas Minchella offers aged USDA prime beef in an array of delectable cuts. Since 1995, family-owned McKendrick's has served up steaks in an old-school masculine decor. Choose their famous 24-ounce chef's cut bone-in rib-eye and their fantastic seafood starters and a la carte side dishes.
HAWAII: HY'S STEAK HOUSE
Oahu
Claim to fame: Start with a free basket of Hy's cheese bread, then choose from an assortment that includes prime filet of beef Wellington, garlic steak, filet and foie gras, Kiawe broiled steaks, New York strip, Delmonico, filet mignon, bone-in rib-eye, and 34-ounce porterhouse steaks. You have a choice of several amazing sauces to accompany your steak. Hy's Steak House is located inside Waikiki Park Heights Hotel and provides dazzling views to go with the sumptuous fare … aloha!
IDAHO: THE NARROWS STEAKHOUSE AT SHORE LODGE
McCall
Claim to fame: A newcomer, the Narrows Steakhouse (two hours north of Boise) offers guests custom steak knives: a Laguiole from France; a Shun from Japan, or a Chroma from Germany, designed by Porsche. They serve USDA prime beef, and their 45-day dry-aged bone-in New York strip and a 34-ounce bone-in tomahawk rib-eye are best-sellers. Patrons also dine with breathtaking views of the Salmon River Mountains and Payette Lake from the dining room. The steakhouse features an exceptional wine cellar and an adjacent spa if you strain something while enjoying their delicious steak.
ILLINOIS: THE BARN
Evanston
Claim to fame: Owner Amy Morton is culinary royalty, the daughter of Chicago-born restaurateur Arnie Morton, founder of Morton's Steakhouses. Amy's place is a much smaller affair nestled inside a restored 19th century brick barn. The Barn pays homage to her father and the classic American steakhouses and food. She serves Heritage Black Angus steaks from local purveyor Meats by Linz. Steaks include prime Heritage Angus steaks served with red wine demi-glace and marrow-butterball potatoes and sides like roasted vegetables Provençal. An extensive selection of Old and New World wines makes this steakhouse a great reason to get to Evanston.
INDIANA: ST. ELMO STEAK HOUSE
Indianapolis
Claim to fame: All of their steak cuts include navy bean soup or tomato juice and a choice of baked potato, fresh-cut fries, red-skin mashed potatoes, or sautéed green beans. Established in 1902 and named after the patron saint of sailors, St. Elmo is a local Indy landmark that uses locally sourced meats, cheeses, and produce. Their "World Famous Shrimp Cocktail" starter was ranked by The Travel Channel as one of the "world's spiciest foods." St. Elmo was honored as one of "America's Classics" by the James Beard Foundation, and by Forbes as one of the worlds "Ten Great Classic Restaurants Well Worth Visiting." The house-made lemon butter cake with crème anglaise served with ice cream is a best-selling dessert.
IOWA: ARCHIE'S WAESIDE CAFÉ
Le Mars
Claim to fame: Owner Bob Rand's grandfather, Archie Jackson, created Archie's in 1949. The menu boasts nine cuts of dry-aged, hand-cut mouthwatering steaks like Archie's Special Extra Thick, filets, rib-eyes, and porterhouses, all their beef sourced from farms in northwest Iowa and northeast Nebraska. Rachael Ray named Archie's Waeside Café one of the best steakhouses in America, and their wine selection was a semi-finalist for a James Beard award in 2014. In 2015, they were awarded the James Beard American Classic award.
KANSAS: MUNSON'S PRIME
Junction City
Claim to fame: "Quality from farm to fork" is Munson's motto. This Kansas farm family entered the restaurant business in 2007 after selling quality hormone- and antibiotic-free beef since 1924. At Munson's Prime, Chef Timothy Bailey serves up dry-aged Gourmet Munson Prime Angus Beef in various cuts: porterhouse, T-bone, Kansas City strip, rib-eye, filets, and New York strip sirloin. They are known for their creamy delicious homemade ice cream churned out in a "Willy Wonka"-style custom machine that draws crowds for miles.
KENTUCKY: PAT'S STEAK HOUSE
Louisville
Claim to fame: Established in 1958, Pat's boasts an 18-ounce filet mignon and 32-ounce porterhouse T-bone on their menu served in a historic landmark inn. Dry-aged prime beef is served up with a selection of starters that includes Irish stew and baby frog legs. The family recipe Irish Whiskey Cake is a popular dessert.
LOUISIANA: MR. JOHN'S STEAKHOUSE
New Orleans
Claim to fame: A lot of NOLA culinary blue blood is behind Mr. John's Steakhouse owners Desi Vega, Paul Varisco, and Rodney Salvaggio. They serve up dry-aged prime beef seared to perfection in a special Montague broiler with over 12 tantalizing a la carte sides to choose from. Starters include fresh local seafood specials that earn rave reviews.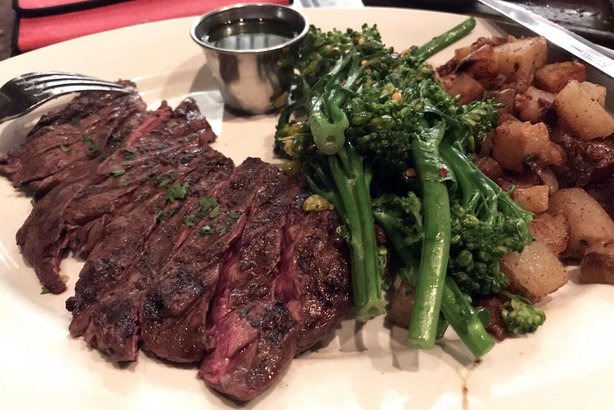 MAINE: THE GRILL ROOM & BAR
Portland
Claim to fame: The Grill Room & Bar is a cozy, warm, and rustic urban steakhouse located in the historic Port District. Chef Harding Lee Smith prepares locally sourced prime grass-fed beef ranging from tender filets to a 42-ounce porterhouse and offers locally sourced seafood for appetizers like clam chowder, as well as locally grown organic produce. There are nine sauces for dipping and 16 a la carte sides including Maine sea salt fries.
MARYLAND: LEWNES' STEAK HOUSE
Annapolis
Claim to fame: Sam Lewnes, a Greek immigrant, started this family-owned restaurant 83 years ago. Lewnes' is a small-scale steakhouse known for tender, butter-basted corn-fed USDA prime beef and incredible seafood starters, along with their signature Spiro's Famous Greek Salad, making this unpretentious but classy chophouse a must-visit restaurant.
MASSACHUSETTS: THE BANCROFT
Burlington
Claim to fame: Established in 2014, The Bancroft features executive Chef Mario Capone, who turns out prime steak au poivre and 40-ounce butcher-cut salt-and-pepper tomahawk rib-eye steaks for two along with traditional cuts of dry-aged prime beef. Starters include a fantastic seafood tower, baked clams, and, of course, house-made Boston clam chowder.
MICHIGAN: VERNALES
Harbor Springs
Claim to fame: Since 2014, Vernales co-owners Joe Guthrie and Keith Lynch, the executive chef, source the best local products and offer prime American wagyu beef, including a dry-aged 30-ounce tomahawk rib-eye steak for two, a 16-ounce Kansas City strip dry-aged with Himalayan salt, and a chateaubriand for two. Make sure to check out their eight steak enhancements such as Lobster Oscar.
MINNESOTA: MANCINI'S CHAR HOUSE
St. Paul
Claim to fame: Mancini's Char House has turned out prime beef the Italian way with dry-aged beef grilled on huge open-hearth charcoal pits for decades. This family-run business still boasts a cool retro bar and New York strips that earn rave reviews, along with loads of surf-and-turf options, live music, and garlic bread to die for. Save room for Flute Limoncello dessert or a cannoli.
MISSISSIPPI: MARSHALL STEAKHOUSE
Holly Springs
Claim to fame: The exterior may look like just another pole barn, but the interior of Marshall Steakhouse looks more like the inside of a Western ranch, and it has a menu to match. Far from the state capital of Jackson and the casinos on Mississippi's Gulf Coast, this young operation in the northern part of the state has snagged accolades from the Food Network as well as the Mississippi Beef Council. Marshall's cooks their grain-fed Angus beef over a hardwood charcoal grill. Steaks range from a 6-ounce filet to a 48-ounce tomahawk. There's also a food challenge: Finishing a 72-ounce sirloin plus a bunch of sides will save you $99 and earn you a T-shirt.
MISSOURI: KREIS' RESTAURANT
St. Louis
Claim to fame: Since 1948, the restaurant has stayed true to the original owner's vision. Kreis' serves only USDA prime Midwestern corn-fed Angus beef, dry-aged four to six weeks in house. New York strips, filets, prime rib and porterhouse steaks all served with eight steak accompaniments to choose from and 10 a la carte side dish options. They also offer loads of veal dishes like Schnitzel a la Holstein, too. Make sure to save room for their raved-about dessert: warm apple strudel, an in-house made treat from a Kreis family recipe.
MONTANA: LAND OF MAGIC STEAKHOUSE
Logan
Claim to fame: At Land of Magic, it's unpretentious and magical indeed as the no-nonsense menu delivers certified Angus beef in various delectable cuts, notably the Cowboy Cut Boneless Rib-eye, with sides that include their famous twice-baked potatoes and starters like classic shrimp cocktail. This cozy family-owned-and-operated steakhouse is one of the better restaurants in all of Montana.
NEBRASKA: FARMER BROWNS
Waterloo
Claim to fame: Farmer Browns Steak House has been family owned and operated since 1964, and its best-seller is the large filet. All steaks come with three sides and hot freshly baked bread. Start with some of their popular "dinosaur eggs" (cream-cheese jalapenos) or battered green beans with ranch dressing. The Travel Channel selected Farmer Browns as one of America's "Steak Paradise" spots.
NEVADA: ECHO & RIG
Las Vegas
Claim to fame: Get out of the casino and off the Strip and head for Echo & Rig. This farm-to-table butcher-shop-turned-eatery rocks. Popular cuts include the Spencer steak, the filets, and the porterhouse, all served with a stuffed mushroom and house-made potato chips. Add the portobello mushroom fries, avocado toast, and gnocchi appetizer, and make sure to save room for the cherry chocolate sundae.
NEW HAMPSHIRE: TUCKAWAY TAVERN & BUTCHERY
Raymond
Claim to fame: Chef Bobby Marcotte's fresh prime beef steaks are hand-cut daily in the Tuckaway's award-winning retail butcher shop and served with two sides. The Tuckaway serves humanely raised and vegetarian-fed Braveheart Black Angus beef from the Midwest. Make sure to order the 45-day dry-aged bone-in rib-eye and their award-winning steak tips. Finish with their Bloo Balls: fried blueberry cheesecake with Gifford's blueberry ice cream, blueberry jam sauce and whipped cream.
NEW JERSEY: STEAKHOUSE 85
New Brunswick
Claim to fame: Steakhouse 85's core menu features dry-aged steaks, prepared with a simple combination of sea salt, black pepper, and fresh herbs. Seared on a 1,200 degree cast-iron grill and broiled to order. Steakhouse 85 boasts an award-winning wine list. Make sure you order an aged prime rib-eye, Delmonico, or strip steak, and top it with Maytag blue cheese, applewood bacon, or seared foie gras.
NEW MEXICO: THE BULL RING
Santa Fe
Claim to fame: Established in 1971, The Bull Ring serves USDA prime corn-fed beef hand-cut daily in-house and always served sizzling in butter. Steaks are available in classic cuts from filet mignon to porterhouse, but a specialty of the house is the El Matador: a specially aged 14-ounce U.S. prime sirloin strip charred and then served with green chile, sautéed mushrooms, and onion straws.
NEW YORK: BENJAMIN STEAKHOUSE
New York
Claim to fame: Benjamin Steakhouse was launched by two Albanian brothers-in-law in 2006 — both named Benjamin. Their chefs turn out amazing cuts, notably their signature tomahawk steak, a special cut from meat purveyor Pat LeFrieda. They have one of the most expensive appetizers in the U.S. on the menu: For $1,000, you get raw wagyu beef tartare with tuna tartare, topped with foie gras, edible gold, white truffles, and Osetra caviar.
NORTH CAROLINA: THE ANGUS BARN
Raleigh
Claim to fame: Opened first in 1960 only to be destroyed by fire, the Angus Barn rose from the ashes in 1965 and offers 10 different perfectly aged cuts with your choice of six different sauces and toppings. Try the 14-ounce certified Angus rib-eye topped with homemade pimento cheese and served with smoked bacon, roasted pepper, crispy potatoes, asparagus, and a red pepper veal jus. All dinners come with your choice of three different sides and fresh baked bread and homemade crackers are served at every table.
NORTH DAKOTA: 40 STEAK AND SEAFOOD
Bismarck
Claim to fame: 40 Steak and Seafood offers five different dining rooms and a menu featuring USDA certified Angus beef aged for a minimum 21 days for optimum tenderness, flavor and juiciness, seasoned with their own spice blend. Go for the Cowboy Rib-eye aged for 100 days and add the 40 Royal steak enhancer made with fresh lobster, house hash browns, and hollandaise sauce.
OHIO: RENNICK MEAT MARKET
Ashtabula
Claim to fame: It's a historic venue that offers dry-aged steaks, homemade pickles, mustards, sausages, and cured meats. Rennick Meat Market serves steaks ranging from New York strip to Picanha cuts, a Brazilian lean sirloin cut with a thin fat cap. You can choose from 11 sauces to accompany your steak, along with sides such as roasted broccoli, roasted wild mushrooms, and a cabbage-and-noodles combo called haluski.
OKLAHOMA: CATTLEMEN'S STEAKHOUSE
Oklahoma City
Claim to fame: Since 1945, the historic Cattlemen's Steakhouse has fed movie stars, politicians, and power brokers. The "Presidential Choice" T-bone steak is a best-seller, but it's just one of their top notch in-house-aged, hand-cut prime and choice steaks to choose from. Add some lamb fries or okra, and finish with one of their simple-but-delicious house-made desserts.
OREGON: LAURELHURST MARKET
Portland
Claim to fame: Laurelhurst Market's in-house butcher shop turns out hand-cut steaks and 12 flavors of hand-stuffed sausage. Menu items to savor include the popular Snake River Farm Wagyu Culotte steak served with grilled broccoli, charred green onion sauce or the LM Ribeye. Finish with either the coffee crepe cake, or try their beignets with chicory-and-chocolate dipping sauce.
PENNSYLVANIA: URBAN FARMER
Philadelphia
Claim to fame: This highly rated Philly steakhouse is a farm-to-table masterpiece. Urban Farmer sources local ingredients for the menu and cuts and dry-ages all their butcher's cuts of heritage-bred beef, which includes grass-fed, grain-finished, and corn-fed varieties. Their rustic pantry features house-made preserved and pickled local produce, and they grow all their own herbs. They make and dry their popular charcuterie, and even create the candles that are on all the tables from scratch. Their bar serves cocktails made with local craft spirits, too.
RHODE ISLAND: 22 BOWENS WINE BAR AND GRILLE
Newport
Claim to fame: At 22 Bowens Wine Bar and Grille, begin with the best-selling chilled New England shellfish sampler, then move along to one of their USDA prime beef masterpieces like the 22B Filet Mignon, served with French-style mashed potatoes and green beans, mushroom bordelaise, and whipped blue cheese in this classic harborside tavern with views for days.
SOUTH CAROLINA: OAK STEAKHOUSE
Charleston
Claim to fame: Chef Jeremiah Bacon, a Lowcountry native, sources locally from sustainable farms for the menu at the historic Oak Steakhouse, housed in a building that dates back to 1848. This is the perfect spot to try a carpaccio of beef or pan-seared scallops before the main dish: prime-certified Angus beef. The New York strip and bone-in and boneless rib-eye steaks are both wet- and dry-aged. There are over 200 wines by the bottle. Inside are three floors with five distinct dining areas, boasting arched windows, 20-foot ceilings, fireplaces, and 150-year-old heart-pine floors.
SOUTH DAKOTA: CHEF LOUIE'S
Mitchell
Claim to fame: Chef Louie's offers aged and cut in-house prime and choice Black Angus beef, a fine wine selection and starters that range from escargot to seafood fondue. This family-owned gem offers one side and choice of soup or salad and freshly baked bread with every entree, and boasts a mean Filet Oscar, Angus rib-eye, tomahawk rib-eye, and New York strip offered up with their homemade béarnaise, cognac-peppercorn, or bourbon sauces.
TENNESSEE: SPERRY'S BELLE MEADE
Nashville
Claim to fame: A family-owned landmark, Sperry's Belle Meade has been serving amazing steak dishes since 1974. Start with some scallops Benedict served on country ham and asparagus over Byrd's Mill stone-ground grits. Then choose from their aged and heavily marbled Western-beef dishes, including the best-selling 18-ounce bone-in rib-eye. Their dressings, soups and sauces are made from scratch and can be purchased to go at Sperry's Mercantile behind the restaurant.
TEXAS: VINCE YOUNG STEAKHOUSE
Austin
Claim to fame: Since 2011, husband-and-wife duo and Austin locals Executive Chef Phillip and Laura Brown's establishment, Vince Young Steakhouse, has become a success as the only locally owned and operated prime steakhouse in Austin. Vince Young Steakhouse uses local and seasonal fresh ingredients along with house-made items including the steakhouse's bread, bacon, charcuterie, dressings, and even their own ketchup. Vince Young offers an impressive array of USDA prime steaks. Make sure to order the prime 42-ounce porterhouse for two or the "Perfect Ten" with Akaushi beef from Yoakum, Texas. Start with their crispy quail, a deep-fried Texas quail with bacon-infused tangerine marmalade.
UTAH: MILT'S STAGE STOP
Cedar City
Claim to fame: Located in a stunning mountain view setting, the historic Milt's Stage Stop has been serving steaks since 1956. This log cabin serves prime and choice USDA beef seasoned simply with cracked black pepper and salt, offering two sides and hot oven rolls. Make sure to order their popular rib-eye or 10-ounce filet mignon, after you begin with a smoked trout starter.
VERMONT: SOUTHSIDE STEAKHOUSE
Rutland
Claim to fame: In business for 24 years, Southside Steakhouse offers dry-aged and wet-aged beef. Dig into a Delmonico steak made with bone marrow butter or a filet mignon with classic béarnaise, or maybe a dry-aged bone-in rib-eye with maître d butter, or a dry-aged bone-in sirloin served with blue cheese butter. Add some sharing sides like cauliflower gratin, and you're in business.
VIRGINIA: PIEDMONT — A VIRGINIA STEAKHOUSE
Culpeper
Claim to fame: Set inside a historic 1890s building, Piedmont — A Virginia Steakhouse offers 27-day dry-aged prime steaks. Their best-sellers include a petite filet mignon among many prime cuts. A specialty cocktail includes the James Bond "007" Martini. Start with mussels of the day or fried pickles, and make sure to try the risotto side dish, too.
WASHINGTON: JOHN HOWIE STEAK
Bellevue
Claim to fame: Chef-owner John Howie and his executive chef Mark Hipkiss offer a 70-day custom-aged USDA prime beef cut. Try their Mishima Reserve American wagyu beef "long bone" rib-eye, mesquite-grilled with duck fat, roasted Yukon gold potatoes, and Cipollini onions, and served with roasted bone marrow and a bordelaise sauce. John Howie Steak features USDA prime beef from Omaha, Nebraska; American wagyu beef from Snake River Farms in Idaho; Darling Downs Wagyu from Australia; and Japanese 100 percent full-blood wagyu from Kyushu, Japan. You can purchase the same steaks served in their restaurant to go, carefully packaged and partnered with the perfect seasoning and instructions.
WEST VIRGINIA: THE WONDER BAR STEAKHOUSE
Clarksburg
Claim to fame: Since 1946, The Wonder Bar Steakhouse has served USDA choice- or prime-certified Angus beef aged a minimum of 21 days. Popular steaks include The Host Choice, a 12-ounce Delmonico, which comes with a glass of house red, white or blush, and a wine-sauce parfait. The steak is served with a house salad, choice of baked potato, pasta, shoestring fries or rice. The restaurant has received many awards including the Wine Spectator's Award of Excellence from 2014 through 2017.
WISCONSIN: THE FIVE O'CLOCK STEAKHOUSE
Milwaukee
Claim to fame: The Five O'Clock Steakhouse has been a family-owned and independently operated Milwaukee supper club since 1946, consistently winning best steakhouse awards and making "best of" lists for good reason. Make sure to start with their popular "Baked French Onion Soup" made with melted gruyere, then try their "Five O'Clock Cut" porterhouse steak or bacon-wrapped filets with blue cheese topping and Parmesan sauce.
WYOMING: MINERS AND STOCKMEN'S STEAKHOUSE AND SPIRITS
Hartville
Claim to fame: Serving only aged prime USDA beef, Miners and Stockmen's Steakhouse and Spirits is also Wyoming's oldest bar. Their steaks run the gamut from filets and rib-eyes to porterhouse cuts and everything in between, served up with soup or salad and two sides to choose from. This unpretentious steakhouse boasts an extensive wine list and 35 different types of whiskey to ponder.