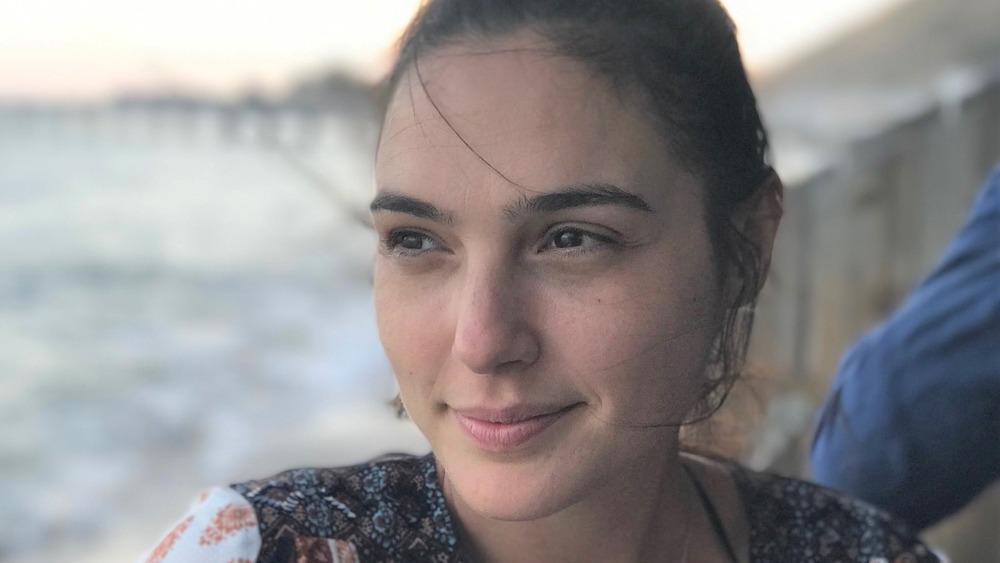 They often look impossibly beautiful on the silver screen and on the red carpet, so when we catch glimpses of our favorite actors without an ounce of makeup on, it can come as quite the shock. Traditionally, makeup free photographs of Hollywood's elite have been captured by the paparazzi, but more and more stars have been choosing to cut out the middle man in recent years. Hashtags like #NoMakeupSelfie have become popular on Instagram and Twitter, and while detractors claim that this phenomenon only succeeds in ostracizing those who feel uncomfortable going au naturel, research (via Psychology Today) suggests that makeup free selfies "may be one way to reduce any negative impact of viewing idealized images of attractive others online."
Is this a case of celebs doing their bit to challenge unrealistic beauty standards, or are they simply taking the opportunity to show off their flawless complexions? We'll let you be the judge. From British dames and Academy Award winners to DC superheroes, here's what these actors look like without makeup.
Gwyneth Paltrow uses a spiked face roller to maintain her age-defying skin
Gwyneth Paltrow has glammed up for countless red carpet events since she debuted in her dad's direct-to-TV movie High in 1989, but the Academy Award winner spends most of her time free of makeup nowadays. "I use it only for shoots or big events," the daughter of filmmaker Bruce Paltrow revealed in a blog she penned for Goop, her controversial wellness and lifestyle brand, adding, "I feel most comfortable just in my own skin." Her company has been criticized for peddling what many believe to be overpriced products with questionable benefits, but it's apparently working wonders for her.
According to Paltrow, her glowing, age-defying skin isn't genetic (she's the spitting image of her mother, Emmy winner Blythe Danner), it's all down to Goop. "I was able to make my dream products," she explained to Byrdie. "It's heaven; it totally changed my skin. And I'm not just saying that because I made it." It's not cream alone that keeps her looking so fresh and youthful, however. According to Paltrow's makeup artist, the key to her beauty routine is a rather unusual item — a spiked face roller made partly of minerals. "I use a face roller in an upward motion to lift, depuff, and firm the skin," Georgie Eisdell told Goop (via Hollywood.com).
Zendaya's selfie caused a commotion on Twitter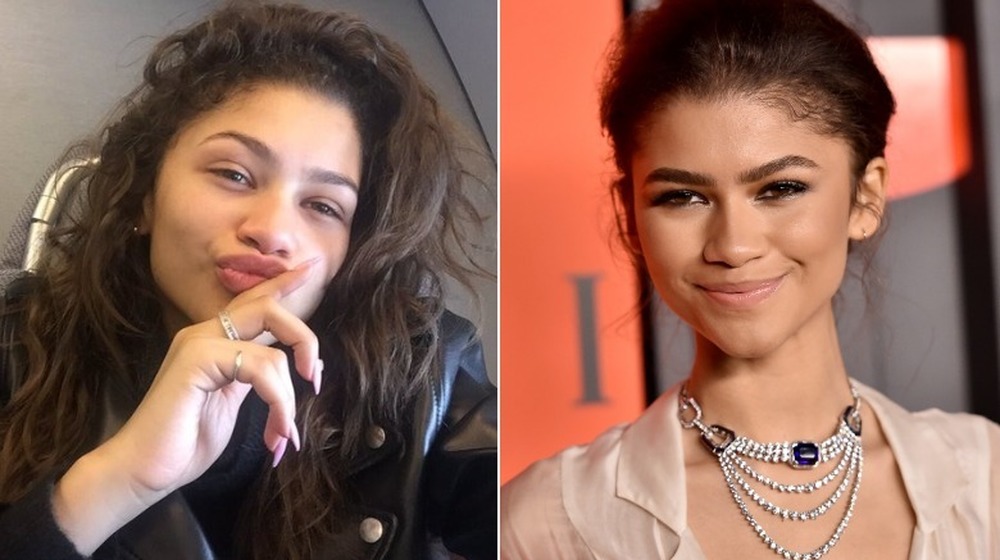 Disney kid turned Emmy-winning actor Zendaya has been known to go without makeup while out in public, and she isn't afraid to share natural pictures of herself with her millions of followers. She also isn't afraid to stick up for herself when she gets criticized for it, as one troll found out the hard way. When the Marvel actor posted a makeup free selfie to Twitter, an unimpressed user claimed to be "hurt" by her so-called deception. "I just saw Zendaya without makeup, and it scared me how different she looks," they said. Zendaya replied to the insult ("Terrifying honestly…" she wrote), and her fans took over from there, calling the offender out for their mean-spirited tweet.
The general consensus among those who commented was that the singer/actor looked just as stunning with or without makeup, and that's because she looks after her skin. "I always use moisturizer, otherwise I feel like my face would just crack in half," Zendaya told Glamour. "Also, I wear SPF every day and never sleep with makeup on. That's a big rule." The Spider-Man star also gets herself ready for red carpet events, largely because she's had some bad experiences with makeup artists in the past. "I've been so many different colors," she said. "I've been orange, I've been far too pale."
Megan Fox has a 'genetic advantage' over regular people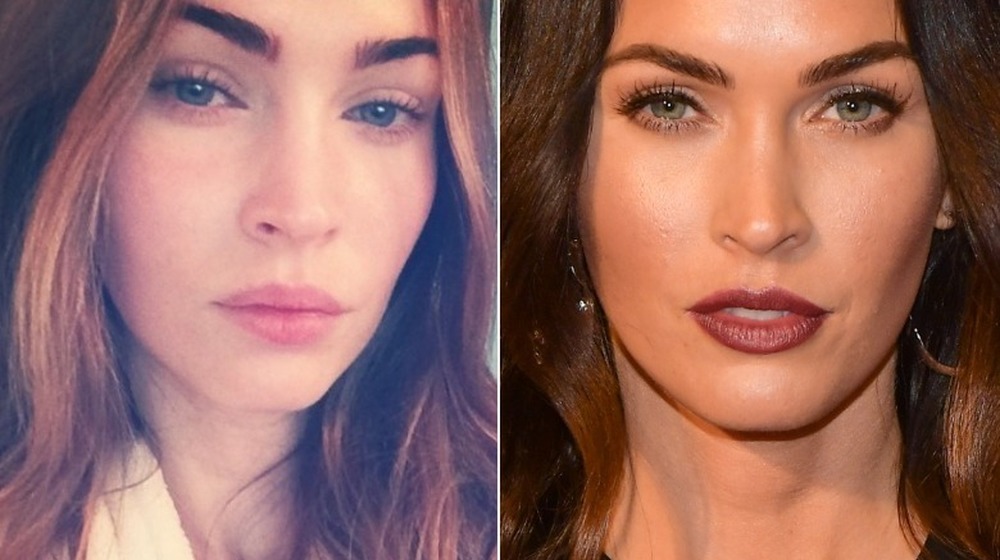 Megan Fox's first-ever Instagram post was a makeup free selfie that received over a quarter of a million likes and announced her belated arrival on the platform with a bang. The model and actor didn't join Instagram until 2014, a few months before the release of Teenage Mutant Ninja Turtles. The Michael Bay-produced CGI-fest and its 2016 sequel, Teenage Mutant Ninja Turtles: Out of the Shadows, were hammered by the critics, and Fox (who played reporter April O'Neil in both films) was pretty much dumped by Hollywood. Her time fronting big studio blockbusters appears to be over, but Fox still pops up now and again, and she never seems to have aged one bit.
The Tennessee native is open with fans about which products she uses to maintain her youthful appearance, but she has a secret weapon that you can't buy in stores. When she sat down for an interview with Harper's Bazaar Arabia, Fox said that her immaculate complexion is partly down to good genes. "I'm really conscious about taking care of my skin, not being in the sun too much, using the right products," she said. "I have a genetic advantage in that my family doesn't seem to age poorly. My sister is in her 40s, and she looks exactly like she did 15 years ago."
Laverne Cox is much more comfortable these days without makeup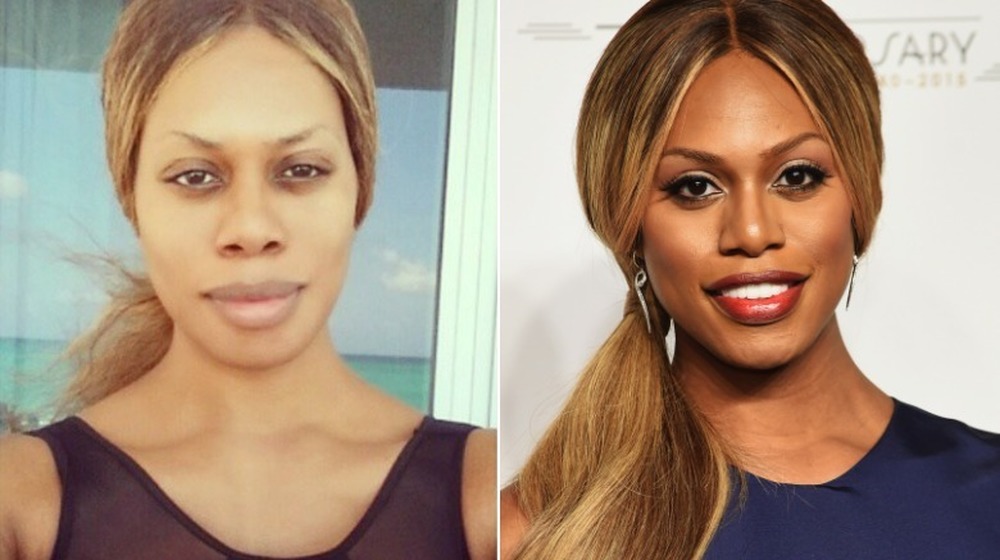 Orange is the New Black star Laverne Cox's relationship with makeup has changed drastically since she first transitioned. Speaking to Refinery29, the transgender star revealed that she hid behind her cosmetics during her difficult early days. "I needed to put on my face to get ready to be harassed on the street, to deal with the world," she said. "I always needed makeup to feel safe." Cox became less reliant on her beauty products as she got more comfortable in her own skin. Nowadays, she's more than happy to go out in public without a splash of makeup on her face. "I've gone on dates with no makeup on," she revealed. "I've gone to auditions. I never would have done that a few years ago."
Taking selfies is another thing that Cox is now comfortable doing while totally makeup free. The four-time Emmy nominee keeps her face looking fresh by letting it "breath" from time to time and employing a "simple" but effective skincare routine. "I just moisturize, and I have a really puffy undereye area so I just do different depuffers and eye creams," Cox told Allure. "That's it. Sometimes doing too many things can make your skin just kind of go crazy."
Helen Mirren says she used to wear way too much makeup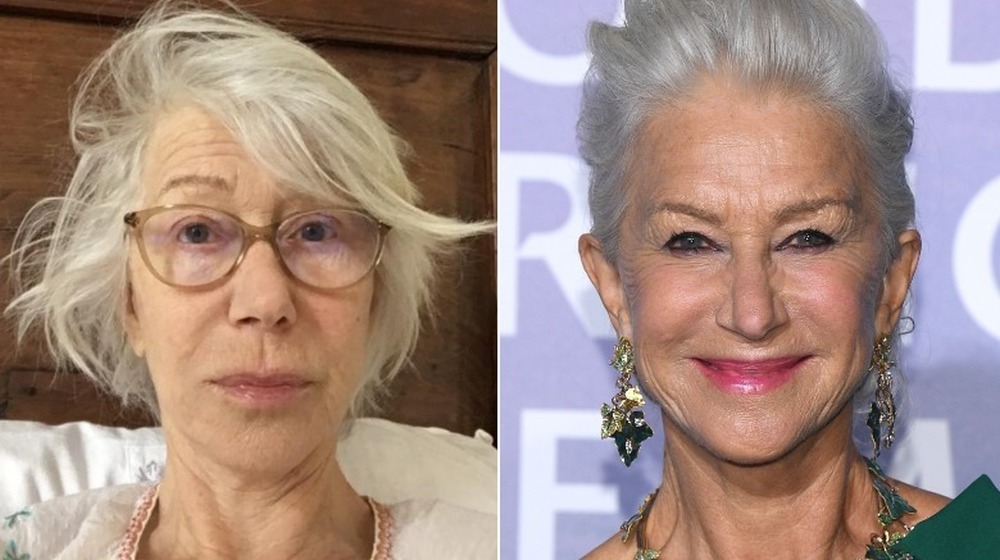 On the same day that the number of people in UK hospitals with coronavirus surpassed 10,000, Helen Mirren posted a selfie taken "literally first thing in the morning" to drum up support for the Intensive Care Society, a charity run by and for ICU front line staff. The dame made sure to do her bit during the COVID-19 pandemic, becoming a vocal supporter of struggling theater workers trying to keep afloat under Britain's lockdown regulations. She takes more and more pleasure in speaking her mind the older she gets ("The great thing that happens is that you don't give a flying f***," she told High50), especially when it comes to Hollywood beauty standards.
"I don't think we should try to look beautiful," Mirren told People. "We should try to look like ourselves and present that in the best way possible." The Oscar-winning actor likes to keep things nice and simple with her skincare routine, spending just "five minutes" on it every night. She takes a pretty minimal approach to her makeup, too, and in her own opinion, she looks all the better for it. "I look back at some photos of myself and think, 'Oh my god, I look awful,'" Mirren told Women and Home magazine, adding, "99 percent of time, it's because I've been wearing too much makeup."
Sarah Hyland hoarded makeup during her time on Modern Family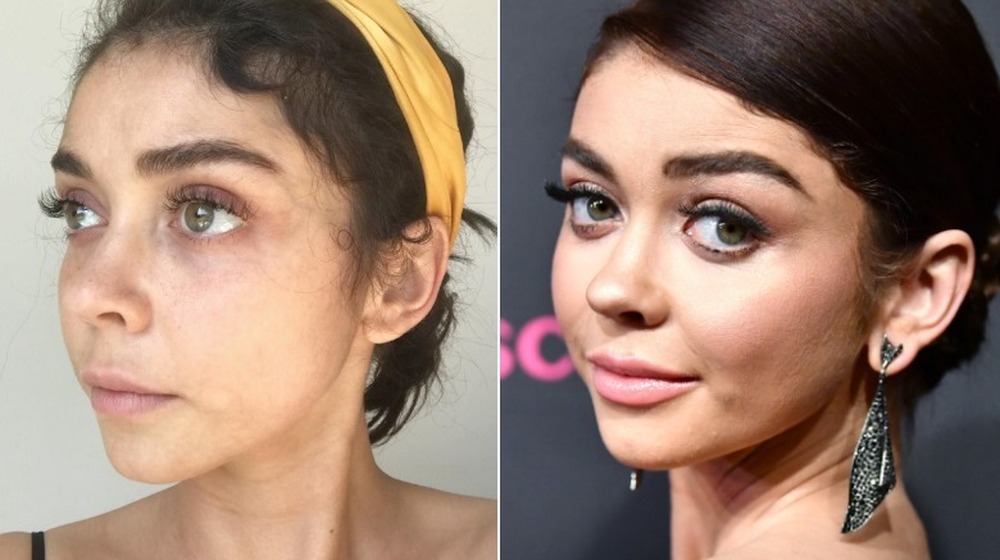 Sarah Hyland rocked a number of different looks during her time on ABC's Modern Family, which came to a divisive end in 2020. The New Yorker spent 11 years playing the ditzy but loveable Haley Dunphy, and she apparently became "a straight-up makeup hoarder" during that time. "Every lipstick I've ever used on her, she keeps — no matter what brand it is," Hyland's makeup artist, Allan Avendaño, told PopSugar. "I give her a lot of makeup." Hyland's lipstick always looks perfect when she shares snippets of her glamorous life online, but she also likes to keep it real with her followers.
In 2018, Hyland joined the growing number of celebrities taking part in No Makeup Monday, sharing a 100% natural selfie on Instagram. She captioned the post, "Monday mantra: Be patient. Be kind. Be free. Don't stress. Don't overthink. Don't worry. Just be." That's some sound advice from an actor who knows all about hectic. She's been working in the industry since she was 7 years old. She's in her 30s now, and skincare is high on the agenda. "Getting older and stuff, you want to make sure that your skin stays young and fresh," she told Seventeen. "Having to wear makeup all the time for work can be really hard on my skin."
Ashley Tisdale made sure to look after her skin during coronavirus quarantine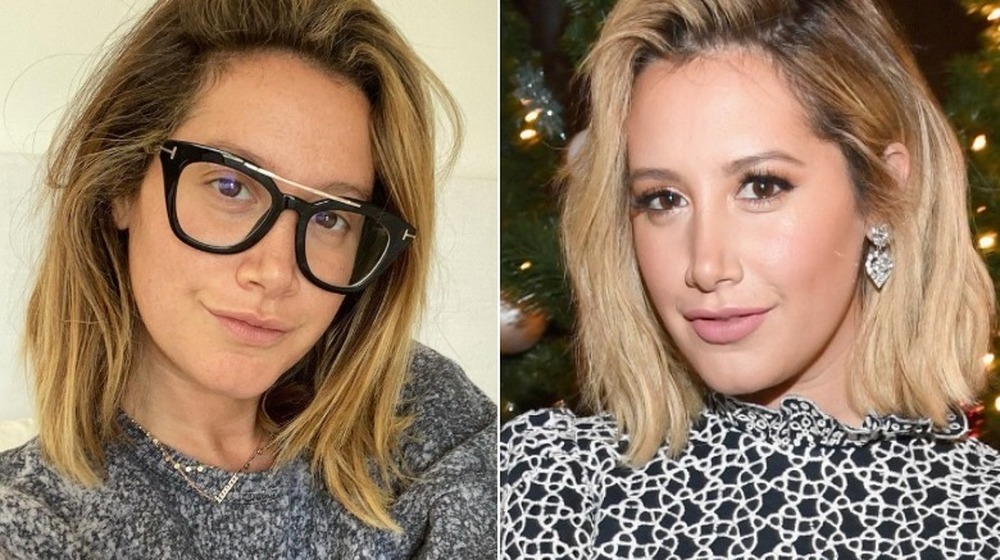 Singer and actor Ashley Tisdale has had the privilege of working with some "amazing makeup artists" throughout her career, but she's always preferred to apply her own. "I'm a very creative person," Tisdale, who started acting in commercials at the tender age of 3, told Byrdie. "Makeup is one of my favorite things." The former High School Musical star underwent a stunning transformation over the years, evolving from a bubbly Disney kid into an unconventional fashion icon with her own line of beauty products, Illuminate. "I'm very skincare-oriented," she told Health. "I decide on makeup based on what I have going on for the day. It's always different."
Sadly, she was forced to pull the plug on her beloved beauty brand in 2020, citing "the overwhelming market" and the fact "that everyone is jumping into it" as reasons (via Insider). It was a tough year for Tisdale. Like many of her colleagues in Hollywood, she spent chunks of 2020 quarantining amid the coronavirus pandemic, but she made sure to look after herself while living under lockdown. "I've always taken care of my skin, but especially now that we're home so much, I try not to spend all my days in the sun," she captioned a casual makeup free selfie.
Diane Kruger still looks 'like a teenager' without makeup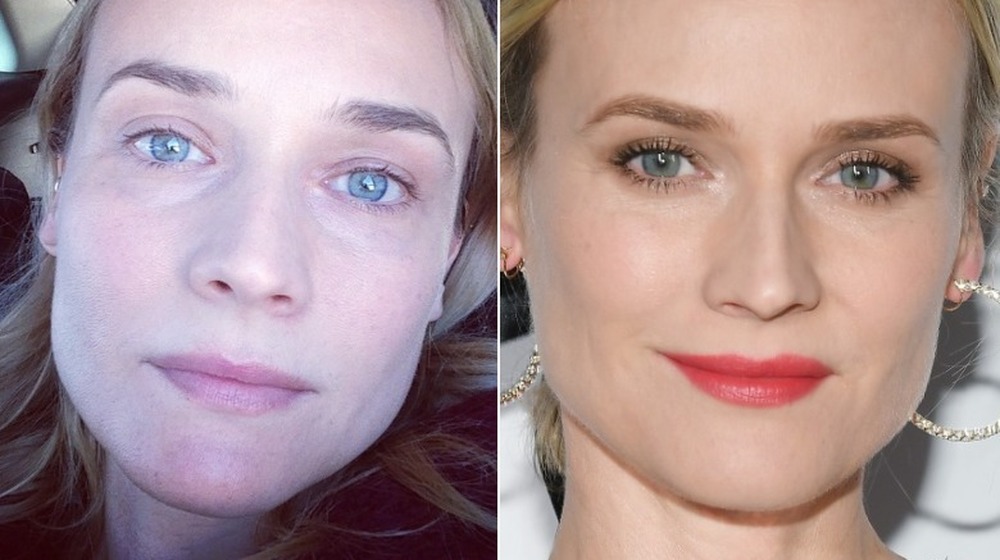 Best known to American audiences for her unforgettable performance as Nazi movie star turned Allied spy Bridget von Hammersmark in Quentin Tarantino's Inglourious Basterds, Diane Kruger's path to Hollywood began when she was spotted by a modeling agent in Paris. She went on to work for some of the biggest and best fashion houses in the world before she made the transition to acting, but she's never let go of the beauty routines that kept her looking radiant on the runway. "Beauty begins with beautiful skin," Kruger told Vogue Arabia. "I am very strict about protecting my skin, which (for my job) is covered in so much makeup."
No amount of skincare can halt the aging process, but that's not Kruger's goal. When the glamorous German sat down for an interview with Chanel, she welcomed middle age gladly. "Signs of aging are more than acceptable, they are necessary," she said. "Signs of aging are signs of beauty." It's a noble message, but it's easy for Kruger to say that when year after year she barely changes. She admitted that she still looks "like a teenager" when she goes au naturel in the caption of a makeup free selfie she shared on Instagram. Believe it or not, Kruger (who has a child with her boyfriend, The Walking Dead's Norman Reedus) celebrated her 44th birthday in July 2020.
Alyssa Milano is finally 'super comfortable' in her own skin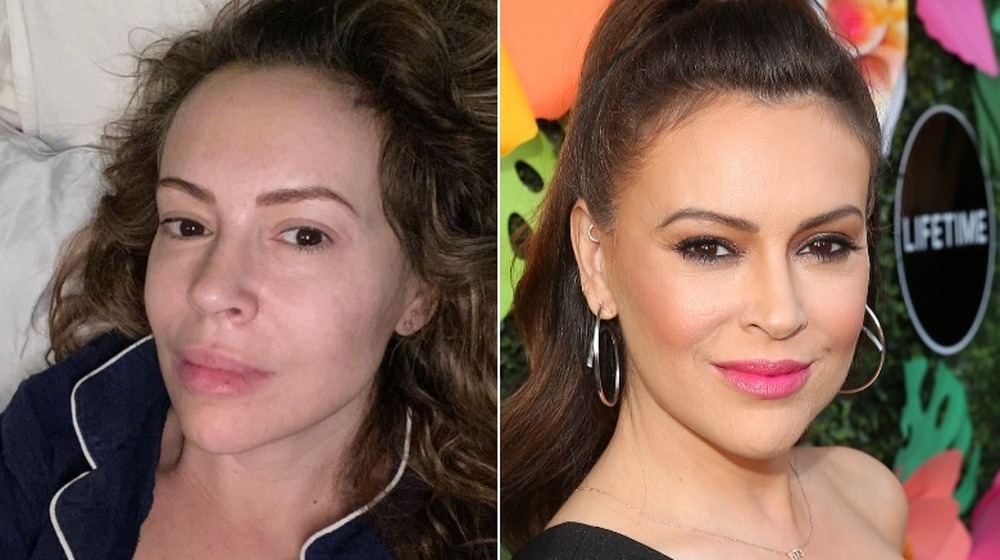 A TV actor turned political activist, Alyssa Milano has been in and around showbusiness for most of her life. She landed her first role in a touring production of Annie at the of age 7, and she grew up onscreen playing Tony Danza's sugary sweet daughter Samantha in Who's the Boss? When her time on the sitcom was done, she made an effort to reinvent herself with a spate of risqué roles. It was during this period that she was sexually assaulted by another actor in the middle of a take, a harrowing experience that she recounted two and a half decades later on her Sorry Not Sorry podcast (via ABC) and in a series of tweets that would help kickstart the #MeToo movement.
Milano spent a long time not being completely satisfied with her appearance ("I obsess over my skin in one of those magnifying mirrors," she told HuffPost in 2013), but she's become far more accepting of herself in recent years. In December 2020, the baseball-obsessed Brooklynite went sans makeup in an inspiring Instagram post that touched on everything from heartbreak to the coronavirus pandemic. "This is 48," she captioned the bedroom snap. "No filter. No makeup. Just my skin that I've become super comfortable in."
Kate Upton used a makeup free selfie to spread a positive message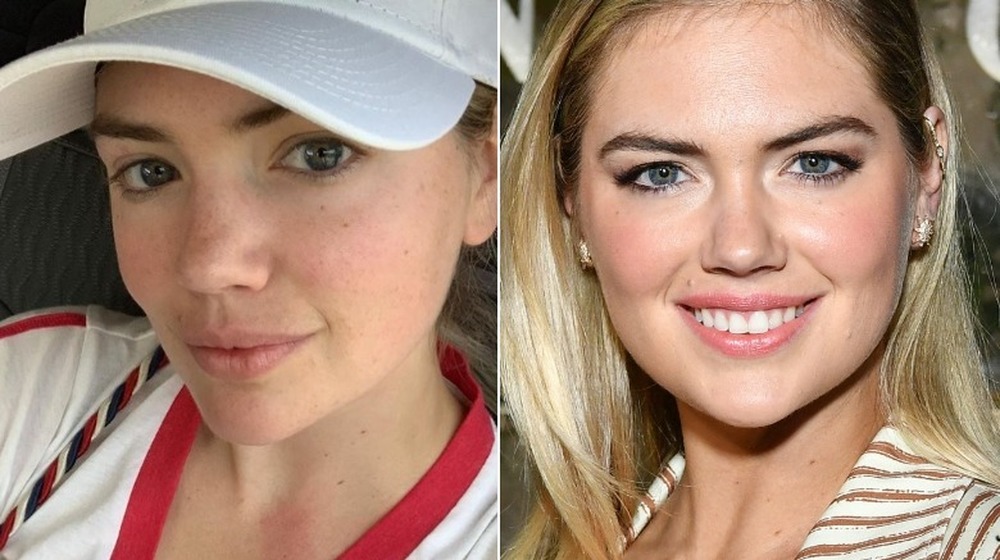 Kate Upton has come a long way since she called the offices of Sports Illustrated on her 18th birthday and talked her way into the magazine's coveted swimsuit edition. She appeared on her first SI cover the following year, becoming one of the biggest models in the world practically overnight. It was a daunting experience for the rookie. "I was put in a position where I needed to know who I was right away, and I wasn't there yet," she told Editorialist. "It felt very isolating." The media glare was constant, but even at the height of her fame, she sometimes refused to wear makeup when she stepped out in public.
Upton went on to star in films like The Other Woman and The Layover, but she's never allowed the glamor of Tinseltown to change her. The Michigan native has been spotted walking her dog around Hollywood completely makeup free, and she started the body positive Share Strong campaign in 2019, drumming up interest with a flawless no makeup selfie. "Sometimes you need to take a moment away from the daily grind and reflect," the model and actor, who has a daughter by pro pitcher Justin Verlander, captioned the Instagram post. "No makeup. No filter. No bulls***. Take time today to reflect on our strength, and appreciate and inspire one another."
Jessica Biel has been toning her skin since she was 12 years old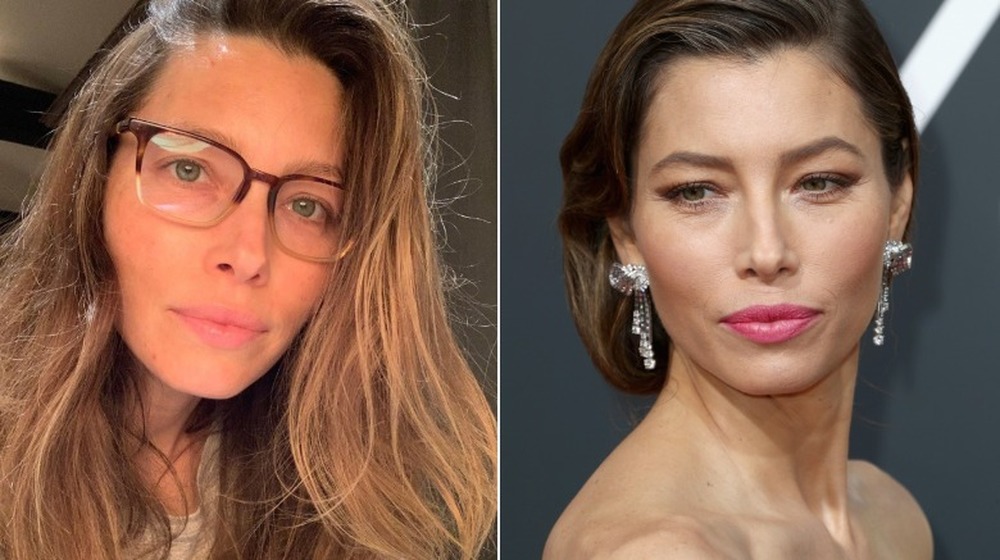 Kate Upton inspired a lot of people to accept themselves when she launched her social media campaign in 2019, fellow actor Jessica Biel included. Soon after Upton announced the idea behind Share Strong, Biel took to Instagram to show her support. "Spreading some self love today with zero filter and zero makeup for my girl Kate Upton," she captioned the snap, in which she wore nothing on her face but a pair of glasses. "She's on a mission to encourage everyone to feel strong and love themselves as they are, and I'm so honored to help spread that message. Take a second to show the real you."
The real Jessica Biel is the one that her husband, Justin Timberlake, sees at home everyday, not the immaculate movie star we've see onscreen in films like The Illusionist, I Now Pronounce You Chuck and Larry, and The A-Team. The Minnesota-born star suffers from dry skin, so she only wears a touch of makeup when she's not on set. "I've been cleansing, toning and moisturizing since I was about 12 years old, but I often change the products I use so that my skin doesn't become reliant on anything," she told the Daily Mail, adding, "I try to go for natural products that don't contain too many chemicals."
Gal Gadot takes a 'less is more' approach to makeup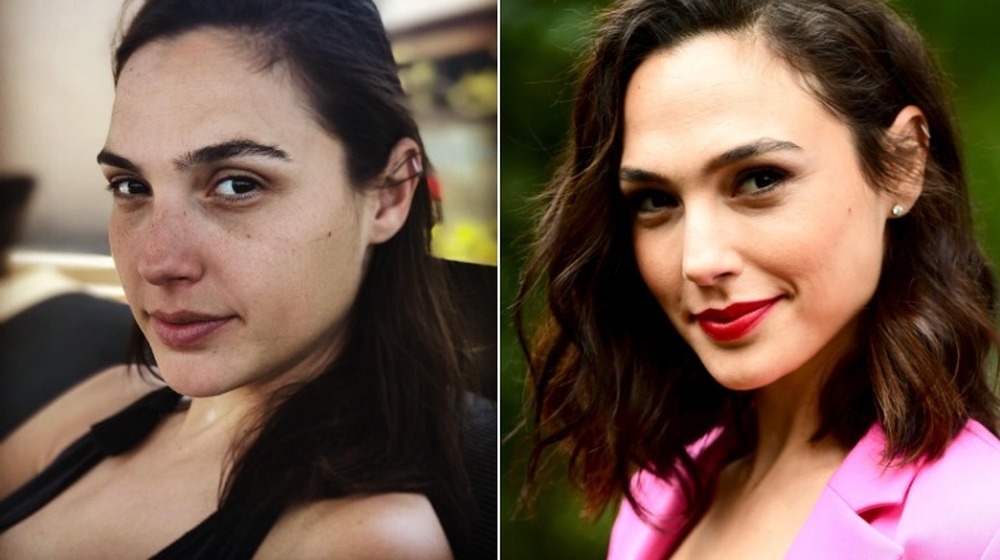 As a former Miss Israel and the face of a Hollywood superhero franchise, Gal Gadot knows a thing or two about the power of makeup. Her Wonder Woman makeup artist went for a minimalist approach when designing Diana Prince's timeless look ("I used small amounts of several different products, which I applied with my fingers and then blended well so that they didn't 'sit' on the skin," Sarah Brock told People), and Gadot has adopted a "less is more" makeup mantra in her personal life, too. "I like to keep my makeup very light, so what I do is I mix my moisturizer with just a touch of my foundation, and I just apply it with my fingers," she told Harper's Bazaar. "So easy and natural."
The Israeli A-lister has the stripped-back look down to an art, but what does she look like when she's genuinely makeup free? Shortly after Gadot welcomed her second child into the world in 2017, she shared a photo of herself taken by her partner after a "sleepless night" at home. "Went to the garden to get some fresh air with my coffee to help me wake up and now watching The Cat In The Hat with my daughter," she captioned the candid snap. "It always amazes me how the most simple things are the ones to make us the happiest."