Airbnb
Sky's the Limit
For many, a trip to see the Northern Lights is a major bucket-list item. Also called the aurora borealis, this spectacular natural light show only happens in the Northern Hemisphere and at certain times of the year. For a trip you'll never forget, we rounded up the best vacation rentals on Airbnb and Vrbo where you can witness this majestic quirk of nature.
Prices and availability are subject to change.
Alaskan Getaway
Fairbanks, Alaska
Sleeps: 4
Rent it on Vrbo
Rent it on Expedia
Eight minutes away from the Fairbanks Airport and 3 miles away from the University of Fairbanks is this gem of a cabin. Along with minimal light pollution (perfect for peeping the Northern Lights), you can look forward to walking/biking trails, a surrounding forest of spruce, birch and aspen trees, and even a small greenhouse where you can take your morning coffee in perfect serenity.
The Lap (land) of Luxury
Ranua, Finland
Sleeps: 8
Rent it on Vrbo
Rent it on Expedia
Nestled next to Lapland's Simojoki River, the palatial Wikkelä Villa will make you feel like Nordic royalty. With four bedrooms and 1½ baths, the doors and windows of this beautiful space are all made of glass to amplify natural light and offer views of the forest, the river, and of course, the aurora borealis.
Built in 2016, this tiny house nestled in the Annie Lake Mountain is near snowshoeing, cross-country skiing, biking, fishing and more. It's just a 5-minute walk away from Alayuk Ranch, known for its spectacular wilderness tours and activities. If you've ever wanted to take a dog-sled run under the Northern Lights, here's your chance.
Norwegian Seahouse Among the Fjords
If you're looking to really get away from it all, this home is really remote. It requires a three-hour bus ride from the airport or a charter boat ride. Located by Møysalen National Park, this is the perfect spot for a group of nature lovers making a pilgrimage to the Northern Lights.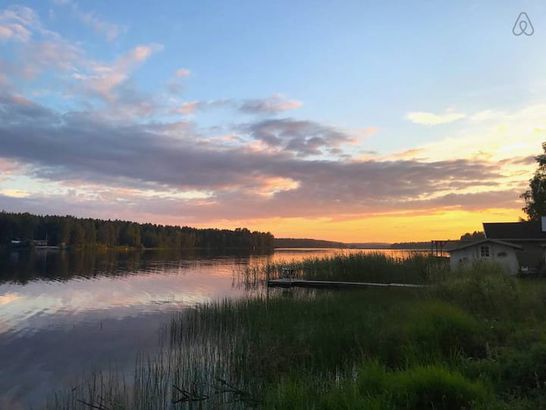 Swedish Lakeside Cottage
Looking for something that's close to amenities but feels remote? This little loft-style getaway is a 5-minute drive from the city of Luleå and a 20-minute bus journey from the airport. There are hiking and skiing trails near the house and the Gammelstad Church Town on the UNESCO list is a 20-minute drive away
Swedish Lakeside Cottage | A Closer Look
Amenities include a dishwasher, washing machine, heated floors, antique furniture, a new, stocked kitchen, and a waterside sauna. Perfect for the nature lover who doesn't necessarily want to trek through a forest to their stay. And, if you go during the winter for the Northern Lights, you may just have some moose or reindeer visitors from the nearby forest.
A Piece of Icelandic Heaven
Designed in the style of old Icelandic cottages, this cottage sits in the middle of a sprawling valley surrounded by sublime mountains. If you visit between November and April, you'll need a car with four-wheel drive and studded tires to make the 80-mile journey from Reykjavik. But, if you're willing to make the journey, you'll be rewarded with something spectacular.
A Piece of Icelandic Heaven | A Closer Look
Though the Northern Lights don't appear all year (they start to show up here near the end of August), you'll find year-round beauty in this remote cottage in Western Iceland. You may be visited by animal friends, such as sheep (June-October), horses (June-December) or even an arctic fox (year-round). Nearby, you'll find great hiking, waterfalls, and bird watching at neighboring fjords. Little details like a modern wood stove, a sleeping attic, and sweeping views of the tundra make this a space you'll never forget. And, as a perhaps surprising bonus, the Wi-Fi is said to be excellent.
Riverside Alaskan Retreat
Fairbanks, Alaska
Sleeps: 6
Rent it on Airbnb
Rent it on Vrbo
Rent it on Expedia
Alaska's Northern Lights season runs mid-September to late April, peaking in March. This 2,500-square-foot luxury townhouse offers views of the Chena River and plenty of space. Bonus: This is another home that doesn't require a car — it's easy to use Uber to get around in this central location.
Riverside Alaskan Retreat | A Closer Look
Oma and Opa's Cabin
This may technically be a tiny house, but it sure makes good use of the space that it has. Located in the Yukon, this newly built cabin is clean, cozy, has zero light pollution for premium Northern Lights viewing, and is near both Takhini Hot Springs and historic Lake Laberge.
Oma and Opa's Cabin | A Closer Look
Though the cabin is remote, it's certainly got plenty to offer. The kitchen is equipped with double-induction cooktops, a microwave, electric kettle, toaster, coffee press, under-counter refrigerator, pots and pans, dishes and flatware, and dish-washing supplies. There are also heated floors and beautiful views of the Miners Range. You can plan on plenty of hiking nearby.
Pine Cabin Not Too Far From the Arctic
Located 90 minutes north of the Arctic Circle, this cabin is made of dead standing pine trees, called silver grey Kelo logs. When the dense trees in this area die, the frigid climate shrinks the wood into a hard, strong material. Luckily, given its location, this type of wood is also excellent insulation from the cold outdoors.
Pine Cabin Not Too Far From the Arctic | A Closer Look
This rental also offers a large kitchen, cozy living areas, nearby ski slopes, and a sauna. There's also a large tub, a nearby convenience store, and beautiful forest views. Also nearby: an amethyst mine, husky sleigh rides, and reindeer sleigh rides.
For more great travel guides and vacation tips, please sign up for our free newsletters.
Sunny Luxury Cottage
Less than a 10-minute drive from Iceland's "Capital of the North," Akureyri, is this pristine and picturesque cabin, which, depending on when you go, offers views of the Northern Lights or the Midnight Sun. There's also skiing in nearby Hlidarfjall, plus a coffee house within walking distance.
The Rustic Seaside Home
In Norway, the Northern Lights are called the "Northlight," the season of which starts in mid-September and lasts until Mid-April in this location. This stunning seaside home in the countryside (one hour from the city of Tromsø) offers stunning views, plus plenty of recreation.
The Rustic Seaside Home | A Closer Look
The home is cozy, tranquil, and much of it has been recently renovated. Amenities include a wood sauna (seating 5), saltwater hot tub (seating 6-8), a huge outdoor deck with a fireplace and barbecue, plus several boats. The basement includes a yoga/training-studio, table tennis, and a laundry machine. In the summer, you can take guided mountain hikes, and in the winter, there's ice fishing and snowshoe hikes.
Cozy Cabin with Lake Views
To get to the lake Medalfellsvatn and this dreamy cabin, it's just a 35-minute drive from Reykjavik. Visitors will find offers panoramic lake and mountain views, plenty of room for guests, and only a 10-minute walk to a restaurant and bar that also has a small shop for food and beverages.
Cozy Cabin with Lake Views | A Closer Look
If you're looking to see the Northern Lights with a crowd, this is an excellent space. Depending on the size of your party, you may spill over into the separate guesthouse (also cozy). The property features a hot tub, barbecue grill, a wrap-around deck, and comfy accommodations.
Sustainable Summer Cabin
Nestled in the middle of the famous Golden Circle Route, this unique home was designed "to reflect the Icelandic landscape and complement the small vegetation of moss and trees in the old lava-field" and is warmed year-round by geothermal water running through pipes in the floor. Nearby, there are plenty of sights such as Thingvellir National Park, the Geysir Geothermal Area, and the Gullfoss waterfall.
Sustainable Summer Cabin | A Closer Look
While this home is wonderful for everyone, it's especially lovely for those with children — it's equipped with toys and a playroom, a high chair, crib, slide and swings, a washer and dryer, a dishwasher, and even children's dishes. There's even a playground on the property. For the grownups, there's outside dining on the back deck, plenty of natural light, a glass roof for stargazing, and an outdoor hot tub.
No-Frills Lakeside Cottage
If Wi-Fi and running water are important to you, look elsewhere. But, if you're craving an honest-to-goodness getaway, this little gem is a find. It's 6 miles from the famous Icehotel (or 1 mile over the ice in the winter), 9 miles from the city center, and perfect for peaceful nature exploration.
Lofted Lakeside Retreat
This mother-in-law apartment on Lake Soløyvatnet is right outside the township of Bodø — about a 15-minute drive away. This little home has much to offer solo travelers and couples who are craving nature, but would enjoy a bit of time in a small city with a thriving arts scene.
Oceanfront Home Amidst Lava Fields
For the Nature Lover Traveling Light
All-Seasons Cottage on Lake Superior
Some 25 minutes south of Thunder Bay and an hour north of the U.S. border is this charming modern home with lovely views on the lake. Fall asleep while being soothed by the sound of the waves crashing into the shoreline.
Cozy Cabin with a Creek
Secluded Mountain Getaway
Grundarfjörður, Iceland
Sleeps: 6
Rent it on Airbnb
Rent it on Vrbo
Rent it on Expedia
For the artist or writer looking for inspiration, there's this lovely secluded spot on the Snæfellsnes Peninsula. With views of nearby Mount Kirkjufell and plenty of peace and quiet, it's the perfect place for recharging and relaxing. Bonus for fans of HBO's Game of Thrones: the mountain was pictured in the series. You're also within walking distance of Kirkjufellsfoss waterfall.
Norwegian Retreat
A little over 20 miles away from the town of Tromsø is this terraced home for those looking to get away from it all. The home is rather secluded and offers great views of Malangsfjord. The nearby Malangen Resort offers boat rentals and winter dog-sledding adventures if you're looking for some more outdoors fun.
Cozy Winter Wonderland Cabin
This property is actually made up of three nearly identical cabins a little over 150 miles north of the Arctic Circle. This is one of the few Northern Lights rentals where you don't really need a car — you'll find a supermarket, shops, restaurants, safari offices, slopes, a toboggan run, and ski tracks all within walking distance. If you'd like, you can even visit "Santa's Village" some 6 miles away.
Cozy Winter Wonderland Cabin | A Closer Look
Inside each cabin, guests will find an open plan kitchen-lounge area, a log burning fireplace, plus a private sauna next to each shower. There's also free Wi-Fi. There's a good chance of seeing the Northern Lights just outside the cabin if you go at the right time of year, but you can also go on Northern Light hunting tours atop nearby mountains.
Fisherman's Cottage
Boy meets girl. Boy is a fisherman. Boy and girl start a great little Airbnb in Iceland. Tale as old as time. This lovely spot, hosted by Gréta and her husband, Lárus, a fisherman, offers stunning ocean views as well as views of nearby Mount Kirkjufell.
Reindeer's Paradise
Seaside Getaway
After a drive of less than an hour from the Tromsø airport, guests will find this warm, charming cabin. There's plenty of skiing and hiking nearby, and you may even make friends with the local wildlife. Though you will need a car (and one with four-wheel-drive if it's winter), there's plenty to see and do nearby. The nearest grocery store is just a 7 minute drive away.