On February 5, 2021, the world was saddened to learn that acclaimed actor Christopher Plummer, whose career on the stage and screen spanned over seven decades, had passed away at the age of 91. Plummer spent his final days and moments surrounded by loved ones and family; in the aftermath of his death, fans around the world were left mourning one of Hollywood's brightest talents and most hardworking stars.
With over 200 acting credits to his name after his 1958 screen debut in Sidney Lumet's Stage Struck, there's no question that Plummer, who hailed from Canada and got his start in his home country before making his Broadway premiere in 1953, was one of the best actors of his generation. Sadly, Plummer's long and illustrious career has come to an end — but thankfully, he's left decades' worth of performances for viewers to enjoy. From Rodgers & Hammerstein musicals to harrowing dramas and his knack for playing real-life historical figures, here are the very best Christopher Plummer performances you'll want to revisit time and time again.
The Sound of Music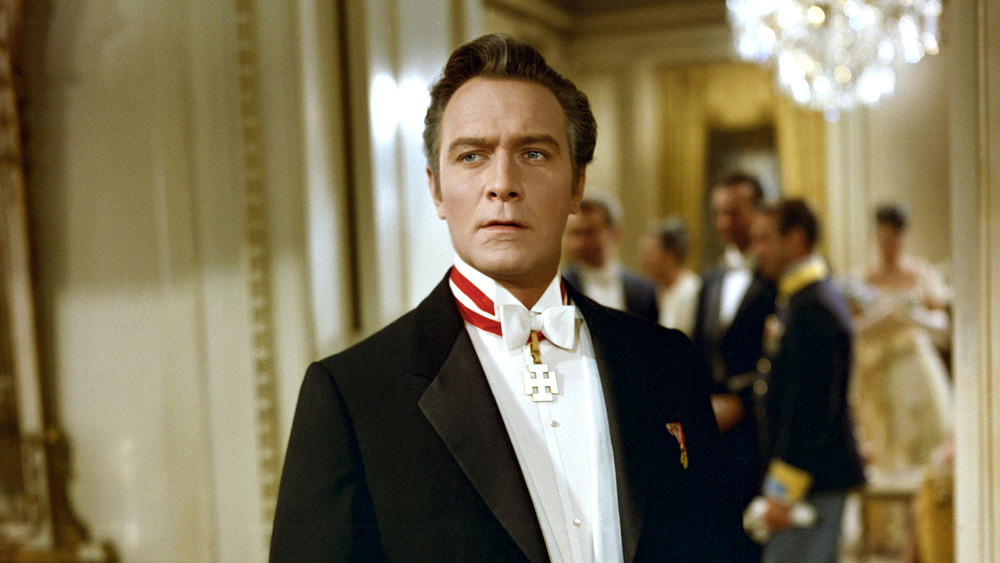 Christopher Plummer has a huge variety of roles on his resume, but if you're looking for something that's good for the whole family and shows off his musical talent, you won't want to miss The Sound of Music. This classic Rodgers & Hammerstein musical stars Julie Andrews as Maria, a flighty nun-to-be who leaves her convent and is assigned the role of governess for the wealthy Von Trapp family and their seven children. Unfortunately, the children and their father, Captain Georg Von Trapp (Plummer) aren't exactly welcoming at first. However, Maria ultimately charms all of them — and falls in love with Georg — but when the family's home of Salzburg is overtaken by the Third Reich, the new family is forced to escape the Nazi regime.
Plummer and Andrews, along with an incredibly talented ensemble cast, shine in the film, which produced some of the most memorable songs in musical theater history and became one of the most beloved films of all time. Interestingly, Plummer wasn't a huge fan of The Sound of Music himself, saying Georg was boring and the film was overly sentimental. Over the years, he seemed to come around — apparently, even Christopher Plummer eventually saw what everyone else loved about The Sound of Music.
The Silent Partner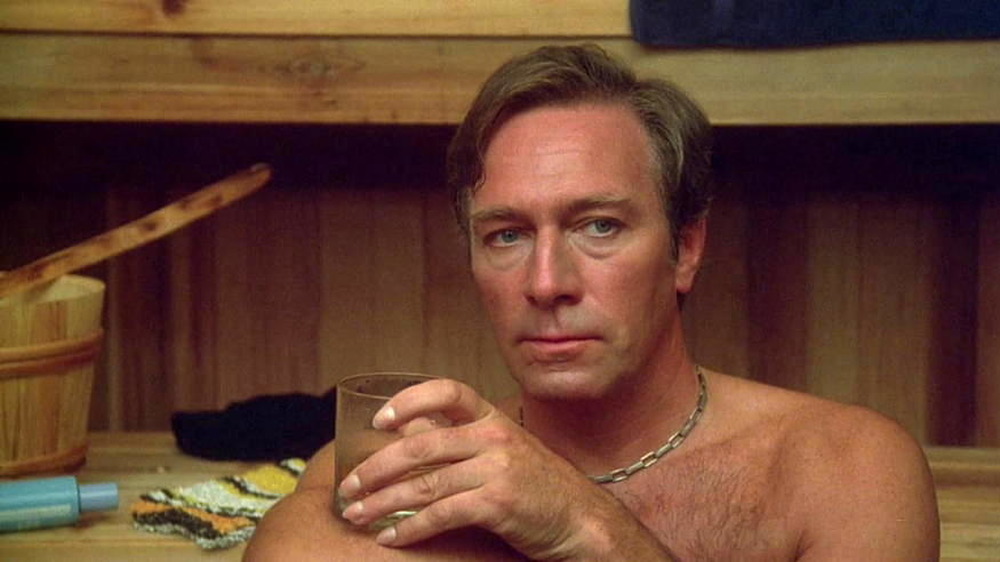 So many of Christopher Plummer's roles were those of righteous and essentially kind — yet flawed — men, which makes 1978's The Silent Partner one of his most distinctive films, as he's cast as a conniving and often frightening villain. As the film opens, bank teller Miles Cullen, played by Elliott Gould, leads a fairly unremarkable life — until he finds a secret plan to rob the bank, which is in a mall, involving a Santa Claus impersonator. Miles chooses to not tell his boss; instead, he hides most of the money so that when the robbery occurs, the burglars only get a little bit of cash and he keeps the rest.
However, the man behind the Santa Claus costume, Plummer's Harry Reikle, ultimately figures out Miles' conceit, and embarks on a mission to ruin Miles' life and get his revenge, threatening the other man's life and stalking him. As the two men play a dangerous game of cat and mouse, the stakes rise considerably, pitting Miles and Harry against one another. Plummer plays deliciously against type in The Silent Partner, and if you're looking for a gripping crime thriller filled with great performances, this film will definitely do the trick.
Dolores Claiborne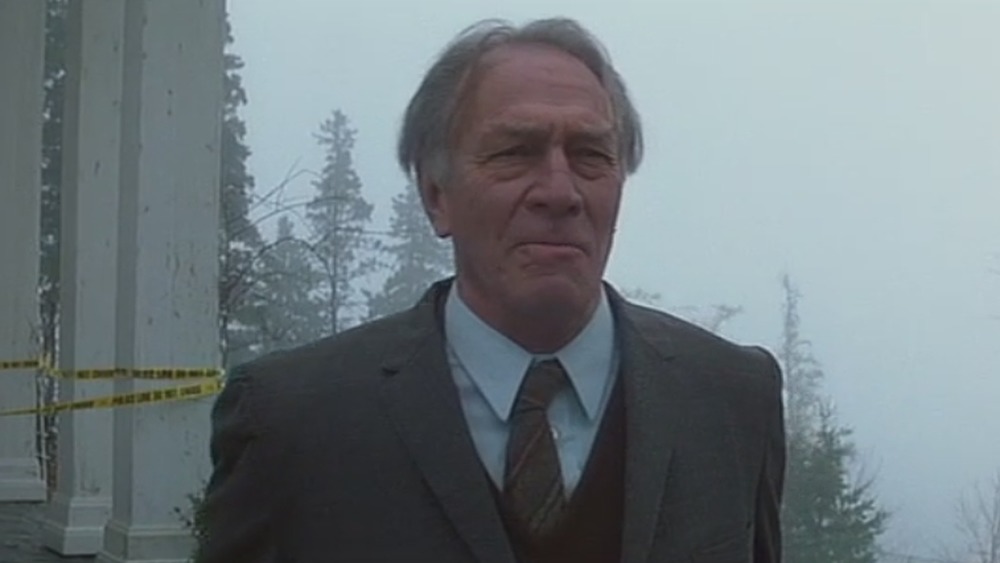 There's certainly no shortage of Stephen King adaptations, from the It film franchise to several different versions of The Stand to the horror classic The Shining, but Christopher Plummer fans should definitely make it a point to watch his performance in 1995's Dolores Claiborne. Led by Kathy Bates — who won an Oscar for playing Annie Wilkes in another King adaptation, Misery — and Jennifer Jason Leigh, Dolores Claiborne tells the story of a difficult relationship between former maid Dolores (Bates), who is accused of murder, and her daughter Selena (Leigh). Selena ultimately makes the journey from New York City to Maine to be by her mother's side… despite the fact that she thinks her mother may have killed her former employer, Vera Donovan (Judy Parfitt).
As Detective John Mackey, Plummer is determined to solve the mystery of whether or not Dolores did it, and as it turns out, there's more to Vera and Dolores' relationship than anyone realized. Plummer is pitch-perfect in the role, showing Vera sympathy and suspicion all at the same time… and perfectly showing off his expansive range as a performer.
The Insider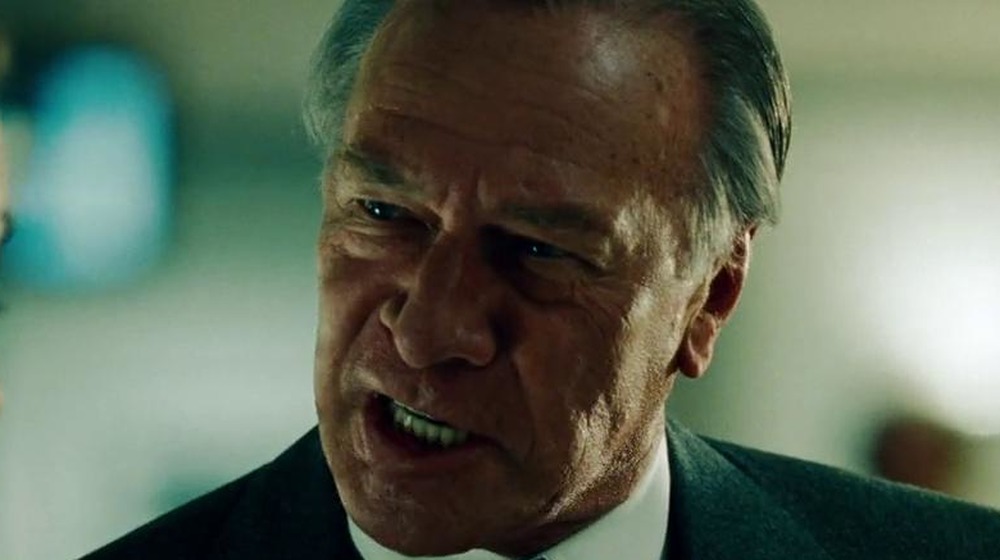 Christopher Plummer took on a character based on a real person — a move that would become a calling card throughout his career — in 1999's The Insider, based on a 1996 Vanity Fair article about secrets within the tobacco industry and the journalists primed to expose them. Alongside Russell Crowe and Al Pacino as former tobacco executive Dr. Jeffrey Wigand and television producer Lowell Bergman, respectively, Plummer plays CBS anchor Mike Wallace, whose broadcasts helped define the network thanks to his work on 60 Minutes.
According to Plummer, while he wanted to pay homage to Wallace, he didn't simply want to do an impersonation, and grew irritated with critics who interpreted his searing performance as such. In an obituary written by Vulture movie critic Matt Zoller Seitz, Seitz recalls that the actor told him he wanted to capture the essence of Wallace, saying, "because people would be comparing me to the real Mike Wallace and judging the accuracy of the impersonation. And what would have been the point of that? People can turn on the TV every Sunday night and see the real Mike Wallace." Plummer's modesty aside, his turn as Wallace is unforgettable, and absolutely one of his must-see performances.
A Beautiful Mind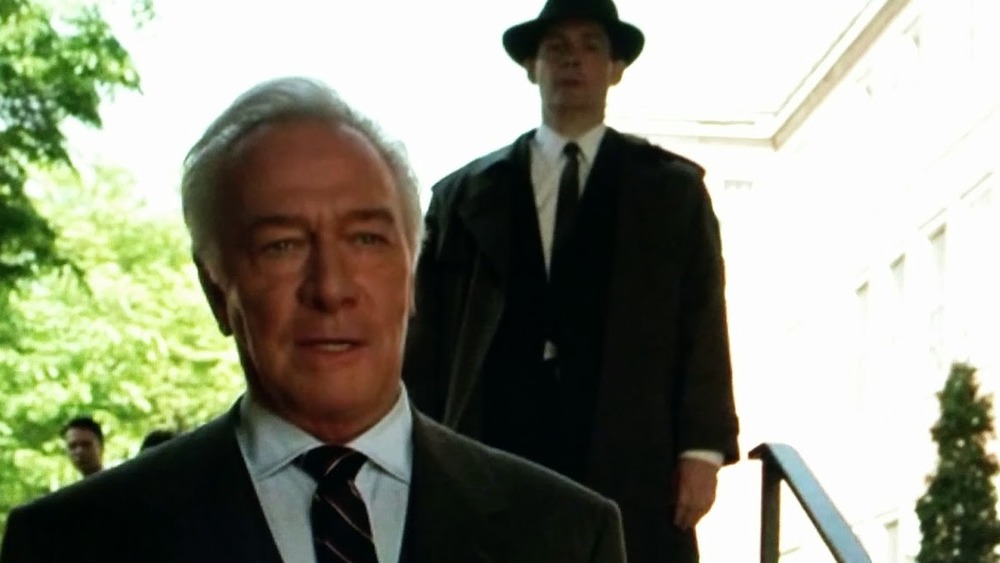 Based on the 1997 Pulitzer Prize-winning novel of the same name, Ron Howard's acclaimed 2001 film A Beautiful Mind focuses on real-life mathematician John Nash (played by Russell Crowe), whose considerable intelligence clashes with his personal difficulties and, eventually, insurmountable mental illness. As Nash's life becomes more and more dramatic — and as he begins to believe that the Soviets are tracking him to try and kill him — his wife Alicia (Jennifer Connelly) turns to Dr. Rosen (Christopher Plummer), who works at a psychiatric facility where Nash is held against his will after claiming to be the subject of a political plot.
Ultimately, Plummer's character proves invaluable to the film; while both Nash and the audience believe that several of his friends and confidantes are completely real, Dr. Rosen reveals that they're actually all in his head, exposing the depths of Nash's mental instability as the genius is diagnosed with schizophrenia. Crowe may be the beating heart of A Beautiful Mind, but Plummer's Dr. Rosen is the brain — the central logic that exposes the entire conceit of the movie.
The Last Station
Christopher Plummer was no stranger to playing famous historical figures, but when he did it in 2009's The Last Station, he achieved a huge milestone: his first Academy Award nomination. In The Last Station, Plummer portrays Leo Tolstoy, author of classic works such as War & Peace and Anna Karenina, in the last year of his life, as his devoted wife Sofya (Helen Mirren) fights against one of his proteges and the leader of his disciples, the "Tolstoyans," Vladimir Chertkov (Paul Giamatti). When Chertkov reveals his plan to place Tolstoy's work into the public domain — which would strip Sofya of any financial benefits after her husband's death — she decides to fight for the rights to his work as her husband lives out the last few months he has left.
Plummer ultimately lost that Oscar to Christoph Waltz for his work in Inglourious Basterds, and though it took the Academy far too long to recognize him, his work against the formidable Mirren — an Academy Award winner — further burnished an already impressive legacy. Whether or not you're a Tolstoy fan, The Last Station is definitely worth a watch just for Plummer's performance.
Up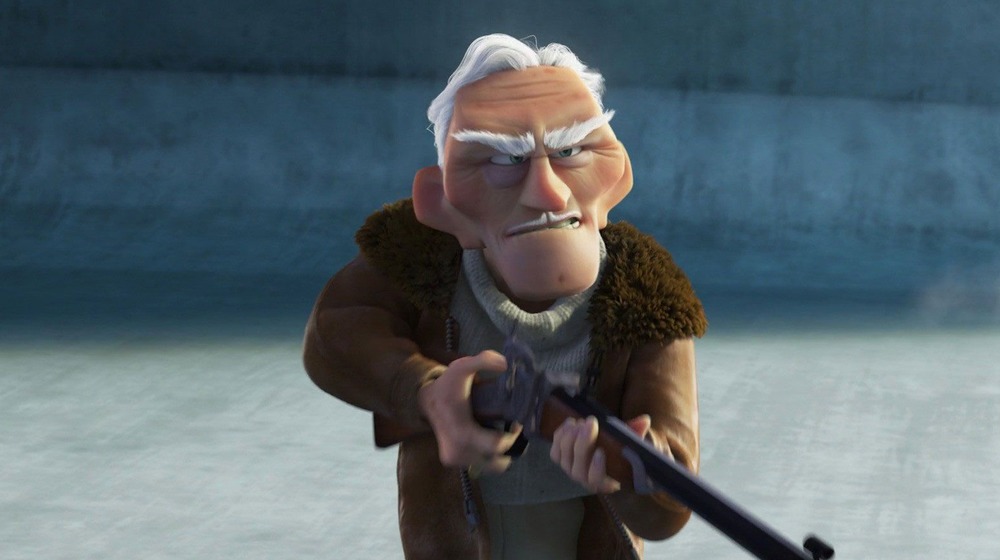 Christopher Plummer had an incredible voice — both as a singer and as an actor — and over the years, he occasionally lent that voice to animated projects, including the 1986 film An American Tail (among many others). Later in his career, Plummer teamed up with Pixar, playing a rare villainous role in the 2009 film Up.
Throughout the narrative of Up, Plummer's character, Charles F. Muntz, is a legendary figure; from childhood to old age, the film's protagonist, Carl (Ed Asner) idolizes Muntz, an explorer who has trekked every corner of the world. Though Carl loses his drive to travel after the death of his wife Ellie, his passion is (begrudgingly) reunited when he meets young Russell (Jordan Nagai), who inspires Carl to tie balloons to his house and seek out Muntz after all. Unfortunately, Muntz turns out to be a hostile adversary as he tries to capture Kevin, a rare bird Carl and Russell discovered. Plummer may not play a hero in Up, but his shift from friendly explorer to conniving villain helps make the movie what it is.
Beginners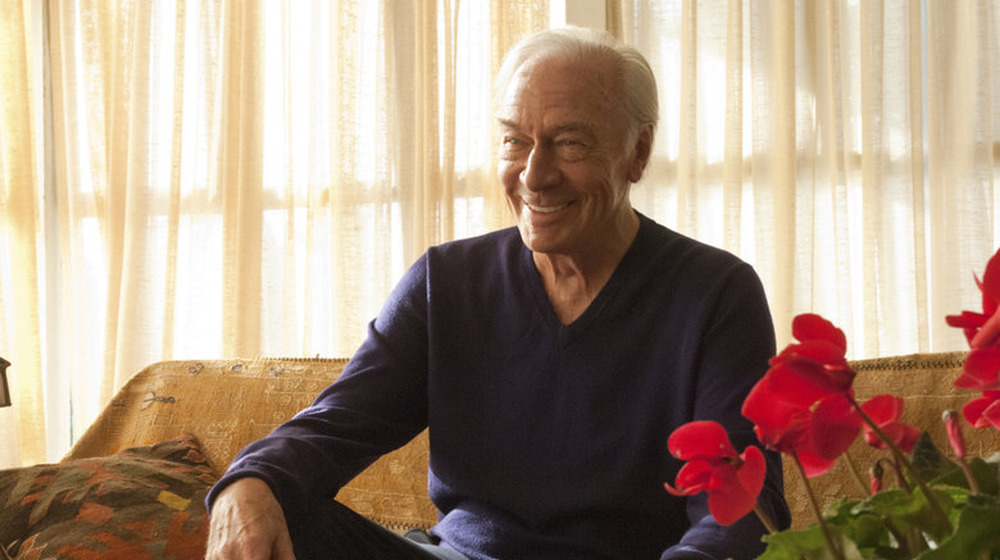 Christopher Plummer spent years on the stage and screen, eventually accomplishing what's known as the "Triple Crown of Acting" — the name for what happens when a performer wins at least one Emmy, Oscar, and Tony. After winning Tonys in 1974 and 1977 and Emmys in 1977 and 1994, Plummer finally pulled it off in 2011 when he took home his first Academy Award… and became the oldest winner in an acting category in the ceremony's history, thanks to Beginners.
In the 2010 film, Plummer plays Hal, a quiet, unassuming man who makes a startling announcement to his adult son Oliver (Ewan McGregor) — he's gay, and wants to spend the last years of his life living his truth. As Oliver grapples with the news and tries to begin a new relationship with French actor Anna (Mélanie Laurent), Hal embarks on his new life, finding love and inspiring his son to take more chances while he's still young. Throughout the film, Plummer infuses Hal with tons of heart, delivering an emotionally charged yet sharply funny performance. In a career filled with highlights, Beginners shines among Plummer's brightest.
The Girl with the Dragon Tattoo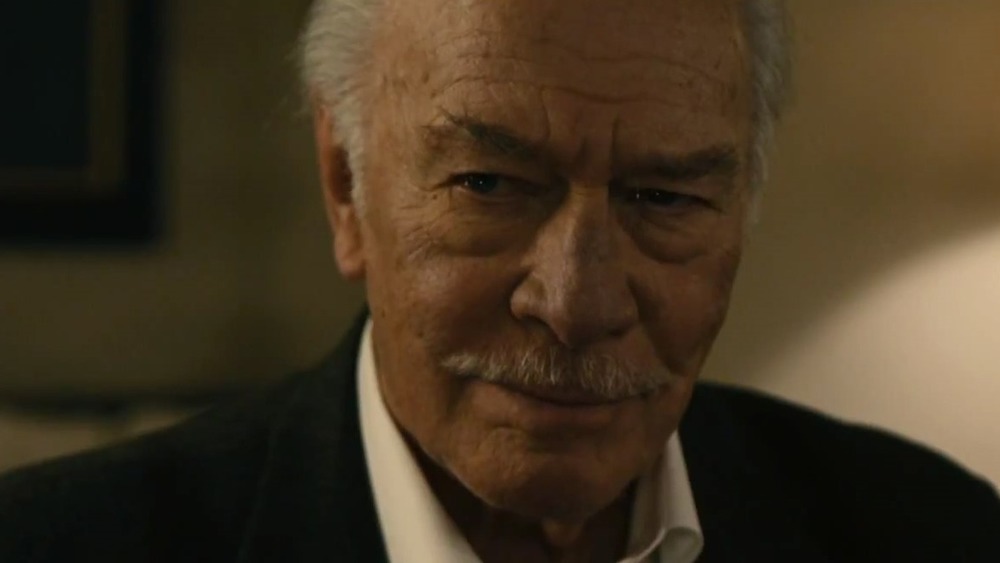 Christopher Plummer made a habit of working with some of Hollywood's best filmmakers throughout his career, and in 2011, he teamed up with acclaimed director David Fincher to adapt one of the most popular books of the time. With Rooney Mara in the title role, Fincher brought the late Stieg Larsson's hit novel The Girl with the Dragon Tattoo to the big screen, rounding out the main cast with Daniel Craig (who would work with Plummer again in Knives Out) as Swedish journalist Mikael Blomkvist.
In the film, Plummer plays the wealthy Henrik Vanger, who wants to strike a deal with Blomkvist: Vanger will help settle a lawsuit against Blomkvist if the journalist will help the businessman find his grandniece Harriet. There's only one catch: Harriet has been missing for 40 years. With the help of vigilante Lisbeth Salander (Mara), the two try to get to the bottom of this mystery.
Plummer's role in the film isn't huge, but it is pivotal, and the actor brings his usual gravitas and grace to the part of Henrik Vanger. Whether you're a fan of Larsson's book or you're experiencing this story for the first time. The Girl with the Dragon Tattoo is an irresistible tale, and always worth a watch.
All the Money in the World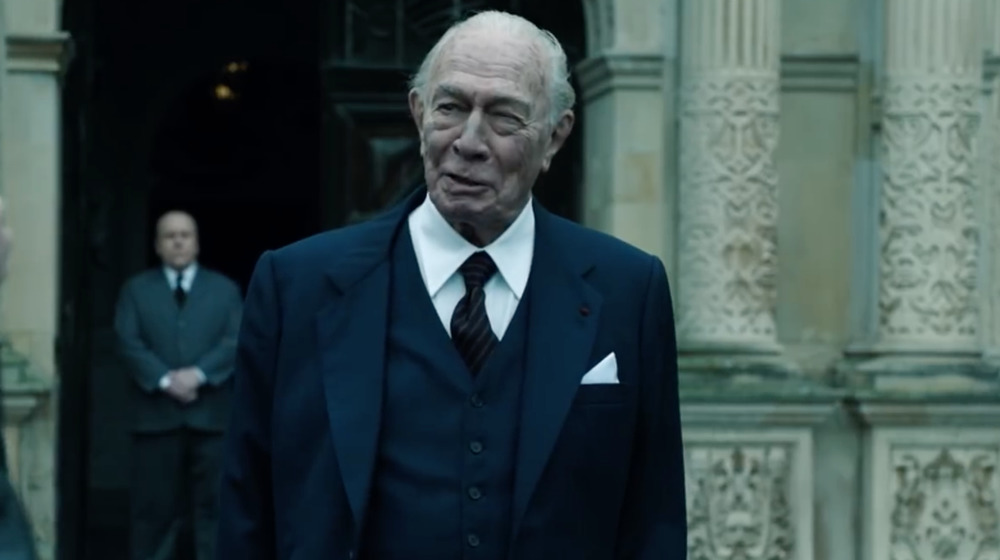 Replacing a fellow actor in a film is no easy feat, but doing so with just a few weeks left until the movie's release is definitely pretty daunting… unless you're a performer as talented as Christopher Plummer was. In 2017, Ridley Scott was put in a bind when serious allegations surfaced about Kevin Spacey, who, at the time, had already filmed his scenes for Scott's drama All the Money in the World, which dramatized the real-life kidnapping of tycoon J. Paul Getty's grandson. Luckily for everyone involved, Plummer agreed to step in, and reportedly completed an astounding number of reshoots in a little over a week, just one month before the movie's theatrical release.
Only an incredible actor could have pulled off this feat; meanwhile, Plummer, always the overachiever, earned an Academy Award nomination for his role and became the oldest acting nominee in history to boot. Discussing the drama behind the film with the New York Times, Plummer was characteristically modest, saying that when approached, he thought, "To hell with it, I'm doing it." In the end, Scott and the audience were both equally lucky that Plummer took on this enormous challenge — and pulled it off with style.
Knives Out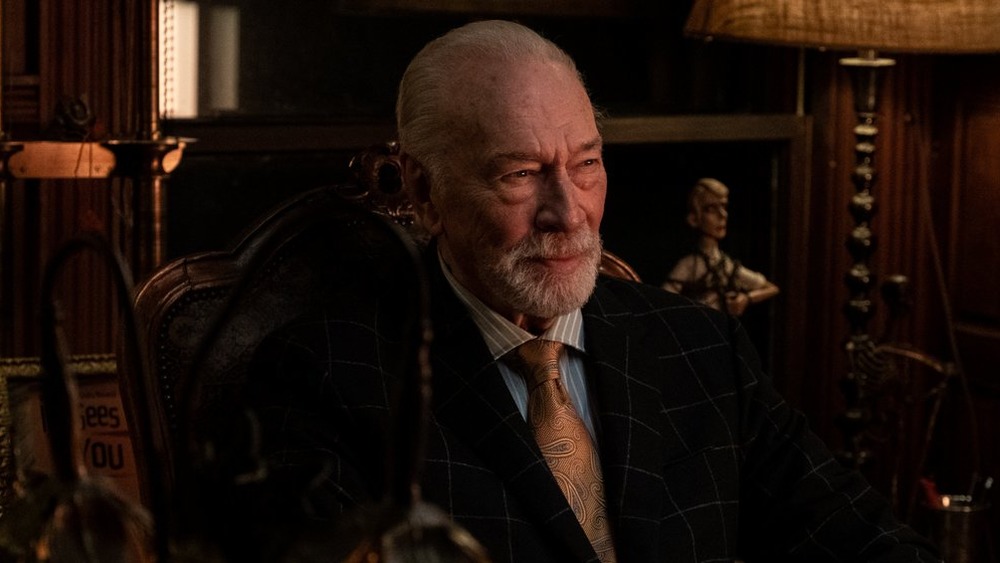 One of Christopher Plummer's final roles casts him as a character who not only dies early in the film, but whose death drives the entire plot — though the part could only have been played by a presence that loomed as large as Plummer for the story to work. In Rian Johnson's star-studded whodunit Knives Out, Plummer plays mystery writer and imposing patriarch Harlan Thrombey, whose death is initially ruled a suicide… until bombastic detective Benoit Blanc (Daniel Craig) arrives to investigate, aided by Harlan's nursing aide and good friend Marta Cabrera (Ana de Armas). As Blanc continues his investigation and meets the rest of the Thrombey family — played by incredible performers like Don Johnson, Toni Collette, Jamie Lee Curtis, Michael Shannon, Chris Evans, and Katherine Langford — the detective realizes that not only does Marta know more than she's letting on, but every relative of Harlan's had a good motive to kill him.
Plummer certainly isn't the focus of the movie (even though his character's death definitely is), but it's impossible to imagine any other performer in this funny, sharp, and distinctive role. Plummer was the perfect choice to play Harlan Thrombey, and his work in the role is a late-period career highlight.