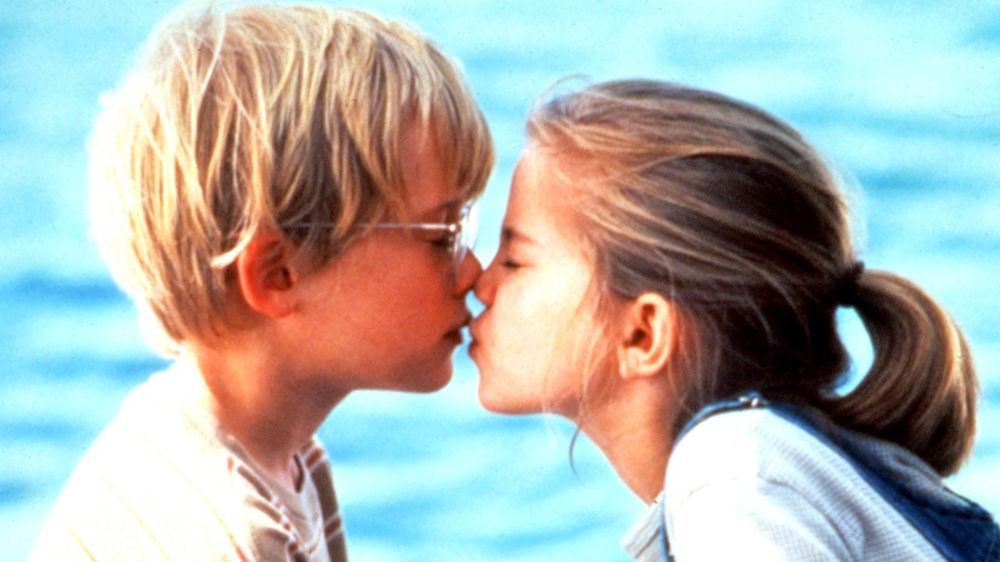 Few endings are more bittersweet than the conclusion of 1991's My Girl, a notoriously brutal but tender coming-of-age film about death, love, and survival. But for the cast, the movie was the furthest thing from an ending: For Anna Chlumsky, it was her first major role, and for then-fairly-established stars like Jamie Lee Curtis and Dan Aykroyd, it was a filmography addition that would grow to be a cult classic.
The title of the film changed several times, with the original script titled Born Jaundiced. That refers to a line spoken by Vada (Chlumsky), the 11-year-old death-obsessed protagonist, who has suffered some ailment or another (real or imaginary) pretty much every day since her birth. Implicit in the notion of coming of age and highlighted in the film are themes of femininity, which are reflected both in the next attempt at a name, I Am Woman, and the final title. Third time was the charm: My Girl is a reference to the Temptations song, whose lyrics loosely connect to the most tragic event in the film.
Like the characters and the film itself, its stars also did a lot of growing and changing over the years. Between the 1991 film and now, whether at that point they were established talent or rising stars, each member of the cast of the controversial and heartbreaking but emotionally rich My Girl has made a career and life worth catching up with today.
Jamie Lee Curtis as Shelly
Much of Jamie Lee Curtis' career, which took off in 1978 when the 20-year-old landed the role of Laurie Strode in Halloween, was already well-established by the time she was cast in My Girl. The 1991 comedy-drama focused heavily on navigating the complicated bonds between parents and their children. Curtis had her own firsthand experience with dysfunctional family dynamics, and she has brought this tender knowledge, as well as the knowledge of healing and growing (in childhood and all stages of life) to everything from her many acting roles to her best-selling children's books.
Family, both given and chosen, has played a huge role in Curtis' personal, professional, and charitable life, whether it's been the career influence (not always a positive or easy one) of having legendary actor parents or the support of a 36-year marriage as of December 2020. It has made her the strong, legendary actress and woman she is today, with an extensive filmography, most recently the critically acclaimed Knives Out from 2019, with at least a couple new projects planned in the next few years (including more reprisals of her role in the Halloween franchise).
But even more extensive than her cinematic canon is her 22 years of sobriety as of February 3, 2021, which she regards as her greatest achievement because it broke a cycle that destroyed generations of her family. It's safe to say her leg of the familial cycle was and continues to be a great one.
Griffin Dunne as Mr. Bixler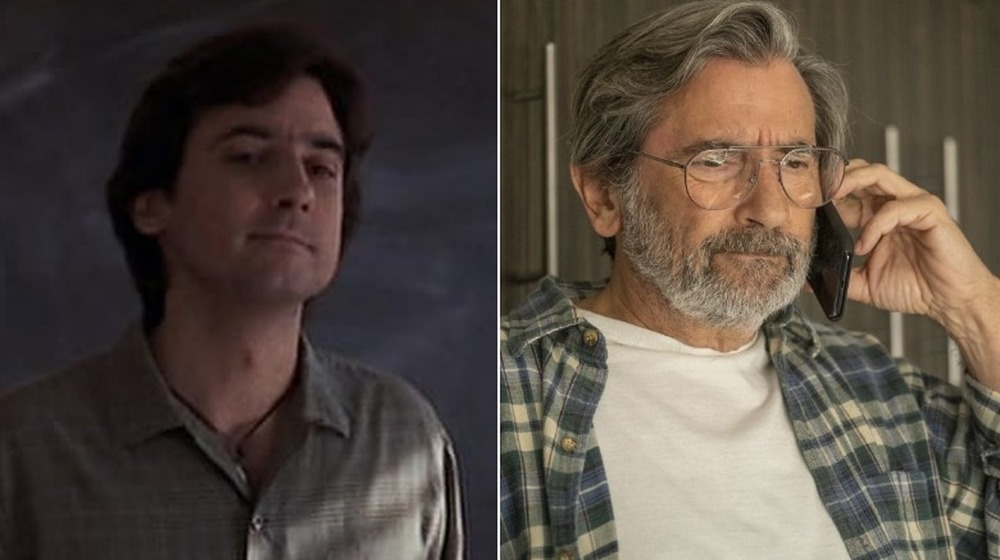 No matter what your favorite genre is, you've probably seen Griffin Dunne in an iconic film or two. In addition to featured parts as well as producing and directing credits, Dunne has enjoyed a plethora of supporting roles in pretty much every definition of a classic film. And he's still going strong today!
Prior to My Girl, he starred in 1981's cult classic monster movie An American Werewolf in London and the Martin Scorsese flick After Hours in 1985. Along with starring in My Girl in 1991 and directing Practical Magic in 1998, he's made it clear that he has the chops for everything from black comedies to supernatural movies and then some. These days, you'll find him on This Is Us or in one of his many upcoming movies.
One of his most recent projects, though, was actually something a little different from the usual: a 2017 documentary Dunne directed about his aunt, Joan Didion, one of the quintessential writers of the 1960s and 1970s. it's just more proof of the creative ability that surrounds Dunne — who comes from a family of writers — and his endeavors on each side of the camera and in life. In My Girl, Dunne's character, Mr. Bixler, teaches a writing class, something of an unspoken (and perhaps even unintentional, but nonetheless meaningful) homage to the power of communicating and storytelling inherent in cinema, journalism, and life.
Dan Aykroyd as Harry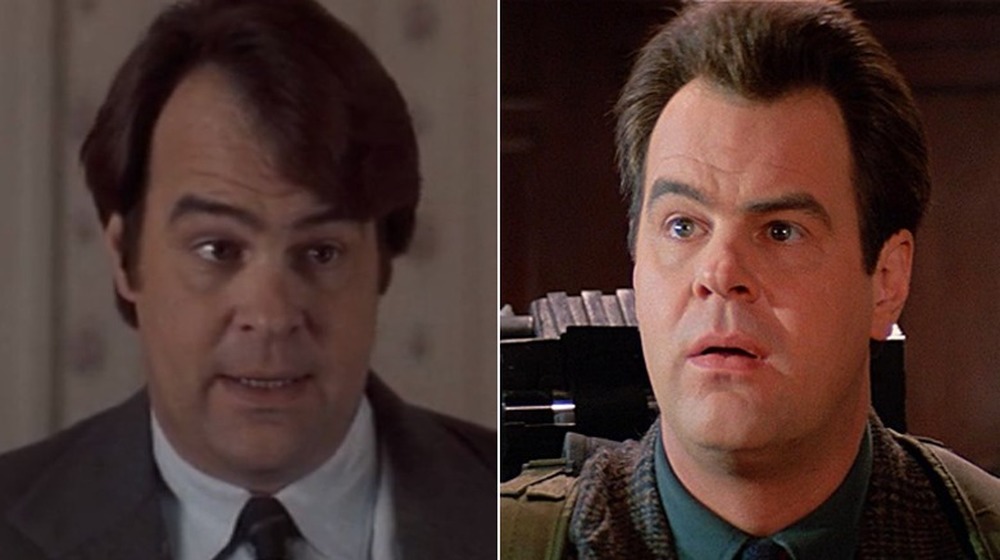 While Dan Aykroyd was a pretty well-known actor already by the time he appeared in My Girl, with a career that began gathering steam in the '70s, he has remained consistently active throughout the 2000s and 2010s, and has projects on deck for the next decade as well. Most of them revolve around one of the biggest successes of his career, 1984's Ghostbusters (which Aykroyd co-wrote and starred in) and the subsequent franchise and reboot, on which he served in various capacities. Something in Aykroyd's sensibility makes him a great candidate for comedic roles with a hint of morbidity, a PhD in paranormal activity in the Ghostbusters movies and a funeral home operator in My Girl among them.
From shorts to video games, sequels to reboots, the Ghostbusters franchise lingers like a spirit in a haunted house. The next installment is 2021's Ghostbusters: Afterlife, which will feature Finn Wolfhard of Stranger Things fame. Some fans are worried that it won't add anything to the franchise and will simply rip off previous projects instead. But Aykroyd's presence as an actor and executive producer, among other roles, should offer them a bit of comfort — especially since he hasn't been shy with his opinions on the continuation of the franchise, despite a recent description of him as one of the most affable guys on Hollywood.
Anna Chlumsky as Vada
Before news broke of Macaulay Culkin's casting, the producers of My Girl had announced that they wanted to cast two "unknowns" in the main roles. After Home Alone in 1990, Culkin was anything but. Anna Chlumsky, however, fit the bill perfectly.
Nowadays, Chlumsky is anything but an unknown: In fact, on the political satire television series Veep, her character held one of the highest offices in the land from 2012 to 2019: the Vice President's Chief of Staff. Like Culkin, Chlumsky took a hiatus between her entrance into the national spotlight as a child star and the eventual continuation of her acting career. In her case, she decided that she wanted to focus on attending college.
Apparently, the time off, the education, or both did her a lot of good, because she has so far received six Emmy nominations for her supporting role on Veep. If anything, it taught her the value of education itself, as she took the initiative to undergo formal training after deciding to return to acting following her college years. The hiatus actually helped her rediscover her love of acting and frame it as a craft much differently than she did as a child. So while the My Girl actress looks a lot different 30 years later, the greatest change that occurred for her was on the inside.
Richard Masur as Phil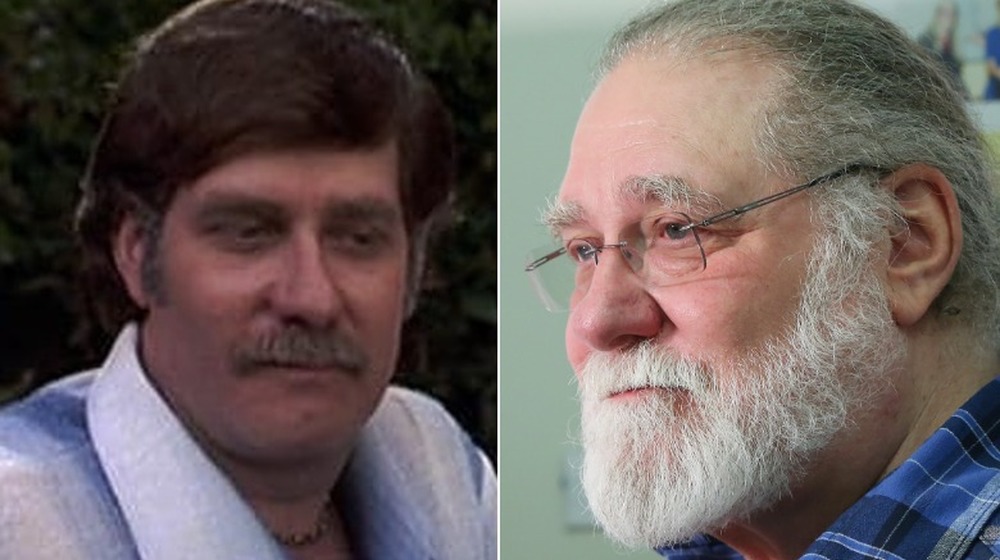 It seems that in his long career as an entertainment professional, Richard Masur only gets more and more active, albeit in changing roles as his years of involvement progress. These days, the prolific character actor spends his time on the Motion Picture & Television Fund's Corporate Board. This isn't the first position of high regard that Masur has held during his long tenure in the industry: He served as President of the Screen Actors Guild (SAG) from 1995 to 1999.
This position befit Masur simply because of the unparalleled breadth and depth of his experience as an actor. His filmography and television history boasts such iconic titles as Orange is the New Black, All My Children, and Empire, among countless others. In fact, Masur was one of only three people in history to receive the Screen Actors Guild President's Award for commitment to both the entertainment industry and the labor movement. His longstanding involvement not just on screen but in the health and vitality of the film industry itself speaks to his dedication to his craft, all the way from his 1974 All in the Family debut to his current and upcoming work.
Lara Steinick as Ronda and Peter Michael Goetz as Dr. Welty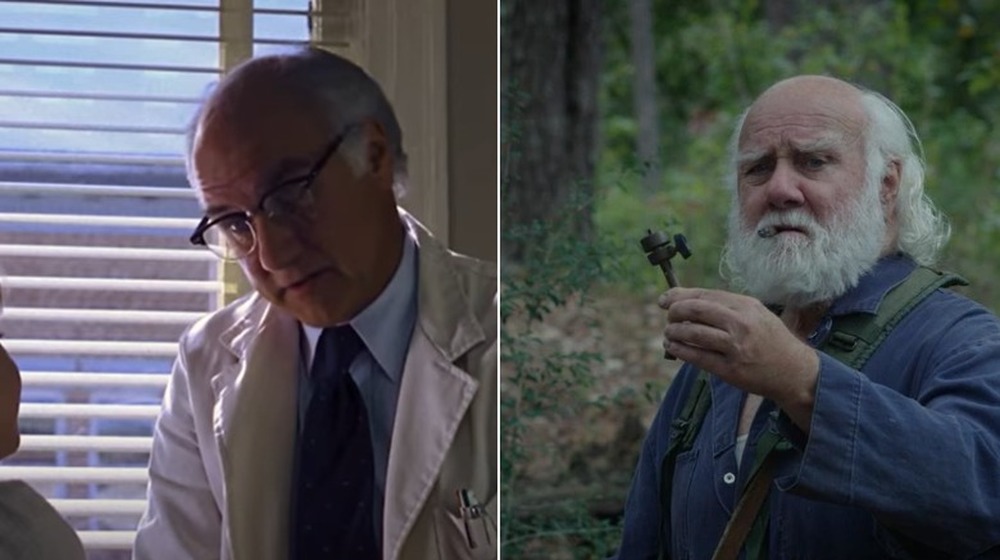 Lara Steinick's primary film roles occurred in the early 1990s, but she continued to be active in TV series through the mid-2000s. Other than a small role in Detective Extralarge in the same year that My Girl came out, the 1991 film in which she played a free-loving hippie woman in Mr. Bixler's writing class was her first experience on the big screen. A decade and a half later in 2006, the actress ended her career having accrued a number of credits in film and especially television, including two multi-episode runs.
The year 2006 was also the year that appearances slowed down slightly for Peter Michael Goetz, who played Dr. Welty in My Girl. This was the last year in which Goetz appeared in multiple projects, primarily TV episodes in this case. Since then, the performer has remained active by appearing in small roles here and there, the most recent being the role of Riley in 2019's A Violent Separation. The prolific, almost 80-year-old former Dr. Welty is by no means retired and continues to practice his craft.
Glenda Chism as Thomas J.'s mother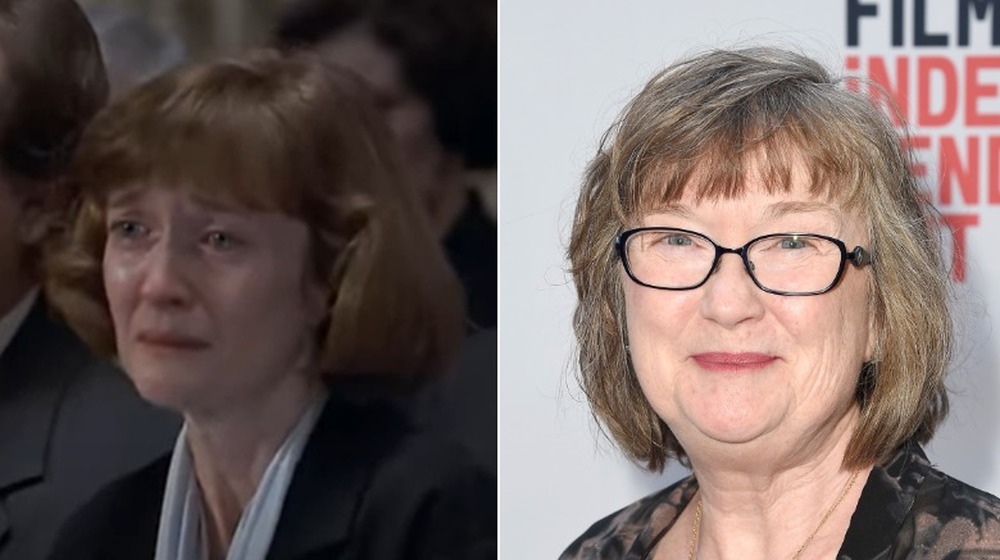 Her roles in most films and television episodes may have been small, but Glenda Chism has had an acting career that has spanned decades. Despite no starring roles, her presence has been integral to the tone of each of the pieces she's been involved with. Since My Girl, she has been active every few years or so all the way up through 2016, after a hiatus throughout the entire decade of the 2000s.
As you peruse her casting history, you'll notice that many of the roles in which Chism appears are defined by that character's relationships with others. In My Girl, her debut appearance, she played a mother, while in other films she has portrayed a nurse and a teacher, among other roles.
An aptitude for these types of roles may be part of the reason that Chism can so reliably, if not extremely frequently, be cast in films over multiple decades: Her delicate maternal air is a timeless staple of all manner of stories, and there will always be a place for her in Hollywood.
Jane Hallaren as Nurse Randall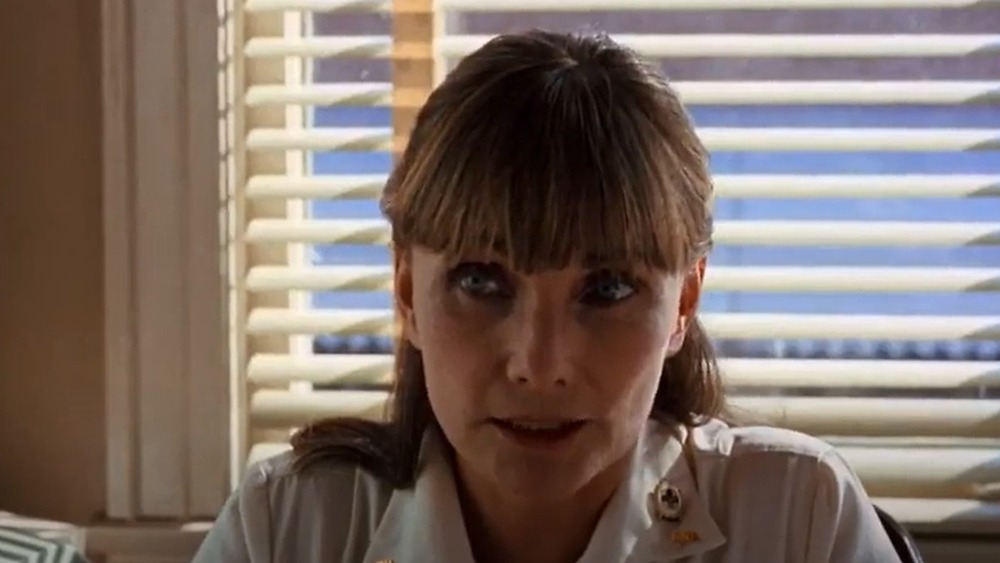 At 81 years old, Jane Hallaren doesn't show up quite as often in films as she did a few decades ago. At the height of her career, though, you'd catch her in a new television episode or film role just about every year in the '80s and early '90s.
Hallaren has certainly taken her retirement seriously, however, as her most recent role was in 1997. She played a small role that year in the TV series Home Improvement as a receptionist in one episode, her first appearance in three years at the time. Most of her "greatest hits" came in the '80s, still primarily a series of supporting (and supportive, given that she often played roles like nurses and judges onscreen) roles.
Despite exiting the spotlight, however, Hallaren has continued to enjoy the quiet years of retirement and celebrating her birthday the day before Valentine's Day each year. She can look back proudly on her many years of playing caretaker and guardian-type roles, among others, with impeccable talent no matter their scope.
Tom Villard as Justin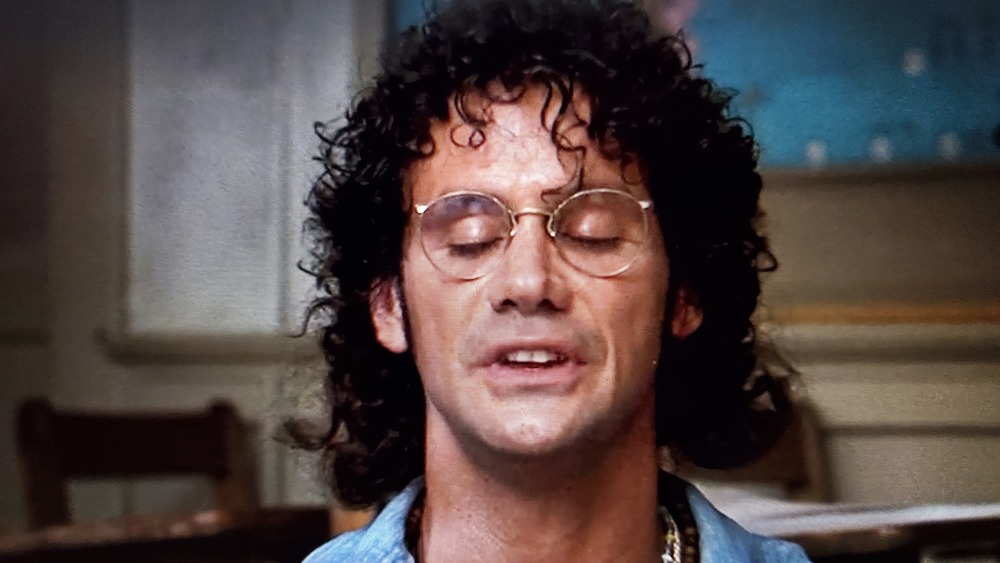 While most of My Girl's cast is still living, if not as active, a few of them were lost far too soon in their promising careers. Just three years after appearing in the 1991 film, Tom Villard unfortunately lost a 1994 battle with AIDS-related pneumonia just a few days shy of his 41st birthday. But the mark that he made on the world extends beyond his death and beyond the entertainment industry.
Villard was one of the few actors, in the days of the early 1990s, to openly discuss his homosexuality. He was also open about the struggle of living with AIDS, having been diagnosed just a year after My Girl came out and going public two years later before he passed away. As his obituary highlighted, he would wear makeup for roles to conceal the purplish skin blotches caused by the AIDS-related skin condition Kaposi's sarcoma, but would not cover up the blotches for auditions.
While, tragically, we cannot exactly "catch up" with Villard today, his legacy is still very much alive. He was someone who refused to be hindered by his health condition, a man who emphasized the importance of continuing to work, live, and love no matter what.
Ann Nelson as Gramoo Sultenfuss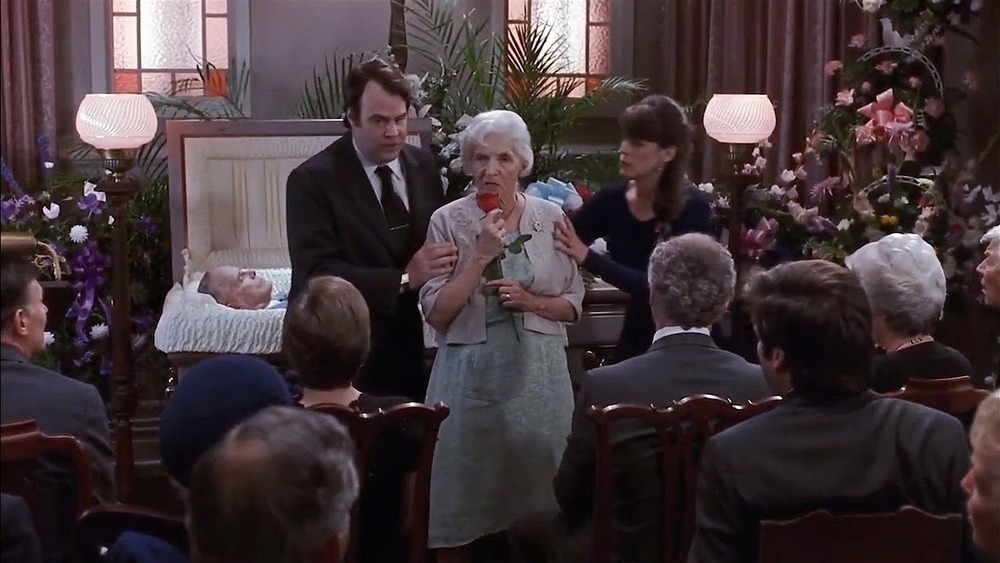 Another cast member whom we lost shortly after My Girl premiered also managed to prove that growing up isn't a one-and-done process: Throughout our lives, there is so much opportunity for change that you never know who you might meet or become. For Ann Nelson, her journey onto the big screen began later in her life than it does for most actors. Born in 1916, she didn't land her first role until more than 60 years later in 1977.
Though Ann Nelson died just a year after My Girl was released, in 1992, she is a cast member worth "catching up" with because of the integral role she played in that film as well as in the entertainment industry. In My Girl, she represented one of the major relationships in Vada's life, and though her part as Gramoo wasn't as major as, say, Thomas or Shelly, it carried with it a lot of complexity due to her failing mind and the time Vada spent caring for her. As an actress, Nelson was also something of a matriarch. She appeared in dozens of TV episodes and films, strictly in the seventh and eighth decades of her life.
Ray Buktenica as Danny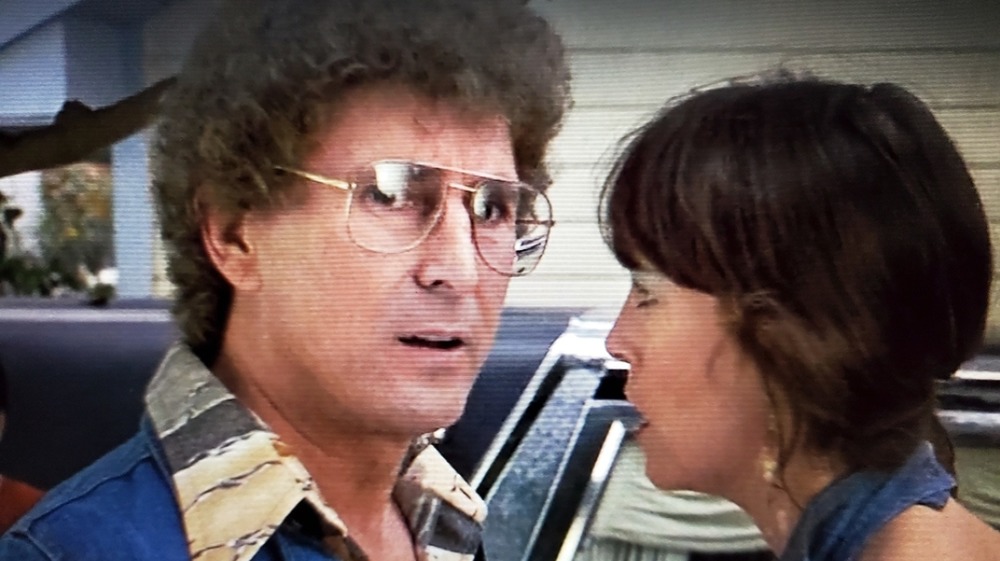 Though Ray Buktenica was primarily a television character actor for much of his career, he nonetheless enjoyed an incredibly long one, full of series that audiences of all ages would recognize. By the time My Girl came out, the bulk of his multi-decade career was about two-thirds of the way over. It began in 1972 with a small, one-episode role on Hawaii Five-O, followed by another part, as a different character, on the same show the next year.
Buktenica's first major role came in 1977, when he became a main cast member on the 1974 television series Rhoda as Brenda's boyfriend Benny Goodwin. Aside from a couple of other main cast appearances, Buktenica found himself in various roles across the TV spectrum, typically appearing in one episode of a series (or sometimes a couple) as a supporting character. What this says about Buktenica is that he played well with others: His role in My Girl wasn't major, but it added pivotal tension to the relationship between Harry and Shelly and provided subtle exposition for Harry's intentions.
Despite taking time out from his previously busy Hollywood schedule and not appearing in film or TV since 2005, the actor made it through the notoriously brutal year of 2020, turning 77 on August 6th. Perhaps the secret to a long and happy life is to have an impressively varied tenure in the spotlight.
Macaulay Culkin as Thomas J.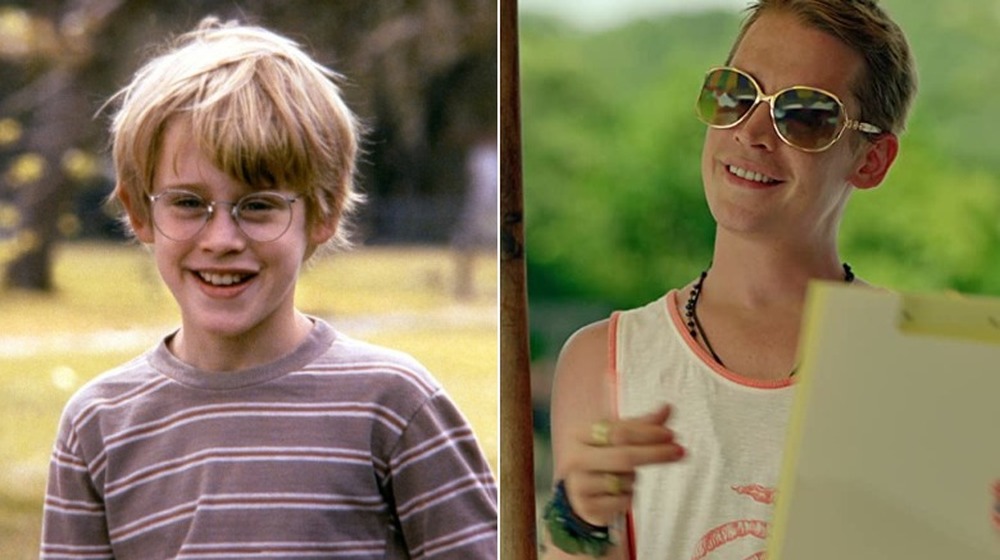 Macaulay Culkin stars alongside the debuting Anna Chlumsky as one of the breakout child stars of the 1990s. Forbes doesn't have a "12 Under 12" list or anything along those lines, but he would have been near the top if they did: Just a year before My Girl, Culkin had become the "kid from Home Alone" that everyone knows and loves (and if they're smart, fears).
But you don't need a coming-of-age drama to tell you that all kids, even (especially) the most famous ones, have to grow up. Culkin chose to do so, after a couple of box office bombs in the mid-'90s, as far from the spotlight as he could. While this was never too distant due to his notoriety, it did mean that he took a break from movies for a while. This elective hiatus became a somewhat forced one, as it proved difficult for the former child star to successfully re-enter Hollywood.
While Culkin's filmography has still been far from sparse since his return in the 2000s, these days any spotlight he enters is by his own choice: He essentially just follows his quirky artistic sensibilities wherever they may lead him. In fact, his personal comedy brand, Bunny Ears, spawned a fan poll that prompted him to gleefully, for the laughs, change his middle name to Macaulay Culkin. And it seems like Macaulay Macaulay Culkin Culkin is doing just fine.