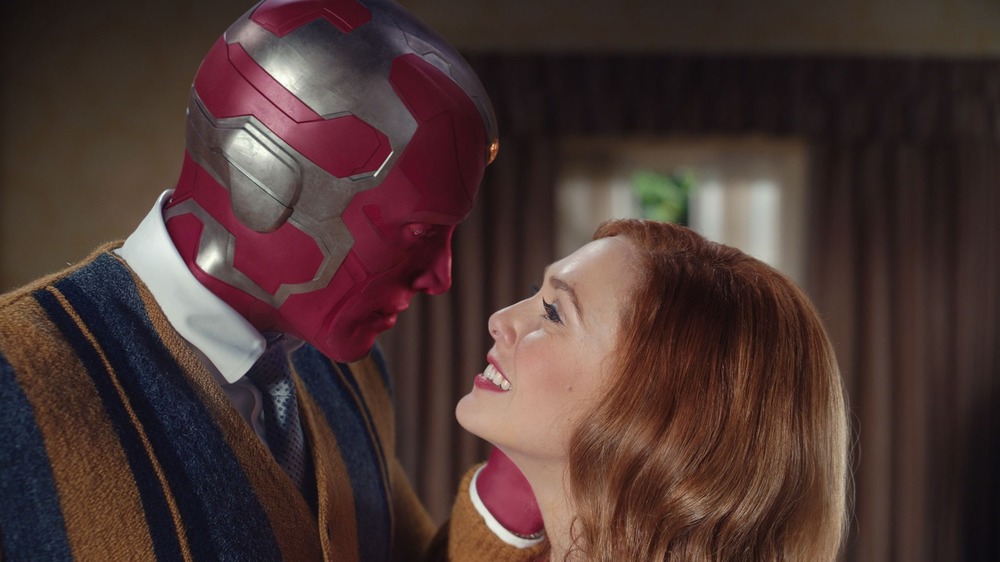 We always knew Disney+ would be a force to be reckoned with, and the streaming service proved that right out of the gate when it launched with The Mandalorian, a massive live-action Star Wars series that became the internet's favorite show after it debuted in the fall of 2019. The streaming service had a good year in 2020 once again, but various COVID-19-related delays meant some of its most-anticipated new series had to wait just a little longer. Now, with 2021 dawning, we're set for a true Disney+ boom.
As we head into 2021, the Mouse House's streaming home is set to debut several brand new live-action series set in the Marvel Cinematic Universe, a new animated series and a new live-action series from the realm of Star Wars, three new Pixar animated series, a brand-new Walt Disney Animation Studios original movie, a reboot of a '90s sports comedy classic, and much, much more. From WandaVision to The Mighty Ducks, this is what's coming to Disney+ in 2021 that you should get excited about right now.
Marvel Studios: Legends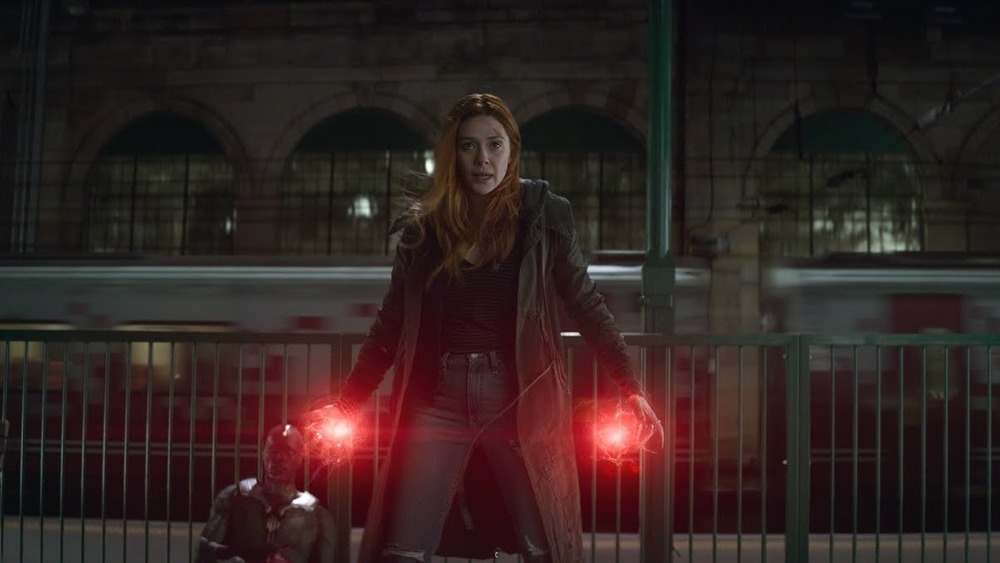 One of the great benefits of Disney+ so far has been its position as a repository for all sorts of ancillary content related to various blockbusters, whether that means deleted scenes, making-of documentaries, or new shows exploring the storytelling of some of Disney's biggest franchises.
The latter is the case with Marvel Studios: Legends, a new series that focuses on spotlighting the connective tissue across the various Marvel Cinematic Universe films and shows to give viewers a deeper understanding of how it's all part of the same grand story.
The series began in January 2021 with two episodes, one focused on the Scarlet Witch, Wanda Maximoff, and the other focused on her android partner, Vision. The episodes were released January 8, one week before the premiere of WandaVision, to give viewers a chance to refresh themselves on the characters' stories before watching the next chapter. In the months and years to come, new episodes will likely be released in conjunction with each major new Marvel Studios story, giving viewers a chance to relieve key moments and keep the entire continuity in their heads as they experience the new developments.
WandaVision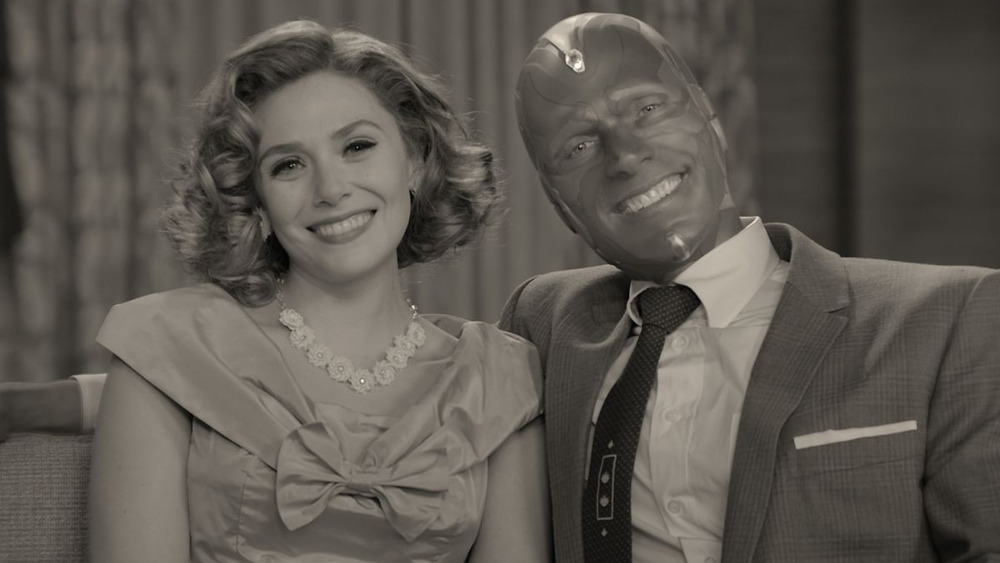 The Marvel Cinematic Universe has been in something of a holding pattern for quite some time thanks to the COVID-19 pandemic, which delayed the release of Black Widow and Eternals to theaters and put Marvel's planned launch of its various Disney+ shows on hold. As 2021 began, though, that was set to change in a big way, and it all begins with WandaVision, a very strange series that now serves as the de facto entry to point the MCU's Phase 4.
Elizabeth Olsen and Paul Bettany return to reprise their title roles as the two phenomenally powerful superheroes and lovers who find themselves trying to fit into a suburban environment in the wake of Avengers: Endgame, but all is not what it seems. Wanda and Vision are not just living in the suburbs. They're living in a constantly shifting sitcom version of the suburbs, complete with a wacky neighbor (Kathryn Hahn) and all manner of other strange occurrences. Whatever's really going on could have drastic consequences for the future of the MCU.
Also starring Teyonah Parris, Randall Park, and Kat Dennings, WandaVision premiered January 15 on Disney+ with its first two episodes.
The Falcon and the Winter Soldier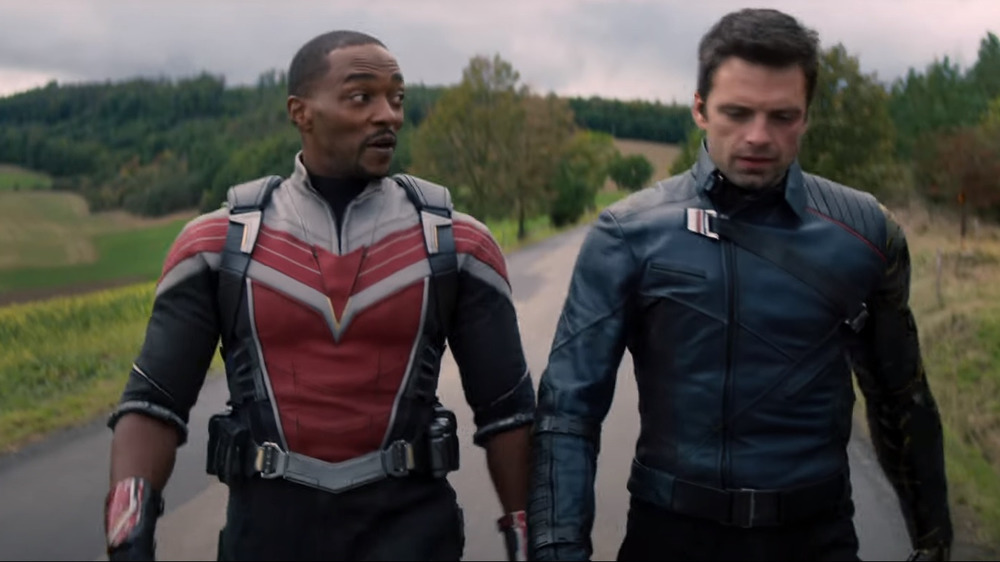 The Falcon and the Winter Soldier was supposed to arrive in the summer of 2020, but now the spring of 2021 will finally show us what happens next in the long saga of Captain America's shield. At the end of Avengers: Endgame, Steve Rogers gave the shield to his friend Sam Wilson with the apparent blessing of his other friend, Bucky Barnes. The new six-episode miniseries, starring Anthony Mackie and Sebastian Stan respectively in the title roles, will show us what happens next.
Moving on with the MCU in the wake of Captain America' s departure was always going to be complicated, but it turns out it's especially tricky for his two best friends, as the series is set to feature Sam and Bucky dealing with everything from the return of Zemo (Daniel Bruhl) to the arrival of a brand new patriotic hero in the form of John Walker (Wyatt Russell), a government recruit trained to be Captain America's replacement. Also starring Emily VanCamp as Sharon Carter, The Falcon and the Winter Soldier is finally set to premiere March 19, 2021.
Loki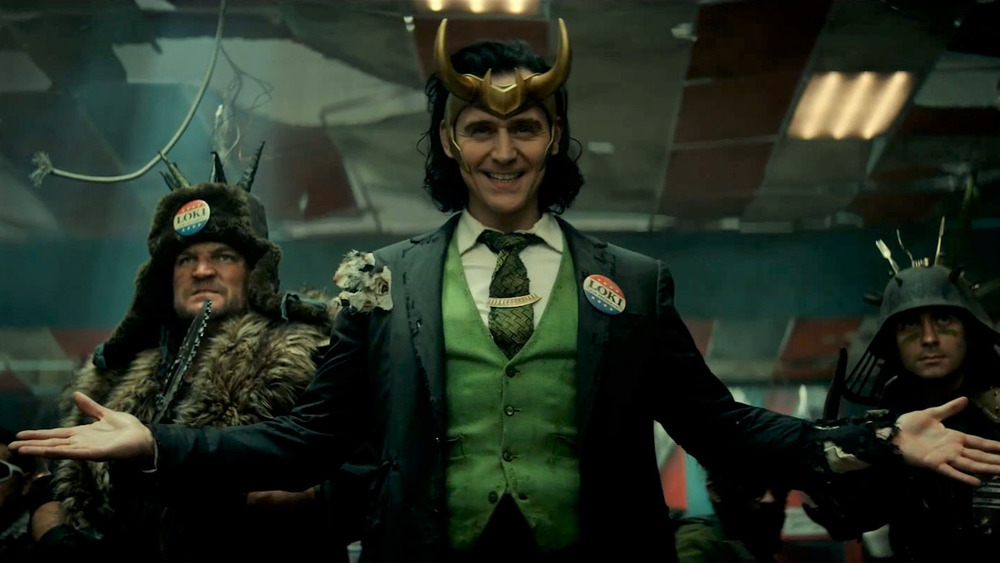 Of all the villainous characters to emerge from the early years of the Marvel Cinematic Universe, Tom Hiddleston's Loki always seemed like the one who'd be most capable of carrying his own side story someday. Now, that's finally coming to fruition in the form of a new Disney+ miniseries, simply titled Loki.
Hiddleston returns to the MCU as the version of the Asgardian trickster god who vanished in the midst of Avengers: Endgame after stealing the Tesseract when it fell to the floor in 2012. That act of theft, and Loki's subsequent disappearance, creating the potential for an alternate timeline that would allow the 2012 version of Loki to thrive even after the 2018 Loki (who died in Avengers: Infinity War) was gone. Unfortunately for Loki, these crosstime voyages also attract the attention of the Time Variance Authority, a police force within the MCU dedicated to stopping timeline deviances, and therefore trying to manage Loki's mischief.
Also starring Owen Wilson, Gugu Mbatha-Raw, Sasha Lane, and Wunmi Mosaku, Loki arrives in May of 2021.
What If…?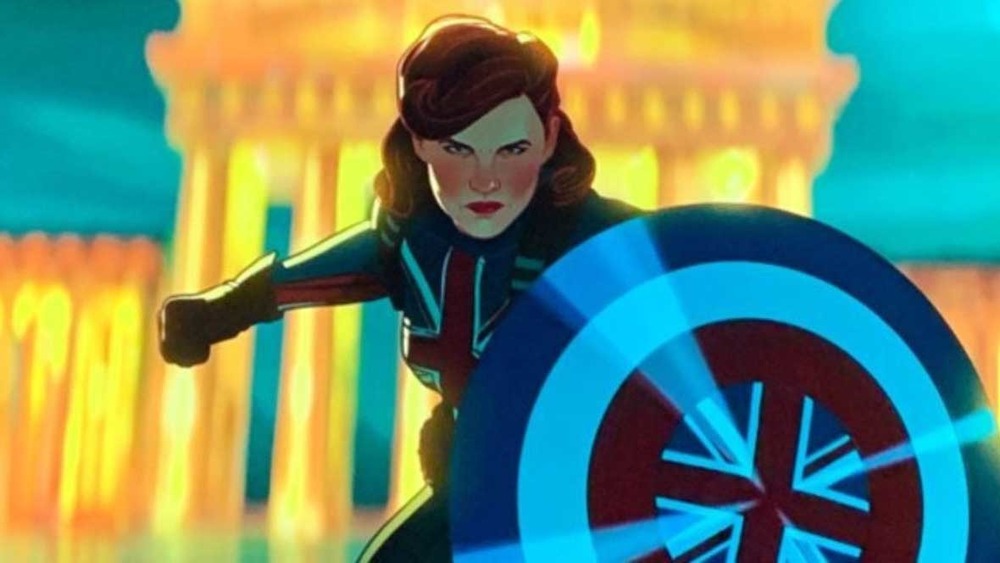 Marvel Comics has a long and thoroughly entertaining tradition of exploring alternate timelines, whether for lengthy forays into different futures or brief diversions into a hilarious mix-up of tropes. Now, the Marvel Cinematic Universe will finally get in on that game with What if…?, a new animated series based on the comic of the same name that will explore what might have been had the events of the MCU played out just a little bit differently. For example, what if the Super Soldier Serum had been given not to Steve Rogers…but to Peggy Carter?
What if…? will star Jeffrey Wright as Marvel mainstay The Watcher, who will guide viewers through a variety of what-if scenarios within the MCU that will also include familiar voices returning to play their live-action characters. The announced cast for the series already includes Hayley Atwell as Peggy Carter, Dominic Cooper as Howard Stark, Josh Brolin as Thanos, Karen Gillan as Nebula, and Chadwick Boseman in his final performance as T'Challa, the Black Panther.
What If…? is set to hit Disney+ in summer 2021.
Ms. Marvel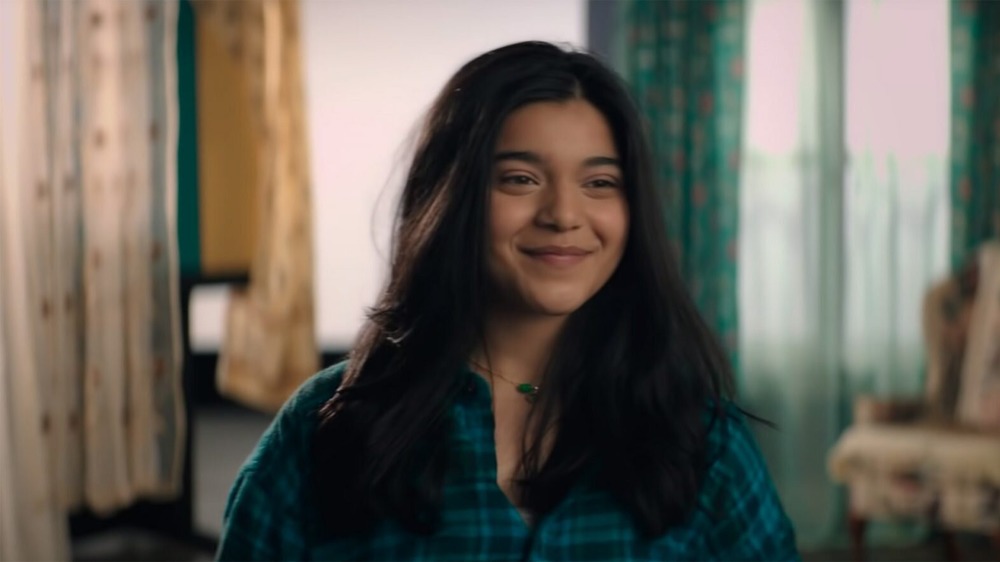 In 2018, Marvel Studios introduced Carol Danvers (Brie Larson) as Captain Marvel, and while she's only been in a couple of films so far we're already seeing just how big her impact on the MCU will eventually be. In the comics, Captain Marvel's prominence is so great that she actually inspires one young fan who follows in her footsteps to take up her old mantle of Ms. Marvel, and in 2021 that young hero will make her live-action debut in her own Disney+ series.
Ms. Marvel will star Iman Vellani as Kamala Khan, a young Pakistani-American girl who loves superheroes with boundless enthusiasm but struggles to fit in both at home and at school. Then, when a strange occurrence means she gets superpowers of her very own, Kamala finally sees an opportunity to join the superhero community she's dreamed of being closer to for so long — but superpowers aren't as fun and easy as they seem.
The new series will introduced Kamala to the world ahead of her big-screen debut in Captain Marvel 2, and arrives on Disney+ in late 2021.
Hawkeye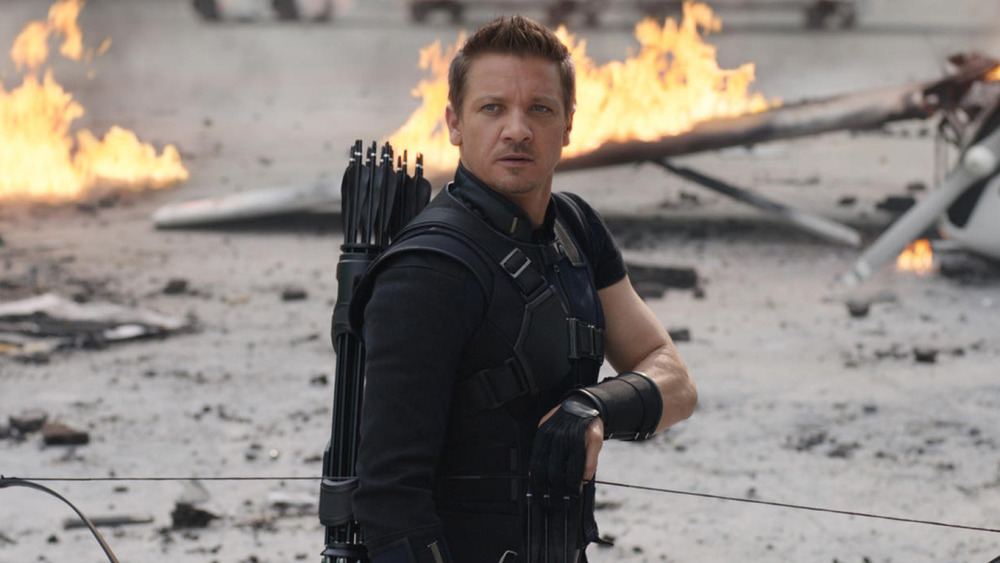 Though he was often set aside and even mocked as the human Avenger with no real superpowers other than being able to aim really well, there was always more to Clint Barton's story than just being a B-player on the world's greatest superteam. Later in 2021, we'll finally get to see that side of the story in Hawkeye, a new Disney+ series that looks heavily inspired by the Hawkeye comic book series by Matt Fraction, David Aja, and Annie Wu.
Though plot details are scarce, we now know that his new series will team Barton with another famous Marvel archer who goes by the Hawkeye codename, Kate Bishop, who'll be played by Bumblebee star Hailee Steinfeld. Kate's involvement is significant not just because it helps to push Clint's story forward, but because it offers yet more signs that Marvel is prepping a new generation of heroes for a team-up of their own.
Hawkeye also stars Vera Farmiga, Fra Fee, Zahn McClarnon, Brian d'Arcy James, and more. It arrives on Disney+ in late 2021.
Raya and the Last Dragon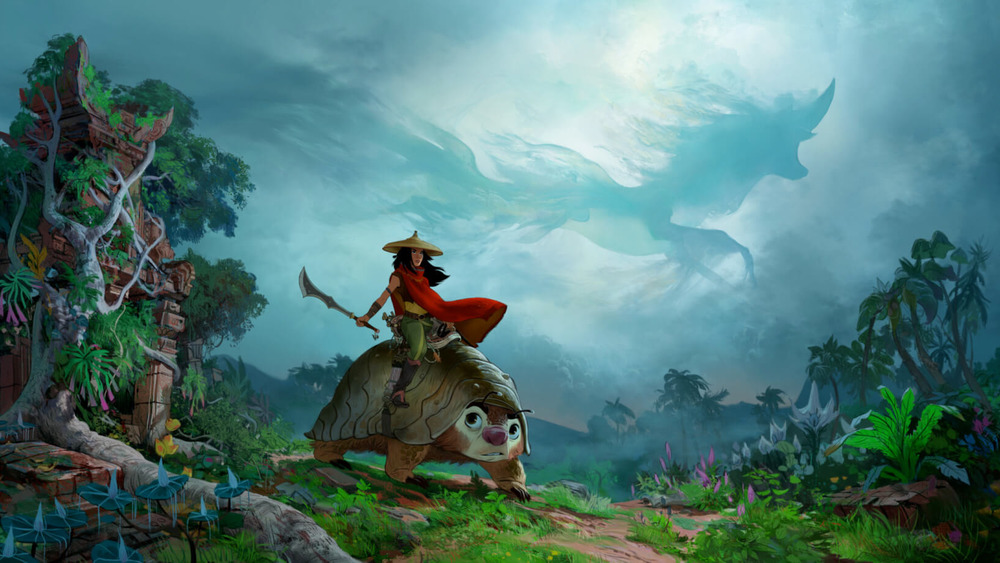 Though Frozen II blew up the box office in 2019, 2020 came and went without a new original movie from Walt Disney Animation Studios. Thankfully, 2021 won't continue that drought, as March of this year brings the release of the 59th animated feature from the studio, Raya and the Last Dragon.
Set in the fictional world of Kumandra, a land heavily inspired by various Southeast Asian cultures, the film follows the warrior princess Raya (Star Wars' Kelly Marie Tran) as she attempts to track down the last dragon (voiced by Awkwafina) living in a world where they've long since been wiped out, so that she can save her homeland from a group of monsters.
Raya and the Last Dragon was originally set for a theatrical release in the fall of 2020, approximately one year after Frozen II. Sadly, the COVID-19 pandemic meant that Disney held back its release until 2021. In December of 2020, during Disney's Investor Day presentation, the company announced that Raya and the Last Dragon will now be simultaneously released in theaters and on Disney+ on March 5, 2021.
More new series from Pixar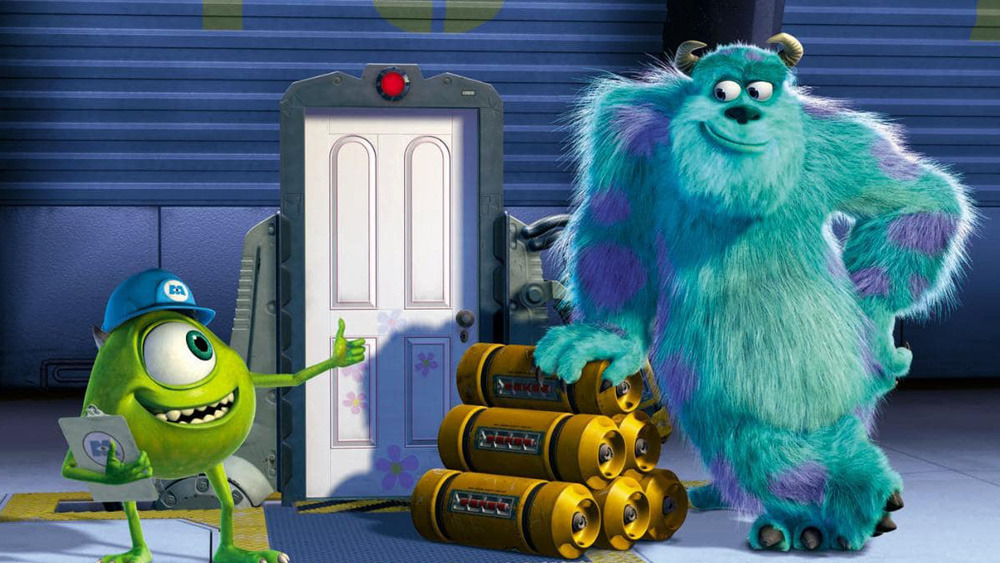 Though they've already had something of a presence on the streaming service, 2021 will be the year that Pixar Animation Studios really steps up its Disney+ game with the arrival of three new series to join things like SparkShorts and Forky Asks a Question.
The new offerings kick off January 22 with the debut of Pixar Popcorn, a new series of "bite-sized" short films starring fan-favorite characters from various Pixar movies. Later in 2021 we'll finally get the arrival of Monsters at Work, the Monsters Inc. sequel series that follows a new monster character as he tries to get close to the likes of Sulley (John Goodman) and Mike (Billy Crystal) in the new era of Monsters Inc. That series was announced all the way back in 2017, so it's been a long time coming.
Later in the year, on a still-unspecified release date, we'll also see the launch of Dug Days, a new series focusing on the life and adventures of the adorable fan-favorite dog from Up, Dug. All three mark major leaps into streaming territory for Pixar, something that's likely to only grow in years to come.
A new Star Wars series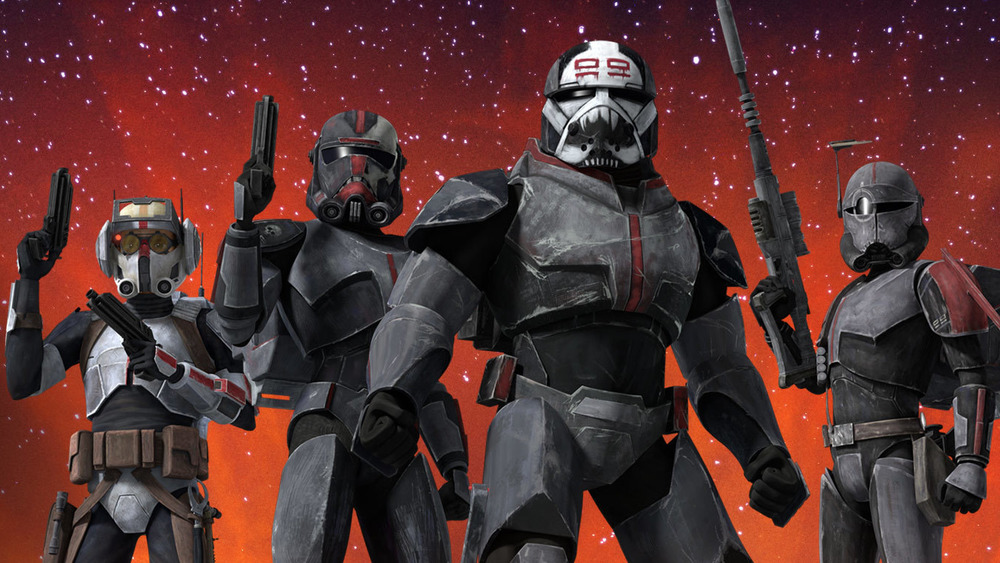 There are a great many Star Wars projects developing for the small screen at the moment, but many of them will have to wait until 2022 or later to see the light of day. In the meantime, The Clone Wars might have finally wrapped up its run in 2020, but two new major pieces of Star Wars animation are making their way to Disney+ in 2021.
The biggest of these is The Bad Batch, a new animated series that serves as a Clone Wars follow-up. It focuses on the title "batch" of Clone Troopers, a group of elite clones with various mutations that give them special abilities and make them an ideal mercenary squadron in the aftermath of the Clone Wars. Clone Wars veteran Dee Bradley Baker and The Mandalorian co-star Ming-Na Wen are expected to provide voices for the series.
Then there's Star Wars: Visions, a new 10-episode anthology series that promises to change the way we see Star Wars by framing a galaxy far, far away through the lens of some of the world's greatest anime creators.
Neither series has a firm release date yet, but it seems we can expect The Bad Batch to arrive earlier in 2021 than Visions.
The Book of Boba Fett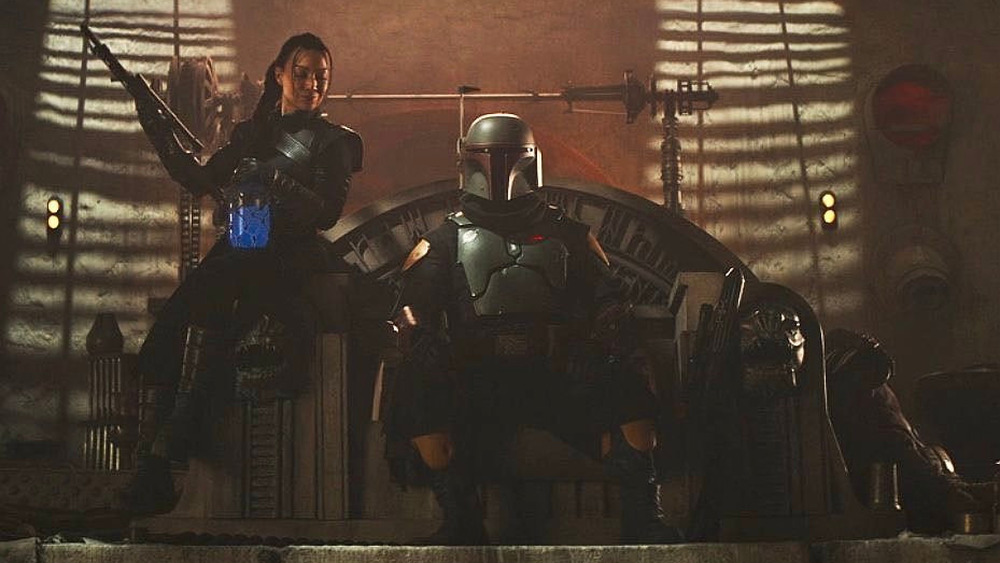 During Disney's Investor Day presentation in December of 2020, Lucasfilm rolled out a bevy of announcements ranging from animated series to upcoming feature films, and by the end it seemed like there couldn't possibly be any more Star Wars surprises for quite some time. Then, days later, the season 2 finale of The Mandalorian arrived on Disney+ and proved that very wrong.
As the season ended, creator Jon Favreau unveiled a teaser for an all-new story from the world of the show titled The Book of Boba Fett. The series, which will be executive produced by Favreau, Dave Filoni, and Robert Rodriguez, will follow the title bounty hunter (Temuera Morrison) and his cohort Fennec Shand (Ming-Na Wen) as they set up a new life of power on Tatooine after the events of The Mandalorian season 2. Favreau later confirmed that the series will arrive before season 3 of The Mandalorian, which means we can expect it in late 2021.
The Mighty Ducks: Game Changers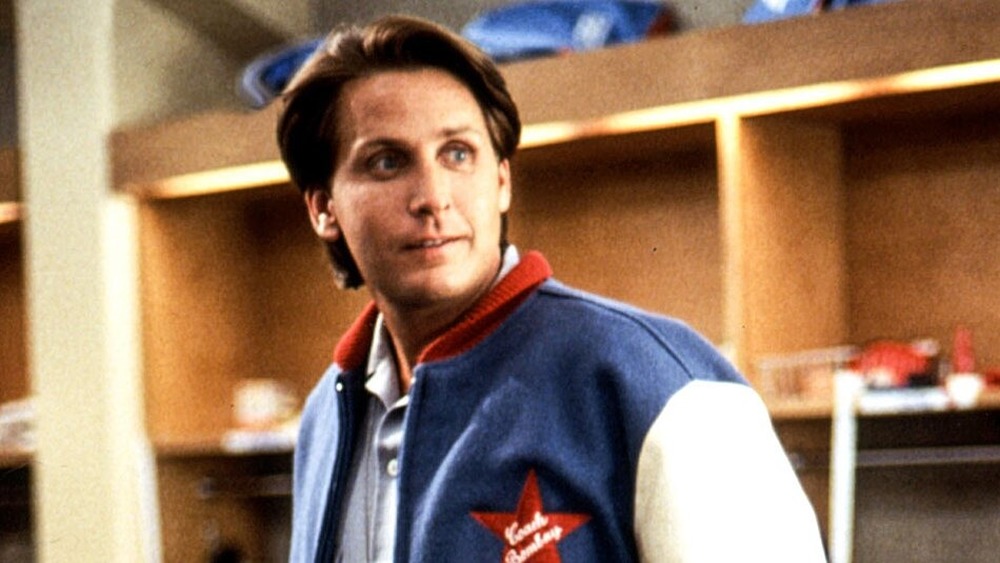 If there's one thing Disney is very good at, it's milking our nostalgia for all its worth, but some of those nostalgia-mining projects generate more excitement than others. One that's generating quite a bit of excitement since its announcement is The Mighty Ducks: Game Changers, a new Disney+ series that serves as a sequel to the popular film franchise of the same name.
The series will follow a young hockey player (Brady Noon) who gets booted from The Mighty Ducks junior hockey franchise and tries to form of a team of his own. In an effort to help him through it, the boy's mother (Lauren Graham) reaches out to the original Mighty Ducks coach, Gordon Bombay (Emilio Estevez, reprising his role). The series is expected to arrive sometime in the early months of 2021, presenting all manner of opportunities for callbacks, reunions, and expansions of the Mighty Ducks story that began as the tale of a former hockey great just trying to do some community service.
More from Disney+ in 2021
The projects listed above are among the biggest things hitting Disney+ in 2021, but they're far from the only things. Although 2020 brought a significant expansion of its offerings, the streaming service is set to positively explode with new content in 2021. Here's just a sampling of the new stuff we can expect:
On tap are new Disney original movies Flora & Ulysses (February 19) and Sneakerella (late 2021), sequel series The Proud Family: Louder and Prouder and Night at the Museum: Kahmunrah Rises Again, plus reboots Turner & Hooch, Doogie Kameāloha, M.D., and Diary of a Wimpy Kid. Other projects include The Mysterious Benedict Society, Big Shot, second seasons of Earth to Ned, The World According to Jeff Goldblum, High School Musical: The Musical: The Series, and Diary of Future President, numerous National Geographic documentary series, and an eight-episode series inspired by R.L. Stine's comic book series Just Beyond, for the all-ages horror lover in your life. It's a year full of new streaming content at the House of Mouse.