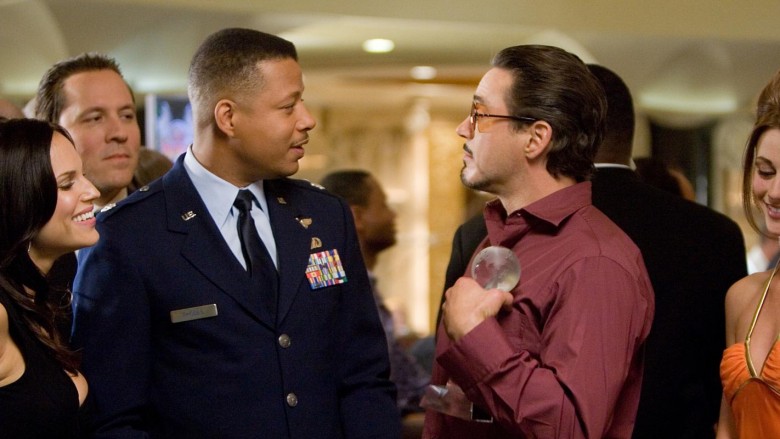 It seems every job has at least one—the annoying coworker that everybody in the office avoids like the plague. Perhaps they like to play "pranks" that only they find hilarious, or they steal lunches out of the communal refrigerator, or maybe they like to show off for management at every possible opportunity by stealing credit for other people's work. In a lot of ways, it often turns out that working in Hollywood is just like any other job, and unfortunately, this is just one more. Over the years, some celebrities have earned a serious reputation among their co-stars—so much so that other actors don't ever want to work with them again. From simple personality conflicts to deranged name-calling and everything in between, let's take a look at some of the most infamous co-star beefs, and how they got started. These are actors who all flat out refused to work together.
Jim Carrey and Tommy Lee Jones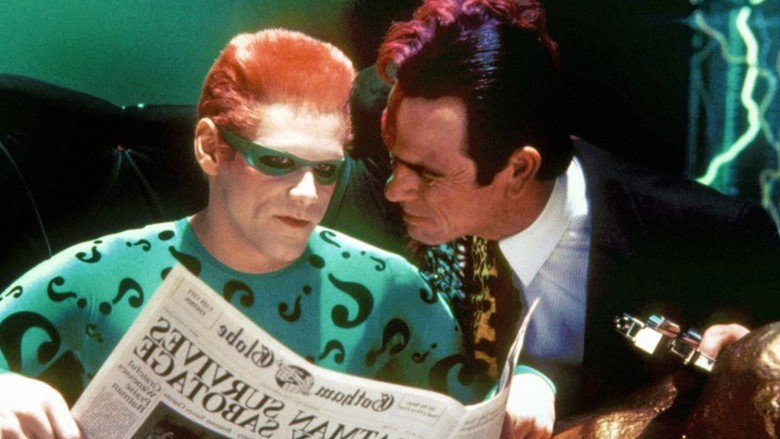 When Jim Carrey starred as the Riddler in Batman Forever, he was at the height of his more "comedic" career in film. His co-star Tommy Lee Jones—who played Harvey Dent—was definitely not a fan of Carrey's slapstick style. Director Joel Schumacher confirmed that Jones had an attitude on the set, telling Entertainment Weekly in 1996, "Jim Carrey was a gentleman, and Tommy Lee was threatened by him. I'm tired of defending overpaid, over-privileged actors."
The night before filming a scene together, Carrey and Jones ran into each other at a restaurant. When Carrey approached Jones' table to say hello, he didn't get quite the greeting he expected. "He got up, kind of shaking, and hugged me and said, 'I hate you. I really don't like you,'" Carrey told Howard Stern. "And I was like, 'Wow. What's going on man?' And he said, 'I cannot sanction your buffoonery.'" We're going to save that line for the next time we need to tell some kids to get off of our lawn.
Julia Roberts and Nick Nolte
In 1994, Nick Nolte and Julia Roberts starred together in the romantic comedy I Love Trouble. The two didn't mesh well on the set, and their lack of chemistry definitely shows onscreen. Reportedly, the constant quarreling got so bad that director Charles Shyer resorted to filming some of their scenes separately to keep them apart as much as possible.
While filming I Love Trouble, Roberts told the New York Times that Nolte is "completely disgusting," and that he "seems go out of his way to repel people." Nolte later shot back, "It's not nice to call someone 'disgusting.' But she's not a nice person. Everyone knows that." The off-screen feud wasn't forgotten in 2009, when Roberts appeared on The Late Show and gave a profanity-laden impression of a former co-star—which turned out to be Nolte.
James Franco and Tyrese Gibson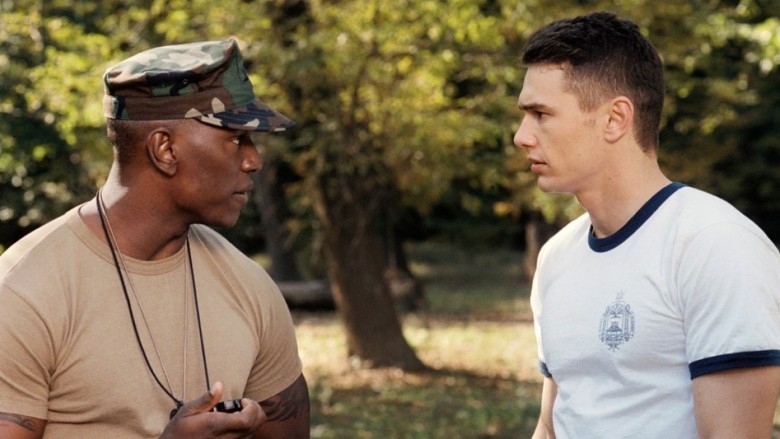 Much of the 2006 military drama Annapolis centers around a planned boxing tournament for the recruits and officers of the U.S. Naval Academy. But when star James Franco took method acting a bit too far, things soon turned ugly between him and co-star Tyrese Gibson. According to Gibson, Franco would actually land his punches as they rehearsed the boxing scenes. "The dude was full-on hitting me," Gibson told Elle. "I was always like, 'James, lighten up, man. We're just practicing.' He never lightened up."
For his part, Franco denies ever hitting Gibson, but admitted to GQ that "I was probably a jerk." The admission wasn't good enough for Gibson, who told Playboy in 2007, "I never want to work with him again, and I'm sure he feels the same way. It felt very personal. It was f—ed up."
Will Smith and Janet Hubert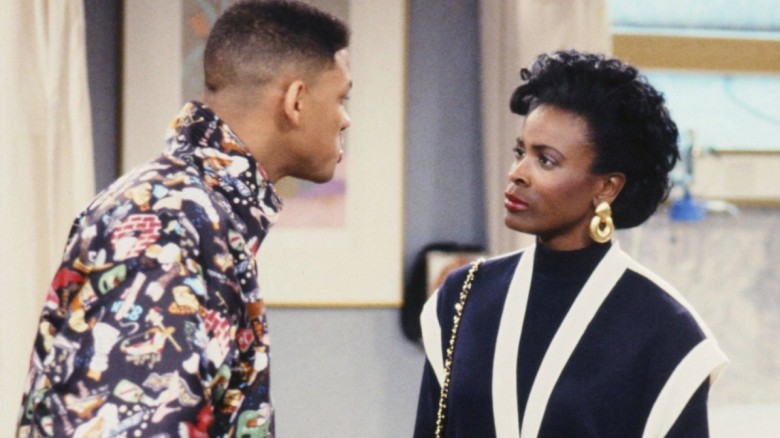 If you're a dedicated Fresh Prince of Bel-Air fan, you're probably aware that the actress who played Aunt Vivian was replaced halfway through the series, but you might not know why. Janet Hubert portrayed Aunt Viv on the show until 1993, when she was replaced with Daphne Reid, who continued in the role until Fresh Prince ended its run in 1996.
According to accounts from show insiders and even Hubert herself, Smith and his other younger co-stars were needlessly cruel to her on the set. "some heinous, horrible things to me—they were like bad kids, Will and Alfonso [Ribeiro]." For his part, Smith knocked down Hubert's allegations in a 1993 interview with an Atlanta radio station, claiming she had a bad attitude while filming and adding, "No matter what, to her I'm just the Antichrist." In 2011, Hubert fired back, even going so far as to tell TMZ that she'd never work with Smith again. "There will never be a reunion … as I will never do anything with an a**hole like Will Smith," she ranted. "He is still an egomaniac and has not grown up."
Shannen Doherty and everyone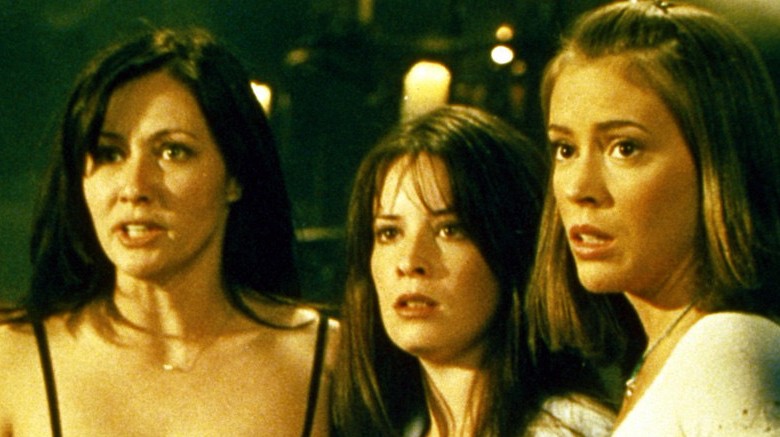 Shannen Doherty has something of a history when it comes to on-set feuds with her female co-stars. She reportedly nearly came to blows with her Beverly Hills 90210 castmate Jennie Garth. Fellow 90210 vet Tori Spelling revealed in a 2015 Lifetime special that she got her father Aaron Spelling (who produced the show) to fire Doherty from the teen drama.
Four years later, Doherty and castmate Alyssa Milano developed a real beef on the set of another Aaron Spelling production, Charmed. According to Milano, "there were definitely some rough days," and "it was very much sort of like high school." A source inside the show told TV Guide in 2001 that "it eventually became clear that [either Doherty or Milano] had to go." Over a decade has passed since Doherty's departure from Charmed, and it seems she and Milano have finally buried the hatchet: Milano reached out to Doherty in 2016 after her former co-star was diagnosed with breast cancer, and the two are now friendly again.
Richard Gere and Sylvester Stallone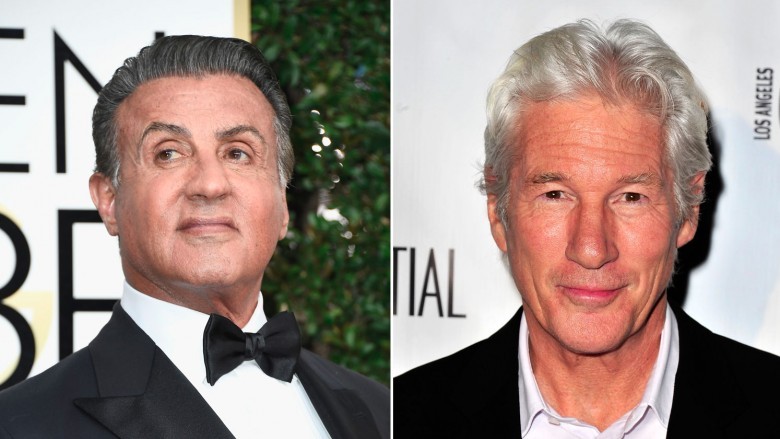 For years, there's been an apparent behind-the-scenes feud between Richard Gere and Sylvester Stallone. Stallone finally explained the beef between the actors during a 2006 Q&A session with Ain't It Cool News, saying Gere had originally been cast as lead character Chico in the 1974 coming-of-age drama The Lords of Flatbush. Unfortunately, Gere and Stallone clashed immediately during filming, and Gere was replaced by Perry King.
Stallone recalls Gere being a complete jerk on the set, including getting too rough during fight rehearsals and spilling greasy food all over Stallone's pants: "The director had to make a choice: one of us had to go, one of us had to stay. Richard was given his walking papers and to this day seriously dislikes me. He even thinks I'm the individual responsible for the gerbil rumor. Not true… but that's the rumor."
Robert Downey Jr. and Terrence Howard
Terrence Howard isn't shy about talking about his falling out with Iron Man co-star Robert Downey Jr. In 2013, Howard appeared on Bravo's Watch What Happens Live, and claimed that while the studio had initially signed him to a three-movie deal, "they came to me with the second and said 'Look, we will pay you one-eighth of what we contractually had for you, because we think the second one will be successful with or without you." He went on to put the blame firmly on Downey's shoulders: "I called my friend, that I helped get the first job, and he didn't call me back for three months." It would take another three years for the pair to finally patch up their differences, when they reunited at the 2016 wedding of director Brian Grazer.
Kevin Smith and Bruce Willis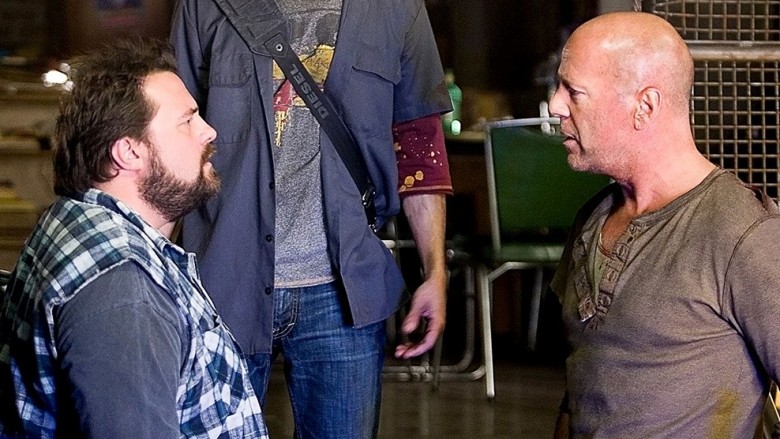 While Kevin Smith and Bruce Willis had no issues acting together on the set of Live Free or Die Hard, the two had a very uneasy working relationship on the set of the 2010 police comedy Cop Out, in which Willis starred and Smith directed. Prior to working together on the underwhelming buddy-cop film, Smith had greatly admired the Die Hard superstar and actually took a massive pay cut in order to work with Willis. Unfortunately, superstars sometimes come along with super egos.
Smith later described the Cop Out directing experience with Willis as "soul-crushing" and credits Willis' co-star Tracy Morgan with helping him get through filming: "Were it not for Tracy, I might've killed myself or someone else in the making of that movie." In his 2012 memoir Tough Sh*t, Smith goes into more detail, saying Willis "turned out to be the unhappiest, most bitter, and meanest emo-b*tch I've ever met at any job I've held down. And mind you, I've worked at Domino's Pizza." Ouch.
Wesley Snipes and Ryan Reynolds
Reading Patton Oswalt's account of his time on the set of 2004's Blade Trinity is far more interesting than watching the movie itself. Unlike the first two films in the trilogy, Trinity was a critical and commercial letdown. According to Oswalt, director David S. Goyer shouldn't be blamed for the way the movie turned out, as he spent half of his time dealing with the erratic behavior of leading man Wesley Snipes.
"Wesley was just f****** crazy in a hilarious way," the actor and comedian told A.V. Club. "He wouldn't come out of his trailer, and he would smoke weed all day." Oswalt claimed Snipes "tried to strangle the director" at one point, which led to Goyer hiring a bunch of bikers as bodyguards. "And that freaked Wesley out so much that, for the rest of the production, he would only communicate with the director through Post-It notes. And he would sign each Post-It note 'From Blade.'"
It wasn't just Goyer that Snipes clashed with, however. The mercurial action star also didn't get along with co-star Ryan Reynolds, apparently refusing to even call him by his name. "He refers to Ryan Reynolds as 'that cracker,'" one executive crew member told writer Chris Parry on condition of anonymity. "'Tell that cracker to get out of my eyeline,' and 'tell that cracker to get his lines right.'" Reynolds laughed when he was asked if he would ever consider reuniting with Snipes for a fourth Blade movie, answering with an emphatic "no."
Tom Sizemore and Val Kilmer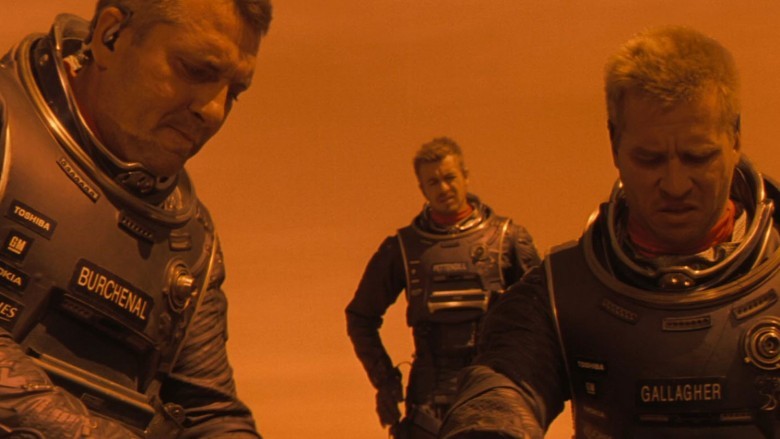 Throughout the '90s, Tom Sizemore's star was on a meteoric rise in Hollywood, particularly due to his roles in great dramatic films like 1995's Heat, alongside Val Kilmer. But when Kilmer and Sizemore reunited five years later on the set of Red Planet, things weren't so rosy. Reportedly, Kilmer was upset when he learned that the production had paid to ship Sizemore's exercise equipment to Australia, where filming was taking place.
According to Sizemore's memoir By Some Miracle I Made It Out of There, a shouting match erupted which escalated into Tom throwing a 50-pound weight at Kilmer (he missed). Later, a producer asked Sizemore to avoid hitting Kilmer in the face when they got into their next knock-down drag-out fight. Tom complied, dutifully slugging Kilmer in the chest and telling him, "I'm never going to another planet with you again." Time heals all wounds, however: the two former co-stars had finally buried the hatchet as of 2014.
Julianna Margulies & Archie Panjabi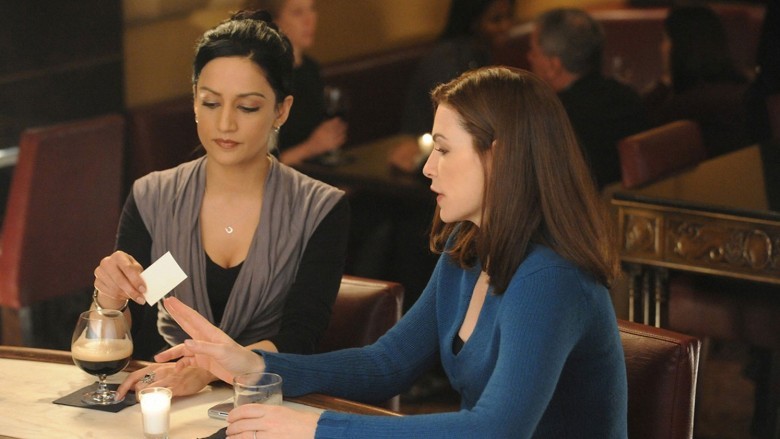 On the set of The Good Wife, an ongoing feud between stars Julianna Margulies and Archie Panjabi caused tension for years before Panjabi left the show. While the characters the two women played were once very good friends, the actresses notoriously were not. The pair actually were never filmed together for a whopping 51 episodes, and most on-screen communication between their characters took place over the phone. When Panjabi left the show, she and Margulies finally had a scene together—one where the two actresses filmed their parts of the scene separately and then were stitched together using the power of green screen and CGI. If you can't even stand to be in the same room as a coworker, it may be time to follow Panjabi's lead and find a new job.
William Shatner and George Takei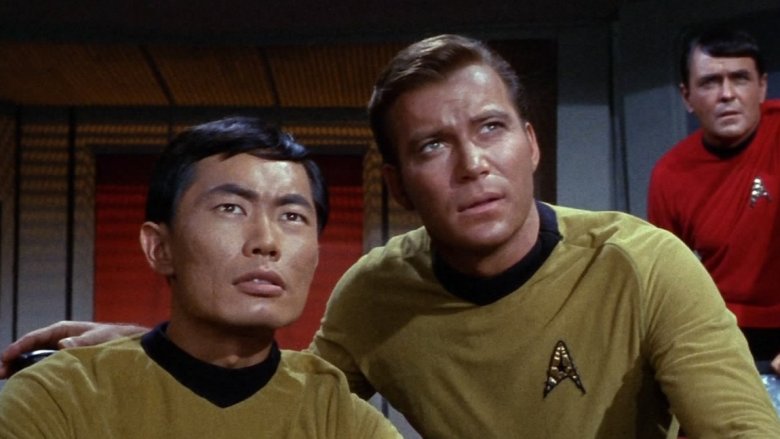 The decade-spanning feud between William Shatner and George Takei started on the set of the original Star Trek series (1966-1969), where they apparently clashed over close-ups. Shatner (Captain Kirk) was "not a team player" according to Takei (Sulu), but the man at the helm of the USS Enterprise claims he barely even knew his lieutenant, and has even questioned Takei's mental health.
"There's such a sickness there, it's so painfully obvious that there's a psychosis there," Shatner said. "I don't know what his original thing about me was, I have no idea… I literally don't know him. I didn't know him very well on the series. He'd come in for a day or two, as evidenced by the role he played."
Takei claims to know Shatner better than he'd care to admit, however. During his weeklong stint as a guest on The Howard Stern Show (via TrekMovie), Takei told the DJ that the "self-centered" Shatner refused to join him and other former Star Trek cast members on stage for the ailing James Doohan's (Scotty) last-ever convention appearance, reportedly calling it "Alzheimer's crap."
"[A] monstrous statement," Takei said of Shatner's choice of words. "It was not surprising, but yes, shocking. This is the usual thing that happens on the set, whether it was the TV series or the movies, or at conventions. This was another convention where he decided he was not going to do what they wanted him to do, and he walked out." Doohan passed away in 2005.
Tony Curtis and Marilyn Monroe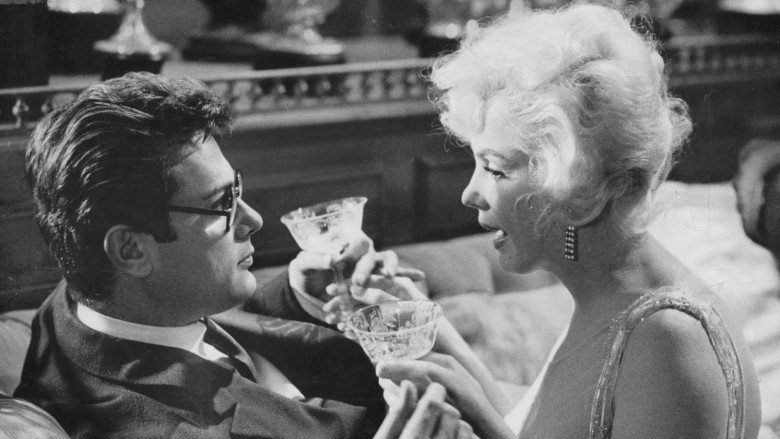 While today it's considered to be one of the greatest comedies of all time, the filming of Some Like it Hot was not a barrel of laughs for the cast, particularly for Marilyn Monroe and Tony Curtis. Reportedly, Monroe was notorious for causing issues on the set, costing the production time and fistfuls money because of her erratic behavior. Curtis apparently reached his limit after having to re-film a kissing scene. When early cuts of the film were screened for the cast and crew, someone asked Curtis what it was like to kiss Monroe, to which Tony glibly replied, "[it was] like kissing Hitler!"
Bette Davis and Joan Crawford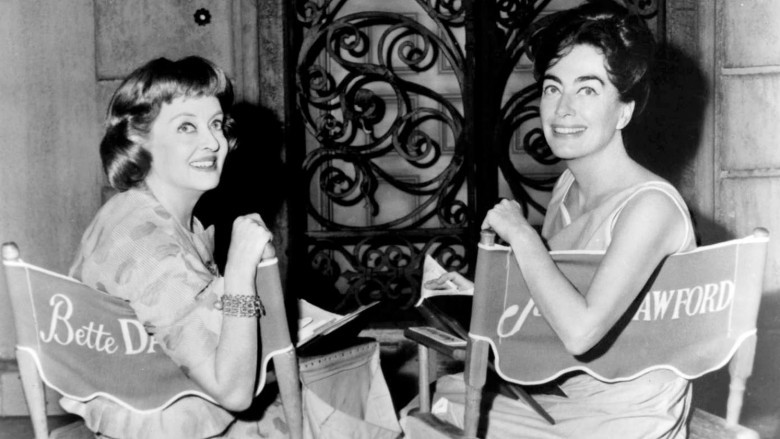 It was one of the most famous Hollywood rivalries of all time—so much so that FX even developed a series centered on the feud, with Jessica Lange as Joan Crawford and Susan Sarandon playing Bette Davis. These two queens of the silver screen had it in for each other as early as the 1930s, when Davis starred in the film Dangerous alongside Franchot Tone. Davis was soon smitten with the handsome actor, but Crawford won that round, marrying Tone soon after the movie wrapped production. Later, Davis famously remarked that "[Crawford] slept with every male star at MGM except Lassie."
The rivalry came to a fever pitch in the 1960s, when Davis and Crawford co-starred in Whatever Happened to Baby Jane?, a psychological thriller about two aging antagonistic sisters—a perfect backdrop for their real-life hatred. When only Davis was nominated for an Oscar for her role in the film, Crawford was livid. She campaigned against Davis and managed to steal the limelight for herself—when she accepted the Oscar on behalf of eventual winner Anne Bancroft, who was unable to attend the ceremony. Producer William Frye recalled Davis' reaction at an Oscars after-party. Davis filled a glass with scotch all the way to the rim, telling Frye it was for Crawford. When Frye told her that Crawford drank vodka, and not scotch, Davis replied, "I don't care what she drinks. This is going into her f—ing face." Yowza.
Robert De Niro and Mickey Rourke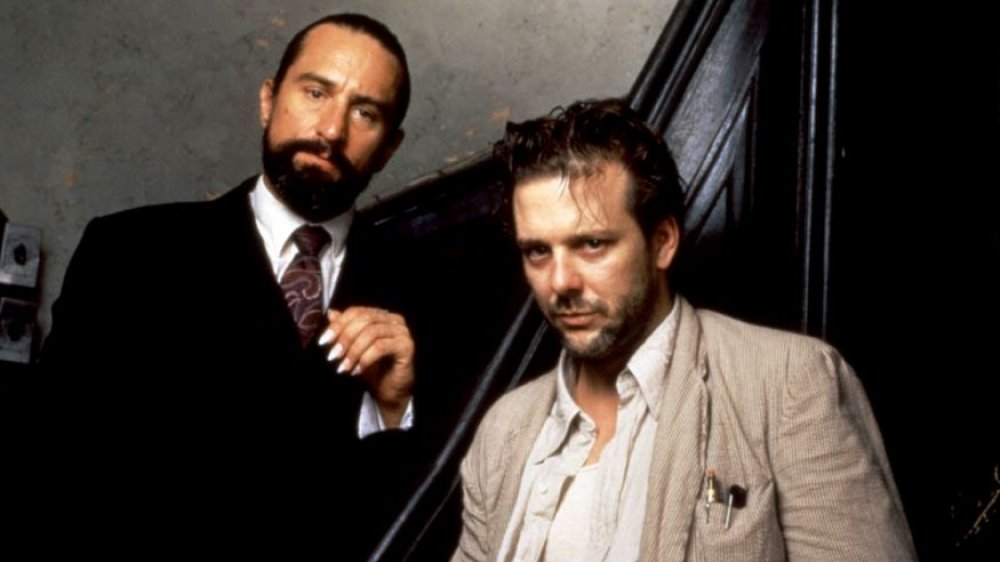 Martin Scorsese's crime epic The Irishman was a grand reunion of Hollywood legends, but Mickey Rourke wasn't invited. According to the actor, he was in line for a part in the film until one of the stars stepped in and put the blocks on it. "Marty Scorsese, great director, he wanted to meet me for a movie with Al Pacino, Joe Pesci, Chris Walken and Robert De Niro," Rourke told Italian TV show Live – Non è la D'Urso (via PageSix). "The casting person told my manager that Robert De Niro said he refused to work with me in a movie." Rourke added that he was "broke" at the time, which made the rejection sting all the more.
The Sin City star claims that his problems with De Niro began in 1987 when they appeared opposite one another in the psychological horror movie Angel Heart. Rourke grew up idolizing De Niro, but his opinion changed drastically after he introduced himself on set. "About five minutes later, [De Niro] comes over," Rourke recalled. "He said, 'I think it's better if we don't talk because of [our] characters in the movie. It's better if we don't say hello, talk or anything.' It hurt my feelings a little bit, 'cause I looked up to him." Producers denied his claims in a statement, saying: "Mickey Rourke was never asked to be in The Irishman nor was he ever even thought of, discussed or considered to be in the movie."
Leonardo DiCaprio and Mark Wahlberg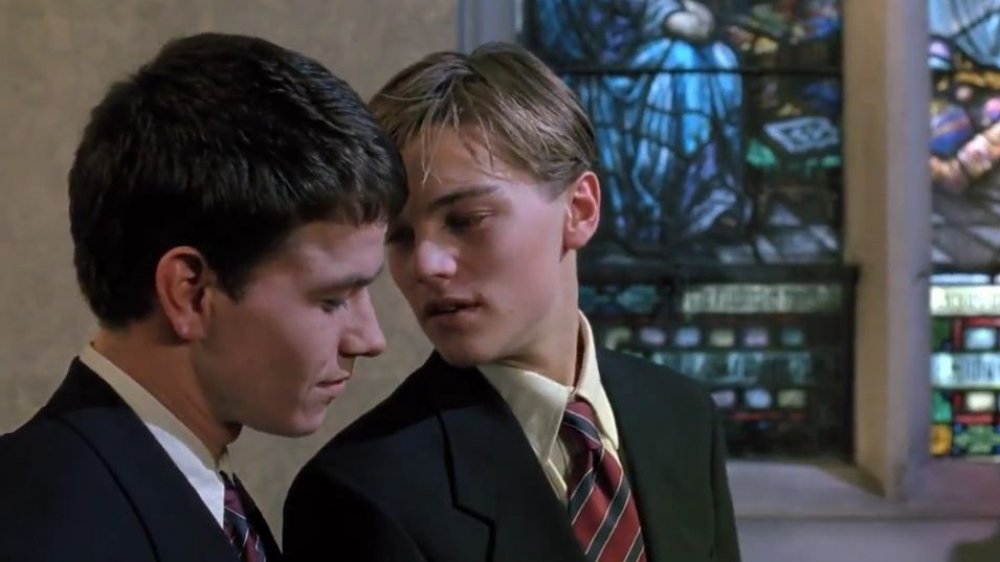 Long before they appeared alongside each other in Martin Scorsese's Best Picture winner The Departed, Leonardo DiCaprio and Mark Wahlberg were castmates on a controversial high school crime drama named The Basketball Diaries. At the time, Wahlberg was better known as Marky Mark, Calvin Klein-modeling rapper and frontman of Marky Mark and the Funky Bunch. Nobody really took him seriously in Hollywood, and when DiCaprio discovered that Marky Mark was being considered for one of his associates in The Basketball Diaries, he apparently freaked out.
"Leonardo was like, 'Over my dead f****** body, Marky Mark's not going to be in this f****** movie,'" Wahlberg said during an interview with The Hollywood Reporter, revealing that their one-time beef was entirely his doing. "I was a bit of a d*** to him at a charity basketball game. So he was like, 'This f****** a**hole is not going to be in this movie.'" According to Wahlberg, he and DiCaprio both had "a specific opinion about each other" prior to meeting, but that all went out of the window as soon as they got to work. "Once I finally got to the point where I was able to audition and read with him, then we just both kinda looked at each other, we were like, 'Wow!'" Wahlberg told Extra. "We were literally out that night and we became fast friends."
Ryan Gosling and Rachel McAdams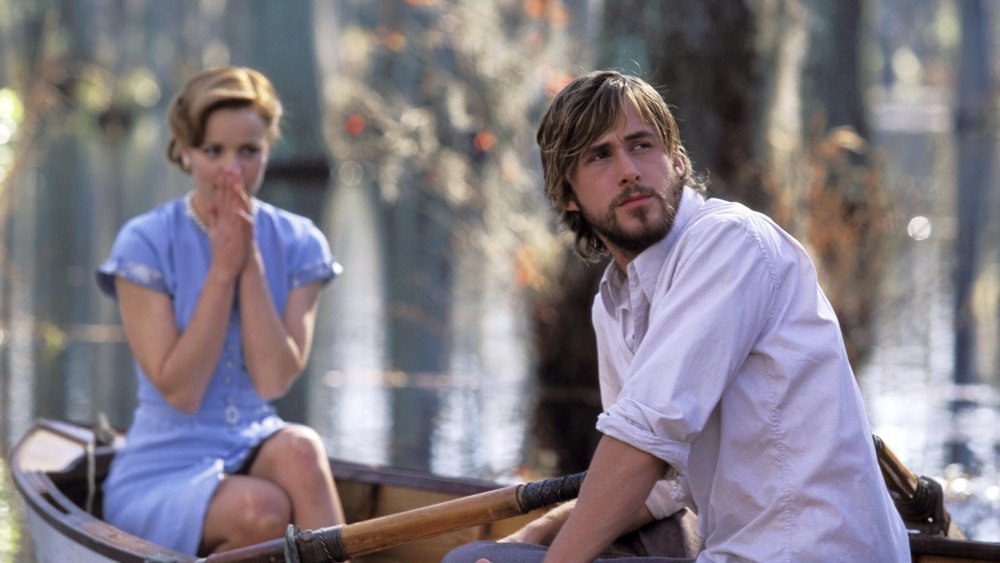 Many critics found 2004's The Notebook a little too clumsy and cliché-ridden, but audiences fell hard for Nick Cassavetes' romantic drama. According to the director, the drama sometimes continued after he yelled cut, with co-stars Rachel McAdams and Ryan Gosling clashing in front of the crew. "Maybe I'm not supposed to tell this story, but they were really not getting along one day on set — really not," Cassavetes told VH1 (via Entertainment Weekly). "And Ryan came to me, and there's 150 people standing in this big scene, and he says, 'Nick, come here.' And he's doing a scene with Rachel and he says, 'Would you take her out of here and bring in another actress to read off camera with me?' I said, 'What?' He says, 'I can't. I can't do it with her. I'm just not getting anything from this.'"
Producers called a clear-the-air meeting after Gosling refused to shoot the big scene with McAdams, and it got off to a rocky start. "They started screaming and yelling at each other," said Cassavetes, who "walked out" of the room. "They had it out," the director said. "I think Ryan respected her for standing up for her character and Rachel was happy to get that out in the open. The rest of the film wasn't smooth sailing, but it was smoother sailing." The two actors dated for a couple of years after wrapping The Notebook, but their highly-shipped romance didn't stand the test of time.
Dwayne Johnson and Vin Diesel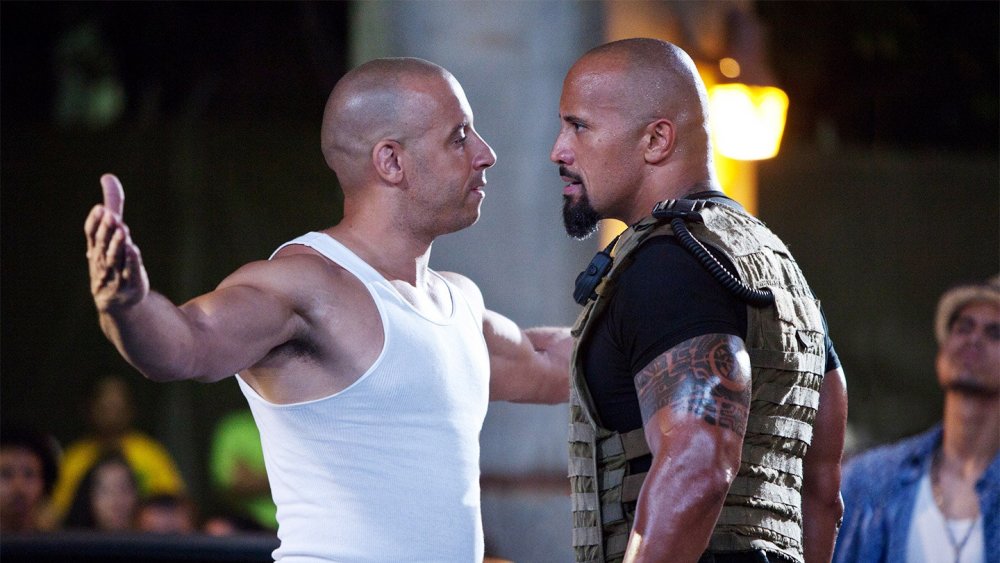 There were rumors that the beef between Vin Diesel and The Fate of the Furious co-star Dwayne Johnson was a promotional ploy when they first started feuding in 2016, but it turned out to be 100 percent genuine. It all kicked off when Johnson took to social media to slam an anonymous co-star during the last week of filming, bemoaning the fact that some "candyass" actors don't know how to "conduct themselves as stand-up men and true professionals" and were "too chickens*** to do anything about it." He didn't mention him by name, but Johnson later confirmed that he was indeed talking about Diesel. The latter was reportedly late to set on a regular basis, which clearly didn't sit well with the Rock.
"Vin and I had a few discussions, including an important face-to-face in my trailer," Johnson later revealed to Rolling Stone. "We have a fundamental difference in philosophies on how we approach moviemaking and collaborating… I wish him all the best, and I harbor no ill will there, just because of the clarity we have. Actually, you can erase that last part about 'no ill will.' We'll just keep it with the clarity." Yikes! When the film came out, some suggested the pair's scenes were shot to hide the fact that they weren't even together on the set. "That is correct," Johnson confirmed to the music mag. "We were not in any scenes together."
Pauley Perette and Mark Harmon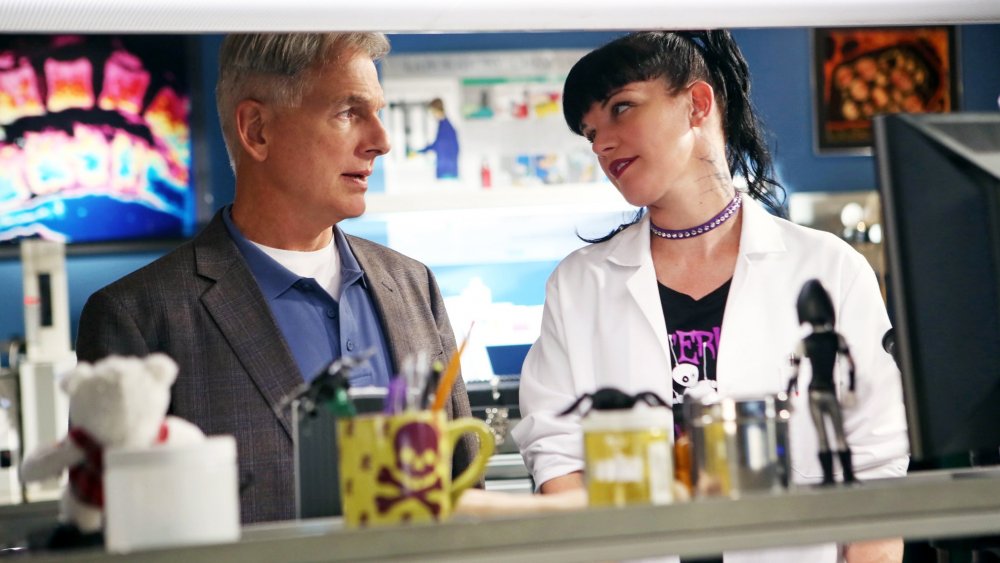 Former NCIS star Pauley Perrette has revealed that she'll never return to the CBS procedural because she's scared of former colleague Mark Harmon. "I am terrified of Harmon and him attacking me," Perrette said. "I have nightmares about it." Perrette played forensic scientist Abby Sciuto on the show for a whopping 15 seasons, making her departure all the more shocking. She didn't go into specifics about why she was so scared of Harmon (Special Agent Leroy Jethro Gibbs), claiming that there was a "very powerful publicity machine" keeping her quiet. She did, however, seem to confirm that she was subjected to violence during her time on the show.
"I've been supporting ant[i]-bullying programs forever," she said. "But now I KNOW because it was ME! If it's school or work, that you're required to go to? It's horrifying. I left. Multiple Physical Assaults. I REALLY get it now." Perrette's cryptic tweets led to a story from 2016 reemerging. Reports suggest that Harmon upset the cast and crew of NCIS by continually bringing his dog to set, despite the fact that it had bitten a crew member. According to Vanity Fair, Perrette was apparently the only one brave enough to call him out over it, and that's where their beef began. The two reportedly started shooting on different days to avoid contact with one another and did not get a face-to-face goodbye in Perrette's final episode, even though Harmon's character was always a father figure to her.