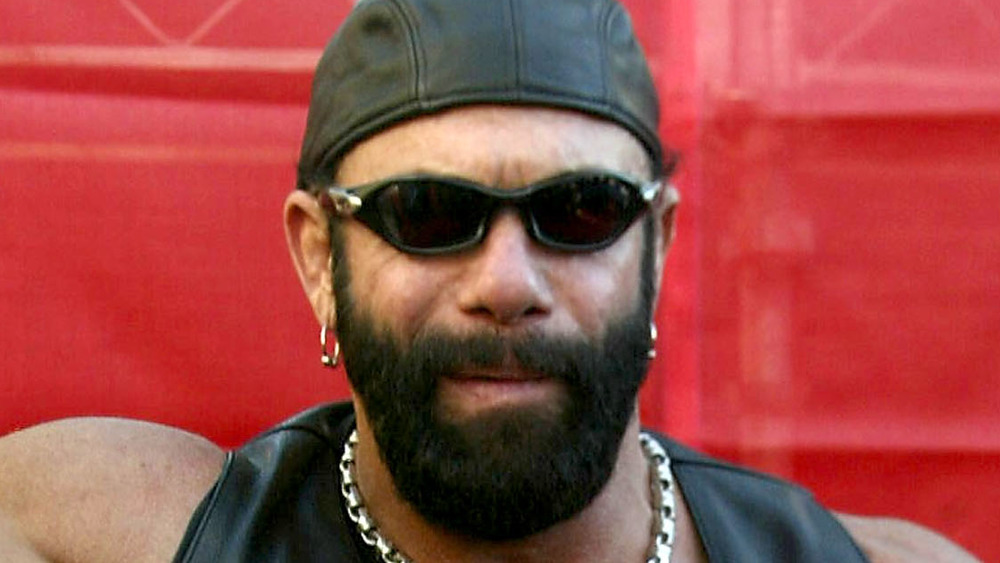 OooooOOOOOOooooooh YEAAAAAAH!
Macho Man Randy Savage barely needs an introduction. One of the most popular wrestlers of all time, still a pop culture icon years after his death, and the voice we all hear in our heads upon seeing a Slim Jim, Mach left a hell of a legacy. As outlandish as he was in the ring, he was very different in his personal life. He was just as passionate, but many recalled a more reserved and paranoid man.
It would be hard to track down everything, but there's lots of documentation out there — some from family members like his brother Lanny Poffo, others from rivals like Hulk Hogan. All together, it paints a picture of a tragic and often contradictory figure — one who was possessive yet loyal, cold yet passionate, and a perfectionist who was never satisfied. Here's a look back at some of the most tragic parts of Macho Man's real life story.
Andre the Giant hated him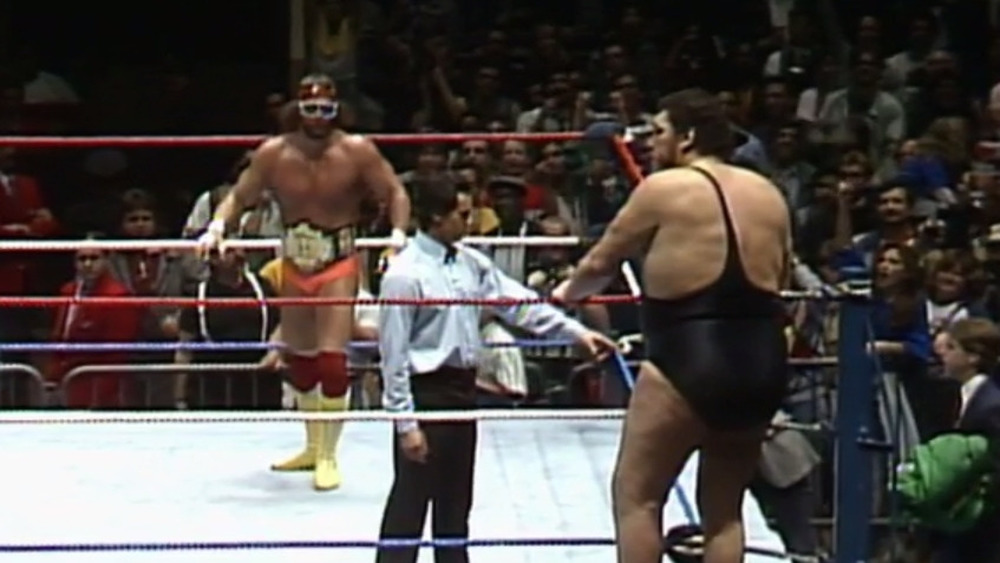 Wrestling is entirely about cooperative storytelling, but that doesn't mean wrestlers themselves have to get along. Many of the best matches have been between people who despised each other well beyond the normal face/heel dynamic. Savage had the misfortune — though some might say he brought it on himself — of getting on the bad side of one of the biggest wrestling attractions of all time: Andre the Giant. Andre was noted for being especially aggressive with Savage, throwing him around the ring and pulling at his hair.
Two reasons have been given for Andre's animosity towards Savage. The first is Mach's extensive use of baby oil, which helps muscled wrestlers stand out but also makes them hard to grapple. Savage's brother Lanny Poffo told the Tampa Bay Times that "Andre hated baby oil, but Randy wouldn't stop wearing it. He stubbornly said Andre's gimmick is being a giant and mine is baby oil. He never backed down from Andre and they never got along because of it." The second, as recounted by Andre's daughter, was his zero tolerance policy for steroids — and once he found out that the Macho Man stayed Macho by using them, that was it. Hogan told WWE.com that Andre's fondness for Elizabeth "was really the only reason that Randy didn't get killed."
His father got snubbed by WWF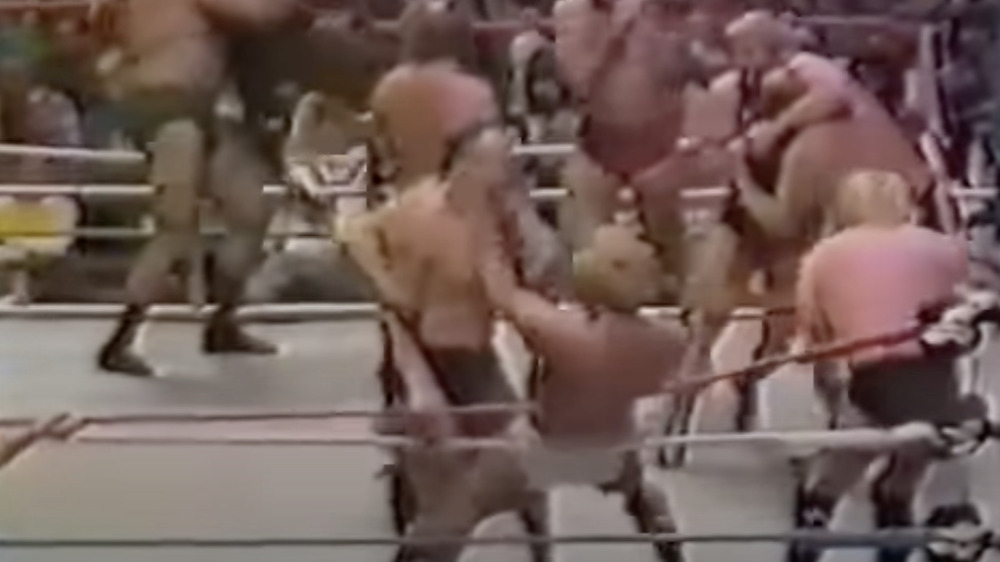 Randy Savage was a second generation wrestler. His father, Angelo Poffo, was popular both as a face and heel during the 1950s through the early '80s. From 1978 to 1984, he ran International Championship Wrestling out of Kentucky. It was one of the most prominent so-called "outlaw" promotions, one that existed outside the influence of the National Wrestling Alliance. He had a dedicated following throughout his career, especially among older fans and the wrestlers themselves.
Savage idolized his father, both as a wrestler and as a man. Any perceived slight towards Angelo was taken personally. This included one by Vince McMahon and the Federation that Mach never got over.
The WWF planned an Old Timers battle royal for a house show at the Meadowlands in New Jersey for November of 1987. Randy Savage was at the peak of his power in the company — he'd just formed the Mega Powers with Hulk Hogan that October and had an all time classic match with Ricky Steamboat at Wrestlemania III earlier in the year. As such, Savage flexed his muscles — political instead of literal, he was always flexing those — to get his father into the match.
The day of the match came, and legends ranging from Lou Thesz to Bobo Brazil were part of it… but no Angelo Poffo. "Randy really loved Vince until the battle royal," Lanny Poffo told Bleacher Report. "He felt really bad when Al Costello, who was one of Dad's best friends in wrestling, said, 'Where's your father? He should be here.' Randy never forgot about the battle royal. He felt guilty, like he should have done more."
Leaving the Federation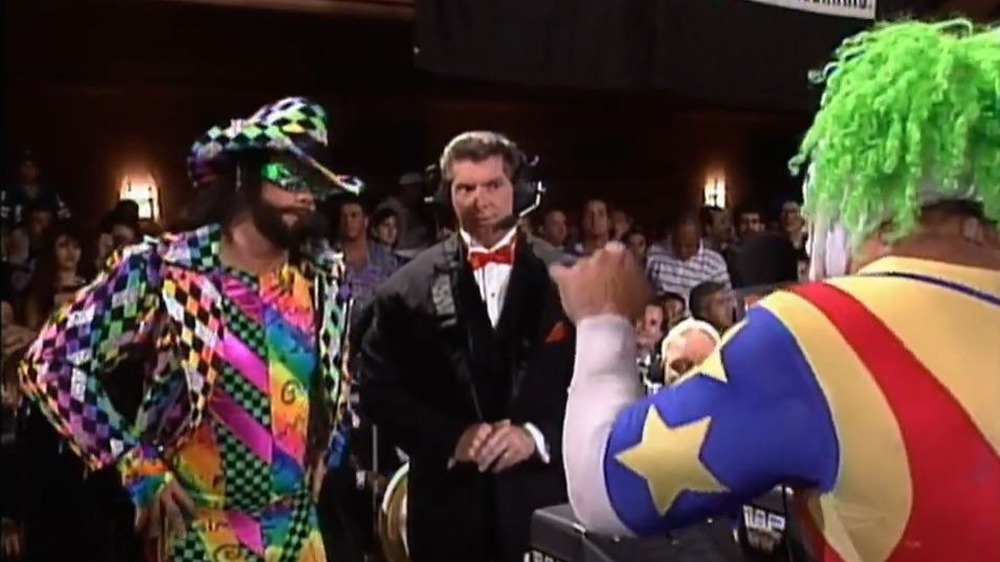 The battle royal snub was the beginning of the end of Savage's relationship with Vince McMahon. By 1994, Mach was spending more time as an announcer than a wrestler. He was just past 40 years old, but still felt he could compete. Lanny Poffo recalled to Bleacher Report that his brother "felt he never had a match as good as the Steamboat match" but thought he could recapture that magic with Shawn Michaels. "Randy wanted to do a two-year program building up to a match with Shawn at WrestleMania. Randy would lose, retire, and go back to the announcer's table." This proposal was shot down since the Federation was in the middle of a "youth movement."
Mach decided to take his talents elsewhere when his contract expired, which in that era meant the competing World Championship Wrestling. Even so, breaking off his decade-plus relationship with Vince was daunting. Bruce Prichard, who was Vince's right hand man in that era, revealed on his podcast Something to Wrestle (transcribed by 411Mania) that "Randy had to get drunk to call Vince and tell him [he was quitting]" only for an irritated Vince to call him back the next day. The two did indeed talk the next day, when Savage made it clear he was gone.
The WWF never referenced talent leaving, much less going to other companies, but McMahon broke his own protocol and offered Savage an emotional goodbye on commentary the next week. This velvet divorce did not stay so civil backstage: when Macho Man left for WCW, he took his Slim Jim sponsorship with him — often reported as a million-dollar deal. Attempts to transfer the sponsorship to WWF star Bam Bam Bigelow did not go through, and WCW reaped the benefits while Vince had another reason to dislike Savage.
The tumultuous relationship of Macho Man and Miss Elizabeth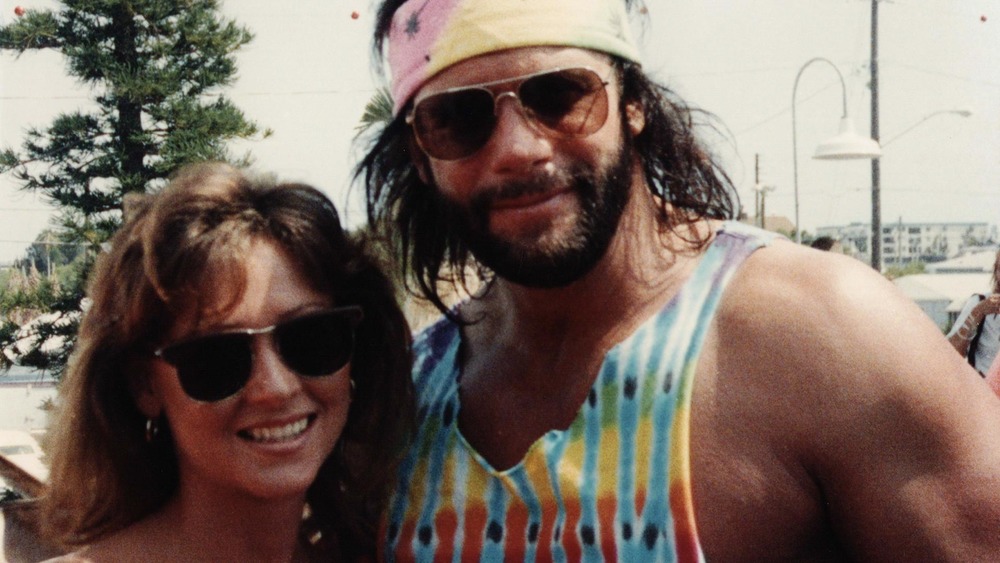 It's almost impossible to talk about Randy Savage without bringing up Miss Elizabeth, his onscreen manager and wife. Real name Elizabeth Ann Hulette ("Liz" to her friends), she and Mach were married for seven years in secret before their iconic wedding at SummerSlam 1991. She was especially notable for her role in causing the Mega Powers to explode, after Mach got paranoid that his friend Hulk Hogan had lust in his eyes for Elizabeth. Their relationship — both real life and in kayfabe — was covered in Dark Side of the Ring episode "The Match Made in Heaven." Interviews with those around the couple paint a dark and possessive, if still loving, picture of the two.
Savage was as protective of Elizabeth outside the ring as he was in it. Jake "The Snake" Roberts says that Savage "would get visibly upset with anybody who tried to talk to her or carry on a conversation with her. He just did not like it." He made decisions about how she'd dress and behave in the ring, all to avoid embarrassing her. Several wrestlers traveled with their wives, and Savage wanted to protect her from the cutthroat cruelty of the other wrestlers — especially since she was a performer herself. Even with noble intentions, this was a smothering relationship.
Lanny Poffo said Mach and Liz's relationship during the wedding was "tumultuous, on the verge of breaking up." The relationship reached its nadir in 1992, when Hogan was shooting Mr. Nanny. Liz and Hogan's wife Linda were close friends, and Liz begrudgingly got permission to visit the Hogans and help out while the Hulkster was working. Savage tried to call her, but couldn't get a hold of her because she was in another room. In a jealous rage, Savage flew down to Florida the next day and retrieved his wife after finding out she was staying in someone else's room. Liz left Savage a few weeks later, which devastated Mach. Even after they divorced, Savage cared about her enough to get her a job in WCW.
The dissolution of his friendship with Hulk Hogan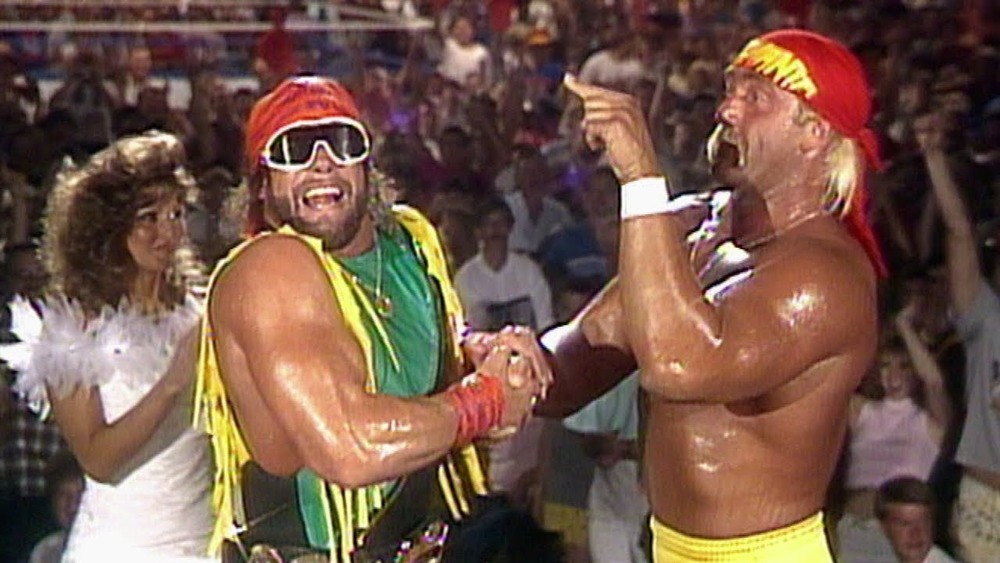 In the mid-to-late 1980s, Macho Man Randy Savage and Hulk Hogan were the two biggest stars in the wrestling business. The two were also, for a time, great friends. During "A Match Made In Heaven," Linda Hogan recounted their families often holding cookouts and going over in-ring choreography. This all fell apart after the incident in Florida — Savage, in his paranoia, blamed Hogan for Liz leaving.
Jimmy Hart said of Mach going to Florida to retrieve Liz: "That was the beginning of the end for them but the beginning of the end for Randy and Hulk, too, because Randy always thought Hulk had something to do with it. I've been with Hulk for 39 years, Hulk had nothing to do with that! He was shooting the daggum movie!"
Hogan and Savage reunited on a professional basis in WCW, even if Mach spent most of his time there as second banana to Hollywood Hogan. Savage held much animosity towards Hogan during this time, which seldom got attention over the dozens of other trainwrecks associated with WCW. Hogan claimed to WWE.com that he and Savage met by chance at a doctor's office a few months before Mach's death and they reconciled.
The Steph rumor that won't die
No matter how nasty a breakup anyone has with WWE, they almost always come back. Jesse Ventura, Bret Hart, Jeff Jarrett — all people who were either humiliated by Vince McMahon or humiliated him, and all people who came back anyway. Not Macho Man, though — he never came back. This led to much speculation about how he could have upset Vince that much, and it led to an oft-repeated rumor: that Macho Man slept with an underaged Stephanie McMahon in the early '90s.
It's difficult to ascertain where this rumor started, but WrestlingNews.co traces it back to an anonymous forum post from 2004. Countless fellow wrestlers, managers, agents, and writers have weighed in on the rumor over the years, and there's a pattern to their answers: No one has been able to definitively state yes or no; most, including people working in the industry in the '90s, hadn't heard the rumor until somewhat recently; they still don't have a solid answer for why Mach was blackballed from WWE for so long; and the cohort that believes and repeats it the most in the industry are young writers who weren't around when Mach left.
Chalk it up as unlikely — it's hard to imagine anyone in the wrestling business keeping that a secret for so long. The only person who could definitively confirm it, Steph herself, has not commented nor likely ever will. But even after Savage was finally inducted into the WWE Hall of Fame in 2015, this rumor has refused to die.
Bonsesaw wasn't ready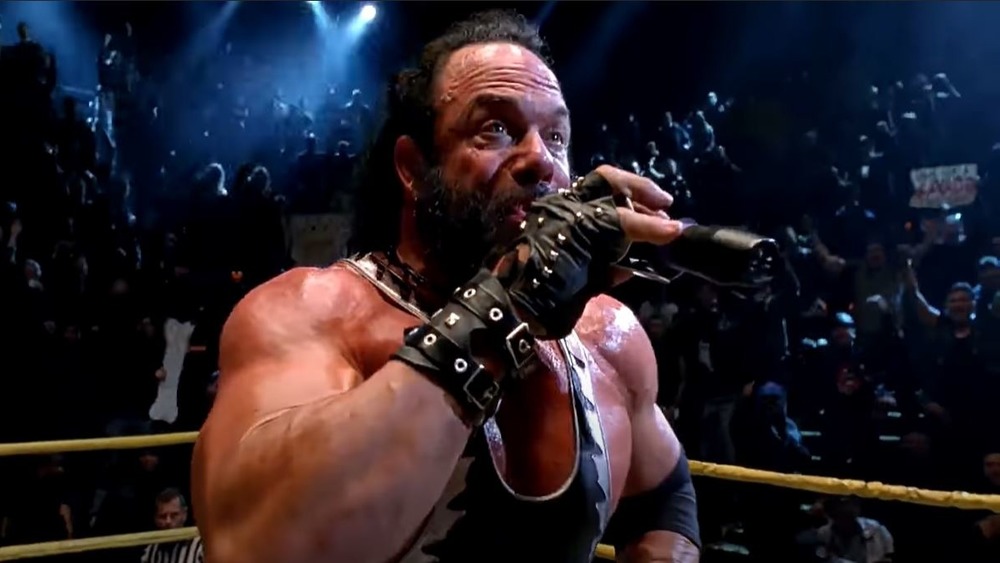 Wrestlers getting injured is nothing new, nor is taking lasting damage from their work. Even so, Savage was widely regarded as a safe worker and seldom suffered any high profile in-ring injuries. Instead, the injury that caused him the most lasting damage happened on a movie set: playing Bonesaw McGraw in Sam Raimi's first Spider-Man movie. It's one of the most iconic scenes in any superhero movie, one made especially hilarious by implying that wrestling is an actual competitive sport. It's also the source of damage that lasted him until his dying day.
The 50-year-old Macho Man insisted on doing all of his own stunts. This included a spot at the end when Bonesaw got monkey flipped onto his head. The spot required multiple takes and took a toll on the aging wrestler. Lanny Poffo told Bleacher Report that Mach "needed a lot of physical therapy… But he was never the same. Instead of turning his neck to see you, he turned his torso."
Randy Savage was drunk and uncooperative during his brief TNA run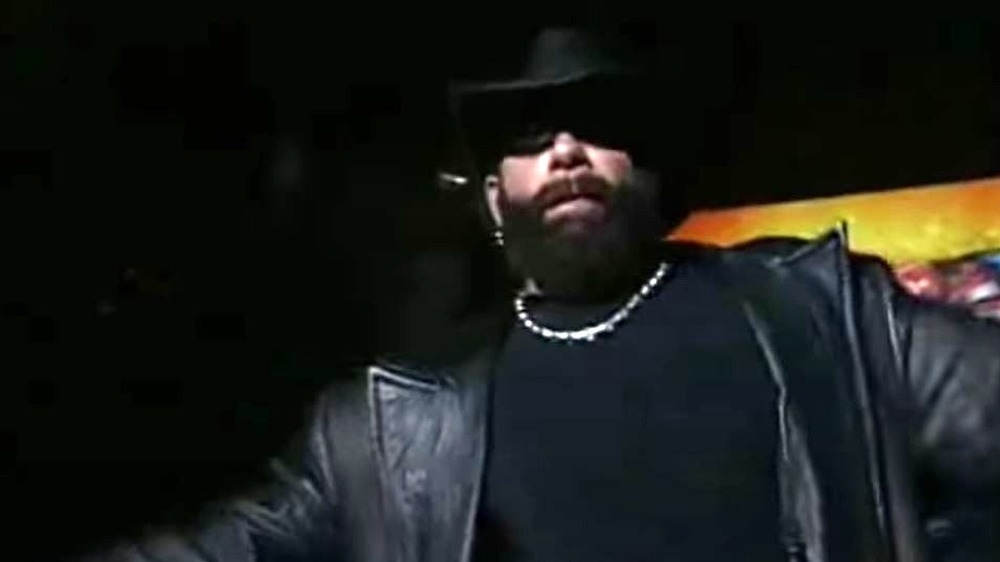 Randy Savage's last wrestling appearance came in the final months of 2004, when a grizzled Macho Man appeared during the early days of TNA. His surprise entrance at the first ever Victory Road pay-per-view saw him confront Jeff Jarrett, and remains one of the most memorable moments from that era. The follow-up was less so — he stuck around for a month, was part of a six-man tag match at Turning Point nobody remembers, and then left the company after disagreements over booking.
Many look back on Savage's brief TNA run as a disappointment. Those behind the scenes tell an even sadder story in The Genesis of TNA, an ebook about the early days of the company. Agent Bill Behrens in particular described Savage as a headache to deal with — and sauced out of his mind.
A few people connected with the company had a big trailer, one that became a hotspot for dysfunctional stars who wanted to sit around drinking all day. "Randy was one of the guys that did that," recalled Behrens, "so his run was bad all the way around. It made it clear that there wasn't going to be a good final run that Randy Savage would have in wrestling." Indeed, he added that "The first time I had to send him to the ring I literally had to help him up the ramp" just so he could get seen at all, and Behrens had no control getting the aging wrestler down the ramp.
He dealt with his father's dementia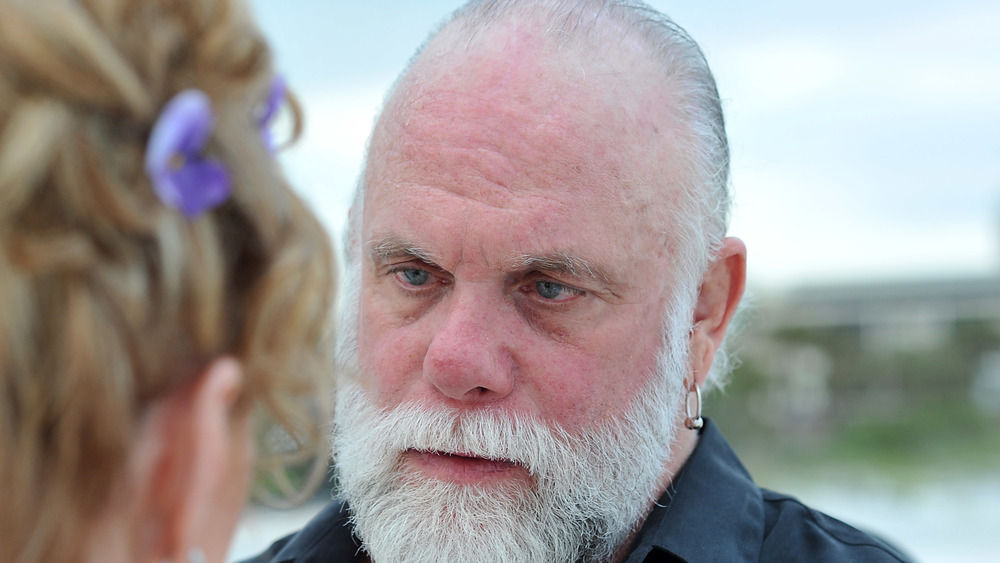 Angelo Poffo lived until the age of 84, dying about a month shy of what would have been his 85th birthday. Savage also had to deal with an issue most everyone does with parents lucky enough to get old: age catching up to them.
Angelo in particular suffered from dementia, with his functions failing notably by 2009. Savage went to great lengths to care for his ailing father, going so far as to install an invalid toilet and a walk-in bathtub in his father's house. Angelo died March of 2010. Randy told the St. Petersburg Times that "He has always been my hero and my mentor, and the priceless gifts he gave I will have and cherish forever."
A mere two months later, Savage got married — a sad milestone for his father to miss.
The death of Randy Savage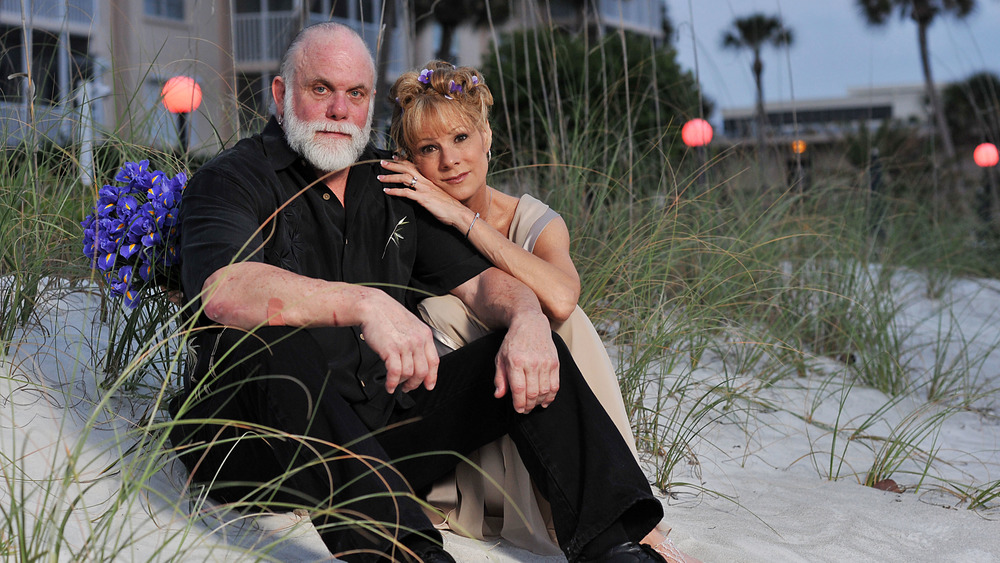 Randy Savage woke up on May 20, 2011 not feeling all that well. His wife Lynn figured he might just need something to eat, so they drove to a Perkins and had breakfast. Realizing he wasn't all that better after eating, she offered to drive home, an offer he refused. On the way back, he muttered "I think I'm going to pass out" to his wife. He was right — he lost consciousness, with his foot slamming on the accelerator. The car passed off the cement median into oncoming traffic, and Lynn quickly grabbed the wheel and swerved the car into a tree. She escaped with minor injuries, but one Randall Mario Poffo was declared dead later that day.
The autopsy showed that Savage died of a heart attack from ventricular fibrillation (also known as vfib). The death was likely quick and painless, even if it occurred at the most dangerous possible time. There's no evidence Savage was aware of any underlying heart condition during his life, nor that he sought any kind of treatment related to it. Casting a long shadow over his cause of death is Savage's alleged predilection for steroids. Heart disease connected to drug use has claimed many lives far too young in the wrestling business, including Eddie Guerrero and Davey Boy Smith. While it's hard to say for sure that Savage's death was a direct result, it's hard not to connect those dots.
His brother overruled his wishes to get him into the WWE Hall of Fame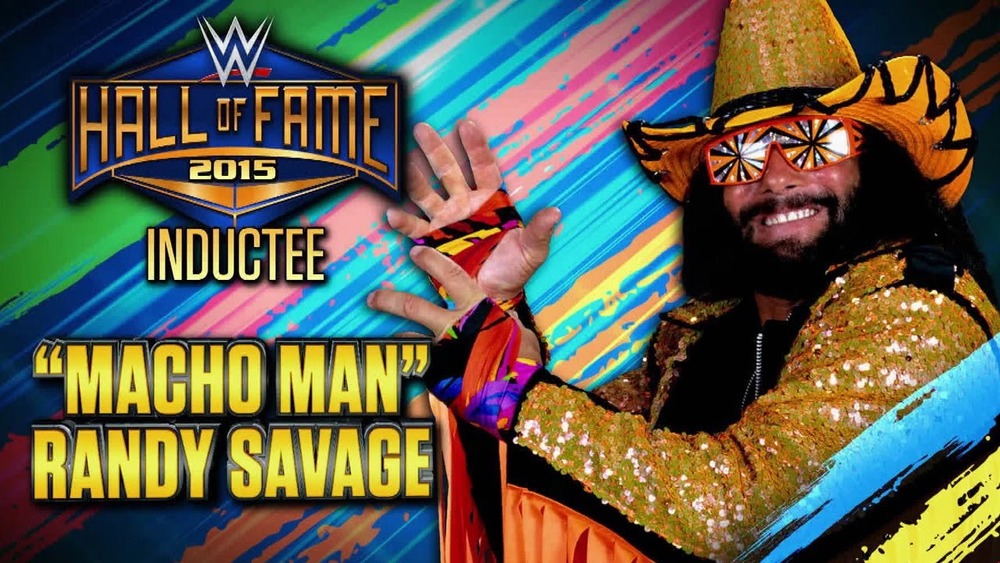 It took Randy Savage entirely too long to get into the WWE Hall of Fame. He was the crown jewel of the class of 2015, all the more tragic that it was posthumous. Part of the delay might have been some of that indeterminate heat backstage, but a bigger part was Mach's own wishes.
After the Von Erichs were inducted into the WWE Hall of Fame as a family in 2009, Macho Man Randy Savage declared that WWE would have to take his whole family in as well if they wanted him. This was, of course, unlikely — Angelo was more of a star in the territories than any WWE-related property, and Lanny's run as "The Genius" was successful and well-regarded, but not exactly Hall of Fame-worthy. Lanny honored this wish after Mach's passing.
In 2015, however, Lanny relented. "I had an epiphany when I was 59 years old in that I'm the older brother now," he told the Sporting News. "Now, I get to make unpopular decisions. I'm not a Star Trek fanatic, but the needs of the many far outweigh the needs of the few or the one. Randy loved the fans and so do I. And Randy not being in the Hall of Fame was a horrible thing to do to his fans." Lanny himself was the one who inducted his brother.