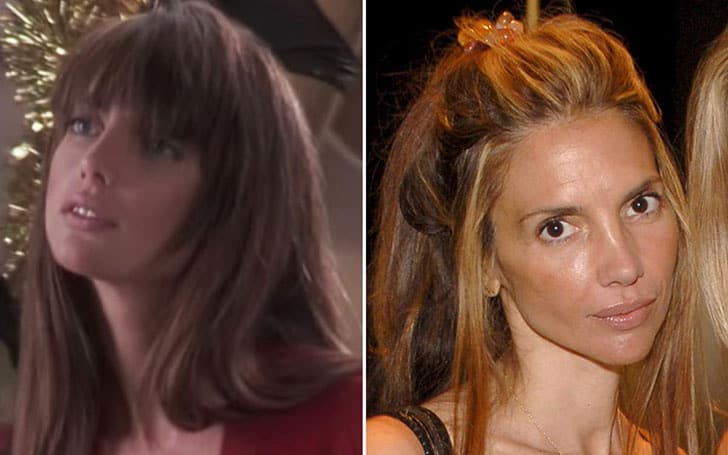 Some actors are remembered for their great roles and the stunning way they mesmerized the audience with their skills and undeniable talent. Other actors however, like Nicolette Scorsese, don't really go much of anywhere despite the fact that they are remembered fondly for one or two roles that they played when they were younger. If you hear her name you might remember Nicolette right off the bat since she didn't manage to do much after the one role that got her noticed. But if you happen to watch the movie that's shown every Christmas over and over on repeat then you'll likely have a good idea why she's still remembered so fondly. Some actors get remembered for the simplest of roles, but then some of them get remembered because their role was actually one of those that had a memorable impact in the film they were in.
Nicolette is one of the latter obviously.
She is not related to Martin Scorsese.
She's worked with the famed director but she is in no way related to him as some would think. There are a lot of those in Hollywood that have the same surnames as others but aren't related and it's a constant question that gets posed to those that are named the same as famous celebrities. It's also a question that likely gets very tiring since the moment someone learns their last name they probably begin to pepper them with questions concerning the individual until they realize that the person is not in any way a relation or even a friend to the person being mentioned. So let's lay that one to rest right now, she and Martin have worked together but are otherwise not affiliated.
Her biggest role was in Christmas Vacation.
The girl behind the counter, Mary, was her biggest and most endearing role. She hung around Hollywood picking up other roles after this one but out of all of them this is the one that people remember the most. Even if a person doesn't know her name they will likely remember her for being the woman in the store that Clark Griswold was flirting with during Christmas Vacation, and the woman he dreamed of diving into his non-existent pool in the back yard, stark naked wearing only a smile.
She did manage to stick around for over a decade until about 2000 when she quietly slipped away from Hollywood. In fact her last public appearance was at an art show in 2006, and since then she's been pretty scarce. If anyone were to recognize her now it would be kind of random since she does look a bit different from her younger days when she could certainly turn heads. She's still a knockout to be honest but time has managed to do its thing and she has definitely aged. But as far as Hollywood goes she's stayed away for almost two decades now. Despite starring in low-budget movies and TV movies she never really made it past the scenes she was in during Christmas Vacation. This movie was her big break, or was supposed to be since she was starring with one of the funniest comedians of the time and was expected to hit the big leagues not long after.
But fate wasn't quite the kind since in truth her career really didn't go anywhere and eventually it was obvious that she wasn't going to be seeing a resurgence. That's unfortunate since a lot of actors tend to go through this kind of thing. They come in looking good, looking bright, and then their career doesn't go the way they want and they become less than a flash in the pan, more like a pop and a sizzle that at one point had the potential to be something. No offense is meant to Nicolette, but while her role in Christmas Vacation is memorable and makes for some good laughs whenever the movie is shown or brought up in certain company, it was less than it needed to be to really give her the push she needed to become a serious actress. The fact that she did keep going for a while is kind of inspiring but unfortunately she still didn't do much so it's easier to say that it was more like prolonging the inevitable.
It's not really known what she's doing now as no one has really taken the time to find out. All we do know is that she made her bid for becoming an actress back in the day and when that didn't pan out she eventually went her own way. She had a shot at one time but things didn't line up and as a result nothing really ever came from it. She's still remembered as Mary though, so that's something at the very least.