Best Things in Life Are Fried
Fried chicken isn't Kentucky's to claim. It's a global phenomenon with long roots that include a Scottish battering process that gave the world fry-everything chip shops and West African seasoning, unfortunately as a result of recipes traveling with the slave trade. Now, whether it's India's Chicken 65, Southeast Asia's ayam goreng, Japan's karaage and katsu, Hong Kong's shrimp paste chicken, or Korea's own KFC (Korean fried chicken), it has permeated various cultures — and even in the United States, the term "fried chicken" encompasses far more than Col. Harlan Sanders' original recipe. We scoured reviews and rankings by expert food writers and countless hungry customers to find what is considered by many to be some of the best fried chicken in each state.
Note: While many restaurants are closed to dine-in customers due to the pandemic, all of the eateries on this list are offering delivery or to-go orders.
Alabama: The Little Donkey
Birmingham
What to Get: A quarter of Famous Fried Chicken
We gave Little Donkey the nod over other impressive establishments such as Saw's for one reason: It's unique. Taking its cues from Mexican recipes, the chicken is soaked overnight in a three-chile brine, touched with habanero-infused vinegar, and fried into gold. It's more burn than Southern fried chicken fans may be accustomed to, but a pleasant surprise.
Alaska: Lucky Wishbone
Anchorage
What to Get: The "Dad" five-piece
In business since 1955, The Lucky Wishbone has been buttermilk battering and pan frying its fresh chicken for more than six decades. This gem of a roadside stand — with its midcentury lines and atomic signage — includes fries and a corn muffin with a two- to five-piece offering, but the chicken stands on its own.
Arizona: Mrs. White's Golden Rule Cafe
Phoenix
What to Get: Golden Brown Southern Fried Chicken
The menu at Mrs. White's is purposefully scant: fried chicken, chicken-fried steak, pork chops, oxtail, catfish, or the same in sandwich form. Sure, there are cobblers, pies, cakes, and sides, but this institution has been making straightforward soul food since 1964 and isn't about to get fancy now.
California: Brown Sugar Kitchen
West Oakland
What to Get: Buttermilk Fried Chicken and Cornmeal Waffle
Brown Sugar Kitchen chef Tanya Holland's buttermilk fried chicken and cornmeal are among Oprah's favorite things, but skip the at-home recipe and head straight to Oakland for this combo. You can ditch the waffle, but at a place that serves oyster po' boys, catfish, jerk chicken, egg tarts, beignets, and a host of sides and pies, we don't know why you'd go for less food rather than more.
Colorado: Welton Street Cafe
Denver
What to Get: Fried Chicken
Lots of folks love the fried fish at Welton Street Cafe, a soul-food mainstay in Five Points. Others have been fans of the wings since it was Wings and Tings. But wait the 20 minutes for a four-piece meal and two sides, tided over by a spicy pâté (Caribbean meat pie), and save room for peach cobbler.
Connecticut: Sandra's Next Generation
New Haven
What to Get: Sharwyn's Church Plate
In a state that steams its hamburgers, spice can get lost in the shuffle. Sandra's Next Generation has it covered, thanks to the Southern and Caribbean recipes of owner Sandra Pittman's mother, Mrs. Mary Harris. Between the fish, chopped barbecue, and other specials, there are a lot of distractions, but the fried chicken with corn, fried okra, fried plantains, and candied yams should be all you'll need.
Delaware: Walt's Flavor Crisp Chicken
Wilmington
What to Get: Three-Piece Dinner
Founder Harry Sheppard opened this place as an ice cream shop in 1973 with boss and business partner Walt Samuels (the Walt of Walt's). After people took to the chicken at a new location in 1978, it became the focus — and a legacy wife and co-owner Symanthia Lynch-Sheppard has maintained since Harry's passing. Walt's golden-battered chicken is best enjoyed with fries and a dinner roll.
Florida: Yardbird Southern Table & Bar
Miami Beach
What to Get: Lewellen's Fine Fried Chicken
Yardbird Southern Table & Bar has expanded to L.A., Las Vegas, Dallas and Singapore with its embrace of Southern cooking traditions and recipes from the grandmother of restaurant group CEO John Kunkel, brining meat for 27 hours before dredging it in spices and flour and frying it up. Start with one of three varieties of biscuits or end with bacon butterscotch cake or a fried Oreo.
Georgia: Busy Bee Cafe
Atlanta
What to Get: Busy Bee's Fried Chicken
Much of Atlanta's business, sports, and hip-hop communities make regular pilgrimages to Busy Bee (Killer Mike from Run the Jewels ate here with then-candidate Bernie Sanders in 2015) — where we're partial to the Joe Louis Ham Hocks. But the chicken, marinated for 12 hours before frying and served in halves or quarters with two sides, is mandatory first choice.
Hawaii: Ethel's Grill
Honolulu
What to Get: Mochiko chicken
Because the late Anthony Bourdain loved being the most intrusive tourist on the planet, this fusion plate-lunch spot was already shared with much of the world. While that may be bad news for mainland hipsters, it's been great news for Ethel's. The Mochiko chicken gets a thin coating of rice flour that serves as just enough resistance for a ginger ponzu dipping sauce.
Idaho: Fork
Boise
What to Get: Cast Iron Buttermilk Fried Chicken & Cheddar Waffle
Fork has a precious commodity on its hands. Served only on Tuesdays and in such finite amounts that it runs out, Fork's fried chicken gets a classic buttermilk coating and pan frying before being plated atop a savory waffle infused with local cheese. Paired with local honey-orange infused butter and balsamic infused maple syrup, it's decadent to those who show up early enough to enjoy it.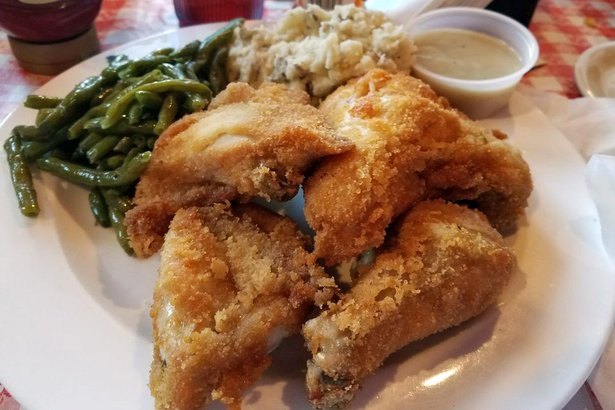 Illinois: Dell Rhea's Chicken Basket
Willowbrook
What to Get: "Our Famous Fried Chicken In A Basket"
There are a lot of places in Chicago that make their best effort to unseat Dell Rhea's, but this Route 66 spot would have to close to give up the title. Open for 72 years and on the National Register of Historic Places, the Chicken Basket has chicken marinated for 24 hours, hand breaded, cooked to order, and served with fries and biscuits. It's worth the half-hour wait.
Iowa: Mt. Hamill Tap
Donnellson
What to Get: Half chicken
Donnellson has fewer than 1,000 residents, which means the 200 people crowding Mt. Hamill Tap on Wednesday, Friday, and Saturday Chicken Nights increase the town's population by more than 20 percent. The Tap has been making its chicken for more than 50 years.
Kansas: Brookville Hotel
Abeline
What to Get: Family Style Chicken Dinner
That the Brookville Hotel is neither in Brookville nor a hotel are beside the point. The original hotel served its first chicken dinners in 1915, moving in 2000 to be closer to the highway and leaving the hotel business behind — but still making skillet fried-chicken dinners with the same recipe: canned milk, flour, salt, pepper, and a hefty dose of frying lard. The chicken dinner, awarded by the James Beard Foundation in 2007, remains the only item on the menu.
Kentucky: Harvest
Louisville
What to Get: Buttermilk Fried Chicken
Served atop Southern cornbread hoecakes with mashed potatoes, braised greens, buttermilk gravy, and a hot sauce, the fried chicken of Harvest doesn't bow to the Nashville hot chicken trend nor goes the way of a simple meat-and-three. It stands on its own, which is tough to do in a state so often defined by chicken chains.
Louisiana: Willie Mae's Scotch House
New Orleans
What to Get: Fried Chicken
Willie Mae's in the Sixth Ward is beloved for spending more than a half-century as a neighborhood institution. Once a salon, barber shop, and bar, Willie Mae's began its restaurant business around 1970 and rode its founder's fried chicken recipe to a James Beard Award in 2005. You get three pieces and one side, and you won't need more.
Maine: Figgy's Takeout & Catering
Portland
What to Get: Half Bird of Skillet-Fried Chicken
In fried seafood country, chicken is low priority. For Figgy's, it was an opportunity. Opened in 2014, Figgy's seasons, flours, and pan-fries its antibiotic- and hormone-free chicken and serves up three pieces with a homemade buttermilk biscuit. Korean-style wings are on the menu as well.
Massachusetts: Trina's Starlite Lounge
Somerville
What to Get: Fried Chicken
A fried clam or scallop is easier to come by in the Bay State than good fried chicken, but this stylized dive bar (real dives don't have a second location in Amesbury) saw an opening. It serves up plates of fried chicken with hot pepper syrup, mashed potatoes and collard greens. Come into Trina's at brunch and they'll put it on a waffle, but you can have it with a cocktail or Miller High Life any time.
Michigan: Zingerman's Roadhouse
Ann Arbor
What to Get: Two-Piece Buttermilk-Fried Chicken
Zingerman's expanded from its Ann Arbor delicatessen to a small food empire ranging from candy and coffee to Korean barbecue. The Roadhouse has an extensive menu of it own, but the real star is the buttermilk-fried chicken that comes with mashed potatoes, housemade chicken gravy, and a garnish of yellow mustard coleslaw that will make salad seem like weak filler by comparison.
Minnesota: Rooster's BBQ & Deli
St. Paul
What to Get: Quarter-Chicken Dinner
When a state is better known for lutefisk, eating barbecue can be a trust exercise. Rooster's has the requisite ribs, pulled pork, and even fried fish, but the name is built around the menu's pressure-fried chicken. It's a quick box of chicken and fries that can hang with any in the country.
Mississippi: The Old Country Store
Lorman
What to Get: Golden Brown Southern Fried Chicken
Owner Arthur Davis does not skimp on his Heavenly Fried Chicken or anything else at his Old Country Store — which TV foodie Alton Brown swears by and food publications select as Mississippi's best. His entire menu is a $16 all-you-can eat buffet of fried chicken, corn on the cob, potatoes, black-eyed peas, green beans, and okra.
Missouri: Porter's Fried Chicken
St. Louis
What to Get: Four-Piece Box
Keep the fried chicken simple and consistent and people will come back faithfully. For more than three decades, Porter's has made it the same way: double-coated in a flour-based breading, with an extra-spicy option. For a little extra, pick your own pieces.
Montana: Roost Fried Chicken
Bozeman
What to Get: Fried Chicken on a Stick
It's a bold move serving up fried chicken in steer country, but Roost pulls no punches. With a modern aesthetic and traditional menu, Roost lets customers take their fried chicken in a basket, in sandwich form, Nashville hot, or, for five bucks, on a stick. The latter version is not only slightly cleaner, but leaves plenty of room for pecan pie or ice cream.
Nebraska: Big Mama's Kitchen
Omaha
What to Get: Big Mama's Oven-Fried Chicken
We'd like to dedicate this one to Big Mama's Kitchen founder Patricia Barron, who passed away at age 76. The longtime catering business got its storefront in 2007 and featured an oven-fried chicken, first soaked in spice-laden buttermilk for 24 hours, that remains a large part of her legacy and moved with her family to a new space in North Omaha.
Nevada: Hash House a Go Go
Las Vegas
What to Get: Fried Chicken Eggs Benedict
Hash House a Go Go has the usual fried chicken skewers, salads, sandwiches, bacon-waffle towers, and mashed potatoes with bacon, but the benedict of fresh biscuit, sage-fried chicken breast, fresh spinach, tomato, chipotle cream, and griddled mashed potatoes are great for soaking up what happens in Vegas the night before.
New Hampshire: The Puritan Backroom
Manchester
What to Get: Fried Chicken Tenders
The Puritan, founded by Greek immigrants who also put kebabs, spanakopita, and fried feta on the menu, claims to have invented chicken tenders in 1974. Other sources say they only likely invented the name, which is good enough. They come spicy or in Buffalo or coconut flavors, but we recommend them just as they are, with the house sauce.
New Jersey: Chicken Galore
Kearny
What to Get: Four-Piece Chicken Dinner
Full disclosure: This was the chicken place my family ordered from when I lived in Kearny decades ago. I wouldn't recommend them based on the experience of a 6-year-old, but recent trips back made me reconsider. Owned by the same family since 1963, Chicken Galore adds some spice to the Northeast chicken-and-fry basket formula with a zesty yet thin buttermilk batter and steak fries that deviate from the shoestring approach of regional chicken chains such as Crown or Kennedy.
New Mexico: Golden Pride
Albuquerque
What to Get: Three-Piece Fried Chicken
Golden Pride gets the basics right: buttermilk-battered chicken with sides of mac and cheese, green beans and bacon, spicy beans, mashed potatoes, potato salad, coleslaw, or corn. It excels by including it on a menu that also offers green chili stew, pozole, burritos, tacos, enchiladas, and all-day breakfast burritos.
New York: Charles' Country Pan-Fried Chicken
Harlem
What to Get: Fried Chicken
North Carolina-born Charles Gabriel started by frying chicken on a food truck in the '90s, but moved to Harlem and started frying his dry-rubbed birds on a cast-iron stove in a 15-seat restaurant. Today, Charles' Country Pan-Fried Chicken is a James Beard Award semifinalist and the chicken is moving faster than ever.
North Carolina: Mama Dip's
Chapel Hill
What to Get: Three Pieces of Southern Fried Chicken
In another highly contested fried-chicken state, Mildred Council has spent roughly four decades making Mama Dip's the South's gold standard for the dish. Now a small empire of sauces, rubs, cookbooks, and other gems, Mama Dip's is a temple of Southern cooking with fried chicken at its spiritual center.
North Dakota: The Shack on Broadway
Fargo
What to Get: Two-Piece Fried Chicken Dinner
Open for around 20 years, but with a soul seemingly much older, The Shack is a down-home diner that isn't big on frills, though its menu stretches from big breakfasts to steaming bowls of spaghetti. The fried chicken comes with choice of potato (various fries, hash brown, baked, or mashed), baked beans, coleslaw, salad, or cup of soup.
Ohio: Belgrade Gardens
Barberton
What to Get: Serbian Fried Chicken
Back in 1933, Serbian immigrants Mike and Smilka Topalsky opened this place and enticed Ohio customers with lard-fried chicken, "djuvece" hot sauce, coleslaw, and fried potatoes. It spawned competitors, but a thigh at Belgrade Gardens is a good first step into Barberton's Serbian culinary scene.
Oklahoma: Eischen's Bar
Okarche
What to Get: A Fried Chicken
We didn't tell you to get some fried chicken at Eischen's Bar: We said get a whole fried chicken. Eischen's Bar dates back to the end of Prohibition and claims to be the oldest bar in Oklahoma. As such, it's fairly traditional: The menu is limited, it's closed on Sundays, and it's cash only. Oh, and the fried chicken is simply a whole fried chicken. The smaller option is no chicken at all.
Oregon: Reel M' Inn
Portland
What to Get: 3-Piece Chicken Dinner
On a stretch of Portland's food-saturated, vegan-friendly Division Street is a window-deprived bar laden with lottery machines, old neighborhood memorabilia, a full-volume jukebox, and a fridge filled with tall, cheap beer cans. This bit of "Old Portland" hasn't ceded ground to the encroaching bourgeoisie. Instead, Real M' Inn sticks to a one-page menu focused heavily on Southern-battered chicken (and the gizzards, if you want them) and potato wedges. We suggest calling ahead or realizing that the locals love this place and having a beer or two while waiting.
Pennsylvania: Bud and Marilyn's
Philadelphia
What to Get: Marilyn's Fried Chicken
Named after chef Marcie Blaine Turney's grandparents and paying tribute to the restaurant they ran in her Wisconsin hometown, Bud and Marilyn's is couched in a cozy midcentury vibe and a menu of comfort foods. The half-bird of fried chicken is served with a biscuit, honey butter, dill pickles and a housemade hot sauce.
Rhode Island: Ogie's Trailer Park
Providence
What to Get: Southern Rhody Fried Chicken Sandwich
Ogie's Trailer Park has taken a midcentury atomic lounge, Tiki bar, and vintage trailers and turned them all into one restaurant and bar. To soak up the cocktails and cheap beer, this Dorito-fried chicken breast, slab bacon, sharp cheddar, house mayo, marinated tomato, and sweet red onion gastrique is the most original fried chicken for the job.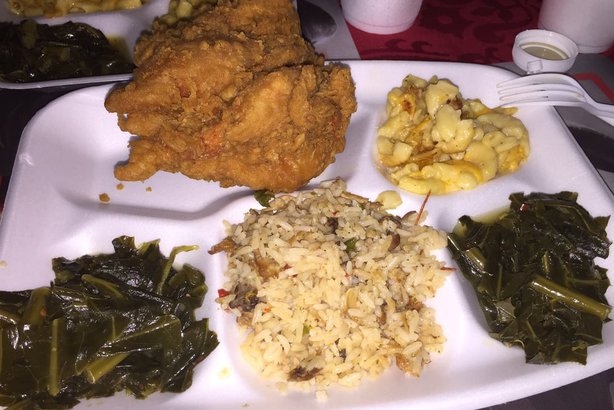 South Carolina: Martha Lou's Kitchen
Charleston
What to Get: Fried chicken and three sides
Martha Lou Gadsen's little Pepto-pink Martha Lou's Kitchen graces visitors with a mural of her face on the outside, but it's the chicken she and her daughter have cooked up for the past 30 years that keeps people coming, along with changing daily side options such as okra, collard greens, giblet rice, and baked macaroni.
South Dakota: Cluckin' Good Chicken & BBQ
Sioux Falls
What to Get: Three-piece chicken mix
There are some folks who'll say the best fried chicken here comes from a multistate chain. They are flat-out wrong. Cluckin' Good Chicken, formerly Bob's Carryout and Delivery, has not only served up some of the tastiest chicken in the state for nearly 20 years, but uses pressure frying and a mix of spices to produce crisp, savory chicken. Ask nicely and they'll pressure fry the potato side dish as well.
Tennessee: Arnold's Country Kitchen
Nashville
What to Get: Monday Fried Chicken
Arnold's Country Kitchen serves its fried chicken only on Mondays, but it comes with a choice of three sides such as turnip greens, pinto beans, creamed corn, or fried apples. The Nashville hot chains have done well, but a classic meat-and-three is always the best place to start a chicken run.
Texas: Barbecue Inn
Houston
What to Get: Southern Fried Chicken
For 72 years, the Skrehot family has run the Barbecue Inn with smoked meat as its main attraction. When in Texas, though, good barbecue is plentiful and highly debated, while the inn's fried chicken is a far more rare and unifying treat. It'll serve an all-dark or all-white plate, but get the original mix and ask for the baked potato side filled with chopped meat.
Utah: C&B Maddox Famous Chicken
Layton
What to Get: 3-Piece Meal
The chicken at C&B Maddox looks different — not as lumpy and ridged as buttermilk fried chicken, but with a smooth texture almost akin to Korean fried chicken. The key difference: The chicken's skin is peeled off, and the meat gets coated and flash-fried before serving. It knocks off a calorie or 10, but also creates a signature chicken that pairs well with Maddox's homemade cornpones, rolls, potato salad, coleslaw, or baked beans.
Vermont: Misery Loves Co.
Winooski
What to Get: Fried Chicken
Fried chicken has a negligible presence in Vermont, but this food-camper-turned foodie to-go spot makes chicken a centerpiece. Misery Loves Co. serves a huge family-style portion of fried chicken coated in fresh buttermilk and served with honey butter dipping sauce.
Washington: Ma'ono Fried Chicken & Whisky
Seattle
What to Get:Half Fried Chicken
The Seattle area is a wealth of fried chicken options, but James Beard-winner and native Hawaiian Mark Fuller's Ma'ono takes top honors by pairing brined, buttermilk-coated, soy-and-chili-spiced, twice-fried chicken with sides such as spicy kimchi, Spam musubi, sweet rolls, and "mac & kimcheese."
West Virginia: Dirty Bird
Morgantown
What to Get: 4-Piece Chicken Box
West Virginia University students with Dirty Bird in their backyard since 2011 have been lucky to limit the damage to a freshman 15. Sandwiches topped with gravy, bacon, cheddar jack cheese, shaved ham, and blue cheese are marquee items, but free-range chicken served with a buttermilk biscuit, dipping sauce, and a drink are all you'll need.
Wisconsin: Tomken's Friendly Fried Chicken
Milwaukee
What to Get: Famous Friendly Basket
While these folks have been better known for Buffalo-style wing sauces since opening in 1991, TomKen's will keep its sauce well away from your bucket of fried goodness. Made with TomKen's own special-recipe batter, the thin-battered chicken can be served with coleslaw, fries, or bread in a deluxe bucket for an extra few bucks.
Wyoming: Café Genevieve
Jackson Hole
What to Get: Fried Chicken
For the more upscale, costly version of anything in Wyoming, go to Jackson Hole. But to find what's basically the best interpretation of fried chicken in the state that isn't from a pan in someone's home, the Red Bird Farms half-chickens from Café Genevieve are the best bet. The mac and cheese is included in the price, which, considering the cost of everything else on the menu, isn't bad.