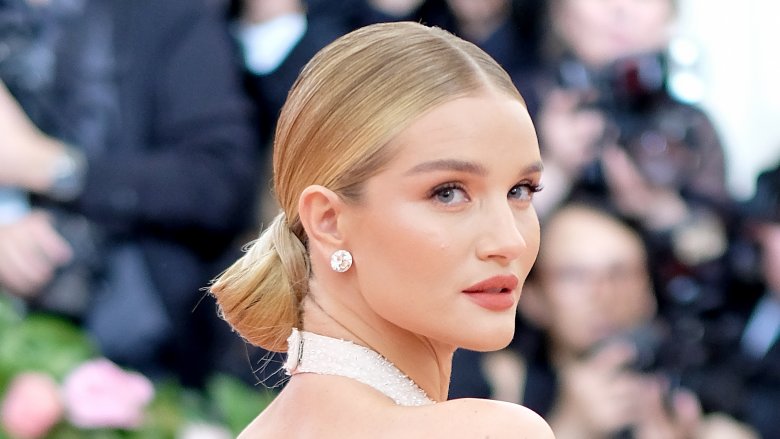 As a teenager from the English countryside, Rosie Huntington-Whiteley never expected her career to take off the way it later ended up doing. She broke into London's fashion industry at the age of 16 by writing to modeling agencies in the city, asking them for work experience. She began working her way up and landing campaigns with major brands like Levi's, Abercrombie & Fitch, and eventually getting her real big break when she made her debut as a Victoria's Secret Angel in 2006. Since then, Huntington-Whiteley has been on the covers of countless magazines, partnered with popular cosmetics and skincare brands, and even dipped her toes into the world of acting.
The model made her first appearance on the big screen in Transformers: Dark of the Moon in 2011 and followed it up in 2015 with a role in the Academy Award-winning action film Mad Max: Fury Road. Although Fury Road got rave reviews from critics and audiences alike, Huntington-Whiteley didn't use her part as a springboard to advance her acting career — in fact, she hasn't been in a film since. Here's why Rosie Huntington-Whiteley has been sticking to modeling instead.
Poor reviews for her acting debut
Yes, Fury Road was universally praised, and Rosie Huntington-Whiteley's performance as the Splendid Angharad was well received, but her big screen debut in Dark of the Moon was panned by critics. In the third installment of the Transformers franchise, Huntington-Whiteley replaced Megan Fox as Sam Witwicky's love interest. The reviews were so scathing that it's no wonder she didn't appear in another film for four years — who wouldn't be hesitant to act again after the kind of backlash she received?
Film critic Baz Bamigboye wrote that Huntington-Whiteley was "all but window dressing and doesn't exactly excel at delivering her banal lines," while a review from Total Film remarked that she was "sucking the life out of every scene she appeared in." Even though every entertainer knows that they can't please all the critics, and the Transformers franchise was — to put it very mildly — never a hit with critics no matter who was part of the human cast, getting slammed after going out of her comfort zone and trying something new was probably quite discouraging. But Huntington-Whiteley said she did her best to pay attention and learn from the role, specifically naming her co-star and onscreen paramour Shia LaBeuf as a positive influence.
She got engaged in 2016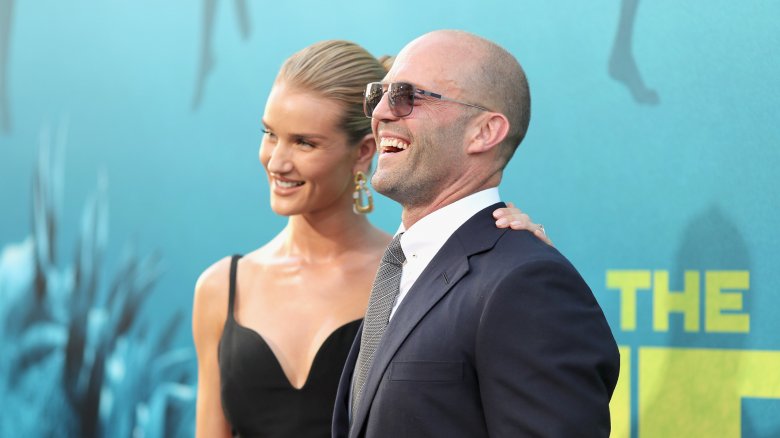 Shortly after the release of Fury Road, Rosie Huntington-Whiteley and her longterm boyfriend Jason Statham went public with an exciting announcement: the couple was engaged, and Huntington-Whiteley showed off her sparkly new rock at the Golden Globes in January 2016. The couple has been together since 2010, and Huntington-Whiteley says that Statham has been much more understanding of her ambitious career goals than some of her previous boyfriends.
Huntington-Whiteley and Statham are both extremely passionate about their work, and this connection only makes their relationship stronger. "When you're a career-driven person, it works best when your partner is equally as excited for you and supportive," Huntington-Whiteley told ELLE. "And that's what Jason is. He's my biggest cheerleader and I'm his." Although they're both quite busy with their respective careers, they like to have plenty of family time outside of the spotlight, and Huntington-Whiteley makes it a point to keep their relationship fairly private. She says they both make an effort to make the most of their time off together in Los Angeles, which means not taking on every project that comes their way.
Focusing on fashion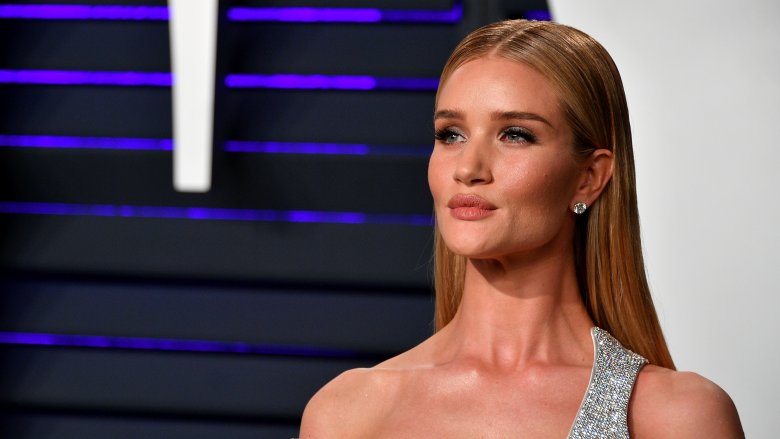 Rosie Huntington-Whiteley wears many professional hats, and by putting acting on the back burner, she was able to focus on some of her other passions, like fashion design. She had already worked on a lingerie line for Marks & Spencer, which turned out to be a massive success, so it's easy to see why the label Paige chose to partner with her for a collaborative collection. This was a huge undertaking, but Huntington-Whiteley was happy to take on the challenge.
"I've always wanted to be a designer, ever since I can remember," Huntington-Whiteley told ELLE. "It's brilliant to come to work and bring something else to the table beside my modeling; it's great when people want to listen to you and want you to be a part of something bigger than just being the face of a brand." The first collection was launched in February 2017, and a second was launched in the fall of 2017. It's clear that this is an area where Huntington-Whiteley really excels and feels comfortable expressing herself creatively.
Her schedule was packed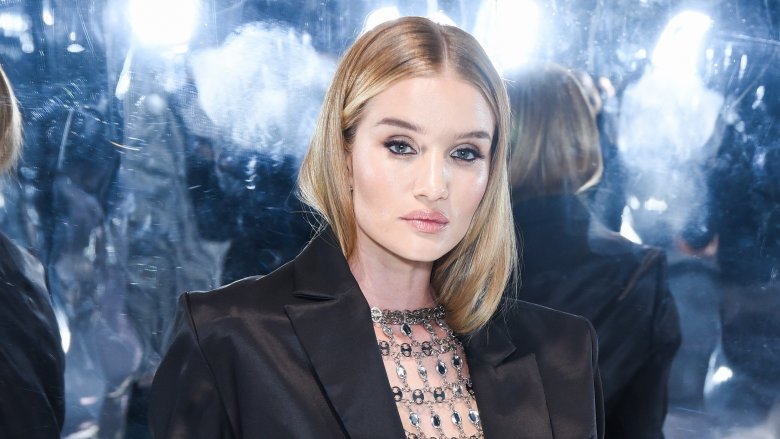 With all the time she's spent acting, modeling, and working on her other business ventures, it's hard to imagine how Rosie Huntington-Whiteley could possibly fit anything more on her professional plate. Eventually, juggling all of these commitments was bound to become too much, and as a result, certain projects inevitably fell by the wayside.
Shortly before being cast in Fury Road, Huntington-Whiteley had been pushing for the presenter spot on the long-running reality TV series Project Runway. After getting confirmation that she'd landed the job, she abruptly pedaled back — and unfortunately for the show, this all went down mere weeks before filming was slated to begin. When she was offered the part in Fury Road, she decided that her role in the film took precedence, which unexpectedly left the cast and crew of Project Runway in search of a different host. It isn't uncommon for scheduling conflicts to wreak this sort of havoc in Hollywood, but it still probably didn't do her any favors with the people behind the scenes at Project Runway, and she may have realized that choosing Hollywood over the fashion industry might not be such a smart career move in the future. Trying to do it all would just mean spreading herself too thin.
Baby on board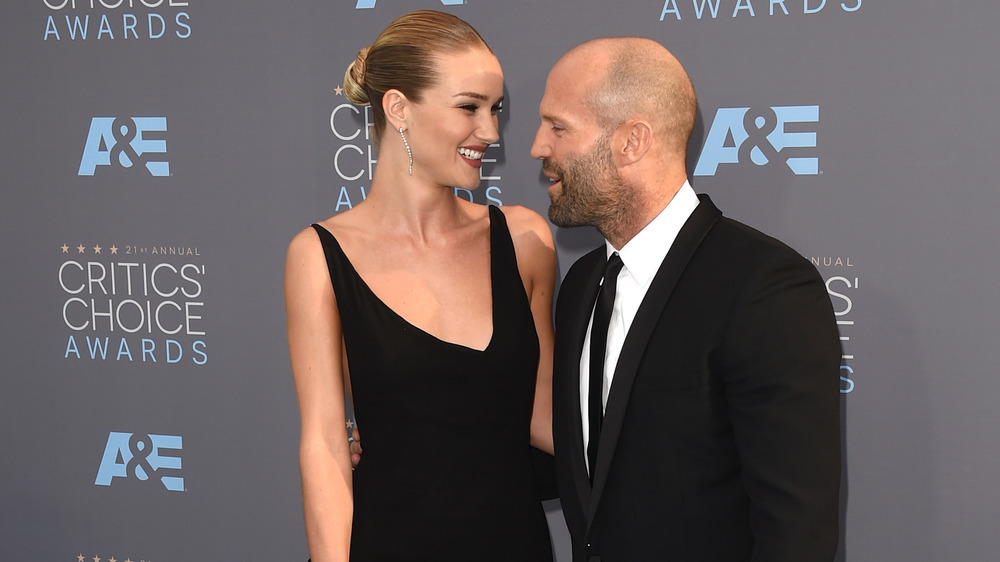 In June 2017, Rosie Huntington-Whiteley and Jason Statham brought home a little bundle of joy: their son, Jack. Like pretty much any doting mom, Huntington-Whiteley never misses a chance to gush about how much she loves him. Although she did take several months off to stay home with Jack and adjust to being a new mom, she says that since she came back to work, she and Statham now try to split their parenting responsibilities equally.
With Statham's time on film sets, it would be difficult for both of them to balance time with Jack if Huntington-Whiteley was acting too. Now, their schedule works out perfectly: Statham is in charge of Jack in the morning, while Huntington-Whiteley takes care of the nighttime routine and putting him to bed. The couple is adamant that their son should be raised with plenty of involvement from both parents. "I think it's so much about raising boys and girls the same," she told Harper's Bazaar. "That's how I was brought up, it's how the people I love were brought up, and they are the values I hope to instill in my loved ones."
She's a mom first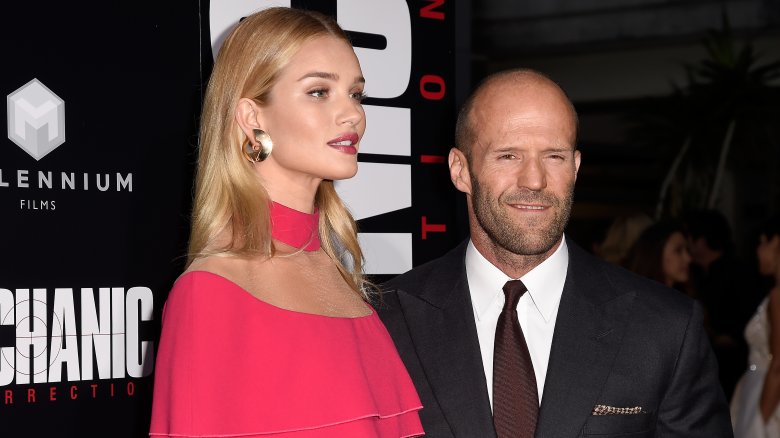 Ask any parent how their life has changed after they've had a kid, and many will probably tell you that they're not too keen on staying late at the office anymore — they would rather get home early and have plenty of time with their family instead. As it turns out, even celebrities struggle to strike that balance. Rosie Huntington-Whiteley has been very forthcoming about the fact that she now considers her son Jack's needs before she agrees to take any potential new job.
"The first thing in your mind before accepting a job is, what's right for my family?" she told Harper's Bazaar. "The new thing is getting used to having a lot of responsibilities in my personal life and career… for every woman, it's a juggle." Huntington-Whiteley once described herself as the kind of go-getter who would hop on a plane anywhere for a new opportunity, but now, it's not just about her anymore. If a job would require her to be away from Jack for too long, she's much more likely to turn it down.
She can afford to be picky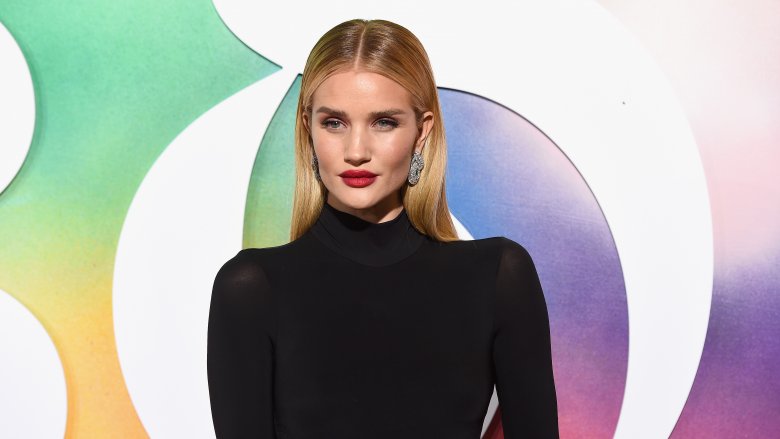 In the early days of her career, Rosie Huntington-Whiteley couldn't afford to be picky with her projects — just like any new model, she had to be open-minded about the jobs that came her way. But now, she's certainly not scrounging for work. As one of the most in-demand models in the industry, she can be as choosy as she wants to be — she calls the shots.
It seems that 30 was the magic turning point for Huntington-Whiteley. After spending nearly 15 years in the industry, she felt like she had finally gained a solid grasp on the kinds of jobs that she did or didn't want to take on. She feels that becoming a mother has made her much more "efficient" with her time, and now, she says, "I've settled into my life… I know myself and what makes me happy." Simply put, she's not going to agree to a job if it doesn't check all of her boxes, and acting jobs evidently just aren't her forte.
Busy with her beauty brand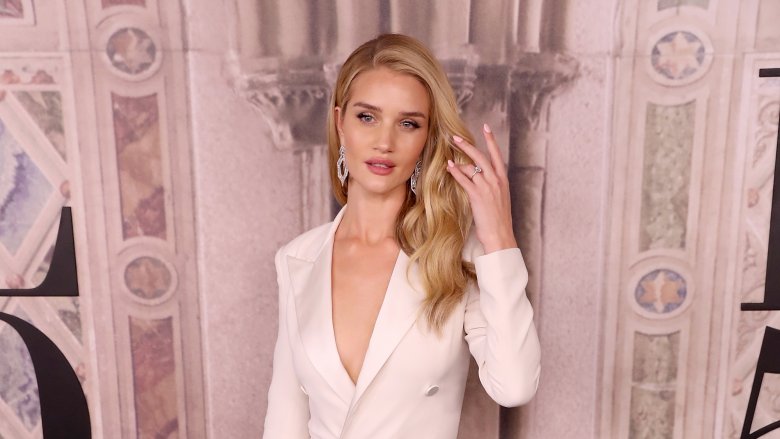 Aside from motherhood, which endeavor is highest on the list of Rosie Huntington-Whiteley's priorities these days? Only she knows for sure, and it probably changes from day to day, but it seems pretty safe to assume that the short list includes her new beauty business, Rose Inc., which she started while taking her hiatus from modeling to stay home with Jack. Huntington-Whiteley says that while acting or modeling, other people are typically in control of the decisions and final product, but she wanted to pursue a project where she would have the final say. After years of taking direction from others, she was ready to make a statement and kick off a whole new phase in her career.
"I just never felt comfortable sitting back and waiting for other people to make decisions for me," she told Net-A-Porter. "I've always wanted to be in control of where my life is going." Right now, the site features interviews with models and beauty industry moguls, updates on innovative new products, and, of course, makeup tutorials. It's clear that this is Huntington-Whiteley's passion, and it's a space where she gets to share all of her interests and beauty know-how with her friends.
Rising up the modeling ranks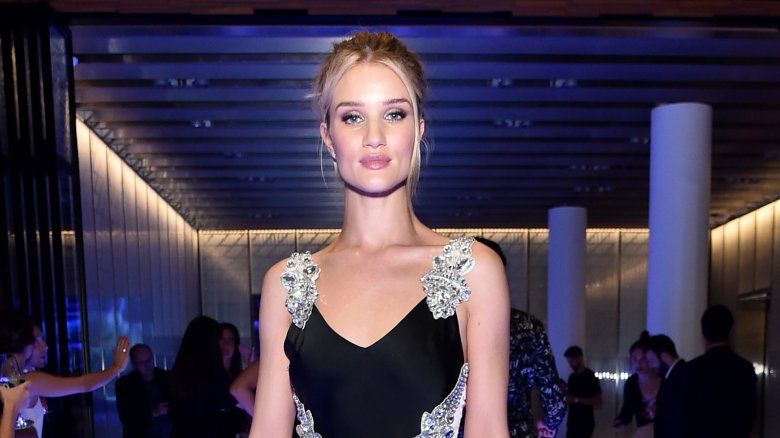 Why didn't Huntington-Whiteley try to establish herself as a model-turned-actress after the success of Fury Road? Despite her shaky first steps into acting with Dark of the Moon, Fury Road fared much better in the eyes of critics, and she probably could have landed other roles if she really wanted to. But at the end of the day, Huntington-Whiteley is a model first and foremost, and the truth is that she doesn't really need to add acting jobs to her resume.
As of 2018, Huntington-Whiteley was ranked sixth on the Forbes official rankings of the highest earning models in the world. And those rankings were released while she was on her maternity break. At this point, she has the freedom to fully lean into the talents that have taken her to the top of the ladder, and she knows that she has always had a certain natural gift for modeling and fashion design. There's a time for trying new things, and there's a time for embracing your innate talents and just running with it, and that seems to be where Huntington-Whiteley is at right now.
She prefers collaborative projects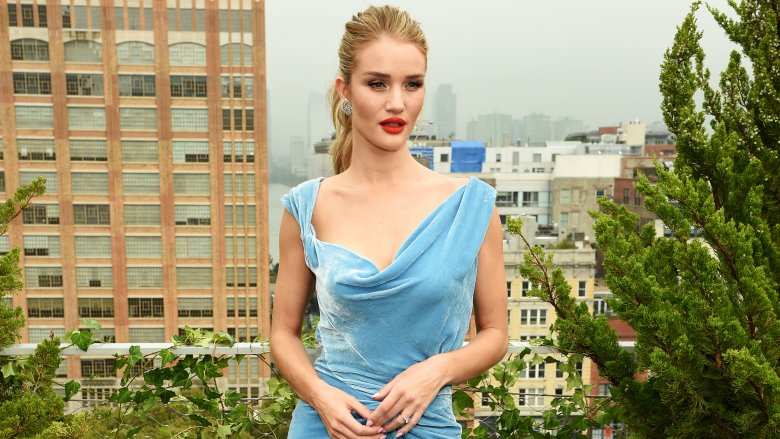 At the beginning of her modeling career, Huntington-Whiteley said she was simply expected to sit in front of the camera and look pretty, and she was frustrated with the expectation that models should be quiet and docile. She says that over the past few years, she's gotten sick of feeling like she's just being "photographed" — if she can't give her input and take part in the artistic process, she's just not interested.
"If shoots aren't a collaborative process then I'm not really interested," Huntington-Whiteley told Net-A-Porter. "Because I don't want to feel like I did for the first ten years of my career, which is that I was just having stuff done to me." And as a newcomer to Hollywood, Huntington-Whiteley probably didn't have much sway when it came to how she played her roles — in fact, she was likely out of her element. Perhaps she missed feeling confident and having a certain level of authority while having a director in charge of her every move.
Acting was never her plan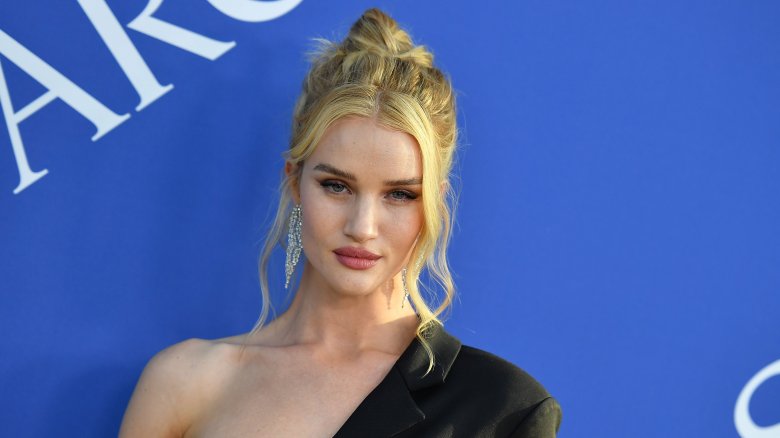 Huntington-Whiteley's dream was always to become a model, and through hard work, grit, and a little bit of luck, she made that dream come true at a young age. But becoming an actress was never one of her goals. Those roles happened to fall into her lap, and while she was grateful for the chance to be part of two franchises that she was a fan of, acting wasn't part of her long-term career plan.
"They were just incredible opportunities that I've grasped," Huntington-Whiteley told The Daily Telegraph. "I think you'll agree when you get to be in a film like Mad Max or Transformers, you'd be crazy to say no and turn that down." Huntington-Whiteley has always seen herself as a model before anything else. She has the incredible career that she has always envisioned, and while she's glad that she gave acting a shot, it just wasn't her style. She's happiest posing on the cover of a magazine or working behind the scenes with her favorite brands, not reading lines from a script.
She moved back to London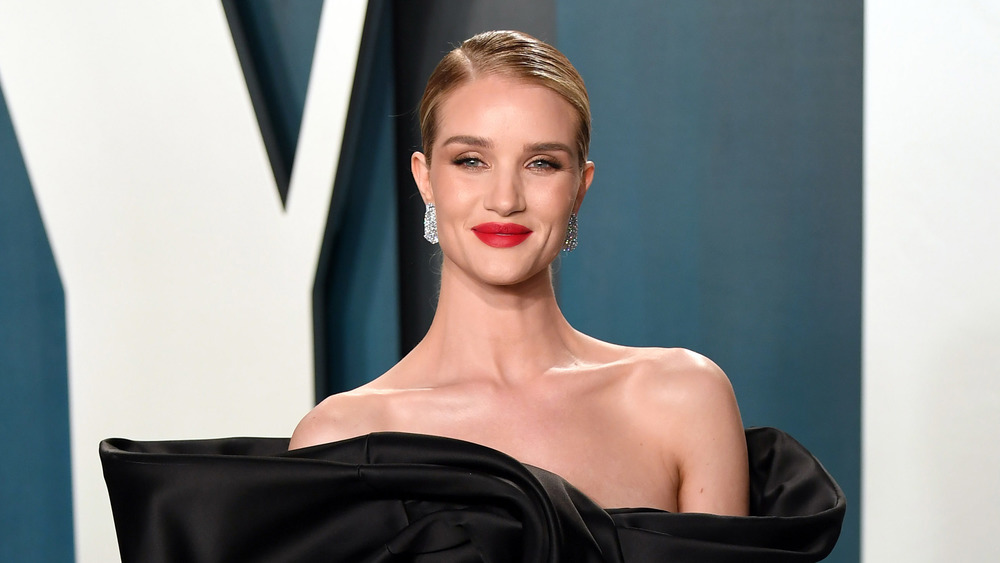 After spending years in Hollywood, Huntington-Whiteley and her family decided to pack up and move to the U.K., specifically London. On Instagram, Huntington-Whiteley frequently shares photos from her spacious new home, and she occasionally posts shots from around the city.
Since Huntington-Whiteley was born and raised in England, it's safe to say that she wanted to be closer to her family — and perhaps she was just feeling a little homesick after living so far from her loved ones. While there are plenty of opportunities for actors in London, it's unlikely that Huntington-Whiteley would want to relocate there if she intended to return to acting. Of course, actors don't necessarily need to be based in Los Angeles in order to land roles, but it certainly does help. Maybe she 'll decide to come back to California one day, but for now, it looks like Huntington-Whiteley and her family will be staying on the other side of the pond.
Beauty products are her true passion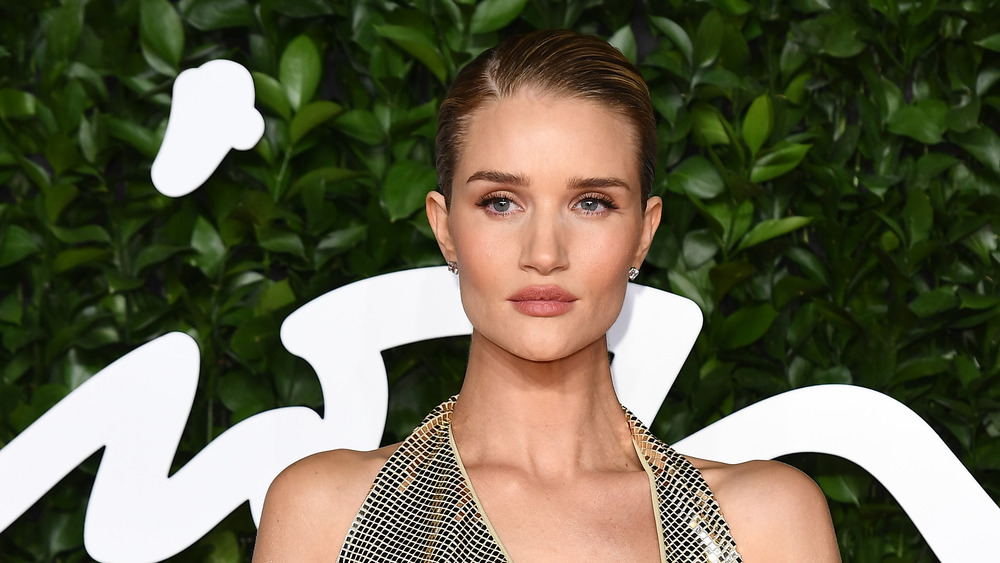 Huntington-Whiteley wanted to go beyond running her own beauty site. She's also passionate about high-quality cosmetics, and she's had the opportunity to collaborate with several top beauty brands to create new products. In 2020, Huntington-Whiteley became the first celebrity ambassador for Hourglass Cosmetics — and together with Hourglass, she launched a new line of concealers and lipsticks.
In Janaury 2021, Huntington-Whiteley worked with another beauty brand, La Bouche Rouge, to release two new shades of lipstick. She announced that a portion of the proceeds from this particular collection would go to the non-profit organization Eau Vive International, which provides communities in need with clean drinking water. Huntington-Whiteley has spoken of her admiration for La Bouche Rogue on numerous occasions, stating that she "instantly fell in love with the sustainability mission, the clean formulations, and how the lipstick cases felt like a keepsake."
While Huntington-Whiteley may not be acting right now, she's certainly busy enough with other projects. Chances are, she'll collaborate with brands on new beauty products in the future.