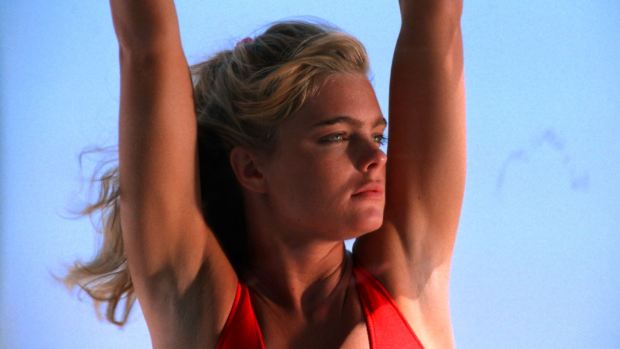 Stating what happened to Erika Eleniak isn't too hard, but going over the course of her career one might be reminded that at one time she was actually pretty popular and there are reasons why. She had a part in E.T. the Extraterrestrial since she was the girl in class that Elliott kissed during the movie, and eventually, she went on to star in The Blob six years later. She also starred in Under Siege with Steven Seagal and was also in Playboy at one time. As you can guess she was also in Baywatch and she did star in other shows as a guest throughout her career, as many actors have done over time. But as far as what's become of her career lately it's easy to say that she's still acting, but getting the same kind of attention she used to get hasn't been as easy considering that over time a lot of actors tend to fade when it comes to their reputation and their popularity. Erika has definitely aged well as anyone can see, but her career hasn't been on a big upswing in a while since one of the most popular productions she's been a part of within the last decade has been Desperate Housewives, which is enough to get many people noticed, but isn't exactly as hot as it used to be.
Quite a few of us should be able to admit that we saw stars such as Erika going places when we were younger since she was on the scene quite a bit and it appeared that like many of the stars at that time that she was one of those that would be famous for a while to come. What we don't always get right is the fact that some stars rise and some hit their peak early on and then will continue to coast along doing what they can and taking on the jobs they can get, while others might disappear completely, and others find a way to keep rising since they were picked up for big, blockbuster movies that jump-started their careers in a way that's hard to deny. Erika is one of those that has been pushing forward for years since she never really went away, but she did have a pause between her time in E.T. and her next role since it could have been that her parents might have wanted her to focus on her schooling and to maybe have a normal life before getting caught up in the acting world. Many parents have either thrust their children directly into acting or have wanted them to take the time to grow and mature before getting into the movies, and for some, it's worked out either way, while for others it's been noted that being a child actor is kind of a trying time.
Erika was 18 when she came back to the scene, old enough to get back into the swing of it and still create a name for herself as she went on to become a rather popular individual thanks to both her looks and the ability to actually perform. A pretty face used to be enough to get a person into the movies and even to TV, but oftentimes if that person couldn't act they would be used in ways that they might not appreciate, or they might be shown the door after it was established that there was nothing more they could give one project or another. Thankfully that wasn't the case with Erika since she kept coming back. Let's be honest and say that she's not the greatest actress that ever lived, but she has managed to improve over the years since her star first started to shine and she was killed off by the gelatinous thing known as The Blob. From that point on she started making her mark in a big way as she became one of the more well-known faces in Hollywood and was bound to become even more famous once she managed to land on the cast of Baywatch where tight swimsuits and slow-motion sequences were the order of the day since this was a big part of what brought so many viewers to the show. Her career kept moving forward after that and has continued to do so ever since, though it's fair to say that her reputation has simmered in recent years as she's still doing her thing but the buzz surrounding her has died down quite a bit as newer and younger actors have continued to emerge and Baywatch has been largely left behind despite the big screen movie featuring Dwayne Johnson a little while back. At the very least, Erika is likely to stick around for a while yet since there appears to be nothing wrong with her career as it keeps moving forward.