Hit the Road
Lodging is typically one of the biggest travel expenses, but it doesn't have to be. Taking a vacation in a recreational vehicle is a great way to reduce accommodation expenses. It also provides a memorable way to explore beautiful, wide-open spaces by combining the fun of camping with comforts that can't be found in a tent, such as air conditioning, a kitchen, and indoor plumbing. Here are 26 popular tourist destinations that have RV campgrounds nearby. Some RV parks charge less than $25 a night.
Bryce Canyon | Utah
One of the more stunning and unusual national parks, Bryce Canyon is known for its otherworldly hoodoo rock formations. Hiking amid the hoodoos is one of the best ways to experience the park. But be sure to catch a sunset here, when the glow of the sun and the color of the rock formations create a sight you won't soon forget. Ruby's Inn RV Park & Campground offers sites surrounded by ponderosa pine forest. Nightly rates start at about $45. The sites, which are equipped with full hookups, come with fire pit and picnic table. There are also restrooms, hot showers, and laundry onsite.
Acadia National Park | Maine
Known for its picturesque, rock-strewn beaches and craggy bluffs, Acadia National Park has hiking trails, historic carriage roads for biking, and more than 340 bird species, making it one of the premier bird-watching areas in the country. Bass Harbor Campground is open from mid-May through late October. The campground offers RV sites ranging from $46 to $59 per night. Campground amenities include hot showers, a swimming pool, store, and laundromat. Reservations must be made by phone.

For more great RV articles, lifestyle stories, and money-saving tips, please sign up for our free newsletters.
Great Smoky Mountains National Park | North Carolina
Great Smoky Mountains National Park is awash in magnificent wildflower displays, overflowing with diverse animal life, and filled with waterfalls and deciduous forests (leaf-peeping in fall is a prime sport). Bicycling, hiking, and fishing are some of the many things to do. The Happy Holiday Campground in Cherokee, North Carolina, offers back-in RV sites with electric hookups for $48 night, or $60 a night for pull-through sites; weekly rates are available. There are also economy sites for $38. Amenities include a swimming pool, playground, and a game arcade.
Glacier National Park | Montana
Encompassing more than 1 million acres, Glacier National Park has more than 130 lakes, 700 miles of hiking trails, and about 1,000 species of plants. It's also home to mountain goats, grizzly bears, moose, wolverines, and Canadian lynxes. Just 9 miles from the park is Mountain Meadow RV Park and Cabins. The RV park is in a forested mountain area and has 56 RV sites that all include barbecue grills, campfire rings, and picnic tables. Complimentary Wi-Fi is also provided (though not always reliable). Sites range from $46 to $54, with the higher rate providing a sewer hookup in addition to water and electric. There are also shower facilities and a laundry room onsite.
St. Augustine, Florida
One of Florida's most charming and historic cities, St. Augustine also claims to be the oldest city in the United States. It's known for its Spanish colonial architecture, Atlantic Ocean beaches, and being home to a 17th century Spanish fortress. Another top attraction is the Anastasia State Park, a protected wildlife sanctuary. Bill Widmer of the RV-lifestyle site The Wandering RV says hotel rooms in St. Augustine are not cheap, but the Stagecoach RV Park offers a budget-friendly alternative. Nightly rates for four-person occupancy range from $56 to $61 — the higher-priced sites include a concrete patio, and prices increase by $3 for each extra person. The park is less than 1 mile from restaurants and an outlet mall, and it is within 7 miles of historic St. Augustine.
Mesa Verde National Park | Colorado
Mesa Verde National Park showcases the history of the Ancestral Pueblo people who lived in the region some 700 years ago. The park is known for its fascinating cliff dwellings, where visitors can take guided tours. Biking and hiking are allowed here, and don't miss the park's Chapin Mesa Archeological Museum. Visitors can park RVs at Mesa Verde RV Resort, which is just outside the park. Rates range from $39 to $49 per night, depending on the site. The resort offers water- and electric-only sites, premium pull-through sites, and premium back-in sites. All of the sites have water, electric, and Wi-Fi.
Yosemite National Park | California
Iconic sights such as El Capitan and Half Dome are among the highlights of Yosemite National Park. Located in California's Sierra Nevada Mountains, the park is also famous for its giant, ancient sequoia trees. You'll also find stunning waterfalls, valleys, meadows, and massive tracts of wilderness among the 1,200 square miles here. Yosemite Lakes RV Resort provides a convenient base camp. It's just 5 miles from the park and an interesting place to visit in its own right. It's a 400-acre preserve where visitors can swim, fish, and pan for gold. There are 254 RV sites with full hookups. Public RV sites are around $88 daily during the summer, falling closer to $80 in the fall.
Seattle
A hip city on the Puget Sound in the stunning Pacific Northwest, Seattle is surrounded by water, mountains, and forests. There are also thousands of acres of parkland to explore. The largest city in the state, Seattle's metropolitan area is also home to American technology titans such as Microsoft and Amazon. For a visit to Seattle without the big city prices, RV travelers can stay at Issaquah Village RV Park, where rates start at $66 per night during the summer and amenities include free cable, laundry room, and free Wi-Fi.
Port Aransas, Texas
Take a dip in the warm waters of the Gulf of Mexico while vacationing on Mustang Island, one of the barrier islands along Texas' east coast and across the bay from Corpus Christi. Port Aransas' population swells in the summer with boaters, beach lovers, and others who are attracted to the burgeoning eco-tourism scene, which includes activities such as birding, dolphin sightings, and kayaking. As its name suggests, On the Beach RV Park offers prime real estate, where the daily rate for an RV spot starts at $53 and covers two guests, Wi-Fi, electric hookup, cable TV, and one additional vehicle. Pets, additional guests, air conditioners, and space to park an extra car, boat, or trailer up the price modestly.
Plymouth, Massachusetts
Often referred to as "America's hometown," Plymouth is the site of the first Pilgrim settlement, founded in 1620, making it a great place to explore history. Attractions include Plimoth Plantation, the Mayflower II (a full-scale replica of the ship that carried the Pilgrims across the Atlantic) and Plymouth Rock. While hotels can be pricey thanks to Plymouth's prime beach town status, there are numerous RV options that won't bust your budget. RV rates at the Pinewood Lodge range from $42 to $69 per night.
San Francisco
One of the most expensive cities in the country, San Francisco has hotel room prices that can induce shock. The San Francisco RV Resort is a great alternative way to visit the city without spending a fortune. Located on a bluff overlooking the Pacific Ocean, the park is known for offering outstanding sunset views. It is also just 15 miles from the Golden Gate Bridge and other top sites, such as Fisherman's Wharf, Half Moon Bay, and more. The resort includes a pool, laundry facilities, playground, clubhouse and Wi-Fi hotspot. Weekend summer rates range from about $94 to $118 per day.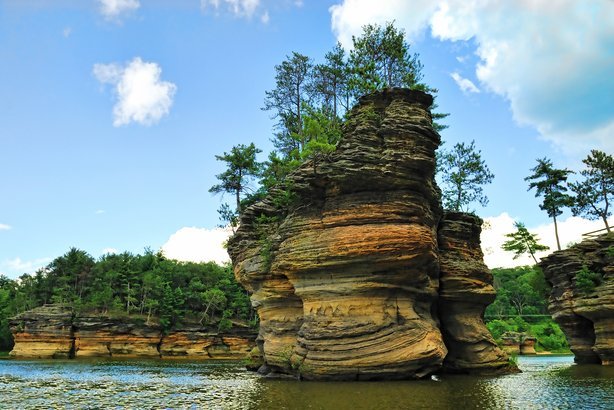 Wisconsin Dells | Wisconsin
During the last ice age, glaciers covering the Midwest carved a 5-mile series of gorges now known as the Dells of the Wisconsin River. These sandstone formations have made the Dells a popular tourist attraction since before the Civil War. The modern city of Wisconsin Dells is known as the "Waterpark Capital of the World," and nearby Mirror Lake State Park is known for its natural beauty. Take a scenic boat tour, play a round of golf, hit the gaming tables, visit a museum, or just chill. Sherwood Forest Campground & RV Park is a couple of blocks from the city's downtown River District. Rates for a full hookup site (including sewer, water, and electric) are $63 to $129 a night during peak season. Offseason rates drop to $40 per night.
Zion National Park | Utah
Zion, Utah's first national park, is distinguished by massive sandstone cliffs that range in color from cream to pink and red. A variety of animals can be seen here, including mule deer, wild turkeys, spotted toads, and porcupines. Just a few minutes from the park, Zion River Resort offers pull-through and back-in sites starting at about $41 per night in the summer. Prices vary depending on the size of the site and the season. All of the sites come with full hookups and cable. The resort also has a pool, sauna, and laundry facility.
Walt Disney World | Florida
Walt Disney World is many things, but inexpensive is not one of them. Just the park entrance fees will set visitors back quite a bit, and peak season hotel rates can be more than $600 per night. For those looking to cut costs, skip the hotels and instead stay at Disney's very own Fort Wilderness, a dedicated RV park where rates start at $129 per night. Designed to evoke the timeless beauty of the American frontier, Fort Wilderness has deer, rabbits, ducks, and armadillos roaming its 750 acres of pine and cypress forest. There are also woodland trails to explore and pool areas (with a waterslide) to enjoy.
Yellowstone National Park | Wyoming
A nearly unspoiled wilderness brimming with wildlife, forests (including one that's petrified), rare plants, rivers, canyons, and waterfalls, Yellowstone National Park is probably best known for its geysers and hot springs. Located within the park, Madison Campground is 16 miles from Old Faithful and an easy drive to the Upper, Midway, and Lower Geyser Basins. The sites are basic — no utility hookups — and the overnight rate is $28. There are public restrooms and dishwashing stations but no showers; pay showers are available elsewhere within Yellowstone.
First Landing State Park | Virginia
Camp out on a piece of the nation's history at First Landing State Park, the spot where English colonists came ashore in 1607. The park encompasses cypress swamps, lagoons, and a variety of unusual flora and fauna. It offers miles of hiking trails and 2.5 miles of beachfront. Nearby Virginia Beach is packed with tourists in summer and offers the usual assortment of beachside attractions, including a boardwalk and nightclubs. Sites are about $32 per night, and are just off Chesapeake Bay.
Sequoia National Park | California
Hug a tree at Sequoia National Park, home to the largest tree in the world (the General Sherman Tree) and other giant sequoias and old-growth specimens. Take a gander at Mount Whitney, the highest mountain in the Lower 48, and be on the lookout for badgers, coyotes, woodpeckers, and owls. There are falls and meadows galore, trails to hike, and a "tunnel log" to walk through. At Lodgepole Campground, 2 miles from the sequoia grove and 21 miles from the entrance to the park, the fee is $22 a night for RVs. Reservations are available through Sept. 24 and are strongly recommended. Camping after that date is first-come, first-served. There are no electric hookups, and generator use is strictly limited to three hours in the morning and three hours in the early evening. There are flush toilets on site, and showers and laundry facilities a short walk away.
Washington, D.C.
Washington is always a popular vacation spot thanks to its wide range of affordable attractions. The Capitol Building, the Bureau of Engraving and Printing, the National Zoo, the U.S. Botanic Garden, and the National Museum of African American History and Culture are just some of the top sights. Cherry Hill Park in College Park, Maryland, is the closest RV campground, and RV sites start at $85 per night. Amenities include electric hookups, restrooms with showers, laundry facilities, free Wi-Fi and cable TV, playgrounds, a hot tub and sauna, and two outdoor pools.
Santa Barbara, California
A stunning California coastal destination that's home to lavish mansions belonging to the likes of Kevin Costner and Jennifer Lopez, Santa Barbara is often referred to as the American Riviera. So it should go without saying that hotels here can be pricey. But Ocean Mesa Campground at El Capitan offers an alternative to shelling out a small fortune for accommodations. About 20 minutes north of downtown Santa Barbara, Ocean Mesa is surrounded by the Los Padres National Forest and is perched above the Pacific Ocean. Campground amenities include a heated pool and spa, laundry facilities, and convenience store. Nightly summer RV prices start at $125, which may seem steep for camping, but given the ZIP code, consider it a bargain.
Gettysburg | Pennsylvania
Civil War buffs surely have Gettysburg in their line of sight when planning a vacation. The historic battlefield is part of the Gettysburg National Military Park, where visitors can view artifacts from the Civil War and the site where Abraham Lincoln delivered his famous 1863 speech extolling equality for all and the value of one union. There's lots more to do in the area, from agri-tourism to ghost tours to golfing and biking. For cheap RV accommodations, pull into the Gettysburg Campground. Rates range from $65 to $106 for basic to premium RV sites during the peak season. Amenities include Wi-Fi and cable TV, a swimming pool, playground, laundry, game room, and an RV repair shop.
Black Hills | South Dakota
Head for the Black Hills and stash the RV at Custer's Gulch RV Park in Custer. The area is rich with wildlife (deer, elk, bison, prairie dogs, and more), fossil bones at Mammoth Site, caves that beckon explorers, hiking trails for the adventurous, and fishing spots for contemplative sport. Enjoy a patriotic moment at Mount Rushmore, just 23 miles away. Rates at the park range from $59 to $69 a night for two adults and two children under 13; each additional adult is $5 a night. Sites are outfitted with full hookups. The campground also provides free Wi-Fi and features hot showers, a clubhouse, volleyball, and more.
San Luis Obispo, California
San Luis Obispo is another top California tourist destination. Located on the state's central coast, the city is home to Mission San Luis Obispo de Tolosa, a 1700s Spanish mission that now includes a museum. The community also hosts the popular Downtown SLO Farmers Market. The San Luis Obispo Museum of Art, meanwhile, showcases work by contemporary California artists. All of these attractions mean hotel rooms are often scarce and pricey, says RVPlusYou's Russ Lovell. El Chorro Regional Park Campground offers a reasonable alternative. Expect to pay $94 to stay just outside the city and near a golf course, trailheads, and a botanical garden.
Stone Mountain Park | Georgia
Stone Mountain Park, about 30 miles northeast of Atlanta, may be known as home to the Confederate equivalent of Mount Rushmore on dome-shaped Stone Mountain. But the park also offers a variety of family-friendly attractions, including a petting zoo with goats that perform tricks, mini golf, and rope bridges and net tunnels. There is a history museum and a "historic square" with buildings dating to the 1800s. Rates start at $44 a night (for basic sites with just water and electricity); and go up to $66 per night for sites that include sewer and cable.
Las Vegas
In a city known for its many glitzy hotels, it may be hard to imagine rolling up in an RV. But the Circus Circus RV park is close to the Strip, and it offers full hookups and free Wi-Fi and equips each site with outdoor furniture. When it's time to take a break from the casinos, campground guests can take a dip in the pool or hot tub. Golfing, hiking, and tourist attractions, including the nearby Hoover Dam, offer plenty of diversions. Rates are $44 to $56, and there's a resort fee added to nightly rates. The park includes shower and laundry facilities.
Lake of the Ozarks | Missouri
Missouri's Lake of the Ozarks is a reservoir created in 1931 when a hydroelectric dam built on the Osage River was completed. The serpentine lake stretching through former Ozark valleys soon became a popular tourist destination offering the usual set of summertime activities, including fishing, boating, golfing, hiking, and bird-watching. Shopping, another highlight, provides year-round entertainment. Part of the land abutting the lake forms the Lake of the Ozarks State Park. Just 20 minutes north of that is Cross Creek RV Park & Campground, with pull-through, lakefront, full-hookup sites starting at $33 a day. Amenities include showers, an 8-acre fishing lake, playground, pool, and more.
Alaska
One of America's most picturesque states, Alaska is also one of the most expensive vacation destinations, says Erin Kirkland author of AK On the GO, a family travel guide series. But exploring via RV can be a great way to save money and create a "journey is the destination" type of experience, Kirkland says. Anchorage, Fairbanks, and other Alaskan cities all cater to RV travelers. There are countless RV campgrounds throughout the state. Among them, Heritage RV Park in Homer, where all sites are $72. Amenities at the park include a laundry room, espresso bar, and a private half-mile beach for beach combing. In the Denali area, one of the top options is K'esugi Ken Campground, which opened in 2017 and includes 32 RV campsites, a hiking trail to alpine areas, and a network of trails for hikers of all abilities. Rates are $28 per.