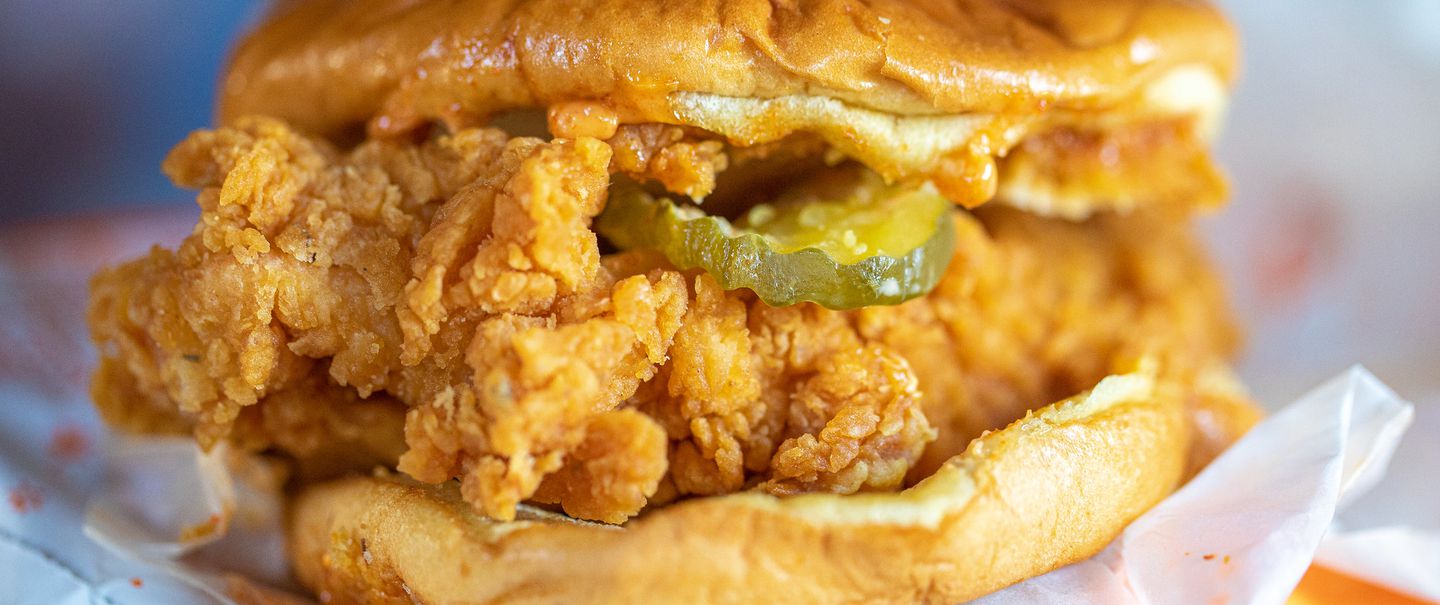 Hot and Battered
Fast food restaurants have been locked in battle for years — in the chicken sandwich wars. Though fried chicken on a bun isn't exactly new, it reached trendy heights in 2019 when Popeye's released a chicken sandwich that became a viral sensation. Since then, other fast food restaurants have released and revamped their own chicken sandwiches to take advantage of the trend. Here are some of the best, worst, and most mediocre spicy chicken sandwiches available, how they stand out, and what experts say about them.
Worst: Jack in the Box
Jack in the Box came out with a new, thicker crispy chicken fillet for its sandwiches last year. The spicy version includes an orange-hued cayenne and garlic powder coating on the chicken, not just a sauce, and it comes on a bun with lettuce, tomato, mayo, and optional cheese. Reviews are mixed, with many noting its similarity to Burger King's spicy chicken sandwich and high price tag; the consensus is that "there's really nothing exciting" going on here.
Worst: Hardee's
The only permanent spicy chicken sandwich at Hardee's is a budget sandwich. Made with a processed chicken patty and not a chicken breast like most of the others on this list, it costs only a buck or two — and if money is your only concern, this is the spicy chicken sandwich for you. But you'll be disappointed.
Worst: Checkers
Like Hardee's, the only permanent spicy chicken sandwich at Checkers is a budget(ish) offering made with a patty. If you find yourself stuck at a Checkers and need a chicken sandwich, definitely order the newer Mother Cruncher items — the chain's real entries in the sandwich wars. One reviewer summed the situation up well by puzzling over why Checkers even left this "weakest offering" on the menu.

For more great restaurant stories and dining tips, please sign up for our free newsletters.
So-So: McDonald's
McDonald's revamped its premium fried chicken sandwiches with a chicken breast fillet and bun this year. Consensus among reviewers seems to be that the chicken is a big improvement, but that the sandwich still isn't as good as most other restaurants. The only thing that makes the spicy version spicy is the creamy pepper sauce, with its "lingering peppery aftertaste that begs for follow-up bites."
So-So: Culver's
The spicy crispy chicken sandwich at Culver's is a bit of an outsider because it doesn't come with sauces or condiments. Some people consider the sandwich dry, while others say the lettuce, tomato, and pickles that come standard add enough that condiments aren't necessary. As for the chicken, it's pepper-flecked, crisp crumb coating doesn't pack much heat.
So-So: Burger King
This spicy, crispy chicken sandwich — not to be confused with the chain's oblong-shaped chicken patty sandwich — got a 2021 revamp and is now hand breaded, which most people seem to find an overall improvement. One Youtube reviewer found the new peppery spice heat "adds just the right amount of pop" to an already tasty sandwich. It won't win any contests, but it's a solid alternative to a Whopper.
So-So: Wendy's
When Wendy's decided to reinvent its chicken sandwich recently, it made sure to clarify that it didn't affect its spicy chicken sandwich. This is the OG spicy chicken, popular for well over a decade now with its heavy-on-the-black-pepper coating and lingering heat. Though it's been surpassed by other heavy hitters in the chicken sandwich wars, it's still rated as a favorite pretty consistently (and better than the revamped classic chicken sandwich).
Best: Zaxby's
Zaxby's is a chicken tenders chain, but decided to finally enter the chicken sandwich wars this year with a full breaded fillet, not just its chicken tenders on a bun. It's made with a double hand-breaded chicken breast — a "quality piece of chicken" — plus pickles and a spicy version of its creamy Zax sauce made with jalapeños and cayenne. If there's any complaint from reviewers, it's about how big the sandwich is, with Uproxx warning: "One of the best fast-food fried chicken sandwiches, but make sure you're hungry. It's a lot."
Best: Bojangles
There is only one fried chicken sandwich option at chicken and biscuit chain Bojangles: the Cajun fillet sandwich. The seasoning in the coating provides a little bit of heat, so it's essentially a spicy chicken sandwich. The bun tends to be dry and fall apart, but overall the sandwich is great thanks to its high quality "crispy, yet juicy" chicken fillet with "just the right amount of crunch." Lettuce, tomato, and mayo lend freshness and moisture, putting this in the higher ranks.
Best: Church's
Church's is a competitor of Popeye's, so it's no surprise it has a really good fried chicken sandwich as well. The spicy version includes spicy mayo and a jalapeño on the side, plus a huge but light, not greasy, battered chicken breast. The bun is brioche and brushed with the chain's signature honey butter, giving it a subtle sweetness that's a "perfect foil to the seasoned batter." Almost all reviews rank this sandwich right up there with Popeye's.
Best: Chick-fil-A
The spicy chicken sandwich at Chick-fil-A is generally rated a bit lower than its famous non-spicy sibling (unlike at Wendy's). It's been around a long time, so the heat level is considered tame now that the market is more saturated. Still, Chick-fil-A does chicken sandwiches well and always will, so it's hard to go wrong with any of the sandwich options here. The Spicy Deluxe, which includes pepper jack cheese, lettuce, tomato, and pickles, is considered by some as the basis for measuring all fast-food chicken sandwiches.
Best: Popeye's
It's almost impossible to find a chicken sandwich ranking or article that doesn't list Popeye's as "flawless," as Thrillist does. This is the sandwich that started the chicken sandwich wars, and it wasn't just a fluke of social media — it's a darn good sandwich. The breast features an "absurdly crispy crust and tender chicken laced with a complex spice profile," the Chicago Tribune says, and it's only elevated by the tangy pickles and swipe of orange spicy mayo that differentiates the classic and spicy versions. "Heavenly" is another adjective thrown around to describe it.