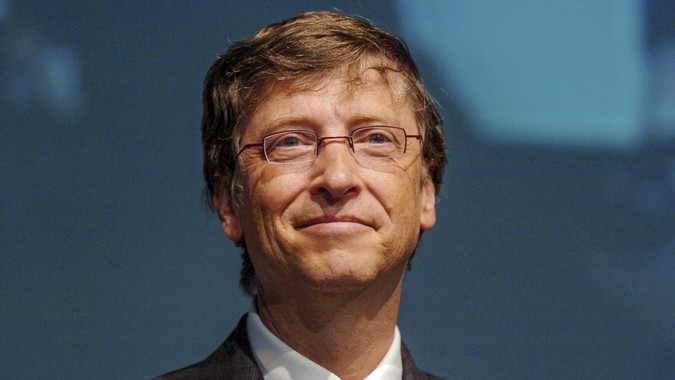 With a net worth of $118.8 billion as of Nov. 30, Microsoft co-founder Bill Gates most recently ranked as high as the second-richest person in the world, according to Forbes. Keep reading to get the scoop on the Microsoft mogul's fortune.
Bill Gates' Net Worth: $118.8 Billion
Considering Microsoft Office — only one of the company's products — is used by more than 1.2 billion people in 140 countries, it's not hard to understand why Bill Gates' net worth is so high. His involvement in the software giant he co-founded is currently limited to technology advis0r — he stepped down from the board in March 2020 — but he still holds roughly 1% of the company's shares.
See: Warren Buffett and 14 Other Celebs Who Donate Millions to Charity
Microsoft's CEO until 2000, Gates traded the top title for the role of chief software architect until 2008, when he shifted away from his daily work at the company to dedicate more time to his charity, the Bill & Melinda Gates Foundation — one of billionaire Warren Buffett's favorite charities. Gates stepped down as Microsoft's chairman of the board in 2014.
Bill Gates: His Rise to Tycoon Status
Maybe destined to become one of the richest men in America from birth, Gates' knack for computers dates back to childhood. In 1967, 12-year-old Gates met his future Microsoft co-founder Paul Allen while the two were students at the Lakeside School — an exclusive private school in Seattle. The next year, they started programming together in the school's computer center, forming a partnership that would one day be worth billions.
After graduating from high school, Gates enrolled at Harvard University in 1973. Two years later, he convinced MITS — the company behind the world's first personal computer — to let him develop software for its MITS Altair computer, for which he was paid $3,000 plus royalties.
A busy year for Gates, he also founded Micro-Soft in 1975. He and Allen changed the company's name to Microsoft the next year and by 1978, the company's year-end sales exceeded $1 million.
Would You Be Rich? What $1,000 Invested In Microsoft 10 Years Ago Is Worth Today
Where Did Bill Gates' Money Come From?
As expected, the bulk of Bill Gates' money comes from Microsoft. Along with Paul Allen, he took the software company public on March 13, 1986, and investors couldn't wait to get a piece of it. During the IPO, Gates made just $1.6 million on the shares he sold, but his 45% stake in the company gained a market value of $350 million.
Now the leading software company in the world, Microsoft has a market cap of $1.61 trillion as of November 2020. In 2020, it was ranked by Forbes as the third-most valuable brand in the world, behind only Apple and Google.
Gates holds only slightly more than a 1% stake in the company he built. In August 2017, he donated 64 million Microsoft shares valued at $4.6 billion to an unknown recipient. Probably not a coincidence, an SEC filing by the Bill & Melinda Gates Foundation that same month listed a donation of 64 million Microsoft shares.
Overseeing a fortune the size of Gates' is a full-time job, which is handled by Cascade Investment, his personal wealth-management firm. Run by Michael Larson, the firm manages both the Microsoft co-founder's private wealth and the endowments of the Bill & Melinda Gates Foundation Trust.
Additionally, Gates debuted his $1 billion Breakthrough Energy Coalition investment fund in December 2016. Along with roughly 30 other deep-pocketed investors — including Jeff Bezos, Mark Zuckerberg, Richard Branson, Meg Whitman and George Soros — the coalition is committed to investing in technology that can help combat climate change.
Most recently, Gates has contributed $300 million to fighting the coronavirus pandemic through his namesake foundation.
See the Future: 21 Billionaires Like Gates With Big and Bold Ideas
Bill Gates' Home
Now that the question, "How rich is Bill Gates?" has been answered, you're probably curious about how he spends his money — particularly when it comes to housing.
Gates married Melinda French in 1994. They have three children, and the family lives in a mansion in Medina, Washington, that cost $60 million to build in the 1990s. By 2009, it was assessed at $147.5 million. Nicknamed Xanadu 2.0 by the billionaire, Bill Gates' house took seven years to build.
In addition his 66,000-square-foot compound — which boasts seven bedrooms, 24 bathrooms, a 2,300-square-foot reception hall and a 2,100-square-foot library — he also spent $14.4 million buying up surrounding properties for privacy.
Bill Gates' Charitable Donations
He's the richest man in America, but Gates shares his wealth with those in need. Along with his wife, he launched the Bill & Melinda Gates Foundation in 2000.
Now the largest private charitable foundation in the world, the nonprofit had $49.8 billion in endowment assets as of Dec. 31, 2019, according to its website. The charity has made $54.8 billion in grant payments since inception — as of Dec. 31, 2019 — with $5.1 billion in direct grantee support provided in 2019.
A trustee of the foundation, billionaire Warren Buffett pledged $30 billion in Berkshire Hathaway stock to the nonprofit in 2006. He funds his gift in annual installments, and in July 2019, he donated $2.7 million to the Gates Foundation.
Headquartered in Seattle, the Bill & Melinda Gates Foundation employs more than 1,600 people in nine locations across the globe. In 2019, the nonprofit provided support to grantees in 48 states and Washington, D.C., along with more than 100 countries internationally.
Not surprisingly, the bulk of Bill Gates' money is going to charity. In 2010, Bill and Melinda Gates joined Warren Buffett to create the Giving Pledge, which invites billionaires to pledge the majority of their wealth to charity. As of 2020, more than 200 of the world's wealthiest individuals, couples and families had agreed to commit their fortunes to the greater good.
More From GOBankingRates
Gabrielle Olya contributed to the reporting for this article.