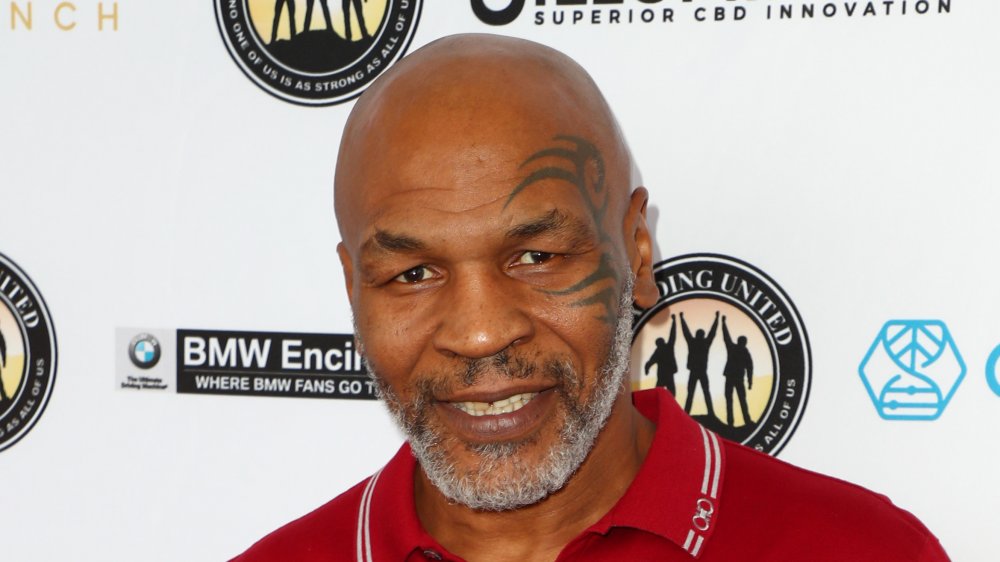 Boxing is a tough and intensely competitive sport by design. It takes a truly special athlete to rise to the top of the mountain and a truly unimaginable fighter to utterly dominate their weight class. However, every once in a blue moon, such a competitor rises. We've had heavyweight legends like Jack Dempsey, Joe Frazier, Muhammad Ali … and, of course, the one and only Mike Tyson. During his prime years, "Iron Mike" was an utterly unstoppable force of nature who steamrolled through opponents and did what he wanted to in the ring. Unfortunately, that was often his attitude in his private life, as well. Tyson's life has been full of ups and downs, and it's probably safe to say that the lows far outmatch the highs.
As befits a man who punched his name into the history books like few others before (or, for that matter, after) him, Tyson's life has been a truly impressive one. He has seen success, failure, marvelous deeds, and tragic missteps. Above all, it's definitely a story worth telling. This is the untold truth of Mike Tyson.
Mike Tyson's difficult early years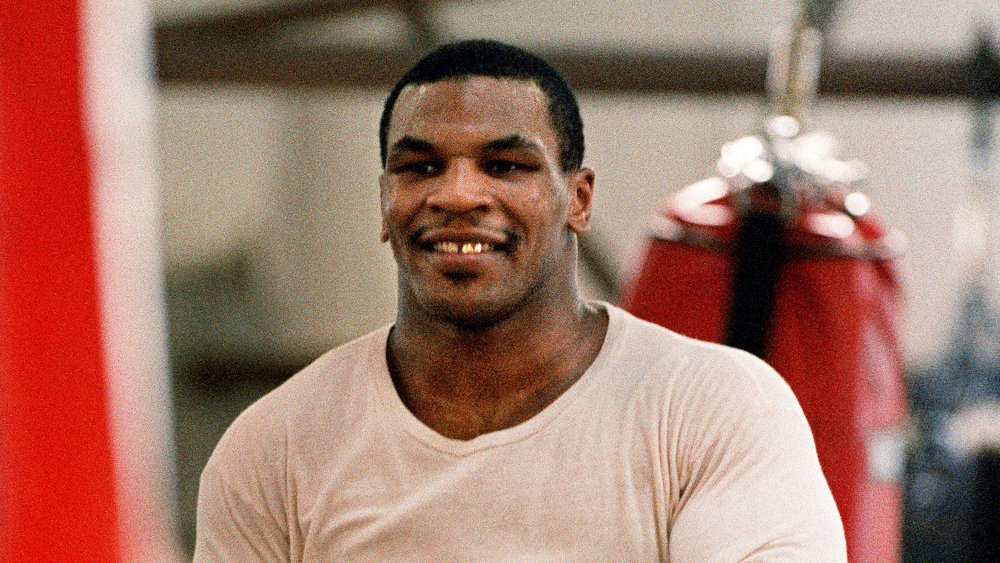 To say that Michael Gerard Tyson's early life was a struggle is an understatement. As Bleacher Report tells us, tyke Tyson's father walked away from the family when he was only two years old. Losing family members would prove to be a defining pattern of the future world champion's early years, seeing as his mother died when he was 16, and his sister passed away when Tyson was 24. In 1985, the then-19-year-old boxer also lost his esteemed trainer, Cus D'Amato.
Tyson's formative years were rather difficult. Apart from all his family issues, he grew up in the restless areas of Brooklyn, New York, and became something of a juvenile delinquent himself. In fact, by the time he was 13 years old, he had been arrested no less than 38 times. The nascent fighting skills that would eventually delight the crowds and terrify his opponents helped him hold his own on the streets, but his heavy familial losses and the fact that he never really learned to communicate with his mother took a heavy toll on Tyson. "I never saw my mother happy with me and proud of me for doing something," the boxing legend says. "She only knew me as being a wild kid running the streets, coming home with new clothes that she knew I didn't pay for. I never got a chance to talk to her or know about her."
Mike Tyson's unique boxing style
At 5′10″, Mike Tyson was fairly short for a heavyweight boxer. However, he was plenty stocky, and as Bleacher Report notes, he developed a peculiar style that easily and effectively allowed him to compete with opponents who were usually vastly larger than him. Ever since Tyson hit the ring as an 18-year-old in 1985, he was a "whirlwind" of punches who often managed to land hit combinations where the last four or so punches were completely unnecessary — the first ones had already ended the match.
Tyson achieved his success using a boxing style called "peek-a-boo," which Bleacher Report tells us focused on moving "in and out of opponents' punches," gradually drawing in with punches of his own. With Tyson's amazing combination of small-man speed, massive punching power and unmatched aggression, this tactic allowed him to make short work of many formidable opponents.
Mike Tyson, tiger king
Before Tiger King came along, Mike Tyson was arguably the most well-known "tiger guy" around, if only because of the version of himself the boxer played in The Hangover. It just so happens that the role was based on the real Tyson, when it came to tiger antics. In a 2020 Instagram Live event with rapper Fat Joe (via Boxing Scene), Tyson reminisced about the fact that during his bad boy phase in the 1990s, he indeed used to own not one but three tigers. Bankruptcy eventually forced him to part ways with the animals, and these days, he fully recognizes that the whole tiger-as-a-pet scene was less than healthy. "I was foolish," he says, noting that tigers can never be fully domesticated and are so strong that they can kill someone by accident. "I used to sleep with them. I'm just happy I educated myself. It was late. But I was doing the wrong sh*t."
Tyson's regret is perhaps well-justified. After all, he says that one of his tigers actually seriously mauled someone once. The animal attacked a woman who had climbed over the fence of his property, and though the victim was technically trespassing, Tyson ended up paying her $250,000 when he saw how badly the tiger had wrecked her hand.
The story of Mike Tyson's face tattoo
As you may have noticed, Mike Tyson doesn't look the same as he used to. Part of this is obviously due to his age, but as Sport Bible will tell us, a significant factor in the boxing legend's facial changes happened in 2003, when he decided to get a sizeable tribal tattoo on the left side of his face. In the 2008 documentary Tyson, the boxer stated that it was a cool design that befits his "warrior status." Others have claimed that he might have had different motives: Sport Bible also notes that Jeff Fenech, a trainer who helped Tyson prepare for his 2003 fight against Clifford Etienne, claimed that Iron Mike went under the needle because he didn't really feel like getting in the ring with Etienne. The fight did eventually take place, and Tyson made quick work of his opponent, though, so if Fenech's story is true, the boxer evidently reconsidered.
Incidentally, the infamous tribal design wasn't Tyson's original face tattoo choice. His first idea was to cover his whole face with heart tattoos because he wanted to be known as "The Man of Hearts." The tattoo artist talked him out of it.
Mike Tyson's many troubles with the law
In the ring, Mike Tyson was the baddest man on the planet in his prime. Unfortunately, that description has often applied to his other activities, as well. As CBC tells us, Tyson started building his considerable rap sheet all the way back in 1978, when he was arrested for purse-snatching. During his glory days, things didn't get too much easier. Over the years, Tyson has gotten in trouble for a whole host of unsavory things, including assorted automotive mishaps, fighting, getting way too grabby with women, drugs, and financial disasters.
As History tells us, arguably the most damning of Tyson's many misdeeds came to light in 1991, when he was accused of raping Desiree Washington, an 18-year-old contestant in the Miss Black America beauty pageant. Though Tyson claimed that the events had been consensual, in early 1992, he was found guilty on "one count of rape and two counts of deviate sexual conduct" and was sentenced to ten years in prison, with four suspended.
Mike Tyson's net worth is much lower than you'd think
Mike Tyson, as CNN Money is happy to tell you, does not have a history as a financially sensible person. Though his legendary boxing prowess earned him over $300 million over the course of his career, his fortunes dwindled down to the point where he went bankrupt in 2003. It took Tyson over ten years to claw his way out of the bankruptcy pit, but he has managed to rebuild a fraction of his fortune through various non-boxing endeavors. As of 2020, Celebrity Net Worth currently guesstimates him at $3 million, which is perfectly respectable, even though it's a measly one percent of what he used to have.
Tyson himself says that his money went on an assortment of rich-person luxuries and vices, from cars and mansions to women and, presumably, drugs. In 2017, the former boxing champ summed up his crazy times fairly astutely while speaking at the SALT conference in Las Vegas: "I didn't think I'd make it through my thirties."
The most feared man in the ring
During his glory years, Mike Tyson's reputation as an unbeatable boxer was without equal. As Biography tells us, he first competed as a professional in 1985 and made his name with a 22-0 boxing record before getting a chance at the heavyweight title. Twenty-one of those victories were knockouts, often in the first round. Tyson was immensely strong, his punches were lightning-quick, and his defense was incredible, which meant that his opponents often found him so intimidating that they were afraid to hit him.
On November 22, 1986, Tyson knocked Trevor Berbick out in the second round, winning the World Boxing Council heavyweight championship as the youngest man in history (20 years, four months). As The New York Times reports, by August 1987, he had won the World Boxing Association and the International Boxing Federation championships as well, in a unification tournament that made him the undisputed champion. He would stay at the top of that mountain until early 1990, when he suffered his first career loss at the hands of Buster Douglas.
As Bleacher Report tells us, arguably the greatest moment Tyson had in the ring was his 1988 fight against the undefeated Michael Spinks, an incredible boxer who hadn't taken part in the unification tournament and who many considered the rightful champion. When the pair eventually faced each other in a much-hyped matchup, Tyson steamrolled the visibly nervous Spinks in all of 91 seconds.
The death of Mike Tyson's daughter
Mike Tyson's life hasn't been exactly devoid of tragedies, and in 2009, he faced arguably his biggest one. As ABC News tells us, that is when the boxing legend's four-year-old daughter, Exodus Tyson, perished in a horrifying freak accident at the family's home in Phoenix, Arizona. Young Exodus had been playing on a treadmill when her neck somehow got stuck on a loop of cord under the console, with tragic results. To add an extra layer of awfulness, her seven-year-old brother found her.
The girl was rushed to a hospital, but unfortunately, nothing could be done to save her life. Tyson himself was in Las Vegas at the time but flew back home immediately after receiving the news. "There are no words to describe the tragic loss of our beloved Exodus," the heartbroken family stated. "We ask you now to please respect our need at this very difficult time for privacy to grieve and try to help each other heal."
Mike Tyson is a pop culture icon
Mike Tyson has made a bigger mark on pop culture than perhaps any other boxer in history. As the Los Angeles Times reports, he has become such an all-encompassing figure that he's at least as well-known for "being Mike Tyson" as he is for his athletic feats. He has featured in the legendary 1987 Nintendo video game Mike Tyson's Punch-Out!!, as well as Mike Tyson Boxing, Mike Tyson Heavyweight Boxing, and Mike Tyson: Main Event. He has also either featured on or been the subject of an assortment of books, movies, cartoons, and TV shows, and his IMDb page reveals no fewer than 51 acting credits.
The way Tyson has been depicted in popular culture has changed over time. As anyone who has played Punch-Out!! can attest, he started out as an incredibly powerful, borderline invincible figure. Over the years, he shifted into a tragic figure, until the ear-biting incident in his 1997 match against Evander Holyfield turned him into a ludicrous character and common fodder for comedians. Finally, the Golden Globe-winning The Hangover reintroduced Tyson to the world as someone who was very much in on the joke, and as The New Yorker reports, in 2012, the former boxer even had a Spike Lee-directed one-man show on Broadway.
Mike Tyson, pigeon man
"Mike Tyson" and "pigeons" seem like a fundamentally incompatible pair of terms you might see as audience suggestions at an improv show. However, as Reuters reports, Iron Mike is actually a noted pigeon enthusiast, to the point that there was an Animal Planet documentary, Taking on Tyson, which focused significantly on his pigeon racing proclivities.
Tyson's infatuation with pigeons started when he was just a boy. "The first thing I ever loved in my life was a pigeon," the boxer says in Taking on Tyson, fully acknowledging how absurd it may seem to people more familiar with his tough-guy image. "Pigeons are part of my life. It's a constant with my sanity in a weird way; this is just what I do."
According to Insider, though, Tyson hasn't always been quite as zen about his hobby as the above quote makes it seem. Tyson says that he got in his first fight as a child because a bully mauled one of his pigeons. He has also mentioned that he once knocked out a garbage man who threw away the body of his favorite racing pigeon, Julius.
The ear bite incident
Mike Tyson had no shortage of iconic in-ring moments during his boxing career, but the most infamous one is extremely easy to point out. As History tells us, Tyson's lowest point in a boxing match came in the third round of his rematch against Evander Holyfield in 1997. If you know anything about Tyson's career, you know the incident we're referring to: the famous "ear bite incident," which led to Tyson getting disqualified and receiving a suspension.
In 1996, Tyson had already received a shock defeat at the hands of the older, larger Holyfield, who was even mightier during their second meeting. Iron Mike, on the other hand, was clearly off his game and responded to Holyfield's punishing body shots with with unscientific, uncomposed offense. Things started to go awry in the second round, when Holyfield opened a cut over his opponent's eye. By the third round, Tyson was furious, spat his mouthguard on the floor, and bit off a piece of Holyfield's right ear. Somehow, the fight still resumed, but when Tyson immediately went for Holyfield's left ear as well, the match was over — and the biggest hits of the night were dealt to Tyson's reputation.
Mike Tyson is teasing a comeback
As much as it seemed that Mike Tyson was done with boxing and focusing on other avenues of life, recent events have caused some speculation that the man just might be planning to put on the gloves once more. Well, it's a little more than just speculation. In an Instagram post on April 11, 2020, the 53-year-old Tyson showed off some pretty nifty moves before outright stating: "I'm back."
Exactly how Tyson is planning to make his grand return is still unclear as of this writing. According to Bleacher Report, he has apparently received a hefty $20 million offer for bare knuckle fighting, and Bare Knuckle Fighting Championship is prepared to throw in some charitable donations, as well. Then again, as ESPN notes, Tyson has also been seen in the pro wrestling federation AEW, brawling with the champion Chris Jericho's stable. There have also been rumors of exhibition matches with combat sports legends such as heavyweight boxing top man Tyson Fury or legendary mixed martial artists Wanderlei Silva and Tito Ortiz. Oh, and if Tyson wants to return to the boxing game big-time, the World Boxing Council's chairman has told Sporting News that the organization is more than willing to give the legend a ranking.
Regardless of how Tyson plans to make his grand return, it looks like he still packs plenty of power, seeing as his trainer has told ESPN that he moves and hits like someone who's 21 or 22.