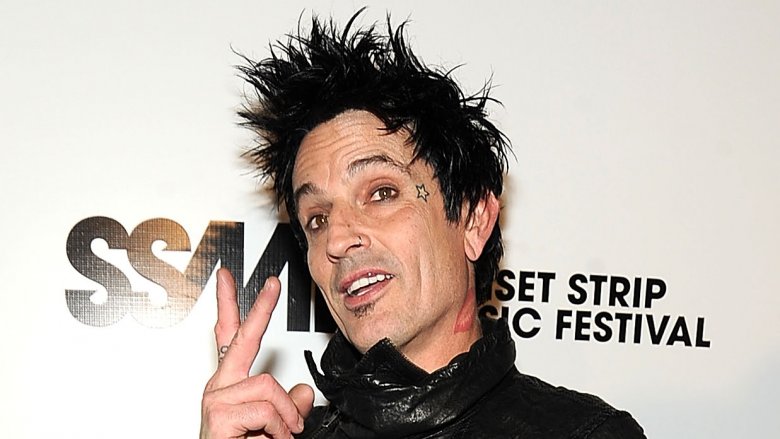 As the free-wheeling, hard-hitting drummer of Motley Crue, Tommy Lee is one of the most notorious rock stars out there. He's the youngest member of the band, and his entire adult life has been a barrage of hit songs, packed arenas, massive paychecks, and adoring fans. The man born as Thomas Lee Bass has not been exactly shy about his fame and fortune, and few people can compete with his reputation as the ultimate hard-partying bad boy.
Unfortunately for our man behind the drum kit, his career of providing the beats for the "most dangerous band in the world" may have given him free rein to live out his wildest dreams, but his hedonistic rocker lifestyle has not always been kind to him (or to those around him). Despite all his money and fame, Lee has gone through enough messed up stuff to last several lifetimes. Here's the shady history of Tommy Lee.
Why his infamous sex tape went public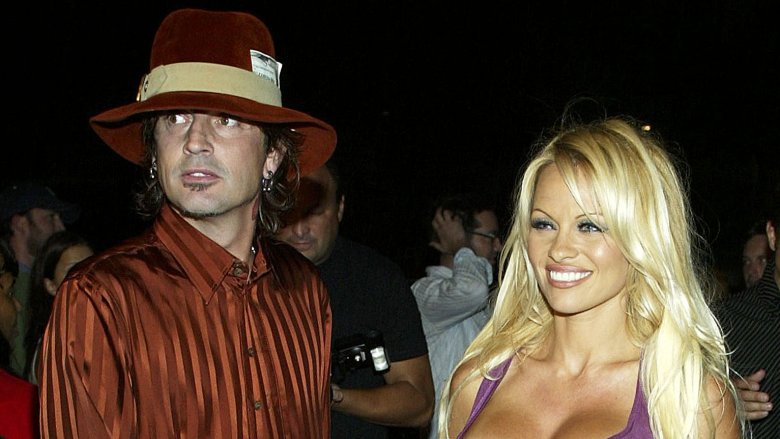 Tommy Lee's sex tape with Pamela Anderson is ridiculously famous, and as Rolling Stone notes, the tale behind the tape is as interesting as its contents. In 1995, the couple fired several workers renovating their mansion in Malibu. This did not sit well with electrician Rand Gauthier, who was already so exhausted with the couple that he was ready to walk away from the $20,000 he says they owed him. Gauthier's mood didn't improve when he attempted to retrieve his tools but found himself facing a shotgun-wielding Lee ordering him to leave the property. This was the final straw, and the electrician decided to exact revenge by stealing a safe he knew Lee kept in the garage.
One successful heist side quest later and Gauthier discovered that the safe contained something far more valuable than mere jewelry and family knickknacks: A 54-minute home video by the most famous superstar couple of the time, featuring roughly eight minutes of banging. As luck would have it, Gauthier himself happened to be a veteran of the adult film industry, so he used his contacts, and before long the tape was in the hands of a studio owner whose mob connections helped it go public. Despite the panicked couple's best legal efforts (and attempts to track down the tape with the help of a private investigator and, possibly, a biker gang), the video spread like wildfire. By 1997, it was such a cultural staple that Variety published a review.
The Kid Rock incident
In 2007, the MTV Video Music Awards featured an unexpected bonus performance when Tommy Lee and rap rocker Kid Rock engaged in some quick fisticuffs at Sean "Diddy" Combs' table. Both men had been married to Pamela Anderson so the reason behind the animosity seemed obvious, but according to People, Rock insists the real reason was not strictly Anderson-related. He says the fight was the culmination of a five-year beef where Lee had disrespected him multiple times and that during his divorce from Anderson, the drummer emailed him all sorts of "horrendous things." Rock promised to retaliate, and MTV says he wasn't playing — allegedly he had already attempted to track down the drummer and burst through his hotel room door on New Year's Eve, but got the room wrong and found himself facing a terrified family instead of Lee.
As for Lee, he insists he had merely been socializing at the event when Rock (whom he insists on calling "Kid Pebble") turned up, rejected a hug, and punched the drummer. Lee insists he was fully intent on winning the ensuing battle, but security guards dragged him out of the building. To be fair, he did apologize for his role in the incident … to Alicia Keys, who was performing at the time.
The death of Daniel Karven-Veres
The death of a child is always a tragedy, and it doesn't help matters when said child drowns in your swimming pool during your child's birthday party. As CNN reports, this exact scenario played out at Tommy Lee's Malibu mansion in 2001, when a 4-year-old boy called Daniel Karven-Veres attended the birthday celebrations of the drummer's eldest son, Brandon, and was later found floating face down in the swimming pool.
ABC News notes that Lee made a 911 call where he admitted that Karven-Veres had been left alone "for a minute," and that the ensuing situation was chaotic and he didn't know what to do. Though the boy's parents blamed the drummer for negligence and sued the Motley Crue man for $10 million, he was unanimously cleared of responsibility. The jury found the death was the result of a tragic chain of events where the boy's nanny left the party early to attend a concert, and the babysitter asked to look after him left him unattended.
The swastika tattoo
In 1996, Tommy Lee grew angry at a cameraman outside the Viper Room night club in Hollywood and threw the poor guy on the ground. As MTV News describes, this already unwise move turned into an epic mess when it came out that the cameraman was Jewish, and Lee had attacked him while wearing a visible swastika tattoo in his arm. Yes, a swastika tattoo. This doesn't necessarily mean that the Motley Crue man sleeps with a copy of Mein Kampf on his bedside table, though. According to the Independent, Lee may in fact have been completely unaware of the swastika's modern connotations, seeing as his lawyer had to inform him that people don't exactly think of it as a Hindu symbol of peace anymore and the rocker should cover the tattoo before the jury sees it. Lee later said that the symbol was "a stupid tattoo obtained several years ago."
Lee had the tattoo removed and pleaded no contest to criminal charges of battery. He was sentenced to two years of probation, anger management counseling, and a $17,500 restitution payment to the photographer. MTV reports that Lee later settled a civil case with the cameraman, and even attempted to make amends by shaking hands with his victim … though the cameraman's attorney immediately stepped in to block the attempt.
The time he almost started a racially motivated riot
In 1997, Tommy Lee and Nikki Sixx got a little too carried away during a concert in Greensboro Coliseum, North Carolina … by which we mean they started harassing a black security guard and trying to incite an ethnically motivated riot. According to MTV News and CBS, Sixx was the first to start attacking and throwing slurs at the guard, but Lee soon joined in to pour a drink on the guard's head. The poor man's extremely bad day at work further escalated when the band encouraged the 2,500 people in the crowd to attack him. Fortunately, the situation didn't escalate into a full-blown riot, though a lawsuit does mention that the crowd pelted the guard and his colleagues with plastic cups and that he had to climb on the stage to escape the audience.
Sixx was arrested two years later when Motley Crue performed in North Carolina again, and Lee promptly turned himself in as well. According to the Smoking Gun, the drummer was charged with assault and inciting a riot with ethnic animosity, but he was able to avoid the racial aspects of the case by pleading no contest to simple assault, for which he was sentenced to an 18-month probation. The inevitable civil lawsuit by the guard was eventually settled, as seems to be the Motley Crue way.
His relationship with Pamela Anderson and spousal abuse
The three-year marriage of Tommy Lee and Pamela Anderson is one of the most colorful celebrity relationships out there. According to E! Online, they got married in early 1995 after a whirlwind romance, but things took a turn for the worse after the blissful honeymoon period. Mere months into the marriage, their home sex video was stolen and would later go '90s viral. The ensuing legal headache and a constant life under the lens started wearing them down, and they started having kids so quickly that they had no chance to focus on each other. Lee took offense when Anderson gave the bulk of her attention to their two sons. Violent arguments turned into physical violence, and finally, one brawl escalated to the point that Anderson called the police and filed for divorce.
According to Rolling Stone, the drummer ended up pleading no contest to a felony count of injury to a spouse. He served four months of a six-month sentence and was ordered to seek anger management counseling, perform community service, and donate $5,000 to a women's shelter. He also had to avoid alcohol and drugs, and stay at least 100 yards away from Anderson. However, in 2000 the musician violated his probation and spent a further five days in jail as a result. Still, to drive home just how complicated their relationship is, it's worth mentioning that the violation happened in the form of … enjoying champagne with Pamela Anderson. Double whammy.
​He's not exactly the greatest parent
According to Yahoo! Entertainment, Tommy Lee has had more than his share of parenting problems over the years. These started in 1998, when Pamela Anderson says Lee attacked her while she was holding their infant son Dylan, and during a bitter custody battle that started in 2001, Anderson cited several similar incidents. According to the Baywatch star, Lee beat her while she was breastfeeding, dangled one of their sons in front of a large rottweiler, and forced the children to watch disturbing footage of the 9/11 attacks. Anderson even said the boys hated going to meet their father and often had nightmares for days when they returned.
Lee might not be quite the monster Anderson painted him as at the time, since he did receive partial custody of the children. At the very least, he has done some decent "cool dad" stuff, such as throwing his older son Brandon an epic, rave-themed 14th birthday party, which Access tells us the boy highly enjoyed despite the fact that the cops turned up no less than three times. Even so, Lee's behavior toward his now adult sons can still be somewhat less than fatherly. He has been known to harshly criticize and feud with them over social media, and USA Today writes that a particular fight with Brandon caused Anderson to label Lee a "disaster" in 2018.
​His relationship with alcohol
Every member of Motley Crue has been known to indulge, but their favorite vices vary. Tommy Lee's lithe physique might make it seem like he mostly sticks to drugs, but recent news indicates alcohol might be his preferred poison after all. According to Blabbermouth, Lee insists he's not the "deviant alcohol abuser" people have called him, but some of the people closest to him seem to disagree. The Mercury News reports his son Brandon has called him an alcoholic, and that's not even the worst thing his loved ones have said about the subject. Ex-wife Pamela Anderson called Lee out on his alcoholism in 2018 by publishing a screed called "Alcoholism is the Devil" on her website. Anderson says the text is the first time she publicly discusses Lee's troubles with alcohol, and it paints a fairly hopeless picture of the drum maestro and his drinking habit. Though she does point out that Lee is a talented individual, she also calls the drummer a textbook "narcissist/sociopath" and accuses his current fiancee, Brittany Furlan, of enabling his alcoholism.
Still, perhaps the harshest words in her writing are these: "Nobody understands the lifetime of disappointment this man has brought our family. Consistently the center of sadness, drama and confusion. Jealous of his sons' talent and beauty from the day they were born. He is sick." Oof.
​His doomed marriage to Heather Locklear
In 1986, Tommy Lee became one half of an extremely unexpected Hollywood couple when he married Heather Locklear, the family-friendly Dynasty sweetheart. Entertainment Weekly describes how difficult it was for people to wrap their heads around the absurd union between the scruffy rocker and the squeaky clean television star, especially because they were facing allegations about satanic content in Motley Crue's songs at the time. However, Locklear scoffed at the skeptics: "Tommy doesn't worship the devil; he worships me."
Hindsight being 20/20, it's easy to look back and say that the marriage had no chance of lasting. Still, the couple did stay together for a respectable (by Hollywood standards) seven years, and by their divorce in 1994, their roles had been dramatically altered: Locklear had reinvented herself by playing the villainous Amanda in Melrose Place, while Motley Crue had lost their spot as one of the most popular bands in the world and were seemingly moving toward the land of has-beens. Even so, the actual reason for their divorce was exactly what you'd expect: Tommy Lee was constantly cheating on Locklear, and even the drummer himself attributes the failed marriage to the fact that he was messing around with adult film stars. This setback didn't make Locklear swear off rockers, though. She went on to marry Bon Jovi guitarist Richie Sambora, who seems to be a significantly less chaotic partner.
​The battle of the drum roller coaster
Tommy Lee is known for the extravagant drum solos he often performs while strapped in complex mechanical contraptions. One of his most famous tricks is the drum roller coaster, which comes in a a couple flavors: a circular coaster that has Lee's drum platform circle 360 degrees, and a large "Cruecify" rig that carries him high above the audience. Lee is fiercely protective of his stunts, and Ultimate Classic Rock says he publicly called out rapper Travis Scott for using similar rigs on his tour in 2018, even threatening legal action over Twitter. However, Scott's legal team quickly pointed out that Lee didn't invent the concept of concert roller coasters, and the actual creator of the rigs in question had granted Scott full permission to use them.
This isn't the first time Lee has been challenged over the ownership of the drum coaster idea. TMZ reports that in 2012, a Los Angeles engineer named Scott King approached Lee with a legal letter that said he had pitched the concept of the 360 roller coaster rig to Lee as early as 1991, and Lee had stolen the idea two decades later. Ultimate Classic Rock reports the judge ultimately ruled in Lee's favor, citing differences in the designs and pointing out that King hardly owned the concept of drum roller coasters. Fortunately, that particular line never came back to bite Lee in the rear — oh, wait.
​His fight with his eldest son
A generous way to describe Tommy Lee's relationship with his family would be to say it's dysfunctional. People relays a far less generous but significantly more precise description: In 2018, his oldest son straight up punched him out. Lee's son Brandon (not to be confused with Bruce Lee's son of the same name) was living with his father at the time, and while the details are just as hazy as you'd expect from a fistfight involving a Motley Crue member, Lee and his fiancee Brittany Furlan both agree that Brandon stormed their bedroom and knocked Tommy out cold after a brief argument.
According to the Mercury News, Brandon says the situation was triggered when his father posted unpleasant social media comments about his mother, Pamela Anderson. The son also insinuates that his father's excessive alcohol use was a factor in the fight, and the reason he was living part-time in the premises was to help Lee with his substance abuse troubles and organize an intervention. Regardless of the intentions, Tommy Lee was adamant on making his son pay for the punch and wanted to press charges for what must have been an uncomfortably long time before finally deciding to drop it.
​The sexual assault story in The Dirt
In early 2019, Motley Crue's star has been on the rise thanks to the film adaptation of their infamous autobiography The Dirt. This has also warranted a second glance at the book's many sordid stories, one of which has ruffled some serious feathers. In it, Nikki Sixx admits to a sexual assault he and Tommy Lee performed at a party. As the Independent describes, Sixx approached Lee at the party and explained the drummer that he was in the middle of an intimate moment in a nearby closet, and the lady was waiting for his return. The men agreed that Lee would sneak in the closet with Sixx so they could switch places without telling the woman. Lee finished the act while Sixx stood behind him and played along. Tragically, a stranger later sexually assaulted her when she was trying to hitchhike home. When Sixx heard this, he suddenly realized that for all intents and purposes, he and Lee had also committed a rape.
According to Consequence of Sound, Sixx now says (conveniently) that he doesn't remember these events, and that he may have completely made up the story in his drug-addled interviews for the book. Lee, on the other hand, appears to have stayed very quiet about the incident.