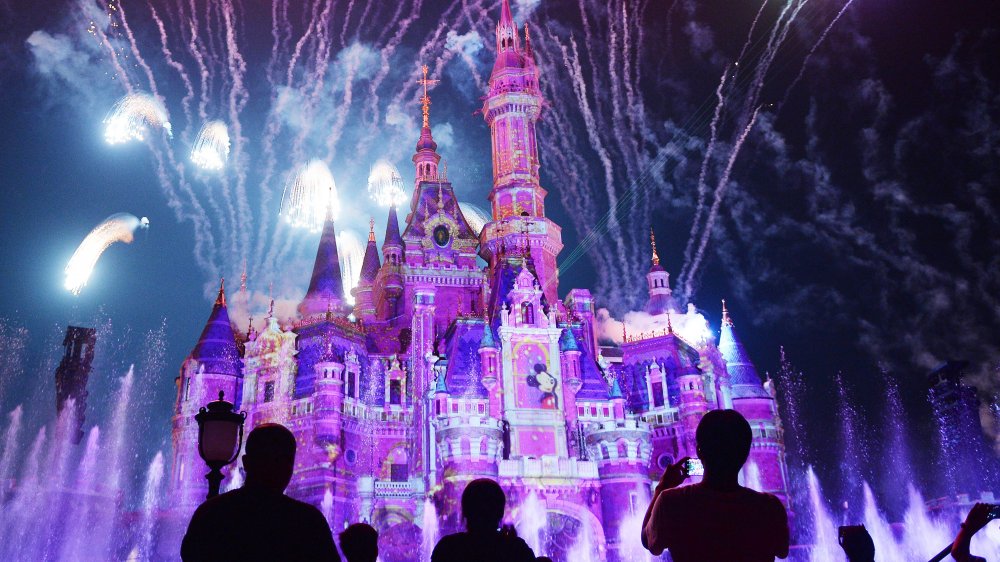 Each and every year, millions of people scrimp and save to splurge on a big family trip to Disneyland in Anaheim, California, Walt Disney World in Orlando, Florida, or one of Disney's many other properties. While the price can be expensive and the trip to get there long and arduous, it's worth it. Disney parks are clean, well-run, and bursting with that signature Disney magic. After all, it's "the Happiest Place on Earth," what with a tuxedoed Mickey Mouse running around offering hugs, crowd-pleasing rides like the Pirates of the Caribbean, Space Mountain, and Splash Mountain (among others), and perhaps best of all, those churros they sell.
Disney parks are so pleasant that there's an old saying about them that goes, "Nobody dies at Disney." Unfortunately, that's just a myth. Many people have kicked the bucket at Disneyland, Disney World, and other parks operated by the House of Mouse. When you combine crowds, hot weather, complicated machinery, and human error, it only makes sense that bad luck, danger, and death are bound to strike every now and then. Here are some of the worst accidents and deadliest disasters to ever go down at the various Disney theme parks.
The horrible accident on America Sings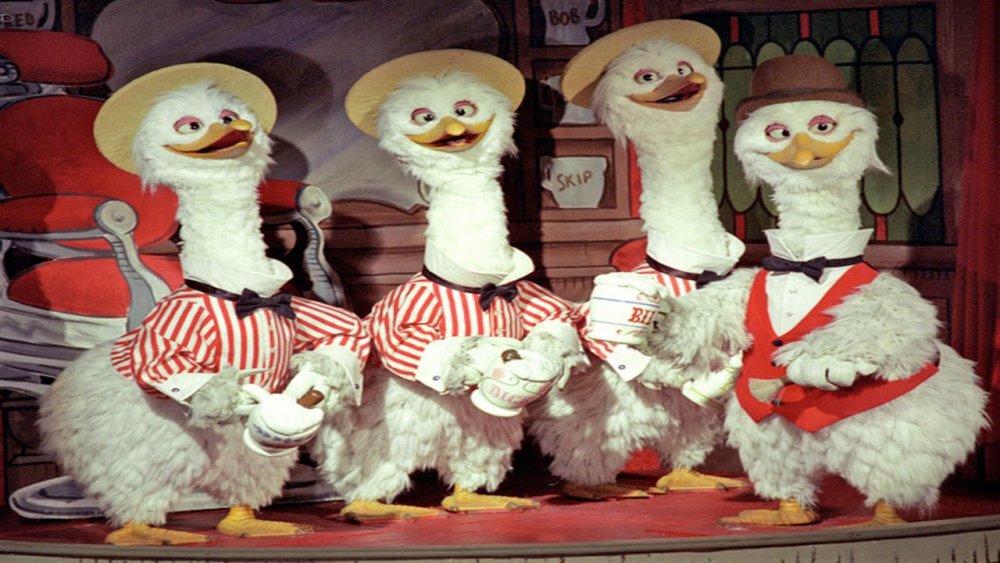 In June 1974, Disneyland debuted an attraction called America Sings. Getting a jump on the Bicentennial celebrations that would dominate American life for the next two years, the ride featured animatronic animals — all done with the magic of anthropomorphic robots, like the ones in Country Bear Jamboree — singing patriotic songs. The ride utilized revolving walls to keep things going from tune to tune, but scarcely more than a week after America Sings had opened, a Disneyland employee literally and gruesomely got caught in the machinery.
As part of America Sings, there was a narrow passage between a fixed wall and a moving one, and 18-year-old ride hostess Deborah Gail Stone, working a summer job, attempted to move from one section of the ride to the other. Authorities believe she fell or jumped and didn't make it. Tragically, she became trapped in that channel between the walls. A visitor heard Stone scream and spotted her … as the walls crushed her to death. They summoned help, but it was too late. America Sings had killed Stone instantly.
A woman fell out of the Matterhorn Bobsleds
Ominously overlooking the rest of Disneyland for more than 60 years, the Matterhorn looks almost like the real European peaks it's imitating. (It's certainly the most Alps-ish-appearing landmark in the Anaheim, California, skyline.) Guests ride a bobsled up and through the fake mountain and get spooked by the Abominable Snowman along the way. That's the biggest danger they'll likely face on the Matterhorn, so long as their seatbelts stay buckled, and they stay inside of the ride's cars.
But in 1984, 48-year-old Fremont, California, resident Regena Young took a trip on the Matterhorn Bobsleds. During the ride, per the Los Angeles Times, she fell out of her seat and onto the tracks. Thereupon, she was struck at a high speed by the next car coming through the attraction. Young's family sued Disneyland, claiming negligence because employees didn't properly secure her, as after the accident, her seat belt was discovered unfastened. And to add another horrible spin, Young was riding alone in the back of the bobsled, and so none of her ride-mates saw her fall.
Always wear your seatbelt, even in a Disney theme park
While the fears of rides running off tracks or parts coming loose can prey on the nerves of anxious Disneyland patrons, there's a bit of conventional wisdom that most everybody knows about theme park attractions: Don't stand up during the ride. Safety bars and seatbelts are there for a reason, and they're to keep a person locked inside the ride so they don't injure themselves while their cart whizzes through tunnels at super high speeds.
Tragically, 15-year-old Disneyland patron Mark Maples didn't heed that warning when he took a ride on the Matterhorn in 1964. According to Disneyland officials in a contemporary news report, Maples, riding with his legs akimbo, unbuckled his seatbelt and left the bobsled while it was in motion. One of his companions heard a "thump" and noticed Maples was no longer in the ride. They reported his disappearance after the ride's conclusion, and authorities discovered Maples' unconscious body on a ledge about a third of the way down the Matterhorn's interior. After spending a few days in critical condition, Maples died from the result of his severe injuries.
When Big Thunder Mountain Railroad derailed
Disneyland's Big Thunder Mountain Railroad hopes to evoke what it feels like to ride a train through a 19th-century Gold Rush town … except you're moving extremely fast and going over lots of hairpin turns. The attraction is really more of a low-to-the-ground roller coaster, and part of the thrill is how it seems like it could careen right off the tracks at any second. Tragically, Big Thunder Mountain Railroad did just that in September 2003.
According to a Los Angeles ABC affiliate, during a morning run, the locomotive unattached itself from the rest of the train while it went through a tunnel. Ten people were injured in the accident, including two children, but 22-year-old Marcello Torres suffered the most. He was in the first car, and he died in the fracas. An investigation (as reported by the Los Angeles Times, via Theme Park Insider) found that a guide wheel fell off the roller coaster, which led to the derailment and, subsequently, the blunt-force injuries that killed Torres.
The sailing Ship Columbia killed a guest
The Magic Kingdom gets just a little more magical at Christmas. Holiday decorations cover just about every conceivable surface at the park, and some rides get a yuletide-themed makeover. Business was quite brisk on Christmas Eve 1998, and guests packed the Sailing Ship Columbia, a replica of an old-fashioned tall ship. As the boat took another run around the Rivers of America, like it had done countless times before, it came in to dock. An employee cast out a line around the metal cleat of the hull to keep the ship held onto land. But then the rope pulled tighter, yanking the cleat backward off the boat. In other words, a thick and weighty piece of metal was sent flying … into the queue of park visitors waiting to board the ship. "The cleat just became a projectile," a Disney employee anonymously told the Los Angeles Times. "It just shot through the air and hit two guests in the head."
Authorities reported that the injured Disneyland visitors were a man and woman from the Seattle area, and that the man's face was bloodied and mangled in the incident. That individual, Luan Phi Dawson, later died, and his family sued Disney. (The Disneyland employee working the ropes, Christine Carpenter, was also hurt, sustaining surgery-requiring injuries in her foot and ankle.)
The Rivers of America are more dangerous than meets the eye
Hanging out in Disneyland after closing and having the whole park to yourself without any lines or crowds sounds like a wild childhood fantasy. An 18-year-old New York man named Bogden Delaurot made that dream come for himself and his younger brother one night in June 1973. They apparently ventured past the Rivers of America to Tom Sawyer Island, and after the sun set and the park shut down for the night, they hid there. But soon, the dream turned into a straight-up nightmare.
Around 10 PM, they decided to head back into the rest of Disneyland, which meant traversing a river. The River of America may be a man-made body of water, but it's a real and very large body of water nonetheless, and one that includes rapids. Unfortunately, Delaurot and his little brother attempted to swim across. Disneyland wasn't entirely empty, however, and security guards spotted the younger Delaurot flopping across the waterway … while Bogden was nowhere to be found. After an all-night search involving park guards, as well as Anaheim police and firefighters, the body of Bogden Delaurot was discovered in a rapids section of the Rivers of America.
A teen died on Tom Sawyer Island
Every May and June, Disneyland holds special "Grad Nite" celebrations. High school students can sign up to allow their graduating seniors to have a few hours of fun before they plunge into the responsibilities and burdens of adulthood. And according to a UPI report, an 18-year-old named Phil Straughan headed to Disneyland for a Grad Night celebration with the rest of St. Pious X High School in Albuquerque's class of 1983. Not content to ride the likes of It's a Small World and those spinning teacups, Straughan made his own fun, sneaking into a restricted area in Frontierland with a friend. The duo then stole a motorized maintenance raft and rode it to Tom Sawyer Island. Nearing the shoreline, the boat hit a rock, violently tossing Straughan overboard. His friend swam back to the Disneyland mainland and informed park security of the accident. Later that night, authorities pulled Straughan's lifeless body from the Rivers of America.
A deadly accident at a Disney stage show
The stage and theatrical shows presented at Disney parks seem like a safe choice if you're wanting to avoid a near-death experience. How can anybody get hurt while sitting in a chair watching a special effects-laden musical extravaganza? They probably won't, but the people who make the show possible put their lives in danger all the time. For example, in April 2003, 36-year-old Disney stage technician Christopher Bowman climbed up a catwalk in the Hyperion Theater in the Disneyland-adjacent theme park California Adventure. Bowman was up there to prepare the realistic "magic carpet" for an Aladdin live show, and that's when he fell. Sources vary on how far he plunged — either 42 feet or 60 feet. Regardless, Bowman suffered severe head injuries as a result of the accident, and a few weeks later, he died in a California hospital.
After a six month-long investigation, the state's Division of Occupational Safety and Health issued two citations to Disneyland. They found that Bowman's work platform wasn't safe, and they faulted the company for not issuing Bowman a correctly certified safety harness. Disney, which brings in more than $2 billion each year in profits (according to Forbes), was ordered to pay fines totaling a measly $18,350.
Things get tragic on Roger Rabbit's Car Toon Spin
Disneyland is the most wonderful place imaginable, both for very young children and middle-aged people. So a September 2000 trip to "the Happiest Place on Earth" was something everyone in the Zucker family could agree on, including Victoria Zucker, celebrating her 40th birthday, and her four-year-old son, Brandon. But the happy day soon turned unspeakably tragic.
Brandon Zucker took a ride on Roger Rabbit's Car Toon Spin, a children's ride located in the Toontown section of Disneyland. At some point, the younger Zucker fell out of his car and was dragged about ten feet when he became trapped underneath another vehicle. That was a short distance for a short time, but it was enough to lead to horrific internal injuries for Zucker, such as a torn spleen, liver, and diaphragm. The trauma inflicted on his body sent his heart into cardiac arrest, which led to brain damage. After the accident, and a medically-induced coma to help him recover, Brandon Zucker never walked or talked again, and he died eight years later.
Being a pirate is a dangerous job … even in a Disney theme park
Long before it became a successful film franchise, Pirates of the Caribbean had been a fan-favorite attraction at both Disneyland and the Magic Kingdom at Walt Disney World. After the release of those films, Disney expanded the pirate experience, adding an interactive show at its Orlando facility called Captain Jack's Pirate Tutorial. An actor dressed as Johnny Depp's character from the movies would bring kids in the crowd up on stage to learn how to sword fight like a proper pirate.
Captain Jack was assisted by a small band of pirates, portrayed by actors, and in August 2009, 47-year-old Disney employee Mark Priest played one of those swashbuckling buccaneers. While engaging in one of those stylized and choreographed sword fights, Priest stepped onto a heretofore unseen wet spot on the stage, slipped, and then ran into a wall. Priest hit the wall at such force that he was treated in a local intensive care unit for a broken vertebra in his neck and a scalp gash that required 55 stitches. (This was also the first time Priest had played this role in Captain Jack's Pirate Tutorial.) Four days later, Priest succumbed to his major injuries and passed away.
Getting sick on Splash Mountain
Some really weird things have happened at Disney World, but falling ill at the theme park is a fairly common occurrence. All those stomach-turning rides, calorically dense snack food options, the Florida heat, and thousands of germ-carrying humans walking around make for the perfect vomiting conditions (or, what Disney employees call a "protein spill"). Nausea can strike at any old, inopportune time, and for 37-year-old William Pollack during his 2000 Disney World trip, it was right in the middle of riding Splash Mountain.
First, he informed his friends that he felt sick, and when the ride came to one of its slower portions, Pollack attempted to get out of the attraction as quickly as possible. With his log boat still in motion, he got up out of his seat and tried to jump onto another log to cross over to find a possible exit. Instead, he fell in the water and was struck by the next boat that came along. Critically injured, emergency personnel rushed Pollack to nearby Celebration Hospital, where he quickly expired.
There have been quite a few accidents on Disneyland's trains
Most of the rides at Disney parks are simulations or re-creations of real-life experiences. For example, the Finding Nemo Submarine Voyage doesn't really head to depths of the ocean, and the Haunted Mansion isn't actually full of ghosts. But two transit systems designed to get people around the theme park's various sectors are (or were) the real deal: the Disneyland Monorail and the PeopleMover, an elevated train. And like monorails and trains in the regular world, they're potentially dangerous.
In 1966, 19-year-old Thomas Cleveland tried to sneak into Disneyland during one of its Grad Nite observances. His plan was to scale Disneyland's fences, which he did, but then he wound up on a canopy under the track. And that's when a train came along and killed him. A year later, teenager Rick Yama tried to jump from one PeopleMover car to another … and he didn't make it. He fell onto the track, where the PeopleMover crushed him. Almost the exact same incident went down during the 1980 Grad Nite festivities when 18-year-old high school senior Gerardo Gonzalez died after trying to jump between PeopleMover cars. If nothing else, everybody should know by now to stay inside the train.