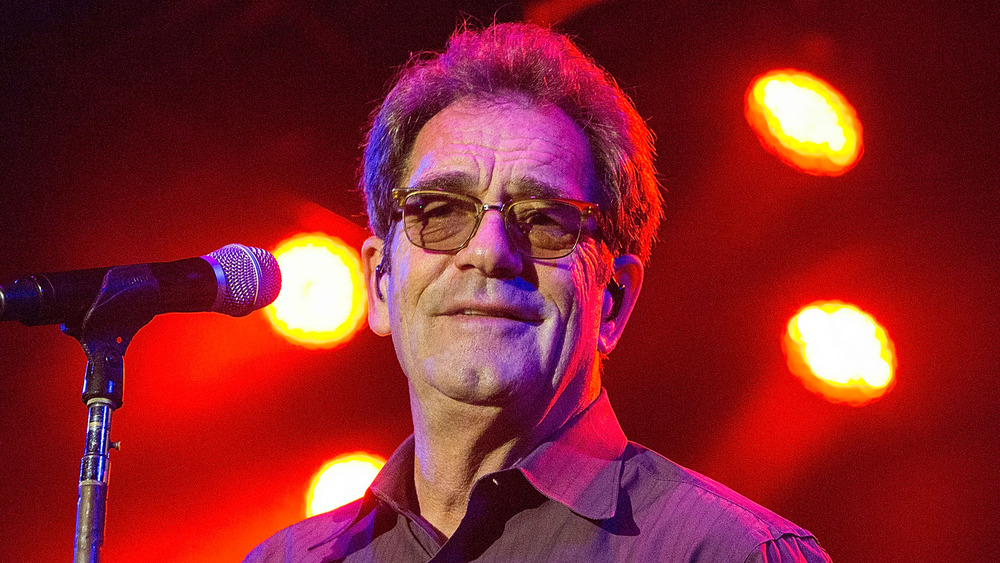 Huey Lewis and the News was one of the most popular bands of the 1980s. They were known for hits such as "I Want a New Drug," "The Heart of Rock & Roll," "Hip to Be Square," and "The Power of Love." According to AllMusic, the band didn't make much of an impact until it released its second album, Picture This, in 1982. The song, "Do You Believe in Love," became a Top 10 single, while "Hope You Love Me Like You Say You Do" and "Workin' for a Livin'" also resonated with fans.
Huey Lewis and the News gained even more followers after an extensive tour schedule, and by the time they released their third studio album, Sports, in 1983, their popularity skyrocketed. This was also due, in part, to their heavy rotation on MTV, a relatively new music channel on cable. Even more success followed after the band's music was featured in the 1985 blockbuster film, Back to the Future, starring Michael J. Fox. In the 90s, the band had a tough time living up to its earlier success, and front man Huey Lewis was later forced to contend with some health issues that greatly affected the band. Here's more about Huey Lewis and the News' history and some of its lesser known facts below.
They once called themselves Huey Lewis and the American Express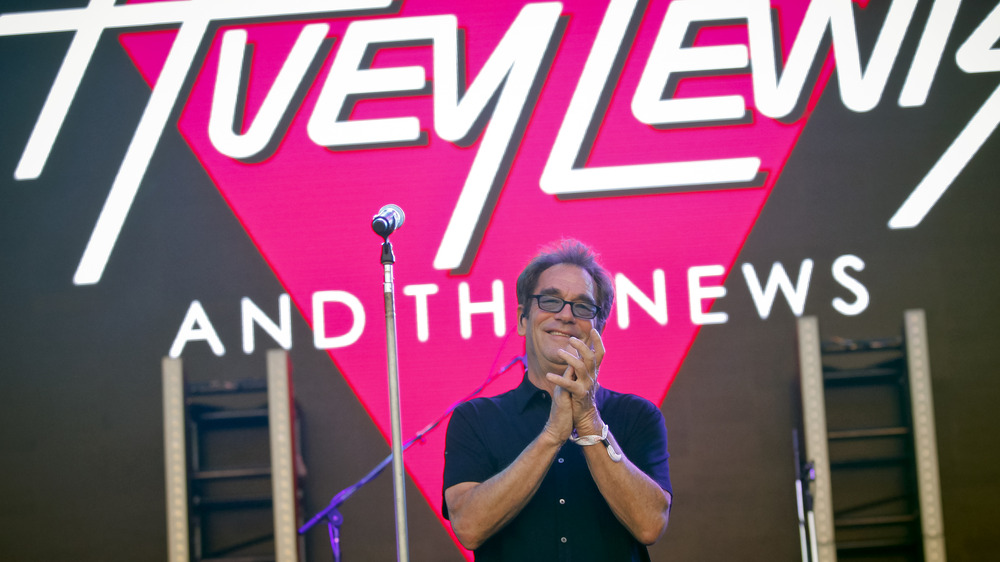 Before the band became Huey Lewis and the News, front man Huey Lewis and keyboardist Sean Hopper were in a band from San Francisco known as Clover, according to Best Classic Bands. Clover appeared on Elvis Costello's first album, My Aim Is True, while visiting England. In the late 1970s, Clover returned to California and wound up joining with another local band named Soundhold. That's when saxophonist and rhythm guitarist Johnny Colla, bassist Mario Cipollina, and drummer Bill Gibson came onboard.
Clover/Soundhole wound up dubbing themselves Huey Lewis and the American Express, and soon attracted the attention of Bob Brown, who would later become their manager, according to Bay Area Bands. Huey Lewis and the American Express dropped the single, "Exodisco/Kick Back," in the United Kingdom. This drew the attention of Chrysalis Records, which demanded a name change fearing that the American Express credit card company would make a fuss about it. The band agreed and became Huey Lewis and the News before releasing their first album in 1980.
The band's first LP sold poorly
During a 1984 interview with Rolling Stone magazine, front man Huey Lewis confessed that the band's first album wasn't very good and that his voice was, to put it nicely, not great either. "You should hear the early demo tapes; I was an awful singer," he told the publication. "Not that I'm a great singer now." The band's first record, the eponymous Huey Lewis and the News, simply didn't resonate with audiences. That's when the band decided it wanted to produce its own work.
"Well, our first album didn't do anything," Lewis said during a 2013 Rolling Stone interview. "We produced the second album ourselves and kind of broke even." The 1982 LP, Picture This, included the hit, "Do You Believe in Love," which former Clover producer Mutt Lange produced, according to T4C. It also had the singles "Hope You Love Me Like You Say You Do" and "Workin' for a Livin.'"
Huey Lewis and the News were booed off stage
Huey Lewis and the News were friendly with the Doobie Brothers and toured with them after releasing their first album. And the audience didn't exactly appreciate their efforts on stage, Huey Lewis recalled during an interview with Whitefish Review. "It was all we could do to get finished with a set without being booed," he explained. "We would go immediately from song to song because if we paused, they would boo and start throwing s–t."
During a stop in San Antonio, Texas, the band played its set, and Lewis went backstage to watch the action from the hallway, something he'd never done before. In a hat and in the dark, he wasn't recognizable. When the Doobies got on stage, the band thanked the crowd for its enthusiasm and showing up to see them. The Doobie Brothers also asked for applause for the opening band, Huey Lewis and the News. That's when a man next to Lewis said, "Boo! They suck!" Years later, Lewis was able to chuckle about the incident, but it was probably tough to hear such criticism at the time.
They wrote the melody to "I Want a New Drug" in five minutes
One of the band's most popular songs is "I Want a New Drug." Huey Lewis created the lyrics while visiting his attorney one day, he told Rolling Stone. He and bassist Mario Cipollina worked on it for some time but were unable to get the results they wanted. However, guitarist Chris Hayes tackled the song and came up with the proper composition in just five minutes.
The song is about women, not drugs, according to Song Facts. Unlike drugs, women don't make your eyes turn red, give you dry mouth, or cause acne. Lewis later revealed that the meaning of the song was that drugs are superficial, whereas love is the answer. "I Want a New Drug" wound up being one of the hits on the Sports album, which sold 7 million copies in the United States and became one of the top-selling albums in 1984.
Members of the San Francisco 49ers sang backup on "Hip To Be Square"
Huey Lewis and drummer Bill Gibson wrote "Hip To Be Square," which mocks the band's clean-cut image. The band members didn't have tattoos or piercings and instead were more conservative looking compared to many of their contemporaries. Plus, they were in their mid-30s at that point in their lives and were more focused on being themselves versus being cool and famous, according to Song Facts. This was in contrast to Lewis' younger days in which he was a bit more free spirited. He hitchhiked through Europe and was the son of beatniks, for example.
In the song, Dwight Clark, Joe Montana, and Ronnie Lott from the San Francisco 49ers sang back up after Lewis says, "Tell 'em boys." You can hear the footballers singing, "Here, there and everywhere, hip, hip, so hip to be square." The band, which hailed from San Francisco, was friends with some of the players, and they often would see each other at local events. The cover of Sports also includes an image of Clark catching a football if you look closely enough.
Huey Lewis and the News sued Ray Parker, Jr.
The main theme from the 1984 film Ghostbusters hit number one on the Billboard Hot 100. The "Ghostbusters" melody sounded a bit too familiar to Huey Lewis and the News, who ended up suing songwriter Ray Parker, Jr., for plagiarizing their famous tune, "I Want a New Drug", according to Entertainment Weekly. Columbia Pictures and Parker later settled the case out of court. Ironically, in 2001 Huey Lewis talked about the lawsuit during an episode of "Behind the Music," which violated the confidentiality agreement, and Parker sued Lewis for speaking out.
When Parker was initially asked to write the theme song, he refused because he was semi-retired and didn't want to use the word "Ghostbusters" in the lyrics. But, it took him just a few days to write it. He told Entertainment Weekly in 2016 that he never got tired when people said to him, 'Who you gonna call?" He explained, "It's like, am I tired of holding the best lotto ticket or the best thing to ever happen? No."
Huey Lewis made a cameo in Back to the Future
Huey Lewis and the News wrote "The Power of Love" and "Back in Time" for the film Back to the Future. Lewis made a cameo appearance in the movie as a judge in a Battle of the Bands competition. During the scene, Marty McFly (Michael J. Fox) and his band The Pinheads performed a cover of "The Power of Love," but Lewis' character was less than impressed with the set, telling the band they didn't qualify because they were "too darn loud."
The scene was an inside joke between Lewis and the film's co-writer and director Bob Zemeckis, according to Futurepedia, the Back to the Future Wiki. Lewis explained in a Today Show interview, "It was Bob's idea and let's face it, I nailed it." He added, "We thought it would be kind of a nice inside joke you know, if we were uncredited and sort of disguised."
The original American Psycho soundtrack was destroyed because of "Hip To Be Square"
The 2000 film, American Psycho, centered on an investment banker named Patrick Bateman who had psychopathic tendencies. The character was played by Christian Bale, according to IMDB. The character was a fan of Huey Lewis and the News, and one of the film's most memorable scenes involves serial killer Bateman murdering a victim while "Hip To Be Square" accompanied the gory act.
Believe it or not, the band gave permission for the song to be included in the film, according to The Guardian. But it was a different story when it came to the soundtrack. Koch Records ended up recalling around 100,000 copies of the American Psycho soundtrack in order to destroy them. That's because the band never gave the label permission to put the song on the record. "As a result of the violent nature of the film, Huey Lewis's management decided not to give the soundtrack clearance," Koch Records president Bob Frank said at the time.
Huey Lewis took Prince's place on "We Are The World"
Huey Lewis and the News were peaking in popularity in 1985 when several musicians came together to sing "We Are the World," which raised $60 million for those suffering from famine in Africa, according to Song Facts. Prince was expected to sing on the single, but he dropped out, and Lewis took his place. Lewis later told Questlove (via UltimatePrince.com) that it was a once-in-a-lifetime experience.
"It was unbelievable," he said. "You don't get to meet all those people in a lifetime or a career. And Ray Charles was there! I couldn't even introduce myself to Ray Charles. I just hung back and watched him. I'm just totally in awe of Ray Charles." Lewis had to sing the line, "But if you just believe, there's no way we can fall," sandwiched between Michael Jackson and Cyndi Lauper. He was so nervous because of the company he was in, which also included singing icons such as Bruce Springsteen and Bob Dylan.
Huey Lewis started to lose his hearing in 2018
In 2018, Huey Lewis was diagnosed with an inner-ear disorder known as Meniere's disease. He opened up to USA Today, revealing, "My hearing fluctuates episodically. Usually it's only bad for a week. But, I mean, really bad, where I'm almost deaf. And then it gets like it is now, which is just sort of bad. But I can't seem to stabilize." While the disease can be debilitating at times, Lewis had no intention of calling it quits in the music business. His band was working on a new album, and Lewis was also planning a musical he hoped would hit Broadway.
A year later he explained that he nearly took his own life after getting the diagnosis. He told Whitefish Review, "In the first two months of this, I was suicidal. I can honestly share that with you. I thought, sh**, I'm just going to commit suicide. I actually contemplated my demise. You know, like pills. I figured pills were the easiest way to go. I mean, would I have? I don't know."
If you or anyone you know is having suicidal thoughts, please call the National Suicide Prevention Lifeline​ at​ 1-800-273-TALK (8255)​.
Sports lost out on best-selling album of the year to Thriller
Huey Lewis and the News' third album, Sports, was released on Sept. 15, 1983, and was one of the biggest records of 1984, according to Ultimate Classic Rock. The band would have had the number-one record of the year if it wasn't for Michael Jackson, who released his album Thriller. Sports, however, did really well with five Top 40 singles, including "Heart and Soul," "I Want a New Drug," "The Heart of Rock & Roll," "If This Is It," and "Walking on a Thin Line."
The band was very deliberate with its song choices by the time it made its third album. "It was really a record for its time," Huey Lewis told Billboard. "In the 80s, the way radio was programmed, if you didn't have a hit record you weren't going to be able to make any more records. That was it, period." They had a mission to write songs that would be hits on the radio, but they weren't exactly sure which ones would do the trick. "We just knew we needed a frickin' hit, period. And fortunately we got 'em," he added.
.38 Special had to cope with The News as an opening act
As already noted, Sports was one of five number-one albums of the year alongside Michael Jackson's Thriller. It also held good company among best-selling albums such as Prince's Purple Rain, Bruce Springsteen's Born in the U.S.A., and the Footloose soundtrack, according to Grantland. Huey Lewis and the News was peaking in popularity when it opened up on tour with .38 Special in 1984. Fans were coming out in force to see them perform, and it couldn't have been easy for the headliners.
During the arena and coliseum tour, Huey Lewis and the News killed it on stage because they had the hits from their number-one album to rev up the crowd. The band would go on at around 8 p.m. and play encore after encore. Lewis explained, "To their credit, if .38 Special were super-mad about it, they would suck it up and play their show real hard." He added that he told his bandmates to relish that moment in time. "'This is as good as it gets, man. Just have fun with this right here.' And I've been in the business for long enough to know that that's true."
Radio stations wouldn't play their music in the 90s
Unfortunately, many bands don't sustain their popularity over the years, and interest started to wane for Huey Lewis and the News once the 1980s ended. Following Sports, the band released 1988's Small World, which veered off of the pop music sound of their previous album. While they intended on making hit music in the past, this album was a mix of jazz fusion, reggae, and blues and wasn't meant to cater to the pop crowd. "I didn't aim to make it commercial. If the record doesn't sell, we can still go out and play live," said Huey Lewis (via Grantland). One song, "Perfect World," reached number three on the pop charts, but the album was significantly less successful than Sports. Rolling Stone even dubbed it the worst album of the year.
Huey Lewis and the News followed up Small World with Hard at Play but had a difficult time attracting an audience that at that point was attuned to grunge and rap music. Their type of music no longer resonated. "All the big-time rock stations said, 'We can't play this. This is Huey Lewis and the News.' So our image was in the way. The rock stations wouldn't play our rock stuff because it was already '91 and we couldn't be less cool. It was over for us no matter what we did."