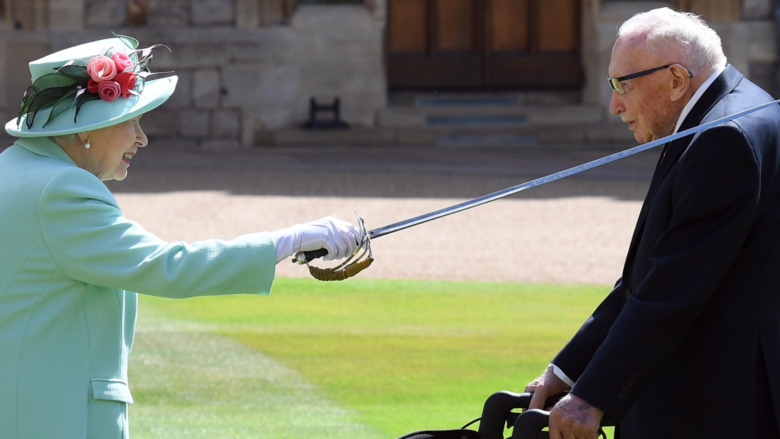 The days of knights in armor setting up around a round table may long be behind us, but in the United Kingdom, knights are still named each year by the British monarchy. The act is part of a long-standing bi-annual British tradition of bestowing various honors to citizens for their service and contributions to the U.K. for New Year's and the queen's birthday. In terms of significance, knighthood is the highest honor given, according to USA Today, with other titles including "Commander," "Officer," or "Member" of the Order of the British Empire.
With more than a thousand recipients named each time, a large majority are citizens being recognized for their notable contributions within their local community, as explained by ABC News. At the same time, though, there are always a few recognizable faces being honored, from influential politicians and diplomats to, you guessed it, famous actors. From British icons such as Charlie Chaplin to American stars like Angelina Jolie, here are famous actors and actresses you didn't realize have been knighted.
An elderly Charlie Chaplin gets knighted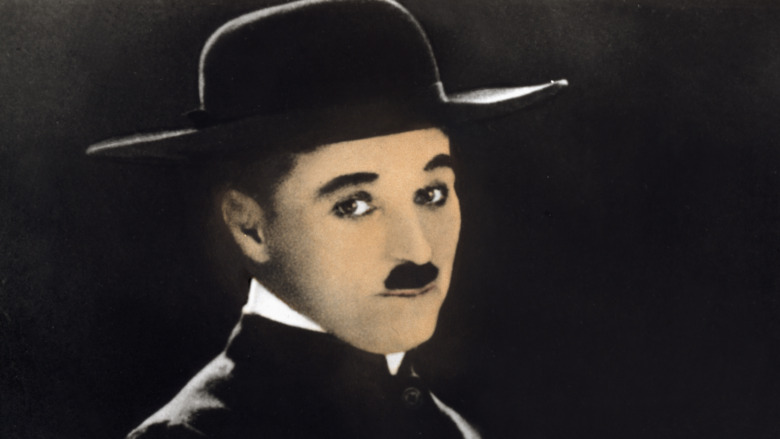 The recognizable silent film actor received what many considered a late knighthood in March 1975, just a month before his 86th birthday, as part of the New Year's Honours List, as reported by BBC. Knighted at a ceremony in Buckingham Palace, Charlie Chaplin was praised by the queen, who told him "that his films had helped her a great deal."
Rolled into the palace in a wheelchair and accompanied by his wife and children, Chaplin had been considered for knighthood for decades, but questions about his morals and loyalties delayed the honor. In the 1940s and 1950s, the silent film star was accused of having "communist sympathies" and was even forced to move to Switzerland in 1952 after the United States, where he had been living, canceled his visa. Concerns about his marriages to underage girls, particularly two 16 year olds, also reportedly played a part in the delay.
Interviewed after being knighted and waving to a crowd outside the palace, Chaplin expressed how impressed he was with the ceremony. When asked how he would celebrate, he replied, "Well, I'm going to get drunk!"
Elizabeth Taylor: from a broad to a dame
One of the biggest film icons of the 20th century, Elizabeth Taylor, was awarded with damehood in 2000 as part of the Queen's New Years list of honors, according to CBS News. During her peak, she was one of the most prominent figures during the Golden Age of Hollywood, but the child actress turned movie star was actually from across the pond, as told by Britannica. Born in London to American parents in 1932, Taylor spent part of her childhood in London before moving to Los Angeles before World War II. Over the years, the British-American actress would star in and win an Oscar for films "Butterfield 8" and "Who's Afraid of Virginia Woolf?"
Later in life, Taylor would put much of her efforts into philanthropy, including helping "to establish the American Foundation for AIDS Research … [and] the Elizabeth Taylor AIDS Foundation." In what was perhaps a reference to her final film role in the movie, "These Old Broads," a 67-year-old Taylor responded to receiving the honor of damehood by saying, "Well, I've always been a 'broad.' Now it's a great honor to be a dame!"
Bob Hope entertains his way to knighthood
The London-born American comedian and actor began showing a talent for comedy since he was a little boy, "winning a Charlie Chaplin imitation contest at the age of 10," according to CNN. It seemed that Bob Hope would once again follow in the footsteps of Chaplin decades later, receiving an honorary knighthood 23 years after the silent film comedian received his. Hope's own knighthood was "in recognition of his work entertaining troops in several wars, including the 1990 Gulf War," as reported by BBC News.
The comedian had spent decades entertaining the masses on stage, radio, and television. Notably, he toured the world during times of war, making troops laugh during the bleak times of World War II, the Vietnam War, and the Gulf War. While Hope was born in South London in 1903, he and his family moved to the U.S. when he was 4. The comedian accepted his honorary knighthood in a ceremony at the British Embassy in Washington D.C. in 1998, just weeks before his 95th birthday.
Olivia Newton-John: You're the dame that I want
According to ABC News, Grease star Olivia Newton-John was among the thousands recognized in the U.K.'s 2020 New Year's honors list. With more than 100 million albums sold, multiple Grammy Awards, and more, Newton-John is best-known as a singer and actress, as told by MSN. But when she was honored with damehood, it was for more than her significant contributions to entertainment and culture. "Battling cancer for the third time," as USA Today reports, Newton-John has long put forth efforts in supporting cancer research and other charitable causes.
The Cambridge-born Australian talent expressed much gratitude when she was named as a dame for "her services to charity, cancer research, and entertainment," saying in a statement, "I am extremely excited, honoured and grateful beyond words to be included with such an esteemed group of women who have received this distinguished award before me."
Sir Ben Kingsley saw knighthood as better than an Oscar
When "Sexy Beast" and "Gandhi" actor Ben Kingsley was honored with knighthood, the Oscar-winner was being nominated for another Academy Award. But, according to BBC News, Kingsley "told the Queen that winning an Oscar pales into insignificance — [being knighted] is insurmountable." As told by The Oklahoman, the Yorkshire-born actor had been making his mark on entertainment since 1966, "when he made his London stage debut as the narrator of 'A Smashing Day,' produced by Beatles manager Brian Epstein," before being knighted nearly four decades later in 2002.
But while Kingsley was overjoyed by the honor, his own mother responded with a dismissive "flick of [her] hand." In a way, it was exactly that cold reaction he's received all his life that made receiving knighthood all the more meaningful. In an interview with Cole Moreton, Kingsley explained that he saw being knighted as "a hug … an embrace" and once described the appointment as "the sovereign on behalf of the public saying, 'OK, we do love you, very much.'" For the actor, knighthood was a symbol of something he never got from his mother — acceptance.
Angelina Jolie was recognized for her humanitarian efforts
With an Oscar win for "Girl, Interrupted" and starring roles in blockbusters like "Tomb Raider," "Mr. and Mrs. Smith," and "Maleficent," Angelina Jolie has long been recognized as a prominent star in Hollywood. Simultaneously, the actress has been an outspoken activist in foreign policy issues and known for "her campaigning work as a humanitarian," as described by The Guardian. When Jolie was awarded with honorary damehood in 2014 as part of the Queen's Birthday Honours, it was "in recognition of her work raising global awareness of violence against women," as reported by TIME. The U.N. special envoy had worked with U.K. Foreign Secretary William Hague to co-found the Preventing Sexual Violence Initiative (PVSI) in 2012, which surely helped her to be considered for the British honor despite being American.
According to BBC, the award was fittingly announced the same week that the actress was "co-chairing the End Sexual Violence in Conflict (ESVC) global summit in London with then foreign secretary William Hague." As a U.S. citizen, Jolie cannot be officially addressed as "Dame" but expressed great appreciation for receiving the honorary title. "To receive an honor related to foreign policy means a great deal to me, as it is what I wish to dedicate my working life to," the actress said in a statement. "Working on PVSI and with survivors of rape is an honor in itself. I know that succeeding in our goals will take a lifetime, and I am dedicated to it for all of mine."
Sir Sidney Poitier: from nothing to knighthood
Born in Miami but raised in what was then the British colony of the Bahamas, the legendary actor, director, and human-rights activist added "Knight Commander of the Order of the British Empire" to his long list of titles in 1974, according to People. Sidney Poitier made his way from his family farm in the Bahamas to Harlem when he was 16 years old with nothing in his pocket but a few dollars, as told by the American Academy of Achievement. He eventually found his way to the American Negro Theater, where he volunteered as an unpaid janitor in exchange for acting classes, working on the side as a dishwasher. Poitier's stint with theater would open the door for film.
Known for his strong dedication to playing strong Black characters that defied stereotypes and destroyed taboos during the Golden Age of Hollywood, the actor would be "the first Black leading man to gain acceptance in American movies" and also become the first Black-American man to win the Oscar for Best Actor in 1964. Off-screen, Poitier would use his fame and resources to support social justice movements, including the civil rights movement in the U.S. and the independence movement in his home country, the Bahamas. Returning to the island at the height of the movement, Poitier would see the Bahamas become an independent nation and member of the British Commonwealth in 1973. Just a year later, the actor and activist was knighted by the queen and officially titled Sir Sidney Poitier.
Twiggy: the "proud Brit" becomes a Dame
Known to the world as Twiggy, Lesley Lawson was only 16 when she became one of the most iconic models of the '60s, with her "dramatic eyes and androgynous hair," as told by the Evening Standard. When the '70s rolled around, the young model took her hand at acting and rocked it, winning two Golden Globes for her first film role in "The Boy Friend," before making her Broadway debut in 1983 with "My One and Only," which earned her a Tony nomination, as mentioned by W Magazine.
Recognized for her "services to fashion, the arts, and charity," including causes like animal welfare and breast cancer charity research, Twiggy was made a dame in 2019 by Prince Charles, who reportedly told the 69-year-old, "About time you got this." Speaking of her new honor, the model and actress excitedly expressed being very "honoured," especially as a British icon. "I'm a very proud Brit, I feel I'm an ambassador for Britain, I always have (felt I am one) …"
Just call her Dame Joan
While she played the fictional Grand Duchess of Oxford in "The Royals," Joan Collins received a very real title in 2015 when she was presented with the title of Dame Commander of the British Empire by Prince Charles. According to the BBC, the long-time actress was nominated for the honor by children's hospice charity Shooting Star Chase, of which she is a patron, but she was also being recognized for her charity efforts towards breast cancer research and the National Society for the Prevention of Cruelty to Children (NSPCC).
Talking to reporters after the ceremony at Buckingham Palace, according to the Los Angeles Times, the "Dynasty" actress said of her honor, "Not in a billion years did I think I would be made a dame; it never even crossed my mind. It wasn't anything I ever aspired to. I just wanted to be a jobbing actress, a working actor and somebody who could still perform."
Oscars foreshadow knighthood for Daniel Day-Lewis
According to USA Today, when Daniel Day-Lewis won Best Actor at the Academy Awards for "There Will Be Blood" in 2008, he knelt in front of presenter Helen Mirren, who "pretended to tap him on each shoulder with the statuette," and joked, "That is the closest I will ever get to a knighthood, so thank you." He had no idea that he would be proven wrong just six years later.
While Day-Lewis would win his third Oscar for his portrayal of U.S. President Abraham Lincoln in 2013, he is actually the "Anglo-Irish son of a former British poet laureate" and was honored with the not-very-American title of "Sir Daniel" in 2014. Knighted during a ceremony at Buckingham Palace hosted by Prince William, the award-winning actor was recognized for his impressive achievements in acting, including winning three Oscars for Best Actor/Actress, as mentioned by Hello Magazine. Reflecting on his knighthood, Day-Lewis said, "I'm entirely amazed and utterly delighted in equal measure."
For Angela Lansbury, damehood was recognition for her lifetime accomplishments
Best known for her starring role in "Murder, She Wrote," Hollywood legend Angela Lansbury had a lifetime of iconic films and musicals under her belt when she was awarded with the title of Dame Commander by the Queen in 2014, as reported by ABC News. Born in the U.K., a young Lansbury and her family moved to the U.S. during World War II, with the actress living and working between the two countries for decades.
Appointed Commander of the Order of the British Empire in 1994, according to The Kennedy Center, it took another 20 years of amazing performances and charity work before Lansbury was promoted to dame at the age of 88. "It is a very proud day for me to be recognized by the country of my birth, and to meet the queen under these circumstances is a rare and lovely occasion," the Tony-winning and honorary Oscar-receiving actress said. "[The Oscar] is for my work in motion pictures and this is for the overall accomplishments of my life as an actress. It has afforded me the joy of working in America and also in England a great deal."
Knighthood was no laughing matter for Lenny Henry
For comedian and actor Lenny Henry, becoming a knight was never something he thought would happen. As reported by Yahoo!News, Henry explained to reporters after the ceremony, "This was not on the cards for me. I'm a working-class kid from Dudley. I was born in very lowly circumstances so for me to be here is a huge honour and completely unimaginable." But the comic has done plenty to deserve the honor, from his trail-blazing career as one of the few Black comedians to make it mainstream in the U.K. to his role in co-founding Comic Relief, "which has raised more than £1bn over the past three decades," according to the BBC and Encylopedia.
Henry was presented with knighthood in 2015 at Windsor Castle by the queen, with the ceremony really emphasizing the gravity of the award for him. " … when you're standing there waiting with the man you suddenly sober up and go, 'Actually this is quite a serious thing.'" The actor insisted, though, that the honor be shared with everyone that has supported and helped him, from the people of Dudley and his family to the workers at Comic Relief.
Dame Floella Benjamin's over 40 years of charitable work
Honored as a dame as part of 2020's New Years Honours List, the Trinidad-born British actress, presenter, producer, and activist was presented with her Damehood Medal by Prince Charles after decades of contributions to television and charity, as reported by BBC. Getting her start in the late 1960s in stage musicals like "Jesus Christ Superstar" and then moving on to television dramas, Floella Benjamin would also become a recognizable icon to an entire generation of children through her 12-year stint as presenter of the BBC children's program, "Play School," according to her official website.
Over the years, she would become a passionate advocate for children and diversity, successfully lobbying for a Minister of Children "to oversee the interest of children and young people" and fighting for more diverse faces in children's books. Other causes the multi-talented actress has supported include "Barnardo's, the Sickle Cell Society, and Beating Bowel Cancer."
In 2010, Benjamin became Baroness Benjamin of Beckenham in the County of Kent when she was introduced to the House of Lords and, a decade later, was given the title of Dame Floella. Speaking about her new damehood, she said, "You get such a buzz from giving back and making a difference, changing the world, and to get an honour like this after these years it's like wonderful recognition."
Kevin Spacey feels like "an adopted son"
Every year, over a thousand people are honored for their work and contribution as part of the queen's annual Birthday Honours, with a select number being titled as knights. In 2015, Kevin Spacey was among those awarded with a knighthood "for his services to culture and British theater," as described by The Hollywood Reporter. The recognition came as the American actor was finishing 10 years as an artistic director at the Old Vic, known as "one of London's best-known and oldest theaters," solidifying his place in the British entertainment landscape, according to NY Daily News.
As an American, Spacey is only an honorary knight and cannot be called "Sir Kevin," but the actor did express his gratitude when the honor was announced. In addition to mentioning that he felt like "an adopted son," he also tweeted, "Overwhelmed to be made an Honorary Knight. Appreciate everyone sending their good wishes & thanks to the Queen!"
In 2017, Vox reports, Spacey was accused of sexual harassment and assault, with subsequent lawsuits following. A petition on Change.org to remove his knighthood didn't go anywhere, and, as of 2021, Spacey still holds his honor. However, knighthoods can be taken away, says the BBC, for behavior that doesn't "uphold the title."