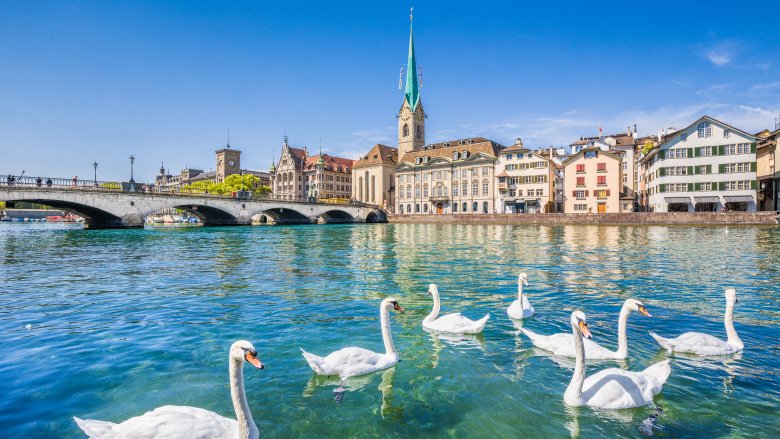 Every year various organizations put out lists of the happiest cities or the cities with the "best quality of life" based on partially arbitrary standards. One such organization is Deutsche Bank, which published its 2019 list in May. The rankings are largely based on cost of living, access to health care, crime rates, and pollution. It's worth noting that the data was primarily obtained through crowd-sourcing, and it's not clear what demographics are represented in the assessment. And it would be pretty impossible to use criteria that everyone can agree on, since most people have opinions about those kinds of things. We also can't ignore that for someone struggling to survive in these cities, these rankings might sound like out-of-touch gibberish.
With those caveats in mind, let's work our way to the top of Deutsche Bank's list. We'll cover broad concerns like affordability where it seems especially relevant, but we've also saved room for the historical, cultural, or geographical details about these cities that make them interesting. Here are some of Earth's best cities, somewhat based on data!
Amsterdam might need a tourist dam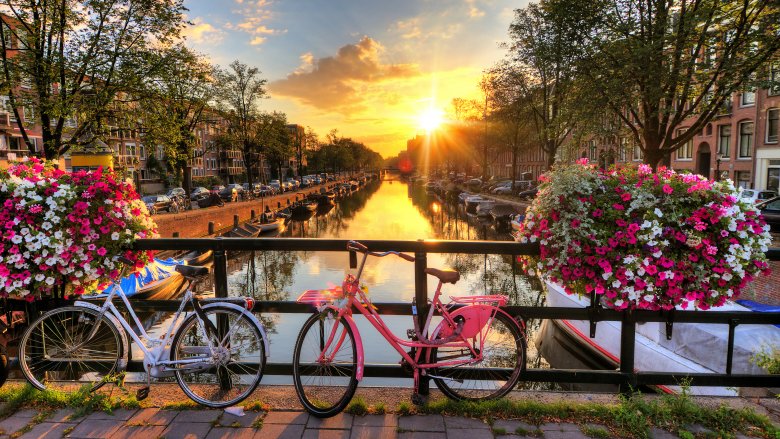 It's not old New York, which was once New Amsterdam, but original Amsterdam (12th on the list) feels like new Ellis Island for tourists. For Americans the Dutch capital has long been the land of the free to smoke pot. Of course, marijuana isn't the city's only high point. Creative types are drawn to the thriving art scene. There's a world-famous art school and numerous museums where people can gaze at the amazing works of Van Gogh and other Dutch masters — presumably while high.
When not getting baked, visitors can get bikes, which outnumber Amsterdam's 850,000 residents by more than 30,000. Unfortunately, for the more than 60% of Amsterdammers who ride daily, bicycling tourists can cause problems, like tourists usually do.
Tourists also get in the way of bedroom riders in the Red Light district. As the BBC detailed, visitors often take selfies in front of workers' windows, making it hard to entice customers. Meanwhile, would-be homebuyers are being turned off by daunting costs as houses get rented to tourists and Brexit sends international businesses to Amsterdam. Due to the ballooning prices, the government has proposed altering its rental laws.
O Canada, why is Vancouver so lonely?
The 2019 NBA championship battle between the Golden State Warriors and the Toronto Raptors might remind basketball fans of another Canadian team: the Vancouver Grizzlies. As Bleacher Report pointed out, the Grizzlies entered the league the same year as the Raptors: 1995. But Vancouver didn't work out for various reasons that can be roughly summarized as too much financial investment for too little return. Some might say the same about living in Vancouver.
Don't misunderstand — Vancouver is beautiful. Lonely Planet described it as an "outdoor wonderland" of "snow-dusted mountains," beaches, and rain forest — never mind the cosmopolitan atmosphere and all the multicultural cuisines and craft beers that entails. But for many Vancouverites, the city puts the "lonely" in "Lonely Planet" and the "empty" in their wallets. A 2017 survey by the Vancouver Foundation found that roughly half the respondents struggled to make friends and about one-fourth experienced loneliness. Fourteen percent of respondents felt lonely "often or almost always." Some friendless residents have written about their experiences, with one going buddy-less for "six or so years."
Being lonely in Vancouver isn't cheap. Per the CBC, in 2018 the average Vancouverite would have needed to spend almost 88% of their income to purchase a home. Housing is so prohibitively expensive that the city — which is known for low wages — experienced a serious teacher shortage in 2018.
Sydney went from prison colony to residential 'trap'
Sydney has come a long way since the first boatload of British convicts dropped anchor there in 1788. No longer the land of exiled criminals, Australia's largest city is a hot commodity with more than 100 beaches, a world-renowned opera house, and the famed Harbour Bridge (above), where Paul Hogan worked as a painter before the world knew him as Crocodile Dundee. But even with all this awesomeness, according to Australian Broadcasting Corporation, "Rumor has it that everyone living in [Sydney] has an escape plan." One former resident even described the city as "a trap."
Those of you familiar with Australia's wildlife might think that "trap" refers to the web of the Sydney funnel-web spider, whose bite can kill a human in 15 minutes. Indeed, that beast sounds like an excellent reason to flee the city. But the actual reason is unaffordable housing, which is a pattern. Not only have residents said this, but based on Deutsche Bank's figures, Sydneysiders have had to spend more of their income on rent, as salaries have gone down. That problem probably hasn't been helped by soaring food prices amid a historic drought.
San Franciscans' California dreams are becoming nightmares
Americans have been California dreamin' about San Francisco since someone discovered gold in them thar hills (technically them thar Sierra Nevada Mountains) in 1848. Nowadays, instead of mining for shiny nuggets, people rush to Silicon Valley in search of fortune. And the city of silicon and gold definitely puts green in people's pockets. Deutsche Bank found that San Franciscans earn the highest average monthly salary on Earth: $6,526. But living in the city will cost you so many pretty pennies that things could quickly turn ugly.
San Francisco has the second least affordable housing in the world among major cities, according to Deutsche Bank, with a mid-range two-bedroom apartment costing around $3,631 a month. That might be manageable if everyone earned a delightfully high salary. But San Francisco suffers from a sizable income inequality problem. The Brookings Institution estimated that in 2016, the city's top earners made about 11 times as much as those on the bottom rung.
Even a coveted tech job won't always pay the rent. Per Business Insider, numerous people in the tech sector find themselves living in "fraternity house-style 'hacker houses'" or "sleeping in a Google parking lot" because housing is so unaffordable. So just imagine how awful it is for people with lower-paying jobs. Sadly, homelessness has skyrocketed in San Francisco, jumping roughly 17% between 2017 and 2019.
Boston is a bastion of psychiatry and crazy traffic
If you love revolutions or tea-flavored harbor water, then you'll probably love Boston, where America's most famous tea party took place and an infamous massacre helped stoke the flames of colonial rebellion. Boston didn't just help birth the American Revolution; it was also the midwife of revolutionary medicine. "The first fertilization of an ovum in a test tube and the first successful human organ transplant" both occurred at Boston hospitals, per Harvard Magazine. The city's brightest minds have also overseen breakthroughs in Alzheimer's and stem-cell biology research. So it's unsurprising that in 2018 Boston boasted the fourth best hospital in the country (Massachusetts General Hospital), and several other Boston facilities ranked in the top 10 for medical specialties. McLean Hospital, for instance, took the top spot in psychiatry, with Massachusetts General coming in second.
Most of that psychiatric expertise is probably devoted to helping drivers cope with insane rush hour traffic. According to a study by INRIX, in 2018 Boston area mostorsts spent about 164 hours — just shy of seven full days — stuck in rush hour traffic over the course of a year, making Boston the national champion of bad traffic. Of course, the city is used to championships that infuriate people, considering that Boston's teams — the Celtics, Bruins, Red Sox, and Patriots — account for nearly 40 sports championships.
The Melbourne identity
Melbourne, Australia has a lot to brag about. It has its own homegrown sport, trugo, which the BBC described as "a mix of croquet, golf, lawn bowls and the hammer." It has adorable hordes of giant fruit bats that adorably terrorize towns with their acidic poop. Melbourne's rainbow-colored lorikeets get drunk and fall out of trees. To top it off, the Economist gave the city top marks for education, health care, and low crime in 2017. Who wouldn't want to live in a drunken-birded paradise Down Under? Probably nobody.
That's part of Melbourne's problem — everyone wants to live there, and people are pouring in from around the world in droves. As a result, traffic is becoming unbearable in some areas, per the Guardian, and fierce competition for housing has caused a spike in prices and a rise in homelessness. But let's be clear– immigration is a complex issue that we lack the space and expertise to thoroughly explore here. Moreover, the same sort of immigration that has placed a strain on Melbourne made the city amazing in the first place. Prior to WWII, Melbourne was much trashier — and we don't mean that pejoratively. People literally dumped their garbage on narrow roadways. After a huge influx of immigrants the city started to clean up its act and gained newfound vitality.
Helsinki gave the Soviets hell (and Molotov cocktails)
According to the U.N., in 2018, Finland was the happiest nation on Earth, which may have made Helsinki the happiest capital. Weirdly, that finding displeased some Finns, who consider their culture "typically stoic." Yet what Finns lack in passion, they make up for in strong feelings of societal trust and safety, both of which translate into a high quality of life.
What underlies their not-exactly-happiness? Finns emphasize generosity and helping the needy. This fosters trust and cohesion and decreases societal inequality compared to non-Scandinavian countries. For instance, Finland tested a plan to give a basic income to the unemployed in hopes that they would take low-paying jobs to supplement it. In case you were curious, overall joblessness didn't decrease (though one recipient launched a business in Helsinki) since many recipients lacked employable skills or faced circumstantial/health-related barriers to employment. But the health and happiness of the recipients increased — just don't tell the Finns they were happy.
Finnish unity also led to an unhappy but historic showdown during World War II. Per the National WWII Museum, invading Soviet forces attacked Helsinki and elsewhere with "round-the clock bombing." Photos from the Helsinki raid served as motivation for the Finns to mount a ferocious resistance that impressed people across the globe. They also coined the term "Molotov cocktail," naming improvised bottle bombs after Stalin's foreign minister, Vyacheslav Molotov.
In Vienna veritas
A day after Deutsche Bank officially ranked Vienna, Austria, as having the fifth best quality of life on Earth, Der Spiegel dropped der bombshell that two leading members of Austria's far-right Freedom Party — which formed part of Austria's coalition government — discussed giving public contracts to a Russian oligarch's niece in exchange for taking over an Austrian newspaper and peddling pro-Freedom Party propaganda. Austria's government subsequently collapsed. We can't say how this political dumpster fire will affect Vienna's livability going forward, but we can wind back the clock to just before the bombshell hit.
While we're time traveling, let's go back to the first century A.D., when the Romans built a military camp that became "the core" of modern Vienna. Per Vienna's government website, because the Roman legion was partly paid in wine, wine-growing became a central feature of the region. Today, Vienna is "the world's lone capital with a significant wine industry within its city limits," according to Wine Enthusiast Magazine. It has also been home to some of history's most innovative artists and thinkers. Vienna is where Beethoven composed his Fifth Symphony, where Sigmund Freud discovered he wanted to marry his mother, and where Freud's subconscious naughtiness possibly influenced Gustav Klimt, who famously painted "The Kiss." Not just home to the famous, Vienna also has famous homes — specifically its public housing system. There the rich and poor live together in partially government-subsidized harmony.
Edinburgh's magic goes way beyond Hogwarts
Fans of the Harry Potter series may see Edinburgh as a magical city because of its connection to J.K. Rowling's books. Not only did Rowling write the books there, but as This Is Edinburgh detailed she based various character names and place descriptions on things she encountered around the Scottish city. It's even rumored that Hogwarts was based on George Heriot's School, a 17th-century structure known for its "breathtaking Gothic architecture" and system of four competing houses. (Sound familiar?) You'll also find a famous name who must not be named — Thomas Riddle — eternally resting in Greyfriars Kirkyard.
Voldemort wasn't the only infamous riddle buried in Edinburgh. The city's scenic and thankfully extinct volcano, Arthur's Seat, served as the burial spot for a bunch of mysterious, sinister-looking dolls in small coffins. And what discussion of Edinburgh burials would be complete without 19-century villains William Burke and William Hare? The pair went on a year-long killing spree and sold victims to anatomists. The city literally has a murder tour based on them, and a book made of Burke's skin became a museum exhibit.
Edinburgh's selling points aren't all macabre. Dubbed one of Europe's top "creative and culture" cities, Edinburgh is awash with festivals, stunning architecture, and historical landmarks. Highlights include a massive castle, towering Gothic spires, the world's first floral clock, and more haggis and bagpipes than you can shake a kilt at.
All is copacetic in Copenhagen … unless you're a mermaid statue
The hidden tragedy of Hamlet is that the titular Dane had no chance to be or not to be in modern-day Copenhagen, widely considered one of the happiest cities on Earth. If anything's rotten in Copenhagen, it's probably trash, and garbage collector Alan Christensen might smell it through rose-scented nostrils. Speaking with Today, he rated his happiness as an 8 out of 10. Christensen worked five hours a day for good pay and never felt judged for his job or personal life. Though a single resident, he represented a pattern in happy places observed by National Geographic's Dan Buettner: having a sense of pride and purpose and enjoying life.
Copenhageners probably have time to enjoy life because of Denmark's favorable work-life balance. In 2018 the average work week lasted 39.6 hours (37.5 for workers under a collective bargaining agreement). Another key to the city's happiness might be two-wheeled transportation. Over 60% of residents commute by bicycle, according to Lord Mayor Frank Jensen. Cycling may increase face-to-face interactions while preventing potentially rage-inducing traffic gridlocks.
Despite the upsides, Copenhagen has at least one unhappy resident: its Little Mermaid statue. Erected in honor of famed Copenhagener Hans Christian Andersen — who authored The Little Mermaid, Thumbelina, and other joys from your childhood — the statue has been decapitated twice and dislodged with explosives.
You won't have a beef with Wellington … unless you hate earthquakes
Wellington, New Zealand, deserves a spot on this list simply for being the capital of kiwi country. And if conservation groups have their way, the adorable birds will one day roam the city. For now, you can still find two extremely rare breeds of Kiwi in Wellington: the Hiphopopotamus and the Rhymenoceros — better known as Jemaine Clement and Bret McKenzie of Flight of the Conchords. But even if you don't jam to hilarious music, you'll have plenty to do because it's always business time in Wellington.
Wellington's downtown district is bustling with "museums, theatres, galleries and arts organisations completely disproportionate to its" diminutive size, per Lonely Planet. The place is packed with top-notch restaurants and markets that, according to National Geographic, offer some of the best food in the world. Caffeine fiends will probably enjoy the world-class coffee, too. These elements — along with the scenic greenery and Victorian architecture — are partly why Lonely Planet dubbed Wellington "the Coolest Little Capital in the World."
But if Wellington is so awesome, why isn't it number one? Well, it was in 2017 and 2018. But there are notable downsides, most notably "frequent tremors" and "umbrella-shredding" wind gusts. In fact, Wellington was the site of the strongest earthquake in New Zealand's recorded history, an 8.2 magnitude monster that leveled homes and claimed four lives in 1855.
You can't spell 'Zurich' without 'rich' — and exploding snowmen
Switzerland has the best version of everything — cheese, chocolate, army knives. Heck, the best way to miss something is probably Swiss Miss. So it should come as no surprise that in 2019 Switzerland was named the world's best country by U.S. News and World Report and that Deutsche Bank ranked a Swiss city as having the best quality of life. Which city? The rich city — Zurich. A veritable banking mecca, Zurich contains 82 of the country's 208 banks, per Stadt Zurich. Bank City also accounts for one-ninth of Switzerland's jobs and has the world's second highest average monthly income ($5,896).
As every gambler has probably said, you have to spend money to make money. Zurich has the world's fourth highest monthly rent for a mid-range two-bedroom apartment ($2,538), and is the world's most expensive place to go on a date — defined here as "cab rides, dinner/lunch for two at a pub or diner, soft drinks, two movie tickets, and a couple of beers." That romantic outing costs about $203. Some things in Zurich are priceless — like Sechseläuten, a spring festival that includes the Swiss version of Groundhog Day. Only, instead of harassing an animal about its shadow, people fill an 11-foot tall snowman with straw, cotton, and dynamite, and then kablooey. The faster the head explodes, the sooner spring will arrive. See? The Swiss have the best version of everything.