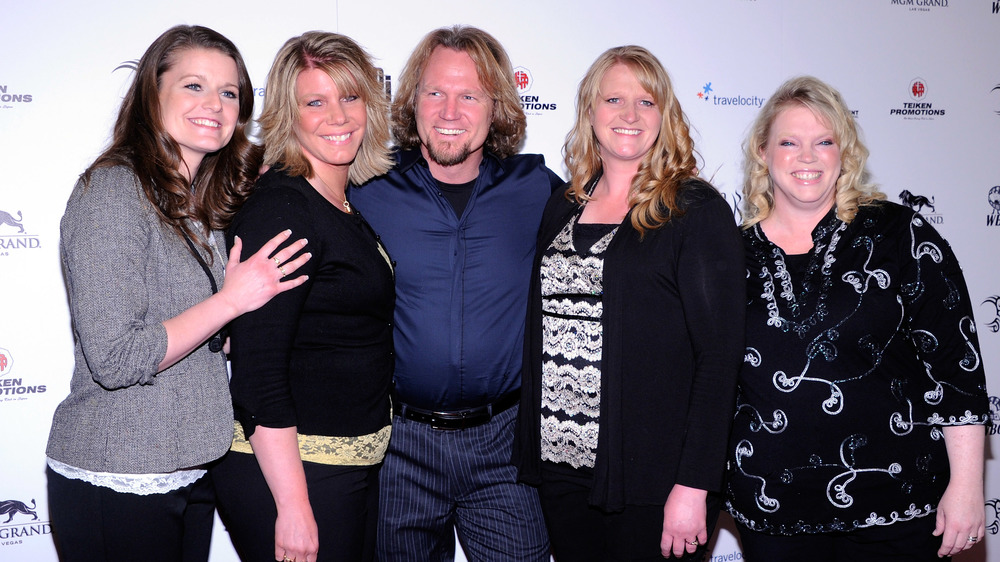 What's the truth about Kody Brown's relationship with Meri Brown from Sister Wives? There's obviously no shortage of the kinds of reality shows out there, from Dance Moms to Toddlers & Tiaras to ridiculous competition shows like The Masked Singer; reality television knows no bounds. And on TLC's Sister Wives, that couldn't be more true. Seriously, just the name of the show makes it clear that the family featured on the series isn't your typical unit. The Browns are a polygamous family, and patriarch Kody has four wives: Meri, Janelle, Christine, and Robyn Brown. The women call themselves "sister wives" (hence the name of the show), and yes, some find it pretty strange to watch.
Part of that strangeness comes from the dynamic of being in a plural marriage, and from the inevitable issues that arise when one man has four different spouses. There's jealousy, financial issues, issues with children, and housing concerns. But perhaps the most intriguing dynamic both on Sister Wives and within the Brown family centers on Kody's first wife, Meri. Seriously, the truth about Kody Brown's relationship with Meri Brown is pretty twisted, and also pretty shocking.
Meri and Kody Brown's first meeting was pretty sweet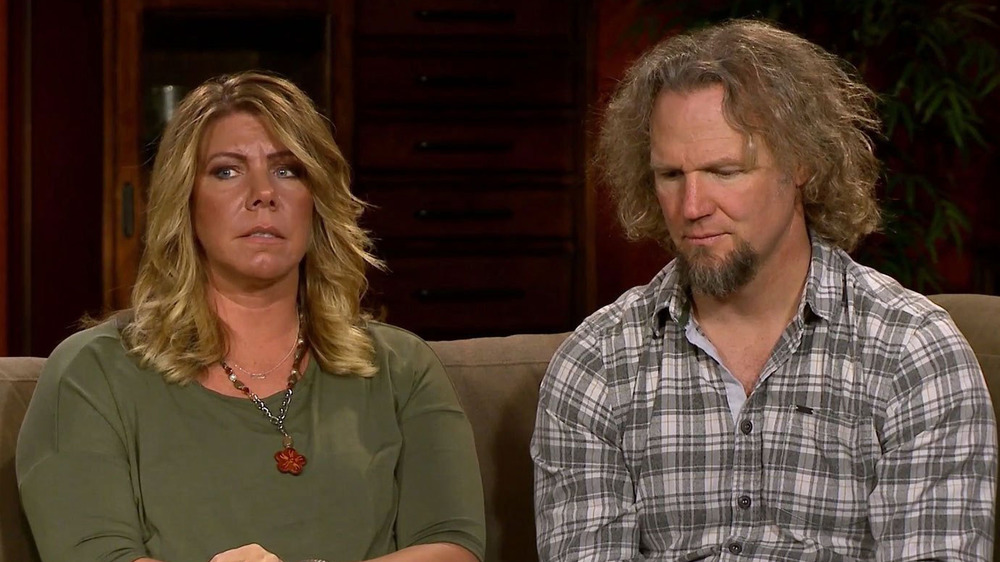 As strange as the concept of having sister wives might be, when Kody and Meri Brown first met, she was the only woman in his life. So, naturally, their first meeting and time together wasn't all the different from the norm, and was probably just like any other meet-cute. Well, sort of.
According to ABC News, Meri wrote that it all happened pretty quickly on the TLC website, that falling in love business. She explained that she was hanging out with a new friend from out of town who introduced her to her brother, Kody. "During that weekend while she was visiting, the three of us hung out together, shopping, going to movies and just having fun together," she recalled. "After she went home, I figured that would probably be the last I would see of Kody for a while. Not so!"
Even though Meri was only 19 at the time, the two hit it off and started a romantic relationship. And for a while, Meri didn't have to worry about anyone else but herself and Kody.
Meri Brown was Kody Brown's first wife and they share one child
Despite the somewhat soft nature of Meri and Kody Brown's first meeting, their relationship really took off shortly afterwards. It's important to note that at the time, both Kody and Meri were raised in (or at least aware of) a polygamous lifestyle (via the Las Vegas Sun). So perhaps they both knew that would be a possibility for them down the road.
Still, Meri and Kody had a very fast courtship. According to ABC News, Meri explained that not long after meeting, things between her and Kody got serious. "A couple weeks later on Christmas Eve — yes, two months after we met — he gave me a ring and asked me to marry him," she revealed. Then, according to Meri's bio on the TLC website, they welcomed their daughter, Mariah Brown, five years after tying the knot.
Interestingly enough, Mariah isn't the oldest of Kody Brown's children, as he had married and had a child with second wife, Janelle Brown, before she was even born. Meri already secured her position as Kody's first wife, though.
Kody and Meri Brown struggled with infertility
While there's absolutely nothing wrong with having one child, or no child, or waiting a decade to have a child, Meri and Kody Brown's relationship was drastically changed by their struggle with infertility. While they had a beautiful, healthy, and happy daughter in Mariah Brown, Meri later revealed that she struggled to get pregnant again, and even suffered a miscarriage. "I completely assumed that after I had [my daughter] Mariah, it would be very easy for me to conceive again," Meri said during an episode of Sister Wives.
However, that wasn't the case, so Meri and Kody just stopped trying to have more kids until Mariah turned twelve, when Meri had accepted the fact that she wasn't meant to have more children. But just when she had given up, she got a positive pregnancy test. "We had an appointment at the doctor to hear the heartbeat. And I was at about 10 weeks. And we were so excited. And we went in and they couldn't hear the heartbeat," she sadly recalled.
Meri and Kody Brown's relationship was put through the ringer, and it's clear they really leaned on each other for support.
Kody and Meri Brown bonded over Robyn Brown
Even though Meri was Kody Brown's first wife, she quickly became part of the group of sister wives that TLC fans now know; Kody married Janelle and Christine Brown after wedding Meri Brown. Additionally, although Christine thought she'd be Kody's last wife, Meri and Kody had other plans. Specifically, when Kody and Meri met Robyn, they really bonded over what she could bring to the family.
According to the TLC website, Robyn first met Kody and Meri in 2009. After their first meeting, "Kody and Meri went home that night and stayed up talking about her and for the next few weeks, discussed her and prayed for answers." So really, it was love at first sight.
While that was happening, Meri and Robyn got extremely close. Additionally, Soap Dirt reported that Meri brought Robyn into the family, and encouraged the relationship between Robyn and Kody, without telling Janelle and Christine. Whether or not that's true, it looks like Meri, Kody, and Robyn had their own relationship dynamic for a while, and Meri totally approved of Robyn as a potential sister wife, and it brought her and Kody closer.
It was hard for Kody and Meri Brown to go public with their plural marriage
For a while, Meri Brown was Kody Brown's only legal wife, though he was "spiritually" married to Janelle and Christine Brown. Still, they hid a lot of their relationship dynamics from the public for a long time before Sister Wives premiered on TLC. And according to both Meri and Kody, it was difficult to not be able to always be themselves in a public setting.
In an interview with the Las Vegas Sun, Meri explained that going public via the show was a way for the family to be able to live semi-normal lives. "And for all the moms to be able to go to a high school graduation, instead of Kody and a mom and the rest of us sitting elsewhere, trying not to be seen," she explained.
Kody, on the other hand, wanted to break the stereotypes about polygamy. "When I talked with my children about doing the show, I said we have an opportunity to not only change our world, but to change the world for everyone else," he shared. And while it wasn't an easy choice, it was the right one.
Kody and Meri Brown disagreed on having more kids
Kody and Meri Brown dealt with both infertility and a miscarriage during their marriage, which was hard for them because they both wanted more kids. However, there came a point in their relationship where they could have added a new member to their family via IVF or surrogacy, and they kind of disagreed about how to handle it.
Specifically, Meri's sister wife, Robyn Brown, had offered to be their surrogate, and Meri and Kody had to decide if they'd do that. On an episode of Sister Wives, the couple argued about the decision. "I would do it if nature just did it," Kody explained (via Today). "But because of the stakes, I'm not burning in my gut to do it. You know what I'm saying? I say no."
It wasn't until later that Meri revealed she'd wanted to say yes before her husband shot her down. "I had actually planned to tell him I wanted to start," Meri told cameras, but she resigned herself to Kody's wishes. "It just is what it is." That was certainly a test of their relationship.
Meri Brown wasn't happy about her divorce from Kody Brown
Any fan of Sister Wives knows that while Kody Brown has four wives, only one wife is his legal wife. For most of their marriage, that wife was Meri Brown, as she was Kody's first wife. However, after Kody met Robyn Brown, who was divorced and had three children from a previous marriage, all that changed. The family then decided that Kody would legally marry Robyn so he could adopt her children — meaning he'd have to divorce Meri. And that wasn't easy for her. "It's not about me, it's about the kids," Meri said in an episode of Sister Wives. "I'm realizing now that while that divorce process was really hard… I feel like I've dealt with it enough that I can see a bigger picture."
Still, during Meri's conversation with Robyn, Meri's voice was shaking, and she seemed saddened by what had transpired. "I just have to laugh about it because it feels so stupid to me," she confessed. So while Meri basically had to come to terms with the divorce, she didn't love it, as she lost the privilege of being Kody's legal wife.
Meri and Kody Brown had to go to therapy
It's safe to say that Kody and Meri Brown have been through quite a lot as a couple. Just the mere fact that they're in a polygamous relationship is pretty intense, but add onto it fertility struggles, jealousy issues, as well as financial worries, and you can see Kody and Meri have a lot to contend with. To that end, they decided to go to therapy, and while therapy is obviously a very healing and important process, it brought more issues to light for the couple.
As The Sun reported, one of Kody and Meri's therapy sessions on Sister Wives wasn't exactly sunshine and rainbows. "Meri mourns the loss of what we had… I regret what we had," Kody said. Meri, for her part, also stated that she wasn't happy in their marriage at the moment. "The relationship he and I had, it's dead, it's gone, it's over," she explained, heartbreakingly. "I want a relationship with him."
Therapy is important, and for Kody and Meri, it was necessary for them to open up about their feelings.
Kody Brown didn't want Meri Brown to launch a new business
Meri Brown isn't the first or only sister wife to want to start a business, but when she came to her family wanting to open a Bed and Breakfast, Kody Brown was especially harsh on her.
Really, the entire family was skeptical of Meri's desire, with Kody telling the cameras that the venture wasn't "a big moneymaker," so he wasn't really interested. Kody also insisted that the location was an issue. "Well it's three hours away, so how is she gonna manage it, how's she gonna run it?" he asked.
Then, when the financial logistics came into play — and Meri had to ask the family for a $40,000 loan — Kody was even more hesitant. "Because we're going to be investors in that business, we're going to be the board of directors on it and we get to tell you how to run it?" he asked Meri, and she told him no. "This is my baby," Meri countered. "I want to run my own business my way." Sadly, Kody turned town Meri's request for a loan and she had to earn the money herself.
Kody and Meri Brown have kept their spark alive
For a couple that's been married for as long as Kody and Meri Brown have, and who have dealt with many issues in their relationship, it would be understandable if they got too overwhelmed to spend time together. However, that couldn't be further from the truth. At least, it wasn't for a while. As it turns out, Kody and Meri's relationship got plenty of nurturing over the years, from Kody himself.
In fact, Meri took to Instagram back in 2018 to tell her followers just how romantic Kody could be at times. "Kody flew out to Chicago on my last day of #LuLaRoe leadership so we could spend our anniversary together yesterday," she wrote in the caption. "How sweet was that?!"
Meri also marveled at the fact that their spark was still alive. "28 years and still here," she added. Despite all that Kody and Meri had been through, he still made time to surprise her, and that's a pretty grand gesture.
Kody Brown has struggled with his marriage to Meri Brown
Kody Brown didn't enter into plural marriage lightly, or without any knowledge of the institution beforehand; he and Meri Brown were familiar with plural marriage before they even met. Still, Kody has struggled with polygamy at times, and even told the cameras on Sister Wives that he doesn't see it the same way that he used to. "When I was younger, it used to be a lot of pleasure to me when I'd see my wives goofing off and playing and having fun together," he recalled on an episode of Sister Wives (via Cheat Sheet). "I'm jaded, I guess. I just don't see plural marriage in the same light that I used to."
But that's not all, as Kody also stated that he had mixed feelings about his marriage to Meri. "Meri and I had a fast courtship with a lot of expectations and a lot of not communicating," he continued. "I didn't know who I was marrying. As things unfolded, I started to become troubled and bitter by the situation I was in." Ouch, that's not what you want.
Meri Brown had a relationship with someone else
When your relationship with your spouse isn't going great, it's natural to seek out comfort and understanding from someone else. But for Meri Brown, that became a very dangerous game when she entered into an online relationship with a stranger who turned out to be not who they said they were.
Yes, Meri was catfished, and according to In Touch Weekly, some voicemails she left the catfisher seem to indicate that she was in love with the person, who she knew as "Sam." Specifically, in one of the voicemails, Meri said, "You want me. You say that you're willing to fight for me, you say all these things about love and affection and passion." In another, Meri allegedly said, "I love you, I love you, I love you, I love you. I just do." It definitely sounds like Meri had fallen in love with someone who was decidedly not Kody Brown.
Kody and Meri Brown didn't quarantine together
It appears as though Kody Brown's relationship with Meri Brown has been improving somewhat steadily over the years. Sure, they're not perfect, but the fact that they've been going to therapy and being honest with one another is good.
However, in 2020, all that changed when the pair spent a lot more time apart. According to The Sun, when the COVID-19 pandemic hit the United States, and mandatory stay-at-home orders were enforced across the country, it wasn't his first wife that Kody brown decided to quarantine with. No, Kody quarantined with his fourth and only legal wife, Robyn Brown, meaning that he and Meri probably went a long while without seeing each other to remain safe and healthy.
As if that wasn't enough, Meri also reportedly posted some pretty cryptic quotes to her Instagram story while spending time away from Kody, such as, "Only when we are brave enough to explore the darkness will we discover the infinite power of our light." Um, that's pretty intense, though it doesn't necessarily mean she was referring to Kody.
This is what Kody's daughter Mykelti Brown thinks of Kody and Meri Brown's relationship
When there's drama between parents, it's only natural for the children to be concerned. And while one of Kody Brown's kids said they didn't know too much about his relationship with Meri Brown, they suggested that a lot of it might just be for show, literally.
According to Cheat Sheet, Mykelti Brown, daughter of Kody and Christine Brown, and her husband, Tony Padron, took to Twitch to answer some fan questions about Sister Wives. When asked about whether or not they thought the drama between Meri and Kody was legitimate, Tony responded, "It's real, but it's blown up." Additionally, Mykelti added that she wasn't too informed about Kody and Meri's relationship. "I don't know their personal life," she admitted. "Between any of the siblings, individual siblings, individual parents or whatever, we really don't know a lot of what goes on." Mykelti also added that she knew there was some housing drama, but not much else.
Since Mykelti didn't know exactly what was going on, there's no telling just how intense the fighting was between Kody and Meri.
Meri Brown defended her relationship with Kody Brown
Because Kody and Meri Brown live their life in the public eye, with thousands of followers on social media and a literal reality show that follows them, it's no wonder people have made accusations about the state of their relationship. After all, they literally talk about their marital struggles on national television. However, regarding any rumors swirling about the state of Kody and Meri's relationship, Meri has done her due diligence to squash them.
In an Instagram post, Meri denied that she and Kody were on the rocks, or headed for breakup. "I don't owe anyone an explanation but I'll do it anyway," she wrote alongside a smiling selfie of her and Kody. "But here's my truth. I love him. I love my family. I'm committed. I have 30 years in this. We struggle. We communicate. We repair relationships as the parties involved are willing and able."
Meri made it clear that through all the ups and downs, her relationship with Kody is solid, and they have no plans to end their marriage or relationship at all.