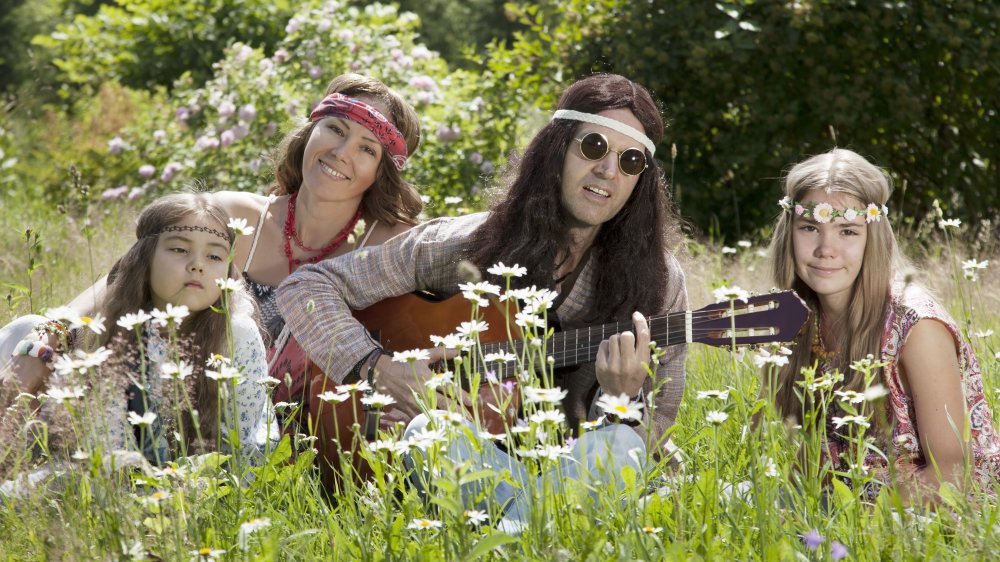 Between 1960 and 1969, America transformed during what History calls "a golden age." Early on, however, Americans had to deal with some heavy issues: the Cuban Missile Crisis. The assassination of President John F. Kennedy, and the killing of his assassin, Lee Harvey Oswald. The ongoing Vietnam War was bloodier and more tragic than anyone imagined. Civil Rights were huge, especially after Martin Luther King Jr. was killed. And everyone stared at their televisions in awe as Neil Armstrong and Buzz Aldrin took a stroll on the moon. By the end of the 60's, the U.S. was ensconced in the "Age of Aquarius," wherein peace, love, music, and drugs dominated society.
What a lot to absorb in just a decade! Still, America rolled with the punches. As the average yearly income grew from $5,315 to $8,540, housing prices varied between $12,700 and $15,500. Gas was around 30 cents a gallon, and the cost of a new car was around $2,000. The 60s was truly an era of growth as women found their voices, vanity became a thing, music changed in ways never before imagined, and the fashion industry cast off dowdy dresses in favor of colorful clothing with lots of modern flair. Plus there were lots of new "inventions" to keep everyone happy. Here are just some of the new products that fueled America into a whole new world.
The Pill was the first oral contraceptive for women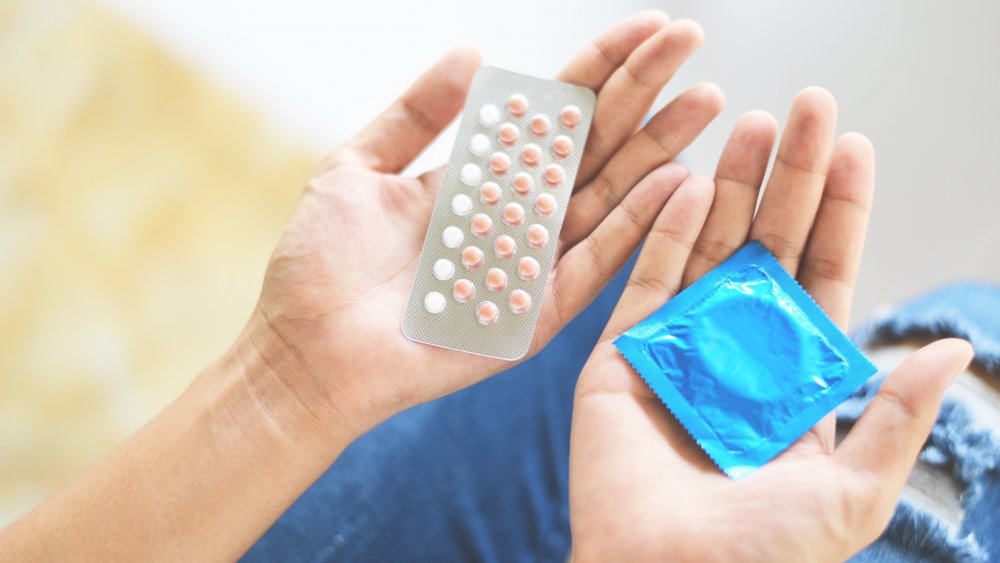 According to Before Play, condoms were the best birth control method before 1960. We actually have Goodyear Tires to thank for this, which made rubber the number one material for these little pocket buddies. Not only did they prevent pregnancy, but also sexually transmitted diseases. Still, condoms could be inconvenient, and could break or come off. When the FDA approved a drug to ease menstrual problems in 1957, it was not intended as a contraceptive. But it actually did prevent pregnancy, causing an awful lot of women to suddenly "report severe menstrual disorders."
By 1960, the FDA finally recognized the drug, called Enovid, as a great way to stave off pregnancy. It quickly became commonly called "the Pill." Within two years, 1.2 million women were taking the Pill as it grew in popularity. But the drug remained controversial, largely due to the pope's views on family and those who charged Planned Parenthood with "committing genocide." For those reasons the Pill remained illegal in several states even as it rose to become the most popular method of birth control. And in 1969, Barbara Seaman's book, The Doctor's Case Against the Pill, revealed such risky side effects as blood clots, heart attack, and stroke, but also weight gain, depression, and even "loss of libido," which kind of defeated the purpose of the Pill.
Coppertone introduces the first tanning lotion
In the 1950s, according to Sol Potion, a University of Cincinnati scientist, Eva Wittgenstein, was working with Dihydroxyacetone. She noticed that the stuff actually turned skin brown. But when the resulting product, "Man-Tan," was put on the market as an aftershave self-tanning product, some guys were upset to find the stuff turned their skin orange, not beautiful brown. Enter "Coppertone QT," with "QT" serving as a double entendre for "cutie" but more importantly, "Quick Tan."
Introduced in 1960, Coppertone QT also turned your skin orange unless you applied it correctly. It also smelled. And any kid who was asked to rub some on Mom's back found that if they didn't do it right, their tiny handprints were imprinted into the tan as the lotion did its job. Still, Coppertone QT was the best, and only, alternative to a fast tan. As for Coppertone suntan lotion, an original commercial featured Cheri Brand as the cute little girl on the beach who gets her pants pulled down by a cocker spaniel. A few years later the role went to actress Jodie Foster, who remains the best known of the Coppertone kids. Sunless tanning products remain popular today, and according to the Mayo Clinic are still safe to use.
The sound of music
The 1965 film aside, a whole lot of different music genres came out during the decade. The People History classifies them as the British Invasion with The Beatles, the Rolling Stones, The Who and more, Motown with Diana Ross and the Supremes, Marvin Gaye, and Aretha Franklin, Surf Rock like the Beach Boys, Psychedelic Rock like the Doors, the Grateful Dead, Jimi Hendrix, and Janis Joplin, and the Folk Rock by Bob Dylan, Simon & Garfunkel, and The Mamas & The Papas. Put them all together and they made one groovy scene. The Beatles, according to NBC, were especially prolific.
Within months of their 1964 debut on the Ed Sullivan show, Beatlemania swept the country. It was a whole new way of music appreciation, shocking to parents but a boon to teenage fans. The way we listened to music changed too. According to Rolling Stone magazine (which debuted in 1967), Phillips introduced the first cassette tape in 1963 and Learjet inventor Bill Lear premiered the 8-track tape. Now, music lovers could listen to their favorite bands and songs without having to lug around vinyl records and a turntable. (Although 8 tracks for cars were available by 1965, says MeTV, cassette decks for cars would not come out until the 1970s, according to Legacy Box.)
Tie-Dye was inspired by the hippie movement
It's a little-known fact: the art of tie-dye first became popular in America way back in the 1920s, says The Adair Group. It was cheap and easy to do, and remained popular during the poverty stricken years of the Great Depression. Music trends were heavily involved in reviving the fad during the 60's, when stars like Jerry Garcia wore their tie-dye on stage and inspired others to follow the fashion. The Fashion Encyclopedia explains that tie-dye consisted of simply "wrapping strings around crumpled shirts" and dunking them in cheap dye. Tada! A whole new wardrobe was born, complemented by faded jeans, countrified skirts, and sandals.
In time, tie-dye clothing became a symbol for those opposing the Vietnam War, as well as rebellion against societal rules. It also spurred a new generation of simplicity and true country living. Wearing tie-dye became "hip" among the younger generations, which became an extension of writer Jack Karouac's "Beat" or "Beatnick" generation of the 50's. Except these people were called "hippies." And Kerouac didn't like it one bit. Indeed, hippies "rejected the mores of mainstream American life," explains Britannica. Comprised mostly of misunderstood youth, hippies fought the suppression of society by developing their own culture. It was a kinder generation, with many going vegetarian, using natural methods for medicine, practicing free love—and doing a lot of drugs.
Getting groovy with Lava lamps
So say you're one of them long-haired hippies, and you've just smoked something that makes you feel like you haven't a care in the world. What better than to lay around for a bit watching a lava lamp? Surprisingly, this creative, unique lighting device was actually invented in 1948 by Edward Craven Walker after he saw a cocktail shaker full of colorful liquids boiling on a stove at a pub in his native England. But it was not until 1963 that Walker perfected his creation. Smithsonian magazine explains that the lamp's glowing innards, housed in a long glass vase on top of an electric base, were made by combining a water-based liquid with a wax-based liquid and carbon tetrachloride.
Walker began marketing his "Astro Lamp" in 1963. Greatly inspired after Ringo Starr allegedly bought one, Walker sold his manufacturing rights in the U.S. in 1965. The name was changed to "Lava Lite." After waning for a bit in the last few decades, the lava lamp has made a reprise in recent years. Just be careful with it; a broken lava lamp, according to Hunker, is quite literally a hot mess and must be cleaned up carefully—starting with unplugging the thing before touching it.
'Mother's Little Helper,' aka Valium
That's right. The Rolling Stones' 1966 hit was about a housewife who pops pills to help her manage her busy and often hectic day. "It's about drug dependence," explained lead singer Mick Jagger, "but in a sort of like spoofy way." What Jagger didn't realize was that Valium, which made its first appearance in 1963, was prescribed to manage anxiety and quickly became "one of the most commonly prescribed drugs of all time," says Britannica. Drug manufacturers had actually been researching anti-anxiety pills since the late 1800s, but many of them contained highly addictive opiates. It was hoped that Valium would change that.
It didn't. Even so, big pharma continued marketing it as safe, and "nearly impossible" to overdose on, according to Valium Addiction. Over a 10-year period, the drug was prescribed to 59.3 million patients. The primary target market was women, many who were harried housewives assigned to domestic duties at home. No wonder Valium became a favorite release from the anxieties of raising children during America's baby boom years, doing all of the shopping, cooking and cleaning, and managing the household budget meted out by husbands. With no escape in sight, according to Scholar Blogs, women were basically drugged into submission. One advertisement blatantly explained, "You can't set her free, but you can help her feel less anxious."
The Kodak Instamatic camera caught on like wildfire
In 1963, Kodak came out with the Instamatic, an amazing camera that was so user-friendly that a child could use it. The camera quickly became popular as people across America started photographing family events, holidays, weddings, and more. All you had to do was point and shoot; the camera did the rest. After years of having to thread the film across the back of the camera, you could now just pop a totally enclosed film cartridge into the back. The real beauty was that the film was 35mm, making for clear, beautiful pictures. Depending on the model, you could also purchase "Magicubes," the little flash cubes that simply attached to a plug on top.
There was another great thing about the Instamatic: it could be carried in a pocket or a purse, especially after Kodak added a built-in flash. The camera quickly became very popular, according to the Film Photography Project. Grocery stores, pharmacies, and photo shops began setting up film departments where consumers could simply drop off their film to be developed. You not only got as many prints as you wanted, but also negatives in case you wanted copies at a later date. Today, according to PetaPixel, using an Instamatic (they are still for sale out there) is still a favorable break from more complicated cameras with interchangeable parts and lenses.
Barbie gets a boyfriend
Who remembers the Ken doll, introduced in 1961 as Barbie's first boyfriend? This hunk stood 12 inches high with a spiffy plastic hairdo, and showed off his pecs by wearing in nothing but red bathing suit trunks. Two years later, G.I. Joe came along too. Although he was intended for boys, he certainly made a suitable alternative for Barbie and her new cousin, Francie, to entertain in their Dream House. Other popular dolls included talking ones like Talking Barbie, Chatty Cathy, Little Miss Echo (who repeated what you said), trolls with their wild hair in various colors, and a stuffed Casper the Friendly Ghost.
Other top toys in the 60's included Etch-a-Sketch, Hot Wheels cars made from die-cast metal, Lite Brite where you could arrange electrically-lit pegs to make your own pictures, Rock 'Em Sock 'Em Robots, which you controlled via a lever to fight your opponent, Slinky, Twister, and the Easy Bake Oven, a miniature stove you could really cook in. This last one raised the eyebrows of parents as a fire hazard, as did other potentially dangerous toys, according to MeTV: Creepy Crawlers, which involved pouring hot liquid plastic into a mold; Swing Wing, a thingy you twirled with your head that could injure your neck; Jarts, which were lawn darts with lethal metal tips, and Super Elastic Bubble Plastic, which contained toxic chemicals.
The Women's Liberation Movement
While women were gobbling Valium and wondering if their daughter's Easy Bake Oven might set their curtains on fire, the fashion industry came out with two remarkable ideas: the miniskirt and Go-Go boots. The miniskirt showed up as early as 1962 when the Billings Gazette in Montana reported that a skirt eight inches above the knee was in production. Two years later, Frenchman Andre Courreges introduced a new line of boots which extended all the way up to the knee and complemented miniskirts quite nicely. Women loved them and men admired them, but it finally occurred to the ladies that they were being treated more and more like sex objects. And that simply would not do.
Tavaana presents some mighty interesting statistics about women in the 60's. The average housewife spent 55 hours a week keeping house. Any money she earned was considered property of her husband. Those seeking divorce had to prove why their husbands were unfit. And the 38 percent of working women in 1960 were mostly relegated to menial jobs. Betty Friedan's book, The Feminine Mystique, helped women realize they were victims of discrimination. In 1966, the National Organization for Women (NOW) was formed, and not a moment too soon, for there was another minority being treated unfairly too: the American Black population. Together, both groups created liberation movements demanding their rights through equality.
Doing the math: portable calculators
It seems like an insignificant advancement at first, but portable calculators became all the rage during the 60s. Prior to that the best one could hope for in a calculator was the old-fashioned, non-electric push button sort. Enter the ANITA in 1961, which was the first electronic desktop calculator, according to The Calculator Site. But the ANITA still weighed in at 33 pounds with heavy wood and vacuum tubes, hardly convenient for lugging from desk to desk. Vintage Calculators cites the first "transistorized" (sans the vacuum tubes) calculator which was an instant hit at the 1964 World's Fair. Soon, desktop calculators proved quite popular in the tech industry.
There was more coming. The transistors were contained in chips, which cut the size of the calculator down and made better use by the military and the growing "space race," according to PBS. But the best advancement of all was when a Texas Instruments tech, Jerry Merryman, and his co-workers invented the first hand-held calculator. "Silly me," Merryman later said, "I thought we were just making a calculator, but we were creating an electronic revolution." But the men's first prototype proved so important that today, it is on display at the Smithsonian. Merryman died in 2019, but generations of his creation remain just about every desk drawer in the country.
Beanbag chairs
They are lumpy, bumpy and hard to get out of, but beanbag chairs made a real splash beginning in 1968. The brainchild of three Italians—Piero Gatti, Cesare Paolini, and Franco Teodoro—was as modernistic as you could get. They called it the "Sacco." Consisting of tiny beans sewn into a large leather pouch, the Sacco soon became a quirky staple of living rooms everywhere. The only downfall was that the tiniest hole sent beans, and later little styrofoam balls, scattering across the floor. And although it was intended to have a pear shape, the Socco actually just looked like a funny lump of something, nobody knew what, when it was unoccupied. To the hippie generation, at least, that was just fine.
Yes, the beanbag chair was a big hit for young people who just wanted something to flop down on. It became its own status symbol, even though its odd shape rarely made it look like a chair until someone actually sat in it. As Xorbee puts it, "It needed a person to become what it truly was." And so the Socco, and all of its knock-offs with a variety of cheaper materials both quality and poor, remained quite popular into the 1970s. After two or so decades of languishing as a fad of the past, the beanbag even came back, and can be found for sale even today.
The scent of the 60's
Perfume goes back a long, long way according to McGill. Ancient Greece was the first to begin producing liquid perfume. Much later, circa 1800, Italians began making "eau de cologne" for men. Especially in the days before deodorant, the scented stuff was highly popular. But it also paved the way for sensuous smells emitted from those who wore it. By the 1960s, fragrances were something of a status symbol when a whopping 77 new perfumes and colognes were introduced. It was the first time, according to Surrender to Chance, that fragrances were manufactured for both women and men.
The number of new fragrances is too long to list here, but Vintage Ad Browser assures us there were many popular brands. Ladies loved Yves Saint Laurent, Dana's Tabu, Tigress by Faberge, Prince Matchabelli, and Wind Song, to name a few. Men, meanwhile, wore English Leather, Old Spice, Canoe, Brut, Aqua Velva, and Jovan Musk for Men. Some of the scents commercials are accidental classics, and there was Hai Karate, which generated some of the funniest commercials ever, bringing needed comic relief to an era that was trying at best.