Pro wrestling seems like a young person's game, but every wrestling fan knows that this is rarely the case. The industry has plenty of veteran performers, and some superstars such as The Undertaker, Hulk Hogan, and Rick Flair have wrestled well into their fifties and even sixties. For women, however, it's another matter. Take a look at the largely youthful female faces on the company's superstar page, and it sure looks like active female performers tend to exit the business early enough that they still have decades of professional life ahead of them.
So, what becomes of a WWE diva once she's done with the company and moves on to other, less powerbomb-heavy things? Pretty much anything, it turns out. Former divas can be found in almost all walks of life, with varying amounts of success but generally plenty of plot twists worthy of their former profession. Come, let's take a look at the lives and careers some of our favorite WWE Divas built after they left wrestling.
Lita joined a band and became a radio show host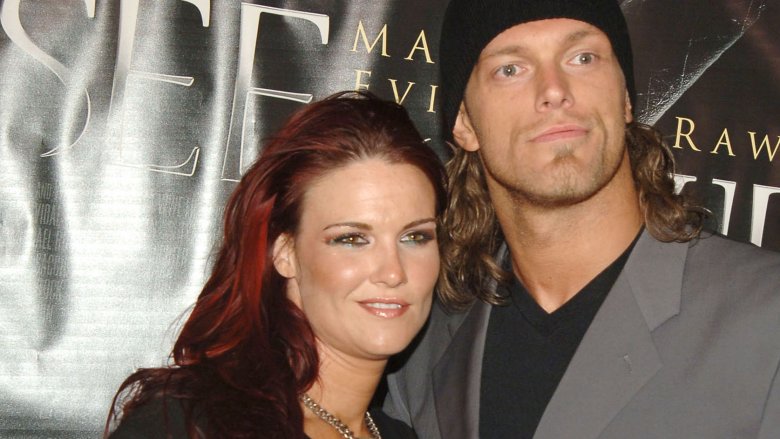 The athletic Amy "Lita" Dumas was one of the most visible WWE divas of the 2000s. As Lad Bible tells us, her partnership with the popular Hardy Boyz and her on-screen (and real-life) relationship with WWE Champion Edge made her a constant presence in the squared circle. However, she eventually turned her attention to other things. According to Examiner Live, she used to sing in a punk band called The Luchagors. The "grassroots" group was very decidedly not an arena-level band, but they did at least release one album and play a tour in the UK. Around 2013, she also had her own radio show called Amy's Discordia.
Unfortunately for Lita (and The Luchagors), both ventures eventually fell flat. The radio show failed to take off and the band's UK tour was a disappointment, which reportedly may have lead into the scrapping of their second album. After the band broke up in 2014, Lita returned to the WWE, but in a very different role from her heyday. She acted as a producer and appeared as one of the trainers in the Tough Enough show, after which she joined the company's creative team as a writer. In 2019, she once again "parted ways" with the WWE, but luckily, she still has ways to keep busy: Lita has operated an animal charity called Amy Dumas Operation Rescue and Education (A.D.O.R.E) since 2003.
Stacy Keibler danced with the stars and dated George Clooney
Even after she left wrestling Stacy Keibler has remained one of the more familiar diva faces, at least if you've kept up with the gossip news in recent years. As Sportskeeda tells us, the long-legged diva left the WWE in 2006, but just because she stopped dropping her opponents with her famed spinning heel kicks doesn't mean that she left the limelight for long. According to AOL and People, Keibler is well-known as a contestant on the second season of Dancing With The Stars, where she placed third. She's also a surprisingly prolific actress, with over 30 TV, movie, and video game credits to her name. Oh, and in 2013, she also gained notoriety (and, presumably, plenty of paparazzi attention) for dating some guy called George Clooney.
More recently, Keibler has maintained more of a background presence. In 2014, she got married and had a child, and on the same year she also started a now defunct "lifestyle brand website." Apart from that, she hasn't been making too many waves … until 2019, when she returned to the WWE to induct Torrie Wilson into the company's Hall of Fame, and announced on Facebook that she has co-founded a skincare brand called Caldera + Lab.
AJ Lee became a successful writer and activist
AJ Lee shattered records with the length of her WWE Divas Title reign and her "unstable" character caused controversy wherever she went. However, the woman behind the role, AJ Mendez, really came to her own after wrapping up her sports entertainment career. As Sportskeeda reports, Lee left the wrestling scene in 2015. She turned her focus on writing, and in 2017, her website was happy to report that her memoir, Crazy Is My Superpower, became a New York Times Bestseller. The good news around her new career continued later that year when she announced that the team behind National Geographics Genius was developing the book into a TV show. Hollywood Reporter notes Lee is also expanding to comic books. In 2019, she was announced as the writer of a comic based on GLOW, the Netflix show about female wrestlers, a challenge she's uniquely equipped to tackle.
As if all that writing talent wasn't enough, Lee also finds time for a number of charitable causes. She is a noted animal lover who has teamed with American Society for the Prevention of Cruelty to Animals (ASPCA) to campaign against dog fighting. Sports Illustrated reports that Lee, who has bipolar disorder herself, is also an active learning disability and mental health advocate, to the point that she once landed in serious hot water with the WWE for outright refusing to take part in a "skit" that she felt made fun of mental illness.
Kelly Kelly married an NHL player and became a reality star
As USA Today tells us, Kelly Kelly had to quit her thriving WWE career in 2012 due to a neck injury. However, while the injury may have derailed her career, E! Online reports that Kelly, whose real name is even more WWE-appropriate Barbie Blank, started dating former NHL star Sheldon Souray, and the couple eventually married in 2016.
Kelly handily turned both her romantic life and sports (entertainment) oriented past into a career in reality TV. In 2015, she has starred on WAGS, a reality show about the wives and girlfriends of famous athletes. According to WWE, she has also starred as one of the trainers on the VH1 show Celebrity Fit Club: Boot Camp. Kelly has also dabbled in (slightly) more serious acting, as Soaps reports she appeared in Days of our Lives. And while her active pro wrestling career seems to be a thing of the past, she still makes the occasional appearance in the squared circle.
Chyna's post-WWE life was a roller coaster of misery
Bleacher Report calls Joanie "Chyna" Laurer nothing less than the WWE's greatest female wrestler, and her dominant presence was certainly enough to earn the nickname "The Ninth Wonder of the World." Unfortunately, her personal life was always wrought with tragedy. Chyna's WWE debut came in 1997, and Sportskeeda tells us she left the company in 2001. Even Chyna herself has given two different versions of her departure, which may have been caused by either a contract dispute or (allegedly) a breakdown of her relationship with wrestler Triple H.
After she left the WWE behind, the formerly teetotal Chyna started hanging out with the L.A. party crowd and started struggling with substance abuse. Her acting and modeling gigs faded away as she started no-showing to auditions, and with autograph signings as her main source of income, she eventually got into a number of dodgy endeavors. These included gems such as a celebrity boxing match against Joey Buttafuoco, and an X-rated video with wrestler Sean "X-Pac" Waltman, who notes that on top of all her issues with drugs and alcohol, she also struggled with childhood trauma and mental illness.
As Los Angeles Times reports, Chyna's tragic life ultimately ended in an equally tragic manner: In 2016, the 46-year-old died of an overdose of alcohol, painkillers, and muscle relaxants.
Trish Stratus, yoga mom
When the company itself argues that Trish Stratus may be "the greatest diva to ever set foot inside a WWE ring," it's hard to disagree. However, the diva born as Patricia Stratigeas has been significantly less visible in her life outside the company. Stratus retired from wrestling in 2006, and aside from a few acting gigs, she has been mostly doing her own thing. In an interview with WWE, she revealed that between her 2011 movie Bounty Hunters and 2015 film Gridlocked, she kept herself busy operating a yoga studio business in Canada and becoming a mother.
Of course, in keeping up with her reputation as one of the (if not the) best in the sports entertainment business, she has also indulged in irregularly regular WWE guest appearances. One of the more recent was her allegedly final match with Charlotte Flair in SummerSlam 2019, which was a big enough deal that even outlets like Newsweek covered it.
Torrie Wilson became a fitness instructor and reality show contestant
From 2001 to 2008, Torrie Wilson was among the most notorious female figures in WWE, taking part in some of the most famous feuds of the era. Her time with the industry was cut short because of injuries, but her natural athleticism soon took her in a new, yet familiar direction. Her Torrie Wilson Fit is an online personal trainer program that puts together her extensive fitness experience along with a decidedly personal touch — on the website's front page alone, Wilson openly discusses her own issues such as hypothyroidism and past struggles with eating disorder, along with revealing that she used to study pre-dietetics (a subset of nutrition that aims to prevent and treat ailments) at Boise State University.
On a more gossipy front, Wilson has also stayed active. According to Page Six, she used to date none other than baseball player Alex Rodriguez, though A-Rod and Wilson eventually split up in 2015. In 2009, she also competed on I'm a Celebrity … Get Me Out of Here. And just because no ex-wrestler ever stops getting asked wrestling questions, in 2019 the fresh WWE Hall of Famer told Ring the Belle that she doesn't necessarily rule out a comeback match. However, she'd only do it if she could train "for six months," and only to prove her athleticism to herself … and, of course, to the people who say she doesn't deserve a Hall of Fame spot.
Victoria got into the restaurant business
Lisa Marie Varon, who WWE fans may know better as the powerful Victoria, terrorized the ring from 2002 to 2009. After calling it quits on her WWE diva days, she moved on to being a full-time entrepreneur. According to WWE.com, Victoria has owned a custom car shop and a number of restaurants, the most famous of which might have been The Squared Circle — a wrestling-themed gourmet pizza and burger joint in Chicago.
The Squared Circle was the hub of a strange controversy in 2015, when DNA Info tells us its co-owner — Victoria's ex-husband — body-slammed an intruding gunman within the premises. TMZ got hold of the video of the event, and when Victoria saw it, she was less than pleased. However, this was not because of the actual incident, but rather because she noticed that her husband was still employing a waitress she had wanted fired. One thing led to another, and eventually, Victoria announced she wanted to sell the business and wouldn't use her considerable connections to get her wrestler buddies to pop by the place any more.
According to Eater, the restaurant eventually closed in 2017. However, The Squared Circle's Facebook page is still operational and its posts are mostly about Victoria hanging with cool people such as Jason Momoa, so maybe the place will eventually make its return. Such things tend to happen in wrestling, after all.
Devin Taylor became a Bachelor contestant
Sometimes, things get a little hazy when it comes to the concept of a WWE diva. As Wrestling Inc. informs us, Devin Taylor didn't spend all that long with the company. She was mostly affiliated with the NXT developmental property as a backstage interviewer, but that didn't stop her from crafting a legacy as a WWE diva (in training) on the grandest stage of them all … The Bachelor. According to Bustle, Taylor appeared in the popular matchmaking show under her real name, Brittany Fetkin, and happily listed "WWE Diva-in-training" as her profession. Unfortunately, her in-ring aspirations failed to entice farmer Chris Soules, the titular Bachelor, and Wrestling Inc. reports that Brittany/Devin was promptly eliminated from the show in the very first episode on January 4, 2015. The year wouldn't bring any better news for her, seeing as WWE released her in October, 2015.
Still, don't think that this former NXT diva is content to rest on her laurels after these minor setbacks. According to her Twitter, she merely moved her ambitions to academia. In 2018, she got her MBA from the University of Miami … and it looks like her next stop is a doctorate. Talk about a plot twist!
Lilian Garcia left the wrestling business to care for her sick father
Some performers leave the WWE for greener pastures. Others are unceremoniously released. Others still simply get tired of the game and decide it's time to try something different. And then there is Lilian Garcia. According to Hollywood Life, the longtime WWE ring announcer, who gained fame for her rendition of "The Star-Spangled Banner" to the point that she has reportedly sang it before "hundreds of major sporting events," unexpectedly left the company in 2016. However, as Pro Wrestling Sheet makes a point of noting, this was decidedly not because she was released. Instead, she asked and received leave from her position … in order to take care of her father, who had cancer. The WWE even made a point of "constantly" checking in to see how things were going.
Unfortunately, things were going rather badly, and Pro Wrestling Sheet tells us Garcia's father perished on Christmas Day that same year. The devastated Garcia announced her plans to work with a "charity that assists veterans," and she has only made sporadic "guest announcer" appearances with the WWE since then. Don't worry, though — this doesn't mean she plans to stay away from the announcing game forever. In April 2019, USA Today Sports reported that she's taking over as the in-cage announcer of the Professional Fighters League.
Jackie Gayda got into the nutrition business
Jackie Gayda (pictured right, with Stacy Keibler) is one of the more obscure divas on this list. As Sportskeeda notes, she entered WWE as a winner of the Tough Enough 2 competition in 2002, but failed to make her mark, to the point that some consider one of her tag team matches in the Raw show to be among the worst wrestling bouts of all time. She was released from her WWE contract way back in 2005, hasn't worked with the company since, and seems to avoid high-profile projects and, in fact, publicity at large. Her IMDb page consists of a handful of wrestling-themed credits from both WWE and her later indie stints, and even her Twitter account is inactive save for an extremely sporadic retweet or two.
Here's what we do know, and it mostly comes from a WWE interview with her husband, fellow company veteran Charlie Haas. (Yeah, Gayda is also known as Jackie Haas these days.) According to Haas, the couple runs both a family and a nutrition-focused family business called Custom Muscle, located in Frisco, Texas — though the company's website seems to be inactive. According to Haas, Jackie has also contributed to a fitness magazine for women from time to time.
Layla became a real estate agent
Layla El emerged on the sports entertainment scene as the winner of the 2006 WWE Diva Search competition. However, the business eventually wore her down, and The Houston Chronicle reports that the diva left WWE in 2015. According to Layla, the reason behind her exit after nine years of wrestling was partly motivated by the feeling that she'd "proven herself as a wrestler," but mostly by the fact that the extremely hectic traveling schedule of a WWE performer simply wore her down.
When Layla said that she was ready to move on to the "next chapter," she wasn't kidding. Though the former Miami Heat dancer suggested in her retirement interview for WWE.com that she might look into choreographing and maybe even returning to Heat's organization in that capacity, her professional life ultimately took her in a very different direction: According to Sportskeeda, Layla has gone on to carve a new career as a real estate agent.