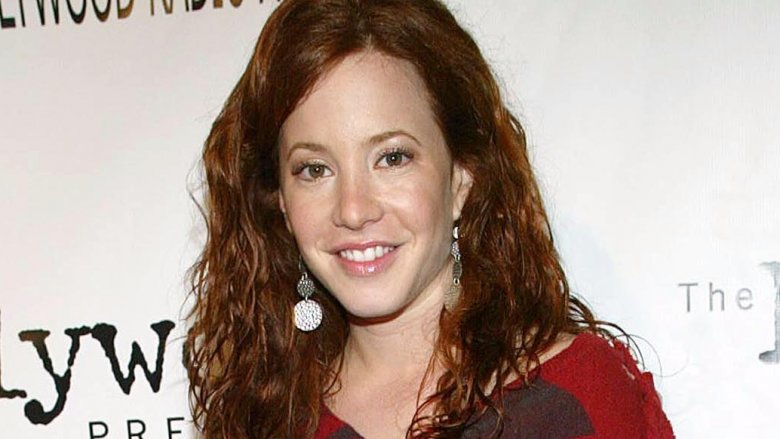 Lifetime movie actors have gone on to do great things, but who can forget their early roles on the network? After all, Lifetime movies are irresistible. Whether you're looking for an uplifting story of overcoming obstacles, a sweet tale of romance, a nail-biting thriller, or a tearjerker, Lifetime has something for everyone. While the network is primarily geared towards women and tells woman-centered stories, its movies are relatable to people who come from all walks of life.
Many of us have spent a lazy weekend binge-watching Lifetime movies. The Lifetime Movie Network debuted in 1998 (although Lifetime traces its history to 1984) so generations of viewers have grown up with Lifetime movies and are familiar with the guilty pleasure. Lifetime movies have had dozens of stars over the years, from established actors to those just starting their careers. Some of its stars have gone on to appear in other beloved films and television shows, and we've seen their careers transform before our very eyes. Here are some of the Lifetime movie actors who are unrecognizable today.
Lifetime movie actor Teri Polo joined a hit Freeform show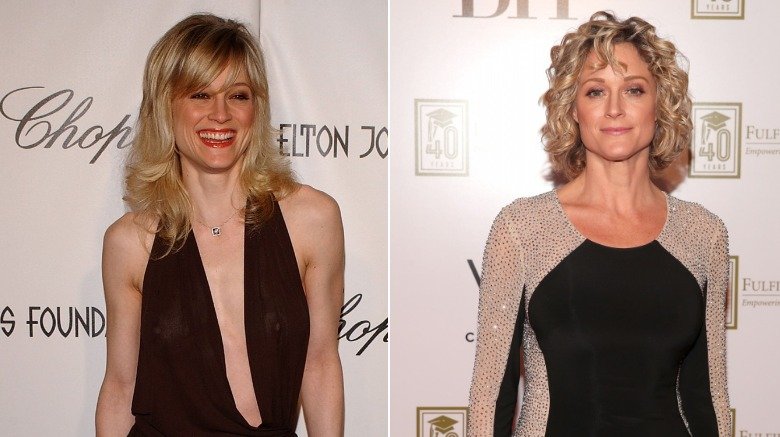 It's kind of hard not to know who Teri Polo is. Best known for her role as Stef Adams Foster on Freeform's The Fosters, she had a long career before the hit show. She was in the 2000 film Meet the Parents and its sequels, and she has a Lifetime movie under her belt. In 2006, years before The Fosters debuted, Polo appeared in Lifetime's Legacy of Fear. Polo played a detective in the film, just as she later would on The Fosters.
Polo has established herself as a versatile entertainer since her days as a Lifetime movie actor, and today she's still acting while also raising her own family — something that informed her role on The Fosters. The real-life mom told Parade that, in spite of how easy she makes it look on TV, parenting is hard. "I go up and down," she said, adding, "I think we all question [our parenting skills], no matter how big or small the difficulty might be with teenagers."
The Fosters wrapped in 2018, but Polo reprised her role on its spin-off, Good Trouble. Her other credits include Deadly Switch and JL Family Ranch 2.
Leah Pipes has branched out since her time as a Lifetime movie actor
When she appeared in Lifetime's 2005 movie Odd Girl Out, Leah Pipes was just a teenager. Her career has come quite a long way since then, and it's hard to identify the Lifetime movie actor as the young girl she was back in the mid-2000s. These days, Pipes has established herself as a versatile actress, with one of her best known post-Lifetime roles being Cami on The Originals. Other roles include a part in the film Mommy Group Murder and a role on the reboot of the TV show Charmed.
Pipes has taken on a variety of roles since her Lifetime days, and seems to enjoy playing strong women. She praised The Originals for its "very complex female characters," telling Collider, "That's so much more fun than being just a pretty girl who men fawn over. Well, that's pretty nice, too. But, it's nice to play someone complicated."
Lifetime movie actor Alexa PenaVega showcased her singing skills in later roles
She may have played the lead in Lifetime's Odd Girl Out, but Alexa PenaVega (formerly Alexa Vega) is far from the unpopular teen she played in the 2005 film. You may also remember her from the Spy Kids franchise, in which she played Carmen Cortez. PenaVega followed up Odd Girl Out with several projects that showcased her singing abilities, such as the TV show Ruby & the Rockits and Repo! The Genetic Opera.
The child star is all grown up today, although she's still a kid at heart. "Yeah, just to clarify, I'm still a child," Vega told TV Insider in 2018. The Lifetime movie actor is continuing to act and is also raising a child with her husband, Big Time Rush's Carlos PenaVega. The happily married couple treat their fans with the occasional musical duet. The pair also acted together in the 2018 Hallmark film Love at Sea. "I love working with my husband," said PenaVega. "We really know what each other's limits are and we can be way more playful. I think that there's something to be said that's really special about getting to work with your spouse."
Vanessa Williams is an even bigger star today than she was as a Lifetime movie actor
When Vanessa Williams starred in the Lifetime movie The Courage to Love in 2000, she was already known as a seasoned performer. Crowned the first African-American Miss America in 1983, Williams already had a successful acting and music career when she landed the role. Since working as a Lifetime movie actor, fans have also been able to enjoy seeing her in several shows and movies such as Ugly Betty, Desperate Housewives, and 666 Park Avenue.
In 2018, she shared the secret to her performance success with Hamptons Monthly. "What makes people connect is being true and honest," said Williams. "It's not just about vocal acrobatics, it's connecting to an emotion." Regarding her singing, she continued, "When I stand behind a mic I don't say, 'when I was five I lost my bike and it hurt my feelings.' I really step into a character and look at the lyrics and say this is where I need to be. I approach the piece as a character. That's what makes people cry. When you're singing, it's pure and people are connected to it."
Chelsea Hobbs co-founded a production company after her days as a Lifetime movie actor
Actress Chelsea Hobbs has been in a few Lifetime movies, including 2007's The Party Never Stops: Diary of a Binge Drinker and 2008's Confessions of a Go-Go Girl. She followed up those roles with the show Make It Or Break It, on which she starred from 2009 to 2011. These days, Hobbs has branched out from acting, although she's still doing plenty of that. In 2018, she appeared in Lifetime's Left for Dead. Other roles include guest spots on Lucifer, Rogue, and UnREAL.
Her Lifetime movie days might not be completely behind her, but Hobbs is determined to make a mark on the acting industry aside from performing. Outside of acting, the Lifetime movie actor has also co-founded her own production company, Golden Door Productions. According to its website, the company is all about girl power and is "focusing on channeling women's voices into the entertainment industry, and altering the dynamics along the way."
Lifetime movie actor Danielle Panabaker is now part of the DC Universe
If you only know Danielle Panabaker from her role in Lifetime movies such as 2003's Sex & the Single Mom and 2005's Mom at Sixteen, it's easy to imagine her as the talented teen actress she was in the 2000s. Panabaker has come a long way since then, though. Today, she's probably best known for her role in the DC Universe where she plays Caitlin Snow and Killer Frost on the CW show The Flash. Other credits include roles in Friday the 13th, The Shunning, and Justified.
Panabaker has also branched out to directing. The one-time Lifetime movie actor made her directorial debut in an episode of The Flash. "I think I've always paid attention [to directing] in a really particular way," she told The Mary Sue of her directing aspirations in 2019. "I don't think I knew it was in me until I watched [co-star] Tom Cavanagh direct in season three. I watched him do it, and I was really inspired and started asking questions and seeing if I could make it happen, and here we are."
Nancy McKeon was on Dancing With the Stars after her time as a Lifetime movie actor
Once upon a time, Nancy McKeon was a child star known for her role as Jo on The Facts of Life, which she starred on from 1980 to 1988. Later in her career, she found herself on Lifetime in the 2003 movie Comfort and Joy. She also acted on the Lifetime television show The Division from 2001 to 2004. It's safe to say that McKeon is one of the most well-known of Lifetime's talented stars, and the reality TV circuit seems to agree.
In 2018, McKeon showcased her dancing skills with a stint on Dancing With the Stars. Unfortunately, she didn't impress the judges too much, and the Lifetime movie actor was the third contestant eliminated. Her time on the competition series interrupted a hiatus in McKeon's career which paused in 2011 with Love Begins, but that's by choice. "I took quite a bit of time away… because I started working at 2 and I had my kids in my late 30s," McKeon told Parade in 2018, noting, "I've just taken time away and focused on my girls and replenished."
Sarah Paulson went on to star in American Horror Story after being a Lifetime movie actor
While today's audiences probably know Sarah Paulson best for being on American Horror Story, the AHS actress is also a Lifetime movie actor. In 2006, she appeared in the Lifetime holiday film A Christmas Wedding. Her roles on American Horror Story have brought her into much more intimidating territory than the lighthearted Lifetime romp, and the difference in the roles has proven Paulson's versatility as an actress.
In 2019, Paulson took on another meaty role in the M. Night Shyamalan film Glass. "The fact that I'm in this movie and I'm 44 years old and I'm not just playing someone's mother or wife — that in and of itself communicates that there has been forward motion," Paulson told Harper's Bazaar of her role. "There had been a time where there really was an expiry date [for actresses]. You'd get to 40 and you'd probably have another five years maybe if you were a superstar. Otherwise good luck to you." She added, "In my working life I have had more opportunities in front of me at this age than I've ever had before."
Lifetime movie actor Amy Davidson has maintained a steady career
Amy Davidson's acting career got off to a solid start in the 2000 Lifetime movie The Truth About Jane. Two years later, she landed a lead role on the television show 8 Simple Rules. Davidson acted on the show from 2002 to 2005, and it remains one of her best known roles to date. In 2008, she appeared on Lifetime again, this time in the memorable mini-series The Capture of the Green River Killer.
Today, Davidson has transformed from a 20-something Lifetime movie actor into a mature actress and mother. She's only had a handful of credits since 2016, and seems to be focusing on motherhood. "The thought of having a human being to raise and look after and care about is overwhelming and scary, but also the most exciting thing I've ever experienced," she told People that year as she awaited the birth of her son. "I think children have so much to teach us and as we get older we forget something simple like being curious and staying engaged. I'm excited to learn from him and in return obviously teach him."
Ashley Williams continued an arc on How I Met Your Mother after working as a Lifetime movie actor
Ashley Williams played Willa Mercy in Lifetime's Montana Sky in 2007. She was already a well-known face on television by then, having appeared on the soap opera As the World Turns from 1995 to 2000 and having portrayed Victoria on How I Met Your Mother from 2006 to 2014. Williams has maintained a steady career, starring in holiday films like 2018's Christmas in Evergreen: Letters to Santa and Northern Lights of Christmas.
Williams is also a mom and a doula — a role that she says makes her a better actress. "The root of doula work is all about empathy," the Lifetime movie actor told The Business of Being Born. "I imagine myself in [the mother's] place — If I were her, feeling pain where she does, what would I want? I listen to what she says as if it were research on cracking a character — what is she most scared of?" She went on, "I take into consideration her history, her hopes, the same way I do with a character. I've become a much better listener as an actress since becoming a doula."
Lifetime movie actor Mika Boorem is all grown up
Mika Boorem has changed quite a lot since appearing in Lifetime's Augusta, Gone in 2006. She was still a teenager when she appeared in the movie, although she already had a decade of credits under her belt. These days, Boorem is all grown up and virtually unrecognizable as the teenager who appeared on Lifetime all those years ago. And it's hard to believe that the seasoned Lifetime movie actor originally entered the acting world as a way to cope with her shyness. "It wasn't something I necessarily chose from a young age," Boorem told Agony Booth in 2017. "It's what I've always known and the discipline and structure I was raised with since I was a young child."
Boorem has also branched out into writing and directing. She co-wrote and directed the 2018 short Love Thy Neighbor and also wrote, directed, and starred in Hollywood.con.
Agnes Bruckner starred on The Returned after being a Lifetime movie actor
Agnes Bruckner is virtually unrecognizable from her role in Lifetime's Anna Nicole in 2013. In fairness, though, part of that is because of the grueling process it took to transform Bruckner into model and TV personality Anna Nicole Smith. Makeup took as much as four hours every day and her costume involved prosthetic breasts and, at times, a fat suit. "I think the first day's call time for me was 2:30 AM," the Lifetime movie actor told ScreenCrush. "I'm a night person so I don't think I slept at all before the first day of shooting, but it was really amazing. I've done some prosthetics before, but not on this level."
Since her portrayal of Anna Nicole Smith in the film, Bruckner has gone on to star in The Returned. She also played another iconic contemporary TV personality, starring as Kris Kardashian in 2019's The Murder of Nicole Brown Simpson.
Lucy Hale went from Lifetime movie actor to Pretty Little Liars star
One of the more lighthearted films that Lifetime has to offer is 2009's Sorority Wars. Fresh-faced Lucy Hale starred in the comedy, but, unless you're a massive fan of Hale, you might not have realized she appeared in the Lifetime movie. After all, she looks so different now!
These days, Hale is, of course, better known for her role in Pretty Little Liars, which lasted from 2010 to 2017. While Hale still looks quite young, she is a lot more different than she was back in 2009 when she was a Lifetime movie actor. Hale has grown a lot over the years, and we can expect her to continue to blossom as her career progresses. "I'm in a really cool part of my career now where I can be pickier about the roles I take," she told Modeliste in 2018.
Some of Hale's later roles include the TV series Life Sentence and films The Unicorn, Truth or Dare, and Dude.
Kristen Stewart appeared in a major film franchise after being a Lifetime movie actor
Kristen Stewart is a massive movie star today. Already a seasoned actress when she landed the role of Bella Swan in the Twilight franchise, you've definitely heard of her. It's hard to believe that this A-lister is the same person who played the lead in the 2004 Lifetime movie Speak.
Stewart has come a long way from her time as a Lifetime movie actor, following up her role in Speak with parts in American Ultra, Café Society, Lizzie, and 2019's Charlie's Angels. Even though she's proven she's a talented actress, many have been quick to criticize Stewart and say she's awkward. Stewart, however, explained that she's just living her life on her terms and doesn't want to put on an act for the cameras. "There's this idea that you're beholden in some way [to fame], and I resent that," she told Elle in 2017. "And it comes across like I'm ungrateful or something but, actually, I just find it weird to talk to the general public as a whole."