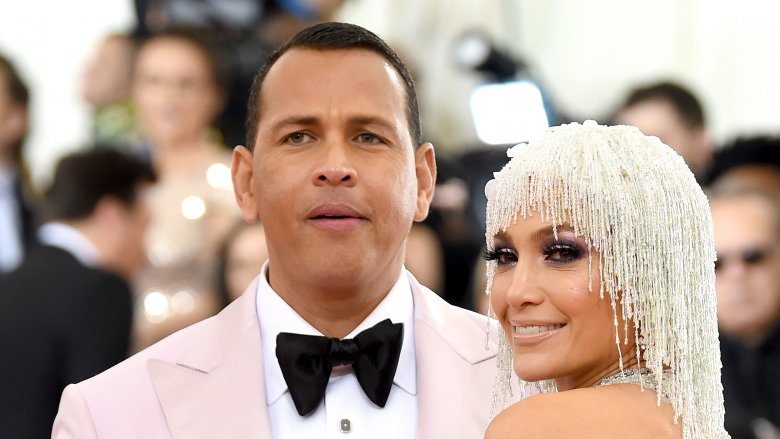 Not all sports divas are created equal. Babe Ruth was probably the biggest American sports diva of his era. The Babe quarreled with teammates, per The New York Times. Ruth was a notorious womanizer who used his fame and popularity to earn as much money as possible from the New York Yankees, even during The Great Depression. It's hardly a secret The Great Bambino enjoyed his fair share of hot dogs and beverages, and also was an unruly and disruptive force in the clubhouse.
We don't remember Ruth for any of those character flaws, though. He's arguably the most famous American sportsman in history and a beloved figure who is still honored at Yankee Stadium every year. It's possible many of the supposed biggest divas will be revered by generations who never saw those athletes play. Sports legacies are often fluid, changing year by year and, in many cases, by location. For example, we're confident Tom Brady will never be viewed as a diva by members of at least one NFL fan base.
Antonio Brown worked his way off two NFL teams in less than a year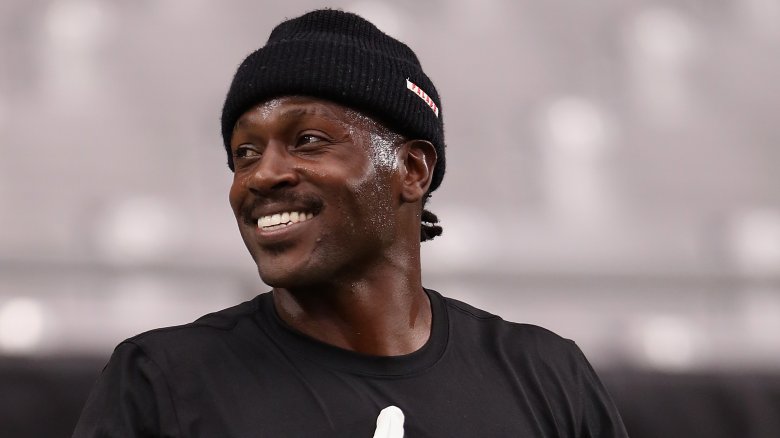 The Antonio Brown saga of 2019 really began even before the Pittsburgh Steelers benched Brown for the finale of the 2018 campaign. Brown's relationship with Pittsburgh quarterback Ben Roethlisberger had deteriorated, and Brown requested a trade. The Steelers acquiesced, sending the All-Pro receiver to the Oakland Raiders in a move that should've benefited all parties. The Steelers removed a headache. Brown changed teams. Oakland landed a great player. Everybody won, correct?
Not quite. As explained by SB Nation, Brown fought with the NFL over which helmet he could wear during games, got into an argument with Oakland general manager Mike Mayock, shared a bizarre YouTube video (since removed) that included a conversation between the player and Oakland coach Jon Gruden, and ultimately requested his release via Instagram (NSFW).
Brown signed with the New England Patriots days after Oakland waived him. That same week, he was accused of sexually assaulting a former trainer, per a lawsuit filed on September 10. Then another accuser came forward, and Brown allegedly sent her threatening text messages in retaliation. After playing just one game with the Pats, he was dropped from the team, retaliating for that in tweets trashing the NFL and New England owner Robert Kraft. Then Brown dramatically claimed he was done with football forever, which no one believes. That's all as of this writing, but there will probably be more. We can't keep up with his diva behavior.
Sean Avery was perfect for the Big Apple on and off the ice
Sean Avery was far from the dirtiest pro hockey player ever, but he wasn't shy about courting drama during and after his career. In October 2006, Avery was guilty of a hilarious and shameful dive following a hit delivered by Jaromir Jagr. Avery's antics during a playoff game versus the New Jersey Devils in 2008 led to the creation of "The Avery Rule," meant to police how players can legally screen a goaltender. ESPN reports Avery referred to his ex-girlfriend, actress Elisha Cuthbert, as "sloppy seconds" after she began dating a different player. According to The New York Post, Avery, who had played for the New York Rangers earlier in his career, publicly celebrated when the Rangers fired coach John Tortorella in the spring of 2013.
Those tales only scratch the surface regarding a player who also had off-ice interests, such as editing for Vogue and appearing on television shows like Dancing With the Stars. According to Page Six, Avery was called "a playwright's worst nightmare" by the author of the show Negative is Positive after he quit that play following a meltdown. In April 2016, Page Six further touched upon Avery's anger issues. In June 2019, he found himself in court after he allegedly hit a vehicle with a scooter. "If I need to be the poster boy for defending the bike lanes, I will absolutely do that," Avery told Page Six.
Terrell Owens thought he could still play in the NFL in 2019
Terrell Owens is one of the greatest wide receivers in NFL history. As of the start of the 2019 regular season, T.O. sat third in career receiving yards, third in career receiving scores, and eighth in career receptions. Why, then, wasn't Owens a first-ballot Hall of Famer? In February 2017, Gary Myers of the New York Daily News explained to Pro Football Talk that "teams could not wait to get rid of T.O" during Owens' career, Owens was a "tremendous pain" in his second year with the Philadelphia Eagles, and Myers believed Michael Irvin was the better player.
Per the Associated Press (h/t ESPN), Owens repeatedly criticized quarterback and former teammate Jeff Garcia even after Owens left the San Francisco 49ers. The receiver forced his move from San Francisco to the Eagles after the Niners tried to trade him to the Baltimore Ravens in 2004. Owens returned to the field from injury ahead of schedule to start for the Eagles versus the Patriots in Super Bowl XXXIX, but got himself thrown out of training camp that summer. This led to his infamous driveway workout, which he discussed with Bleacher Report in 2018. Owens played for the Dallas Cowboys from 2006 through 2008, but Dallas cut him in March 2009, in part "to improve locker-room morale," according to ESPN.
In August 2018, he held his own Hall of Fame ceremony instead of attending the official induction in Canton, Ohio.
Paul Pierce allegedly used a wheelchair to go to the restroom during a game
Two separate incidents explain how Paul Pierce distanced himself from other famous NBA divas during and after his career. First, there was the time Pierce required a wheelchair to exit the court after he suffered an injury in Game 1 of the 2008 NBA Finals. Pierce didn't seem to be injured that badly, though, since he was back on the floor and helped the Boston Celtics to a victory in the contest and, ultimately, the series. "The Truth" was named MVP for his performance throughout the series, but he "came clean" about that dramatic injury in June 2019 when he claimed he'd simply needed to use the restroom. You can determine whether or not you believe he was joking.
Second, Pierce didn't attempt to hide his feelings when the Celtics announced the team planned to honor Isaiah Thomas with a 90-second video the same night the club retired Pierce's jersey during the 2017-18 season. According to NESN, Pierce got the video erased from the agenda. The Root referred to Pierce as a "petty diva" for this move. Jalen Rose went so far to call Pierce "petty" to his face during an ESPN segment.
Nobody loved A-Rod quite like A-Rod during his career
Alex Rodriguez wasn't the first (or last) professional athlete to deny using performance-enhancing substances and be totally full of it. A-Rod went one massive step beyond just telling a fib in November 2013, though, when he repeatedly denied any wrongdoing while speaking with WFAN personality and New York sports radio legend Mike Francesa during a segment lasting nearly 40 minutes. Per NJ.com, Rodriguez eventually admitted to federal investigators he used PEDs while explaining his role in the infamous Biogenesis scandal.
In retrospect, we all should've assumed the worst about A-Rod when he slapped the ball out of the glove of a Boston Red Sox pitcher in Game 6 of the 2004 American League Championship Series, or when he let somebody snap that picture of him kissing his reflection. As explained by Sports Illustrated, Rodriguez also allegedly "had two painted portraits of himself as a centaur hanging above his bed" at one time.
In May 2017, Newsweek offered a look at Rodriguez's roller-coaster relationship with New York Yankees legend Derek Jeter. One wonders if it bothers A-Rod he'll never be as popular as Jeter among Yankees diehards. Eh, getting engaged to Jennifer Lopez in 2019 probably softened that blow.
Neymar's on- and off-the-pitch antics have overshadowed his talent
It seemed only a matter of time before Neymar would rival Lionel Messi and Cristiano Ronaldo in lists of the world's best footballers following the Brazilian's breakout performance at the 2013 Confederations Cup, where he won the Golden Ball awarded to the competition's top player. By July 2018, however, Neymar had built quite a reputation for flopping and diving during games, so much so it hardly surprised outlets such as Mashable when he went viral for an egregious overreaction during the 2018 FIFA World Cup.
Following the Confederations Cup, Neymar spent four successful seasons with Barcelona, where he won multiple domestic honors and also the Champions League in 2015. As the BBC reported, Neymar's camp paid the buyout clause attached to his contract of approximately £200 million in August 2017 so he could sign for Ligue 1 outfit Paris Saint-Germain and be the top star for a club that didn't have names such as Lionel Messi and Luis Suarez in the team. Per Sky Sports, Neymar attempted to complete a return to the Spanish giants before the close of the 2019 European summer transfer window, but talks between Barca and PSG broke down.
His situation served as an expensive reminder the grass isn't always greener elsewhere.
Brett Favre's soap opera act annoyed Green Bay fans
In May 2009, Yahoo Sports columnist Dan Wetzel labeled Brett Favre the "NFL's biggest diva" after the quarterback ended yet another retirement to sign with the Minnesota Vikings. Wetzel's criticism may sound harsh today, but remember even Favre once mocked his inability to commit to life away from football in a Super Bowl commercial.
The Hall of Famer extending his career as long as possible wasn't the issue. The constant "will he or won't he" drama he created years before his first official retirement in March 2008 grew more tiresome with each offseason, and he essentially made the Green Bay Packers publicly choose Aaron Rodgers over a club icon adored by fans. Green Bay traded Favre to the New York Jets ahead of the start of the '08 campaign, and he instantly became an enemy among Packers supporters who wanted the one-time champion back under center.
It was no accident Favre signed with the Vikings, Green Bay's division rival, in August 2009. From Wetzel: "Favre wants to go back to Green Bay and beat quarterback Aaron Rodgers and general manager Ted Thompson, and get the Lambeau faithful to cheer him while he leaves the field victorious in purple and white." Favre accomplished that goal that November, but he failed to guide the Vikings to a Super Bowl appearance before he retired, for good, in 2011.
Conor McGregor was arraigned after his infamous bus attack
Conor McGregor is everything a combat sports promotion could want in a top-tier star. McGregor's punching power allowed him to stop Jose Aldo in 13 seconds at UFC 194 via a flash knockout that went viral. He became the first fighter to hold a pair of UFC titles in November 2016, which only added to his must-see appeal. McGregor's promos and interviews, many of which aren't safe for viewing while at work, drew historic MMA buyrates. Fans paid to see what McGregor would do next, and critics splashed their cash hoping a loss would shut him up.
McGregor also lived his gimmick and went too far too often. In November 2017, he jumped the cage and pushed a referee after Charlie Ward earned a win at the Bellator 187 show. In April 2018, McGregor attacked a bus filled with fighters at a promotional appearance for the UFC 223 event. As CNN explained, both McGregor and Khabib Nurmagomedov earned fight bans for their involvement in a brawl after Nurmagomedov defeated the outspoken Irishman in October 2018. In August 2019, TMZ Sports released footage of McGregor punching an unidentified older gentleman at an Irish pub.
Per The Daily Express, McGregor earned over $100 million for his boxing match versus Floyd Mayweather in August 2017. No wonder he's often lived by his own rules.
Randy Moss eventually wore out his NFL welcome
Randy Moss retired one of the greatest wide receivers in NFL history. When he tallied 23 touchdown receptions during the 2007 regular season as a member of the New England Patriots, he showed he could've been even better had he possessed such focus and dedication to the cause throughout his career. Per The Star Tribune, Moss admitted in 2014 he did "some immature things," such as pretending to moon Green Bay Packers fans after a touchdown and leaving the field before the end of a game during his last season with the Minnesota Vikings.
Minnesota traded Moss to the Oakland Raiders in 2005, and his numbers dipped during two seasons with the club. The perception was his unhappiness with his situation in Oakland negatively affected his on-the-field efforts. Moss produced historic offensive numbers alongside Tom Brady in 2007, but his relationship with the Patriots became so irreparable by the fall of 2010 he requested a trade early into that campaign, per The Boston Herald.
After Moss flamed out during a return to Minnesota and with the Tennessee Titans, ESPN offered the following about the all-time great: "At his worst, he was the kind of diva who could demoralize teammates and coaches with his laziness and disinterest in doing his job."
Kyrie Irving left two teams hanging during his prime
Cleveland Cavaliers fans never could've guessed guard Kyrie Irving would become a villain in their eyes less than 14 months after he drained a pivotal three-pointer over Stephen Curry in Game 7 of the 2016 NBA Finals. Irving requested a trade out of Cleveland in the summer of 2017, largely because he no longer wanted to feature in a lineup that included LeBron James, according to ESPN. Cleveland ultimately traded Irving to the Boston Celtics, and the one-time champion delivered a parting blow to Northeast Ohio when he commented he was happy to finally be playing in a "real, live sports city."
Those feelings of joy lasted fewer than two seasons. After the Milwaukee Bucks bounced Irving and the Celtics from the 2019 NBA Playoffs, ESPN's Jalen Rose reported Irving's relationship with the Celtics had eroded even before the last game of that postseason series. "He's done in Boston," Rose said on the air. "Teammates will help him pack. They can't wait for him to go."
Irving signed with the Brooklyn Nets in the summer of 2019.
Why always Mario Balotelli?
Striker Mario Balotelli never met a club he didn't like, as long as that club paid him his desired wages. From 2007 through the fall of 2019, the enigmatic goal-scorer played for Inter Milan, Manchester City, AC Milan, Liverpool, Nice, Marseille, and Brescia. In August 2011, Barry Glendenning of The Guardian called Balotelli "a petulant, obnoxious and excessively demanding diva" after the striker claimed he wasn't happy in Manchester and wanted to depart City for an opportunity to return to Italy. Two months later, Balotelli displayed a shirt with the slogan "Why Always Me?" after he scored a goal versus Manchester United. According to Business Insider, this was a plea from Balotelli for the press to leave him alone.
In the summer of 2015, Balotelli fell out of favor with Liverpool in a single season, and he topped a Ladbrokes poll for "football's biggest diva" at the time. Accomplished managers such as Jose Mourinho and Roberto Mancini couldn't keep Balotelli motivated for significant periods, and Liverpool legend Steven Gerrard once claimed the forward had "the potential to be world-class, but he'll never get there because of his mentality and the people around him."
Cristiano Ronaldo may be the greatest diva of the 2010s
At worst, Cristiano Ronaldo is the second greatest footballer of his generation and behind only Lionel Messi. Some have dropped CR7 in their power rankings because Ronaldo was his own worst enemy during his prime. Per Sky Sports, Ronaldo refused to celebrate goals in February 2012 because he was "sad," and Andy Brassell of the BBC responded Ronaldo merely wanted a bump in pay. In January 2016, Deadspin reported Real Madrid released questionable figures to show Ronaldo and not Gareth Bale was world football's most expensive transfer at that time, all for the sake of Ronaldo's ego.
According to Fox Sports Asia, Ronaldo unleashed the verbal equivalent of a subtweet directed toward his former Real teammates while playing for Juventus in December 2018. "It's not fair to name just a few, but I can say that this is the best group I've ever played," he said. Ronaldo's antics aren't reserved only for domestic play. Per ESPN, Iceland defender Kari Arnason called Ronaldo "a sore loser" after Ronaldo criticized Iceland's approach to a match versus Portugal during the 2016 UEFA European Championship.
Let's also not forget his many, many dives.
LeBron James twice ditched his 'hometown' team
We don't have to wonder if LeBron James regrets using television special "The Decision" to announce he, a kid from Akron, Ohio, was leaving the Cleveland Cavaliers for South Beach and the Miami Heat in the summer of 2010. According to ESPN, he admitted, "If I had to go back on it, I probably would do it a little bit different." In the summer of 2014, James returned to Northeast Ohio via a love letter written to Cleveland and the city's fans, with help from Lee Jenkins of Sports Illustrated.
"I'm not going anywhere ever again," James claimed that same summer, per Fox Sports, and he made good on his promise to deliver Cleveland a championship two years later. However, James' second stint with Cleveland was filled with drama. An alleged feud with David Blatt earned James the label of "coach killer" and cost Blatt his job. James unfollowed the Cavs on Twitter in the spring of 2016. According to CBS Sports, James was accused of sending cryptic messages to teammates through social media on multiple occasions.
After the 2018 NBA Finals, James left the Cavs again, this time for the Los Angeles Lakers. That decision rocked and angered many in the Cleveland community.