From Elvis Presley and the Grateful Dead to David Bowie and Madonna, the rock 'n' roll era has been rife with rock and pop stars who inspire a cult of personality. These fans devote a large portion of their lives to that particular performer, gobbling up their recorded output, following them around on tour, and buying all the merchandise they can get their hands on. But absolutely no musician has come close to amassing the fanbase that Jimmy Buffett has built up since the 1970s.
We're talking about an entire subculture, along with a lucrative universe of cottage industries to serve that subculture. Buffett's breezy, fun, humorous songs — particularly radio staples like "Margaritaville" and "Cheeseburger in Paradise" — make "Parrotheads" dream of running away and taking up in the Florida Keys or the Caribbean, content to bum around via ship or sandal, a frozen, boozy drink always in hand. Naturally, the good time Charlie at the source of it all, Jimmy Buffett himself, has lived a life as colorful as that of a narrator in one of his own songs. So today, we're finally going to find that lost shaker of salt as we look at the untold truth of Jimmy Buffett.
Jimmy Buffett was almost a drug smuggler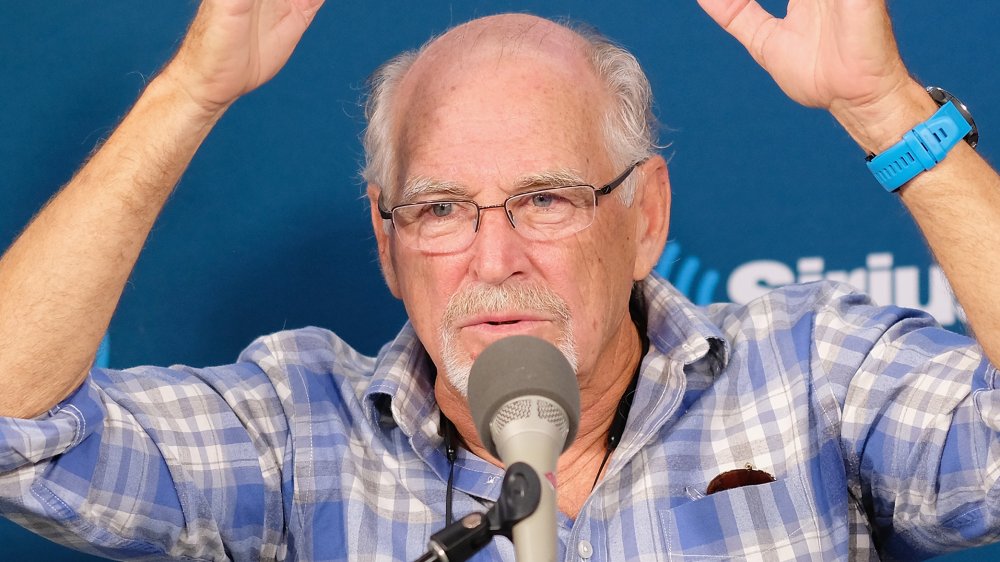 Seeking his fortunes in Nashville, young Jimmy Buffett released his first album, Down to Earth, in 1970 on Barnaby Records, a label owned by classic crooner Andy Williams. It flopped and left Buffett without a viable record deal. And so, the musician dropped out of the hunt for a while, hightailing it to Key West, Florida, for a laid-back, booze-soaked lifestyle. He eked out a living as a bar musician, playing for drinks and tips. But while he'd be back on track with a new record deal by 1972, Buffett almost decided to support himself with a line far different and way more illegal than music. Key West, one of the most southern and relatively remote parts of the country, was a major entry point for drugs coming into the United States.
"I was tempted occasionally to get into it, because in those days they actually unloaded in the middle of the day down at the shrimp docks. It was a whole different thing there that was going on," Buffett said in Ryan White's Jimmy Buffett: A Good Life all the Way. He claims he was recruited by drug runners, who told him that he could make twice in a single drug delivery than what he'd made for Down to Earth. "It was kind of like Let's Make a Deal, Key West style." Before long, Buffett was out of Florida and on his way to making way more money singing about Florida.
He's so rich he could buy several of those islands he loves so much
It's not terribly surprising that Jimmy Buffett is wealthy. After all, he's been singing and touring for a long time and selling plenty of Margaritaville merchandise to his throngs of devoted Parrotheads. It's a little stunning, however, that Buffett is among the richest musicians ever. Don't let his flip flops and linen shirts fool you — he's got Paul McCartney or Taylor Swift money or a bank account more befitting Warren Buffett.
All told, Buffett's net worth adds up to around $550 million. The bulk of that figure comes from his astute and successful marketing of "Margaritaville" as a major lifestyle brand. Fans can buy Margaritaville-themed clothes, shoes, home decorations, tequila, margarita mix, and packaged foods, while more than 20 Margaritaville hotels, resorts, vacation clubs, and casinos dot the Caribbean and warmer areas of the U.S. There are plenty of Margaritaville restaurants, too, and the Margaritaville Brewing Company, which produces LandShark Lager beer. There's even Latitude Margaritaville, a growing chain of retirement communities for Parrotheads. (Sadly, the restaurant chain Cheeseburger in Paradise is no more, having closed down its last location in September 2020.)
Beyond his own merchandising empire, Buffett at one point co-owned the Fort Myers Miracle, a Florida-based minor league baseball team. And into his 70s, Buffett is still pulling in eight figures. According to Forbes, he made $50 million in 2019, which is more than Ariana Grande or Jennifer Lopez earned during the same frame.
How he got to Margaritaville
"Margaritaville" is Jimmy Buffett's biggest hit, his signature song, and the inspiration for his whole brand. It took Buffett a while to strike on it, too, as it appears on Changes in Latitudes, Changes in Attitudes, the singer's eighth album. Buffett recorded the song with the aid of producer Norbert Putnam, also responsible for putting to vinyl the similarly smooth sounds of acts like Dan Fogelberg and Linda Ronstadt.
So what's the story behind the song? Well, the singer-songwriter wanted to double down on making what Putnam told Sound on Sound were "records about the ocean." After all, Fogelberg had wanted his 1977 album Nether Lands to have a mountain feel, so Putnam recorded the record in a mountain-set studio. He similarly booked Buffett (and his band, the Coral Reefers) for some time at Criteria Studios in the seaside city of Miami.
During the sessions, according to Putnam, Buffett arrived one day with news of a song he was working on. "He comes in and starts telling me about a day he had in Key West. He was coming home from a bar, and he lost one of his flip-flops, and he stepped on a beer can top, and he couldn't find the salt for his margarita," Putnam recalled. "He says he's writing lyrics to it, and I say, 'That's a terrible idea for a song.'" A few days later Buffett presented the lyrics — which didn't stray too far from the details he shared with Putnam — to what would become "Margaritaville."
How Jimmy Buffett ordered his Cheeseburger
As far as Jimmy Buffett songs go, "Cheeseburger in Paradise" is second only to "Margaritaville" in terms of familiarity and enduring popularity. It tells the story of a man, like so many others in the '70s, stuck on a health food diet of carrot juice and sunflower seeds and yearning for a cheeseburger ("with Heinz 57 and French fried potatoes" completing the package). The character lives in a sunny climate and is unable to get this cheeseburger in paradise, a situation that recalls Buffett's inspiration for the song.
"The myth of the cheeseburger in paradise goes back to a long trip on my first boat, the Euphoria," Buffett told Songfacts (via Latitude). After some rough weather while sailing from Hispaniola to Puerto Rico damaged their ship, Buffett and company found themselves in quite the predicament. As he explained, "The ice in our box had melted, and we were doing the canned-food-and-peanut-butter diet." Finally, when Buffett and companions mercifully landed on the island of Tortola, they discovered a bar and grill "on the end of the dock like a mirage." Unexpectedly and tantalizingly, the menu featured American-style cheeseburgers. "We gave particular instructions to the waiter on how we wanted them cooked, and what we wanted on them — to which very little attention was paid." Nevertheless, the overcooked burgers on blackened buns "tasted like manna from Heaven" to Buffett.
He's a wildly successful live act but only so-so when it comes to his recordings
Jimmy Buffett is one of the most recognizable and well-liked figures in popular music, with a contingency of hardcore fans to boot. Perhaps only the Grateful Dead's legion of "Deadheads" can rival the dedication and devotion of Buffett's "Parrotheads." Buffett has built up and catered to his people with a near-relentless concert schedule. Since 1972, not a year has gone by where the singer-songwriter didn't play a tour of at least two dozen shows. Between 1990 and 2014 alone, Buffett's concerts grossed more than $400 million (and that doesn't even count the tour merchandise). That puts him in an exclusive club with the likes of the Rolling Stones, U2, and Elton John, all of whom have enjoyed success on the single and album charts that reflect that live-in-concert success.
But strangely, Buffett has never been a broad, mainstream act who topped the charts over and over again. He's only ever scored one top 10 hit on the Billboard Hot 100 pop chart, with "Margaritaville" hitting No. 8 way back in 1977. He's scored two No. 1 hits, both on the country charts and both in the 2000s as a guest performer on songs by Alan Jackson ("It's Five O'Clock Somewhere") and the Zac Brown Band ("Knee Deep"). And his bestselling album was a sleeper, as the greatest hits collection Songs You Know By Heart peaked at a lowly No. 100 on Billboard's album chart before slowly selling seven million copies.
He's not wasting away in Margaritaville anymore
The media oeuvre of Jimmy Buffett — songs, merchandise, restaurants — evokes and promotes the laid-back, breezy, island lifestyle. It's hard to listen to his songs and not fantasize about quitting life to move down to the Florida Keys and spending your days eating cheeseburgers in paradise and downing margaritas. And yet, the man who sings of the pleasures of alcohol and other indulgences doesn't himself indulge in much any of that stuff anymore. (And with all of this business ventures and other responsibilities, how could Jimmy Buffett possibly stay as soused as a character in a Jimmy Buffett song?) In fact, Jimmy Buffett's life isn't what you'd think at all.
"I don't do sugar anymore," the 70-something musician told The New York Times in 2018. "No sugar and no carbs. Except on Sunday." That's apparently his cheat day, when he allows himself to imbibe a relatively low-calorie, watered-down tequila on the rocks. He also quit smoking marijuana, preferring instead to very occasionally — and only after he's done with all of his work for the day — inhale some vape oils.
Buffett over Broadway
Jimmy Buffett writing a musical seems about as likely as Herman Wouk writing a lightweight comic novel about island life. And yet, both of these things happened, and they center around Don't Stop the Carnival, a 1965 novel by Wouk (who's best known for thick, sober, historical miniseries fodder like The Winds of War and War and Remembrance). In 1997, Buffett wrote the songs for a stage musical based on Don't Stop the Carnival, which features the very Buffett-friendly plot about an overworked New Yorker who has a midlife crisis and chucks it all to go live in the Caribbean. It opened in Miami's Cocoanut Grove Playhouse to poor reviews, but it played for four years at a resort in the Bahamas. Don't Stop the Carnival never made a stop on Broadway, although some investors approached Buffett about it, provided he rework it and get rid of Wouk's input. Buffett said no thanks to that.
Buffett did entertain other offers to bring his island flavor to the Great White Way. An offer to do a one-man show (similar to the popular Springsteen on Broadway) didn't materialize because Buffett would've lost money had he done it instead of touring. However, fans were eventually treated to Escape to Margaritaville, a Broadway-bound musical written by My Name is Earl creator Greg Garcia and Glee star Mike O'Malley with a plot built around Buffett's familiar tunes.
He's one of the most successful authors in American history
There are a handful of undeniable greats in the canon of American literature, authors who are household names even among people who've never even read one of their books. These are people like Ernest Hemingway and John Steinbeck, giants of letters who wrote both fiction and non-fiction to great success. Count Jimmy Buffett, of all people, among that rarified group. In 1999, he was one of just six authors in the long, illustrious history of the New York Times bestseller list — the publishing industry's popularity chart of record — to reach No. 1 in both fiction and nonfiction categories. It shouldn't be much of a surprise that a man who made a name for himself with freewheeling story songs could also write narrative prose, and his novel Where Is Joe Merchant? and short story collection Tales from Margaritaville each spent more than 30 weeks on the Times list. On the other side, his 1998 memoir A Pirate Looks at Fifty, went to No. 1, too.
Jimmy Buffett is out there saving manatees
Manatees — those massive, cow-like, adorable sea creatures — live in the waters around Florida. And conserving the natural wonders of the land that inspired so much of his music is important to Jimmy Buffett, so he's done a lot to protect manatees who live near Florida and elsewhere. In 1981, Florida governor (and committed environmentalist) Bob Graham slipped backstage at a Buffett show to meet the singer-songwriter. They got to talking and realized they both cared about conservation and other green issues, particularly the plight of the disappearing manatee. Together, they co-founded the Save the Manatee Committee, an organization that aimed to raise public awareness of the threatened sea animal and gain support for the conservation of aquatic habitats. (Florida is an especially dangerous place for manatees, where in one year alone, 97 manatees were killed by boats.)
Nearly 40 years after its founding, Buffett still co-chairs the board of directors for the charity, which is one of the world's preeminent pro-manatee concerns and offers its members the chance to "adopt" a wild manatee.
He's a Saint at home and a Dolphin at work
Jimmy Buffett is to the New Orleans Saints as Drake is to the Toronto Raptors. In other words, he loves his team. According to ESPN, Buffett, who grew up not far from the Big Easy, in Mississippi and Alabama, was working as a bar musician in the late '60s and was lucky enough to attend the very first Saints home game back in 1967. That fandom endured over the decades, and he even became friends with Saints coach Sean Payton, whom he first met years earlier when he was an assistant for the Dallas Cowboys. Buffett was present for the Saints' post-Super Bowl victory party in 2010, and he invited Payton onstage to play bongos during a 2012 concert. In 2019, Buffett sang the National Anthem at the Superdome, prior to the Saints' NFC Championship game against the Los Angeles Rams.
But while Buffett is personally into the Saints, business is different, as he's enjoyed a long professional association with the Miami Dolphins. In 2009 and 2010, the team played in Land Shark Stadium, after Buffett's beer brand purchased the naming rights. Buffett even wrote Dolphins-themed lyrics to his 1979 chestnut "Fins," which gets plenty of play at Dolphins home games.
Jimmy Buffett just wants to have some pun
Jimmy Buffett gives off major dad vibes. As the father of two grown children, the man makes quintessential "dad" music. It's classic rock, but it's also about hanging out, chilling out, and having a drink — stuff many dads love to do. Even more than that, Buffett has peppered his works with good-natured but groan-inducing puns for more than 40 years — long before that kind of thing was christened with the name "dad jokes."
For example, in trying to define his unique musical style, which includes heavy doses of tropical themes from down Gulf of Mexico way, plus country and western-style storytelling and twang, Buffett amusingly refers to what he does as "gulf and western." And that's a play on the name of a major mid-20th century corporate conglomerate. Speaking of wordplay, Buffett truly went wild with the puns when naming his albums. The Buffett canon includes such unabashedly pun-based titles as License to Chill, Last Mango in Paris, Floridays, Off to See the Lizard, and most egregiously, A White Sport Coat and a Pink Crustacean. (Okay, Jimmy, we get it.)