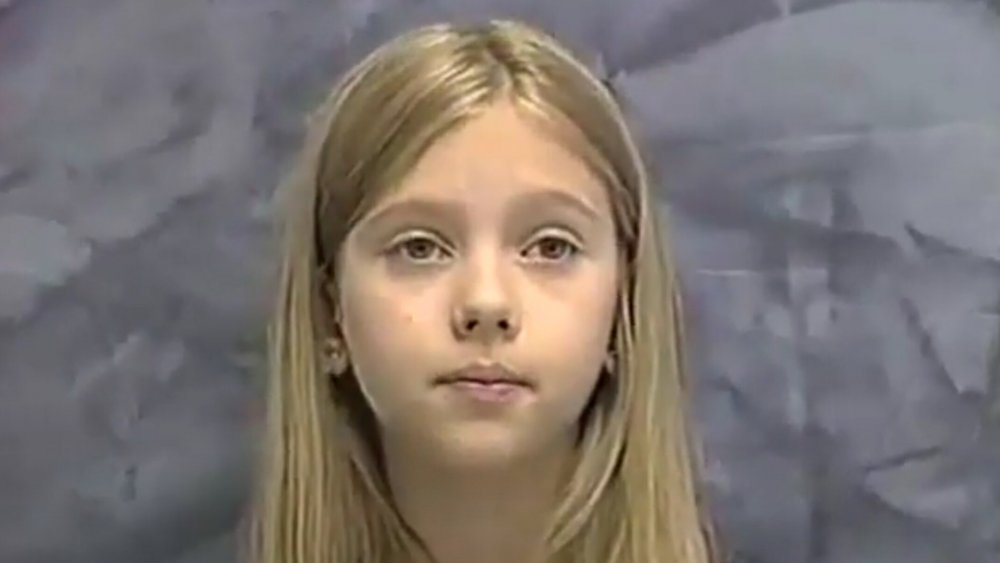 Scarlett Johansson has undergone a stunning transformation. When it comes to modern-day Hollywood megastars, few people can compare to the award-winning actress. Johansson famously combines a Marilyn Monroe-esque Hollywood glamor with a whip smart, down-to-earth New York cool-girl vibe. After beginning her professional acting career at the young age of 7, Johansson wowed critics and fans alike with iconic roles in Lost in Translation, Match Point, The Other Boleyn Girl, Under the Skin, and, of course, Marvel's Avengers franchise (via IMDb). In fact, looking at Johansson's filmography, it's hard to find many roles that aren't completely legendary!
With so many impressive credits under her belt reaching all the way back to her childhood, it's hard to imagine Johansson being anything other than the star she is today. However, it turns out, her childhood in New York was a lot more gritty than many fans realize. Plus, her personal life hasn't exactly been smooth! Here is the stunning transformation of Scarlett Johansson.
Scarlett Johansson grew up on public assistance in New York City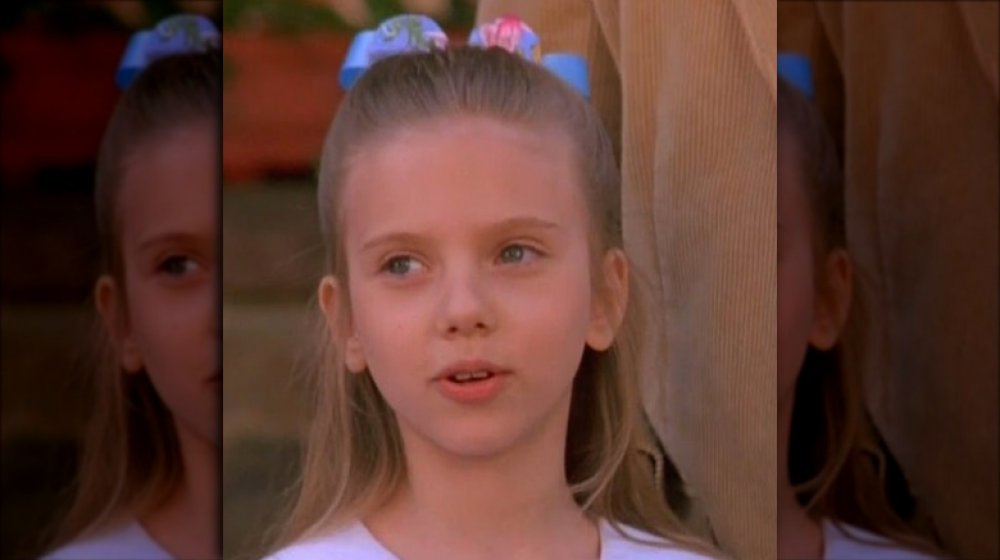 Scarlett Johansson was born in New York City on November 22, 1984 (via Britannica). Her twin brother, Hunter Johansson, was born just three minutes later, according to Us Weekly; they were the youngest of four siblings.
Johansson spoke to Interview about her experience of growing up in Greenwich Village in Manhattan. Apparently, her family lived in a housing development — or, as Johansson described it, "a bunch of brick buildings on the west side." She went to two public schools, one for the performing arts, which have since become very popular among the city's elite thanks to gentrification. But back then, Johansson said it was much more diverse. "A lot of the artists in the neighborhood had kids who went there," she explained.
In an episode of Inside the Actors Studio, Johansson opened up about her family's low income. "We were living on welfare, we were on food stamps," she revealed. She added that her mother tried to shield her kids from the difficult experience. Nevertheless, "it was a lot."
Scarlett Johansson became a child actor when her mom started taking her to auditions at the age of 7
By all accounts, Scarlett Johansson showed signs of being destined for the acting world from a very early age. As the actress explained in an interview with The Guardian, she was always "a big ham, it's like I hopped out of the womb and said, 'I will perform!'" Additionally, Johansson once had a tantrum in a talent agent's office when she was 7 years old because they weren't interested in her. "I was, like, devastated. I decided at that very moment that my whole life was going down the tubes," she recalled. It's clear that the young Johansson was doggedly determined and wholly passionate.
Soon, Johansson's mother had found her an agent, and she began to audition for commercials. "It was like being in a beauty pageant," Johansson said. "The other moms were really scary, and it was awful, a really sordid scene." She added that she and her mother had dramatic fights because of the tension.
Eventually, Johansson stopped auditioning for commercials, and only went up for film auditions — and soon enough, she'd won her first role.
Scarlett Johansson did some acting training, but mostly, she learned on the job
Scarlett Johansson has sometimes been described as a method actor, a technique that's often associated with method actors going way too far, and becoming dangerously immersed in their roles. And while Johansson did spend some time training as a method actor at The Lee Strasberg Theater & Film Institute, that's not how she became the talent that she is today.
Johansson's acting training started pretty early on in her life, when she was just 7 years old. As she explained to Elle, Johansson mostly relied on her own instincts rather as opposed to adhering to a specific type of training. "I learned early on how to manipulate my emotions," she revealed. "As far back as I can remember, I've been hyperaware of human behavior and able to mimic it somehow." It sounds like Johansson learned how to act on the job by trusting her gut, rather than training in the infamous "method."
Scarlett Johansson fell in love with acting when she was 8 years old
As Scarlett Johansson explained to Interview, her early movie roles were pretty life-changing. She was just 8 years old when she appeared in her first feature film, North, in 1994. Apparently, the experience opened her eyes to the fact that she could actually make a career out of acting. "I remember it vividly," she said.
However, it wasn't until four years later when she was 12 that Johansson really hit her stride with acting. "I'd made probably five or six movies at that point — I was doing a lot of really emotional work — but I remember finding that place of realizing, 'Oh, wait, I can manipulate this thing that I'm doing,'" she explained. She also began to "understand the nuances of what went into giving a performance."
Johansson's performance in North got the industry's attention. As she told The Guardian, she "got a whole slew of scripts" about young girls in emotionally complex scenarios. From that point on, it was pretty clear that Johansson was more than a bright and happy child actor destined for Hallmark holiday movies and rom-coms!
Scarlett Johansson's parents divorced when she was 13, splitting up the family
Scarlett Johansson underwent a massive change when she was 13: her parents decided to separate. "At the time it was difficult to understand why they did certain things," she explained to Elle. And as Johansson said on Inside the Actors Studio, the divorce meant that the family ended up separating too. Her mother moved to California, while she, her twin brother, and their father remained in New York.
In 2014, Johansson explained to Glamour that her twin, Hunter Johansson, was hugely helpful at the time. "My parents were on either coast, and our next older sibling is five years older than us and was in college," she recalled. "We had to stick together and be each other's constant in an environment that was really changing a lot."
The divorce had a serious impact on Johansson, too. In 2019, she spoke to Vanity Fair about how she eventually drew on the painful time for her performance in Marriage Story. Apparently, her parents' divorce provided more inspiration than her own experience, as at the time, she was going through her second.
Scarlett Johansson's maturity gave her a reputation in the industry
Scarlett Johansson is known for being a somewhat mysterious, alluring actress; that's thanks to her signature deep, raspy voice and her penchant for complex, dark roles. It turns out, Johansson started to build a reputation for her maturity from an incredibly early age. As Elle pointed out, her famous "old soul" has been written about extensively.
After appearing in The Horse Whisperer at the age of 12, Johansson was praised by the screenwriter, who told The Hollywood Reporter that she "brought a heartache to the part that seemed to come from experience beyond her years."
As legend has it, famed director and actor Robert Redford once said that Johansson was "13 going on 30." Later, when Johansson was in her late teens, the director of Lost in Translation, Sofia Coppola said, "She makes you feel like she has been around the world," she told The Guardian. "She has a coolness and a subtlety that you would not expect. You feel like she's seen a lot." For Johansson, this reputation won her a series of complex, mature roles that defined her early career.
Lost in Translation skyrocketed Scarlett Johansson to fame
After her super busy childhood acting career, Scarlett Johansson graduated to more "adult" role in the 2003 film Lost in Translation. She spoke to Vogue about the life-changing effect the film had on her. As the publication explained, it had been a wild year for the young star, who was suddenly "everywhere." She confessed that the media attention after this film was "hard to navigate."
Johansson also spoke on The Howard Stern Show about the experience. "It was a hard shoot for me," she confessed. "I felt sort of out of the loop — I was 17 years old when I made that movie." Johansson added that she and her co-star Bill Murray had very different energies on set, but when the cameras started rolling, everything clicked.
Based on the hugely positive response to the film and the spike in industry interest in Johansson, we think it's safe to say that Johansson shone in Lost in Translation — even if she felt a little out of her depth at the time.
Starring in A View From the Bridge on Broadway was a dream come true for Scarlett Johansson
While Scarlett Johansson is best known for her on-screen roles, she's also proven herself on stage. In 2010, she took on the challenging role of Catherine in A View From The Bridge on Broadway (via The New York Times). As Vogue pointed out, it was a seriously risky move — if she'd been unsuccessful on stage, she could have easily lost favor in Hollywood. However, Johansson turned out to be just as impressive off camera as on; the critics were blown away and she won the Tony Award for Best Actress.
For Johansson, the experience opened her eyes to a new world, though the schedule of a theater actor proved to be "exhausting." Nevertheless, she enjoyed the lifestyle, spending her time chatting with the crew by the stage door and becoming part of the "underbelly of Times Square." She said of her time on Broadway, "I know it sounds super corny, but it was a dream come true," she gushed. "That sort of pressure of having to deliver — I just find it thrilling."
Scarlett Johansson's marriage to Ryan Reynolds taught her about grown-up relationships
In 2008, Scarlett Johansson got married to fellow actor, Ryan Reynolds; as she told Vogue, "We always kept our story private."
Sadly, the relationship didn't last, and the couple split in 2010. As Johansson explained to German magazine Gala, the divorce was initially depressing. However, with the help of her friends, her brother, and her grandmother, Johansson found the support she needed. She also explained that she wanted to keep the reasons for the split private, but did concede, "I can be overcritical — with myself and with other people." This tendency sometimes led her to say hurtful things (via Irish Central).
Later, in 2014, Johansson explained to Glamour that she had indeed learned a lot from the relationship. "I think I know myself better," she revealed. "I feel I know now more of what I need in a relationship, what I want in a relationship." She added that her time with Reynolds had given her "more tools to communicate."
Scarlett Johansson learned a lot filming Under the Skin
One of Scarlett Johansson's most defining roles was in the indie sci-fi film Under The Skin, directed by Jonathan Glazer. The film was shot in 2011 in Scotland, and famously used real people from the streets rather than actors. Additionally, as things clicked into place on set, the shoot became an unforgettable experience for Johansson. She told The Guardian in 2014 that she ended up collaborating with Glazer for three years, becoming intricately involved in the creative process, and giving suggestions about plot and dialogue.
The film was also an odd experience for Johansson, who ended up improvising most of her lines. "It took me several weeks of shooting to figure out what I was playing," she told The Denver Post.
In the end, the character ended up teaching Johansson a lot about her nature, and caused her to ask herself a lot of questions. "I think when you get older you start to get curious about yourself in a different way, not just how can I get what I want," she explained.
Scarlett Johansson has always been keen to point out misogyny in Hollywood
The 2017 #MeToo movement kicked into high gear when a series of actresses called out the misogyny and sexual harassment they'd experienced in Hollywood (via Refinery29). And while Scarlett Johansson began acting well before the movement took off, she's never been afraid to speak up for women.
Back in 2008, Johansson discussed the difficulty of aging as an actress (via The Atlantic). Then in 2014, she claimed that the nickname "ScarJo" was "lazy and flippant," saying, "There's something kind of violent about it." (via Glamour). She has a point — her male co-stars don't get these names!
In 2019, the star revealed during a roundtable for The Hollywood Reporter that she'd never identified with the public's image of her. "When I was working in my early 20s and even my late teens, I felt that I got somehow typecast as hypersexualized," she explained. "I guess at the time seemed OK to everyone — it was another time — even though it wasn't part of my own narrative." She added that the image was "kind of crafted for me by probably a bunch of dudes in the industry."
Scarlett Johansson had a daughter in 2014
In 2014, Scarlett Johansson announced that she was expecting a child with her then-fiancé, Romain Dauriac (via E! Online). Later that year, she gave birth to her daughter, Rose Dauriac; however her relationship didn't last, as she and Dauriac split up in 2016 (via People).
Unsurprisingly, motherhood has been completely life-changing for Johansson. As she explained to The Daily Telegraph in 2015, "I think having any kind of huge, life-changing event happen to you, such as having children…is very, very inspiring" (via Hello!).
Becoming a single mother also inspired Johansson's work in films such as Marriage Story and Jojo Rabbit. "[With single parenthood] there can be a loneliness and this constant feeling doubt, that you don't know what the hell you're doing and you don't have anyone else to bounce it off of," she confessed to USA Today. Still, all difficulties aside, having her daughter has brought Johansson a great deal of joy. "When I look at her, I feel full of hope and positivity," she added.
For Scarlett Johansson, being part of the Avengers franchise was life-changing
When many people think of Scarlett Johansson, they inevitably think of her as the Black Window in Marvel's long-running Avengers franchise. She first appeared in the wildly popular films in 2010 when the character was introduced in Iron Man 2. As of 2020, she has appeared in eight films as the Black Widow; plus, the character has its own film due for release in 2021 (via IMDb).
In 2019, Johansson called the experience "life-changing" at the Avengers: Endgame premiere. "It's been such a pleasure to come to work everyday," she revealed (via People). "I feel incredibly fortunate to be with such a beautiful cast of creative people, open-minded people, and it's been an incredible journey."
Additionally, in 2016, Johansson spoke to Michigan Avenue, and revealed that the Black Widow was actually her favorite role to date. "It's been an interesting journey, to take a character and grow it over these years, and peel the layers back and be able to, as you do in life, grow with this person," she explained (via Movie Web).
Scarlett Johansson married SNL actor Colin Jost in 2020
In 2019, Scarlett Johansson announced that she was engaged to SNL actor Colin Jos (via AP). The pair originally met back in 2010, way back when Johansson was still married to Ryan Reynolds (via Good Housekeeping). However, it wasn't until 2017 that the couple made their relationship more romantic; they were spotted on a date a few months after Johansson's second divorce (via Daily Mail).
By the looks of things, the couple couldn't be happier. When Johansson hosted SNL in December 2019, she gushed, "This place means so much to me. I have so many friends here and I met the love of my life here." It's so adorable to see her so happy! And it seems that Jost is equally head over heels. In his book A Very Punchable Face: A Memoir, the actor said that from their very first meeting, he saw she had "a grace and a smile that I've still never seen in any other human" (via Daily Mail).
Then in 2020, Scarlett Johansson and her husband tied the knot in an intimate story, as noted in an Instagram post. We are so happy for this happy couple!