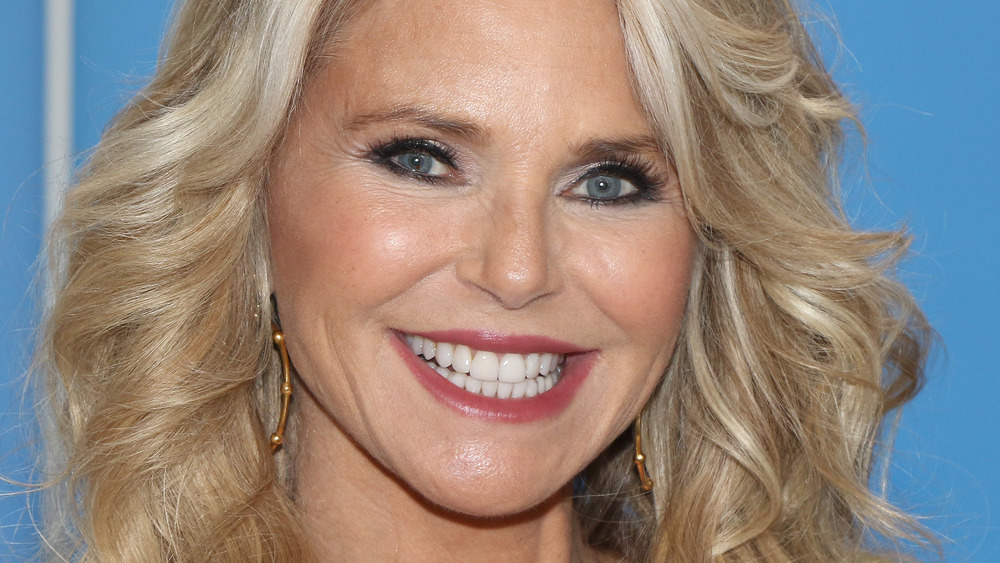 In 1975, the world was introduced to Christie Brinkley when the blonde bombshell landed her first of many gigs in Sports Illustrated. While she had dabbled in modeling for a few years prior to her SI debut, it was while working with the brand that her name became known from coast to coast and country to country, all across the world.
Since popping onto the scene back in the '70s, Brinkley has remained a household name thanks to her involvement in cosmetics, a number of memorable acting gigs, the launch of multiple brands, and her lucrative partnerships with notable companies. But despite how well-known the model has become, there is still so much more to her than meets the eye. With this in mind, we decided to take a closer look into her life. Here are things you might not have known about one of America's most-beloved models, Christie Brinkley.
Christie Brinkley became famous for her Sports Illustrated shoots in the '70s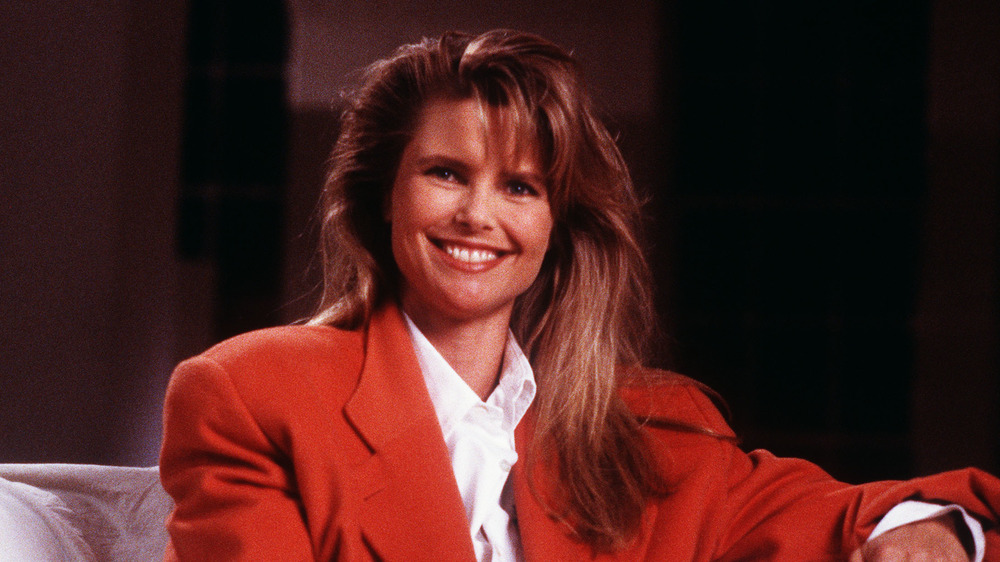 After Christie Brinkley appeared in Sports Illustrated at the age of 63 in 2017, renewed attention focused on the model-turned-actress-turned entrepreneur. What many people (or at least those who didn't grow up before the '90s) might not know is that Brinkley actually owes her fame to being the first three-time consecutive Sports Illustrated Swimsuit issue cover star. While she had landed her first appearance in the magazine in 1975, it wasn't until 1979 that she landed her first Swimsuit cover. She then secured the coveted spot again in 1980 and 1981.
Of course, that's not the only thing Brinkley's been a first at for the magazine. She's also the first model to ever appear with her children within its pages. In 2017, she dazzled in a red bikini alongside her daughters Sailor and Alexa Ray, who were 18 and 31, respectively, at the time. And, just like her debut some 40 years prior, fans were just as taken with the images.
Christie Brinkley was the face of CoverGirl for 25 years
After her first appearances in Sports Illustrated, Christie Brinkley was brought onto the CoverGirl team as the face of the brand in 1976. She held that title for 25 years — the longest cosmetic contract a model has ever held to date (via E! News). And hey, it makes sense! Considering her tenure was during the brand's iconic 60-year slogan of "Easy, Breezy, Beautiful" (which was replaced in 2017 with "I Am What I Make Up"), she perfectly fit the bill. A California dweller herself, Brinkley is blonde, beautiful, and about as breezy as they come, given that she's a self-proclaimed "beach bum" and "surfer girl," as she told Byrdie.
While Brinkley worked with CoverGirl from 1976 to the mid-1990s, she returned to the brand in 2005 at the age of 51 to promote the brand's Advanced Radiance line, which was designed specifically for women over 30. "We've been having a ball today. It's like a time warp. It's as if those 10 years between never happened," she told CBS News during a Hamptons-based photoshoot for the makeup brand.
Christie Brinkley had her own skincare line
While her cosmetic career began in makeup, Christie Brinkley went on to create her own skincare line, Christie Brinkley Authentic Skincare. The line, which debuted in March 2015 and has since been discontinued, offered a variety of anti-aging products, including her favorite method of all: exfoliation.
"In the beginning of my career I read an article about the reason that men always look five years younger than women is because they shave," she shared in an interview with Elle, detailing why she launched her own exfoliator. She continued, "So I thought, well, I am just not going to let them have that advantage. … So I really wanted to have a great exfoliator that can be used daily, because most of the ones in the stores are meant to be used every couple of days, but I want to have that feeling every day." Besides an exfoliator, Brinkley's skincare line included anti-aging creams, skin serum, and face wash (via New Beauty).
Brinkley later launched a makeup line, Christie Brinkley Authentic Beauty, in 2018.
She's been a vegetarian since she was 13
One might think that Christie Brinkley has only become cognizant of what she consumes since becoming a model, but, in reality, she's been keen on focusing on what she eats (and doesn't eat) since a young age. In an interview with Elle, the model revealed that she became a vegetarian around the age of 13, when she discovered a book on her mother's nightstand that depicted the gruesome scenes within Chicago's slaughterhouses. As a result of witnessing such heinous imagery and an acknowledgment of her love of animals, she chose then and there that she no longer wanted to eat meat.
As for what she does eat, she focuses on what makes her feel best. "The crunch of a salad feels pretty good," she shared in an interview with Byrdie. "I also do love making my own soups — really clean, healthy, wonderful soups. In the wintertime, a great bowl of vegetable soup is really good. It warms me and makes me feel all homey and great. And salad on a cold day doesn't feel as much like a meal."
Christie Brinkley was studying art in Paris when she was discovered
Before becoming a famous model, Christie Brinkley studied art while living in Paris. She first became enamored with the city after learning French at Le Lycée Français, a private bilingual school, as she noted on Instagram. She later moved to the City of Lights to study art. It was while she was there that she was discovered by a photographer, according to the Los Angeles Times, making her one of several supermodels who accidentally found fame. In an interview with Oprah.com, she admitted that she thought that "modeling was just for people who couldn't do anything else," so when the photographer asked her to be a model, she almost thought it was a scam.
But then, out of curiosity and — after she learned the man was, in fact, a photographer — she decided to give it a go. Little did she know, that spur-of-the-moment decision would ultimately change the course of her entire life. Soon after the photoshoot, Brinkley's images made their way to modeling scout and she was booked to become the face of Chanel and Prell shampoo.
This is why Christie Brinkley joined the cast of Parks and Rec
If you're a fan of Parks and Rec, you may have noticed that Christie Brinkley is actually in a few episodes. In the series, she plays character Jerry Gergich's bombshell wife. This is particularly unexpected because Jerry is known to be the butt of most of the jokes in the office. Needless to say, when the other characters in the show get a peek of his wife, they're totally bamboozled.
While the plotline of a mediocre man and a stunning woman being together isn't the most notable, the story behind Brinkley's casting is. The producers were reportedly looking for a "Christie Brinkley type" character to be Jerry's wife, but actor Jim O'Heir, who plays Jerry, never actually thought he'd be acting alongside the one and only Brinkley, as he revealed on the The Wrap-Up Show.
Brinkley may not have been sure about taking the part at first, but thanks to her daughter Sailor's adoration of the show, she obliged. "Every time she shot, Sailor came out with her," O'Heir shared in the interview.
Christie Brinkley survived a helicopter crash in the 1990s
Fans might be shocked to know that Christie Brinkley was once in a serious helicopter crash and fortunately lived to tell the tale.
In April 1994, Brinkley was flying over Colorado's San Juan Mountains on a heli-skiing adventure during a trip to Telluride with her daughter, Alexa Ray, who was 8 at the time. "We just dropped," Brinkley told People following the terrifying ordeal. "All of a sudden it was like someone cut the cords to the elevator, like the mountain was sucking us in, zooming into us. And I remember thinking, 'Oh, my god, this is really happening. This is not a movie effect. This is not a special effect. This is not a ride in Disney World.'"
Fast-forward 25 years, and the crash had continued to have an impact on Brinkley's life. On April 1, 2019, she took to Instagram to share a post cementing that day in history, sharing that she still feels lucky to be alive. She wrote, "I know for a fact that tomorrow is not a guarantee and that each day is a gift and an opportunity to make sure that everybody we love knows it!"
Christie Brinkley was married to Billy Joel
Christie Brinkley and singer Billy Joel met in the winter of 1982 while on vacation in St. Bart's, he revealed to Rolling Stone. After meeting, Joel and Brinkley started dating and got married in 1985, before eventually getting divorced in 1994. According to People, the split was largely impacted by Brinkley's desire to have a close-knit family — something Joel's constant touring schedule apparently prevented — and she wanted to live on the West Coast, which was also at odds with her husband's lifestyle.
While the famous couple, who share daughter Alexa Ray, have gone their separate ways, they remained friends long after the divorce. "Many years after our divorce, Billy would still come to my house for the Christmas singalong and play the piano, and all our friends would come over and sing Christmas carols," Brinkley told Social Life Magazine in 2019. "Singalongs are one of my favorite things to do. And you know that's what makes everybody happy."
She has her own wine brand
From modeling to working in cosmetics, Christie Brinkley seems to have too full of a plate to do much else. But the blonde bombshell also owns her own wine brand. Brinkley released Bellissima, "an organic Prosecco brand," in 2019. "I believe that celebrating what we are grateful for with family, friends and Prosecco contributes to a healthy, happy and sweetly beautiful life," she said in an interview with People.
The brand offers four wines: Bellissima Zero Sugar White, a sugar-free crisp white with the "scent of white flowers and grapefruit"; Bellissima Brut, a dry Prosecco with "scents of green apple and freshly baked bread"; Bellissima Rosé, a sparkling pink wine with "hints of strawberry and grapefruit"; and Bellissima Zero Sugar Rosé, a similar sparkling pink wine minus the sugar.
While Brinkley is undoubtedly biased, she regularly takes to her own Instagram to applaud the brand — namely, the Zero Sugar Rosé, which not only has zero sugar, but zero carbs too!
How much is Christie Brinkley worth?
By now, you've probably gathered that Christie Brinkley is worth a pretty penny, and you'd be right. According to Celebrity Net Worth, she is worth $100 million. Over the years, she's amassed her fortune from modeling jobs, acting gigs (notably she was in Vegas Vacation alongside Chevy Chase), brand partnerships, her own brands, and real estate investments.
One of her most well-known partnerships — besides CoverGirl, that is — is her work with Total Gym. Brinkley has been a brand ambassador for the company, appearing in magazine and television ads for years. "If you're looking for ways to add more exercise to your life, you need to make it fun and accessible or [you're] not going to stick with it!" she wrote in an Instagram caption promoting the brand. "@totalgymdirect does both! It's the best selling piece of total body fitness equipment right in your own home. It's been my choice for over 20 years." Clearly Brinkley knows how to sell products!