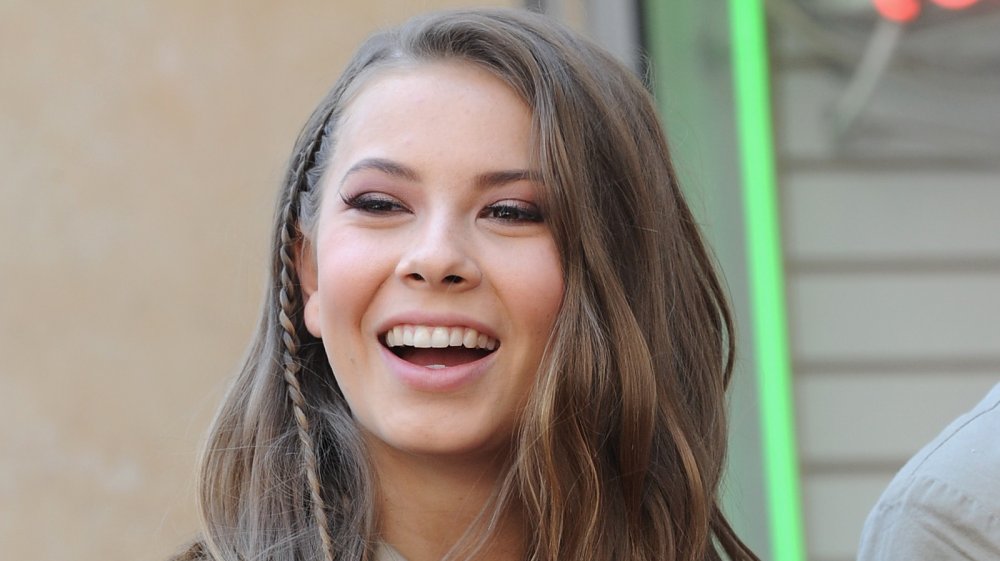 Bindi Irwin is one of the youngest and most well-known conservationists of her time. The daughter of "Crocodile Hunter" Steve Irwin has been around wild animals her whole life. And like her father, she developed a passion for animals at a young age. Irwin appeared on The Crocodile Hunter Diaries with her father as a young girl, and starred in her own TV series, Bindi, the Jungle Girl, before she was a teenager.
Bindi Irwin has had a stunning transformation. She now works at her family's zoo, the Australia Zoo, and travels all over the world for her conservation work. She has been featured on Time magazine's "100 Next" list, has discussed protecting the Great Barrier Reef with Prince Charles, and even has a Barbie "Shero" doll modeled after her. In between saving the planet and being married to wakeboarder Chandler Powell, Irwin lives a well-balanced and healthy lifestyle. Keep reading to find out what Irwin eats in a day to stay happy and healthy while living her "Wildlife Warrior" life.
Bindi Irwin starts every morning with a cup of tea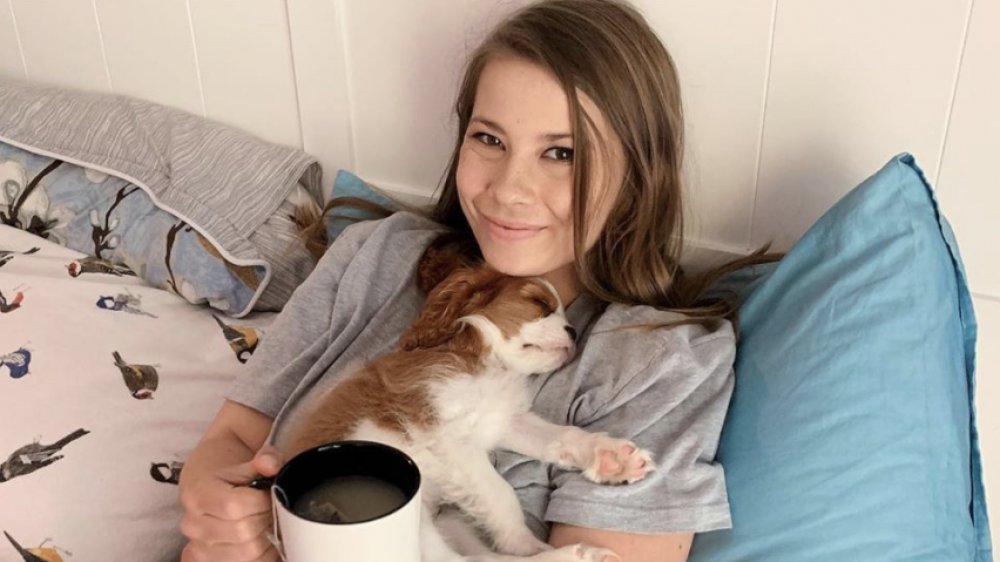 Bindi Irwin starts every day off strong with her favorite beverage — a piping hot cup of tea. Irwin revealed to 9Honey she has an extensive tea collection that she loves to "splurge" on. Though she presumably has an above-average collection, Irwin's favorite type of tea is English Breakfast. She told Entertainment Tonight her now-husband Chandler Powell got her English Breakfast tea from England as an 18th birthday present. Irwin loved the gift and called Powell "sweet" for his thoughtful present.
Irwin released her own tea line in 2019, called "Wild by Nature." She collaborated with Australian "tea gurus" Tea Tonic to create the line, and the proceeds support the Irwins' "Wildlife Warriors" conservation efforts. "Wild by Nature" is a mix of sea lavender, rosebuds, monk fruit, and butterfly pea, which make for a "fresh, sweet and minty tea," according to Irwin. So, you can start your day off with a cup of Irwin-approved tea.
Bindi Irwin doesn't eat a typical breakfast
The young conservationist starts her morning with not cereal, scrambled eggs, or bagels, but rather an unusual breakfast choice. In an interview with The Sun, Bindi Irwin revealed she starts every morning with a cup of tea and a bowl of brown rice and vegetables. And it doesn't appear that Irwin opts for a bowl of Cheerios for her early meal even if she's traveling. In 2017, she posted a photo on Instagram enjoying a kale salad with tofu at LAX, asking fans, "I'm not the only one who prefers kale & tofu over cereal, right?"
However, while a brown rice and veggie bowl might not be your typical American breakfast, it's fairly common in Australia. Australians are known for their healthy breakfasts packed with different types of grains, vegetables, and proteins, as noted by The Guardian, and it's becoming more popular in other parts of the world. And for someone like Bindi Irwin who is on the go all day, it sure is a healthy way to start the morning.
Bindi Irwin is not a vegetarian, but she sure loves vegetables and vegan options
As of this writing, none of the Irwins have said they follow a vegan or vegetarian diet, but Bindi Irwin does love plant-based meals. She sometimes enjoys tofu with her rice bowls in the morning, and she has said her favorite foods are fresh fruits and veggies, as she told The Urban Mum.
In a 2016 Instagram post with then-boyfriend Chandler Powell, Irwin raved about her local vegan cafe. She thanked Powell in the caption for accompanying her to her "[favorite] vegan cafe every morning." Breakfast that day included soysage — a vegan sausage option — and a vegan chocolate peanut butter cupcake for dessert. With food like that, who could resist?
Notably, vegetarianism is much more common in Australia than the United States. Approximately 12 percent of Australians are vegetarians, according to 2019 research conducted by Roy Morgan, compared to only 5 percent of adult Americans, as noted by a 2018 Gallop poll.
This is Bindi Irwin's favorite food
Bindi Irwin's favorite food is fresh fruit, but, more specifically, her all-time favorite food is lychee. In an interview with Pedestrian TV, Irwin and her younger brother, Robert, played a game of "How well do the Irwins know each other?" and guessed each other's favorite food. Robert guessed lychee right away because his sister is always raving about it — even right before their interview!
For those unfamiliar, lychee is a small, pink fruit that resembles a strawberry and has been described as tasting like a mix between a strawberry and a watermelon. But instead of eating it whole, you peel the skin off like a kiwi and only eat the insides. Bindi Irwin loves lychee so much that she couldn't wait to introduce it to her husband, Chandler Powell. Irwin shared a video on Instagram in 2017, and shared Powell's "first lychee" with her followers. So how'd Powell like it? He said it "is so good."
This may just be Bindi Irwin's go-to Starbucks order
Despite Bindi Irwin's love for tea, she was only introduced to a certain delicious drink from Starbucks by her Dancing With the Stars partner, Derek Hough, in 2015. While filming for the dancing show, Irwin tried a Starbucks iced chai tea latte for the first time, and she was blown away.
Hough recorded a video of Irwin drinking her iced chai latte for the first time, and Irwin posted it on Instagram for her followers. "It's like angels just cried into it," Irwin said with an amazed expression on her face. For those who may not know, chai is an Indian specialty, as noted by Food & Wine. It is black tea brewed with milk and sugar and often involves a combination of spices — typically cardamom, cinnamon, ginger, and cloves.
Needless to say, Irwin loved the drink. "My. Life. Has. Been. Changed," she captioned her post.
Bindi Irwin is a fan of dessert
Her favorite foods may be fruits and vegetables, but Bindi Irwin isn't a strict health nut. She's also a big fan of dessert, as documented on her Instagram. The Irwins often celebrate their birthdays at the Australia Zoo, and they have indulged in elaborately decorated cakes. In 2020, Bindi Irwin celebrated her 22nd birthday with a zoo-themed cake topped with a giraffe, kangaroos, and a koala. For his 22nd in 2018, Bindi Irwin's husband, Chandler Powell, got a wave-shaped cake with a koala relaxing on a surfboard, which Irwin presumably helped eat.
Another favorite dessert of Irwin's is key lime pie, a Florida specialty to which her husband introduced her. Irwin posted a photo on Instagram, saying key lime pie is "what [she] really [misses] about Florida."
Irwin also loves celebrating holidays with sweets, and she notably celebrated Christmas 2019 by decorating gingerbread houses. Clearly Bindi Irwin has a sweet tooth!
You may find Bindi Irwin nibbling on her favorite American snack
Bindi Irwin's favorite American snack is a trendy one. While playing a "who knows who" game with with the rest of the Irwin gang and Animal Planet to promote Crikey! It's the Irwins, she revealed that her favorite snack from the United States is seaweed. Only Bindi Irwin's brother, Robert, correctly guessed the answer, though he did call it "seagrass."
Seaweed crisps have become popular over the years, as noted by Elle, because of seaweed's health benefits. According to Healthline, it's an excellent source of vitamins, minerals, antioxidants, and fiber, and has been linked to potentially reducing the risk of heart disease and type 2 diabetes. Seaweed crisps are also low in calories — a 37 gram package from Annie Chun's is only 160 calories.
Based on the other answers from Bindi Irwin's mother and husband, she likely also enjoys American favorites like avocado toast and Goldfish crackers.
Bindi Irwin loves having family dinners
In an interview with The Sun, Bindi Irwin said she likes to end her day at work with a hike through the nearby Glass House Mountains with husband Chandler Powell and her brother, Robert. And she loves getting to sit down and have dinner with the family afterwards. Because of their busy schedules, the Irwins don't often get to have family dinner, so it's a time she cherishes. Though they don't have family dinner every night, the Irwins do try and make time for these meals.
Even if she doesn't get dinner with the whole family, she and her husband find time to sit down together. Irwin said she often likes to do something simple like a salad or stir-fry for dinner, as she told blog The Urban Mum. Irwin occasionally posts pictures of her "crazy kitchen creations" on Instagram, filled with different types of vegetables. She's even called her cooking "#veggieheaven" before. This makes sense given her love for vegetarian meals.
How Bindi Irwin feels about drinking
One thing Bindi Irwin is not big on is drinking. In an interview with The Kyle and Jackie O Show before her 18th birthday, Irwin was asked if she would celebrate with a glass of Champagne (via E! News), as the legal drinking age in Australia is 18. Irwin didn't seem excited about it. "It's one of those things where it's never really truthfully been that big of a deal to me, I think because I've been so busy with my life and I'm always running around… so who knows? Maybe one but we'll see. Probably not," Irwin said, noting she "[likes] being in control."
Irwin further noted that since she had never "even had Coca-Cola before," she might have that instead.
Now, Irwin does occasionally celebrate milestones with a toast. In July 2020, after getting married, she and her husband had "a bottle of bubbly" on a honeymoon picnic at the zoo, as noted by USA Today.