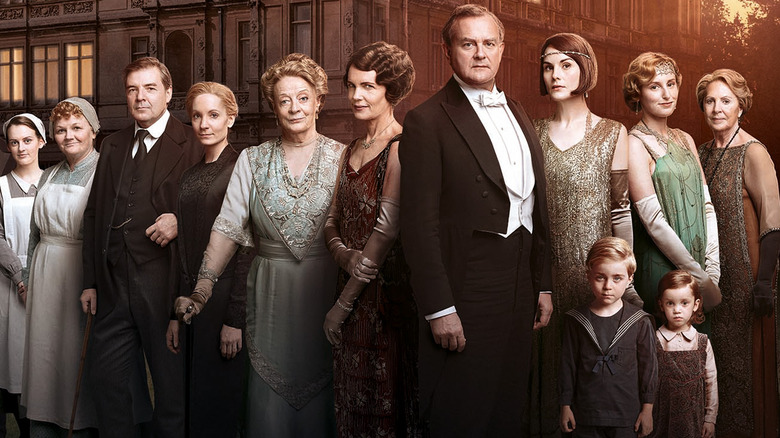 Downton Abbey was the perfect show to transport its audience to another time. While displaying moments of history, it also introduced the world to the Crawley family and their help. Showing the upstairs and downstairs way of living, the show gave its audience a look into these characters' lives throughout the years. With Downton Abbey being a period piece, it should come as no surprise that the actors who play the lovable cast members do not all necessarily look like their Downton Abbey characters. In fact, stars like actress Sophie McShera, who played Daisy Mason, look nothing downright nothing like their on-screen counterparts. So let's take a look now at what the cast of Downton Abbey looks like in real life.
Laura Carmichael (Downton Abbey's Lady Edith Crawley)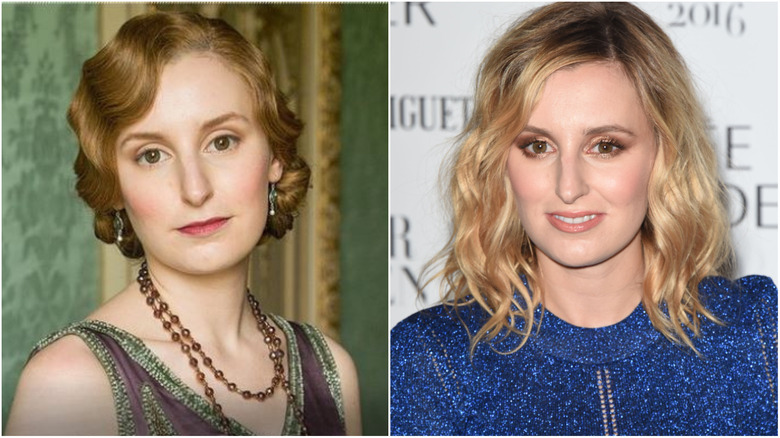 Laura Carmichael played middle sister Lady Edith Crawley in Downton Abbey. She had one of the more noticeable transformations from character to real-life looks.
According to Radio Times (via The Telegraph), Carmichael first understood the audience's reaction to the physical look of her character after the first episode of the series aired. She shared, "It was really funny opening the newspaper and reading the reviews and going, 'Oh, I'm playing the ugly one.' I hadn't thought of that."
But this perception changed over the years. If anything, Carmichael was noticed more so for her character's status rather than her looks. She also shared, "People ask me to go horse-riding and things. I have to say, 'I'm not really posh, I don't own a horse, I don't know how to do it.'"
Michelle Dockery (Downton Abbey's Lady Mary Crawley)
Lady Mary Crawley was played by actress Michelle Dockery. She was well-known for her role as Lady Mary throughout the years and had a similar look to her character, perhaps because Lady Mary often did her best to move ahead with the times, especially with her hairstyles.
As Carmichael told the Radio Times (via The Telegraph) when speaking about Dockery, she said, "We definitely have a different way. I've watched people talk to Michelle like she's the queen — she's Lady Mary."
And as for Dockery, she was ready to take on a new type of role once Downton Abbey completed. And that's exactly what she did. She spoke with Vanity Fair about her new and very different role in the show Good Behavior. Comparing her new character to Lady Mary, Dockery said, "They are very different, and I think it may shock some people, and that's all right. I don't mind shocking people. I hope people watch it for the show and not just to… compare the two shows, because they're very, very different."
Hugh Bonneville (Downton Abbey's Robert Crawley)
Hugh Bonneville and his character of Robert Crawley, the Earl of Grantham, look very similar — except, of course, for their clothing choices. Bonneville will most likely be the lord of Downton Abbey for the rest of his life.
Since the show has ended, he has continued to act in other roles, but Bonneville is ready for settling down a bit. As he described to Entertainment Tonight, "I'm enjoying semi-retirement, staring at my garden. My roots are firmly in the glorious county of West Sussex. I suppose I'm getting lazier in my old age."
While he wouldn't say no to the right role, he isn't on the hunt for one. "I just look for characters and stories that are entertaining and quirky to fill the gap between now and the grave," he said. "That's what keeps me going."
Joanne Froggatt (Downton Abbey's Anna Bates)
Playing a lady's maid in Downton Abbey, Joanne Froggatt became used to a look for her character that involved very little makeup. The actress played Anna Bates, and spoke with Allure in 2015 about her character's look.
She shared, "Being a lady's maid, you had to be pristinely turned out, but you'd never want to be seen competing with your employers, having your hair done in too much of an intricate hairstyle. You're never supposed to take the shine away from the upstairs, the family. It's your job to blend into the background. Everything had to be dulled down, and nothing too bright or glamorous or anything. They had to dull down my hair, my face. Just a dulled-down version of me." So how much makeup exactly did Froggatt wear? She said, "Just foundation and a tiny bit of blush. So I don't look dead."
During the interview, Froggatt shared her big plans for when the show finally wrapped. Hint: it's the opposite of dull. She told the magazine, "When we finish the series, the first thing I do is go get my spray tan, go get my nails done, because I don't get to do any of that for six months. I'm quite a girlie girl myself."
Robert James-Collier (Downton Abbey's Thomas Barrow)
Robert James-Collier played the infamous Thomas Barrow in Downton Abbey. This butler believed he was better than his fellow company downstairs. The character and the actor may look very similar, but their outfit choices would definitely be different.
When interviewed by The Guardian, James-Collier came in wearing "a lumberjack shirt, skinny jeans and Converse," according to the publication. He also does not look for the same amount of attention that his character may have tried to seek out. During the interview he shared, "I don't like photoshoots," adding "I get scared."
Phyllis Logan (Downton Abbey's Mrs. Hughes)
Phyllis Logan played head housekeeper Mrs. Hughes in the series. Similar to Froggatt, Logan's character had a very toned down appearance on Downton Abbey. There was no makeup or fuss for the head housekeeper, creating quite a transformation on and off the screen.
And it's not just their looks. This actress and her character differ in other ways as well. While Mrs. Hughes is one for rules, Logan herself didn't follow what was expected of her when it came to her career.
She described her story to The Washington Post in 2014, saying, "Because I came from a small town outside Glasgow, nobody from my school had ever gone into the acting profession. It was just something you didn't do. You joined the bank or became a teacher or whatever you did." Still, that didn't stop Logan from working to pursue the dream. "I suggested it to my careers adviser who said no basically. 'Why would you want to do that, you'll never get the grades?' He was talking about being a drama teacher, and that's not what I was talking about."
Jim Carter (Downton Abbey's Charles Carson)
A character known by his last name, Downton Abbey's Charles Carson was the butler at the Crawley's estate. The actor who played him, Jim Carter, may not wear his hair slicked back quite like his character, but depending what Carter is wearing, that is really the only difference. This makes Carter easily spotted as the fan-favorite character.
Speaking with The Telegraph about being noticed by fans, he shared, "I get recognised quite a lot. I mean, walking over Westminster Bridge, from the south side to the north side, a Chilean family who didn't speak any English, and Indian family from Hyderabad, and a French family in the space of 150 yards — that was fairly amazing."
Elizabeth McGovern (Downton Abbey's Cora Crawley)
Elizabeth McGovern played Downton Abbey's lady of the house, Countess Cora Crawley. Aside from the period-themed outfits that Cora wore, the on-screen and off-screen looks don't differ much.
McGovern has been very open about her appearance in the past. When interviewed by The Sun (via Independent) she spoke about her acting career throughout the years. She shared, "People look at me in a way that is not as immediately sexual as they did when I was young. I find that liberating."
McGovern is getting the best of both worlds; she feels liberated and at the same time, still feels young. She continued on to say, "'I don't see myself as middle-aged, and whenever anyone refers to me as such, I find it shocking, but not offensive. I feel exactly the same as when I was 18, except with more confidence and more of a secure grounding under my feet. I feel better."
Lesley Nicol (Downton Abbey's Mrs. Patmore)
Lesley Nicol played Mrs. Patmore in Downton Abbey and, while the cook of the house would not have been found in makeup, that's not the case for Nicol, who shines on the red carpet in subtle makeup and with straightened hair. Her off-screen look is quite a different one from what we see in the kitchen, especially with her very curly bangs that typically poke out from under her kitchen cap.
And yet, while being stuck in a kitchen all day may mean hard work and no time for fussing with one's appearance, it isn't that bad. In fact, Nicol wouldn't have had it any other way. She shared during an interview with Parade, "I wouldn't swap her for the world."
Brendan Coyle (Downton Abbey's John Bates)
Another actor who can be easily spotted for his character on the show, Brendan Coyle will always be John Bates in the eyes of his Downton Abbey fan base. The fact that he and his character have a similar look (except when Coyle sports a beard, that is) only encourages the recognition and love from fans.
"Bates was very interior and internal and subtextual," Coyle told E! News. "You weren't quite sure what he was thinking. And I thought, after episode two, I told [our producers] we should really play with this. Is he a killer? Is he dark? So we cleverly, I think, played with that, and you don't know. We had fun with that."
The actor has since moved on to new roles, mainly in film. From the film adaptation of the book Me Before You, to Mary Queen of Scots, also starring Margot Robbie and Lady Bird's Saoirse Ronan, coming out in 2018, Coyle has continued to keep busy.
Maggie Smith (Downton Abbey's Violet Crawley)
Dame Maggie Smith is a legend and it is only right that she should always play legendary characters. Violet Crawley, Dowager Countess of Grantham, on Downton Abbey was certainly no exception.
Smith herself has a distinct look, but that doesn't mean she has the same look as the character she plays. While Violet Crawley is more stern and often not smiling, Smith gives off a warm, comfortable vibe that automatically shows an obvious difference between the two. But Smith transforms so well into her character, it's to think the actress is Violet Crawley herself.
However, it appears there is one thing that the Harry Potter star did not like about her character: the corset. During an interview with CBS News, she revealed she did her best to get out of wearing it. She said, "In actual fact, I have to say that I did cheat a bit. Because I promised that if I sat up, bolt upright, I made it look as though I were wearing corsets… but don't tell anybody."
Lily James (Downton Abbey's Lady Rose MacClare)
When Lily James first joined Downton Abbey playing Lady Rose MacClare, she had acted in many previous roles. But her career truly took off once she joined the Downton Abbey cast. The actress has since been seen in many films, including 2015's Cinderella and 2017's Baby Driver.
James has a look about her that makes her physically look different in each of these roles and it also means she isn't always very recognizable off-screen. It's a quirk the actress is aware of. "I'm really anonymous," she told the Independent. "I think I'm quite chameleon-y. I look quite different on camera to how I look in the flesh. Some people have such unique faces or such a strong look that you can't help but notice them. I don't think I'm really like that."
Dan Stevens (Downton Abbey's Matthew Crawley)
Dan Stevens left Downton Abbey, and his character of Matthew Crawley, back in 2012. Even after all this time (and playing the iconic Beast in the live-action version of Beauty and the Beast) the actor is still being remembered for his role on the famous show and his exit that left many fans devastated. While the actor may now look a bit different with facial hair, he can't hide from his Downton fans.
"I'm still apologizing to people now," Stevens said in an interview with The Mirror while promoting Beauty and the Beast. "The way Matthew went was out of my hands–but it was rather shocking. There were some very upset people and I've had to apologise to a lot of people over the past four years."
Sophie McShera (Downton Abbey's Daisy Mason)
As Daisy Mason on Downton Abbey, actress Sophie McShera did not have it easy. Like other members of the help, McShera's transformation into Daisy meant saying farewell to her typical makeup and saying hello to a new sort of look, including being told to not wash her hair. Playing a young girl who worked in the kitchen, McShera described her character to The Standard, saying, "She's a complete dogsbody, the lowest of the low. And I have to have all this eczema put on my hands and dirt under my nails when she's been doing the fires."
However, McShera was able to put a positive spin on the situation. She explained, "It's kind of good because you don't care any more. I can never look quite so awful in real life. I'd hate to be really beautiful on telly and then have everyone go, 'It's all make-up and lighting.'"