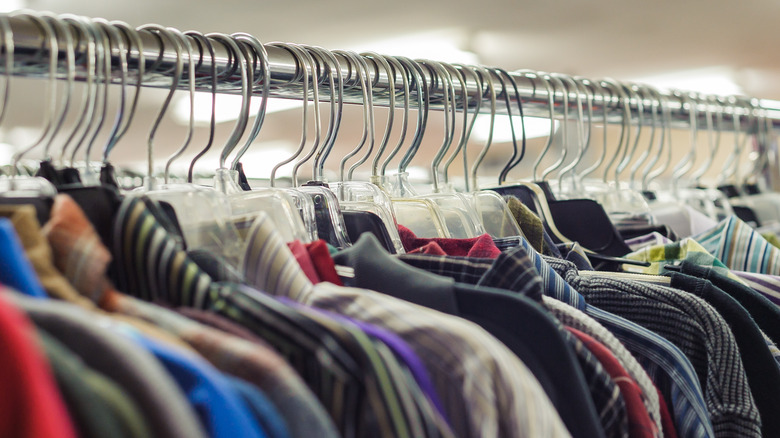 If you're a fashionista on a budget, or perhaps trying to dress a bunch of rapidly growing kids, you may be very familiar with the pain of having nothing to wear and no money to replenish your wardrobe. Well, that's where thrifting comes in. While once upon a time buying your clothes at secondhand shops was looked down upon, vintage and not-so-vintage pre-owned clothing is so popular now. There is even a thriving market of "clothing flippers," who buy bargain-priced garments at thrift stores and then mark them up to re-sell online at sites like eBay or Poshmark.
While the trend for recycled clothing has gone a long way towards de-stigmatizing thrift shopping, there is one downside, as a Reddit thread points out: many thrift stores are catching on and jacking up their prices accordingly. Still, even if you're now paying $8 for a gently used shirt that might have cost just $2 a few years back, it's way cheaper than buying new clothes. Plus, if you're thrifting-savvy, you may find that you can afford both quality and quantity. Still, not every garment gets better with wear, particularly not when it's been worn by someone else. Here are a few items you might want to stick to buying brand new.
You wouldn't want to wear someone else's undies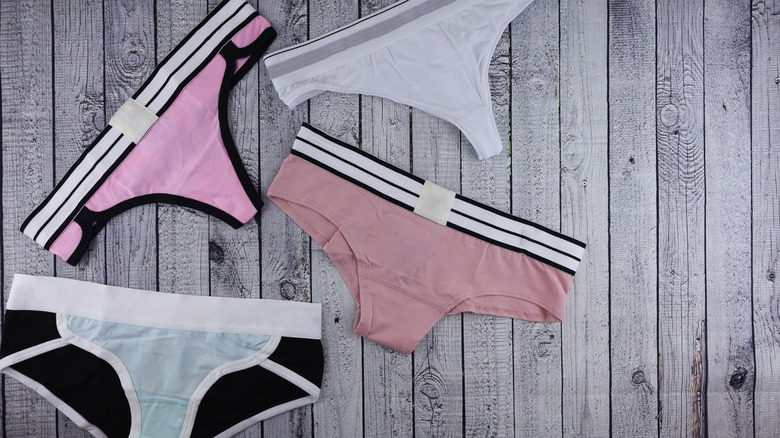 Underwear is a type of garment that comes at a wide variety of price points. You can buy a multi-pack of cheapies at any given Walmart, or you can drop a small fortune on pricey underthings at a high-end boutique. If you're looking for silk on a budget, you might be tempted by the prospect of modestly priced fancy undies from a secondhand store.
We hate to break it to you, but think again. While a used bra might –- just might –- be acceptable assuming you find one in the exact right size, used panties are a definite no. As WebMD points out, secondhand panties have been in contact with intimate parts of someone else's body, and there's always the possibility you might pick up bacteria that could lead to a genital infection. If that's not enough to deter you, there's something even more horrifying in store — WebMD made use of the phrase, "Small amounts of poop." Enough said.
Pre-owned bathing suits are also iffy
Bathing suits are something you tend to find in abundance on the racks of most thrift stores once springtime comes and the seasonal clothes come out of storage. Unlike undies, bathing suits are a garment that everyone's going to see –- well, everyone at the beach or the pool, that is. As a result, new styles are introduced each year and the old ones tend to be tossed or donated.
Maybe you're a fan of last year's fashions, though, or maybe you luck into a cool vintage style from a few decades past. Should you take a chance on a used swimsuit for just a few bucks? Still no, since bathing suit bottoms have been the same place panties usually go and carry all of the same risks. Plus, as WebMD also notes, swimsuits usually aren't made to last, so there's a good chance the suit is already stretched out or pilling, or soon will be.
Secondhand athletic gear might have already gotten a workout
Whether you exercise regularly or you just want to lounge around in some comfy "athleisure" wear, you may find yourself checking out yoga pants, sports bras, and leggings when you're out thrifting. How about these items, are they likely to be good buys? More like "goodbyes," since you're likely to find yourself wanting to toss them out once you get them home.
Anything that goes on your lower half, like the aforementioned yoga pants — think about it, do people always wear panties under these? As Dirty Harry once said (bet you never saw this Clint Eastwood quote coming), "You've got to ask yourself a question: 'do I feel lucky?'" Well, do you? Nope, didn't think so (potential poop's always a deal breaker). Even with a sports bra or other top, though, if it was something someone actually wore to exercise in, that means sweat, and lots of it. As Real Simple reminds us, sweat stains (and smells) are something that's notoriously hard to wash away.
You don't know where the secondhand hats have been
Vintage hats can be super cute, and brand new hats can be pretty pricey. Still, there's one issue with hats that you never really think about. When, if ever, does anyone actually clean a hat? Sure, you can toss a knit beanie in the wash, but it's not always something you'd think to do, and as for straw or felt hats … forget it. About the best you can do is brush off or sponge the exterior, and it's the inside part you've got to worry about.
As the Six Dollar Family blog says, there's not much you can really do to sanitize a shaped hat that isn't going to ruin that shape. A used hat is always going to pose somewhat of a risk of head germs or parasites, so it's better to be bare-headed than to go with a dubious used hat.
Used shoes might never fit your feet
Shoes, especially good ones, are so very expensive when they're new that it's no surprise they're a hot ticket item at many secondhand stores. As Buffalo Exchange New York area manager Alyson Lutynski told Footwear News in a 2019 interview, "Shoes are in high demand for us year-round, from current dad sneaker trends to comfort-focused styles," adding that "sales show no signs of slowing down."
While podiatrist Dr. Diane Koshimune, also speaking with Footwear News, said, "Gently used shoes that have been properly cleaned and deodorized should not negatively impact the foot health of a new owner," there is one reason why you might want to think twice before purchasing a pair. Certain types of shoe materials, particularly leather, tend to mold themselves to the original wearer's foot, so those shoes may never fit your feet quite right even if they are the right size.
What's more, Koshimune said that pumps and heels can stretch out so they no longer hold your foot in while you walk. As she explained, "This can cause the tendons and muscles to compensate, resulting in overuse injuries such as tendinitis." If you do fall in love with a pair of gently used, not-too-worn shoes, though, they may be salvageable with the use of arch supports or insoles that use heat to mold to the shape of your own feet.