Mandy Moore's the girl next door. The girl you want to be best friends with. Oh, and she's a talented singer and actress. Mandy Moore has been a name the world has known for quite some time, starting out her career in the music world and continuing on to act. Throughout the years, while seeming to be like someone everyone knows or wants to hang out with, she has truly only become more likable. Moore has had quite the career already and does not show any signs of slowing down (thank goodness!). Let's take a closer look at her life and her stunning transformation from Florida kid to famous star.
Mandy Moore wanted to sing, not be a star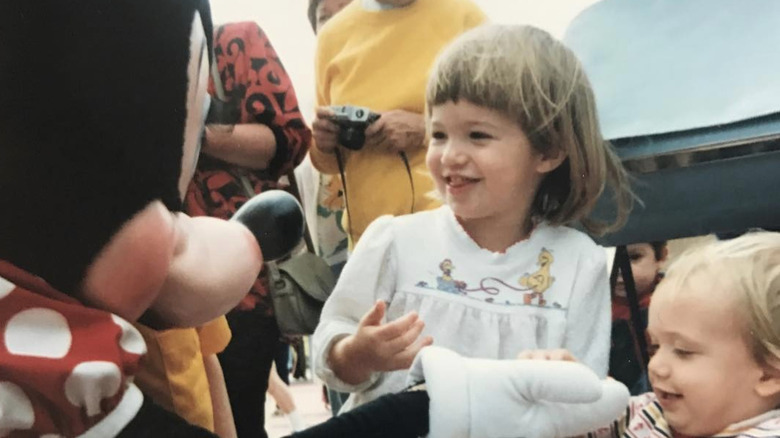 Amanda Leigh Moore was born on April 10, 1984 in New Hampshire and later raised in Orlando, Fla. She had a normal childhood, and she caught the singing bug early on. According to New York magazine, Moore first wanted to sing after watching the musical Guys and Dolls at age six.
And for young Mandy Moore, the appeal wasn't in the fame, but the music. She once told Cosmopolitan, "I don't think I had the aspiration to be a star growing up. I loved Madonna and Bette Midler, and I had my karaoke machine and would sing their songs." That love of singing would pay off. As a kid, Moore would perform at sporting events, and then in her teen years, she had her breakout moment.
How Mandy Moore's music career began
Mandy Moore's career started in the unique, fairy-tale way: she was overheard singing by a FedEx delivery person named Victor Cade, who then gave her demo to a friend who worked at Sony Music. And the rest is history. In 1999, the then 15-year-old Moore joined the *NSYNC tour, singing her first single, "Candy."
With the newfound success, Moore saw the negative, judgmental side of the industry as well. She later spoke with Cosmopolitan about this time, saying, "When I was first starting out in the music industry, I was always coupled in the same sentence with Jessica Simpson, Britney Spears and Christina Aguilera — and I was probably the worst of them. I think a lot of people back then thought, Mandy Moore…she'll probably go back to where she came from in a year. But I've created my own path, and I'm content with it."
Mandy Moore's sweet '90s fashion
It would be wrong to talk about Mandy Moore's '90s pop fame and not bring up the fashion that goes along with it. Lucky for us, Moore has also taken the time to look back at her early career clothing choices. Years later, she spoke with People, saying, "I started when I was 15… I had no idea who I was or what I was doing, and so there's a lot from that time period… I'd say between 15 and like 19, 20. I give myself a bit of a pass, but there's like leather pants with fringe on them. In the 'Candy' video, I decided it was really cool to tie a leather ribbon around [my arm]. That was my choice." And she's the first person in line to make the statement, "There were some really questionable choices." Questionable or not, they were all fabulous choices (at the time).
Mandy Moore joined the acting world
It wasn't only with music that Mandy Moore found success. She also showed off her acting chops, starting with roles in Dr. Dolittle 2 and The Princess Diaries. Then in 2002, the then 17-year-old Moore took on a role that showed she was here to stay. She starred in A Walk to Remember, based on the novel written by Nicholas Sparks. This was a special role for Moore in many ways. As she told The Huffington Post, her co-star, Shane West, meant a great deal to her and helped her succeed in one of her first major roles. She said, "I was so fresh-faced and naïve. I felt incredibly lucky right off the bat that I had someone who was as willing to work with me and who was patient and understanding. He was just the perfect partner for that."
How else did playing the character of Jamie Sullivan affect Moore? Believe it or not, hair had quite a bit to do with it. Moore traded in her blonde locks for brunette for the film, a look that stayed with her. As she described to People, "It was transformative because it came at a time in my life when I was only seen from the pop music landscape and through that lens. There was a real significance to coloring my hair. As silly as it sounds, there was a real significance in the way that people saw me, but also in the way that I carried myself and that I saw myself. It was the last little piece of the puzzle, I think, in terms of getting into the character."
Mandy Moore had success in acting and beyond
Following the success of A Walk to Remember, Mandy Moore continued to push herself. She wanted to be seen as a serious actress, and she believes one of her roles in particular helped her reach this point. "I think Saved! was the beginning for me," she said in an interview with Elle. It was the start of people saying, 'Hey, maybe she's a serious actress. Maybe she's in this for the long haul.' And once you have that feeling, doing work you're really proud of, you want more of it."
And that's just what Moore did: she went for more, and not just in the movie business. In 2005, she started her own fashion line, Mblem. Although the line only lasted three years, Moore was happy with the run and hoped to have more experience in the future in the fashion business. As she told WWD (via People), "I love the fashion world. I'm fascinated by it. I'm humbled by it… If I were to dip my toe back in there, it would have to be the right situation… a great partnership that could represent a true reflection of me and my ideas, and you know, that wasn't happening. So next go round, that needs to be top of the list."
Mandy Moore challenged expectations
Despite having success as an actress, Mandy Moore struggled when it came to her music career. She had been pinned into a certain stereotype when she first entered the industry in her early teen years. She was ready to show who she really was years later, but experienced some opposition. In 2006, a then 22-year-old Moore looked back on her early days of success, telling Elle, "I came out when I was 14, singing songs about candy… I was told what to sing and how to sing it, and I felt like a puppet. I don't think people cared about me or what I wanted to do musically. It was more about: 'This is what sells records.' I totally felt disposable."
Still, Moore was looking to push forward with her music. She had an album written and basically ready to record, but it wasn't going anywhere yet. During the same Elle interview, she said, "I don't know. It's depressing. Maybe it will come out this year? Maybe next? I think my label is expecting a poppier, mainstream-type thing from me. It's been so long since I was singing 'Candy' and driving in a green Beetle. But I know there's so much of, like, middle America that still thinks of me that way."
Mandy Moore wasn't tabloid material
Mandy Moore didn't have a terrible period of rebellion caught by the Hollywood tabloids. What's the reason for that? It's simple: she's an old soul. When Moore was 22 years old, Cosmopolitan asked her about her relationship with fellow actor Zach Braff, whom she was dating at the time; he was nine years older than her. She was honest with her answer, saying, "I've never really put much thought into it. I don't think I even knew how old he was when we first started going out. I don't feel 22. My girlfriends are all in their 30s." Moore continued, "They say I'm like an old woman. I feel like a 65-year-old in a 22-year-old's body. There's a huge part of my life that I've skipped over [she started performing professionally at 15],but I'm fine with it. I go to bed early. I also say things like 'jeez Louise.' And I think I dress like an old woman." Everything Moore said makes her even cooler in my book.
Mandy Moore added princess to her resume
In 2010, a 26-year-old Mandy Moore was able to add a new job to her resume: princess. Okay, maybe not a real princess, but close enough. The actress voiced Rapunzel in Disney's animated film Tangled. So what was the experience like for Moore? She spoke with Collider about it, saying, "It was a lot of fun. I never had the opportunity to do something quite like this. I felt like it really… engaged that side of me that is a huge fan of musicals and dream about doing a musical one day." And what's the hardest part of playing a princess? Moore said, "I would say the only challenging part was employing that bit of acting in the music and the singing that I didn't really think about until I was there in the moment, in the studio, going, 'Oh, okay, right,' I'm not just suddenly being Mandy and singing. You know, I have to be Rapunzel and so there is a sense of maintaining this character that was really interesting to me."
Mandy Moore gave her voice to an important campaign
Even with her busy schedule, Mandy Moore took the time to be involved with a cause that was important to her. In 2012, the 28-year-old spoke with Women's Health about her decision to work with the Gynecologic Cancer Foundation (GCF) on a new campaign called Reality Check: What Young Women Don't Know About Cervical Cancer. Moore admitted to not knowing many facts about cervical cancer before GCF reached out to her. But after reading up, she knew she wanted to help. She told the magazine, "When I learned that it's the second leading cause of cancer death in women in their 20s and 30s in the United States, I was like, 'Well, this is a pretty big deal, and this is definitely a cause that is worth getting behind.' As a young woman, I wanted to spread the word to other young women out there that we have the power to protect ourselves against cervical cancer."
Mandy Moore remained optimistic during a difficult time
In 2015, Mandy Moore faced a tough time when she and her then-husband, musician Ryan Adams, officially announced their split and filed for divorce. The couple had been together for almost six years, and the divorce was not finalized until the summer of 2016. Moore opened up about that time in her life, speaking about the topic during a panel at the Television Critics Association tour (via E! News). She said, "It's tough. Life is not easy… I think it's been great to be able to take all of the chapters in my life and be able to pour it into a job like this because it all helps. It's all fuel." Per usual, Moore was able to find an optimistic view in a negative situation. She continued on to say, "I think everything happens for a reason… I think I spent a good portion of the last years of my life really pouring all of my energy into my life and relationship, and now that that's sort of not part of my life anymore, it's just not a coincidence to me that things sort of opened back up and I'm able to focus back on myself again."
Mandy Moore became a TV mom
Fall 2016 brought a role that Mandy Moore will always be known for now: Rebecca on the NBC's This Is Us. When Moore received the script for the show, she had already had her fill of pilot season and shows not working out, as she shared with New York magazine. But then she read it. Moore later told the publication's entertainment website, Vulture, "When I first read the [pilot] script, my jaw was on the ground after finishing the last couple scenes, and then I went back to the first page and started rereading it. I really wanted to be a part of it because I figured there's so many different ways this story could go." And as we now know, she got the part.
One of the best parts about the show is how well the actors seem to get along with each other. During her interview with Vulture, Moore described these relationships a bit more, saying, "I love it! We really take the mom and dad thing to the nth degree. We had a cast dinner a couple of weeks ago, and we're all in like a text chain together and everyone's like, 'Hey Mom and Dad, thank you so much for planning that dinner.' And I'm like, 'No, it was all Dad.' Milo [Ventimiglia] put it together. We have a lot of fun with it. It's pretty ridiculous considering that I'm younger than all of my children."
What's next for Mandy Moore?
So what's to come for Moore? This Is Us has been picked up for additional seasons, and we have a feeling it is only going to continue to get better. But aside from her work on the show, Moore seems truly happy at her place in life right now. In a 2016 interview with Byrdie, she spoke of the transition from her past to her present. Thinking of the start of her music career, she said, "Oh god, I was just a clueless suburban mall teenager from Orlando… You couldn't pay me to go back." Today, she is totally cool with being the old soul that she turned out to be. Moore is looking forward to what the future will bring. "I'm totally ready," she said. "I can't wait until the day when watching 60 Minutes is perfectly acceptable for my age. The aging process: I say bring it on."