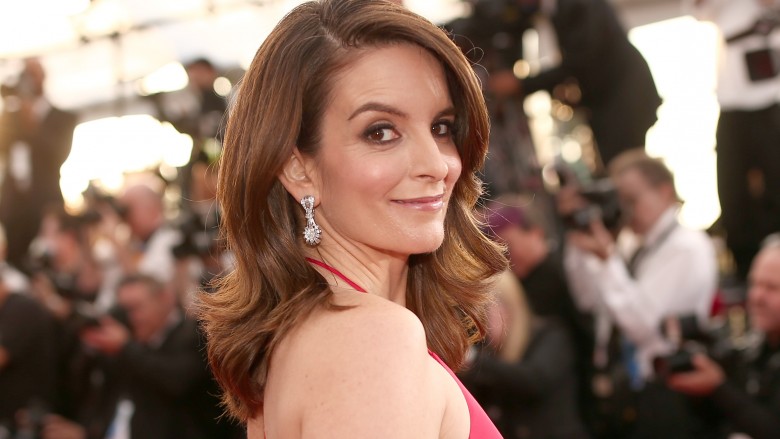 I'm in the large population of people who simply adore Tina Fey. To me there's nothing she touches that I don't love. I've seen almost everything she's ever starred in and multiple times at that. Her wicked sense of humor, intelligence, loyalty to friends, and IDGAF attitude makes her a great role model to many young women. In her autobiography Bossypants she gives some sound advice that led her to where she is today, "Don't waste your energy trying to change opinions. Do your thing and don't care if they like it."
Fey found her calling doing her thing, when she set foot on stage in Chicago learning improv, where she made friends and coworkers for life. In 2011, she penned an essay in The New Yorker describing her journey from working at The Second City comedy club and theatre to being called up to write for Saturday Night Live. She moved up the writers' ranks quickly and began appearing on skits before taking a seat at the Weekend Update desk. She's championed some of TV's greatest shows and created one of the best female cult comedy films to hit the big screen.
She's a shining example of how talent, hard work and supporting your friends can make your dreams come true. Read on to learn more about funny lady, girl champion, and ultimate bossy pants, Tina Fey.
Growing up
Elizabeth Stamatina Fey was born on May 18, 1970 in Upper Darby, Pennsylvania. She was raised by her father Donald Fey, of German heritage and her mother, Jeanne Xenakes, of Greek descent. In her autobiography Bossypants, she recalls feeling protected by her family growing up, including her brother who is eight years her senior, especially after a traumatizing childhood experience.
One spring day when she was five years old she was playing in the alley behind her house when a strange man ran up to her and slashed her face, in her autobiography she says that her scar was her first miniature taste of celebrity, as kids knew who she was because of it. While the experience was traumatizing, Fey told Vanity Fair in 2009 that she worked hard to keep it from affecting her childhood, "I proceeded unaware of it. I was a very confident little kid. It's really almost like I'm kind of able to forget about it, until I was on-camera."
Making lifelong friends
During her time at The Second City in Chicago, Fey met most of the people she still works with today. In 1993 at Chicago's ImprovOlympic the theater's co-founder Charna Halpern introduced her to Amy Poehler and they quickly became inseparable. "She's a very dear, dear friend," she told David Letterman for The Hollywood Reporter.
She went on to tell Letterman that she still keeps in touch daily with some of her female SNL cast mates, including Poehler, Maya Rudolph, Emily Spivey, Paula Pell, Ana Gasteyer, and Rachel Dratch. "We talk as a group through the computer every single day. Dozens of times a day. And it's very nice," she said. "It was easy when we worked at SNL: You're on top of each other 60 hours a week. So it's nice that we are maintaining this friendship."