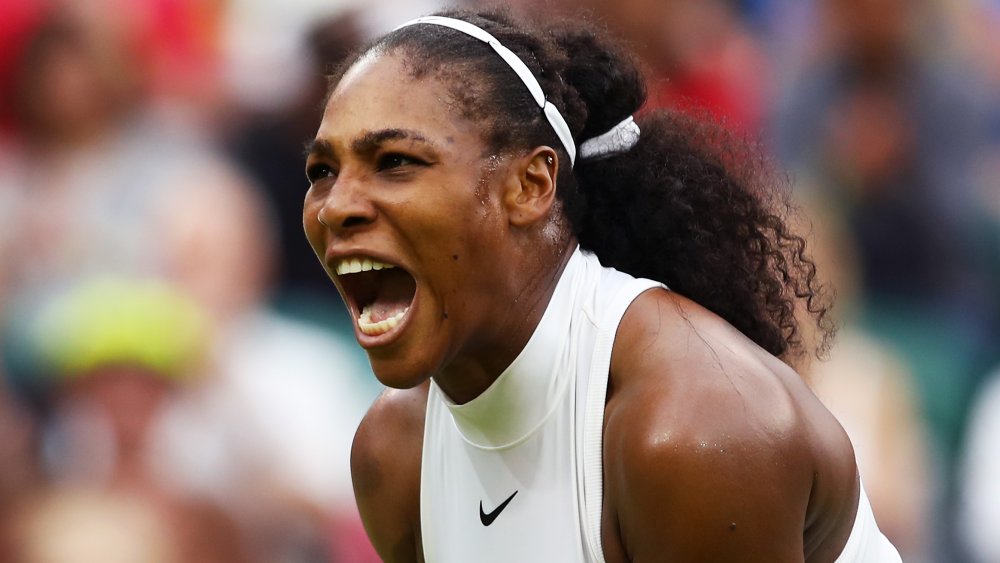 Competitive athletes at amateur and professional levels possess different mindsets than we mere mortals. For example, if you're feeling a touch sore or under the weather, or if you're just not up to working out, you may skip a trip to the gym or to yoga class. It's only one day. No harm done. For great athletes who chase titles during grueling and lengthy seasons, "no days off" is more than just a throwaway term.
And we're not just talking about sticking to rough diets or tough workout routines. Hall of Famers have played through serious and painful injuries. They've suffered tears, cuts, and breaks. In fact, some have even lost body parts so they could pursue greatness. Their "no guts, no glory" mantra and their mental and physical toughness is an inspiration to everyone, as it takes a special type of person to become a special type of athlete. And today, we're taking a look at the men and women who made extreme sacrifices to keep competing.
Ronnie Lott made an extreme sacrifice to keep playing football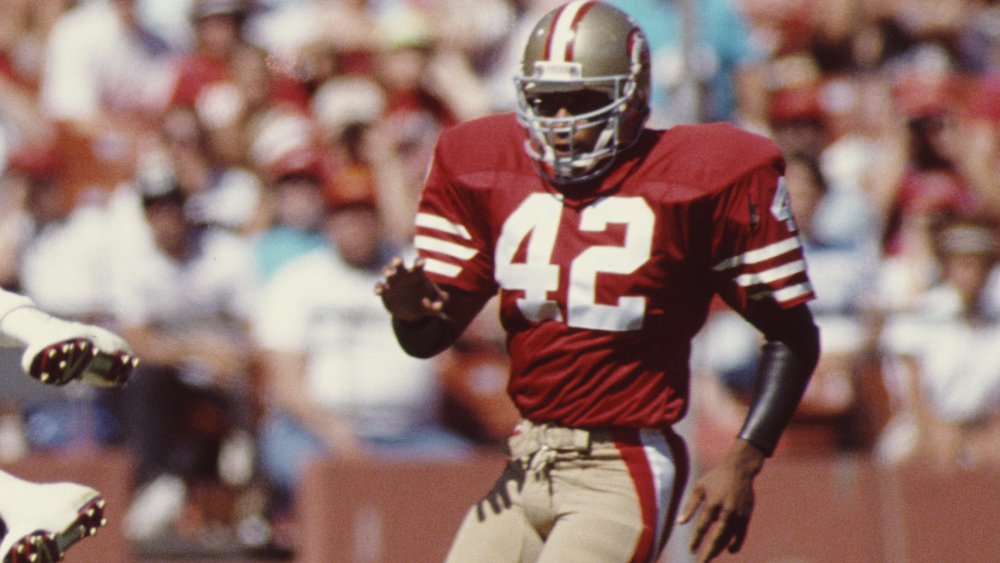 When Philadelphia 76ers center Joel Embiid suffered an ugly-looking finger injury in January 2020, he probably didn't think to himself, "I could live without this digit." Quite the contrary, Embiid underwent surgery, missed some playing time, and then continued on with his life and career.
However, former San Francisco 49ers defensive back Ronnie Lott went a very different route with his recovery. As documented by the Los Angeles Times, Lott suffered a serious pinkie injury that affected how he was able to use his left hand on the field late during in 1985 regular season. That off-season, Lott was given the option to choose between reconstructive surgery that would've included a lengthy recovery period or amputation above the first joint that would ensure he'd be ready to return to action as soon as possible. Lott selected the latter, and he was named First-Team All-Pro for the 1986 campaign after he led the NFL in interceptions (ten). He played for 14 seasons, total, and retired before the 1995 season. The Hall of Famer is widely regarded as one of the most-talented all-around defensive backs in history.
However, as noted by Sports Illustrated, Lott expressed regret regarding the amputation. "If I ever become a coach, I hope I never lose sight of the fact that players are people," Lott told the Associated Press in 1986. "They feel. They have emotions. I could have all of Eddie DeBartolo's corporations, and it isn't going to buy me a new finger. It has given me a new perspective on life."
Kerri Strug kept competing despite a devastating injury
Everything was coming up gold for the United States women's gymnastics squad on the second day of the team competition at the 1996 Summer Olympics. In front of a raucous and passionate hometown Atlanta crowd, the seven American ladies tasked with winning their country's first team gold medal at a fully contested Olympics built what seemed, on paper, to be an insurmountable lead heading into the vault, the final event of the competition.
With the world title and gold medal well within reach, 14-year-old Dominique Moceanu shockingly and uncharacteristically failed to land both of her vaults. What seemed a formality was now in question in the mind of American Kerri Strug, the last Team USA competitor in the rotation. But like Moceanu, Strug also landed on her behind when she attempted her first vault, and something went terribly wrong as her feet hit the mat.
"I heard something snap," Strug later admitted, per Sports Illustrated, which is a terrifying sensation for any athlete to experience. Not knowing her team would've won gold had she never attempted her second try, Strug put her own health out of mind and stuck a landing before she collapsed to the ground in pain. After overcoming one of the most frightening Olympics mishaps ever, Strug retired following the Games, meaning she delivered an Olympic walk-off (or limp-off) for the ages.
Josh McCown showed a whole lot of grit during a 2020 playoff game
Journeyman veteran quarterback Josh McCown was a 40-year-old backup with zero real playoff experience. So it was a big deal when the Philadelphia Eagles called him into action to face the Seattle Seahawks after Philadelphia starter Carson Wentz suffered an injury during the Wild Card Weekend game held at Lincoln Financial Field in January 2020. McCown played admirably in relief, as he completed 18 of 24 attempts for 174 yards. Seattle sacked him six times, however, and the Seahawks defeated the Eagles 17-9.
Following his first playoff appearance and first postseason loss, McCown was visibly emotional while hugging teammate Zach Ertz on the field minutes after the game's conclusion and also while he answered questions from reporters. "I left it all out there, I know that much," McCown said.
He wasn't kidding. NFL Network's Mike Garafolo confirmed (h/t NFL.com) that McCown "tore his hamstring off the bone" during the second quarter of the playoff game, but the veteran remained in the contest in place of Wentz even though he visibly couldn't throw utilizing his standard throwing mechanics. But that wasn't the first time McCown delivered a superhuman performance. Fans of the Cleveland Browns likely remember when McCown took flight to attempt to score a rushing touchdown during a Week 1 game against the New York Jets in 2015. McCown will never make the Pro Football Hall of Fame, but nobody can question his toughness.
Bernie Kosar played on a broken ankle
Three decades after Bernie Kosar last featured under center for the Cleveland Browns, the former NFL quarterback remains a popular figure throughout Northeast Ohio for several reasons. For one, thanks to a loophole, the native of Ohio entered the NFL via the 1985 Supplemental Draft, which allowed him to join the Browns as desired. Kosar also led Cleveland to three AFC Championship appearances, but the Browns fell short of the Super Bowl in all three of those contests.
Cleveland fans also admired Kosar for his grit. During Week 2 of the 1992 regular season, Kosar suffered what he believed at the time was an ankle sprain while facing the Miami Dolphins, and he limped on the field throughout the second half of the contest. Despite the discomfort, Kosar tossed a pair of fourth-quarter touchdowns to bring the Browns back from behind, but Miami ultimately tallied the deciding score for a four-point win.
The next day, the Associated Press (h/t Deseret News) confirmed Kosar suffered a hairline fracture in his ankle before halftime. That injury that he played through for at least two quarters kept him sidelined for over two months of the campaign. He missed a total of nine games, and the Browns failed to make the playoffs.
Jon Jones' had to fight an opponent and a broken toe
Jon Jones is one of the most complicated and polarizing mixed martial arts figures of his generation. As it pertains to talent and physical attributes, "Bones" Jones is the best pound-for-pound fighter of the first 20 years of the 2000s, and he was also one of the biggest Ultimate Fighting Championship stars of that era. Throughout the 2010s, however, Jones was involved in multiple outside-the-cage incidents — including a hit-and-run, using cocaine, and fighting another MMA fighter in real life — and he was also flagged by the United States Anti-Doping Agency regarding the use of performance-enhancing drugs more than once. Jones nevertheless ended 2019 as the UFC Light Heavyweight Champion.
However, if there was anybody doubting his toughness, Jones silenced those critics in April 2013 when he met Chael Sonnen for a bout at UFC 159. During the fight, Jones planted his left foot and suffered a gruesome toe injury that those who get squeamish upon witnessing such moments shouldn't watch. As described by Bleacher Report, Jones' left toe appeared nearly fully separated from the bone during the post-fight interviews.
Anybody who's ever broken a toe knows how painful walking on one can be in everyday life. Now, imagine doing so barefoot inside of a cage during a fight. However, in the heat of the moment, Jones didn't notice the injury, and he finished Sonnen before realizing that, oh, he'd almost severed an appendage. (Fortunately for Jones, the ref didn't notice either, or the bout would've been stopped, and the champ would've lost his belt due to a technicality.) Sure, Jones risked serious long-term damage during that fight, but he barely slowed down at all and stopped Sonnen via first-round TKO.
Michael Jordan proved he was an all-time athlete during the 'flu game'
It is potentially the greatest, most heroic, and also most scrutinized playoff performance in NBA history, one that has sparked debates and conspiracy theories. As the basketball legend goes, the Chicago Bulls and Utah Jazz were even at two wins apiece during the 1997 NBA Finals when Michael Jordan showed up to the arena for the pivotal Game 5 showdown, suffering from flu-like symptoms. Throughout the contest, Jordan appeared downright exhausted, but he toughed it out and tallied 38 points, seven rebounds, and five assists. The three-pointer he drained with 25 seconds remaining handed Chicago a three-point advantage, and the Bulls held on for a 90-88 victory.
Everything from Jordan's courageous play to the picture of teammate Scottie Pippen helping MJ remain on his feet added layers to the tale. However, some believe there may be more to the story than Jordan battling some sort of virus. As explained by USA Today and SB Nation, former player and ESPN basketball analyst Jalen Rose once claimed Jordan was hungover and not sick on that fateful night. Per BallisLife.com, Tim Grover, Jordan's former personal trainer, said in 2013 that he believed intentional food poisoning caused His Airness to become ill before Game 5. Whatever really happened, we know Jordan and the Bulls won Game 6 to hoist the Larry O'Brien NBA Championship Trophy.
Serena Williams kept competing even while pregnant
At the start of the 2017 tennis season, American Serena Williams was, at the very least, one of the greatest players, male or female, of the Open Era and the history of her sport. (In fact, some have argued she's one of the most influential female athletes of the past century.) And in January of that year, Williams defeated a pair of ranked opponents at the Australian Open leading up to the Final and a matchup with sister, Venus Williams. Venus took eight games, but Serena enjoyed a 6-4, 6-4 victory to hoist the Daphne Akhurst Memorial Cup and win a 23rd grand slam title.
Several months later, Williams unveiled that she was roughly 20 weeks pregnant. Social media users doing the math figured out that this meant Williams was pregnant at the start of the Australian Open. So she not only won the title while expecting … she won every set that she competed in throughout the tournament, all while pregnant.
Even before that news went public, Nike had produced a marketing campaign suggesting Williams was the greatest athlete of all time. Say whatever you will about talented men such as Michael Jordan, Muhammad Ali, Michael Phelps, and Jim Thorpe. None of them ever won an entire competition while with child.
Cris Cyborg's weight cuts threatened her life
Two stories lingered throughout the mixed martial arts world and the UFC throughout the 2010s. One was the crackdown on the use of performance-enhancing drugs, and the other was fighters cutting weight in the days and hours leading up to fights. Cris "Cyborg" Justino was front and center of both during the decade. In 2012, she was suspended and fined after she failed a drug test, and Ronda Rousey, the biggest women's MMA star of the decade, accused Cyborg of PED use years after that failure.
Rousey and Cyborg were linked time and time again during the 2010s as fans hoped to see a dream fight between the two. But as noted by outlets such as Rolling Stone and Bleacher Report, Cyborg's "walk-around weight" was roughly 40 pounds higher than the 135-pound bantamweight limit, where Rousey and others in the division competed. Even after Cyborg and the UFC put pen to paper on a deal that led to the creation of a featherweight division in the promotion, she still struggled to drop down to 145 for fights.
In 2016, MMA Fighting documented how Cyborg cut 21 pounds off her body during a fight week, and the accompanying footage was hard to watch, as it was clear Cyborg was in a whole lot of pain. And at one point, she put 19 pounds back on just six hours after making weight for a fight, proving that Cyborg was wrecking her body and threatening her own life to compete in the UFC. Granted, for a while she was considered the female MMA GOAT, but at what price to her future health?
Zdeno Chara made some extreme sacrifices to play in the Stanley Cup Final
Standing at 6'9", Boston Bruins defenseman Zdeno Chara more resembled a basketball player or a skyscraper of a defensive football star than somebody who skated around the ice and intimidated opposing attackers during the 2010s. Near the end of May 2019, Chara was a one-time Stanley Cup champion who once again was featuring for the Bruins in a Stanley Cup Final, that time versus the St. Louis Blues.
Boston held a 2-1 series lead heading into a Game 4 showdown at St. Louis when Chara took a puck to the face that left him bloodied and forced him off the ice. As so many had come to expect from hockey players, particularly those only a couple of wins away from lifting Lord Stanley's Cup, Chara returned to the rotation in the third period of the game, a contest the Blues won 4-2.
Chara didn't just play in the last three games of the series. He tallied a goal in Game 6, and he averaged well over 16 minutes of ice time over those three outings. However, after the Blues won the Final and championship, Chara informed reporters the puck to the face left him with multiple jaw fractures and forced him to a mostly-liquid diet. He also played with a lower-body injury for the entire series versus St. Louis.
Tiger Woods refused to listen to doctors
Those who've never played golf at any level, let alone competitively, may not understand how taxing the sport is on different areas of the body, particularly on golfers who are workout warriors and add pounds of muscle on their frames to obtain more power on their drives. And playing through even a small amount of pain can exacerbate injuries because of the unnatural motion of forcefully hitting balls off tees and fairways.
When Tiger Woods began to play at the US Open in June 2008, he already owned 13 major titles and was already headed toward being known as the greatest golfer of the first half of the 2000s and, potentially, the greatest of all-time. But those who watched Woods from the early stages of the tournament likely remember that he wasn't 100 percent from his opening drive. He repeatedly grabbed his left knee after shots and appeared to struggle walking the course. Despite knowing nobody would've thought less of him for retiring and going for his next major another day, Woods remained in the tournament and won it via a playoff versus Rocco Mediate.
According to Treasure Coast Newspapers, Woods traveled to the US Open knowing he had a double stress fracture in his left tibia and also a torn ACL. In fact, medical professionals told him not to play in the tournament because he risked permanent damage in his leg. However, Woods clearly believed the danger was worth winning another major.
Byron Leftwich was an athlete who wouldn't stop, no matter what
Quarterback Byron Leftwich wasn't just thinking about leading Marshall to a victory over Akron on November 2, 2002. Leftwich was also trying to cement his status as a top-ten NFL pick and earn a contract that would secure him millions upon millions of dollars. Of course, that wasn't going to be easy. Per the Charleston Gazette-Mail, Leftwich already had a rod inserted into his tibia to stabilize a prior injury when unbearable pain forced him into the tunnel during the first half of the Akron contest.
The Marshall coaching staff and medical team believed Leftwich had suffered so serious an injury that they ordered the signal-caller to undergo X-rays at a local hospital. Leftwich returned to the stadium and then went back onto the field early into the second half. In a scene straight out of a made-for-television movie, offensive linemen carried the hurt Leftwich down the field during the fourth quarter so he could continue a drive as quickly as possible. Despite everybody's efforts, Marshall lost to Akron 34-20.
Later, fans learned that X-rays confirmed Leftwich suffered a fracture in his tibia, but he still was allowed to play on the injury. He even played in the final four games of the regular season. That sacrifice was worth it in the end, as the Jacksonville Jaguars selected him with the seventh pick of the 2003 NFL Draft.
Jack Youngblood kept competing with a broken leg
The Pro Bowl is an exhibition contest that occurs weeks after the conclusion of the NFL regular season. In the grand scheme of things, it's a meaningless game. As of the 2010s and early 2020s, would-be Pro Bowl starters routinely pulled themselves from the occasion, citing either injuries or fatigue for why they skipped what otherwise would've been their final outing of that NFL year.
However, former Los Angeles Rams defensive end Jack Youngblood took the Pro Bowl very seriously, particularly in 1980. In late December 1979, Youngblood suffered a broken leg during a game against the Dallas Cowboys. The leg "snapped like a pencil," Youngblood once recalled, according to the Orlando Sentinel. Against the advice of doctors and pretty much any sane person, Youngblood remained in the Rams lineup and played through "excruciating pain" for the remainder of the postseason. In fact, he started for the Rams in their Super Bowl loss to the Pittsburgh Steelers.
That's enough for Youngblood to land on the list, but there's more. He played for the NFC in that year's Pro Bowl game on the broken leg. Decades later, Youngblood explained the reasoning behind his decision to the Talk of Fame Network. "I was the captain," he said. "I was the leader of the football team, and I was going to do everything I possibly could within my power and ability to go on that field and to lead my guys and to try and win a football game."