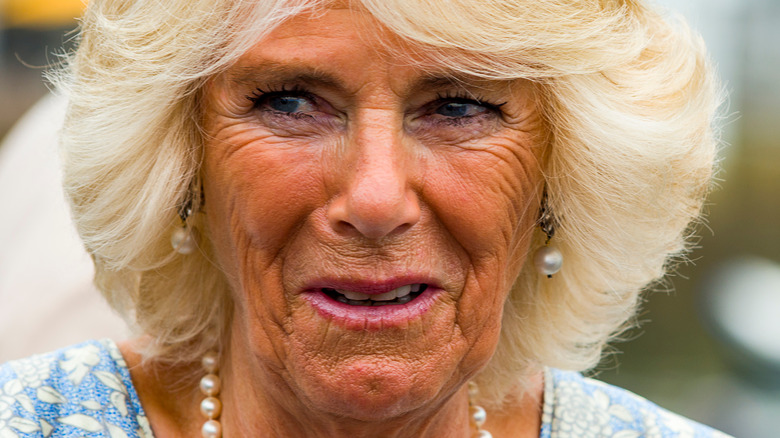 The world paid attention when Prince Charles, the heir to the British throne, married his longtime partner, Camilla Parker Bowles, in 2005. The relationship between the two had been the worst kept secret in Britain. After Diana Spencer, Princess of Wales, revealed to the BBC that there were "three" in her marriage (referencing Camilla), it seemed like the entire world was against the woman who "stole" Charles' heart away.
Of course, Camilla and Charles ran in the same friend circle for years, and a lot of us have asked ourselves why the two weren't allowed to get married in the first place — it certainly would've saved Diana years of heartbreak. Simply put, Camilla wasn't deemed good enough for the heir — she was divorced, seen as "experienced," and didn't have that pure, innocent look that the royal family was after.
But, of course, Camilla and Charles tied the knot after all, and she has since become a working member of the royal family. All eyes and cameras have been on her throughout the years, and while she's maintained pretty excellent decorum, there have been some snafus. Here are awkward Camilla Parker Bowles moments that were caught on camera.
When the Duchess of Cornwall was asked about Prince Harry, she had an odd response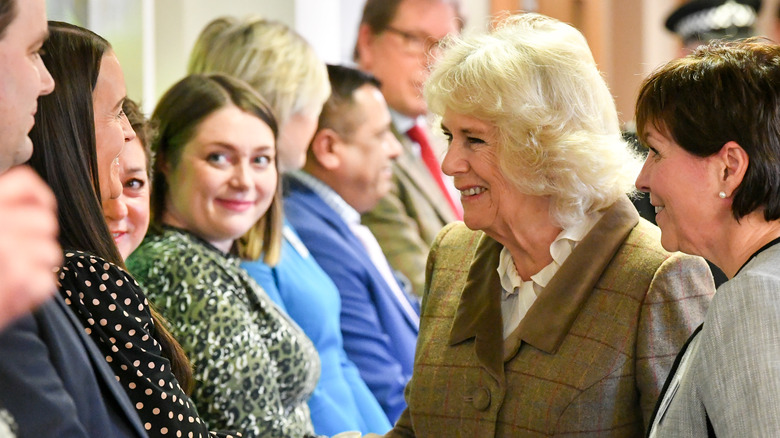 It literally felt like the sky had fallen on the monarchy when Prince Harry and Meghan Markle announced that they would be stepping back from their roles as senior royals. But that was just the beginning — their departure led to a rather public and very brutal feud between Harry and members of the royal family, particularly with Prince William and Prince Charles.
Not too long after the news dropped about Harry and Meghan giving up their roles, Camilla Parker Bowles attended the 40th anniversary of the Prospect Hospice Swindon. As noted by Entertainment Tonight, a reporter shouted to her, "Will you miss Harry and Meghan?" as she was leaving the event. Here's where things got awkward — she paused, smiled, and said, "Course," while walking away. The whole thing was really cringeworthy. Some people took to Twitter to express their thoughts on the awkward moment, with one saying that the "body language doesn't match up." We agree.
An overly windy day proved to be challenging for the Duchess of Cornwall
We've all had fights with an umbrella, there's no doubt about it. Ever walk down the city streets of New York or Chicago during a rainstorm and your umbrella just refuses to open because of the wind? There's no graceful way to recover from that, and it turns out that even royals have to deal with particularly awkward incidents like these.
As noted by the Daily Mail, Camilla Parker Bowles and Prince Charles were visiting Malta, and as they stepped off their plane, the rather blustery conditions proved to be quite difficult for Camilla and her umbrella. As she joined her husband outside the plane, Camilla was met by a "huge gust of wind" that basically forced her into fighting with her umbrella — she just could not get it to stay open. Luckily for her, a gracious man (who was not her husband, might we add) helped her with the device and she successfully got off the plane and joined the crowd. Camilla's hair also got a bit tussled in the wind, but she walked it off like a pro.
Camilla Parker Bowles had an awkward encounter during this trip to New Zealand
File this caught-on-camera moment under "awkward." While on a trip to New Zealand, Camilla Parker Bowles and Prince Charles made a number of stops at important locations, all in order to soak in the gorgeous New Zealand culture. Well, things didn't exactly go to plan while they were meeting a tuatara reptile. Ok, we'll explain.
As noted by Sky News, the royal couple visited the Orokonui Ecosanctuary in the South Island near Dunedin. While at the sanctuary, they got up close and personal with a little lizard-like creature — and from the photos, they seemed both enthralled and repelled. But things went sort of downhill. As the couple were intrigued by the little guy, a bumblebee did a straight dive towards Camilla, who swatted the buzzing creature away. So what did the bee do? It went for Charles, and the heir to the throne let out an audible "yelp in fright."
Here's your friendly reminder that the royals might have crowns and jewels, but they're just as scared around bugs as we are.
The queen helped create this awkward moment with a 'tense' Camilla Parker Bowles
Many of us know the queen to be a small woman with colorful clothing and great hats, but she clearly knows how to stand her ground. By doing so, she helped to create a very awkward scenario with Camilla Parker Bowles in December of 2020. As noted by Express, Camilla joined the queen, Prince Charles, and other senior royals in one of their first public appearances together since the coronavirus shutdown. To the untrained eye, the event — at which people socially distanced — looked pretty normal, but body language expert Judi James explained that there was a lot of unspoken tension between the monarch and Camilla.
According to James, Camilla stood in a very "awkward" stance, which was only heightened by the queen's apparent confidence. James also noted that Queen Elizabeth spoke to the band that was playing, as well as her family members — with one exception. "The Queen then actively chats to the band, engaging Charles in the conversation while Camilla stands back slightly, with her rigidly-placed arms suggesting an air of tension or awkwardness," James said. We wonder what was going on behind the scenes after the event ended.
The Duchess of Cornwall was shocked when a fan awkwardly hugged her at an event
You don't have to be a fan of the royals to know that they're not the most affectionate bunch. Take Prince Charles and Princess Diana. At their peak, people thought that they were the picture of love and happiness — but if you look back at pictures, they seem to barely acknowledge each other, let alone show any kind of physical affection. While things seem to be far rosier between Camilla Parker Bowles and Charles, PDA is still rare, so when a fan from Korea hugged Camilla during a walk around in Liverpool, she appeared shaken up.
As noted by Hello! magazine, Camilla was visiting Liverpool and saying hello to the crowd when Moonsun Kim, a big fan, embraced the duchess. "I was so excited, I've never seen a member of the royal family before," she said. "I was passing and heard the prince and his wife were coming and decided to stay. I hope I wasn't wrong to give her a hug." Camilla's body definitely looked pretty stiff during the hug, but Kim revealed that the duchess said, "Nice to meet you," after the brief embrace. Hopefully the awkward interaction didn't throw her too much!
This body language expert asserted that Camilla Parker Bowles looked 'anxious' during this event
There's a lot to be said about having such a public life. Camilla Parker Bowles, especially in her proximity to Prince Charles, has been in the spotlight for decades, so the cameras really have captured her at her happiest and at her most miserable. As noted by the Daily Star, the opening ceremony for the Commonwealth Games in 2018 captured what appeared to be a very down-in-the-dumps Camilla, thought to be "miserable" and "uninterested." If you don't believe us, you might take the word of a body language expert. Judi James, the expert in question, told the Daily Star that the event saw Camilla looking "anxious, reluctant and lacking in bounce." And she certainly appeared that way in photos from the event.
James even went as far as to compare Camilla to younger royals like Prince William and Kate Middleton. "Charles and Camilla appeared at times anxious and reluctant and lacking in any youthful bounce that could imply keenness," James said. "Unlike the current royals and the younger royals they tend to have the effect of making you worried rather than happier." Yikes, talk about awkward.
The Camillagate tapes weren't a good look for the royal
While not a caught-on-camera moment for Camilla Parker Bowles, it is a caught-on-tape snafu, and it's so dramatic that it had to be included. As noted by the Mirror, Prince Charles and Camilla were romantically involved for ages, and a secret recording of one of their phone conversations leaked — cue "Camillagate."
We'll give you all the details. It was 1989. Charles and Diana were still married, and Camilla was still married to Andrew Parker Bowles. And the heir to the throne and Camilla were chatting on the phone about … private time they wanted to spend together. We'll give you some of the more PG snippets from the conversation. "I need you all the week. All the time," Camilla said, to which Charles' replied, "I'll just live inside your trousers or something. It would be much easier!" Yes, the heir to the British throne, everyone.
The audio recording leaked in 1993 and was published in People with the headline, "Charles and Camilla — the tape." Safe to say it was a very awkward look for those involved.
This awkward moment between Camilla Parker Bowles and Princess Anne was caught on camera
The royal family is all about stoicism and looking put together, but that steely demeanor may have gone a bit far on Princess Anne's part. One of her interactions with Camilla Parker Bowles was beyond awkward. As noted by Express, Anne and Camilla were pictured together at a formal event. Body language expert Darren Stanton took a look at the interaction in question, and immediately pointed to the awkward tension between the two women.
"Camilla's hands are not visible … This is a sign of slight anxiety and insecurity," he said. Pointing to Camilla holding a small purse, he noted, "Holding her bag, Camilla's hand position — although taken in a single still shot — appears to be less confident than Princess Anne." Of course, Stanton pointed out Anne's "strong" personality as having been a factor, but the history between the two women should also be noted. Royal biographer Sally Bedell Smith told Vanity Fair that Anne and Andrew Parker Bowles — Camilla's ex-husband — dated in the early 1970s, possibly a factor between the two women that still contributed to the icy tension between them.
Camilla Parker Bowles' wedding to Prince Charles was full of awkward tension
Weddings can come with heaps of stress, and Prince Charles' wedding to Camilla Parker Bowles was full of tension. First and foremost, Queen Elizabeth refused to attend the ceremony — while she had given her formal approval for the couple to tie the knot, she did not show up at the actual wedding, making for a rather awkward turn of events (via Express). While many speculated that her lack of attendance was a sign that she didn't approve of the marriage behind closed doors, it was reported that the queen didn't attend Charles and Camilla's wedding because she is the head of the Church of England and didn't want to publicly promote divorce and remarriage.
Now let's look at the caught-on-camera moment, specifically the official portrait from the wedding. Blanca Cobb, a body language expert, told Geo News that Charles' sons, Prince William and Prince Harry, were "visibly uncomfortable" during the wedding and the photos, evident to pretty much everyone. William, specifically, was analyzed by Cobb and described as "nervous," "stiff," and "plastered," and it was obvious that he was feeling "some anxiety." As for the happy couple, it's hard to say exactly how they were impacted by all the drama, but it couldn't have been the most painless experience.
The picture seen around the world: Camilla Parker Bowles and Prince Charles vs. a bald eagle
This was an awkward caught-on-camera moment seen by millions. It was Prince Charles and Camilla Parker Bowles vs. a bald eagle, and the photos absolutely did not disappoint. As noted by People, Charles and Camilla attended the Sandringham Flower Show in 2015, and came face to face with a gorgeous bald eagle, 4-year-old Zephyr. As the royal couple was engaging with Zephyr's handler, the large bird flapped its wings and totally caught them off guard. The facial expressions on both Camilla and Charles' part are as awkward as they are funny, and naturally, the photos were widely circulated. Charles clearly knew that something was bound to happen, as he reportedly turned down the chance to hold the eagle. Charles and Camilla had met Zephyr before, but in 2015, the bird had plans of his own.
After the awkward (but very funny) incident, the royal couple walked around the annual flower show, bought some goods from the local vendors, and went on their way. After the awkward incident, a spokesman for the couple made a statement. "It was less dramatic than the pictures suggest," he said.
This moment showed Princess Anne allegedly "icing" out Camilla Parker Bowles
Camilla Parker Bowles' entrance into the royal family wasn't particularly graceful — she had a lot of drama associated with her and Prince Charles' long-lasting affair, so it's no wonder if the royals had hesitations. And, as noted by Express, just two months after Camilla married Charles, Princess Anne seemingly tried to ice Camilla out of a conversation between her and the heir to the throne.
Body language expert Judi James told Express that Anne looked as though she wanted to establish a "barrier" between herself and Camilla, and it's pretty obvious from the photo that she was successful. "There seems to be a sense of exclusion here as Anne stands closer to her brother to apparently push Camilla out of the small group here, even raising her arm so that her elbow forms a barrier gesture," James said. "Both Charles and Anne look grim-faced here, rather than sociable." We wonder if the relationship between the two women has warmed over time.
This awkward interaction between Camilla Parker Bowles and Kate Middleton had people talking
This awkward interaction might take the cake. As noted by the Mirror, Camilla Parker Bowles was spotted with Kate Middleton and Queen Letizia of Spain at an event in 2019. Sounds harmless so far. Just a couple of international royals gabbing, right? Wrong. Kate was accused of intentionally ignoring Camilla during her conversation with Letizia, as the Duchess of Cornwall was pretty much just left in the background of a conversation between the two royals.
In the caught-on-camera moment, Camilla can be spotted trying to engage in conversation and seemingly butt in when she got an opportunity — at one point, Camilla even said something to Kate directly. But Kate just carried on talking with Letizia like Camilla wasn't there. Some people took to social media to point out the Duchess of Cambridge's behavior, with one user writing that the video was "awful" (via the Mirror). So was it awkward? 100% yes. Did Kate intentionally ignore Camilla? It's difficult to say. Maybe she was just having a riveting conversation. Either way, it was not a cute look.
Prince Charles tried to kiss Camilla Parker Bowles, but had to maneuver around this obstacle
Here's a lighter awkward moment to round out what has been quite a full list. As noted by Express, Camilla Parker Bowles and Prince Charles were on a trip to Northern Ireland, and they arrived at Omagh to pay their respects to the victims of the 1998 bombing.
Camilla had an umbrella with her, protecting herself from a rather gray day. Here's where things got a bit sweet and a little awkward — Charles tried to greet his wife with a kiss when she joined him at the event, but, as reported by Express, he "was forced to awkwardly duck under the umbrella to give Camilla a kiss." What's even worse was that Charles was pretty much separated from his wife for the entire day due to the umbrella in question.
So here's your reminder that the royals, for as much as they're in the news, are still regular people who make regular slip-ups — most of theirs just happen to be caught on camera.