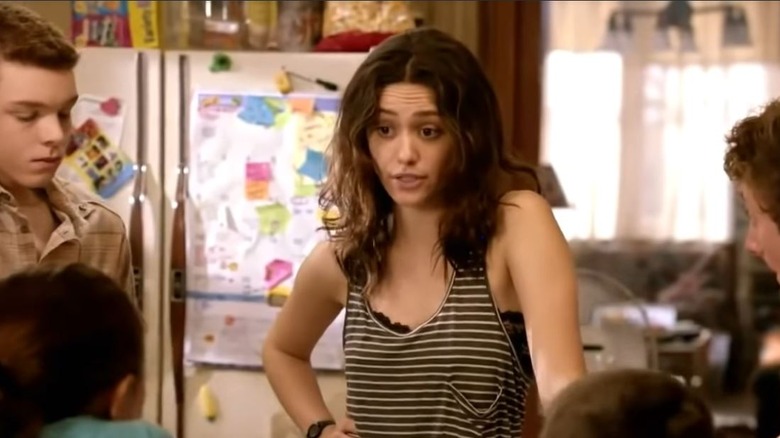 The Shameless cast has been charming American audiences since 2011. A remake of the original British hit, the show focuses on the Gallaghers, a working class family living on Chicago's South Side, and the (often illegal) shenanigans they get into. The show has received critical acclaim, racking up more than a dozen Emmy nominations as of this writing.
Shameless is Showtime's longest running series for a good reason. Both comedic and heartwarming, Shameless shows people in all of their flawed glory, making it relatable to its legions of fans. While things get more than a little crazy (Shameless doesn't flinch away from shocking moments), that's all part of the show's charm. Over the years, the Shameless cast has transformed in front of our eyes, as many of the actors have even grown up on the show. Here's a closer look at how the Gallagher family and their friends have changed over the years.
Shameless cast member William H. Macy found trouble in real life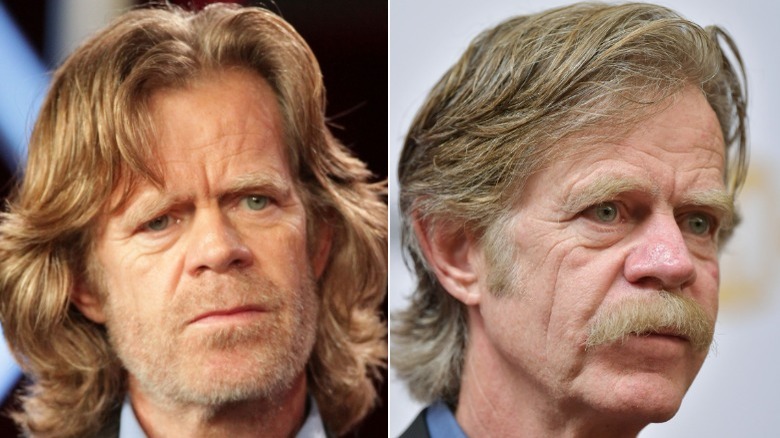 Acting veteran William H. Macy is no less captivating as the Gallagher patriarch in the Shameless cast today than he was when the show first aired in 2011, and Macy is still enjoying playing the role. "I take great pride in being the worst father on television," he told Parade in 2019. "At the end of the day, Frank is an optimist. … He thinks things are going to get better. He's got a wicked sense of humor. He sees the irony in life."
In his personal life, Macy faced a shameless moment of his own in 2019 when his wife, fellow actress Felicity Huffman, was implicated in a college admissions scandal in which it was revealed that several celebs had committed crimes in order to get their children into top colleges. While Macy himself wasn't charged, he and Huffman were said to have allegedly met with William Singer, the key figure in the scandal, in order to explore options to ensure their daughter received a high SAT score. The couple reportedly made a $15,000 donation to a fake charity set up by Singer to ensure his assistance.
Emmy Rossum left the Shameless cast behind to pursue new gigs
Emmy Rossum was one of the biggest names in the Shameless cast when it debuted in 2011. The actress told Entertainment Weekly that she knew "that this character and world was special" after reading the script and that she "wanted the part so bad." Rossum's character, Fiona, remained one Shameless' most compelling characters through its ninth season. The actress made headlines in 2016 when she demanded to be paid as much as male co-star William H. Macy, something she's still "extremely proud" of.
Rossum finally made the decision to leave the show in 2019. "I made 110 episodes playing the character of Fiona, and it's been an incredible journey," she told Shape. "I've learned a lot about myself as a person and as an actor. I want to leave the show while I still love it, and I know the door is open to come back if that feels right."
Rossum hopes to explore other roles now that her time on Shameless is done. "I couldn't be more thrilled to spend time writing, directing, and seeing what other characters I want to play," she said. "It's both scary and wonderful."
Shameless cast member Jeremy Allen White grew his family
Jeremy Allen White auditioned for both Phillip "Lip" Gallagher and Ian Gallagher, eventually joining the Shameless cast as Lip. Only 19 when the first season aired (via the Los Angeles Times), White has gone from teenager to young adult on the show. He's branched out from his Shameless role with parts on shows like Homecoming and Made in Hollywood, but White's biggest transformation has taken place behind the scenes.
The actor became a father in October 2018, and, the following April, he proposed to the mother of his child, actress Addison Timlin (via Us Weekly). As he was adjusting to fatherhood in real life, he was also becoming a parent on the show — a plot element he told the Chicago Tribune was deliberately inserted by creator John Wells who he says likes to "sprinkle" things in the show that reflect the actors' lives. "I have mixed feelings about it," he said. "Sometimes I think it runs the risk of being a little exploitative. And other times I want to dive in completely because I'd love to find out something about myself while playing a character."
Cameron Monaghan continues to be proud of his work as a part of the Shameless cast
When Shameless debuted in 2011, Cameron Monaghan already had quite a few acting roles under his belt, including parts on Fringe, The Mentalist, and Monk, but Shameless really gave him a chance to show off his skills as an actor. In 2011, the then-17-year-old actor told the Los Angeles Times what he thought of his character, Ian. "He goes up against the negative stereotypes typical of gay characters out on TV right now. He's smart and he's tough and he's brave and he's really caring and responsible — and I think that's not always shown in one character."
Monaghan went on to star on Gotham while continuing to play Ian and still has a lot of love for the role. "It's a show that I deeply enjoy working on, not only because of my co-workers but also because of the challenge of the material itself, which combines this level of comedy and drama and absurdity but also this real-world commentary on what it means to be a person," the Shameless cast member told the Chicago Tribune in 2019.
Shameless star Ethan Cutkosky grew up and started his own clothing line
While Ethan Cutkosky's Shameless character, Carl Gallagher, has seen quite a transformation, so has Cutkosky himself. "I was 10 years old, living in Chicago," Cutkosky told Entertainment Weekly about his life before joining the Shameless cast. "My mom and I flew out, not expecting much. By the second audition, we got a contract."
Cutkosky has pretty much grown up on the Shameless set, and he is ready to branch out. "I'm 18 now, so growing up on the show and going back in forth through high school and then turning 18 and realizing there's a career to be done if I want to, but also, I'm not necessarily somebody that lives and breathes acting," he told Live for Live Music in 2018. "Like that's not the only thing that I can see myself doing. I love it, I'd love to keep acting, but there's other stuff I'm going to do.
At the time of this writing, Cutkosky is still acting on Shameless, but he also has his own clothing line called Khaotic Collective.
Emma Kenney went from the Shameless cast to the cast of Roseanne
Shameless cast member Emma Kenney plays the second to youngest of the Gallagher clan, Debbie. The precocious pre-teen was 11 years old when the first season of Shameless aired. "I got to grow and learn everything I know on this set, and continue to do so," she told Michigan Avenue. In addition to playing Debbie, Kenney also joined the cast of the 2018 Roseanne revival and its spin-off, The Conners.
Now a young woman, Kenney has plans to see how far acting can take her, and she has expressed interest in film work. For Kenney, it's all about expanding her horizons. "I tend to get bored easily, so I'm always looking for something new and exciting," she said.
In 2018, Kenney revealed that the life of a child star had taken its toll on her. She said that she had fallen into a bad crowd and began experimenting with illegal things, but that she was seeking help. "I'm going to be seeking treatment for my battles," she told In Touch. "I'm going to work through it. I'm going to get help and make better choices."
Christian Isaiah was the fifth Shameless cast member to play Liam
It might seem like Christian Isaiah has changed a lot since he joined the Shameless cast in the show's first season. He certainly looks different, but that's actually because Isaiah hasn't been with the cast since the show debuted. Isaiah is the fifth person to play Liam Gallagher. Twins Blake and Brennan Johnson played Liam as a baby, and twins Brenden and Brandon Sims played him from Season 3 to Season 7. "I am bringing the character to life my way," Isaiah told Vulture after he debuted on the show in Season 8.
Isaiah quickly transformed the character of Liam, and he counts the role as one of his favorites as well as one that has challenged him as an actor. "This role has allowed me to step out of my comfort zone, and say and do things I normally wouldn't say or do," he told YAYOMG! in 2018. "Also, I don't know what the writers will have me saying or doing from one episode to the next!"
Steve Howey is nothing like his Shameless character Kevin
Playing the lovable bartender Kevin Ball is Steve Howey. Playing Kev has been a challenge for Ball, and it's one that he thinks has helped him grow as an actor over the years. While many of Kev's comedic moments rely on his naiveté, Ball wants you to know that he's different from his character in real life. "The rhythm of naiveté is fun to play," he told the Chicago Tribune. "There's more humor in that for me. I'm not as naive as Kev. He's an uneducated fellow — dyslexic, illiterate, borderline bipolar, grew up without parents — but his heart is there…"
In order to maintain his physique (and his status as the resident beefcake in the Shameless cast) Ball spends much of his spare time working out. "I like to run outside in general [hills] for a workout," he told The Manual. "That's definitely a hard one. For a more extreme activity, I definitely love snowboarding. Then, I like playing baseball with friends and my son."
Shameless cast member Shanola Hampton plays an even bigger role in real life
Shanola Hampton has come a long way since she landed her big break joining the Shameless cast, playing one half of one of the show's most enduring couples: Kevin and Veronica. She's been part of some of the show's wildest storylines (how about that thrupple, or the time her character really, really wanted a baby?) and has been given plenty of room to show how versatile she is as an actress.
With several seasons of Shameless under her belt, it's safe to call Hampton a seasoned actress these days, but her most important role is as a mother. She gave birth to her son and daughter over the course of the show and is focused on raising them. "I always tell people that being a parent plays to all of my strengths: I'm a control freak, and I like things to be organized," she told Issue. "I can tell them what to do, make a schedule for them and try, God willing, to create good, responsible, loving human beings. I just hope they listen. If you don't listen to Mom, you're dumb."
Isidora Goreshter had quite the experience as part of the Shameless cast
When she auditioned for Svetlana, Isidora Goreshter was convinced she wouldn't get the part. "It was one of the worst auditions of my life," she told Entertainment Weekly. She was then hesitant when she actually did get the part because the role was small and involved a lot of nudity. Her manager convinced her to stick it out, and the character eventually grew into one of the show's most unforgettable. Goreshter said the show was "life changing." The Shameless cast member added, "Knowing that I've been able to be a part of just a minor breadcrumb of the whole loaf is just really special and something that I'll never forget for the rest of my life."
Goreshter proved to be as hardworking as her character, filming a sex scene just nine days after giving birth. "It was one of the most ridiculous moments of my life," she later told Gotham. "I was just like, 'This is what my life is going to be like now. As a working mom.'"
Goreshter left the show after Season 8 and has since landed roles in projects like The Petal Pushers and Condor.
Noel Fisher is proud of his contributions to Shameless
Fans of Shameless can't get enough of "Gallavich," the name given to the now-iconic coupling of Ian Gallagher and Mickey Milkovich. Theirs is a love story for the ages, albeit one that unfolded slowly over the course of the show. The gay couple resonated with audiences, but the character who plays Mickey, Noel Fisher, says there's more to Gallavich than their sexuality. "As happy as I am that the gay community has really embraced this storyline, to me, it is much bigger than that, and that's why it's very relatable," he told BuzzFeed. "I think anyone can find a way into this story and understand obstacles that a couple faces as they try to make things work, whether that's their own beliefs about themselves or bipolar disorder or what have you. Everyone faces obstacles in relationships, and we root for both these guys for different reasons — and we root for them to be together."
In addition to having joined the Shameless cast, Fisher has appeared on other TV shows, including Castle Rock and The Red Line.
Will former Shameless cast member Justin Chatwin return to the series?
First he was Steve. Then he was Jimmy. The con man portrayed by Justin Chatwin on Shameless might not have been the most ethical of Fiona's suitors, but fans weren't able to deny the chemistry the couple had. Chatwin left the show after Season 5 and hasn't been seen since, but it wasn't the first time he had been written off. Chatwin thought that he was done after Season 4, but then came back the next season.
It's been a while since Chatwin has appeared on Shameless, but it's possible we might see him appear in future episodes. "When I first got on the show, John Wells said the show is like a plant in a garden, and it grows; you never know in what direction it's going to go, or what it's going to produce, or what it's going to look like," he told The Hollywood Reporter after his Season 5 exit. "So people will leave and people will return and people will change."
Meanwhile, Chatwin's been building up a list of TV credits since being in the Shameless cast, appearing on Orphan Black, American Gothic, Doctor Who, and Another Life. He's also racked up several film credits, including The Assassin's Code and Summer Night.
Emma Greenwell is ready to leave her past in Shameless cast behind
Emma Greenwell's Shameless character, Mandy Milkovich, is one of those characters who grows on you. While she seemed like a terrible person at the start of the show, audiences gradually got to see that Mandy has a good (albeit very flawed) heart. Greenwell hasn't been a part of the Shameless cast since Season 6, something that the actress is happy about. She loved her time on the show but was more than ready to move on after being on Shameless for several years. "I would love to be killed," she told Interview in 2016. "I'm like, 'Come on, kill me. Are you killing me?' They're like, 'Maybe next season.'"
Greenwell has been making the most of her time off the show. She followed up her run as Mandy Milkovich with a leading role on The Path, which was followed by a role on The Rook and the film Rattlesnake.
Former Shameless cast member Joan Cusack has a seriously impressive resume
The early seasons of Shameless featured a delightfully neurotic Joan Cusack as the agoraphobic Sheila Jackson who has a relationship with Frank Gallagher. In 2011, Cusack told GoldDerby that playing Sheila was "outside my comfort zone if I'm going to be honest," but that didn't mean she didn't enjoy the challenge. "I'm just going to accept everything and no judgments," she said. "It's a great feeling, and I highly recommend it."
Cusack left the Shameless cast at the beginning of Season 5, and she added a slew of impressive credits to her already outstanding resume. Among her many post-Shameless roles are parts on A Series of Unfortunate Events and The Stinky & Dirty Show. She also reprised her role as Jessie in Toy Story 4.
It's been a while since Sheila Jackson was seen in Chicago's South Side, but that may change in the future — Cusack teased a potential return to Shameless back in 2017.
Former Shameless cast member Elliot Fletcher wants more for his acting career
Elliot Fletcher's time as part of the Shameless cast as Ian's love interest, Trevor, wasn't a long one but it was certainly memorable. Not only was he a good match for Ian, but Trevor also provided some much-needed representation for trans people on television. "I want my characters to give a little insight into the transmasculine experience or the trans male experience," he told Screen Crush of his Shameless character in 2017.
Fletcher departed the show after Season 8, and he has some pretty big dreams about what his future career will hold. "I want trans people to be cast in more than just trans roles," he said. "I would love to play a cis[gender] character. I would love to play a Jedi, a supervillain, a superhero. That would be so, so fun."
While he hasn't played a superhero (yet), Fletcher did appear on the TV show Tell Me Your Secrets in 2019.